';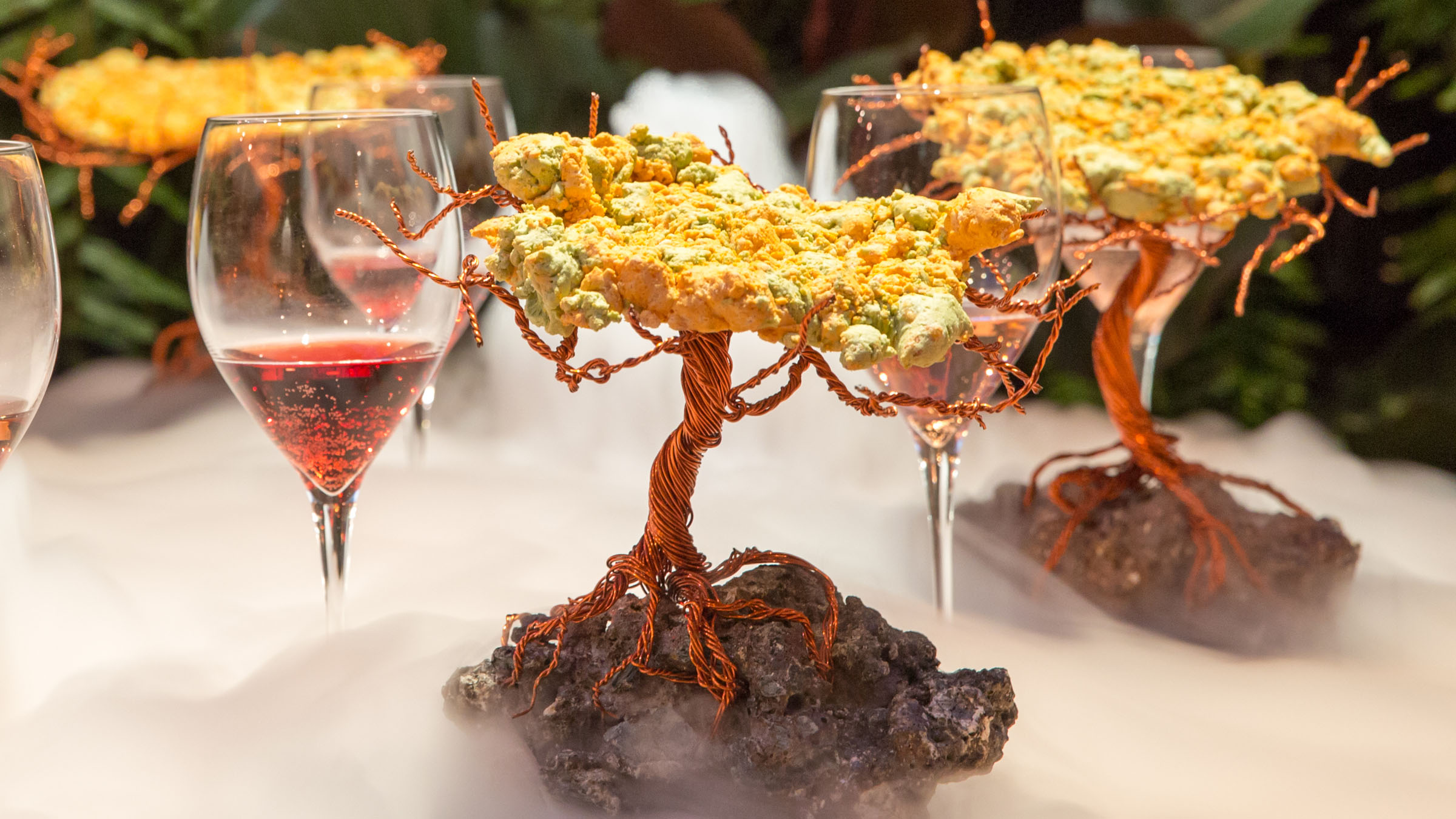 ;
In the "Old World", French, Italian and Spanish wines evolved in sync with the cuisines of their terroir, but what about world cuisines that don't have a long-standing tradition of being enjoyed with wine? Forget the common truism that says to pair sole with Chablis or filet mignon with red Bordeaux – some cuisines require thinking beyond the classic pairing rules.
Fiery, bright and often complex, the diverse culinary traditions of Latin America form one such cuisine. Many of the continent's most sought-after restaurants focus on reviving and reinterpreting traditional cuisines and celebrating native ingredients, and it's the job of their top sommeliers and beverage directors to look for the perfect pairings that will make these dishes shine.
Interested to know how they do this, we asked these wine-pairing wizards two simple questions: Is there a rule of thumb when it comes to pairing wines in their restaurant? And could they give an example of a dish and wine pairing where the result was pure magic? Here's what they revealed.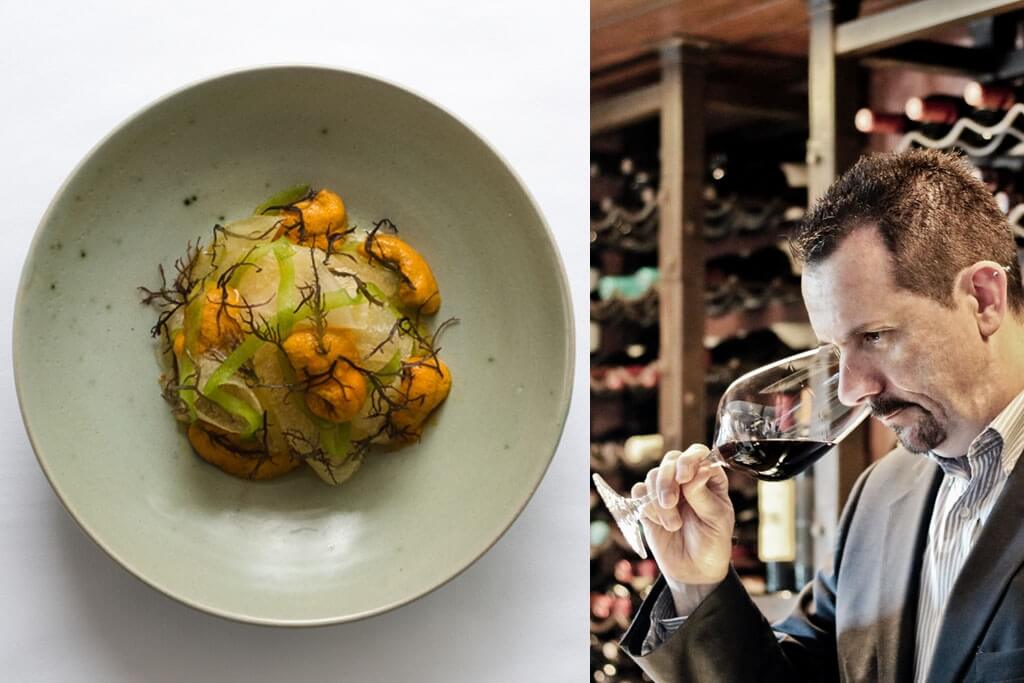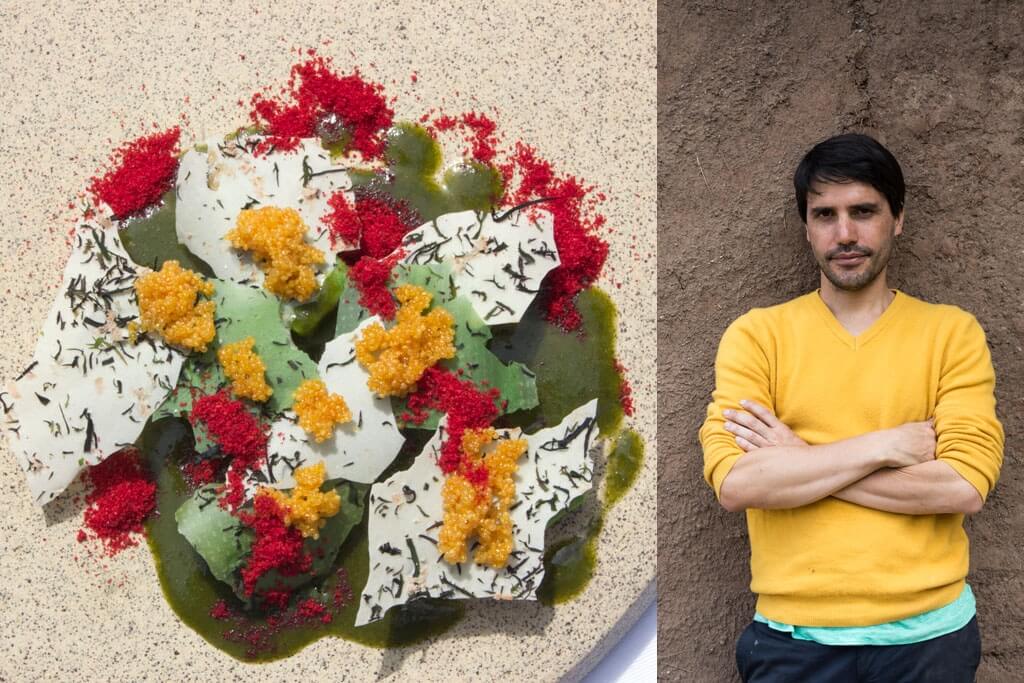 Gregory Smith
Central Restaurante in Lima, Peru
Chef Virgilio Martínez's Central Restaurante in Lima is part of a food revival that's putting Peruvian cuisine centre stage in the gourmet theatre – and Martínez is one of the headlining acts. Gregory Smith is the wine director, charged with pairing Martínez's indigenous-inspired dishes with top world wines.
"It's difficult to pin it down to a certain wine region or style of wine, but having worked with Virgilio for some years now, I find that his food almost always has a sweet element lurking in the background. Because of this, wines that are fruit-forward or even with a touch of residual sugar work well with most dishes. Mosel Riesling Kabinett works well with many of his dishes, since it has that razor-edge balance of sweet versus acidic. But one needs to choose carefully, as many of today's Mosel Kabinetts are near Spätlese level sweetness.
"That being said, I'm now going to blast that generalisation out of the water with two wild pairings: A few years ago there was a dish on the tasting menu, 'Valley Between the Andes', which included roasted avocado and tree tomato. The roasted avocado provided a very rich, umami flavour, juxtaposed with the sour tree tomato. We tried a number of wines, and none of them could stand up to the strong flavours. I finally said, 'Let's think outside the box.' So we pulled a bottle of 2005 Don Melchor from the cellar. It worked beautifully.
"On the current tasting menu, the dish 'Marine Soil', with fresh sea urchin, razor clams, pepino melon and seaweed, is an explosion of sea flavours. The sea urchin dominates the dish, and this proved another challenge to pair wine with. We were on the right track when we tried sparkling wines with it, but the strong flavours overwhelmed most sparkling wines. We realised we needed a sparkling wine with some age on it to be able to stand up to the sea flavours, and found a pairing which leaves very complex flavours on the palate. This is Raventós i Blanc's 2010 Manuel Raventós."
[Photo 1: Marine Soil, Cesar del Rio; Photo 2: Gregory Smith; Photo 3: Valley Between The Andes; Photo 4: Virgilio Martínez Véliz]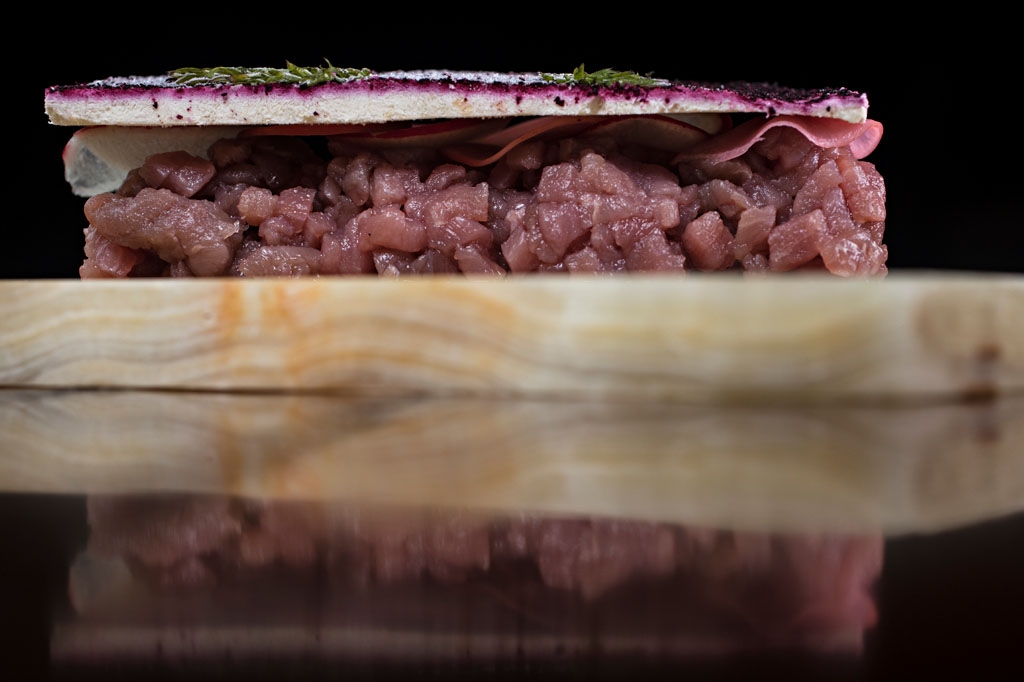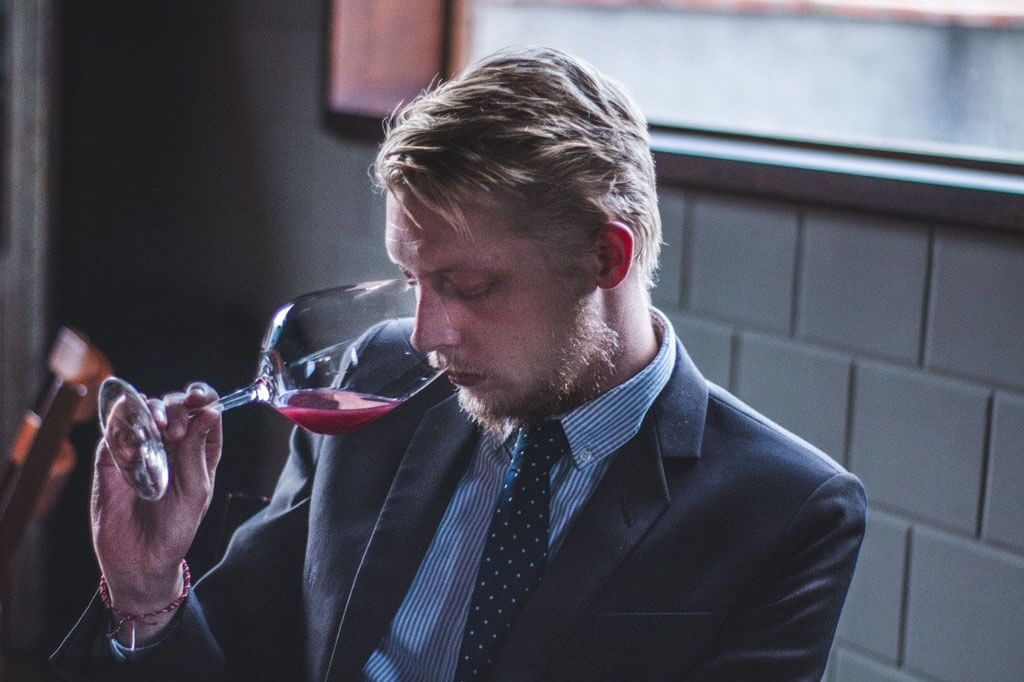 Bertil Levin Tøttenburg
Gustu in La Paz, Bolivia
Gustu, the Quechua word for "flavour", is a restaurant and bar where head chefs Marsia Taha and Mauricio Lopez create dishes using 100% Bolivian produce. Bertil Levin Tøttenburg created the beverage programme solely with Bolivian products as well.
"Pairings need to match the food. I know this sounds obvious, but I often see sommeliers around the world being more interested in serving a great wine than actually finding the perfect match. At Gustu, we're only looking for the perfect match. We're not scared of serving something that doesn't necessarily taste good by itself, as long as it pairs perfectly with the dish. The majority of our pairings are with wines, but we also take our guests through cocktails and beers. A personal rule of mine is to use wines with little to no manipulation: I believe that if the producer produces with heart and soul – and consciously – it will truly be reflected in their wines.
"I pair the 'Palm Marrow, Balsamic Banana Vinegar' with 2016 Vischoqueña, Cepa de Oro, Chuquisaca. Marsia and Mauricio have been working on this dish for a long time: crisp and buttery palm hearts are served simply with a savoury/sweet/ thick balsamic banana vinegar. It's a seemingly simple dish, but with loads of complexity. In early 2016, I met a young guy in Camargo named Jaime Rivera. He was producing wines from a near to native grape variety called Vischoqueña – a lightweight red full of fruit and acidity. Jaime is young and not very experienced, and he had therefore gotten the stupid idea to add oak chips to the wine. He said, 'Then you just get a lot of oak flavour very fast and very cheap.' I believe that Jaime ruined his vintage of 2016 Vischoqueña by that decision, but when I tasted the palm dish, I got the idea to actually work with his wine anyway. I'm serving the wine below 5 degrees Celsius to depress the oak flavours. Slowly, as the wine rises a degree or two, the oak is more easily integrated and will find its wooden friend in the palm. Together, the wine and food give the palate a full-powered acidic, fruity vanilla explosion.
"Our 'Raw Llama, Yogurt, Hibiscus, Maca' dish goes with 2017 Moscatel de Alejandria/Pedro Ximenez 'El Orejano', De la Villa, Chuquisaca. At Gustu, we in general have a llama tartar in our tasting menu, and this most recent version is llama served with a yogurt mixed with hibiscus and maca. For this dish, I use a wine from a small producer located in Chuquisaca, who does not manipulate his wines at all. In this case it is a so-called 'orange' wine: the juice from Moscatel de Alejandria has been macerated with the skin from a grape called Pedro Ximenez. This way, the wine has more structure and a higher level of tannins.
"A sommelier sometimes needs something in between red and white wine to create the perfect pairing. This type of wine gives you exactly that advantage. It tastes like a white, but has a mouthfeel like red. I wanted a lot of sweetness for this dish, yet a high acidity level. The sweetness will pair with the maca, the acidity pairs with the yogurt and hibiscus, and the slight tannin structure gives the meat its dues."
[Portrait: Christian Gutierrez]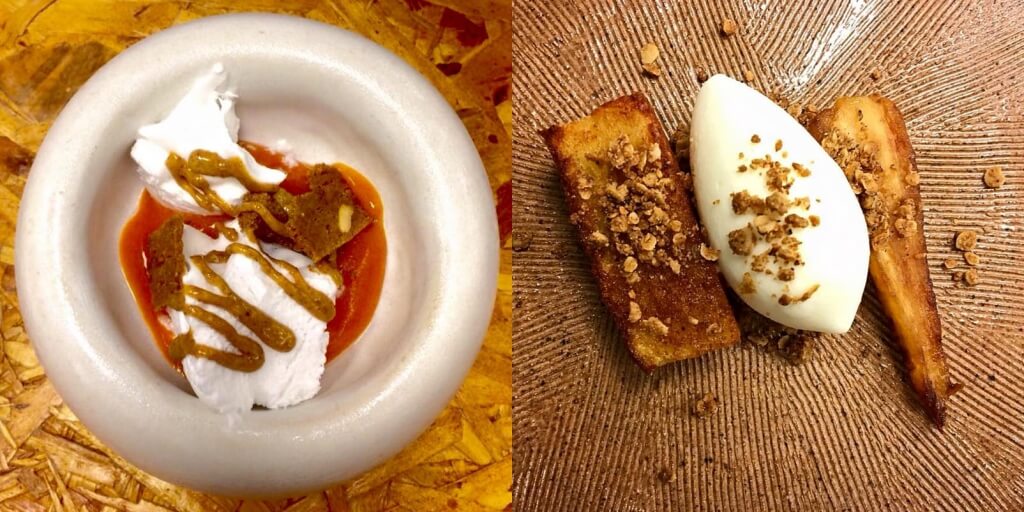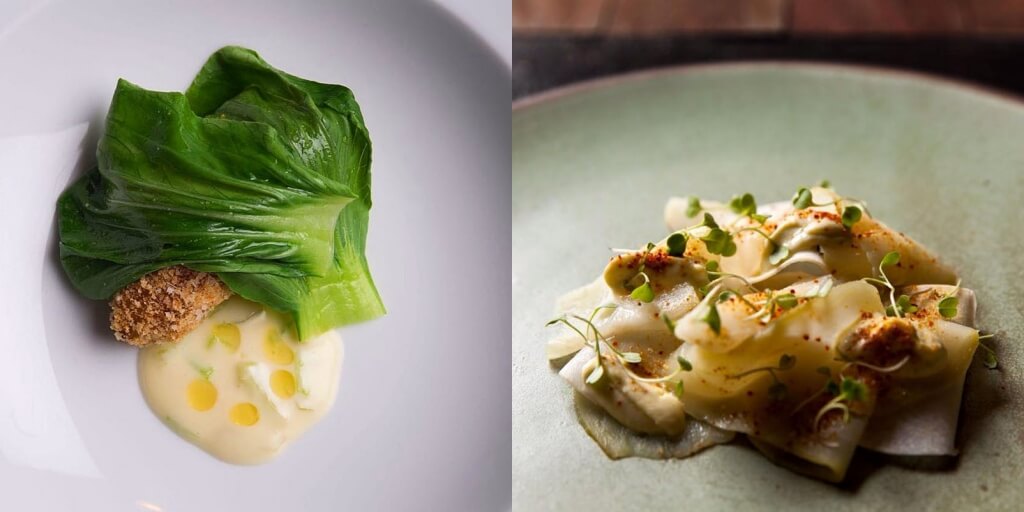 Maíra Freire
Lasai in Rio de Janeiro, Brazil
Working closely with many local producers and fishermen, chef Rafael Costa e Silva, known as Rafa, creates the menu at Lasai based on the seasonality and availability of produce from his own gardens. His wife Malena Cardiel, runs the dining room, and Maíra Freire is their sommelier.
"I try not to get stuck with any strict pairing rule. The idea is to make the food shine, and for that it's important to find a balance between structure, acidity, sweetness and flavours. I always try to understand our guests and their tastes, and also strive to surprise them in a good way by introducing them to new regions, grapes and styles. We try to focus on local, small and artisanal producers, because that has a lot to do with the Lasai experience. Usually aromatic, medium body whites pair more easily with our menus and style of food.
"One perfect pairing example is the pork belly with pumpkin and mustard leaves with the Canto da Sereia 2016, Vinha Unna, Pinto Bandeira/RS-Brasil. This is a Brazilian Barbera, a very delicate and floral natural red wine with a high acidity. It's perfect to break the pork fat a little. The acacia and jasmine aromas are very 'gentle' for the sweetness in the dish with delicate pumpkin.
"Another is the ricotta cheese ice cream with fresh orange, and sugar cane 'melado' with the Jurançon, Domaine Lapeyre 2016, a late harvest of Gros Manseng and Petit Manseng. The wine is fresh enough to 'fight' the ricotta ice cream, and also delicate not to overpower the flavours. It has very intense aromas of citrus and grapefruit that 'talk' really well with the fresh orange in the dish."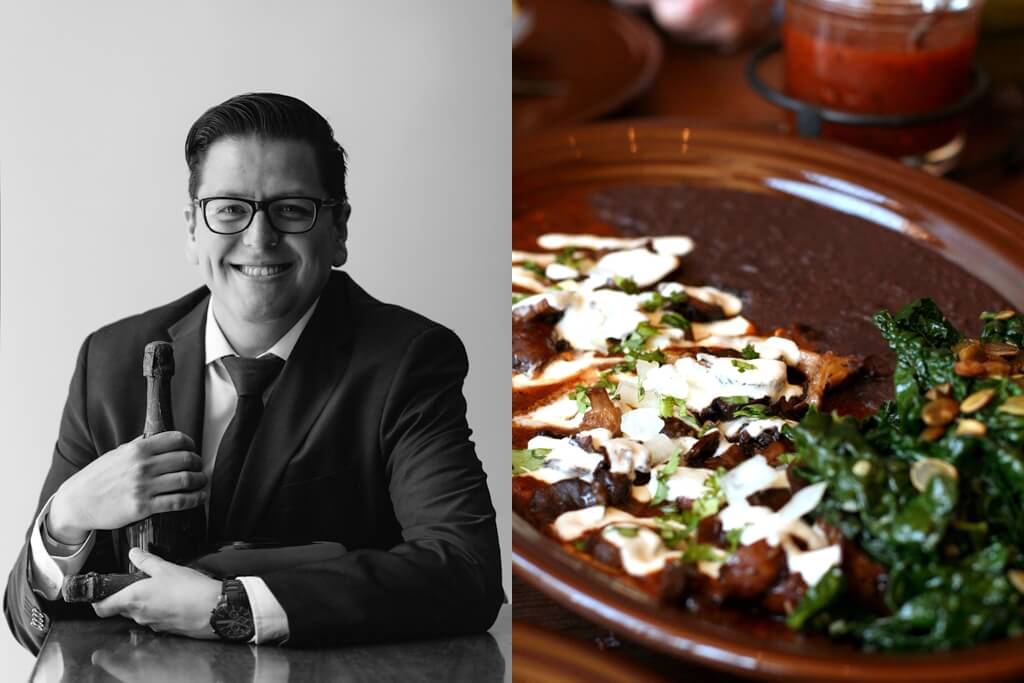 Pablo Mata
After having worked as a sommelier for numerous high-end Mexican restaurants, most notably Pujol in Mexico City, oenophile Pablo Mata now employs his expertise as an independent wine consultant.
"In reality, you can't really have one rule of thumb when it comes to Mexican food, because it is one of the most complex and diverse cuisines that exists in the world. There are dishes that appear similar, but in the end, because of different ingredients from different areas, they have different flavours, intensity and complexity. Which is why you have to pay attention to the taste before choosing a wine to make a pairing.
"I think there are three types of wines that go well in general with Mexican food: The first two are Champagne, either rosé or white but preferably brut, and dry German riesling; these two wines have a high acidity and are able to alleviate the tingle of both chili and light spices. When it comes to red wine, we have to find wines rich in fruit, complexity and with a tendency to be on the spicy side, such as those made with Syrah or Grenache, whether from the Rhône or Australian regions.
"Mole poblano with rosé Champagne (Ruinart Rose Brut) has been one of my best pairings with wine and Mexican food, as well as Pambazos [a type of spicy bread dish] with Gigondas (Château St. Cosme, Gigonda, Rhône). These two have been the most outstanding, although the ceviches of the Pacific coast with Riesling, and Baja crude with Champagne, are incredible as well."
[Photo Mole Poblano: Jules Morgan/Flickr]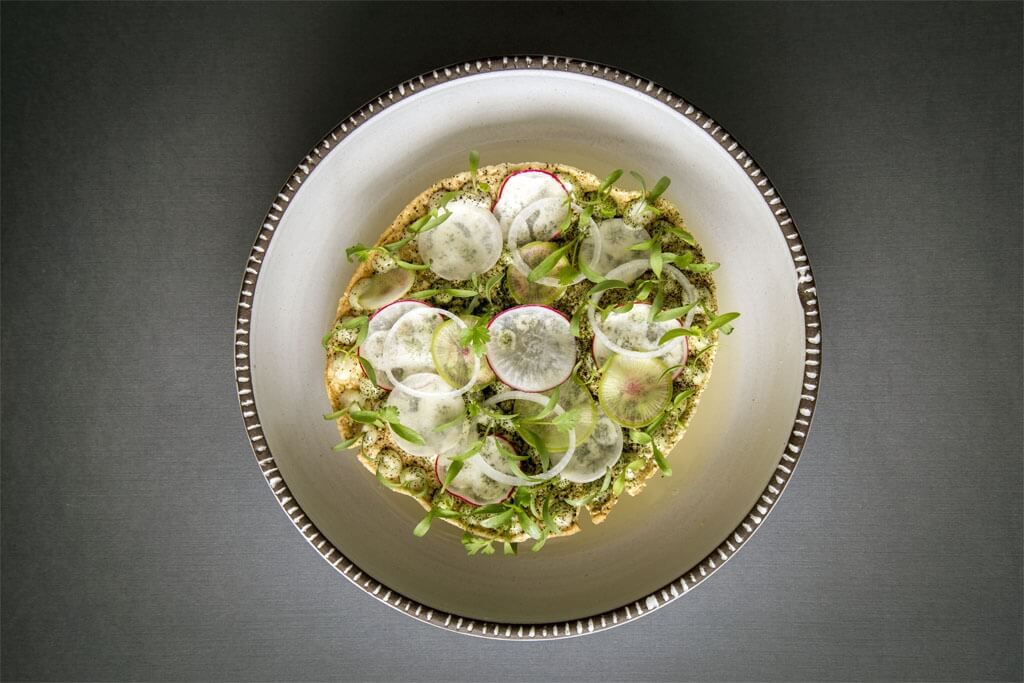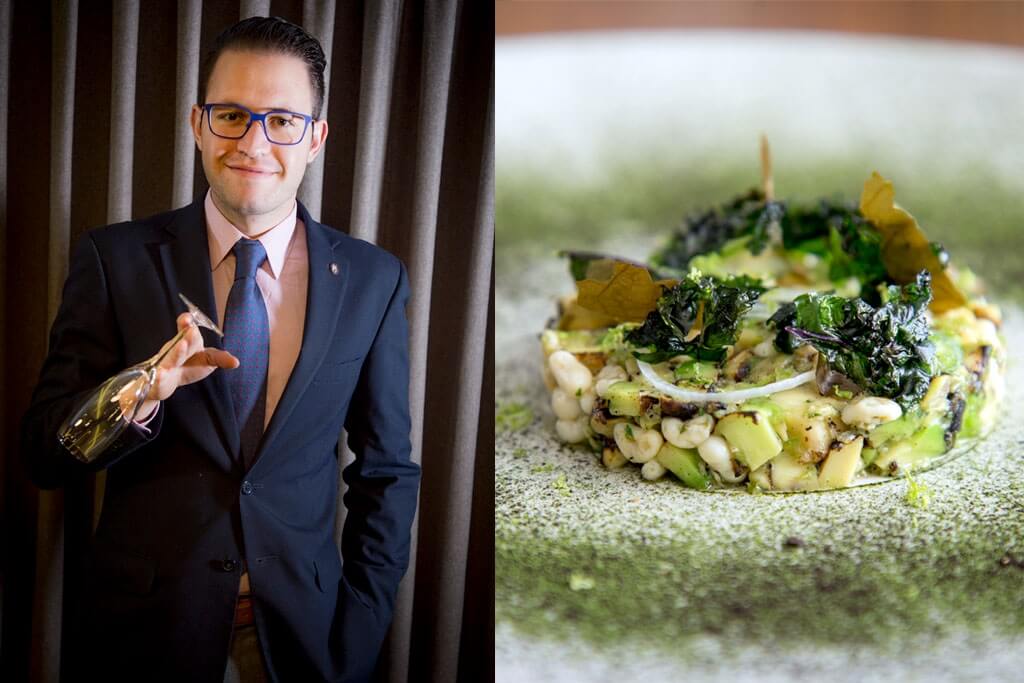 Wilton Nava
Restaurante Quintonil in Mexico City, Mexico
With Jorge Vallejo in the kitchen and Alejandra Flores in the dining room, Quintonil serves updated Mexican dishes, honouring both tradition and sustainability – much of the produce is grown in the restaurant's urban garden. Wilton Nava is the sommelier.
"Normally you have rules to think about when creating a match, whether it's about contrasting or complementing the dish. In our day-to-day work, we've learned that rules are made to be broken, because they do not always work as you imagine. It is a sui generis world influenced by the combination of flavours, aromas, colours, temperatures and, ultimately, the mood of the person who will be drinking the wine.
"Mexican food is very coarse, which takes you through different aspects of flavours, sensations and aromas, and opens the range of possibilities in wine styles to use in a harmonisation. At Quintonil, the pairing will always be out of the ordinary, with the sole purpose of discovering new sensorial experiences and diversifying the knowledge of wine.
"Two of the most representative dishes of Quintonil are 'La tostada de cangrejo, mayonesa de habanero, rábanos y lima' [crab toast, habanero mayonnaise, radishes and lime] and 'La tártara de avocado tatemado, escamoles y quelites' [tartar of chargrilled avocado, escamol (art larvae) and quelites (native greens)].
"Usually we love to pair the former with dry white wines, light in alcohol, fresh in acidity and with an intense fruity charge in the aromatic part – wines that normally come from Chenin Blanc, Albariño or Riesling grapes. In this pairing, there's a contrast of flavours between the sweetness of the fruity part in the wine and the light saline sensation of the crab, the warmth offered by habanero mayonnaise against the fresh acidity of the wine. At the same time, the acidity is very noticeable; it ends up cleaning the palate and preparing you for the next bite.
"For the latter dish, we use an uncommon pairing: a wine from the region of Jerez de la Frontera in Spain, which usually produces rich and very sweet wines, with an aromatic profile that is associated with sweetness, aromas of caramel, vanilla, nuts, almonds, yellow apples and white flowers, fortified and with long aging. It plays a bit with the expectation of the diner, who perceives softness of aromas but hardness on the palate. This pairing is really great."
[Photo left: Tostada de cangrejo; Photo middle: Wilton Nava; Photo Right: Tártara de Avocado]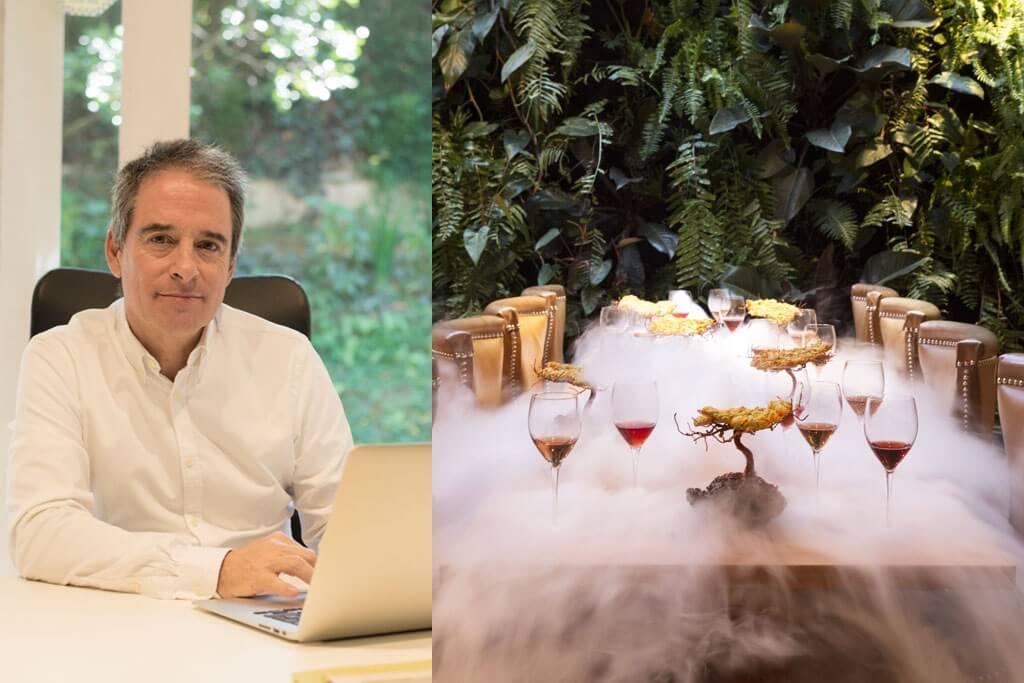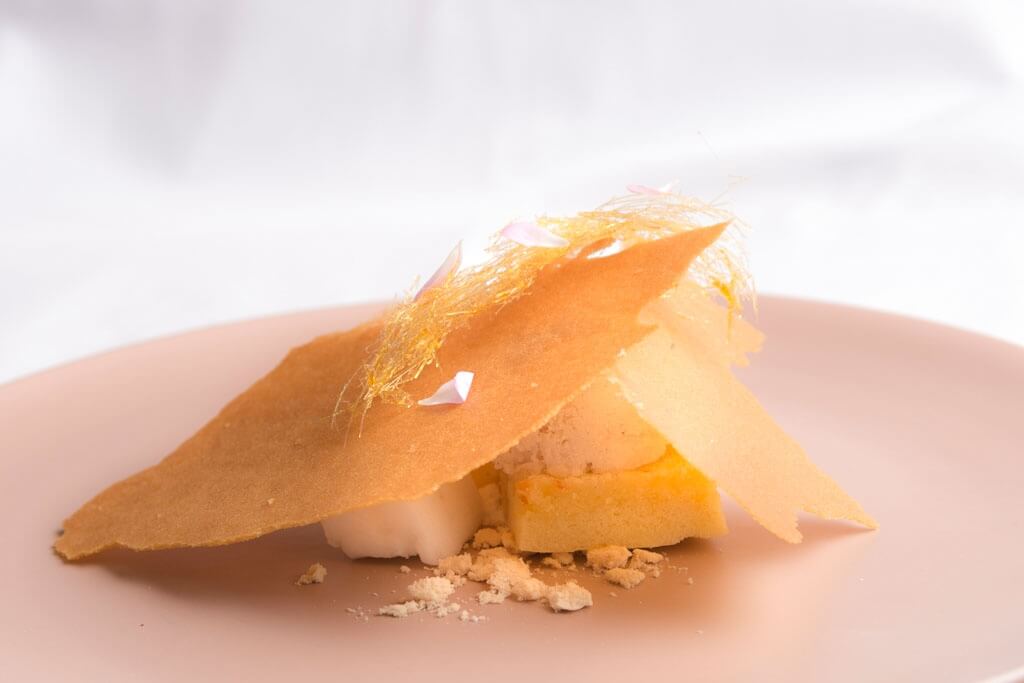 Ángel Guillén and Juan Manuel Barrientos
El Cielo in Medellín, Bogóta and Miami
From the kitchen of Juan Manuel Barrientos comes a creative style of Colombian cuisine, designed to stimulate the senses based on studies in neuroscience. Wines at El Cielo are selected by Ángel Guillén (sommelier), Juan Manuel Barrientos (the chef´s father and wine expert, pictured) and the chef himself.
"I don't think we follow any general rules regarding food pairing, since our work is focused on highlighting the nature of dishes, their flavours, textures and presentation in a creative way. Not only do we pair with excellent wines and sparkling wines, but we have also come to pair our signature tasting menu, called 'La Experiencia', with sake, with fortified wines using Colombian fruits and liquors, with cocktails and even rums. What we are looking for is indisputably to highlight the goodness, flavours and textures of our cuisine.
"At El Cielo, we have many wines from boutique wineries or small wineries that are not easily available in a supermarket, but are exclusive. For example, we have a premium selection of sparkling wines (Champagne, Cava and Prosecco), because people like to celebrate special occasions and ask for this type of beverage. It is important to say that, apart from having wines from Spain, France, Italy, Chile and Argentina, we have select wines from South Africa, New Zealand, Australia, California, Austria, Germany, Uruguay and other countries that are not so common in other restaurants. With our modern interpretation of Colombian cuisine, it's hard to try and frame it in a single wine region. This is why we make use of all kinds of wines, textures and flavours in order to find the best accompaniment for our flavours.
"One dish for which we found a surprising pairing was when we made a dessert consisting of various textures of rice – rice ice cream, a rice muffin, toasted rice powder and caramelised candies of rice – for which we found an unfiltered Migori sake, which looked more like a Colombian masato than an alcoholic beverage. The pairing and contrast achieved between the different roasted textures of the rice present in the dessert and those sumptuous, creamy and milky textures in the sake was incredible and unforgettable, and surprised not only the guests but also us.
"Another dish was a snack inspired by chontaduro [peach palm]. We had a trilogy made up of miniature millefeuille de chontaduro, a pastry of the same fruit, and citrus salt. Looking for a wine that would suit this well, we found an amontillado sherry with a dry finish, which made our snack evolve – each bite of the dish through that sherry was special and something new.
"Still, it is very pretentious to talk about a perfect marriage. Gastronomy and history have prescribed food and drink that are 'destined' to be together, but individual tastes and perceptions make it incredibly subjective both in food and wine."
[Photo left: Postre Texturas de Arroz; Middle: Chontaduro; Right: Juan Manuel Barrientos, photos: Kris Jacobs]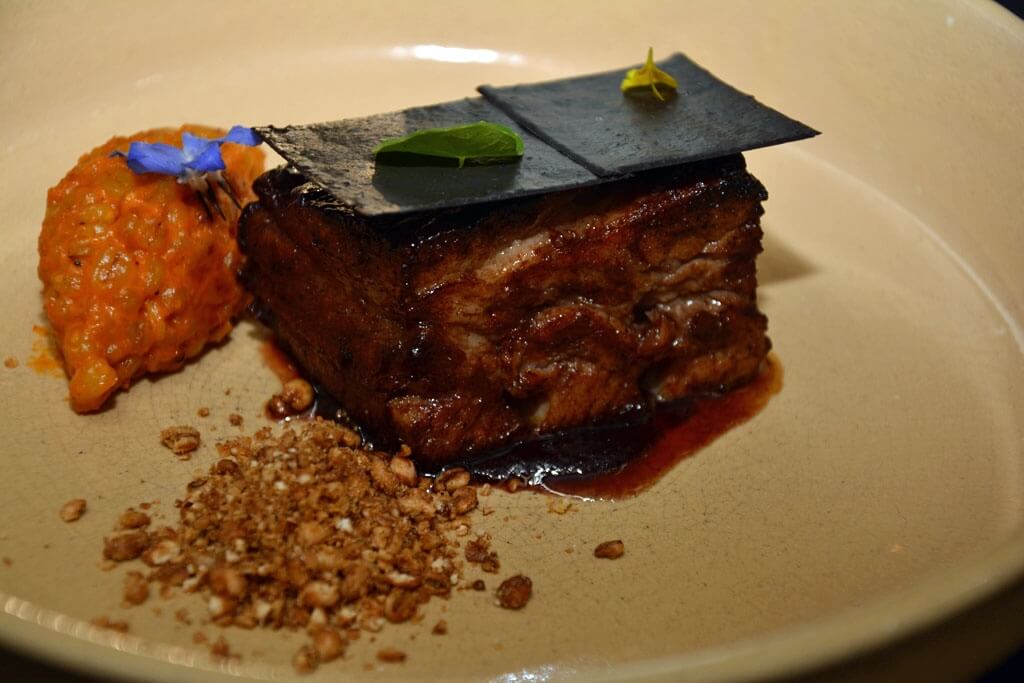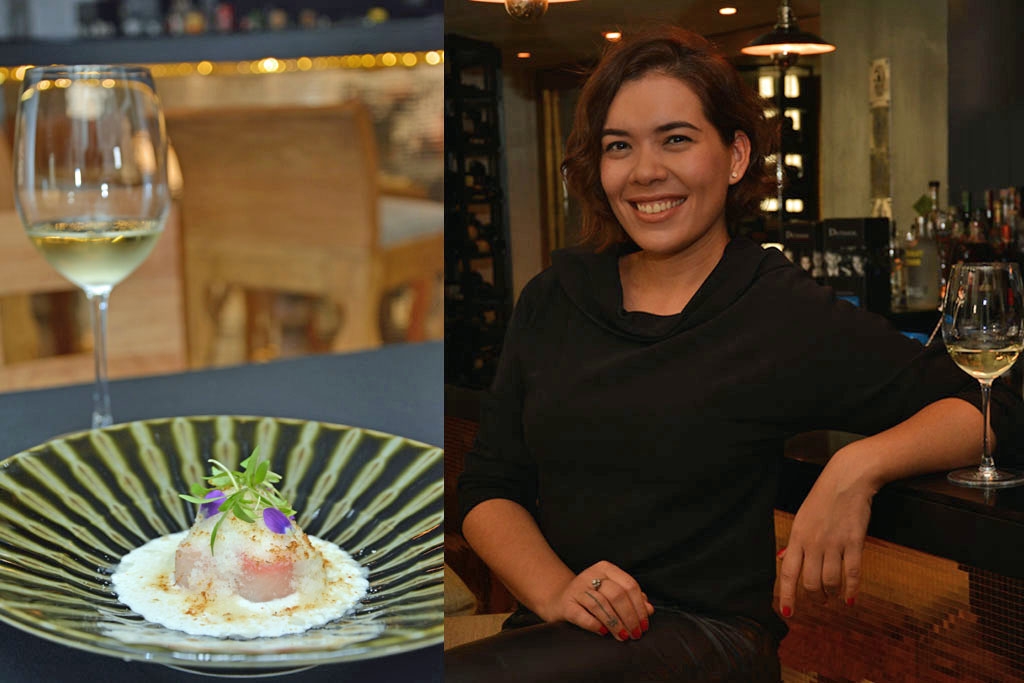 Laura Hernández Espinoza
Restaurante Leo in Bogóta, Colombia
At Restaurante Leo, chef Leonor Espinosa and sommelier Laura Hernández-Espinosa – who also happen to be mother and daughter – work together to reclaim Colombian ingredients and traditions, creating their unique dishes based on research of biomes and ecosystems in the country.
"While many sommeliers pair dishes with wines, we usually opt for drinks such as fermented guava, coca, jumbalee, coffee and corozo, among others. We bear in mind that the pairing of products and beverages that both belong to the area is always the most successful.
"The dish Pirarucú (arapaima – a freshwater fish), with cacay milk, powdered yuca brava and ají ojo de pez. I pair this with L' Esencia de Xarelo, Xarelo 100%, Penedés, Catalonia, Spain. Produced by Castell D'Age. The dish seeks to exalt different cold temperatures simulating the altitude of the mountains. The pirarucú is presented fresh with spicy notes because of the ají chili. The acidity and freshness of this white wine accompany the dish very well without masking its delicate flavor.
The pork rib, with olive crunch, pearl barley in two textures, jumbalee reduction works wonderful with the Chento, Malbec 100%, Mendoza, Argentina. The notes of ripe red fruit of this 100% Malbec wine and its round and marked tannins harmonise with the smoked flavours of the pork meat as well as the reduction of jumbalee. It's a structured and intense dish just like the wine, which makes it an excellent pairing."
[Photo Left: Pork Rib; Photo Middle: Pirarucú; Photo Right: Laura Hernández Espinosa; Photos: Juan Pablo Sarmiento]
[Opener image: El Cielo]
Article by: Irene de Vette & Jenny Aguirre