';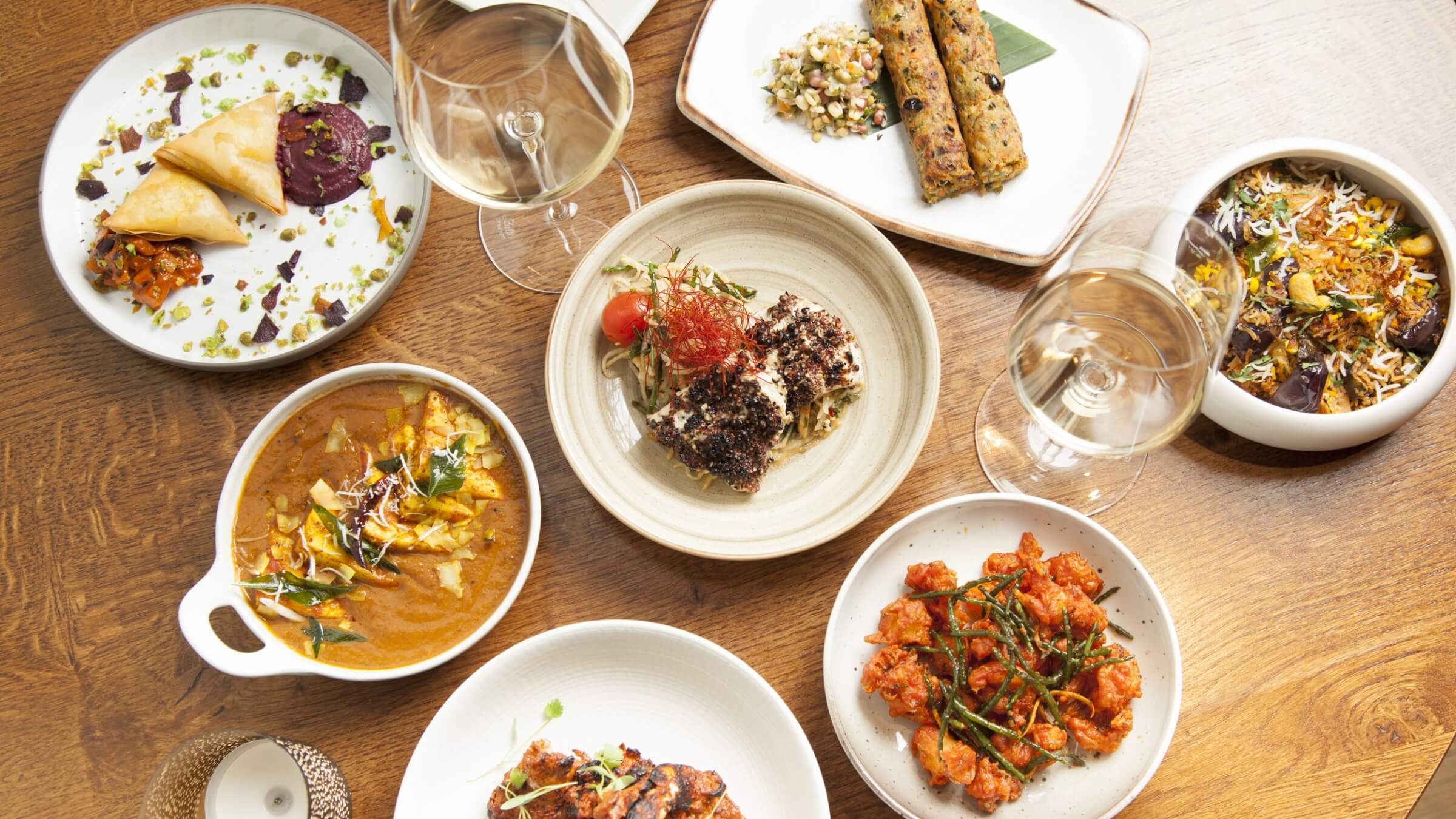 ;
Unlike food traditions from historically wine-producing European countries, most Asian cuisines haven't had the advantage of evolving with a built-in repertoire of wines perfect for pairing. But that doesn't mean they should be left in the cold.
To get the scoop on how best to marry vintages with the vibrant flavours of the East, we asked the wine experts at some of the world's top Asian and Indian restaurants to answer two simple questions: Is there a rule of thumb when it comes to pairing wines in their restaurant? And could they give an example of a dish and wine pairing where the result was pure magic? Here's what they revealed.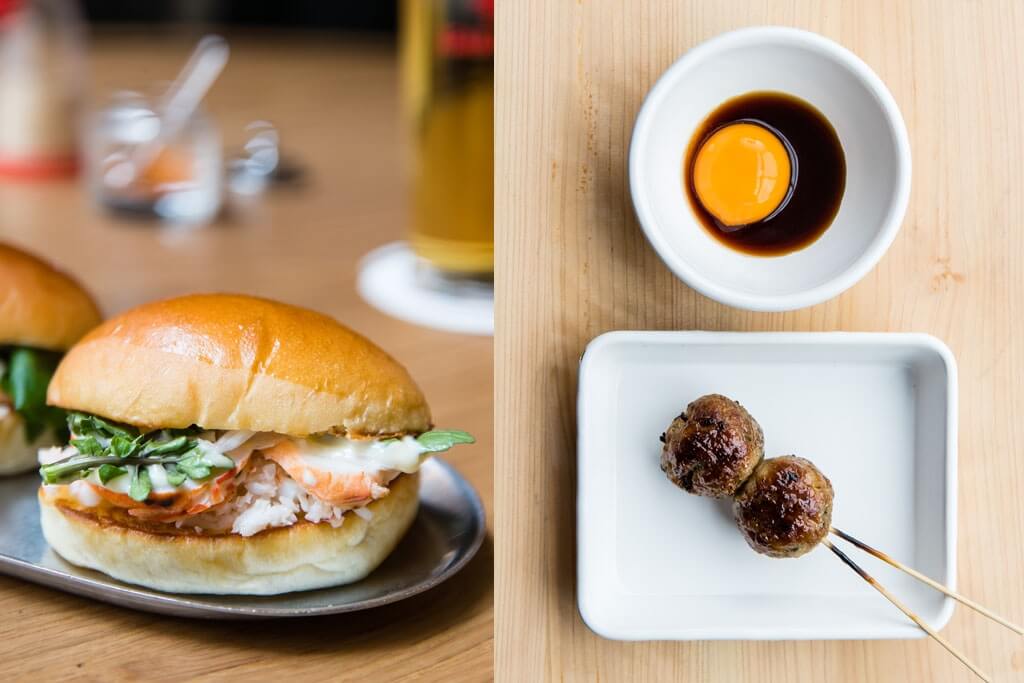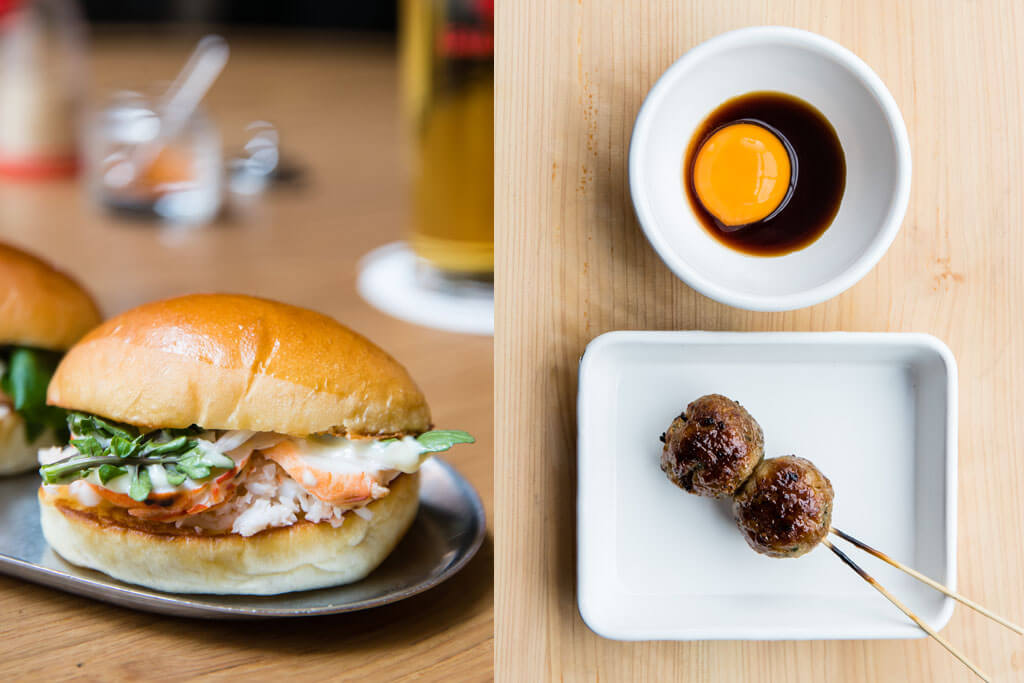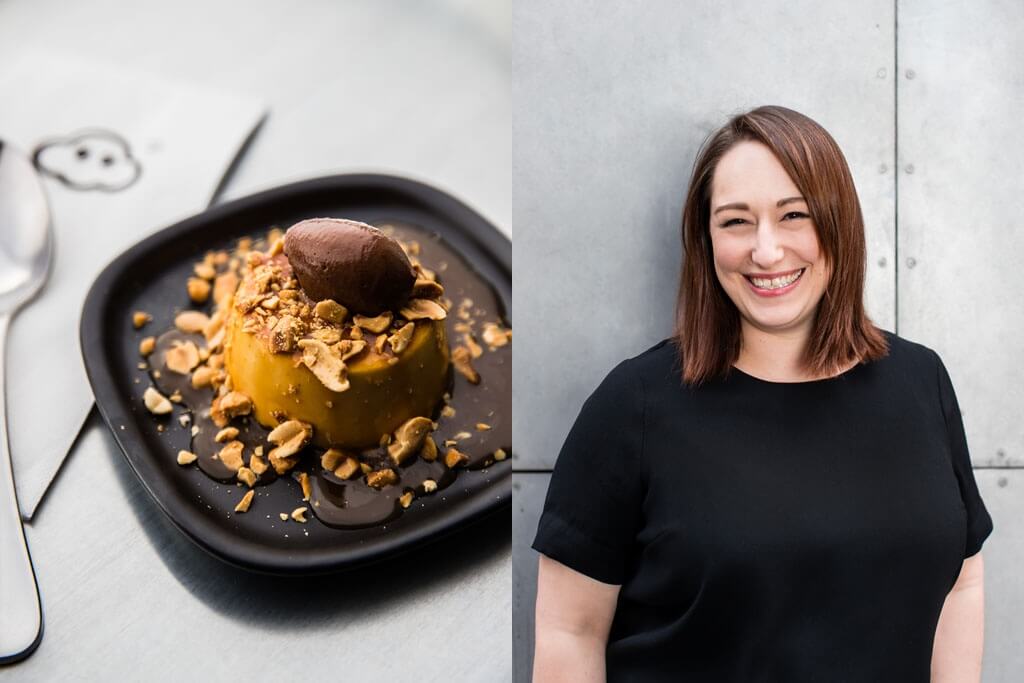 Leanne Altman
Supernormal in Melbourne, Australia
Leanne Altman is the beverage director and WSET Wine Educator for all restaurants of Melbourne's star restaurant entrepreneur Andrew McConnell. One of the most buzzy is Supernormal, a restaurant with pan-Asian offerings such as dumplings and bao.
"One of the wonderful things about the Supernormal menu is that it doesn't adhere to one cuisine, but takes influences from across Japan, Hong Kong, China and Korea. The wine team isn't required to abide by traditional rules of food and wine pairing, but can be as creative (and excited!) as we like. Dishes are served to share, banquet-style, and I like to recommend medium-bodied, slippery whites from new Australian varieties, like Fiano, and a blend of varieties where the parts are greater than the whole. Bright, crunchy red wines like Gamay, Nero d'Avola and the slew of Australian 2017 Pinot Noir/Shiraz blends are also versatile across a wide range of flavours and textures.
"The New England lobster roll is probably the dish Supernormal is most known for, and I'd never turn down a glass of vintage Champagne to accompany! One of the most surprising matches I've enjoyed is cutting the utter decadence of a peanut butter parfait with soft chocolate and salted caramel with a malty, cereal-sweet whisky. I love the way that the higher alcohol level cleanses the palate, and the way that the oak-aged notes tie with the salted caramel. And for Supernormal Canteen chicken tsukune grilled over the binchotan? Sunshine and a can of Sailor's Grave Down She Gose. Summer bliss."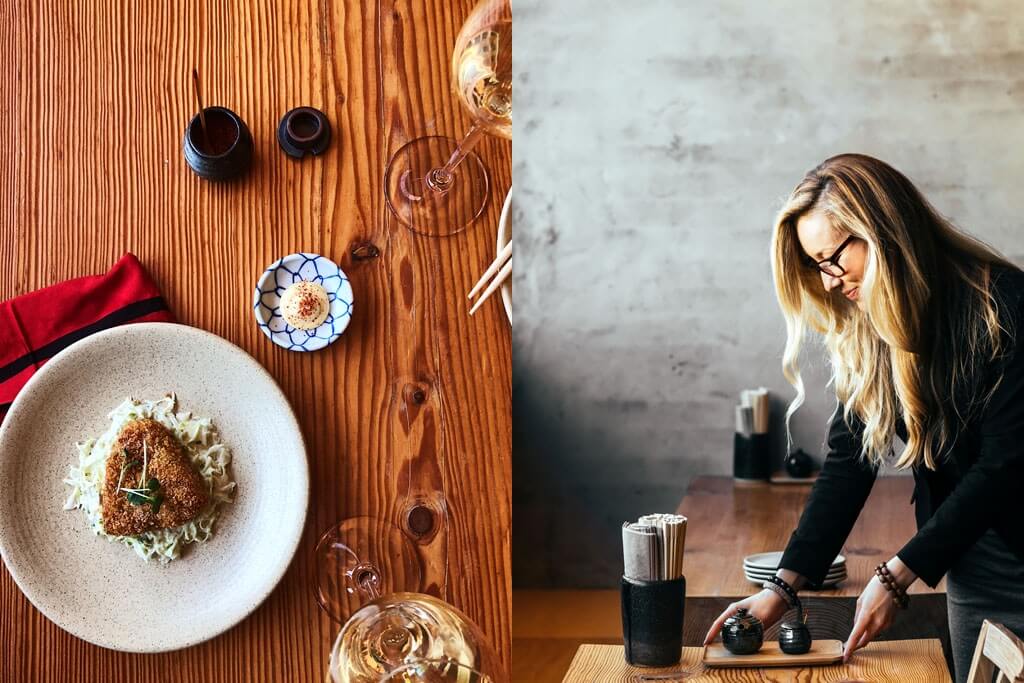 Jessica Pinzon
Miminashi in Napa, California, USA
In this stylish venue, chef Curtis Di Fede showcases his love and knowledge of Japanese cuisine – mixed with Californian influences. Miminashi's food is contemporary izakaya-style Japanese pub food such as yakitori, noodles and fried rice, as well as soft ice cream. Jessica Pinzon is their sommelier.
"Japanese cuisine in general has a lot of subtlety to it, so I tend toward wines with more restraint, especially with lower alcohol and bright acidity (Champagne, Italian white wine, Cru Beaujolais, etc.). The largest section of our wine list is dedicated to Riesling, mostly from Germany. The hint of sweetness in these wines flatters dishes with a balance of salt, umami and sweetness, while the super fresh acidity cuts through the richness of others, like robata-grilled King Salmon belly or katsu – traditional pounded and fried chicken cutlet – served with tonkatsu sauce, a lightly sweet and spicy sauce similar to barbecue.
"We almost always have a croquette (korokke) on our menu, which is a really classic izakaya dish generally made by deep-frying panko-crusted potato purée with some type of filling (meat, béchamel, crab etc.). Our chef was making them with smoked trout, potato and Japanese-style mayo for dipping… It is amazing with Champagne. The toasty, salty, crunchy-creamy croquette is perfect with a slightly rich, round Champagne like Vilmart Grande Réserve. The warm brioche notes pair perfectly with the crispy panko, while the bright and creamy mid-palate flavours are perfect with the potato and trout filling. Oishī (delicious)!"
[Photos: Emma K. Morris]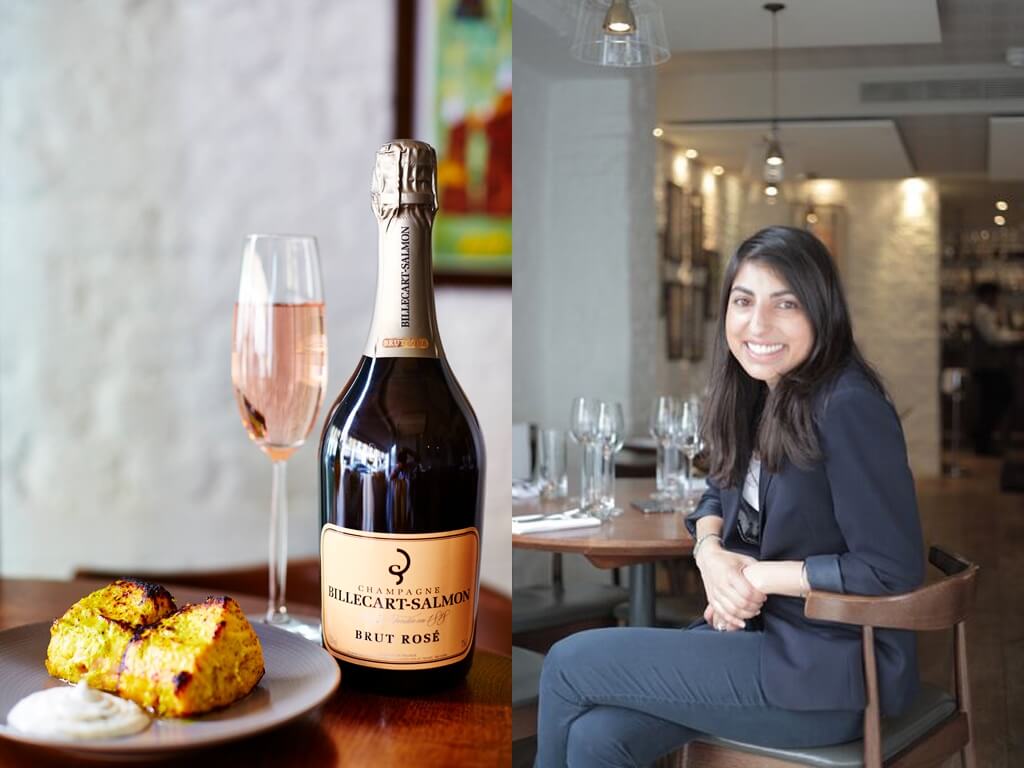 Sunaina Sethi
Trishna in London, UK
Sunaina Sethi is the wine director for JKS Restaurants, a London restaurant group she runs with siblings Karam and Jyoti. The trio are behind such popular venues as Trishna, Gymkhana, Bubbledogs, Kitchen Table, Lyle's and Bao. Trishna focuses on the coastal cuisine of southwest India.
"The range of flavours [in our cuisine] is so diverse, it's hard to have a one-size-fits-all formula. A lot of it also depends on personal taste. Generally speaking, Austrian wines work very well with Indian food, with their range of indigenous grapes. However, styles can also vary quite a lot, so it's important that the spice levels, cooking techniques and key ingredients of the dishes are considered carefully.
"There have been a few eureka pairings at Trishna across the years. Among the ones that stand out are the 'Ajwaini Salmon Tikka' with Billecart-Salmon Rosé Champagne. The salmon is cooked in the tandoor with a carom seed and yoghurt marinade and is accompanied by a dill raita. The billecart rosé is a perfect complement, as it has the perfect acidity to cut through the fish, and the flavour profile matches so well with the smokiness of the dish as well as the freshness of the dill.
"Another one is the 'Seafood Biryani' with Leung Estate Ma Maison Pinot Noir from Martinborough, New Zealand. Biryanis are very aromatic and have a bouquet of herbs and spices. When pairing with a biryani, it's important not to lose these aromatics, and the Pinot Noir has just the right balance of fruit and structure."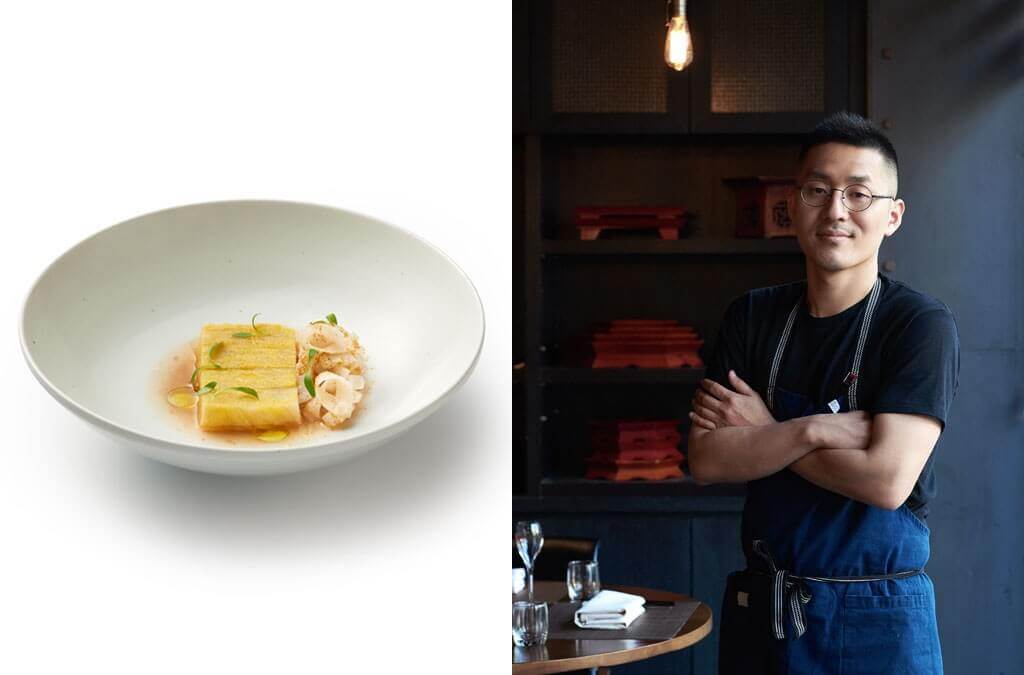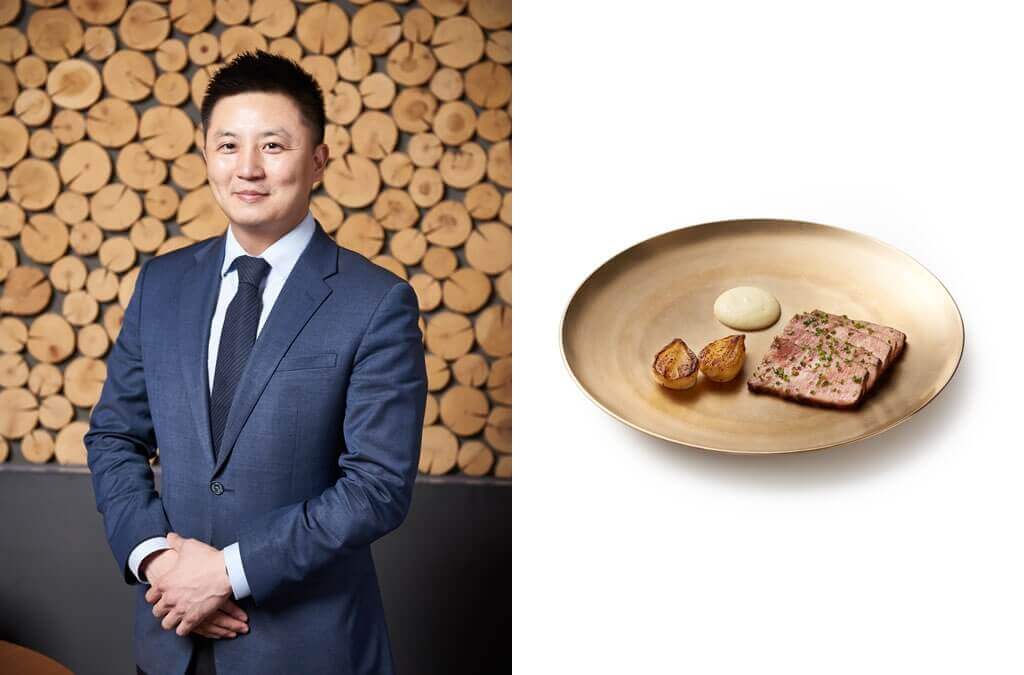 Minsung Kim
Mingles in Seoul, South Korea
Chef Mingoo Kang fuses traditional Korean dishes and fermentation techniques with Japanese, Spanish and French influences to create exciting contemporary dishes that earned his eatery the title of Best Korean Restaurant. Minsung Kim is sommelier at Mingles.
"The best way to describe a perfect pairing is that it is a marriage with the food. The dishes at Mingles have delicate and complex flavours, and usually a Bourgogne or a natural wine with a little umami go well. Some of these wines we import ourselves.​
"Our Vegetable Seon is based on the traditional Korean dish made from steamed vegetables. Napa cabbage is the main characteristic of this dish: only the leaves are steamed in a seasonal seafood stock with a Sichuan pepper flavour. Chef Kang uses abalone, an exquisite seafood ingredient, and steams it with lotus leaves and konbu. The fish is served in the broth. I pair this with Domaine Daniel Sage, La Voix du Periscope 2016, a natural wine from Viognier grapes, featuring a juicy flavour and refreshing acidity. It goes together very well with the sweetness of Chinese cabbage, it makes the vegetables more rich in flavour and replenishes insufficient acidity and umami.
"Galbi means 'grilled beef short ribs' in Korean. Chef Kang uses the highest grade 1++ level Hanwoo [breed of small cattle] and wet ages it for 3 to 4 weeks. We make a light consommé with Jang [traditional fermented sauce] as a form of jus. Our Galbi especially has a juicy texture and a mild sweet and salty taste because of the jang. With this I pair Domaine Daniel Sage, Grange Bara Syrah 2014, a balanced natural wine from Syrah grapes. It has a little fizz, mild tannins and a well-balanced fruit character and acidity. A great match with the soft texture and sweet sauce of the Galbi."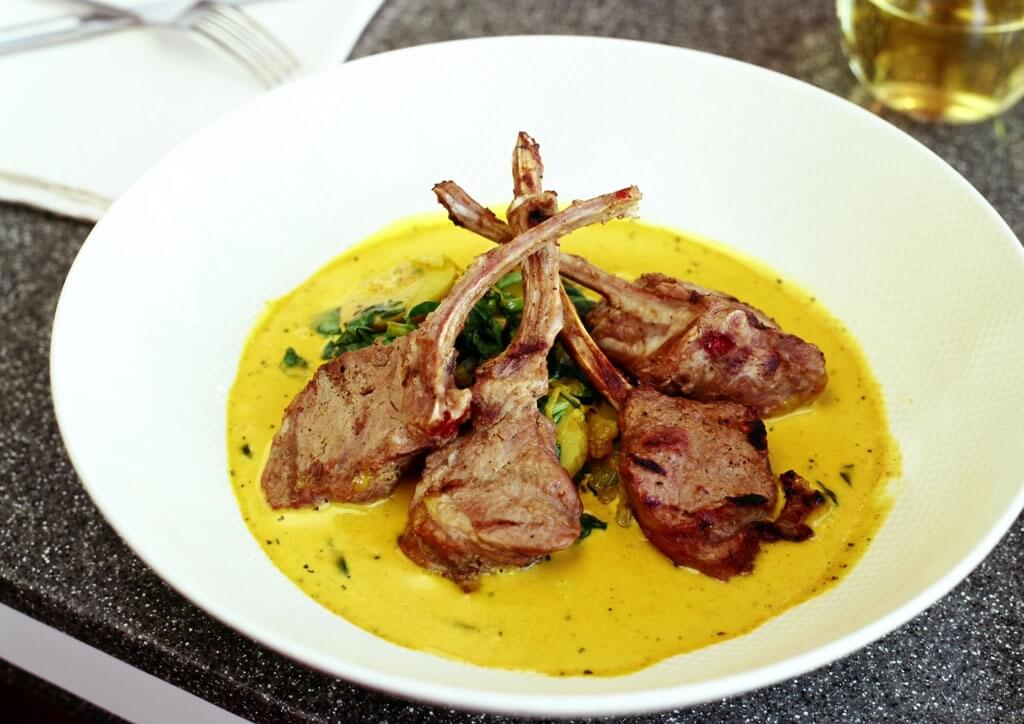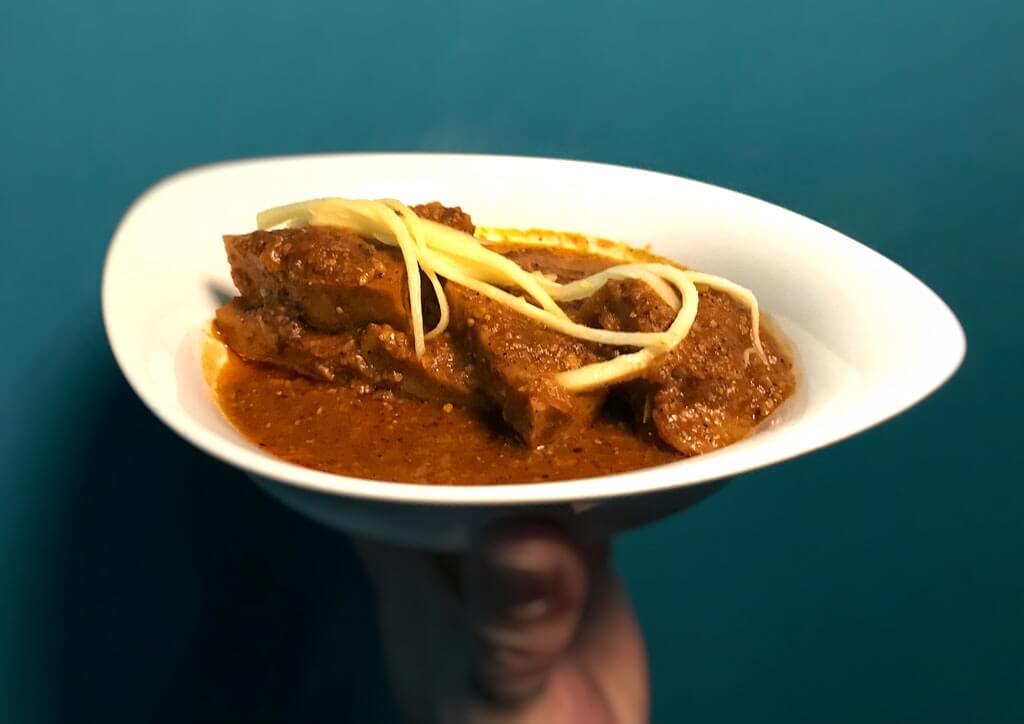 Sean Nelson
Vij's in Vancouver, Canada
Chef Vikram Vij inventively combines Indian techniques and spices with ingredients from British Columbia at Vij's, a Vancouver mainstay. Sean Nelson was recently awarded best sommelier in BC.
"The general rule of thumb when matching dishes at Vij's comes down to balance. The kitchen works hard to ensure that the flavours of the dishes are balanced, and so finding wines with balance to complement that is very important. The region or style of wine that works really quite well is the Rhône, both New and Old world examples of red and white. Wines that are vibrant, textured and carry layers of complexity.
"One of our signature appetisers is the 'jackfruit in black cardamom and cumin curry'. The young, firm jackfruit is the perfect vessel to carry the spicy tomato curry. It has a slight smokiness and earth from the cardamom and cumin that is garnished with juliennes of pickled ginger. The perfect pairing for this dish is the 2013 Schloss Reinhartshausen Riesling Kabinett Hattenheimer Wisselbrunnen from the German Rheingau. The Riesling does a fantastic job of balancing the heat in the dish, and highlighting the notes of ginger and cumin. The additional weight of Rheingau Riesling stands up to the robust, deeply flavoured tomato curry and leaves its mark on the finish with peach, honeysuckle and lime blossom.
"The all-time most popular dish of the restaurant is our 'lamb popsicles in fenugreek cream curry'. Individual lamb chops are marinated in wine and mustard before grilling, and served atop potatoes, spinach and a creamy curry of garlic, fenugreek and turmeric. The perfect pairing for this dish is the 2015 JL Chave 'Silene' Crozes-Hermitage. The Syrah brings out the meaty, smoky character of the grilled lamb; it penetrates the rich cream and allows the individual spices to be heard. The fenugreek leaf especially becomes more apparent and, next to the bright violet and black raspberry of the Syrah, creates something new entirely."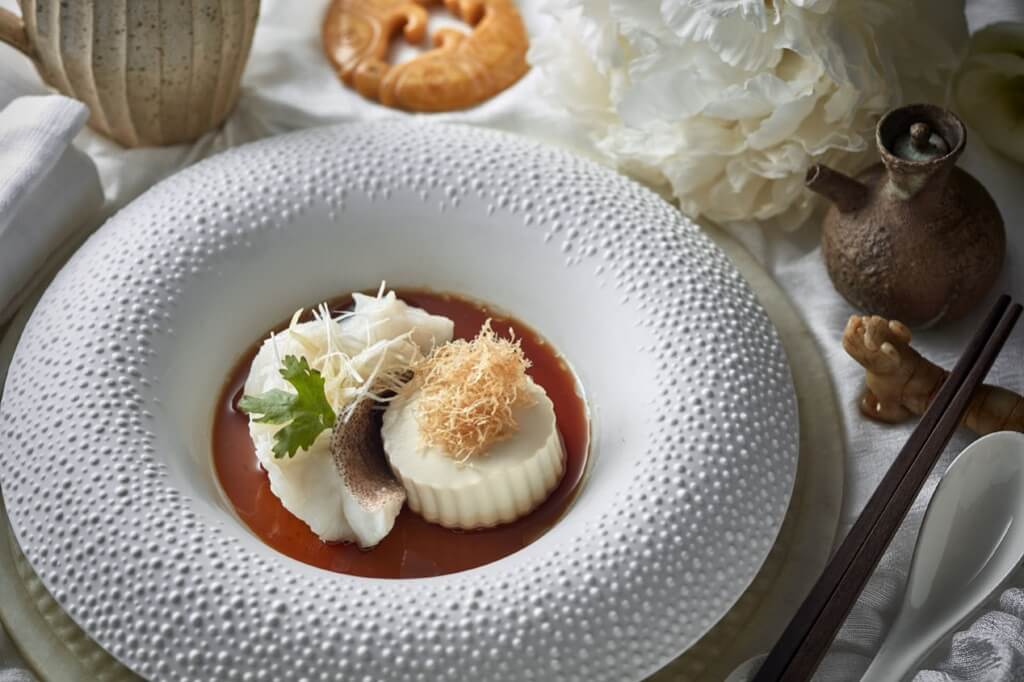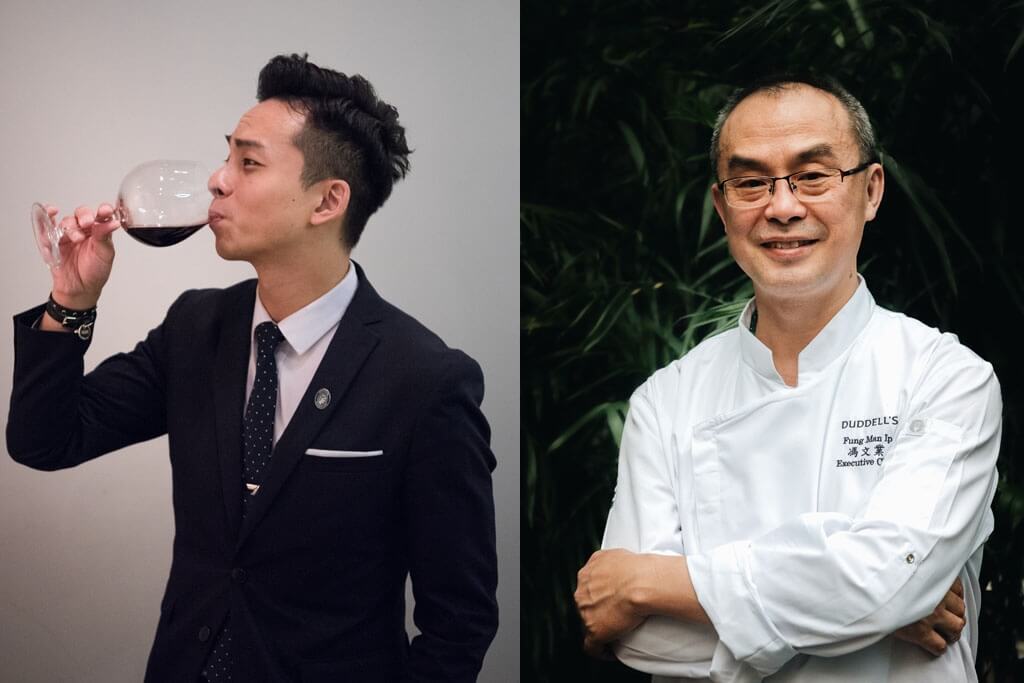 Derek Li
Duddells in Hong Kong
Executive Chef Fung Man-ip mixes traditional Cantonese cooking techniques and ingredients with Western elements at Duddell's. The classic-meets-contemporary style can be enjoyed in an artful setting. Derek Li is Chief Sommelier.
"My general rule of thumb isn't so much about what goes with what, but about understanding where my guests are coming from and respecting their preferences, while pushing them safely forward. There are currently some fascinating wines emerging from Israel, Greece and China – they create gorgeous work that is light, earthy and crisp. It is perfectly suited for the Cantonese served at Duddell's. That said, there will always be contenders from Old World regions found in Italy and France – you can't disregard a classic!
"One of the signature dishes of Chef Fung Man-ip is steamed garoupa with bean curd. It is a simple dish that showcases great beauty and skill – the fish is deboned and steamed with the handmade bean curd. Just a touch of salt and soy sauce is used to season the produce, which is enhanced when served with a lovely chardonnay. The Puligny Montrachet from Burgundy contains crisp acidity and savoury minerality which speaks to the sweetness of the fish. It also works well with the silky, creamy texture of the bean curd – a lovely finish. Interestingly, the Junmai Sake from Japan works well with the unami aroma from the soy."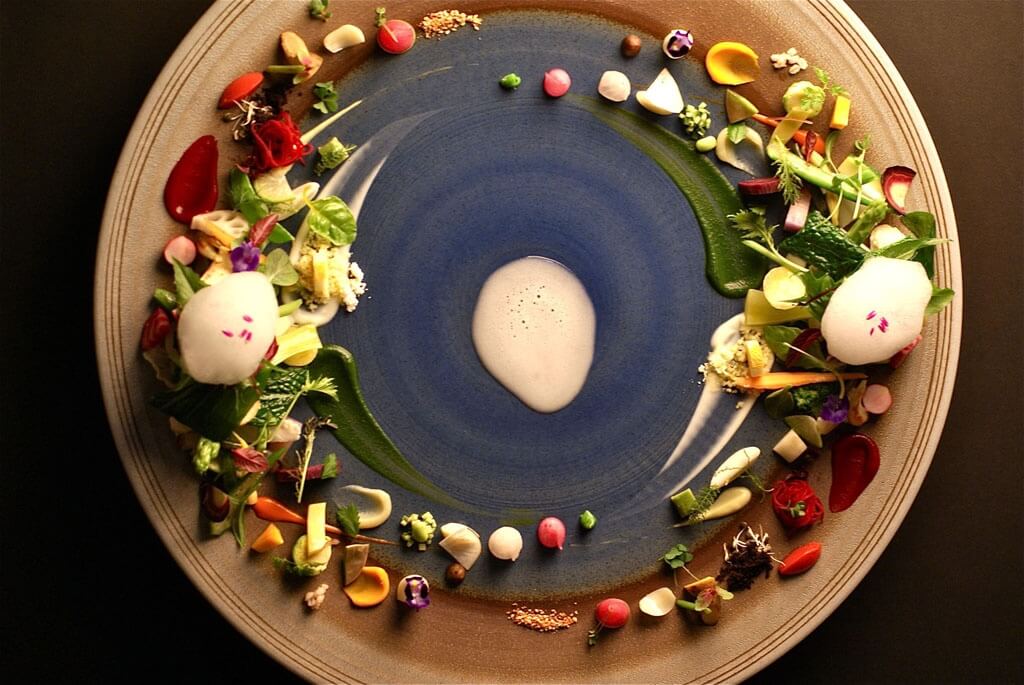 Mao Tameda
Hajime in Osaka, Japan
The acclaimed restaurant of Hajime Yoneda, a chef who is also an artist, is known for its beautifully presented dishes with a philosophical basis. Ms Mao Tameda comments on the wine pairings.
"The features of Hajime's dishes are very complicated, and we bring out the utmost taste using various techniques for each ingredient. Their combination creates special flavours. Since Hajime's dishes are complicated but genuine, we choose genuine wines, made with intent. We look for wines that seem simple at first, but demonstrate complexity in the aftertaste.
"Chef's signature dish is 'Chikyu', the 'planet earth' [a vegetable dish made with 110 different vegetables, grains and herbs]. We pair this with Pfersigberg Riesling Grand Cru 2011 Gerard Schueller, a 'vin naturel' from Alsace. It's as fruity as taking a whole bite out of a fresh peach. After that, acidic tones cover the palate. Chikyu' is a dish that describes the circulation of the earth. Every vegetable is prepared to deliver its ultimate flavour. This wine speaks of the vineyards in Pfersigberg, with a genuine, clean and straight taste. Depending on the bottle, it can have a vinegary flavour sometimes; this shouldn't be seen as negative, as it actually becomes the bridge between the dish and the wine. A rich, fruity wine can handle a variety of flavours such as acidity, bitterness, sweetness and salt."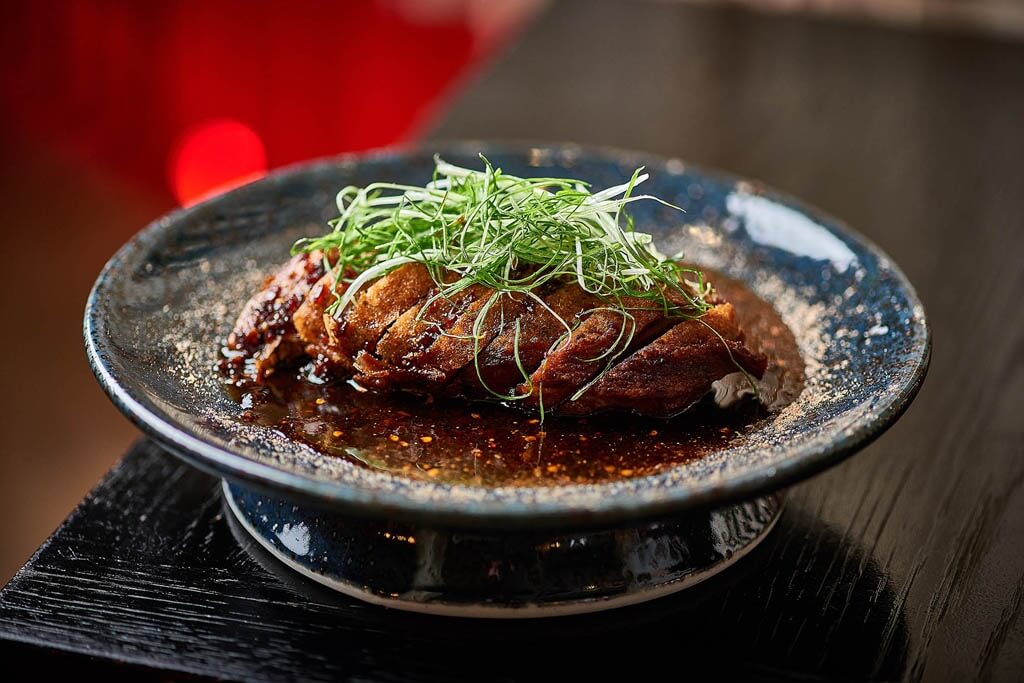 Sebastian Crowther
Spice Temple in Melbourne & Sydney, Australia
Chef and restaurateur Neil Perry serves stylish Chinese fare in a lush black-and-red setting. The culinary focus of Spice Temple is on China's lesser-known regions, with dishes designed to be shared. Sebastian Crowther is the beverage director for Perry's restaurant group.
"The dishes at Spice Temple are full of complexity and flavour, and it's far more challenging to find perfect matches. The spicy element of the dish can wreak havoc with some wines, so it's best to choose wisely. For me, the best wines are light styles of both white and red. Whites that are too acidic and dry can clash, so I tend to go for less acidic varieties like Pinot Gris and Gewürztraminer. The texture of these wines creates a nice harmony. But the all-time winner is an off-dry white, particularly Riesling. For red, lighter is better; soft and juicy styles are your friends. Think Pinot Noir, Grenache or the real game changer, Gamay. These wines have low tannin and soft edges, meaning they won't clash with those elements I talked about earlier.
"Our Kung Pao chicken is stir-fried with dried long red chillies, facing heaven chillies and Sichuan peppercorns. The dish also has cashew nuts, garlic, ginger, shallot batons, shaoxing, sugar and soy. It contains little sauce and is very aromatic and spice-driven. I like to combine it with the 2015 Joh. Jos. Prüm Wehlener Sonnenuhr Spätlese, a Riesel from the Mosel Region in Germany.
"The 'hot and numbing duck' is a whole duck marinated overnight in light soy, shaoxing wine, maltose, ginger, garlic, shallots, star anise and cassia bark, then steamed, deboned, rolled and pressed, coated in batter, steamed again, and deep-fried to order. It's served with hot and numbing sauce, which contains chilli flakes, Sichuan peppercorn, sugar, black vinegar, shaoxing wine, light soy and chicken stock. For this dish, I suggest the 2016 Daniel Bouland Corcelette Morgon, from the Beaujolais region in France."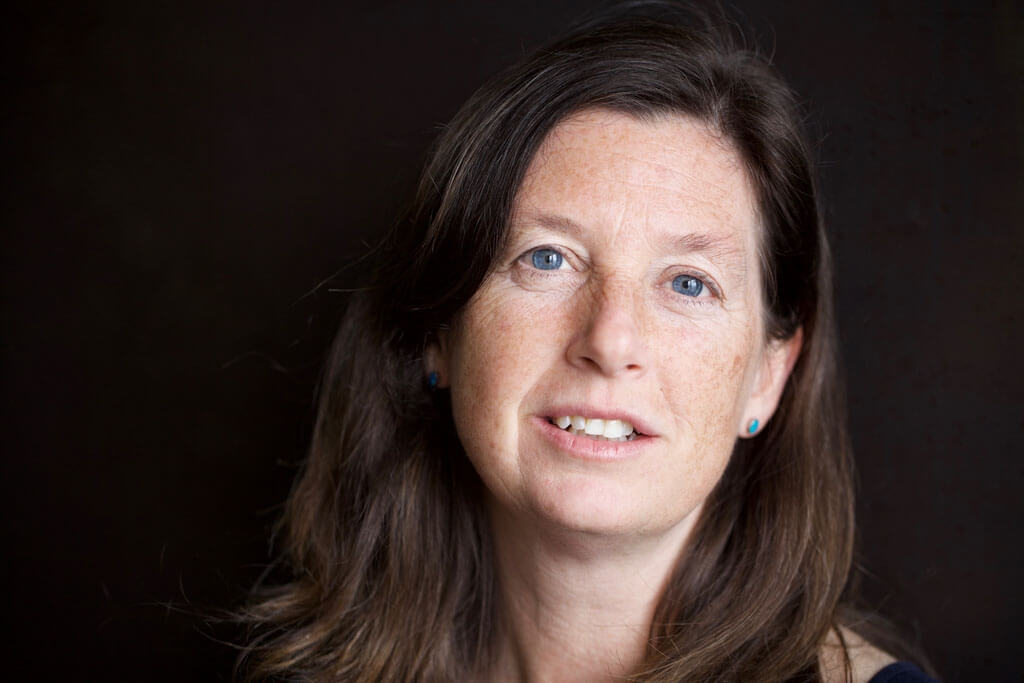 Chaylee Priete
The Slanted Door in San Francisco, California, USA
Since 1995, Charles Phan and his family have been serving modern Vietnamese food. Currently located in The Ferry Building, in a glass-heavy space overlooking the bay, The Slanted Door works with many farmers at the building's farmer's market for fresh, seasonal and sustainable ingredients. Chaylee Priete is the restaurant group's wine director.
"Almost since the beginning of Slanted Door, we have focussed on Riesling as the perfect pairing for our food. Since it's so versatile and runs the entire gamut from dry to lightly sweet to very sweet, it can pair with virtually anything on our menu. In fact, the perfect way to complement Charles' vibrant yet delicate dishes is to start with a light, dry, young Riesling, since they are so fresh and primary, and progress through the sweetness spectrum as the family-style array of dishes begins to hit the table.
"For instance, that same dry bright Riesling that was perfect with the raw bar through green papaya salad starts to seem a wee bit bitter as the sweeter, spicier main dishes arrive. We always then recommend that our guests try a Kabinett or more acid-driven Spätlese so that the sugar of the food is balanced by the sweetness of the wine, yet relieved by the juicy acidity that also comes with Riesling. By the time the caramelised dishes arrive (they are always last), a Spätlese does not seem very sweet anymore, since there is so much sugar and spice present in the dish.
"One dish we have never taken off the menu, and never will, is the Shaking Beef. It is wok-seared Filet Mignon but sits on a bed of watercress with red onions and a fresh-squeezed lime sauce on the side. Most people assume beef equates with red wine, but in this case the dish has so many green notes between the watercress and the lime, and the filet mignon is so simply seared, that red wine overpowers it. Also the bit of fish sauce that is in all of our dishes tastes metallic with any tannin, so it is once again the Riesling that shines. It cuts through the char of the meat, accompanies the acidity of the lime, and a touch of sweetness enlivens all the colourful flavours.
"One of my favorite Riesling producers to pair with is Donnhoff. They make wines from sweet to dry, but always with tongue-tingling acidity, refreshing minerality and such pristine, clean-style wines. Their entry level Kreuznacher Krötenpfuhl Kabinett is always truly delicious and quaffable, and a wine like their Hermannshöhle Spätlese is a truly memorable epiphany of flavour combination."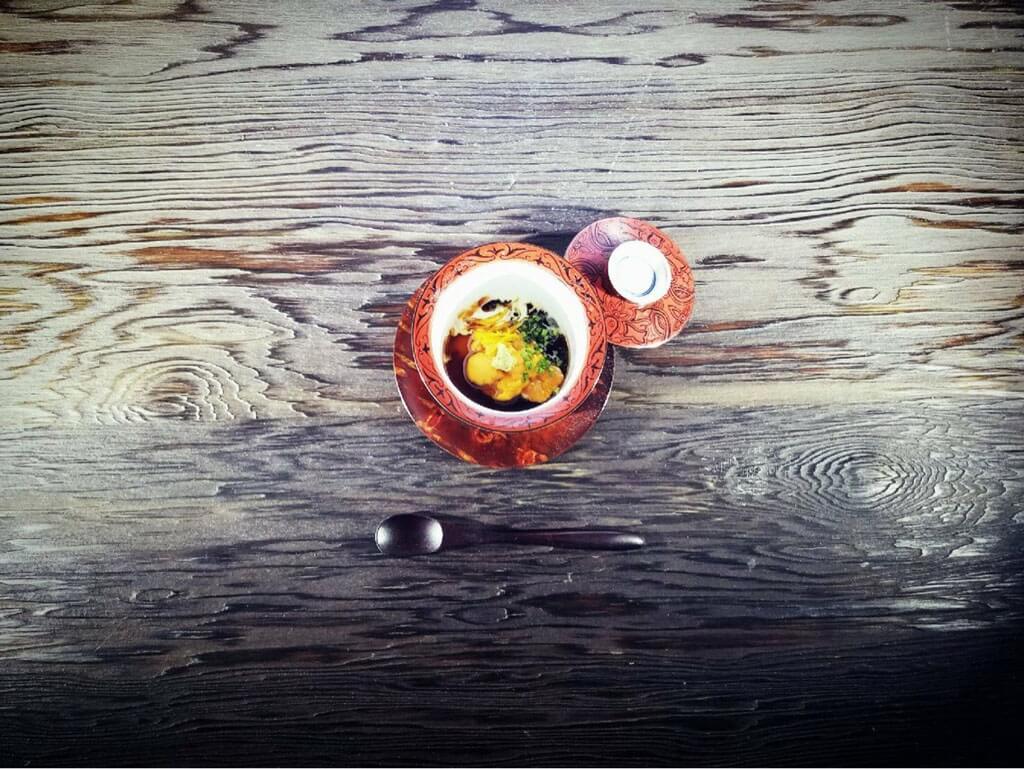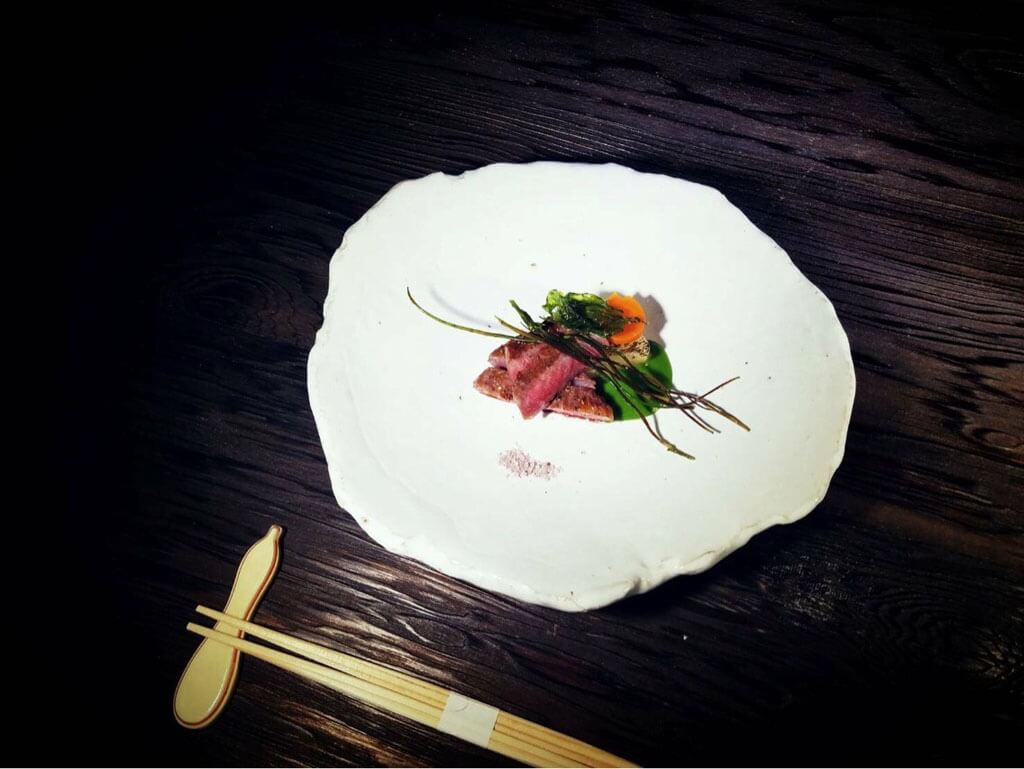 Masaaki Shigeno
Hashiri Restaurant in San Francisco, California, USA
Hashiri offers a culinary odyssey of composed Kyo-Kaiseki (Kyoto Haute Cuisine) & Edomae Sushi through a monthly evolving, seasonal-inspired chef's tasting menu. Hashiri San Francisco embraces the spirit derived from its original location in Tokyo, Japan with Executive Chef Shinichi Aoki and Executive Sushi Chef Tokunori Mekaru at the helm. Masaaki Shigeno is sommelier.
"As Japanese cuisine has a diverse, delicate aroma and flavour for each dish, the challenge of complementing and contrasting wines is fascinating. As I collaborate with Chef Aoki & Chef Mekaru with different flavours and ingredients, I came across many wines with a high acidity from colder regions to pair well with our cuisine.
"The majority of our courses are prepared with a base of dashi. Hand-shaved Bonito flakes and Rishiri konbu that is slowly extracted to perfection, delivering the true umami to our dishes. Dashi can be a challenge to pair, however through countless of tastings it came to light that well-aged Pinot Noir, Riesling and Grüner Veltliner develop a similar characteristic that complements it well."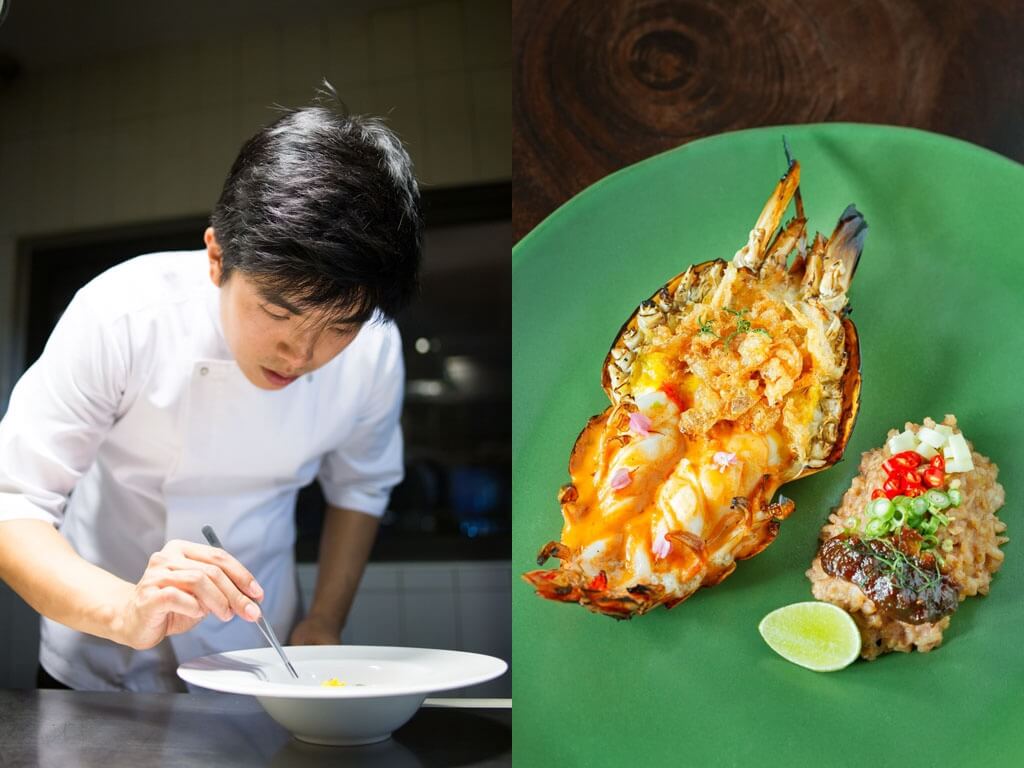 Thitid Tassanakajohn
Le Du in Bangkok, Thailand
Thitid Tassanakajohn, or "Chef Ton" is the chef and owner of Le Du, a progressive Thai restaurant in Bangkok. "Le Du" means "season", and seasonal Thai ingredients take centre stage. The chef is so interested in wine, he trained at the Court of Master Sommeliers in New York to become a certified sommelier.
"One of my signature dishes is 'grilled river prawn' – we slow roast it, then add kaffir zest and oil. We serve it with rice from Pai province, cooked in shrimp paste from Rayong province. With this, the white wines from Austria, especially ones from Wachau region, pair extremely well. I love their Grüner Veltliners and Rieslings, they are so good to match with Thai dishes. They have a balance of minerality and acidity, which makes them versatile and easy to match with the foods. If you have spiciness, you need wines with good acidity and fruit. They can't be too oaky, because this will only intensify the sensation of spice. A bigger, bolder red would be okay for a curry with coconut milk and mild spices."
Article by Irene de Vette