';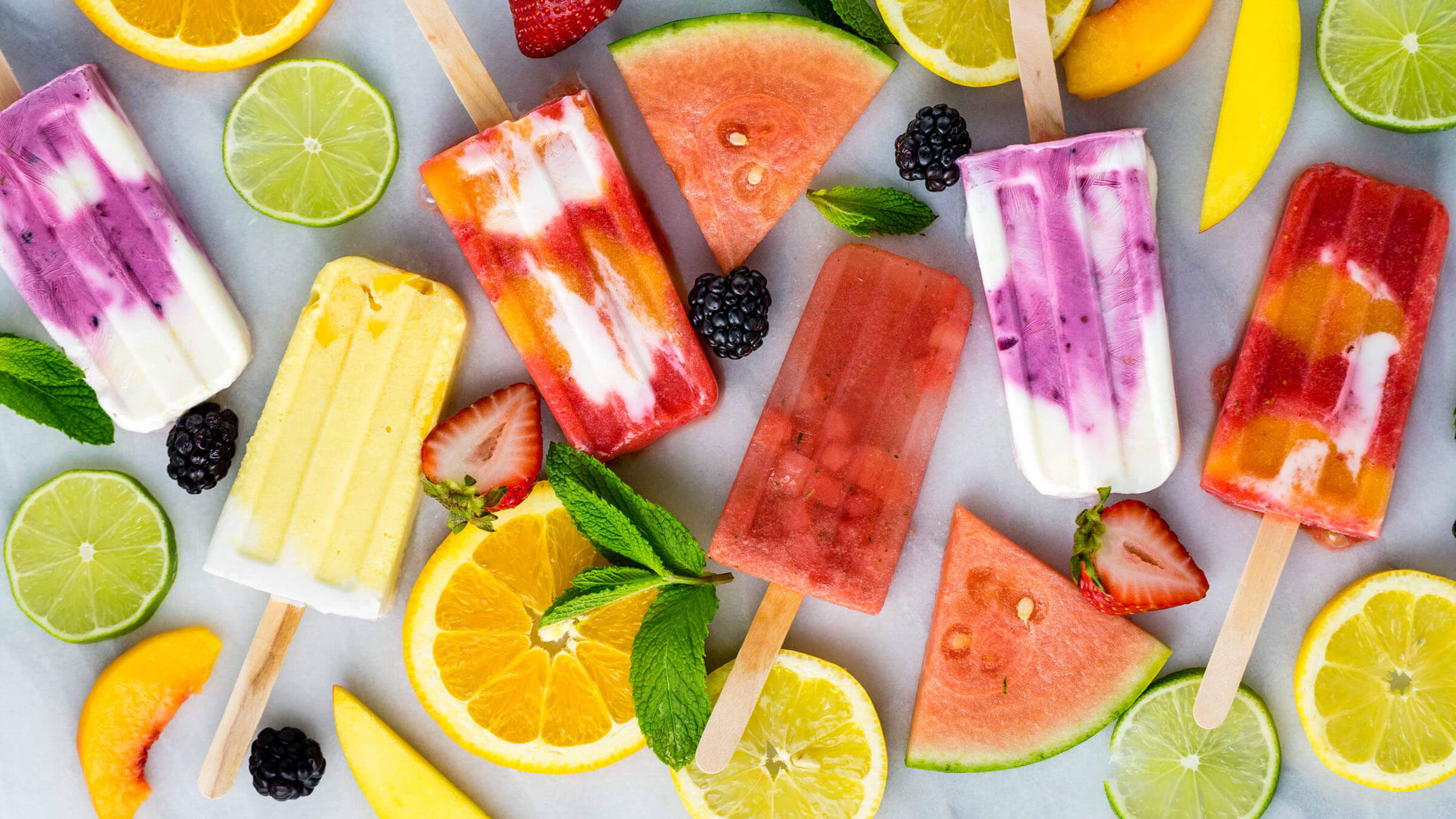 ;
While ice cream has been around for centuries, the popsicle is a more recent invention. In 1905, when 11-year-old Frank Epperson accidentally left a mixture of powdered soda and water out on the freezing porch, he discovered it had frozen around the stir stick that was in the glass. He later named his invention the "popsicle".
Whatever you want to call it – ice pop, ice lolly, icy pole or paleta – this treat on a stick is wonderfully refreshing and easy to reproduce at home. These food bloggers and authors share their favourite recipes.
The Classics
Gemma Stafford of Bigger Bolder Baking
"I love popsicles because you don't have to follow exact measurements and ingredients like you generally have to do in most baking. Although I'm a rule-follower and generally okay with that (maybe that's why I like baking), popsicles do not follow that same principle. You can leave out an ingredient if you don't have it, or swap it out entirely for another one. If you don't like lemonade, for example, use orange or cranberry juice!
"Fruit, yogurt, and juice make up the majority of these delicious and healthy treats. The smooth fruit purées are fresh and provide enough natural sugar for perfectly balanced sweetness. Once layered into your favourite ice pop mold and frozen for a minimum of five hours, my popsicle recipes are incredibly refreshing and guaranteed to keep you cool on any summer day."
Get the recipes here.
Chef Gemma Stafford's "Bold Baking" style is a fearless approach to baking anytime, anywhere. Followed by more than 3 million fans on social media, her videos have been viewed over 150 million times, and she has been featured worldwide by Food Network, The TODAY Show, The Doctors, The Dr. Oz Show, Buzzfeed & The Daily Mail.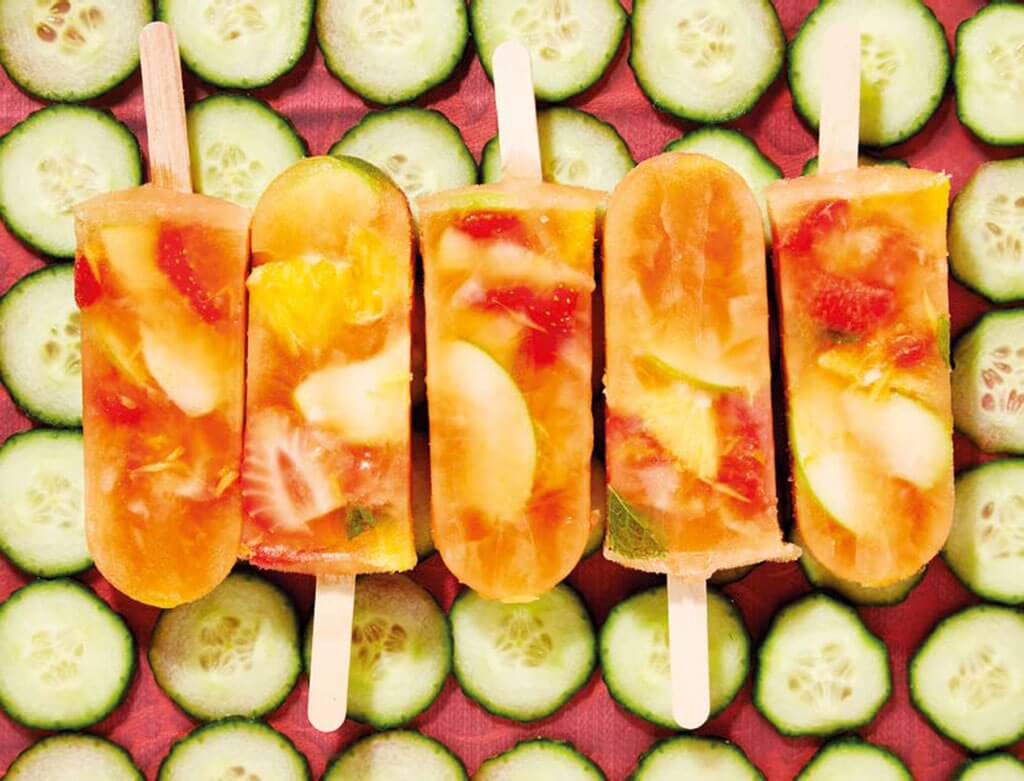 Pimm's On A Stick
Nadia Roden and Cesar Roden of Ice Kitchen
"There's something a little mischievous about turning a childhood treat into a strictly adult one. Our cocktail lollies, or 'poptails', are a fun new culinary experience – delicious, elegant, luxurious, playful and quirky. The idea for our book came about while I was experimenting with flavours and randomly dipped a watermelon ice lolly into a glass of rum to see how the flavours matched. While sucking the alcohol off the frozen lolly, I realised that this was something so special that I called Cesar right away to tell him how great it was.
"The fact that alcohol doesn't like to freeze was a challenge, but this led to some unexpected and delicious solutions, such as using raisins or bits of fruit soaked in alcohol in the mixtures, and finding the alcohols that had stronger, more distinctive tastes, so that the flavour gave the feeling of alcohol when the content was low. But most of all, it led to the idea of dipping the poptails into a glass of well-matched alcohol, and this became a big part of the excitement."
Get the recipe for Pimm's On A Stick here.
Artist Nadia Roden and her nephew Cesar run Ice Kitchen, a gourmet artisan lolly company in New York and London. Their latest book, Ice Kitchen Poptails, was released in May 2018. [Photo: Louise Hagger]

Pineapple Lassi Umbrella Ice Pops
Aunyarat Watanabe
"My ice pop adventures started when I lived in Thailand, the tropical fruit paradise where street-side fruit vendors are everywhere. I had a big blender in my kitchen to make fresh fruit juice every morning, and I always made ice pops with the leftover juice. Coming up with unique combinations of ingredients for my ice pops became my everyday ritual.
"My book Ice Pop Adventures, published by They Draw and Cook, is a collection of my illustrated ice pop recipes that I made for my 5-year-old nephew. Ice pops are undoubtedly the easiest things you can make at home. The recipes in my book are super simple, so that kids can try with little help from adults. It's so exciting to see your lemonade or carrot juice turning into icy delights on a stick. You can be as creative as you want, making lots of layers or coming up with unusual combinations of ingredients."
Aunyarat Watanabe is a freelance illustrator with a big sweet tooth. She has lived in Thailand and Australia, and she now lives and works in Japan.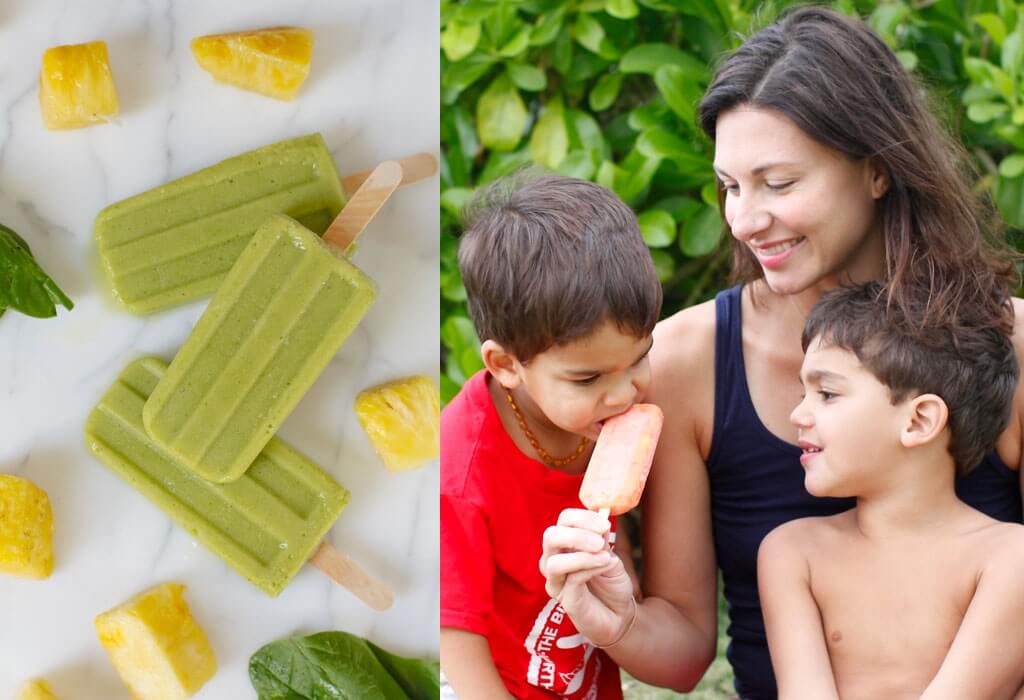 Green Monster Pops
Christine Chitnis
"When it comes to getting my daily greens, I'll try just about anything. While I love big, crunchy, straight-from-the-garden salads, I also love blending my greens into smoothies. Sweet, creamy and refreshing, it only makes sense that a blended green smoothie would work perfectly in pop form.
"Feel free to experiment with the greens. I prefer spinach because the taste is very subtle, but Swiss chard and kale also work well, though their flavours are a bit more distinct. I love the sweetness of freshly made pineapple juice, though you can feel free to substitute ready-made juice. If you're serving these to kids, play up the cool green colour, and before long, they'll be slurping up their daily serving of health-infusing greens!"
Get the recipe here.
When Providence-based writer Christine Chitnis was looking for healthy treats to feed her two young sons, she found the best place to turn was her own kitchen. Her latest book, Icy, Creamy, Healthy, Sweet: Healthier, Tastier Frozen Desserts Using Whole Foods and Natural Sweeteners features 75 of her favourite recipes for ice pops, frozen yogurt, granitas, shakes and more.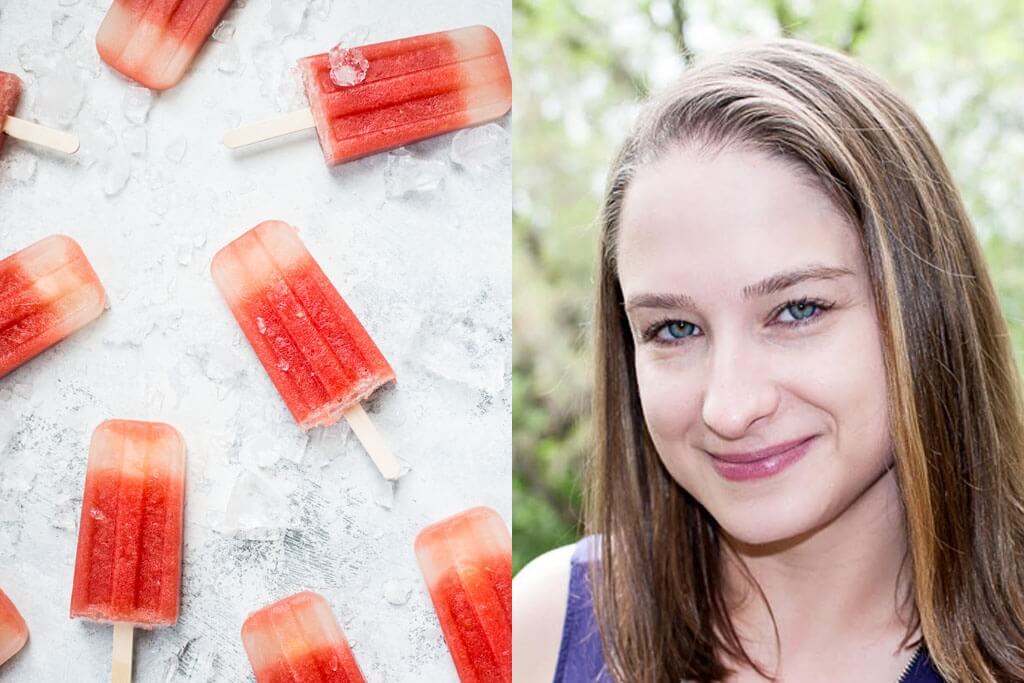 Watermelon Margarita Popsicles
Natasha Bull of Salt & Lavender
"Margaritas are a summertime staple, and turning them into popsicles is even more fun! These watermelon margarita popsicles have all the delicious flavours of the tequila-based drink without added sugar. They only require four ingredients and freeze beautifully – the watermelon juice naturally settles to create a pretty gradient effect."
Get the recipe here.
Natasha Bull is the author, recipe developer and food photographer behind Salt & Lavender, a food blog that focuses on wholesome, easy-to-follow recipes for busy people.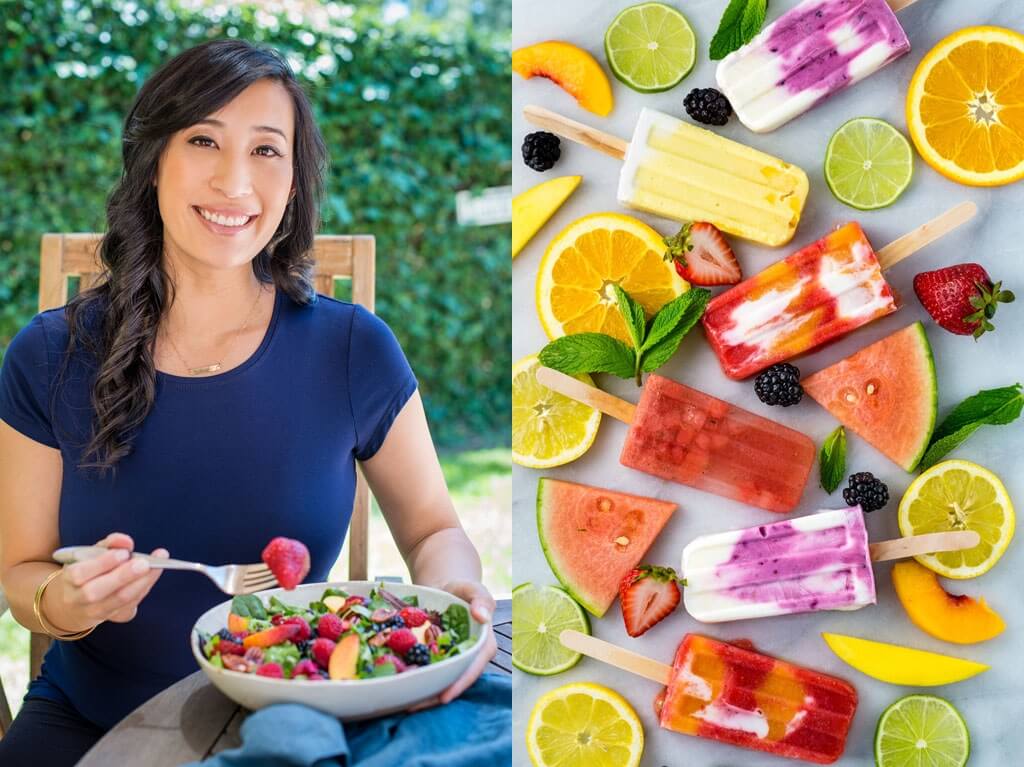 Homemade Fruit Popsicles
Jessica Gavin
"Popsicles are one of those nostalgic treats that kids and grown-ups can enjoy together. When making them at home, there's more flexibility to add wholesome ingredients and switch up the flavour with each batch. My son not only loves eating them, he's a great helper and likes to get hands-on in the kitchen with me. It's a great way for kids to incorporate healthier foods into their diet, like seasonal fruits and vegetables. My family loves fruit popsicles, especially peach strawberry yogurt and minty watermelon flavours. They're the perfect treat!"
Get the recipes here.
Jessica Gavin is a Certified Culinary Scientist, a food science industry professional with formal culinary school training, as well as the author of cookbook Easy Culinary Science for Better Cooking. On her blog, she posts tasty recipes and tips on ways to improve your confidence in the kitchen.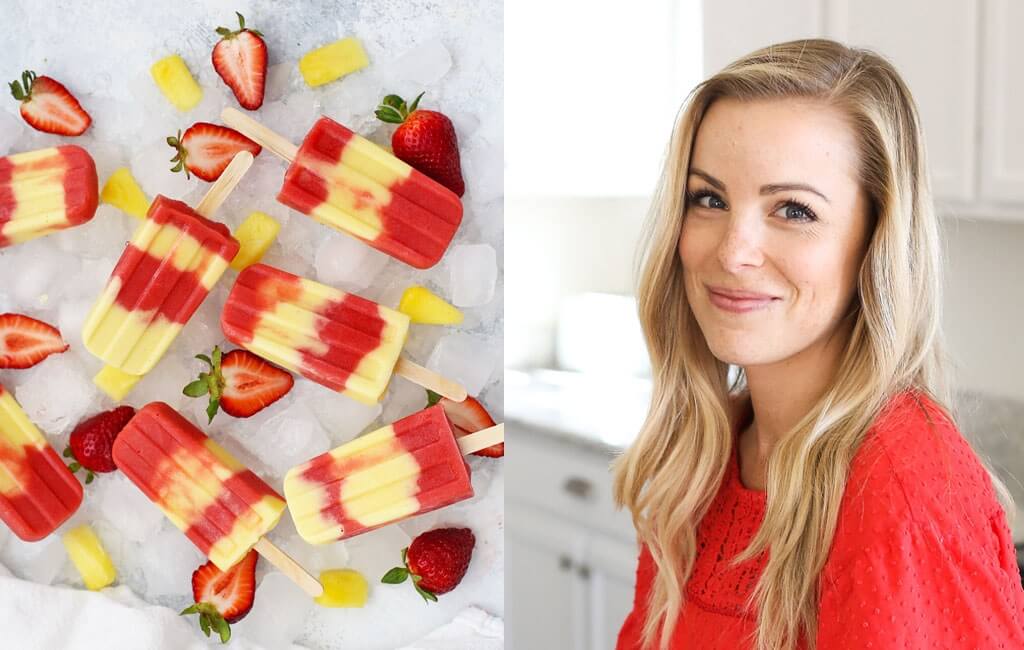 Lava Flow Popsicles
Emily Dixon of One Lovely Life
"Homemade popsicles are a staple at our house during the summer. I love that we can use healthy ingredients, and they always turn out beautiful and delicious. These Lava Flow Popsicles are a perfect example – they have a creamy coconut layer swirled with fresh strawberry. The layers are gorgeous, and the flavours are even better!"
Get the recipe here.
Emily Dixon is a Phoenix-based healthy recipe and lifestyle blogger at onelovelylife.com. She's an expert on creating vibrant, healthy recipes to please the whole family.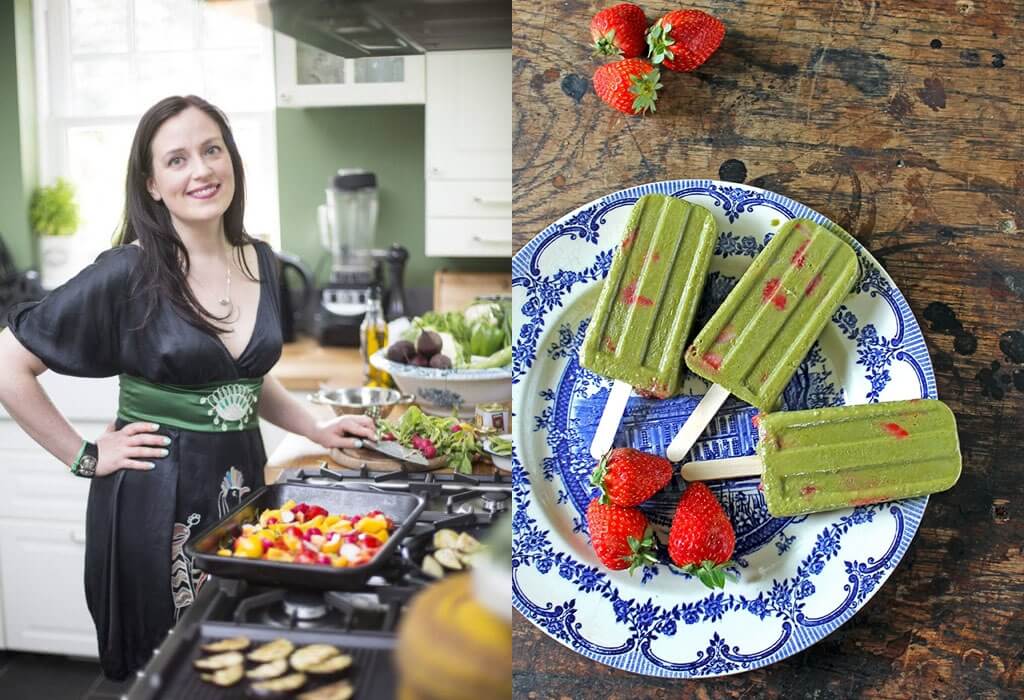 Strawberry And Matcha Popsicles
Kate Hackworthy of Veggie Desserts
"I enjoy matcha lattes made with almond milk in the mornings to give me an energy boost. I also like matcha's complex flavour with grassy and sweet notes, so I turned this vegan favourite into an ice lolly that's perfect for dessert or even breakfast. It's packed with energising and metabolism-boosting matcha and bulked with oats to make a filling and nourishing frozen treat. Fresh strawberries add the finishing touch."
Get the recipe here.
Kate Hackworthy is a UK food blogger and cookery writer. She's unashamedly obsessed by vegetables, whether they're in her breakfast, lunch, dinner or dessert. Her first book, Veggie Desserts + Cakes, was released in 2017.

[Opener photo: Jessica Gavin]