';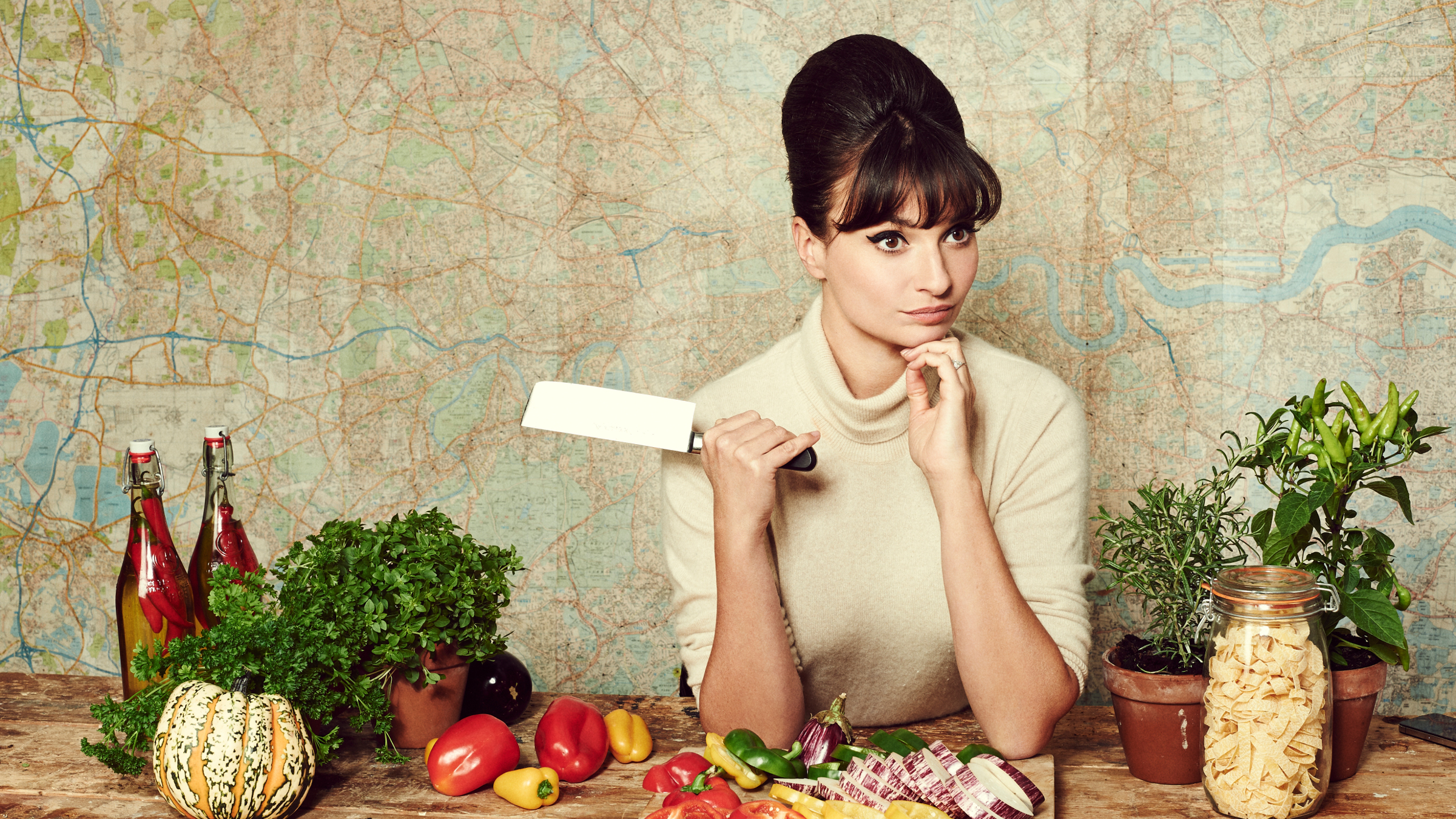 A former body piercer, Gizzi Erskine came to the cooking profession later than many – but lost no time making a name for herself as a sought-after food writer, television presenter and cookbook author. Here, the UK's most vivacious epicure confesses the food that makes her weak in the knees.
"The thing that I've openly said I'd like to die in a bucket of would be Kentucky Fried Chicken. I absolutely love it. I don't think anyone has managed to trump the flavour of KFC in a gourmet way. 
"The problem with KFC is I'm very pro-animal welfare within the food industry, so it doesn't happen that often, but I will confess that when I've been very, very drunk I have found myself walking into one before… a few times. 
"I was brought up in Marble Arch, which is an area of London that's right in the centre, a very touristy part of London; it's where they opened the first flagship KFC. So when we were like 7 or 8, we thought it was the height of coolness to go down there, and it's sort of become me and my little sister's thing. So the person I always like to share it with would be my little sister, Cora, because she has exactly the same vice as I do – and it's because, from the age of 7, we were sneaking off there.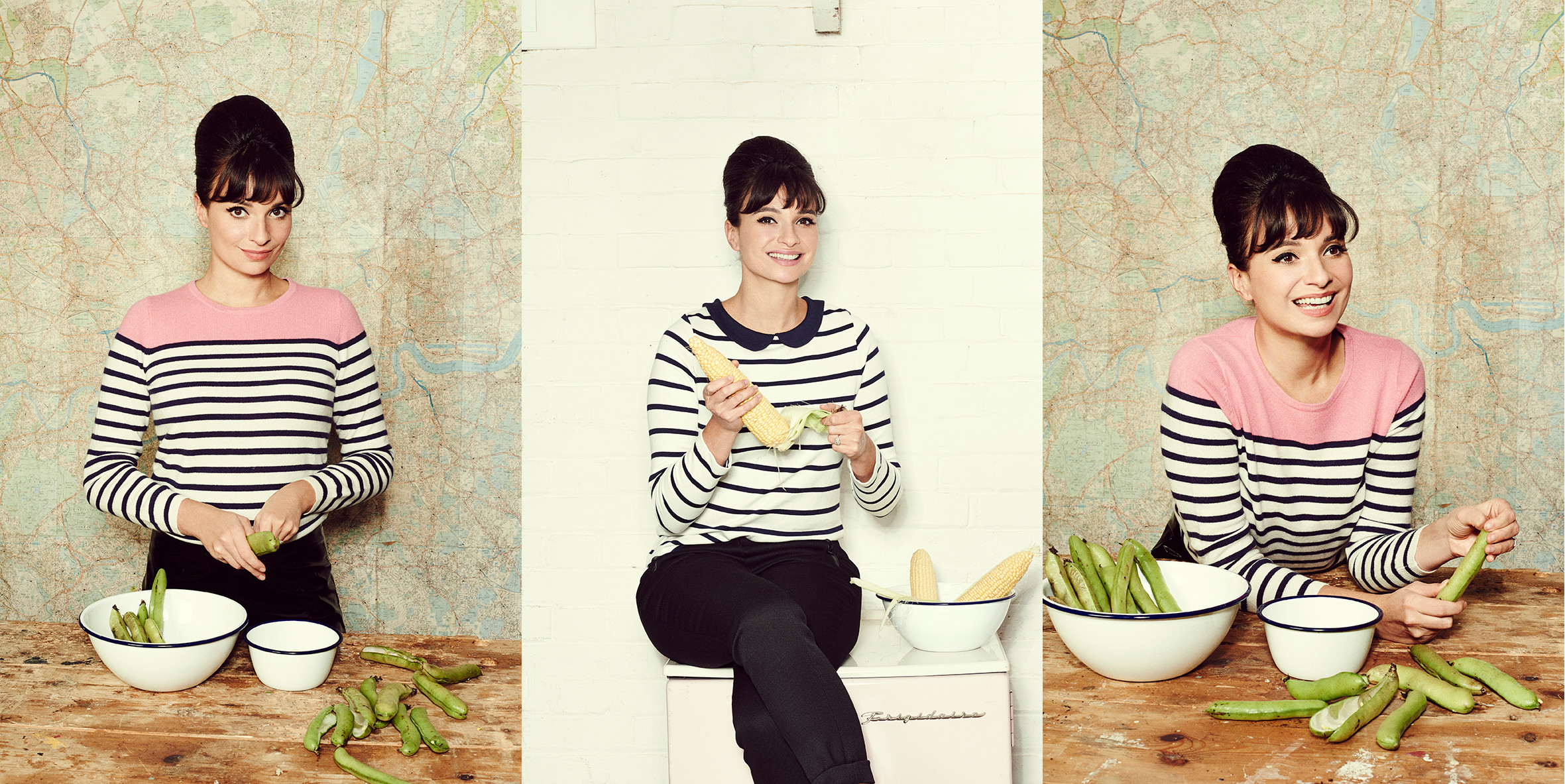 "My mum was very good with food, we were only allowed to eat fresh stuff. She hated fast food (and my father wouldn't go into McDonald's because you couldn't get a glass of wine in there). So that's kind of how we were brought up, and because of that we rebelled against it. And we LOVED it.
"My sort of signature dish now has become "KFC", as in "Korean fried chicken". You don't really get Korean fried chicken in London […] but when I go to New York, I'll have it every time I go over there  […] because obviously they have 'Korea towns' which we don't have over here. So from my love of actual KFC, it evolved into sort of the 'other KFC'."
Gizzi's KFC (Korean Fried Chicken)
Pre-Prep: 12-24 hours (for brining chicken)
Prep time: 10 minutes
Cooking time: 20 minutes
Ingredients:
200ml buttermilk
1 tablespoon salt
8 free-range or organic chicken wings (wing tips cut off, then each wing cut in half through the joint to make 16 pieces)
Oil, for deep-frying
2 tablespoons toasted sesame seeds (white, black or a mixture of both)
2 spring onions, (green parts only, very thinly sliced into rings, to garnish)
For The Sauce:
2 tablespoons gochujang (Korean chilli paste)
2 tablespoons Sriracha chilli sauce
4 tablespoons caster sugar
4 tablespoons rice wine vinegar
2 tablespoons ketchup
1 tablespoon sesame oil
1 tablespoon chicken fat or butter
For The Flour Mix:
6 tablespoons self-raising flour
3 tablespoons rice flour
3 tablespoons potato flour
Sea salt flakes
White pepper
My recipe is a fusion of American meets Asian, brining the wings first to tenderise, season and firm up the wings, then tossing them in three flours. – Gizzi Erskine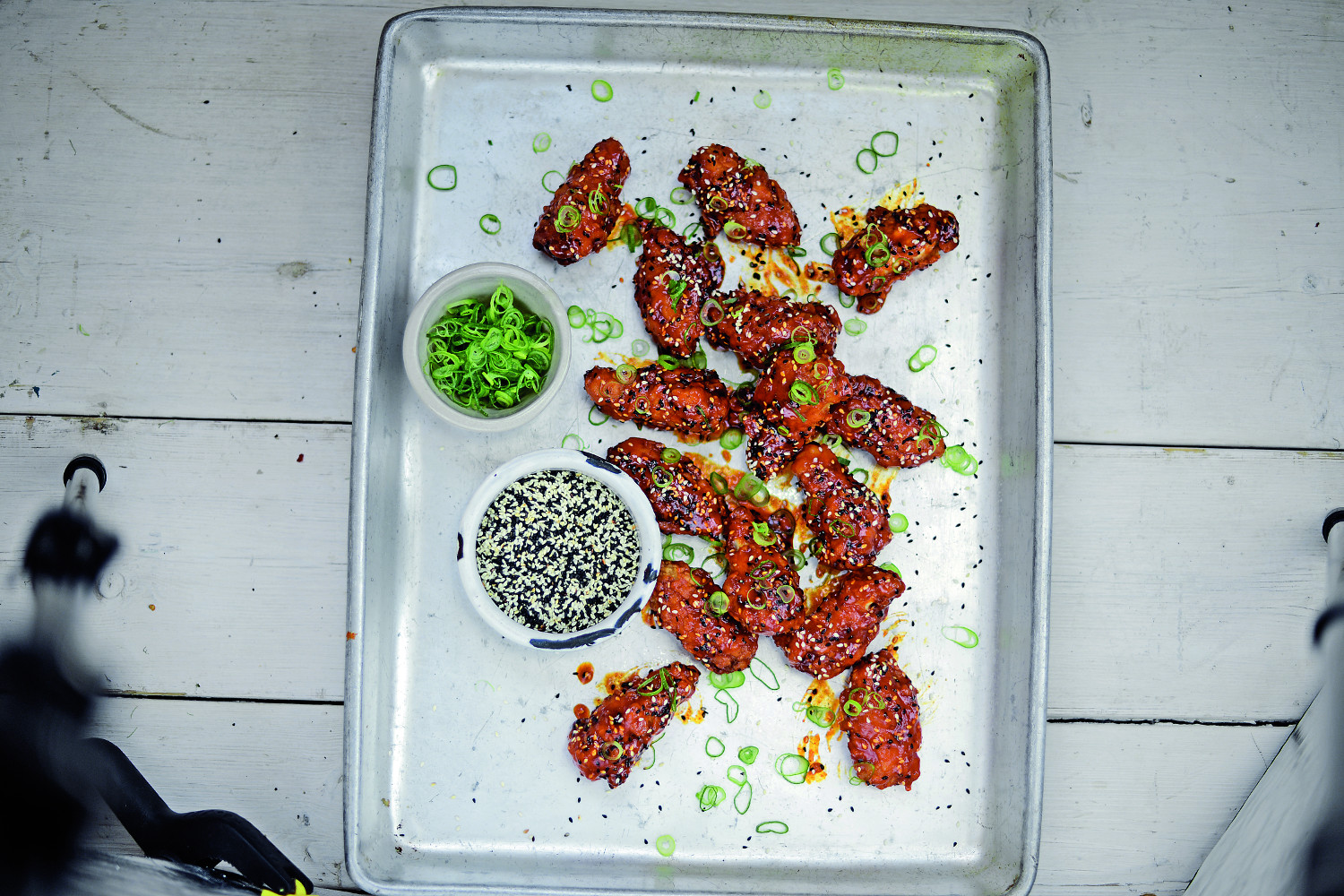 Method:
1. Mix the buttermilk and salt together in a bowl. Add the chicken wings and massage the brine into the wings, then leave in the fridge for 12-24 hours. This will draw out all the excess water from the wings, leaving the concentrated chicken juices.
2. To make the sauce, melt together the gochujang, chilli sauce, sugar, vinegar, ketchup, sesame oil and chicken fat or butter in a saucepan. Bring to a boil for a minute, then remove from the heat and set aside.
3. Mix all the flours together in a bowl and season well. Take the wings out of the buttermilk brine, wiping off any excess with kitchen paper. Toss the wings, 4 pieces at a time, in the flours. Remove and set aside. Gizzi says: "You might think this step is a bit extreme, but each flour does its own thing: the self-raising (wheat) flour is for puff, the potato flour is for chew and the rice flour gives it crunch. Don't mess about with this step."
4. Heat the oil in a deep-fat fryer (or a deep saucepan or wok filled with oil a third of the way up its sides) to 140°C. Add the wings and fry gently (or confit) for 8-10 minutes, or until they are cooked through but have barely taken on any colour.
5. Remove the wings and drain on kitchen paper. Increase the temperature of the oil to 190°C and fry the wings for a further 2-3 minutes, or until they are golden and cooked through.
6. Toss the wings in the sauce and 1 tablespoon of the sesame seeds. Sprinkle the remaining sesame seeds and the spring onions over it and serve immediately. These are best eaten with your fingers and served with an ice-cold beer.
Gizzi Erskine
After 7 years as a body piercer, Gizzi Erskine launched her foodie career, enrolling at Leiths School of Food and Wine in London. She has presented several of Channel 4's cooking shows, including Cook Yourself Thin, Cookery School, Iron Chef and, currently, Drop Down Menu, while also contributing to Healthy Food Guide magazine and The Sunday Times as a food writer. She has published four books, most notably the successful Skinny Weeks and Weekend Feasts, as well as her most recent cookbook, Gizzi's Healthy Appetite: Food to Nourish the Body and Feed the Soul, which features more than 100 of her most tried and tested recipes like Roasted Baby Cauliflower with Cheese Sauce & Crispy Shallots and her decadent Molten Caramel & Chocolate Pudding.  
Get Gizzi's Healthy Appetite on amazon.com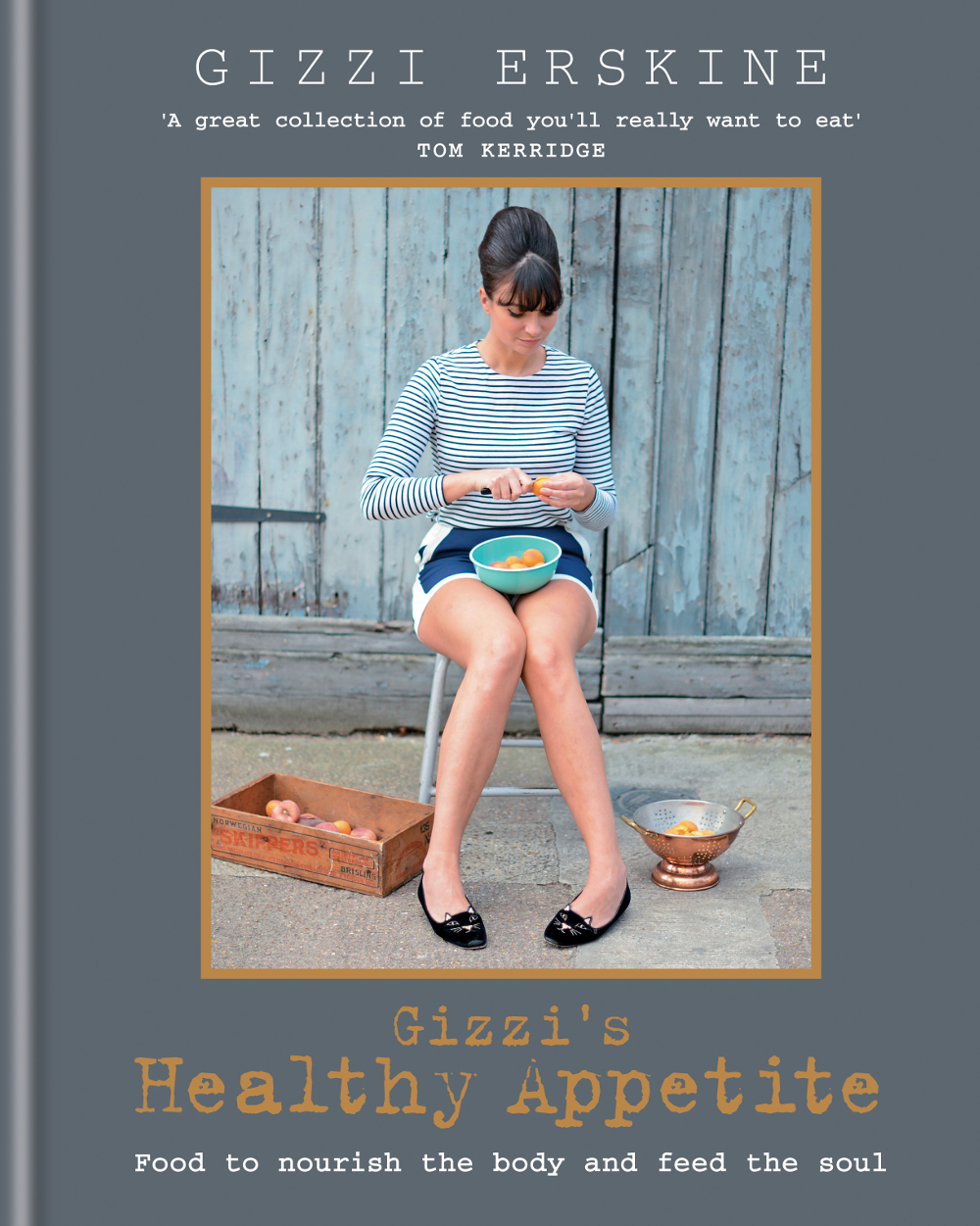 Article by Jessica Keller