';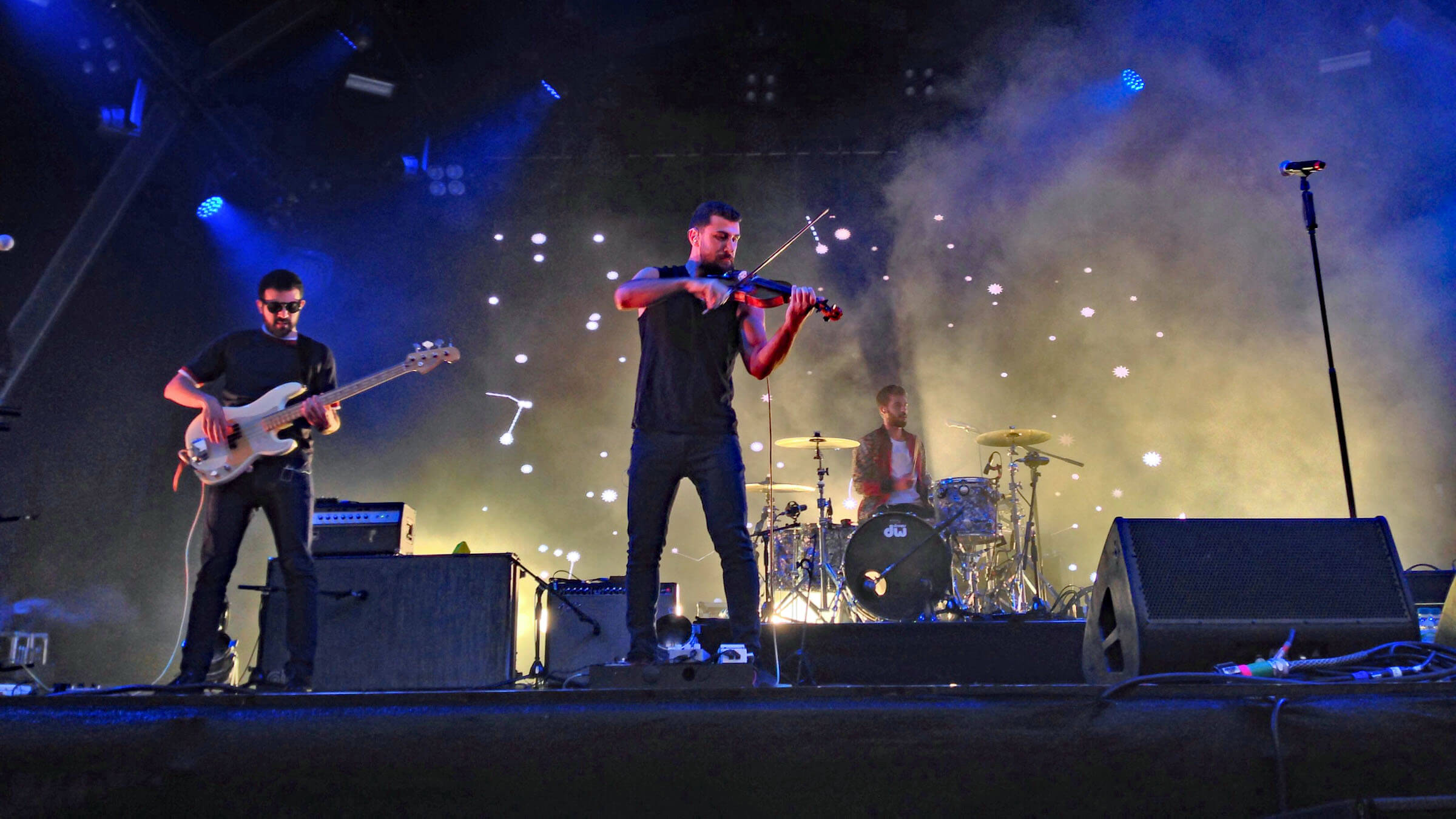 "London, It's shows like tonight's that make playing matter to me. […] So much magic everywhere," reads lead singer Hamed Sinno's Facebook status posted after Mashrou' Leila's Summer Series concert (in association with American Express) at London's Somerset House, an architecturally stunning venue renowned for its diverse and dynamic arts and culture events and exhibitions. There they played to a full house, with fans and curious music aficionados applauding and singing along to every track performed from the last album, Ibn el Leil (Son of the Night). Sinno, who is openly gay, notes the significance of the giant pride flag flying proudly over the venue and points to images of an astonishing sunset, a vast sky scattered with rugged clouds, painted in hues of pink and orange, but emphasises: "all of it paled when compared to the audience."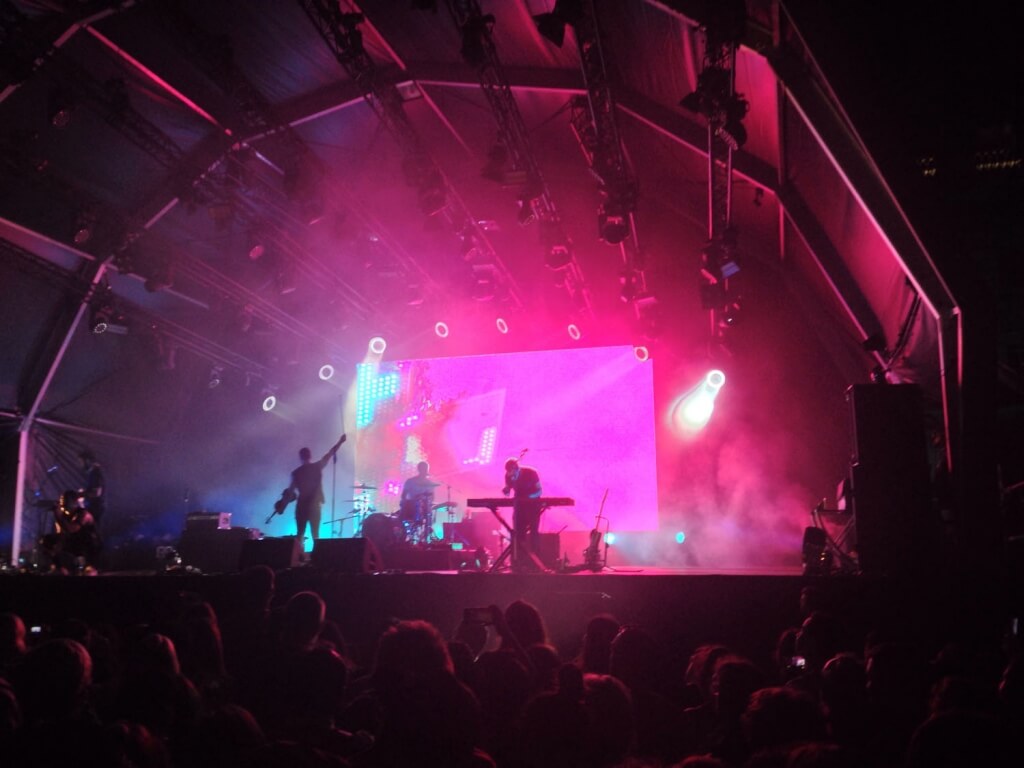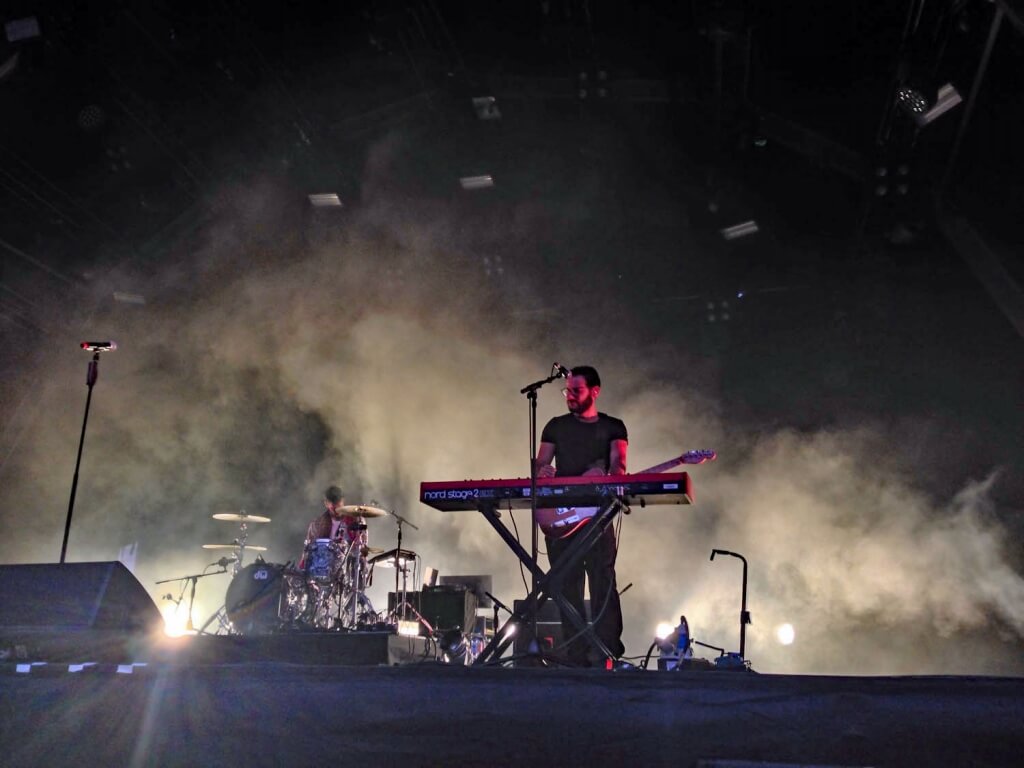 [Photos left and right: Akeela Bhattay]
Mashrou' Leila's audience is as diverse as the band's members, the variety of instruments played by them on and off the stage and the myriad issues their music deliberates. Mashrou' Leila (meaning 'Night Project,' or 'Leila's Project') was born from a passion for music and a desire to articulate the issues plaguing a generation – and from the late-night music-making sessions of a group of university students. Apart from lead singer and writer Sinno, the band includes Firas Abou Fakher (guitar and keyboard), Carl Gerges (drums) and Haig Papazian (violin). They are joined on stage by bassist Ibrahim Badr. The sound is an explosive concoction of swing jazz, indie rock and Baroque pop, elevated by Sinno's powerful, hypnotic voice.
Sinno sings exclusively in Arabic, yet the band has garnered the attention of millennials and Generation Z worldwide – a testament to the powerful lyrics on sexuality, feminism, unjust governments and politics in general, all in some way relatable to mindful audiences the globe over. The brand new deluxe edition of the latest album features the new track Roman. The new single, and its gorgeous video directed by female Lebanese director Jessy Moussallem, expresses the agency, power and resistance of Arab women muted by white feminism which so often depicts them in a binary fashion.
The distinct calibre of the band means they're encumbered by being heralded as representatives for the Arab world, numerous nations of vastly different characteristics, traditions and cultures. "It's exhausting," says Sinno,"and if we were to begin considering the enormity of this expectation, well, it's impossible. It's impossible to speak for millions of different people in such a vast and diverse space. It's absurd to even think about it. And when we're confronted with these kinds of questions by – more often than not – Western media, it's a reminder that white artists are not expected to carry this burden."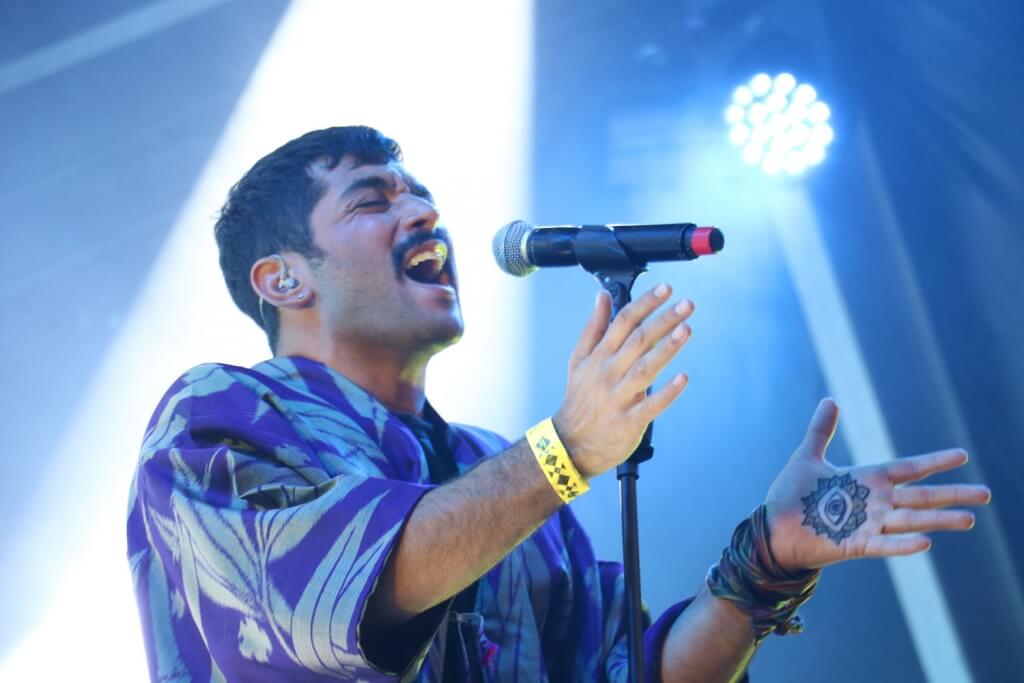 I think all music has substance and meaning. We all inject different meaning into the music we listen to, the art we consume. – Hamed Sinno
"I think all music has substance and meaning. We all inject different meaning into the music we listen to, the art we consume." – Hamed Sinno
On Substance In Song…
There's no doubt that audiences have gravitated towards the band for their messages of justice and calling out injustices, and does that inject more substance to their music?
"I think all music has substance and meaning;" says Sinno. "We all inject different meaning into the music we listen to, the art we consume. Our music tends to discuss and highlight the issues we and our communities are experiencing, the things that we're passionate about – and a lot of that is political, which could be considered activism. But meaning can be ascribed to any music, from what may be considered intellectual to billboard music; it's really about the consumer and what the music means to them.
"Though we're passionate about issues, we're also passionate about music itself, the process of music being created, hearing different sounds," he says. "That is amazing and is central to creating our music. Looking back at '80s songs which have become queer anthems, it's the audience that has ascribed different meaning or a deeper substance than what the artists' intentions were."
"Even if you isolate a certain song from context, time and place, it will still contain substance to an audience somewhere," adds Abou Fakher. "People look for different things in music, and it's not that there is no substance in a song, it's that the substance is not to your taste, something that doesn't quite agree with you. I think it's difficult to write music with no substance at all."
On Global Celebrity…
When asked about the influence a larger, globally diverse audience might have over the creation of new music, Abou Fakher states: "I don't think we've been influenced by knowing we're being heard by different audiences. Rather, we tend to make changes if and when we find ourselves too comfortable [in the creative process] – we want to challenge ourselves, so we're adventurous and try to keep the process exciting. But perhaps the incentive for change has come from the knowledge that we have greater opportunities because we have a loyal fanbase, because we know our music is being heard."
Sinno adds: "When you start out, your goals are smaller and you don't look so far ahead. But the confidence you gain from knowing your music is being enjoyed and growing in popularity, that creates the desire to pursue other goals – playing for bigger crowds or actually justifiably writing a song in English, knowing we have a dedicated English-speaking audience. But I think we should be cautious in how much influence these factors should play in the making of our music. There's the risk of creating music purely to appease or keep an audience, and when you start creating music just to please people, you lose integrity."
On Getting Their Start…
The question of "selling out" is one the band never dreamed of having to grapple with at the outset; their rise to indie stardom wasn't as clear cut as one might assume. Gerges comments: "When we started 10 years ago, there weren't so many professional, dedicated Lebanese bands. There are reasons for this: in Lebanon we don't have the infrastructure to support bands – recording and production studios, music labels and producers – so it was very hard for us to start, and it was a big risk career-wise, to live from making music, in the Middle East in general. I think we were lucky enough to have the opportunity to play one of the major festivals in Lebanon, and it was the first time in Lebanon that a Lebanese band was headlining. And perhaps it's pretentious to say, but I believe this was a key moment of change in the Lebanese underground music scene. Since, more events have been organised for Lebanese artists, and the band decided then to take the risk and make music professionally."
Abou Fakher adds: "There isn't a scene per se at that time; not a punk scene or a grunge scene or a folk scene – there isn't a cohesive sound you can point at, in the Lebanese music industry. I think there's a scene for survival, really. Every band is trying to get to a place where they can live off their music, make an impression and keep doing what they're doing. Though I don't think this is exclusive to the Lebanese music scene only. I don't think there's been a cohesive, distinct scene for a while, unless you consider commercial/billboard music. I don't think Lebanon is any different in that respect – before or after us."
"I think the main difference is that in the US and UK there's more of a definitive path of success for musicians; the industry scouts for new and interesting music, the band gets signed and you go forward from there. In Lebanon it's quite different: you've no choice but to carve your own path – it's more organic," says Gerges.
On The Best Of Lebanon…
When it comes to their favourite places to visit in Lebanon, Abou Fakher enthuses about Baalbek, one of world's most well-preserved ancient Roman sites which has three temples. "It's a place we all love to go to," he says.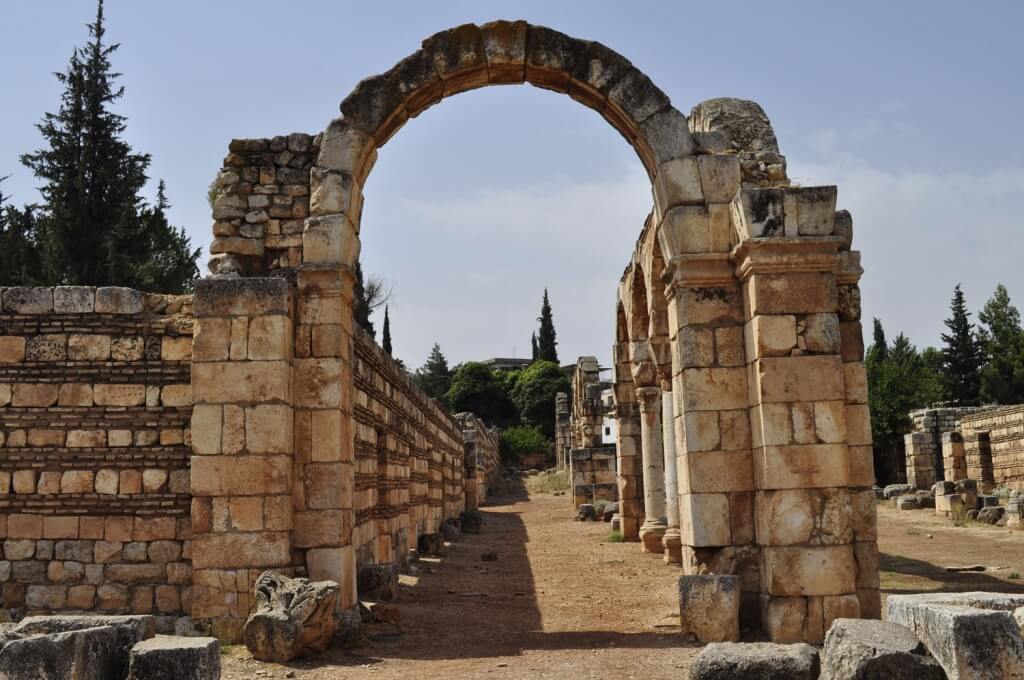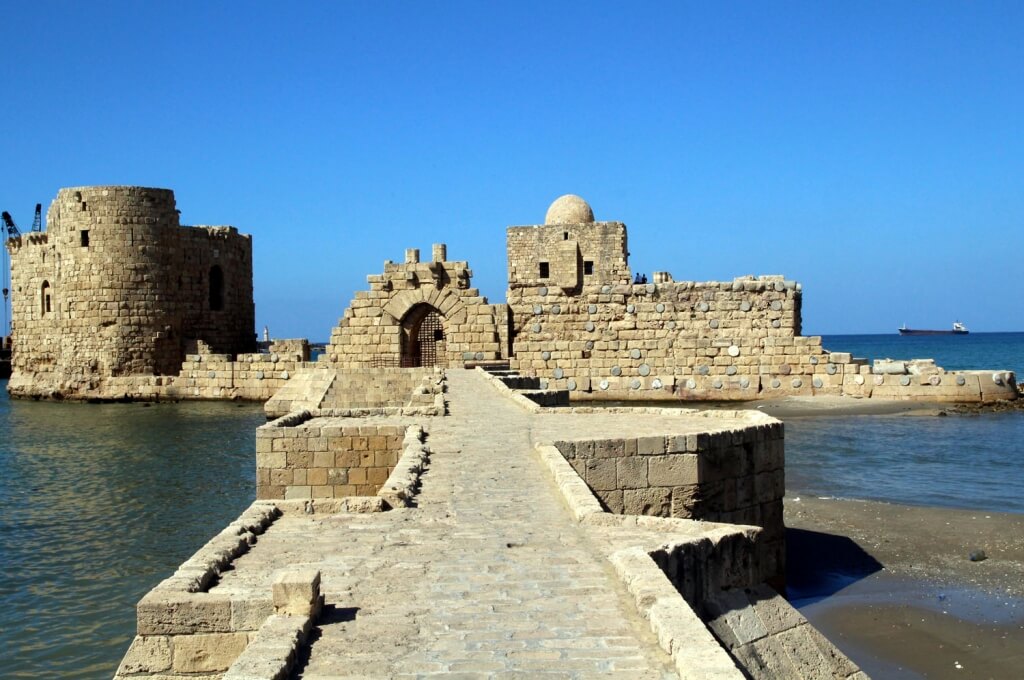 Gerges lists a number of places, including the island city of Tyre, the beaches of Saida, the port city of Byblos and the village of Deir al-Qamar. "And Centrale is a great bar, you must visit if you're in Beirut," he pipes. "Architecturally it's really nice and is just a cool place."
"It's 'posh'," chides Sinno.
On The Upside Of Touring…
On the rare occasion during tours when the band finds slivers of free time, they focus on food, Sinno says: "We're all huge foodies, so we like to scout places reputed to be really good. It's one of the few sources of comfort when you're on tour. I also try to go to the gym because it gives me a sense of routine."
"And we also like to see new and exciting exhibitions in the cities we're touring, provided we have time," Papizan chimes in as he updates the band's Instagram account. Both Gerges and Papizan are prolific photographers, the former a vintage camera hobbyist from a young age, who now uses the holy grail of cameras, a Leica. The latter is an architecture graduate fascinated by shape, space and design. They keep the band's and their own social media channels up to date with beautiful, magazine-worthy images, where fans and photography buffs alike can follow their journeys.
Mashrou' Leila concludes their Ibn el Leil tour in Lebanon this month, before temporarily relocating to New York for the autumn. There they will work on new music, whilst also teaching a class at NYU and completing a stint as artists-in-residence at the university.
Article by Akeela Bhattay
[Photo at top: Akeela Bhattay]