';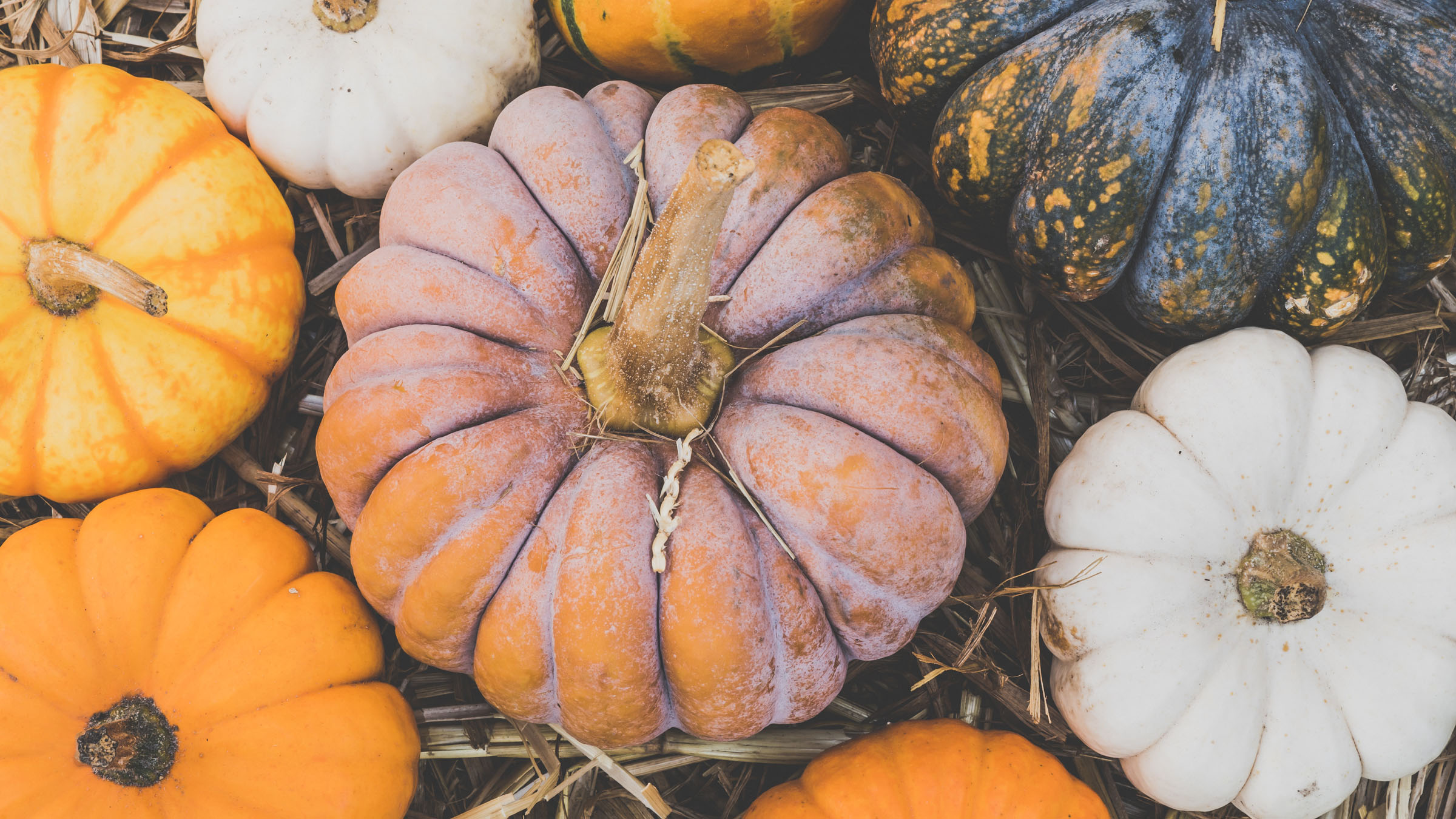 ;
Autumn is in the air, as we turn our thoughts to extra layers and cosy comfort foods that celebrate the harvest season. Of course, squash gets the spotlight this time of year, and not only for its charm in the form of decorative gourds. Check out these delicious varieties, and put your pumpkins and squashes to good use in the kitchen.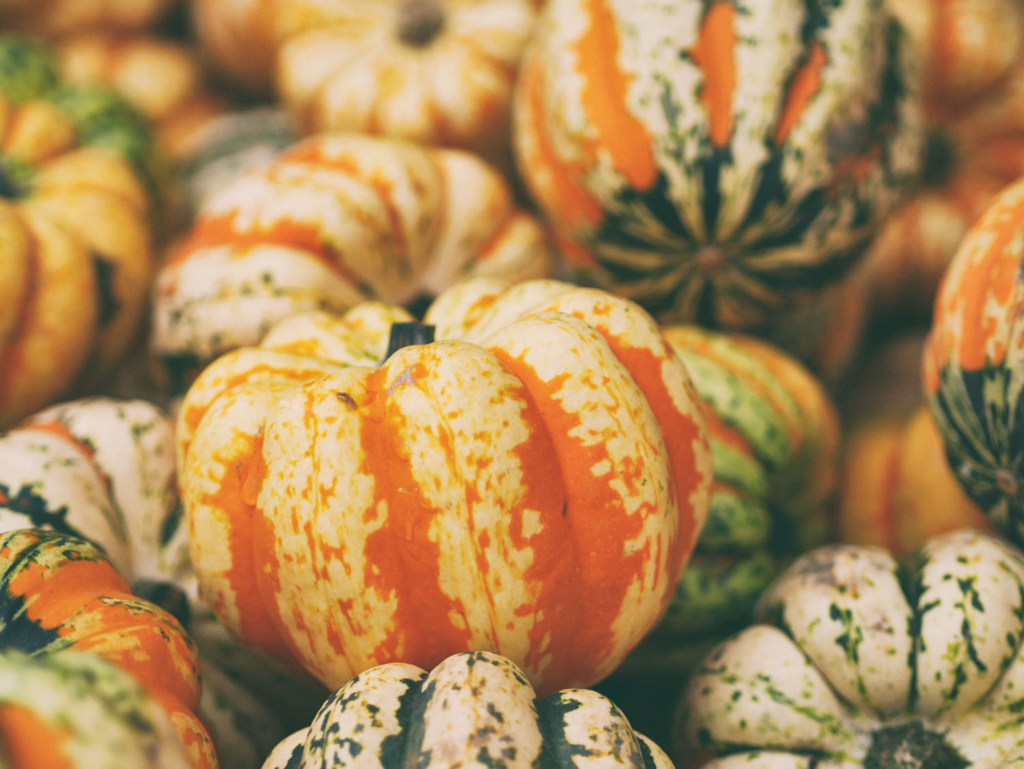 Carnival Squash
Fairly new on the scene – and true to its festive name – the carnival squash is just as popular for its ornamental qualities as for its flavour. It's a hybrid variety, a cross between the acorn squash and the sweet dumpling squash, and while its DNA originates in Mexico, carnival squash can now be found in specialty markets across the Americas, Europe, Australia and parts of Asia. Small to medium in size, with ridged edges similar to the acorn squash, the carnival comes in shades of goldenrod and creamy pale yellow, flecked with green. The flesh is tender and creamy when cooked, with nutty, maple-buttery notes. Boil it, roast it or blend it into soups as a fun alternative to other orange-fleshed squash like acorn or butternut.
Recipe To Try: Sage-Stuffed Carnival Squash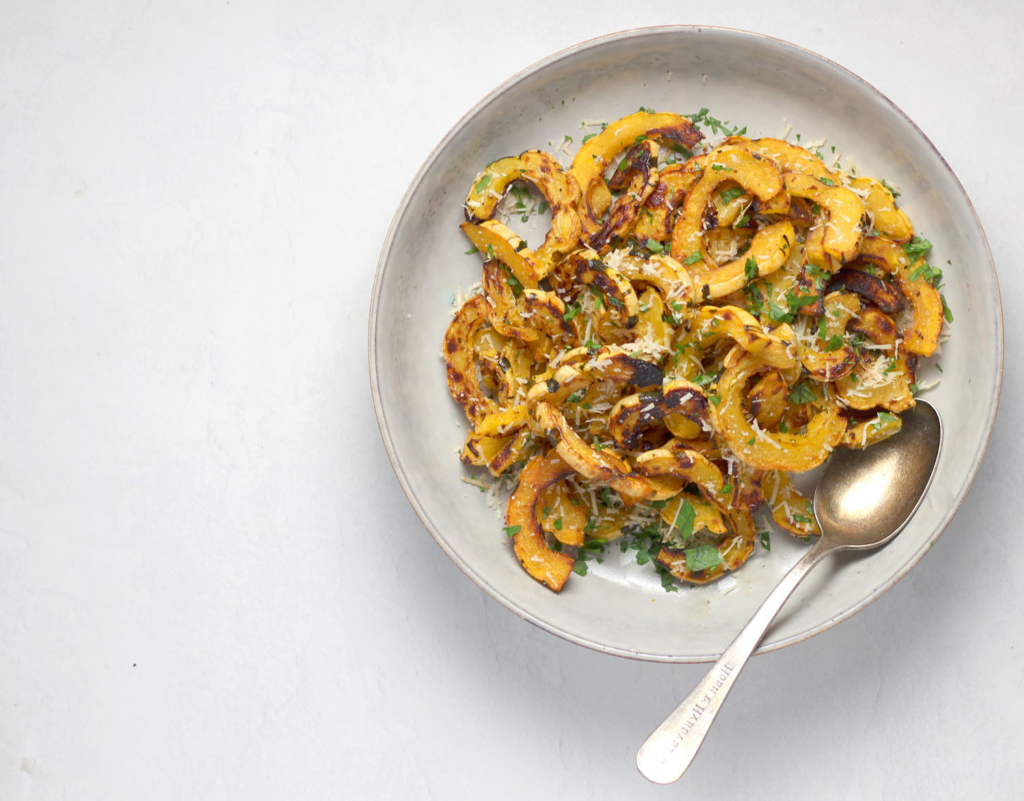 Delicata Squash
Also known as the bohemian squash, peanut squash and sweet potato squash, the delicata is bright yellow with green stripes and an oblong shape. It has quite a bit in common with the yellow summer squash, namely its tender rind and mild flavour, so if you're not quite ready to fall into fall, the delicata might be for you. Use these in place of green or yellow summer zucchini in cakes and loaves, or roast and blend into bright, delicate-flavoured soups.
Recipe To Try: Roasted Delicata Squash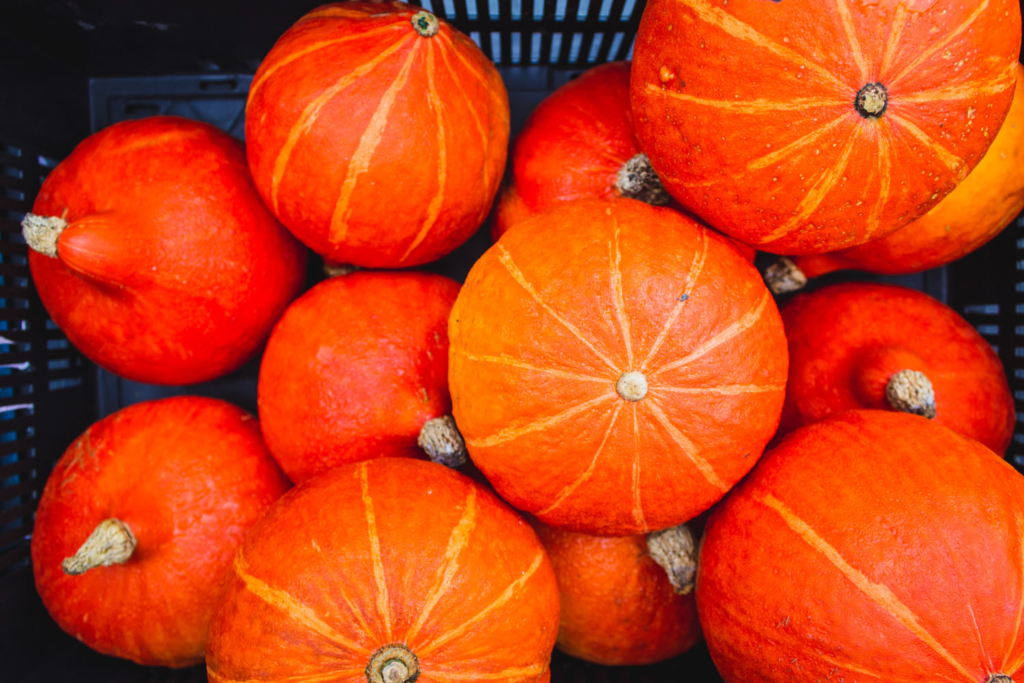 Sunshine Kabocha
As the name implies, this sunny little hybrid is brilliant yellow-gold in colour. The Kabocha family of pumpkins originates in Japan and features prominently in Japanese cuisine, most notably in tempura; this particular variety took more than 20 years to develop and was bred to have a very sweet flavour profile. The sunshine Kabocha has a very thin skin that crisps up nicely in the oven and is easy to slice through and remove. Try it as ravioli filling, or in richly spiced curries and soups.
Recipe To Try: Kabocha Ravioli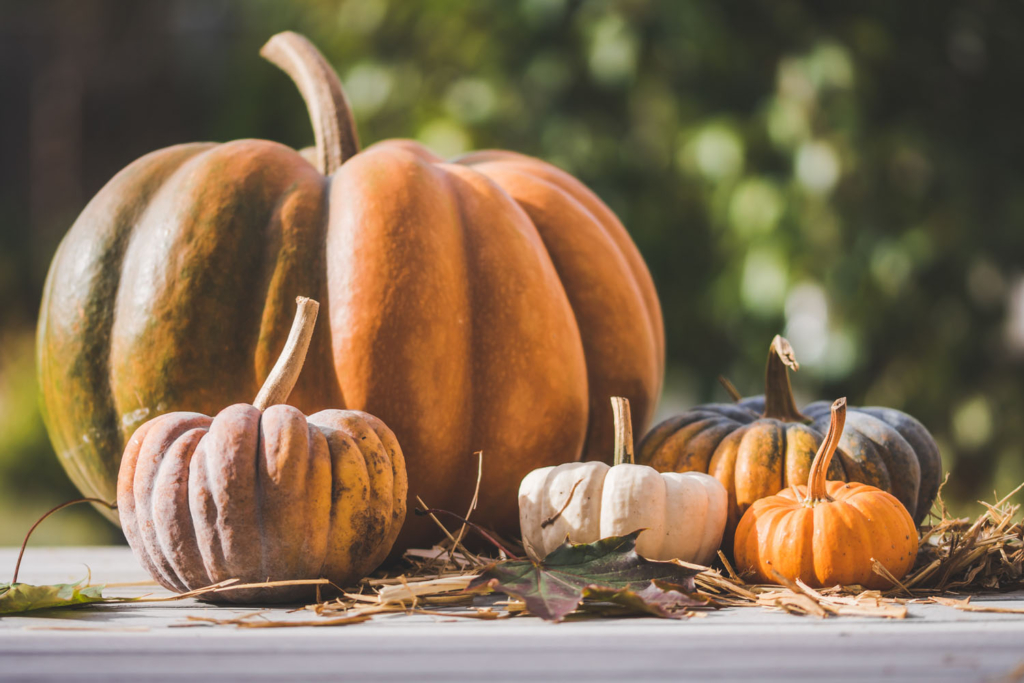 Fairytale
The fairytale pumpkin, also known as the musquée de Provence squash, is a French heirloom variety with deep ridges and a pale tan colour when fully ripe. Medium-to-large in size, they can weigh as much as 9 kilos. The flesh inside is bright orange and firm, and cooks into a velvety texture with an ever-so-slightly spicy aroma. The fairytale works in any recipe that calls for pumpkin, from muffins to curry. It can even be thinly sliced and marinated, or served raw like cantaloupe.
Recipe To Try: Fairytale Pumpkin Muffins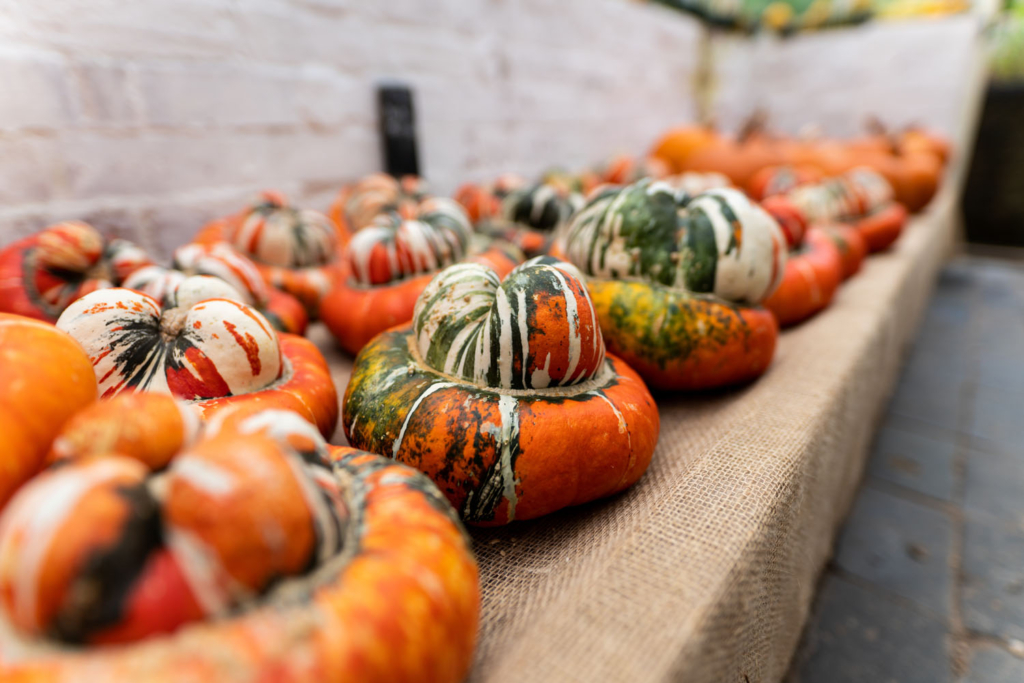 Turban Squash
Turban squash, also known as  'Turk's Turban' or 'French Turban' made its first appearance in the 1818 edition of Le Bon Jardinier, a French gardening encyclopedia, and was later in the illustrated botany book Les Plantes Potagères. The French Turban is part of a group of squash named for their distinctive turban-like cap. They can be found at specialty markets in the United States, Europe, Asia, and Australia. They produce a mild flavour, similar to butternut squash, which makes them very versatile for roasting, soups and stews.
Recipe To Try: Creamy Curried Turban Squash Soup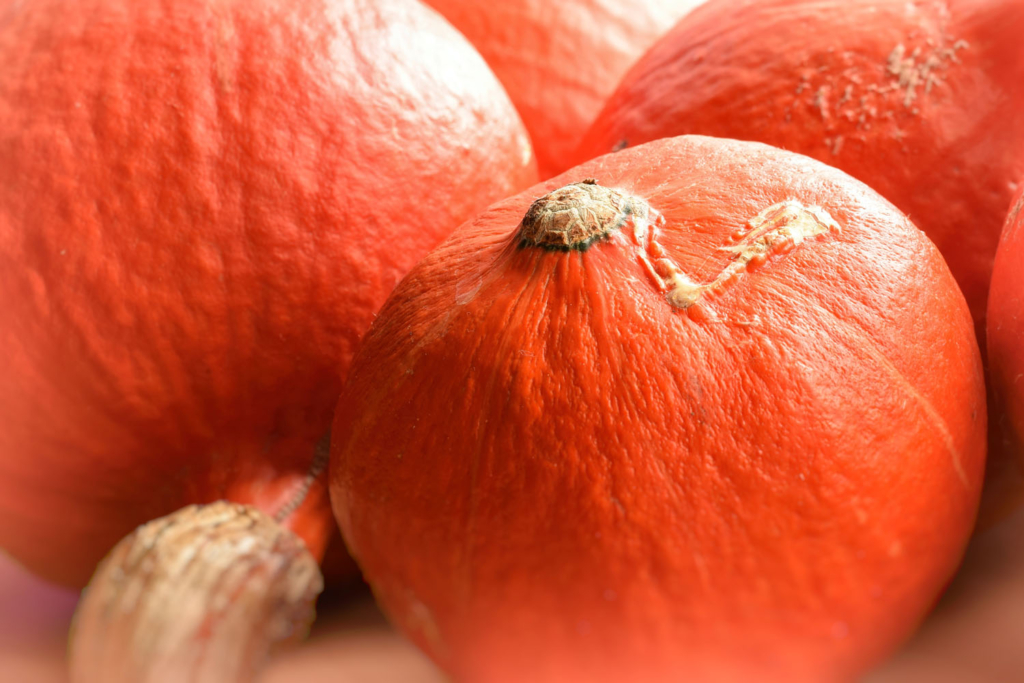 Kuri Kabocha
The Kuri Kabocha – which goes by many names, including 'Japanese chestnut pumpkin', 'Hokkaido pumpkin' and 'onion squash', is a type of squash that looks a lot like a pumpkin and comes with dark green or red skin. It has an exceptionally sweet flavour, and the texture is somewhere between a yam and a pumpkin. Tokyo-born Chef Takashi Kinoshita, who took over the kitchens of Château de Courban in Burgundy, France in 2015 (and garnered the resort a Michelin star), manages a garden on site where he sources ingredients. He blends the Kuri Kabocha into velouté with truffle cream and a touch of ginger in a joint homage to Burgundy and Japan.
Recipe To Try: Chef Kinoshita's Kuri Kabocha Velouté
Spaghetti Squash
Beloved for years among the gluten-free set as a pasta surrogate, this squash never ceases to amaze. Aptly named for its peculiar insides that pull apart into pasta-like strands, the spaghetti squash is an easy stand-in for the carby stuff. Simply halve, brush with olive oil, and roast and until tender. Once cooled, remove strands and toss or top with your favourite sauce.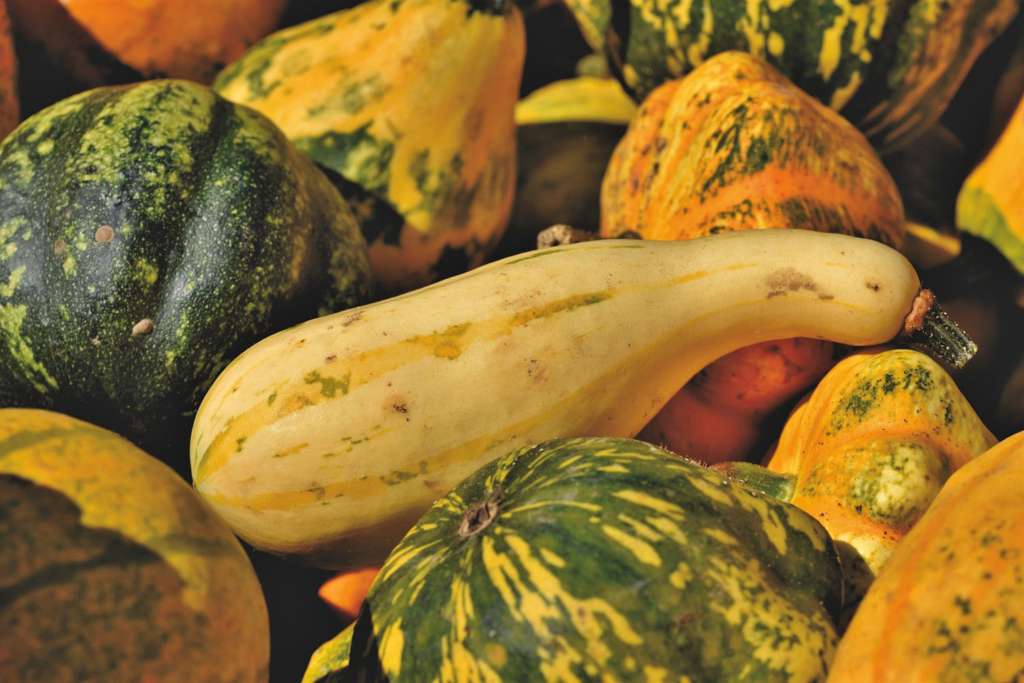 White Cushaw
AKA Japanese pie pumpkin, or the silver seed gourd. This white-and-grey-streaked gourd looks like an elongated butternut squash with a collapsed neck. It originates in the Yucatan, where the leaves and stems are also served as vegetables. The flesh is perfect for using like traditional pumpkin in pies and breads – or even as a bacon substitute. Just ask Amanda Cohen, chef and owner of NYC's vegetarian paradise Dirt Candy. Cohen uses squash all year round, and says "there's a squash for every mood."  She explains, "One thing that's super easy for home cooks is to smoke thinly sliced squash and crumble it over salads, or use it in sandwiches to add texture and deep, rich, lush flavour." To prepare it squash 'bacon': Thinly slice a couple cups of peeled butternut [or similar] squash, so it's the size and shape of strips of uncooked bacon, and smoke it twice. Break down half a cup of sugar in a blender until it's super-fine. Toss the raw squash with the sugar and bake it for a few minutes on each side in an oven on high, until crispy.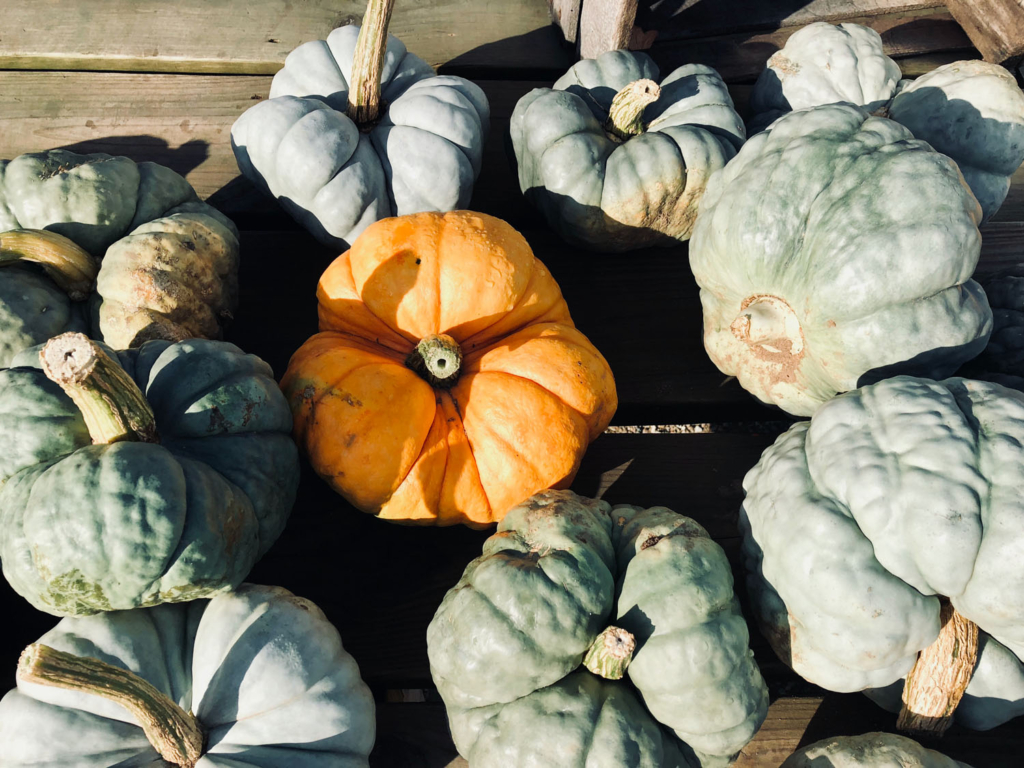 Kogigu
This heavily ribbed Japanese variety begins with bumpy green skin and ages into a deep orange. It ripens early and is gaining traction in culinary circles for its sliceable skin and versatile, sweet flavour. Try it roasted or curried, stuffed or puréed, or even sliced thin and served raw as a carpaccio.
Recipe To Try: Pumpkin Carpaccio with Goat Cheese and Toasted Pumpkin Seeds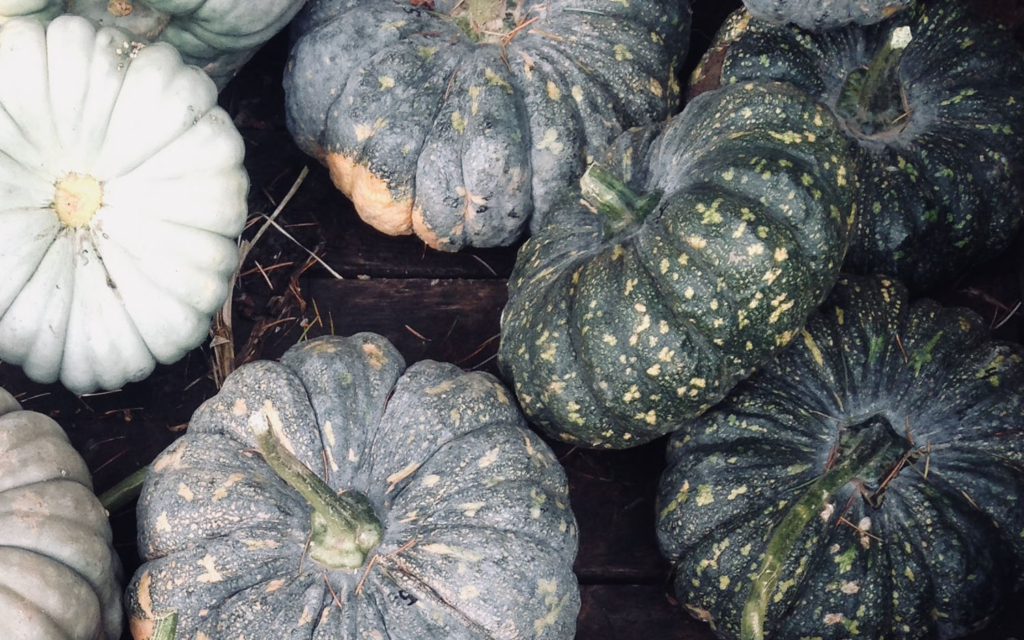 Thai Rai Kaw Pumpkin
Also known as Hawaiian pumpkins, this medium-to-large variety ripens to a dark green colour speckled in white, and over time in storage, turns a deep orange. It roasts beautifully, and the skin softens up quite a bit – much like the delicata – whereas the sweet and creamy flavour makes it a great stand-in for pie pumpkin or butternut. Jeremy Rock Smith, Executive Chef at Kripalu Center for Yoga and Health, creates an acclaimed Ayurvedic-focused menu based on his style of globally inspired, seasonal whole food cuisine. Smith loves pumpkin for its natural creaminess and uses different varieties for his vegan Alfredo sauce.
Recipe To Try: Bucatini with Pumpkin Sage "Alfredo" and Kale Pesto