';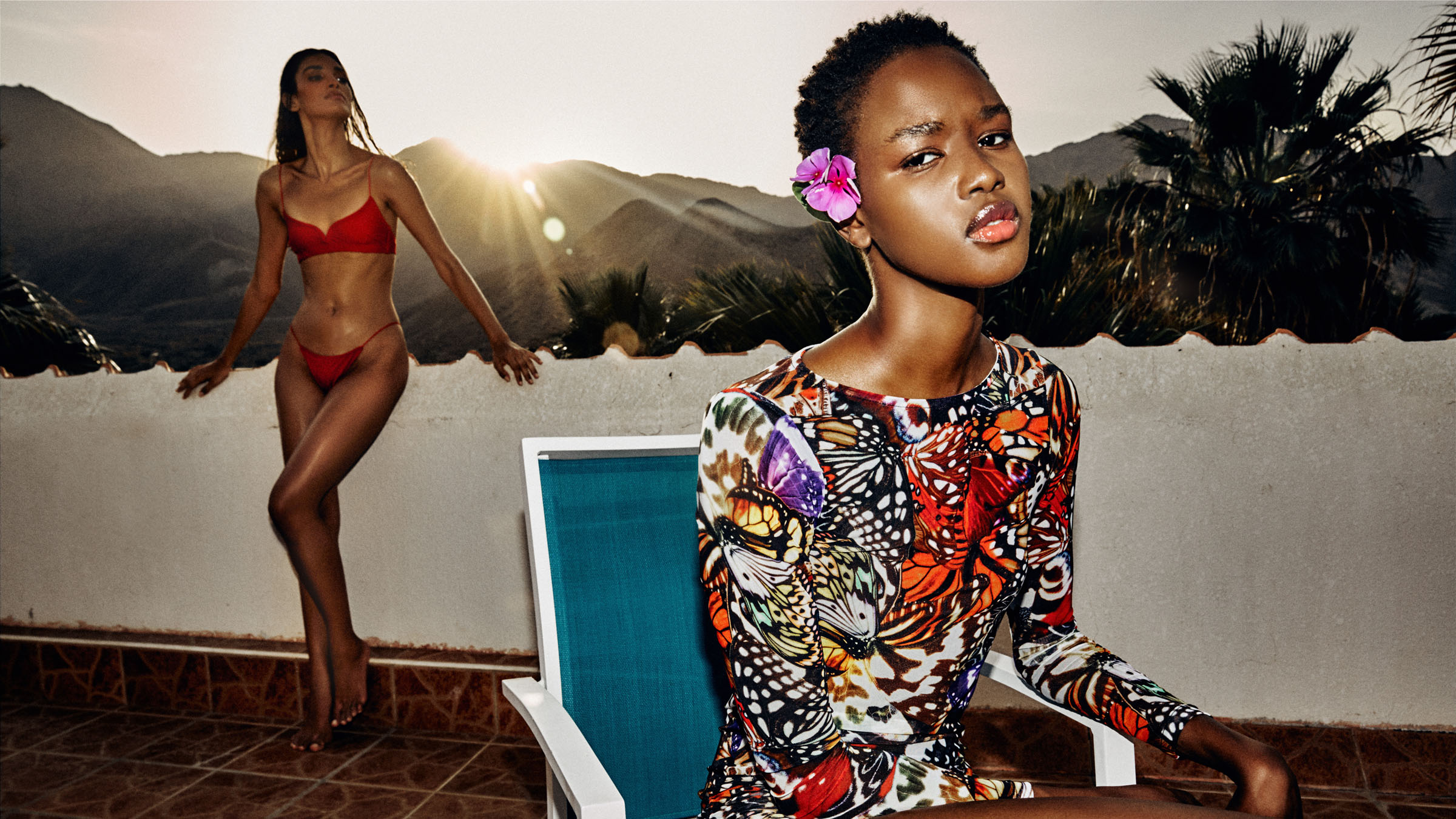 The 33-year old luxe swimwear designer Leslie Amon was born and raised in Switzerland into an originally Egyptian family. A Central Saint Martins graduate, she branched out on her own to create her eponymous label in 2017. The young brand's glitzy pieces, which range from itsy-bitsy bikinis to party-ready dresses and resort wear, have been sported by discerning fashionistas from Ibiza to Cabo. We talk to Amon about what it takes to have her own label and how she gets inspired to craft her characteristic creations.
When you mention your Egyptian ancestry, how far do you trace it back, and does it influence your designs at all? Or do you  identify more with French or Swiss culture and design?
Both of my grandparents were born Egyptian. I don't personally think it's influenced me… Maybe in the oriental way of, like, having glitter and sparkles and wanting to dress up and be a bit outrageous, I'm definitely not the French part. The French part is me wanting to count me down, that's my more European, French part. But it's definitely something a bit outrageous like Egypt in the '80s when women used to really dress up and bellydance – and, you know, they really took care of themselves. It's a mix between both.
View this post on Instagram
View this post on Instagram
When it comes to that 'outrageous' style, how did that evolve? Has that always been what you wanted to do as a brand and as an artist? Or is it something you discovered along the way?
I don't think I ever wanted to do this at the beginning. My final collection at school was made up of enormous ball gowns made in terry cloth fabric, and it was really extravagant and over the top. Lady Gaga wore one piece back in the day. That was a long time ago. But after all of this I thought I wanted to do a swimwear brand, not because I loved swimwear, it was more because it was niche, the market was sort of empty, there were so many things to do that hadn't been explored, so that's how it started.
The concept was day and night, so obviously when it's night it's more extravagant than day, if you think of the concept of swimwear that's worn until nighttime. It started like this and then the more response I got back from clients, the more extravagant the things and the more people buy. My more minimalist swim pieces, sometimes people don't really buy them. The crazier the feathers, the glitter, the rhinestones, the more people love it. It's made me more comfortable to continue this vibe.
Even during Covid, it was still the same. I don't know where people were wearing it, but they still loved it. It's the client and what the world wants that pushes you into any direction, that was just how it worked for me.
View this post on Instagram
View this post on Instagram
When it comes to Covid and the pandemic, most brands around the world had to adjust and make certain changes. With your brand, how did it affect you? 
It was very bizarre, the pandemic. I actually did amazingly well in sales on my own e-commerce, and I really got an intense connection with clients. I was taking back my Instagram, so I didn't have anyone that was taking care of it, it was only me. So I was really connecting and speaking with the clients directly. That made a huge difference to me.
When you have a brand, I think you also need to be more out there and closer to your client to really have a relationship with them. Now I have clients that have been with me since the beginning. It's really important for them to feel like there's an actual person behind the screen. In terms of design, I didn't really change my aesthetic. Everyone was doing tracksuits, [so] I did a tracksuit but the buyers didn't like it! I think it's important to stay true to what you are, and I'm glad I didn't change my aesthetic, otherwise it's not consistent for the brand.
It's tough to be innovative when it comes to swimwear design, yet you've managed to establish a clear identity and aesthetic vision. What was the process to define your brand's image?
I don't really think too much, it's more "I like this" or "I wanna try this! or "Let's try to work with this, let's see how it looks". It's very intuitive, organic, it just comes, you know?
View this post on Instagram
View this post on Instagram
So inspiration, for you, comes from within?
I think it's a mix of everything in my head. I'll take a picture from afar of someone at the beach whose outfit I liked, or I'll see something on the street, or even something on Instagram. It's more a mix of everything, I don't really work in this way of "Oh, I'm inspired by the seventies-era Mick Jagger." I gather images and put them on a board and start mixing things together. Sometimes it comes out super nice, other times I think it's going to and it won't. We try a lot.
Did you always know you wanted to be a fashion designer? 
I wanted to be a veterinarian. I didn't want to be a fashion designer until I was sixteen, seventeen. I loved to dress up, and I had a skill at drawing so I applied to school and that's how it started. But I didn't actually want to do my own brand, I wanted to work for other brands, it wasn't my goal to do my own things.
What made you go for it? 
It was sort of a big decision. I think I wasn't finding the job I wanted, it was more about not being in a fashion house that I was dreaming of, and I was getting [uninspiring] propositions, so I preferred to start a small thing on my own and see how it goes than working a job where I wasn't really happy.
You've previously held posts at Lanvin, Giambattista Valli and Maison Michel. How did those experiences shape you as a designer?
So many different things. I also learned that it's very hard to have a brand, you really need to have the right team. It's not easy. The moment of glory you see in the picture, everything on social media, it takes so much work. Take a fashion show, for instance, it's six months of work and it lasts like 20 minutes. But it's worth it. You learn a lot by working for other brands, what you want and what you don't. It's also a reality check.
View this post on Instagram
View this post on Instagram
What's something you've learned on the job while having your own label? Something you didn't expect?
There's so many things I didn't expect! Every two weeks, there's a new issue. When you have your brand, you don't have anyone dealing with your production or the fits or invoices. There's always something you have to do. When you work on a big brand and you only do the creative part, you get to do the fun part. With your own brand it's everything, even the cardboards. You have to be ready and involved in a lot of not fun things in order to do the fun things. And you always have to have another plan, so if Plan A doesn't work, maybe Plan E will. One time, during the beginning of Brexit, I had my entire collection, which I had shipped to London, stuck for a month in customs, and I had a market and everything ready, that was a nightmare. I had to redo everything, it was chaos. So you always have issues.
Your designs have been labelled as eclectic and extravagant. Do you feel such descriptions befit your brand? 
Eclectic, yeah, definitely. It's really, like I said, I take inspiration from everywhere, so it comes from a mix of everything in one design. Extravagant, why not? In my daily life I'm not extravagant, but I feel like there's always a part of extravagance in every girl. It's about when you want to shine and be the star of the night, and that's also an adjective that is nice. I'm not against it, why not?
Do you often wear your own designs? 
Yeah! But when the collection is not out yet. I'm wearing it on holiday, actually, the one that's gonna be out in December. I'm just testing it, really, I'm not really even taking pictures of it, because I don't want people to copy. But yeah, I wear my own swimwear all the time, that's for sure!
How would you describe the person who wears Leslie Amon? 
I'm happy to say that I think she can be every type of girl. Sometimes there's moms sending me DMs telling me how flattering the swimsuit looks on them. Or I have really sporty girls who are having a party, or girls doing bachelorette parties. Even my mom, she's like 60 and she wears my swim pieces. It really depends, I don't really have an ideal type, I'm happy with everyone. I'm really touched when I see someone wearing my designs, I get really emotional.
Your pieces have been famously worn by stars like Dua Lipa. Who else would you like to see wearing your pieces?
Kylie Jenner, I'm obsessed… have been for a long time. Rihanna as well. Cardi B, some LA celebs.
What advice would you give new designers wanting to branch out on their own? 
Don't think too much, do it and believe in yourself. If it doesn't work the first year, it might work the second year or the third. Try to persevere and do what you want to do. And if you can have some cash flow when you start, that's very important. The more you grow, the more you need cash. Find a job on the side. Whatever it is, something easy, 'cause you end up missing cash. The more you grow, the more you need to buy fabric, and the shops pay three or four months after you deliver, so there's a moment where you need to keep it running.
View this post on Instagram
View this post on Instagram
How do you draw the line between designing a comfortable swimsuit and having it be a piece of wearable art? 
I start with the art, with what I envision. After that, I make it comfortable. So I start with the idea. The first product is always a disaster, after that it becomes nicer and nicer. Sometimes we try something four or five times before we put it into production. Swimwear is not like a tshirt, you have to be sure it's well-fitted, that it fits most body types, if it's a one-piece it can't be too short or too long. It's sort of like getting operated on, it's very precise. Tracksuits or hoodies, it's fine, you don't need to do too much, but with swimwear you have to do so many fittings.
At a very young age, you've become somewhat of a patron of the arts. How does your love for art and design creep into your brand's design process?
I really do take inspiration from everything. Whatever it is, a painting, a ceramic, a nice shape, everything is inspiration. Things don't even need to be nice, just interesting, everything just blends together. When you're creative, you can't only focus on one area, you like everything, all the creative world.
Besides a swimsuit, what's something every woman should pack when going on vacation? 
I always pack a 50+ SPF cream. That's what you need to pack when you go under the sun, just to protect yourself. My pieces are not pieces you can tan in for ages, you'll get disastrous tan lines [laughing], so put on sunscreen and you'll be great.
Finally, what's your favourite vacation spot?
I have several, there are so many! But I think in August definitely Ibiza, and anywhere in Italy is quite amazing. In November maybe LA. In December, if you can go to the Caribbean that's a hit.