';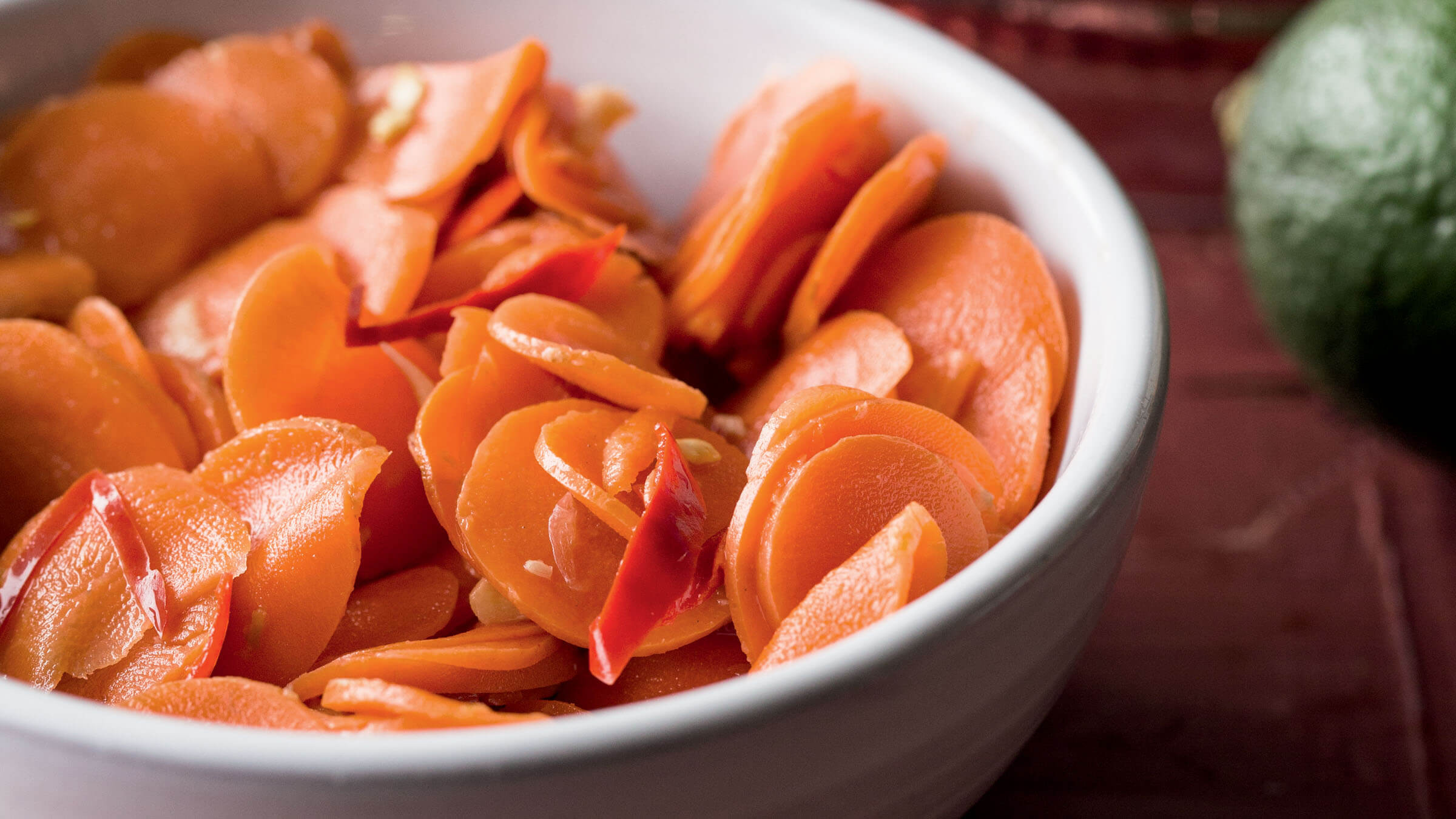 Cultivating probiotics in a jar of fresh carrots and peppers might sound like a daunting proposition (chef level: Martha Stewart), but in reality, it's a straightforward process that's hard to mess up (chef level: literally anyone). Seasoned fermenter Kirsten Shockey will walk you through it.
She says: "This has become one of our favourite ferments. Crunchy, with a bright flavour, it is easy to make and easy to eat. It is perfect as a small side salad to accompany many dishes. We make it with Fresno peppers, as they provide a nice heat, and the red strips are striking against the bright carrots. That said, you can use any pepper, depending on availability and the heat level you are trying to achieve. Want more burn? Choose habañeros, Thai chiles, or jalapeños (red or green). Pimento or cherry bell peppers will mellow out the heat."
Ingredients:
1¾ pounds carrots, sliced as thinly as possible on a grater or mandoline (peeling is optional)
3-4 Fresno or other red peppers, thinly sliced, or 1 tablespoon dried chile flakes
Zest and juice of 2 limes
1 (1- to 2-inch) piece fresh ginger, thinly sliced
2 teaspoons salt
Method:
1. Combine the carrots, peppers, lime zest and juice, and ginger in a bowl. Add the salt and massage it into the mixture.
2. Pack the mixture into a jar, pressing out any air pockets as you go. Press a ziplock bag against the surface of the ferment, fill the bag with water, and zip it closed.
3. Place the jar in a corner of the kitchen to ferment. If you see air pockets, remove the bag, press the ferment back down with a clean utensil, rinse the bag, and replace.
4. Allow to ferment for 7 to 10 days. The carrots tend to stay bright, so look for a slight cloudiness to develop in the brine. When it is ready, it will have a pleasing acidic smell and taste pickle-y, and it may also have a bit of an effervescent zing. You can let it ferment longer for more sour and punch.
5. Store in the refrigerator, where this fermented salad will keep for up to 12 months.
Excerpted from Fiery Ferments, © by Kirsten Shockey and Christopher Shockey, Photography by © Lara Ferroni, used with permission from Storey Publishing.