';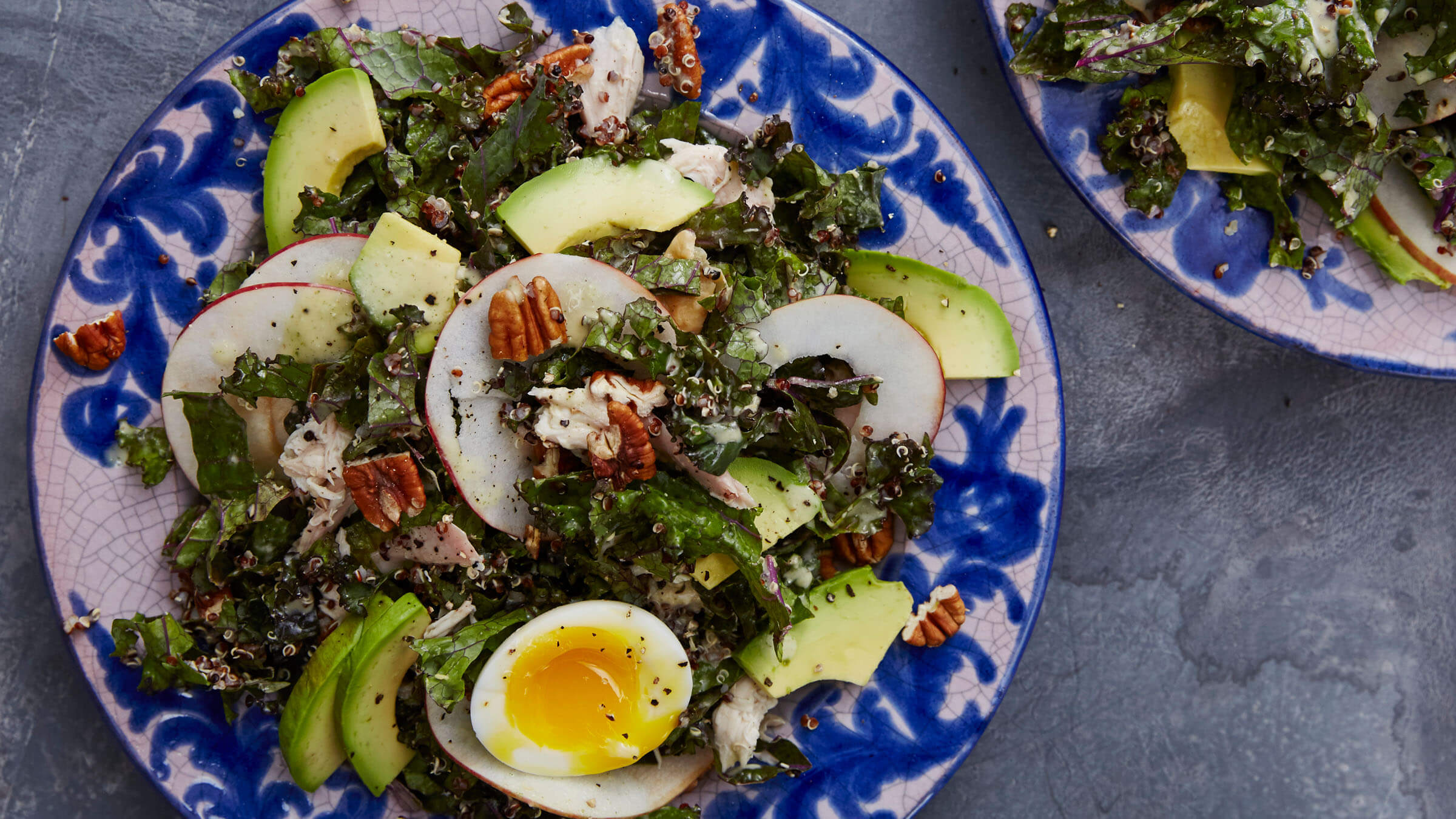 "This is a healthy lunch salad with a perfect balance of protein, carbs, fat, and vegetables. It takes a little prep ahead of time, so I like to do most of the heavy lifting the night before. This means cooking the quinoa and eggs in the evening as well as preparing the vinaigrette. The next day, you can simply assemble the salad before bringing it to work for lunch or quickly throw it together for dinner at night." – Chef Seamus Mullen

Kale And Chicken Caesar Salad With Quinoa And Pecans
Serves 1 or 2
Ingredients:
185 gr (1 cup) Aromatic Tricolour Quinoa (see below)
125 gr (1 cup) roasted/cooked chicken meat, coarsely shredded
150 gr (2 cups) mixed kale, finely chopped
1 avocado, pitted, peeled, halved and cut into slices
1 apple, cored and thinly sliced
40 gr (1⁄4 cup) pecans, toasted
Coarse sea salt
Freshly ground black pepper
60 ml (1⁄4 cup) Caesar Vinaigrette (see below)
1 Just-Right Boiled Egg  (see below), peeled and halved lengthwise
Method:
1. In a large bowl, combine the quinoa, chicken, kale, avocado, apple and pecans in a large bowl. Season with salt and pepper and toss well. Add the vinaigrette and toss until everything is well coated.
2. To pack for lunch, transfer the salad to an airtight container and top with the egg. Seal and chill until it's time to eat. Otherwise, top with the egg right away and enjoy.
Aromatic Tricolour Quinoa
Ingredients:
370 gr (2 cups) tricolour quinoa
1 bay leaf
1 dried chilli
2 thyme sprigs
1.25 litre (5 cups) stock or water
Coarse sea salt
Method:
1. Rinse the quinoa in a fine-mesh sieve under cold water until the water runs clear. Transfer to a saucepan and add the bay leaf, chilli, thyme, stock (or water) and a generous pinch of salt.
2. Bring to a boil over high heat, then reduce the heat to maintain a low, steady simmer. Cover and cook until cooked through and tender, 20 to 25 minutes. Drain any excess liquid and discard the bay leaf, chilli and thyme.
3. Use immediately, or transfer to an airtight container and refrigerate for up to 5 days.

Caesar Vinaigrette
Makes about ¾ cup
Ingredients:
3 tablespoons white wine vinegar
1⁄2 garlic clove
1 anchovy fillet
1⁄2 teaspoon Dijon mustard
1⁄2 teaspoon raw honey
Zest and juice of 1⁄2 lemon
Leaves from 1 tarragon sprig
Coarse sea salt
Freshly ground black pepper
1 tablespoon grated Parmesan cheese (optional)
1⁄2 cup extra-virgin olive oil
Method:
1. In a blender, combine the vinegar, garlic, anchovy, mustard, honey, lemon zest, lemon juice, tarragon, a pinch each of salt and pepper, and the Parmesan, if using. Purée until very smooth.
2. With the machine running on a slow setting, add the olive oil in a thin, steady stream and blend until emulsified. Use immediately or transfer to a jar and refrigerate for up to 2 weeks. Bring to room temperature before using.

Just-Right Boiled Eggs
Ingredients:
4 large eggs
Method:
1. Fill a large bowl with 500 gr (4 cups) ice and 500 ml (2 cups) cold water. Bring 1 litre (4 cups) water to a rolling boil in a medium saucepan.
2. Use a large spoon to carefully add the eggs to the boiling water. Cook for 6½ minutes. As soon as the timer goes off, transfer the eggs to the ice water. Let the eggs cool completely.
3. Carefully peel the eggs and refrigerate in an airtight container for up to 5 days.
Want to learn more about healthy eating, Seamus Mullen's way? Read our Q&A with the top chef.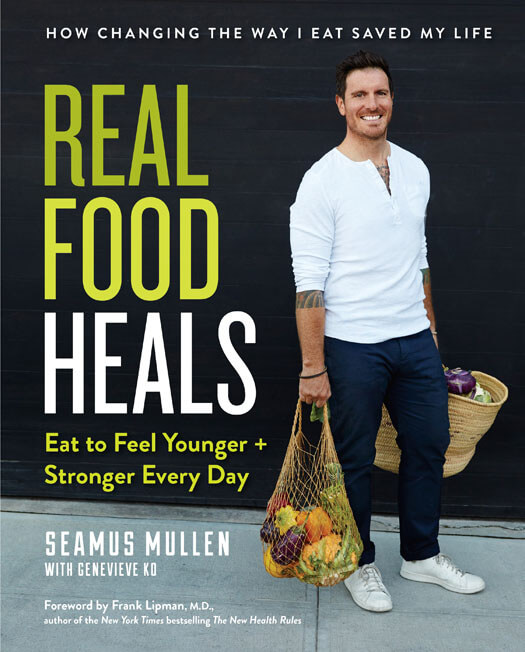 Reprinted with permission from Real Food Heals: Eat to Feel Younger and Stronger Every Day, Seamus Mullen, Avery 2017 [Photo: Colin Clark]
About Real Food Heals:
In the high-end food world, 'healthy cooking' has long been taboo. But as one of the only high-profile chefs today guided by the understanding that the food we eat has a deep impact on our health, chef Seamus Mullen has rewritten the old rule that healthy can't be delicious. Seamus's powerful transformation came out of his own health crisis – after a near-death experience brought on by autoimmune disease he'd struggled with for years, he radically changed the way he cooked, both at his restaurants and at home.
Real Food Heals contains 125 Paleo-inspired recipes designed to revitalise your health every day.