';
;
We're excited to present our new series 'The Tastemakers', in which we partner with leading food vloggers to bring you delicious, easy-to-follow recipes from all over the world.
First up is Giulia Scarpaleggia, the force behind Italian food platform Juls' Kitchen, which she runs together with her husband Tommaso.
ESSENTIALS: For those who don't know you, could you briefly introduce yourself?
GIULIA: "I was born in a farmhouse in the countryside near Siena, where my family has been living since the 1920s. I'm a food writer and food photographer, and I love honest, simple food: seasonal products, family recipes, memories and stories.
"I started my blog in 2009. Tommaso – the head tester, and now my husband – joined me a few years ago, embracing my life project and contributing to Juls' Kitchen with his passion for social media, photography and video-making. You can find us online, or teaching Tuscan cooking classes in our cooking studio, as well as shopping at the market or picking the seasonal produce directly from our vegetable garden to cook up a storm for family and friends."
What got you into cooking in the first place?
"I've always loved food, since I was a child. Cooking with grandma and with mum was fun, one of my favourite activities on a Sunday morning. But I really realised that food was at the centre of my world when I was working in an office, in a communication job I really did not like.
"I would come back home and cook: fresh pasta, risotto, a cake. Anything that I could improvise with a bunch of random ingredients from my mum's pantry and fridge. This is when I started my food blog, in 2009, and slowly my passion for food and cooking took over every single spare moment.
"After three years of blogging, my daily job ended and I started working on my own, writing recipes for clients, taking food photos and teaching cooking classes."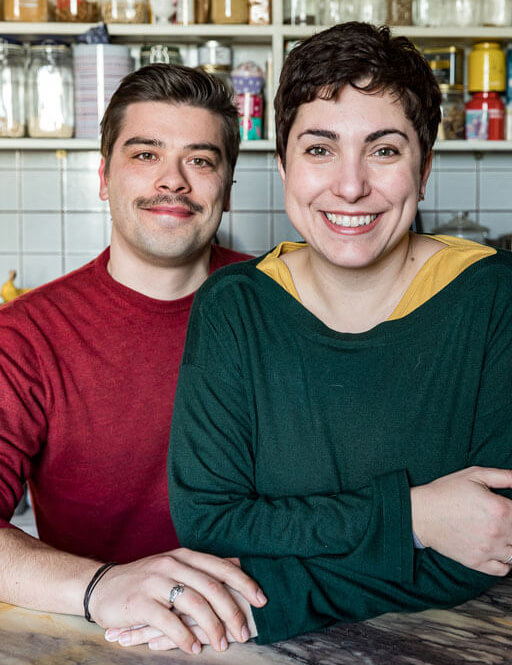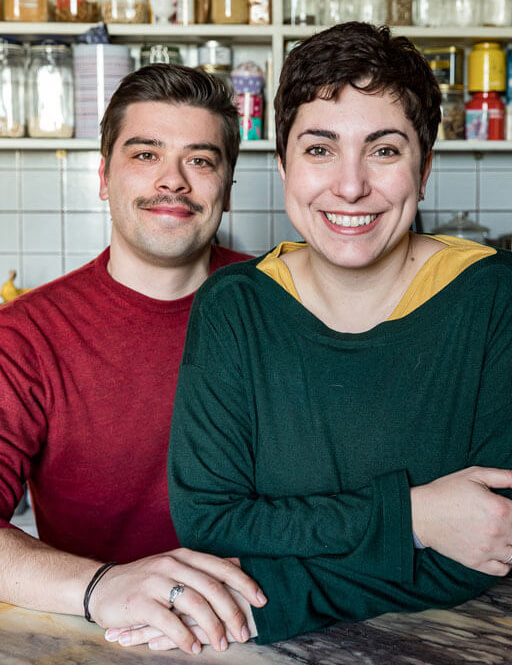 Tuscan cuisine is very simple, seasonally oriented. We do not use many spices, usually just fresh herbs. The cooking is always quick, the seasoning simple, to make the quality of the ingredients shine through in the dish.
What is your cooking mantra?
"Be generous and choose the best ingredients you can afford."
These ravioli come from your area. What's typical about the cuisine of Tuscany?
"Tuscan cuisine is very simple, seasonally oriented. We do not use many spices, usually just fresh herbs. The cooking is always quick, the seasoning simple, to make the quality of the ingredients shine through in the dish.
"These tortelli maremmani made with ricotta and spinach are a typical Sunday meal, very common in trattorie and traditional restaurants, too. We typically dress them with brown butter and sage and a shower of grated cheese."
For Italian cooking, the quality of ingredients is key. When sourcing the ingredients for this recipe, what should you be looking out for?
"The most important ingredient here is fresh ricotta cheese. Choose a ricotta which is not too soupy or soft. If it looks like it's not very dense, let it drain in a colander for a few hours or overnight.
"For the fresh pasta, we use semolina flour and all-purpose flour, known as farina 00 in Italy. If you cannot find semolina flour, just use all-purpose flour. Fresh spinach is the best choice, but this recipe works with frozen spinach as well."
Some say making fresh pasta is too much work. How do you convince people that it's actually worth it?
"Ah! Taste these ravioli, and you'll change your mind! It is not too complicated to make fresh pasta, you just need some practice. The more you make fresh pasta, the easier it becomes. And it is also nice to involve family and friends in the making of these ravioli. It becomes a social activity, everyone enjoys being involved and being part of the project."
And finally, can you walk us through the recipe?
"First of all, knead the fresh pasta and let it rest at room temperature. This will make it easier to roll out the pasta later. Prepare the filling with sautéed spinach, ricotta, nutmeg and fresh marjoram. Add also some grated parmigiano or pecorino to the filling. Now roll out the pasta as thin as possible and prepare the ravioli. Make them quite big, leaving some pasta around the filling. Set them aside on a floured board and then cook them in salted boiling water for just a few minutes. Dress with brown butter and sage, and enjoy!"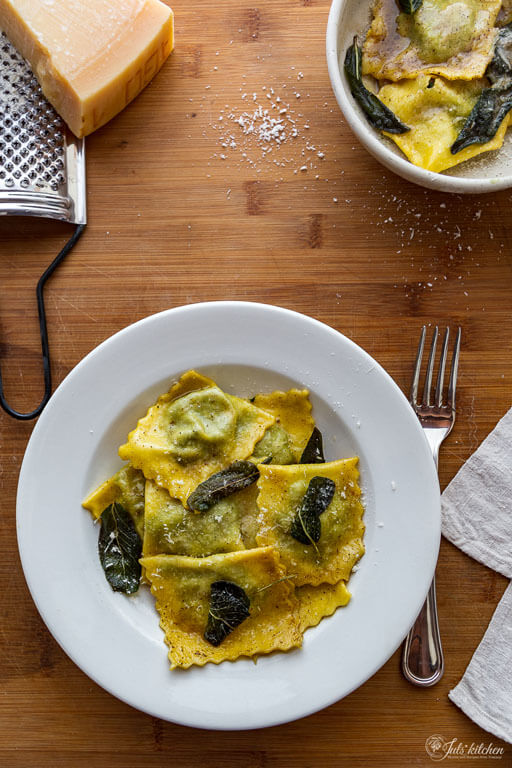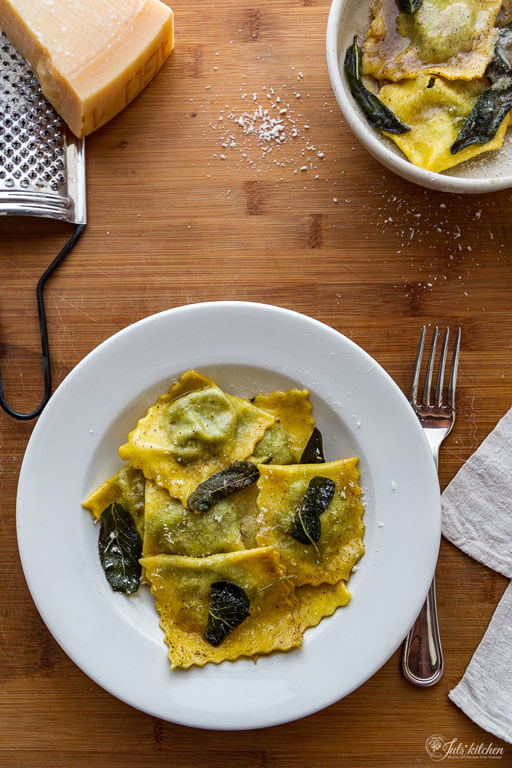 Spinach And Ricotta Tortelli
Recipe by Giulia Scarpaleggia, Juls' Kitchen
Ingredients:
For the fresh pasta:
100g 00 flour or all-purpose flour
100g semolina flour
2 eggs
1 teaspoon extra virgin olive oil
½ teaspoon salt
For the filling:
300g of fresh spinach thoroughly rinsed
1 garlic clove
2 tablespoons extra virgin olive oil
150g well drained sheep ricotta
2 tablespoons of grated Parmigiano Reggiano
¼ teaspoon of grated nutmeg
Salt
Method:
First, make the fresh pasta.
1. Sift the semolina flour with the all-purpose flour, place it on a wooden board and make a well in the centre. Break the eggs in the centre of the flour, add a pinch of salt and pour in the extra virgin olive oil.
2. Mix the flours and the eggs with a fork, then start kneading the dough until it's soft, elastic and it doesn't stick to your fingers anymore. You'll need about 10 minutes.
3. Let it rest for about 30 minutes at room temperature, wrapped in cling film or covered with a bowl.
Now make the filling.
1. Collect the throughly rinsed spinach in a pan without draining it too much. Cover with a lid and cook on medium-low heat until wilted.
2. Drain and let cool, then squeeze out all excess liquid. You will have about 150 grams of cooked spinach.
3. Chop the spinach with a knife, then transfer to a pan with 1 garlic clove and a small amount of olive oil. Cook for about 5 minutes, until the spinach has dried out and is well flavoured.
4. Next, put the spinach in a bowl and combine with the ricotta. Add the grated Parmigiano and grated nutmeg. Adjust for salt.
Now make the tortelli.
1. After the resting time, roll out the dough: you can use a classic rolling pin or a pasta maker. The most important thing – whether you're using the rolling pin or the pasta maker – is to keep rolling and flipping and rolling and flipping until you get a dough that is paper-thin. If you use the pasta machine, I usually reach the one stop before the last to have my perfect thickness for ravioli.
2. Make a thin, wide sheet of pasta and lay it on a lightly floured wooden board.
3. Dollop the filling onto the pasta sheet an inch apart – a teaspoon should do.
4. Lay the filling on the top part of the sheet, then fold it on the bottom part, flipping the filling. With two fingers, press the pasta in between the filling to seal the pasta, and then press it on the lower side, too, trying to remove as much air as possible.
5. Now comes the cutting. Use a scalloped pasta wheel to cut the tortelli: first cut the bottom part of all the long sheet, removing the excess pasta, then cut the tortelli in between.
6. Last thing, use a fork – on the flat side, not the prongs – to seal again the three sealed sides of the tortelli. You'll get the cute shape of a pillow!
7. Repeat to finish pasta and filling, arranging the tortelli side by side, not overlapping, on a floured board.
8. Cook for just a few minutes in a large pot of boiling salted water, drain and season with your favourite sauce: brown butter and sage is my favourite, but a quick tomato sauce works well, too.