';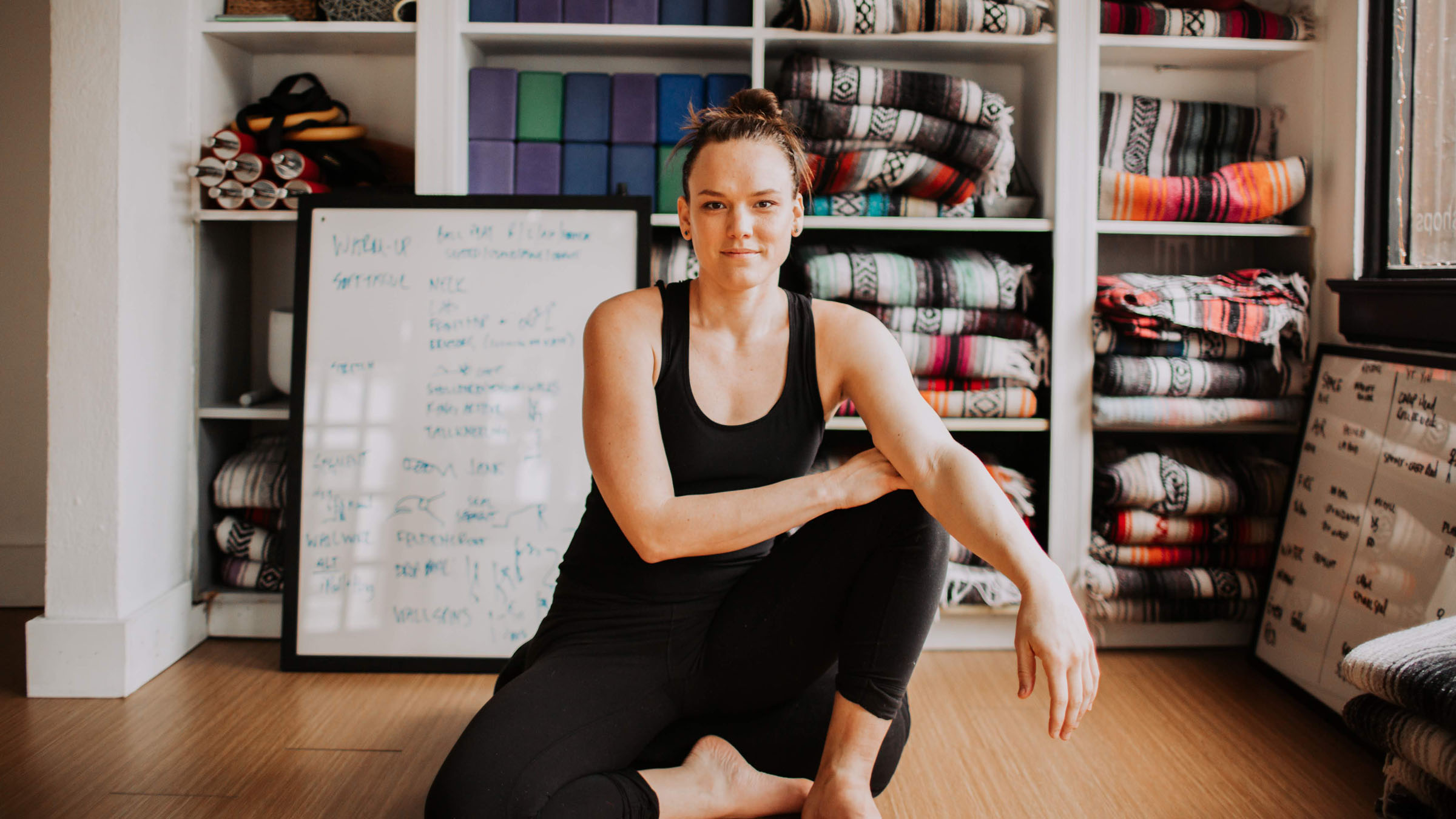 All Jayme Sweere ever wanted to do was play ball. But you know what they say about best-laid plans.
Growing up in Springfield, Missouri during the '90s, where women's basketball was a very popular sport, Sweere poured her heart and soul into the game. She papered bedroom her walls with posters of her heroes Michael Jordan and Ozzie Smith, and wished for a concrete slab instead of the slanted driveway that threw off her jump shot.
And she made it, driveway be damned.
Sweere landed a college basketball scholarship before moving on to a career in the sport, travelling Europe and playing professionally. But the European league wasn't the WNBA – the holy grail of pro women's basketball – and Sweere eventually decided it was time to stop chasing that particular dream. After a stint as a high-level strength coach for professional athletes, followed by a bit of soul-searching in South America, she finally found her true calling: yoga.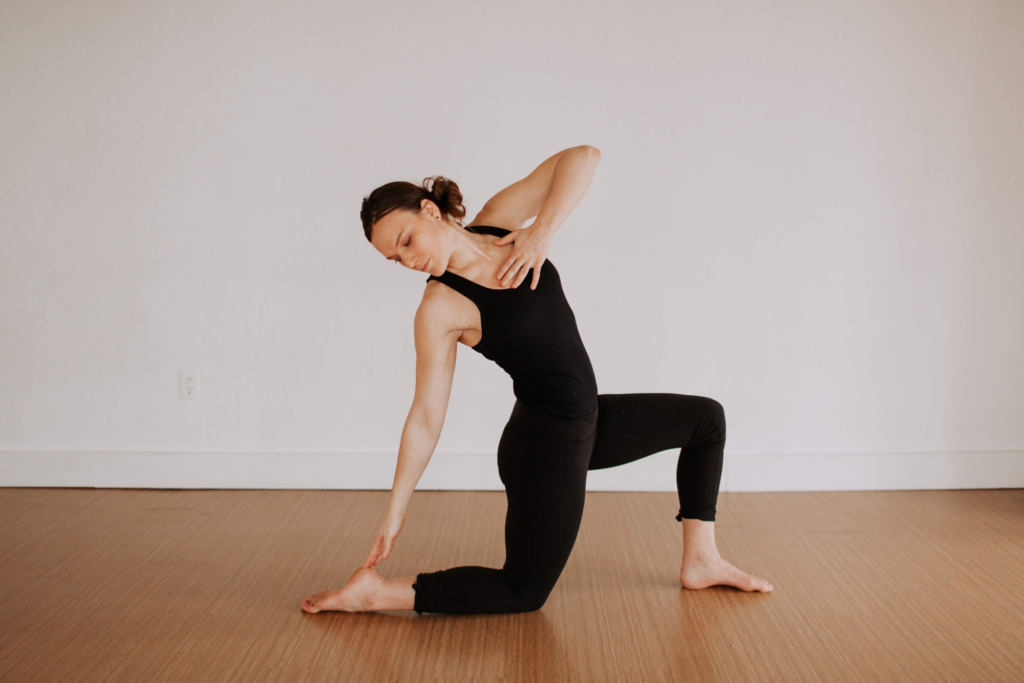 Sweere had begun doing yoga while working as a strength coach, and she says it opened her eyes to the potential of the practice to help her heal inside and out: "I began to recognise how self-destructive my coping skills were and how poorly I was treating my body. I can see now that I was depressed, confused and traumatised, but I would have never been able to say that at the time."
Eventually, an influential teacher recommended that Sweere consider a course at the Himalayan Institute, an ashram-turned-retreat-centre in Pennsylvania. She showed up planning to stay about a month. She left three years later.
Now, Sweere is a 500-hour Experienced Registered Yoga Teacher as well as a Certified Yoga Therapist accredited by the International Association for Yoga Therapy. She shares her techniques and knowledge of the healing power of yoga through one-on-one sessions and community circles, as well as her own initiative Live in Flow – a self-paced online programme designed to relieve pain, reduce stress and help practitioners feel free again in their body. Sweere also works with groups and teams through Stressed Out Humans, where she teaches stress management and simple movement for busy people.
Here, we ask the expert yogi to share her experiences with the transformative practice, as well as her tips for relieving stress through movement.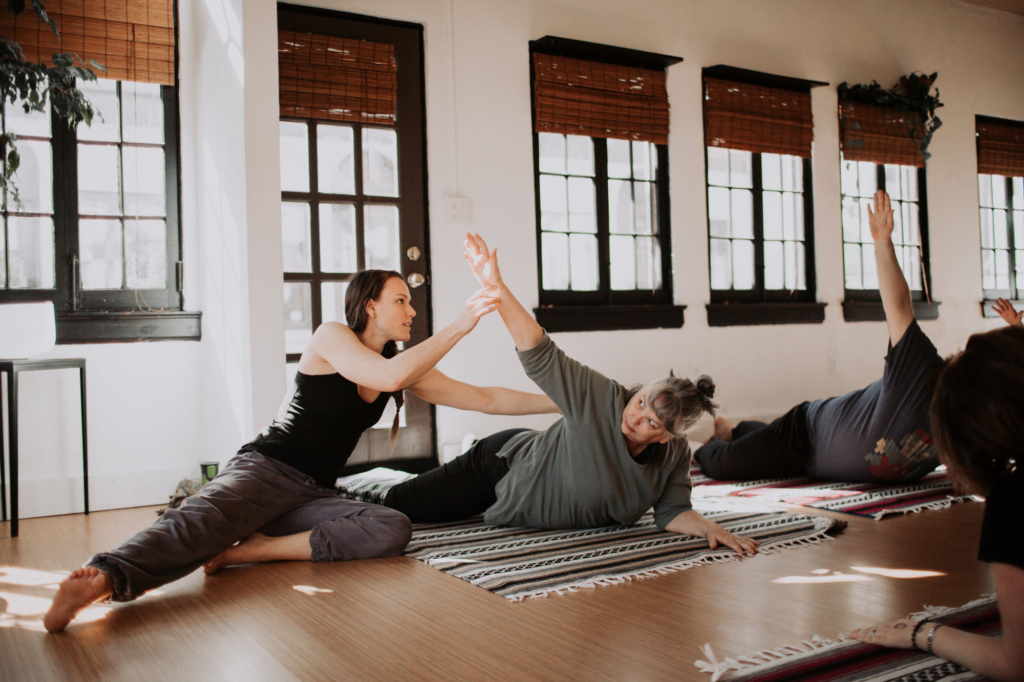 How does your yoga therapy approach differ from what one might experience attending a typical group yoga class?
In a group class, you're often doing posture practice, which is a very great thing to do. However, you miss some of the pieces to the picture of what yoga truly is, and how it can support you in living long, healthy, joyful lives.
The way I understand the yoga tradition is that the practices get adapted to the individual or circumstance. So this is my approach as a yoga therapist. I go to great lengths to maintain the relationship aspect of yoga, to carry forward the through line of this teaching lineage that seeks to see and connect with each person individually. Having an actual relationship with your teacher or therapist is vital in healing. As yoga has become a billion-dollar industry, that seems to be going extinct.
Yoga heals and transforms through developing self-knowledge and an understanding of how to be in a good relationship with everything. Yoga therapy specifically is doing this work in an honest and open relationship with a teacher who is seeing and advising you. This relationship offers valuable insights that allow you to recognise habit patterns and the story that motivates them. We can't heal what we can't face.
We all have powerful habits: physical patterns of how we move and hold ourselves, emotional patterns of response, mental or thought patterns, ways we tend to listen to or deny our intuition and inner knowing, and patterns of behaviours in relationships. Through practice and inquiry we can move through our developmental trauma and rewrite those patterns by getting to the root of disease or pain rather than just masking symptoms.
I'm not saying yoga is a magic pill, but it did give me a better, more sustainable way to cope with being human, and even learn to thrive in chaos."
Your techniques boast a long list of benefits, from deeper relaxation and better sleep to relief from anxiety and physical pain, as well as improved relationships with people and even food or alcohol – in other words, better quality of life. Could you explain how the simple act of moving can achieve so much?
The simplest way to put how this type of movement boasts these benefits is that we begin to feel and move from our centre again. We connect to who we are at the core. Through practicing postures as a form of self-inquiring, patterns of breath and movement start to reveal themselves.
Movement practice alone can do a lot to maintain the health of our joints and improve overall health. Yoga practice adds more to that and involves moving in a very specific way, a sensitive and honest way.
The practice plans I develop for people are not a quick fix, you could think of yoga as slow medicine that compounds in benefit over time. A well-designed practice can impact someone instantly – I see shifts happen in some sessions often – but a dedicated practice is required to experience the benefits. No one else can do it for you, but you also really can't do it alone.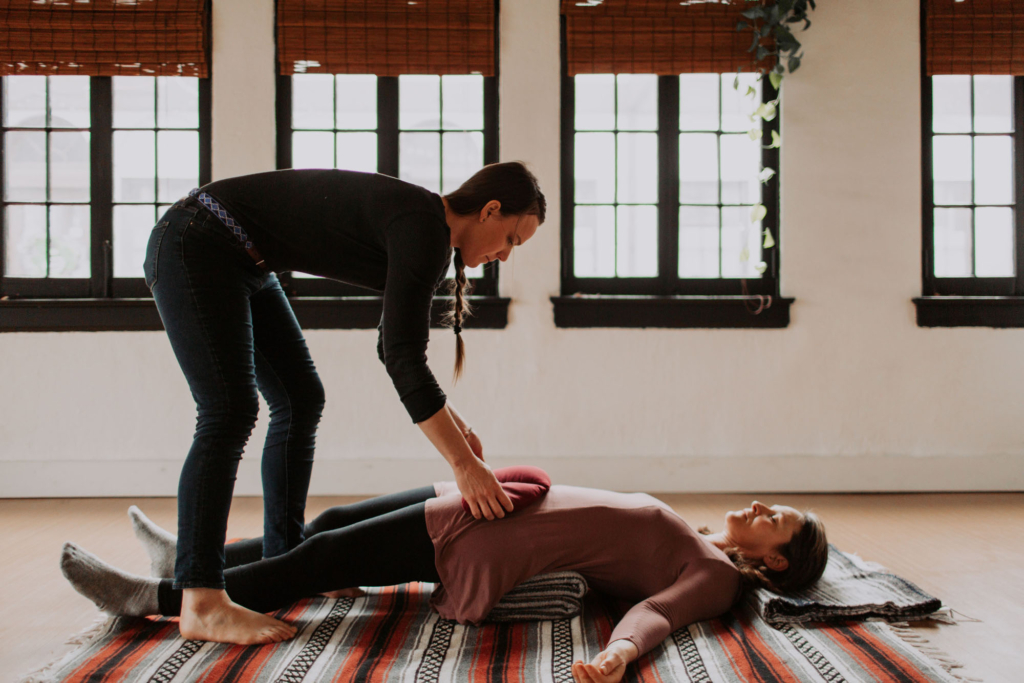 We all know we should be moving more, yet many of us don't. Can you recommend some simple, stress-relieving exercises that just about anyone can do to ground themselves and reduce physical or emotional tension?
There is really not much better than a walk. It provides bilateral stimulation and helps so much with emotional processing. Especially if you pay close attention to your feet and the way they are in contact with the ground. Another simple tip is to wiggle or bounce with your shoulders and jaw relaxed. When we sit on our tension it compounds, so the best thing to do is shake it off, literally.
Sometimes all it takes to relieve tension is to turn our attention towards it. Listen to it in a sense, like you would a crying child. My aim for my clients is a pain-free well-aligned walking gait, because of how much regular walking supports someone throughout a lifetime.
The past year has been one extreme stress for many. Are there any specific techniques you use to deal with the stressors in your life – in terms of yoga and movement, but also other practices?
Often we think it is going to be some elaborate wellness routine that fixes us, but making a habit of returning to the very basic things in times of stress is what saves me every time.
Develop a relationship with your breath. There are many different specific techniques, practices or lineages that you could get into when it comes to breathwork, but all of them will get you to the same place: awareness of your breath. Developing a conscious relationship with how your breath is being impacted by your state, and how your breath can impact your state, will change stress from something that takes you down into something that makes you stronger. So pick some type of breath awareness practice and stick with it. Your breath is the best friend you need in hard times.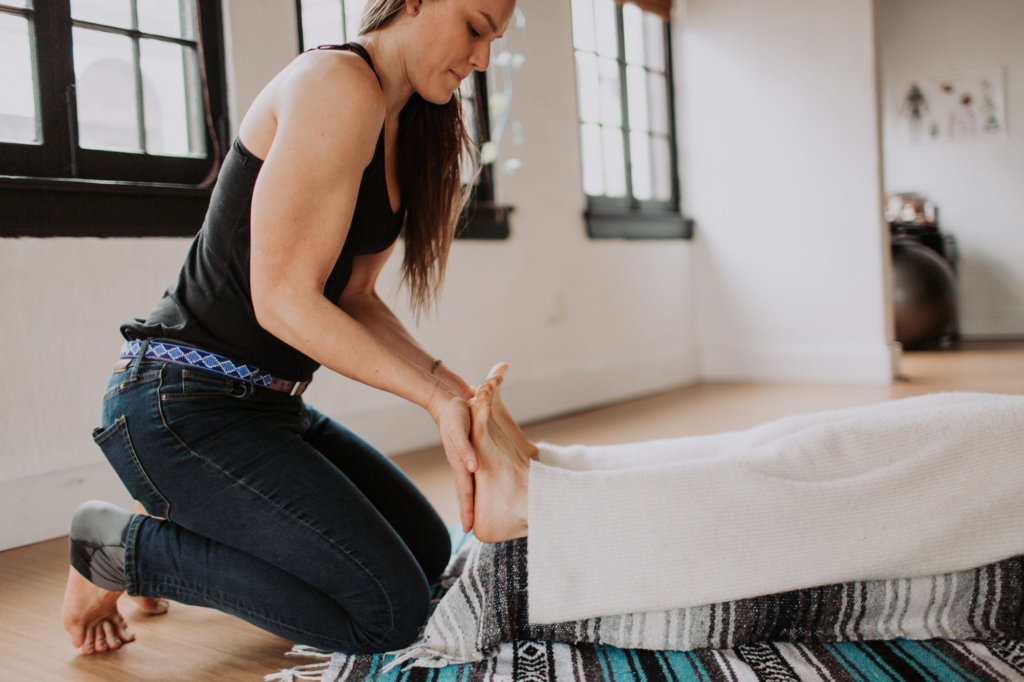 In terms of life habits, the most important thing that will support everything else in your life is getting enough sleep and staying in a good sleep rhythm. If your sleep schedule is erratic, it puts a huge strain on your whole system and greatly impacts mental health. Managing screen time seems to be the biggest factor in maintaining sleep schedules. Yoga offers lots of techniques which can replace that time, and can support your sleep cycles even more.
We tend to take our bodies – and all they do for us – for granted. What are some ways you thank and reward your body for its work?
I thank my body by honouring what I feel. For example, for many years I suppressed my feelings of anxiety and a desire to flee particular environments. I let my inner dialogue rationalise why I had to stay (you have to be here, it's your job, or they need you, etc). Once I began to prioritise building self-trust, I stopped overriding the signals of my body and just left. Over time I not only developed a trusting relationship with my body, but actually stopped thinking of myself and my body as separate things. A more integrated and coherent experience of myself developed through connecting to my physical senses, and listening to the signals of pain or discomfort rather than overriding them.
You've created a delightful tiny home full of carefully chosen items specifically curated for their ability to make you happy. What tips do you have for others looking to create their own happy place, however large or small?
Turtle Medicine the tiny house was a labour of love and a lived ceremony of reclaiming my roots. I love the idea of creating value from things that have been discarded.
My advice for creating your happy place would be to think of your whole life as art, and be open. Tend to what needs tending in your immediate environment with what you have, and fall in love with being resourceful with what shows up.
Along the way during this project, I learned about the idea of building a soul rather than just assuming you have one. Utilise your life to build a soul, your happy place will come very naturally and in perfect timing from there.