';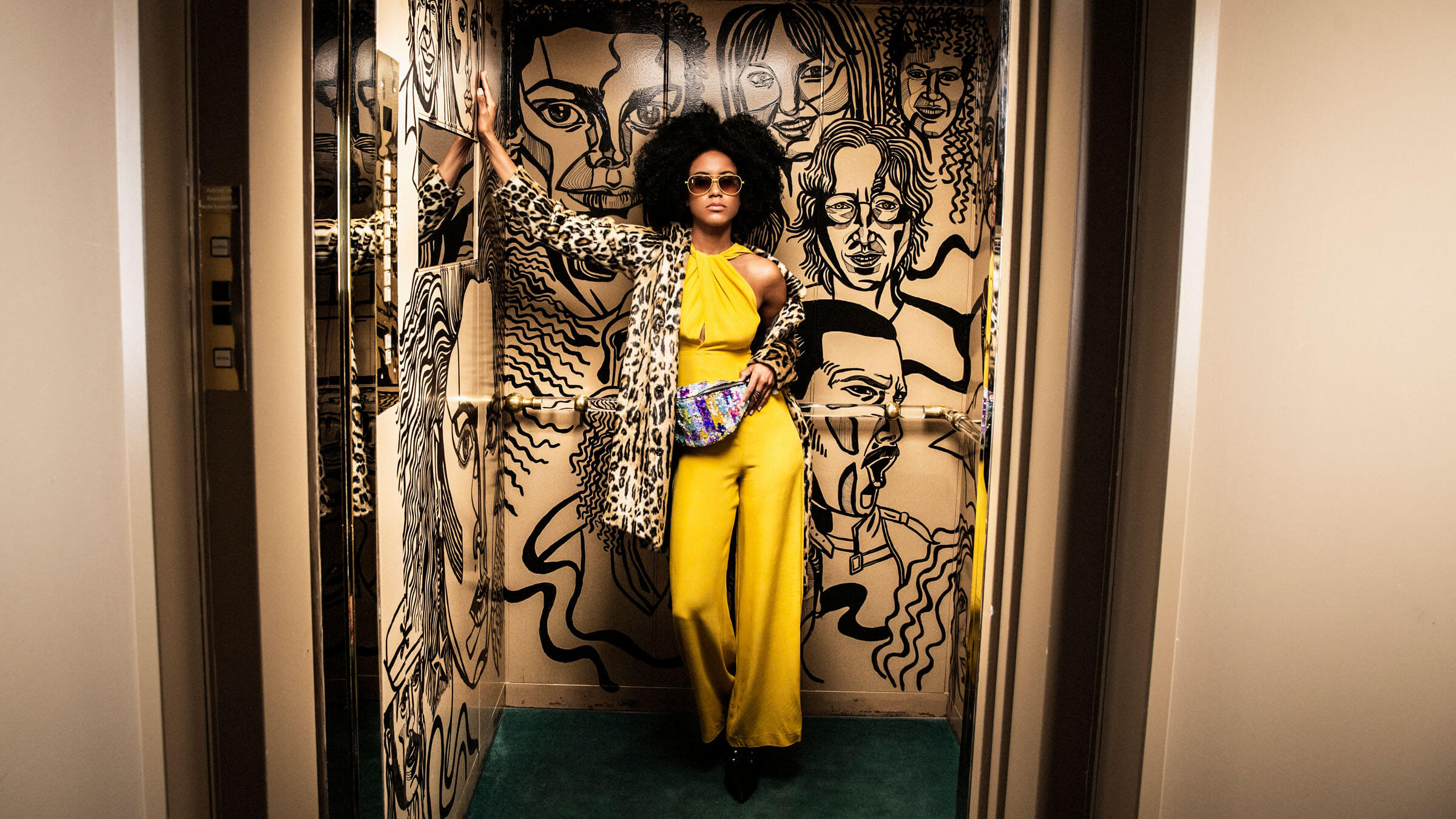 ;
What makes a hotel more than a place to park your suitcase and get a few hours of shut-eye far from home? To Alexander Kaufmann, it's music. The sounds of rock and pop history's greatest performers fill the halls, rooms and (almost) every other area of JAMS, the music hotel he founded in his native Munich.
We met him in the hotel's vinyl-filled lobby, where a larger-than-life Prince Rogers Nelson overlooks a vintage record player and the check-in desk, to find out why music and hotels go hand in hand. Read on to find out how sound permeates every aspect of the business, and how the concept could travel to other locations while staying true to its boutique spirit.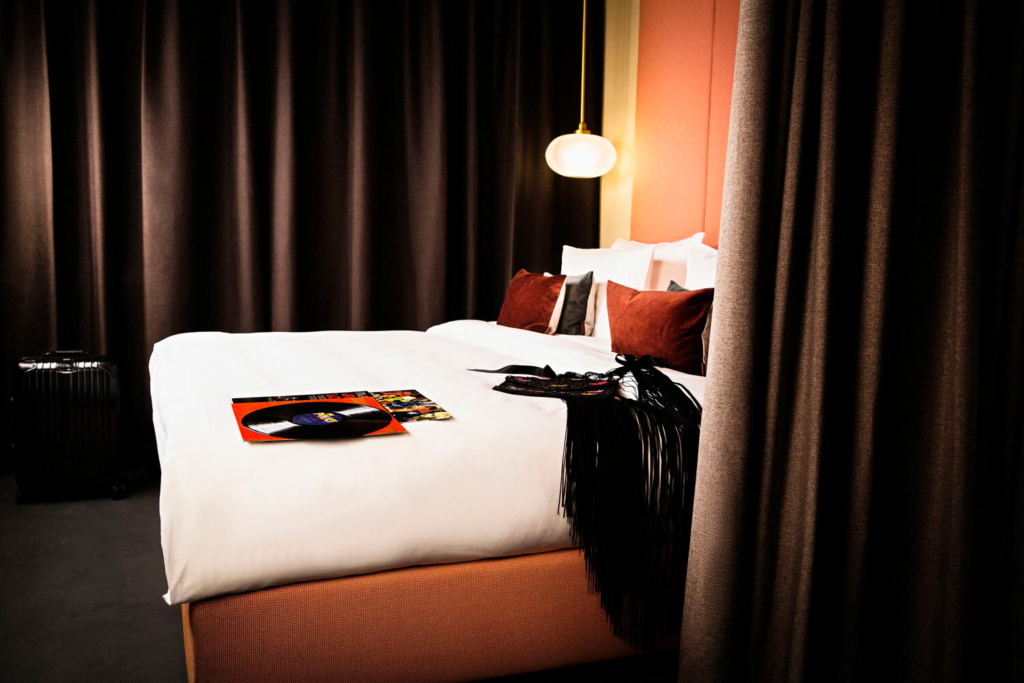 How did the idea of a music hotel come about?
First it was just the idea of opening a hotel. I knew from the start that I didn't want it to be standard, but not how I was going to make it special. So much depends on the location, the size and the given conditions. When we found this location, I knew the hotel would be small and very individual.
I'm pretty picky when I travel, so I always thought about what would make me happy. A hotel doesn't have to be luxurious, and I don't pay much attention to star ratings, but it has to have an appealing, inviting design. Comfort and coolness don't have to be mutually exclusive, but in many hotels they are. I'd rather people actually feel at ease.
One big part of achieving that is colour, the other is texture, so we used warm, rich tones, and everything the guests actually handle and interact with feels good to the touch. That was the basic level, and then we added the context, the individuality.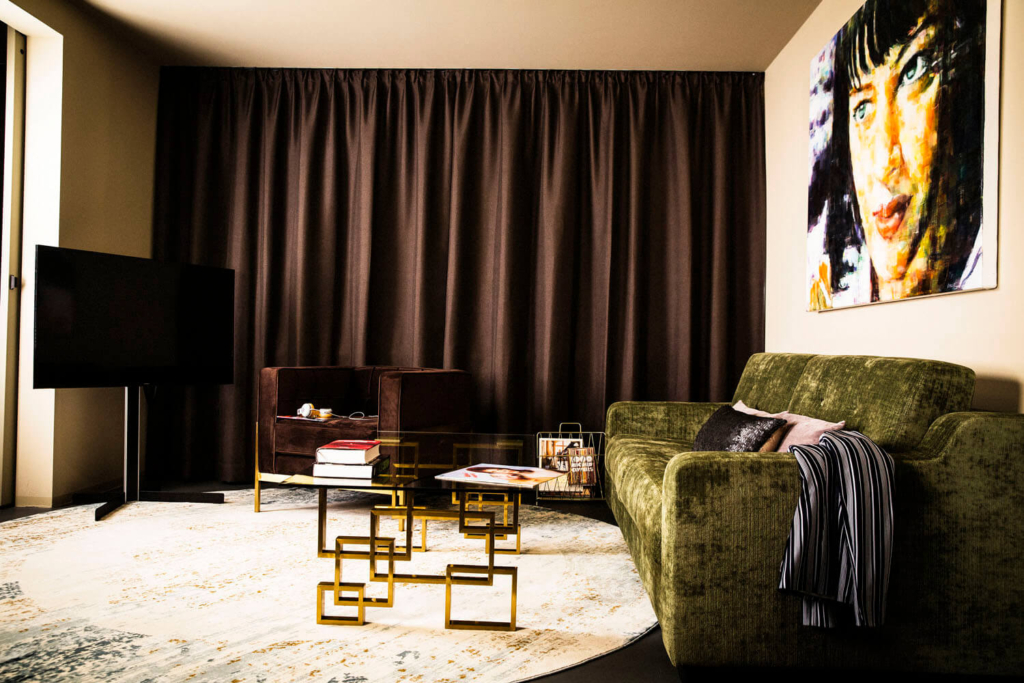 I asked myself, what do I personally like? Well, I'm a huge music fan and wherever I go, the first thing I do is put on music. It really influences my mood, and I choose tunes to suit how I feel, so the music hotel idea was born. When I had to narrow it down to an era, I was naturally drawn to the 1970s. I like a lot of music from that time, but it was also a great time for music in Munich.
Finally, the details started to flow: "Let's have a record player in the lobby!" – "How about a vinyl library for guests and record players in every room?" – "What if our staff wear band T-shirts?" A lot of the elements came together easily then. For example, it seemed natural to also use vinyl as a design element, so we use records as wall hangings, but we also have circular grooves etched into the black tables to mimic that effect, and the staircase is lined with custom-made lampshades that look like records. Our restaurant/bar is called 33rpm, the drinks are named after songs and the menus are the shape of a 7-inch sleeve, as are the hotel guides in the rooms.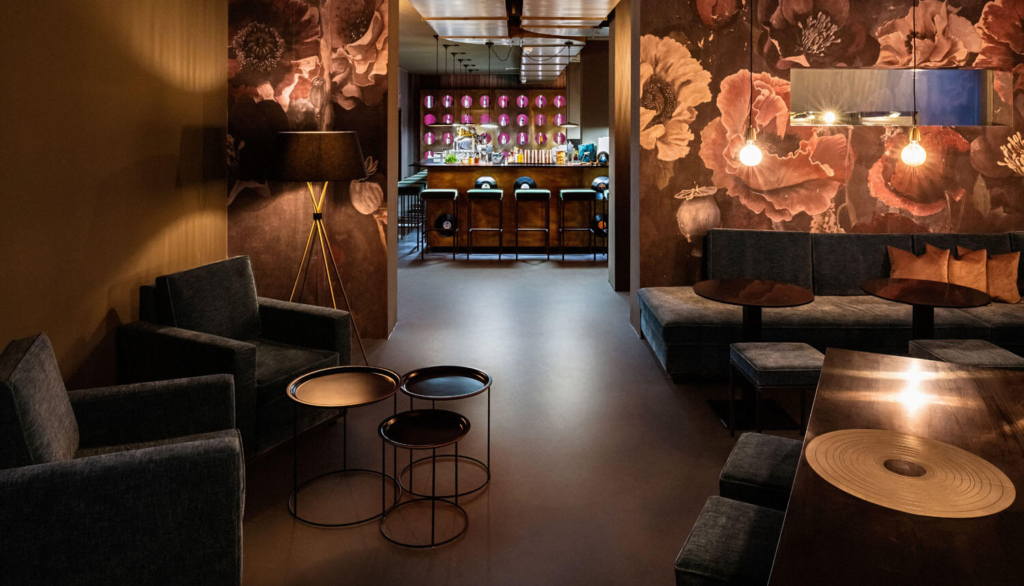 What about the music itself? 
There is music playing in almost every part of the hotel – and of course we turn it up at night. Funnily enough, the lift is one of the few public areas that is completely quiet, which is a nice change from the dreaded "elevator music" hotels play.
We're also starting to establish live music, live performances that will be a lot more casual and unusual than regular concerts. For example, on our opening night, we had an Italian gypsy band that I had discovered as street musicians, and they just moved freely around the lounge and lobby. That evening really showed the power of music to draw people in. All of a sudden people were coming from all sides, because they wanted to hear the band. We can fully open these huge windows we have on all sides of the ground floor, so on a fine day the music drifts out, attracts passers-by and becomes like a calling card.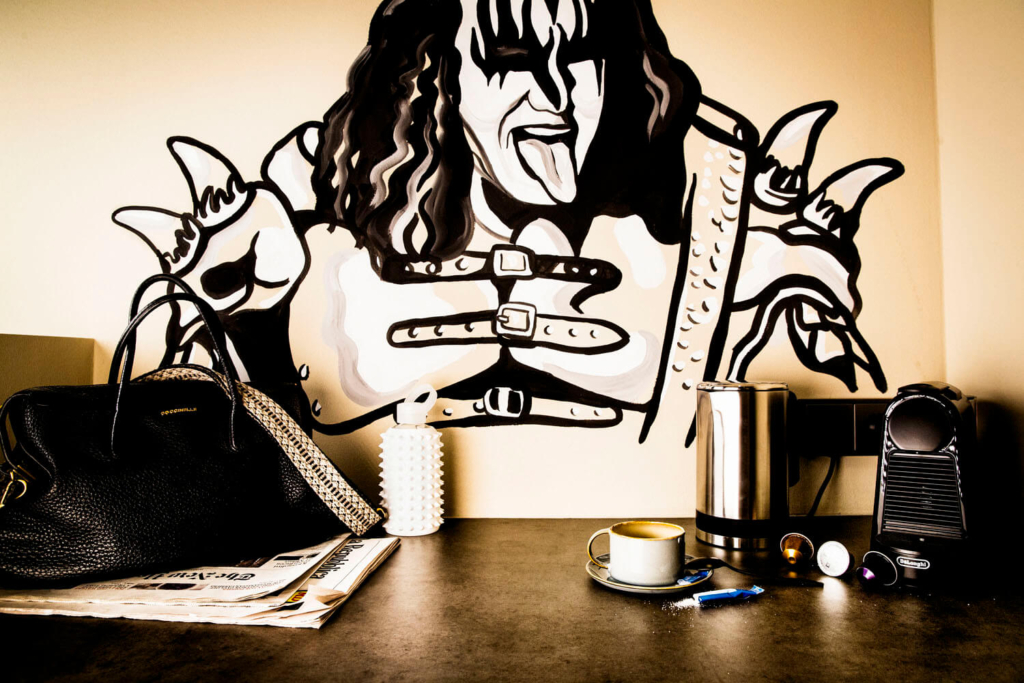 We're also trying to integrate music on a business level. For example, we are working with talent agencies to attract touring musicians, and during the film festival the hotel was full of creatives, which is partly due to our location very near two big concert halls. Any musician who is in Munich to play a concert, or a filmmaker arriving for the festival, would come across our hotel when looking for accommodation – and obviously a music hotel would appeal to them.
Your slogan states that "music is the heartbeat of a city" – how does the heartbeat of Munich sound?
Well, I have two answers to that. One is disco. Like Donna Summer, whose most famous work was recorded and produced here in Munich in the '70s, which also ties into the design of the hotel.
My other answer is just the sound of the city's atmosphere, the vibe. Munich has good vibes. I love the city, and to me it is filled with the sound of people having a good time, so any music that underlines that positivity and optimism is a good fit.
You are planning to expand the concept to other cities – how will you adapt the design to the sound of each location?
It really depends on where you go. For example, if we were to open a hotel in Vienna, we might focus on a different era. If we found a great old building, we could go for the roaring '20s or early '30s and align the design and the music with that. It would have to be very individual again, but with just enough of a JAMS element that it's recognisable. The art is in creating the right atmosphere for every place.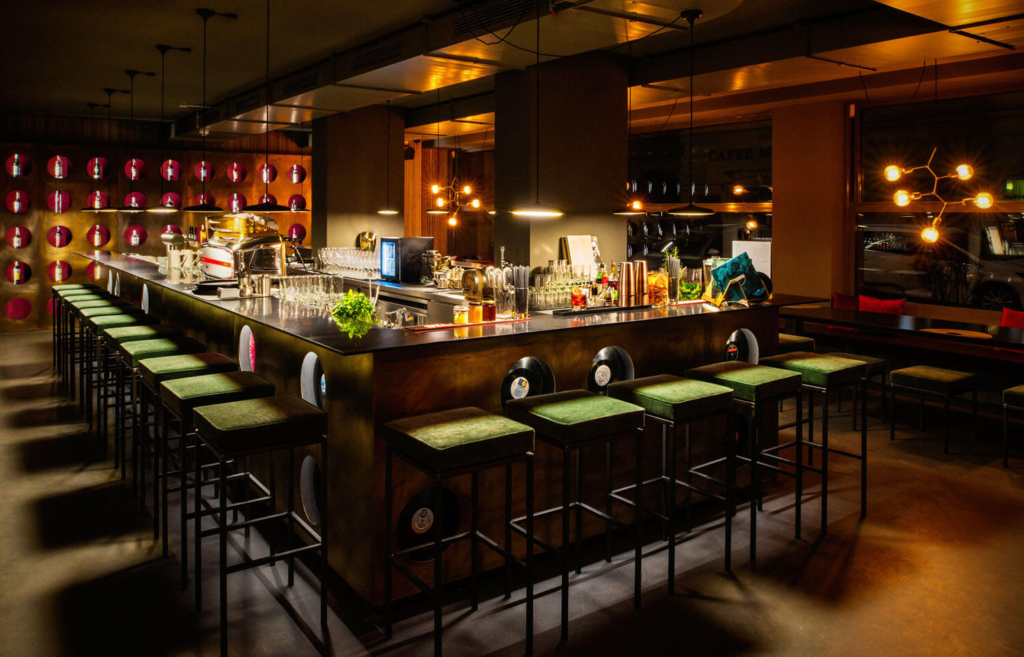 I think the common element would definitely be vinyl. Of course, vinyl has been making a comeback, and I think it's here to stay. It has that tactile quality that is so important to our design here. The way a record looks and feels when you take it out of the sleeve, the closer look as you inspect it for scratches, then the slight rustle as the needle drops … it's just a really unique experience. People love touching a record, it's just more special than playing tunes on your phone.
Do you have any advice for someone wanting to start a small, locally oriented business?
Well, of course it's all about scale. If this was a larger hotel, this concept wouldn't work. I would say the level of intimacy and individuality can only be sustained at 80 or 90 rooms. You also wouldn't be able to operate a larger hotel in a location like this, in the middle of a residential area, but that's what allows you to become part of the neighbourhood.
It's really important to me that the hotel becomes a place the locals want to hang out, too. I travel a lot and always like to stay in a hotel that is frequented by the people that live in the city, the resulting mix of people and unique atmosphere is what can really make a stay special.
[Photos by Frank Lübke Photography]