';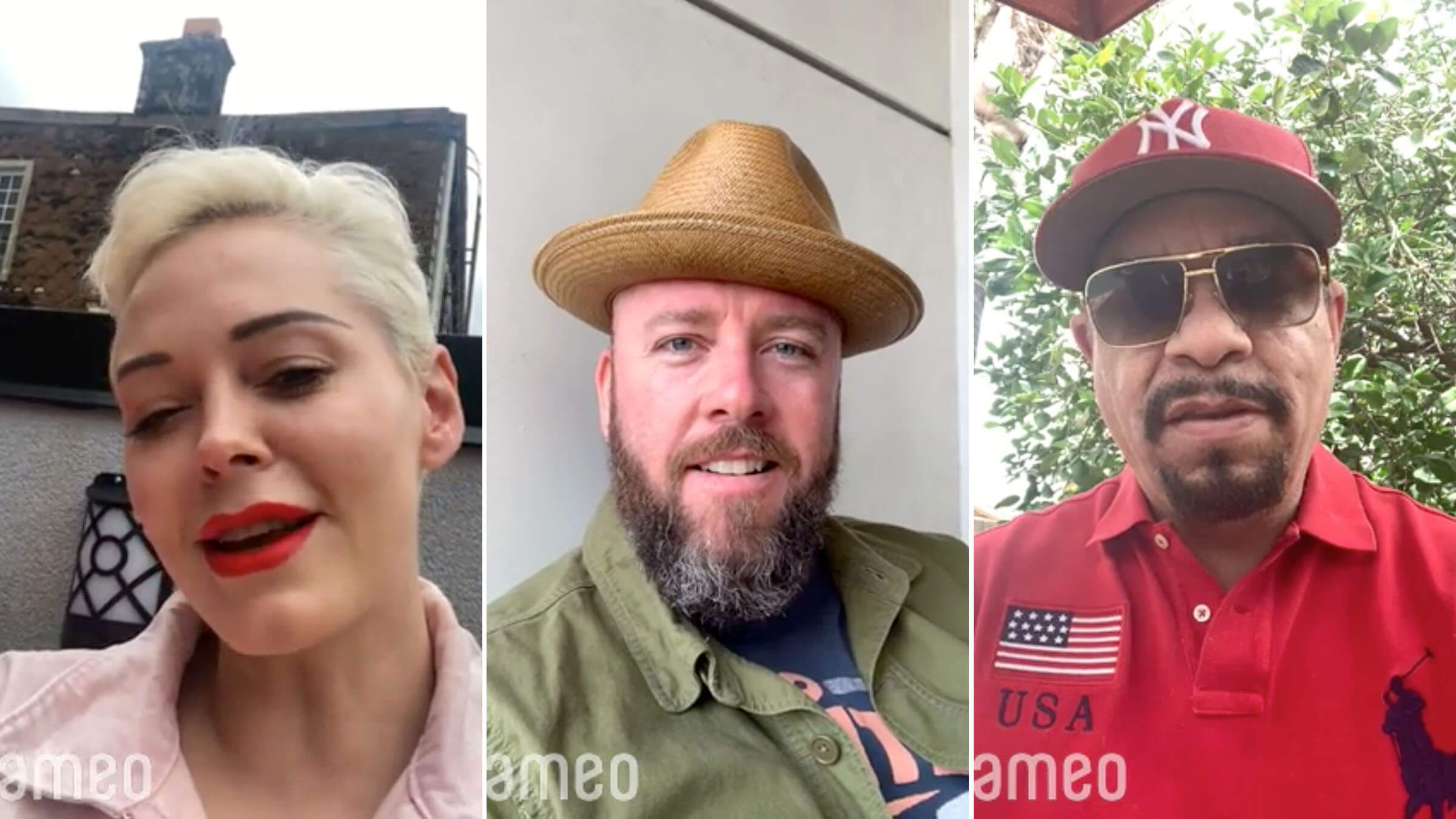 As long as there's been a big screen, we've admired those who appeared on it.
Ever since Florence Lawrence, dubbed 'The First Movie Star', appeared in silent films in the early 1900s, audiences have been fascinated by the people behind the pictures. Fast forward over a century, and we're more obsessed with celebrity than ever: having some kind of connection to fame is the dream of millions worldwide.
For most of us, the dream is just that. You may pass a famous face at an airport, or stand behind them in line at the coffee shop. Perhaps you took it one step further and met your idol for a few moments at a convention, or waited all day to glimpse them at a red carpet film premiere. In any case, celebrity interaction is brief, and often the only evidence is a blurry selfie or an autograph. But that seems to be changing.
The last year or so has seen a rise in the success of the 'video shout-out': a paid-for, pre-recorded message from a particular celebrity congratulating a fan on a promotion, wishing them a happy birthday, offering advice or motivation, or simply saying 'hi' – essentially a personalised video autograph.
The big name on the video shout-out scene is Cameo, a Chicago-based company offering an easy way to get a customised message from a star. Search for a celebrity you want, write what you'd like them to say, pay the fee, and within a couple of days, the video should be in your inbox. It's become a resource for fans looking for an unusual gift for a loved one, or something noteworthy to post on their social channels.
In a relatively short time, Cameo has assembled a long roster of clients from the world of music, sports, TV, social media and more. However, what's perhaps most intriguing is the inclusion of famous movie stars. Unlike musical artists who you can see live, or social media celebrities who may interact with their followers, you're less likely to catch a famous actor away from their home environment of the big screen. Traditionally, part of the mystique of many stars was how elusive they seemed to be. Yet with this service, a number of cinema's more notable stars are just a click away.
Ever wanted Blade star Wesley Snipes to wish you a happy birthday, or '90s Scream Queen Jennifer Love Hewitt to congratulate your friend on their new job? Both can be found on Cameo's website, as well as Lord of The Rings and Stranger Things actors Sean Astin, Harry Potter villain Tom Felton, and notorious wild man Charlie Sheen. Those with a keen sense of nostalgia can also find '80s icon Corey Feldman and Ghostbuster Ernie Hudson ready to say hello.
The website is the brainchild of entrepreneurs Martin Blencowe, Steven Galanis and Devon Townsend. According to Blencowe, the idea for the service came from his time working as an agent for the NFL.
"A few years ago, my friend Brandon had a son, and I wanted to congratulate him," he recalls. "But every time I went to congratulate him, I forgot to do it. He's a die-hard Seattle Seahawks fan, and I knew a player for the team – a guy called Cassius Marsh – and I got him to record a video message for him."
The gift was a hit, leading Blencowe to wonder if this gesture could be turned into a venture. "I was trying to find a way to get (NFL players) 'off-the-field money'. Then I remembered this video, and the idea grew from there. Now I think we have thirteen or fourteen thousand celebrities and influencers on there."
With categories ranging from 'Actors' to 'Reality TV Stars', 'Pro Wrestlers' and 'Influencers', Cameo's growth has been swift but somewhat organic. "We do reach out to a lot of talent, but at the same time, we see that when a certain talent joins the platform, they tend to refer their friends," Blencowe explains.
Cameo seems to be representative of a larger shift in the way people wish to interact with their favourite celebrities. Videos, selfies and other digital media have become more valuable in an age where you can share your experiences with the world. "An autograph… it's kind of basic, isn't it?" Blencowe muses. "It's a piece of paper with a signature on it. When you have a video, directed towards you, it's a lot more personal".
Cameo's critics have decried it as cynical, yet the platform's success seems to speak for itself. Cameo was recently valued at around $300 million and has welcomed rapper Snoop Dogg and activist Caitlyn Jenner onto its books.
However, there's one name that Blencowe, who is also a film producer, would love to include on the site. "My idol is Arnold Schwarzenegger," he says with a chuckle. "Personally, I would love Arnold Schwarzenegger to join. He impacted me personally as a kid, and the idea of having Arnold giving out words of motivation, it would be fantastic!"