';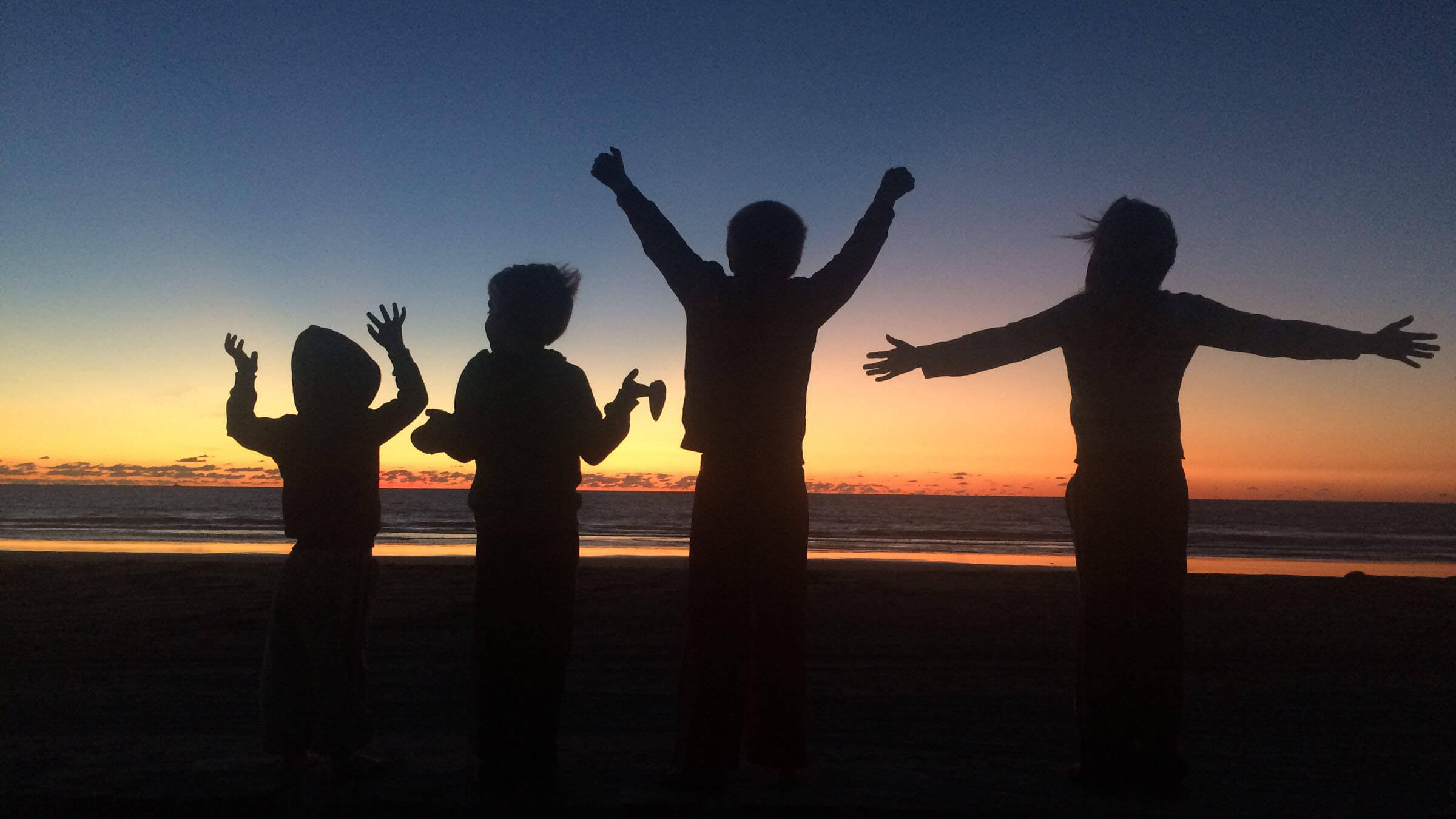 ;
Living the nomadic life and travelling the world: it's a dream for many, and a reality for an increasing number of people for whom the internet – and the work-from-wherever-you-are possibilities it offers – has literally opened up a world of opportunity.
Among them, there are quite a few families, such as Paul and Becky Kortman and their four children. The Kortmans sold their house in 2014 to embark on a trip through Southeast Asia, South Africa and parts of Europe, and are now travelling through Mexico, Central America and Ecuador by RV. They've written a handbook on their lifestyle, and support other nomadic families through a podcast and a Facebook group. We talked to Paul about his experiences.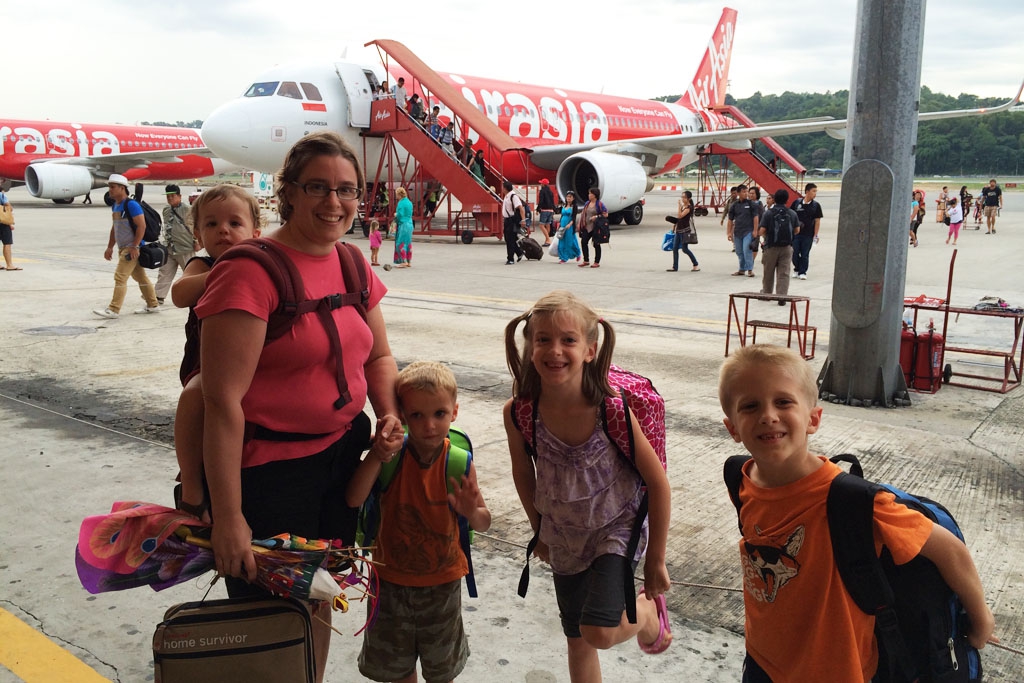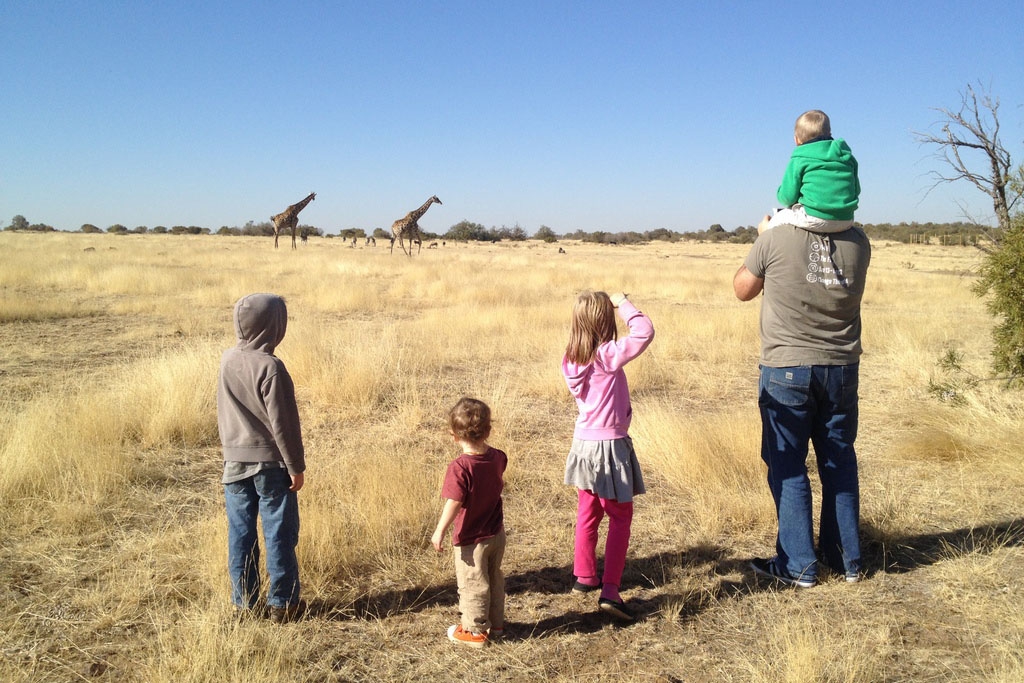 What sparked your decision to start living a nomadic life?
"We were unsatisfied with the lifestyle we were having. I own a business, which I could grow, but it would take me away from my family. Becky and I didn't want that. We are dreamers and always had travel in our blood. When we discovered you can lead a comfortable lifestyle without having to work that much, we decided to set off. I'm still amazed how far our money stretches now. Some of the best restaurant food we've had only cost $12 for all of us."
How do you make this way of living possible, both practically and financially?
"We do 'slow travel'. The most expensive thing in our budget is flying or driving our RV from one location to another. We mitigate that by staying put for a couple of months at a time. It allows us to really explore the area, get to know some locals, and have a normal daily routine. My business ebbs and flows but still needs my attention, so the more effort I put into it, the better our financial picture. I work between 20 and 40 hours a week to make this lifestyle possible."
Travelling as a way of life might be less romantic than people think. What are the hurdles you face during your travels?
"Governments and officials don't know how to handle us, from paying taxes to getting visas, to answering the question, "Where do you live?". Also, our kids don't always enjoy being on the road, so we keep travel time to between 4 and 8 hours a day. Any travel day takes more out of you than a normal day, both for adults and for kids. And problems always occur, like blown tires, accidents, and broken radiators – sometimes all at once! One time we even got our RV stuck in the middle of a busy road (the angle of the hill was too steep for our rig, and we got hung up for a couple hours waiting for the tow truck).
"It's not all rainbows and unicorns, but it is all worth it. We choose where we want to live and when. Recently we spent a week in each of three mountain cities looking to see which one had the amenities we wanted for the summer. How cool is that? Live in a place for a week to 'test it out', and if you don't like it, just move on, no commitments."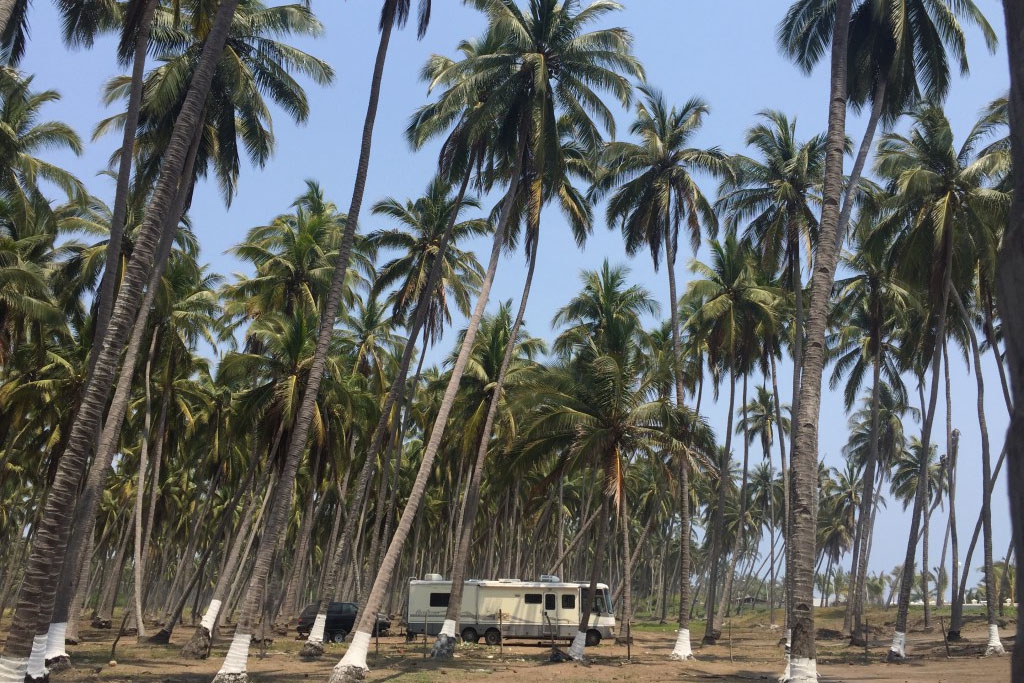 And on a more positive note: the biggest rewards?
"Our kids and their worldview is by far the biggest reward. But so is walking out of our RV, jumping into the ocean and snorkelling on North America's only reef… that's pretty awesome too."
What do you hope your children will take away from this nomadic childhood?
"There are so many things! First off, I want them to feel connected to people around the world. To have fond memories of people they might not see again, but that set the stage for future encounters. Our kids grow up seeing that people all around the world are [both the] same and different. That anyone anywhere can do amazing things or have bad attitudes. I'm significantly less prejudiced because of my travels, and I have yet to see a prejudiced comment come from one of our kids. We also hope they will pick up Spanish through immersion. It's going well, but they need to build confidence."
What's the one thing you wish someone had told you before you took on the first long trip?
"Don't buy an RV, haha! Seriously, we love our mobile house, but the amount of money we've had to sink into it for repairs, gas increases, tolls, ferry fees, etc. Not to mention the hours I've spent repairing all the little things on it. It really saps the mind and energy as well as time. However, when it sits still for a couple of months it's awesome. We really love our 'house', but don't want to move it anymore. We will be switching back to a flying/Airbnb/rental lifestyle here eventually. If only someone had told me how full-time living and driving an RV would cost too much to make it worthwhile!"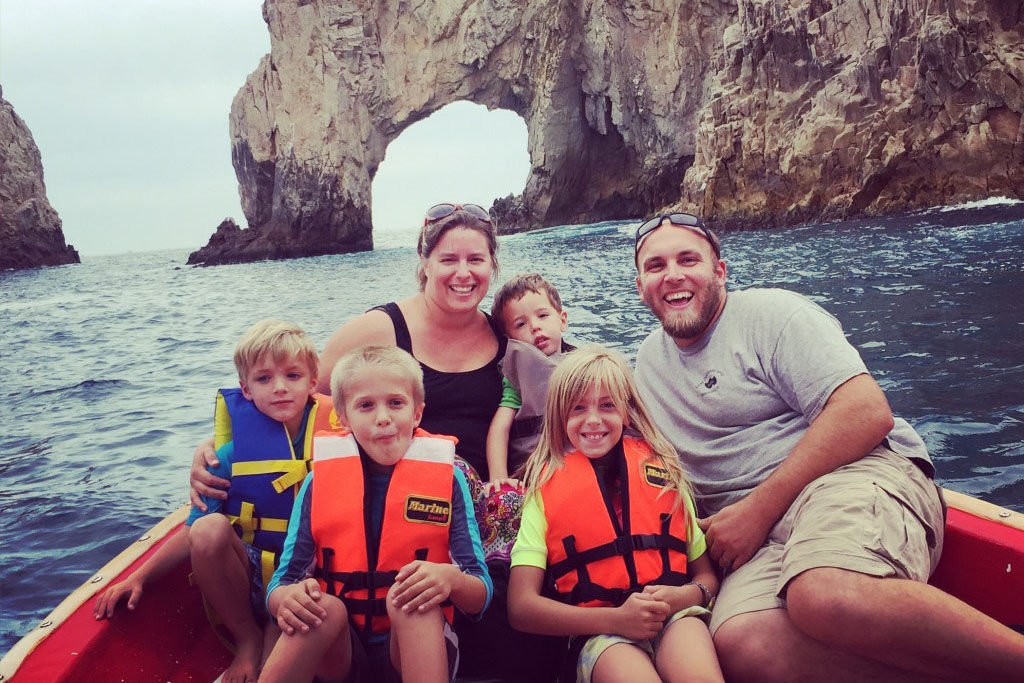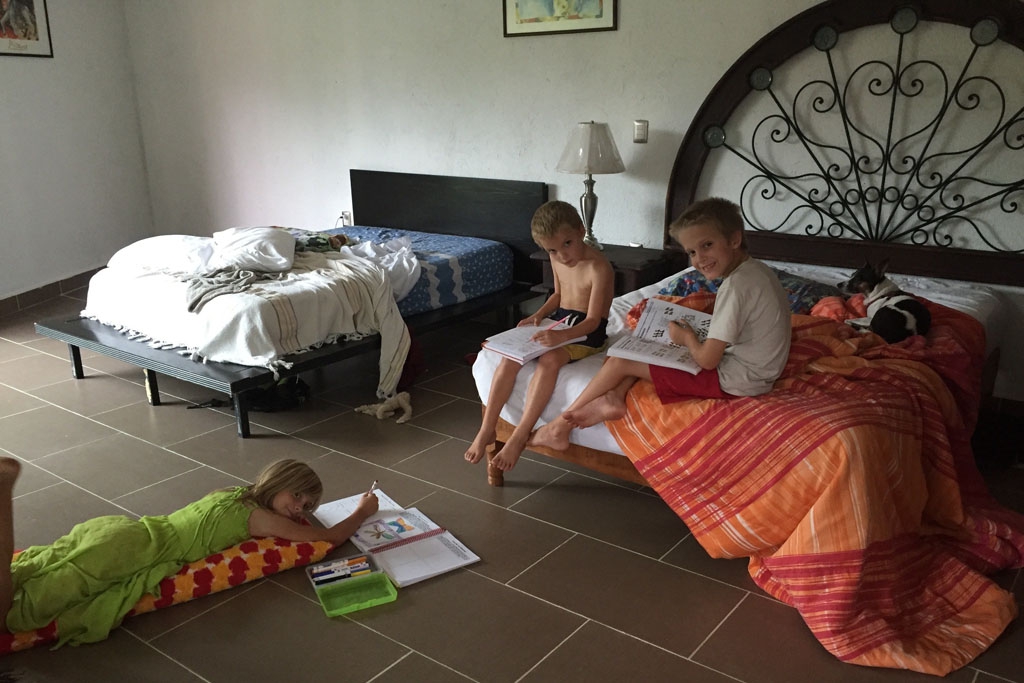 What does an average day 'on the road' look like?
"There are two types of days: travel days and non-travel days. Travel days are complicated but easy to explain: we get up, get things packed, eat and then take off, eating and driving, gassing up our rig, and driving to the next destination. Non-travel days are almost like a typical day in the US. We exercise in the morning, eat breakfast, I work while the kids and Becky do school. I join them for afternoon activities like swimming if I'm done with work, then we head out for dinner or stay in and chill together as a family. On weekends we tend to check out the area or do touristy things. When we were next to the beach we would go swimming a lot. In the mountains we tend to do the Mexican version of stoop-sitting, which is going to a plaza in the town and eating snacks while people-watching, talking and laughing together. It's a great part of the Mexican culture we fully take part in and enjoy!"
What was your idea behind the book and the podcast?
"We realised that the location-independent family movement was growing. Either existing digital nomads were having kids, or families (like us) were realising that they, too, could become nomads. Yet when we set out, there was no support structure in place to connect us to other like-minded families. We felt a hole in our hearts as our family and friends back 'home' didn't understand our lifestyle and thought we just sat on the beach and went to museums every day — so we wrote a simple guidebook to making this lifestyle choice, and founded a community where we can connect with families like us. We now have a podcast to broadcast the support and talk about relevant topics, and we have a Facebook group where (aspiring) location-independent families can connect. It's been fun to notice all sorts of topics come up and to see the community grow and support each other."
To find out more, visit:
nomadtogether.com for the ebook and the podcast
homealongtheway.com about the current trip
facebook.com/groups/LocationIndependentFamilies, a Facebook group to support families interested in a location-independent lifestyle
Interview by Irene de Vette
Travel as a lifestyle is an intriguing idea, but could you imagine embarking on a never-ending journey?