';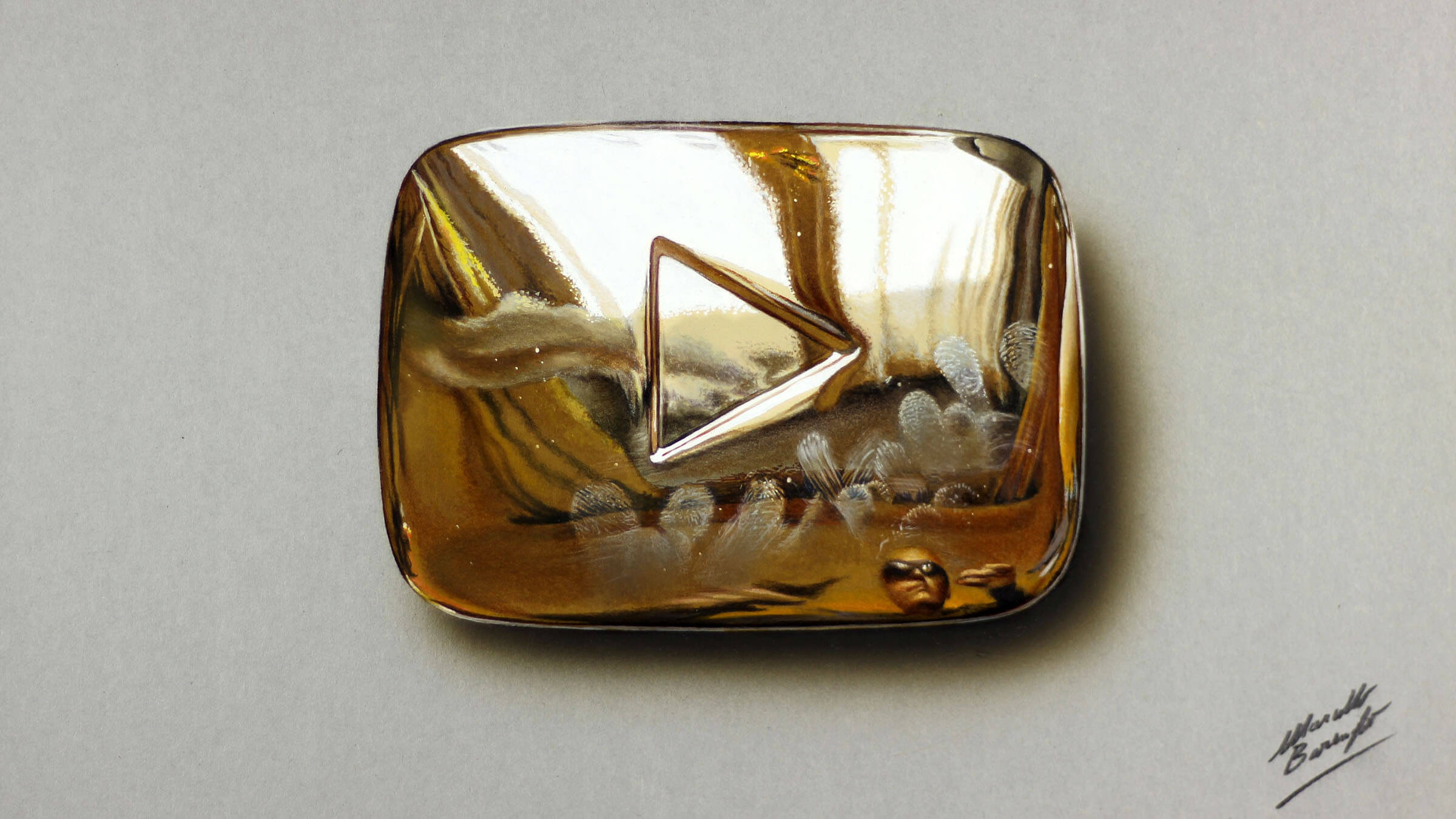 When he was 18 months old, Marcello Barenghi drew an airplane.
Except that, being an artist, his airplane had a tridimensional moving propeller and a vertical stabiliser.
Around 10 years later, Barenghi was learning about hyperrealism on his own, all while winning a number of drawing competitions. Another decade after that, he was advised by his art school professors to leave his native Italy and study abroad, where hyperrealism as a movement was more diffused and appreciated. At that time, however, the threat posed by the booming graphic design industry loomed over artists, and Barenghi chose to become an architect instead. After graduating, he met with a lot of disappointment in his career, until he gave up art and drawing altogether, and started working as a shop assistant.
At Blockbuster.
In 2013, "unemployed and with nothing to lose" – as he himself says – Barenghi launched his YouTube channel and started uploading videos of his hyperrealistic drawings of everyday objects, such as a soda can or a piece of fruit.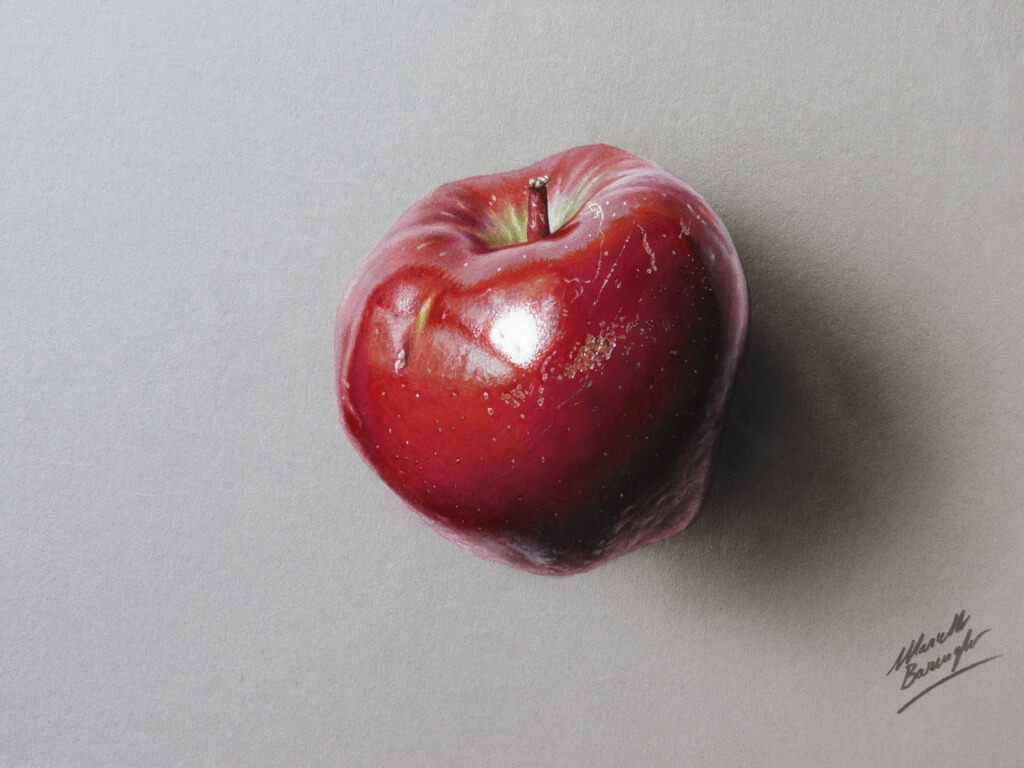 With no expectations and no goal other than to freely share his passion, he simply did what he liked – and worked very hard at it. Barenghi reached 100,000 subscribers within the first year and quickly caught the eye of the media – and that was just the beginning. He went on to realise a number of illustrations, cartoons, paintings and oil reproductions of paintings such as Leonardo's Mona Lisa and Caravaggio's Boy with Basket of Fruit.
Today, Barenghi's channel has 1.7 million subscribers, and his videos have received a total of about 200 million views. We talked to him to ask about his lifelong passion for drawing and painting, his newfound fame and his upcoming projects.
What are you working on at the moment?
Marcello Barenghi: Every week I realise a new drawing for my YouTube channel, and I'm working on new tutorials for those wishing to learn my technique. What's more, after a one-and-a-half-year break, I resumed live painting, and I'm about to finish a reproduction of one of my most famous drawings: the green vodka bottle.
Your passion for hyperrealism started during your studies in illustration. What fascinates you the most about this art movement?
I've always loved hyperrealism. Since I was a child, my goal has always been to draw accurately, comparing my work with reality. I was attracted to paintings realised by meticulous artists such as Caravaggio and Van Eyck – which was rather against the tide back then. Even as I attended high school, academicism was glossed over, drawing well was not that important, and I was pushed towards expressionism, abstractionism and impressionism. Therefore, I had to learn many things on my own. By the time I got to art school, I already had a good technique and my own style, which I improved upon also thanks to the encouragement of my teacher Anna Montecroci.
Your work has you focusing in a very detailed way, for hours on end, on everyday objects. What insights on reality have you gained through this constant exercise?
Everything starts with observation, before drawing has even begun. I'm always looking for the perfect lighting, that which enhances the object, makes it look even more real than reality itself, and if possible even more beautiful. This is why I love to draw objects which are best suited to "flirting" with lighting.
Your artistic production is extensive: drawings and illustrations, paintings, oil reproductions of classics, cartoons and more. Can you recall a particularly difficult project you worked on?
Even if I make it look simple, all of the drawings I realise for my YouTube channel are complicated and very effortful. You need to draw as well as Caravaggio, in a limited time, without breaks, without moving the sheet of paper and always in the right position not to block the camera's view. And you can never make a mistake.
Drawer, illustrator, painter, architect, garden designer… Your resume is impressive, and has led you to master a number of artistic techniques. Which one is your favourite?
I love them all, and I would even add other ones on top, such as wood carving, if I only had time. If I really need to choose, then painting would be my favourite. To paint is very relaxing and fulfilling, I can take all the time I need, and the results are excellent. Oil painting, in particular, is perfect for hyperrealistic subjects.
Since 2013, you have realised hundreds of drawings for your YouTube videos. Which ones are your favourites?
Of each and every drawing I realised, I could say I'm not completely satisfied with it, but also that I love it so much I could never part with it. In fact, I don't sell them. Every one of them is the result of a challenge which I loved to take on and overcome: the gold of the World Cup trophy, the transparency of the glass, the weave of fabric. I love them all, each of them has its own peculiarity.
Many artists are afraid of exposing themselves. You, on the contrary, communicate with your audience in a very open and honest way. What made you overcome the fear?
I had a difficult beginning, which ultimately led me to abandon art for two decades. I preferred working as a shop assistant, because I didn't want to sell myself short. Some 20 years later, I decided to share my talent with the world, for free. It has been a liberation and a wonderful discovery. I love my job very much, I only do what I want to do. Success, though pleasant, has never been my main goal. This makes everything easier.
You also do drawing tutorials on Patreon for artists wishing to learn your technique. What general advice would you give a beginner artist? [Beginners can also follow the hashtag #marcellobarenghiinspired on Instagram]
My first piece of advice is to be patient. It's not all about talent; a lot of hard work is required. If all one is looking for is success and numbers, there are many easier ways on social media to obtain them. Yet if you love what you do, then work is not an effort, but a pleasure.

My second recommendation is not to settle: one can always improve.

My third piece of advice is to do, as far as possible, only what you like.
What are your upcoming projects?
I'm thinking about setting up a solo exhibition, as an independent artist who lives off his artworks without selling them.