';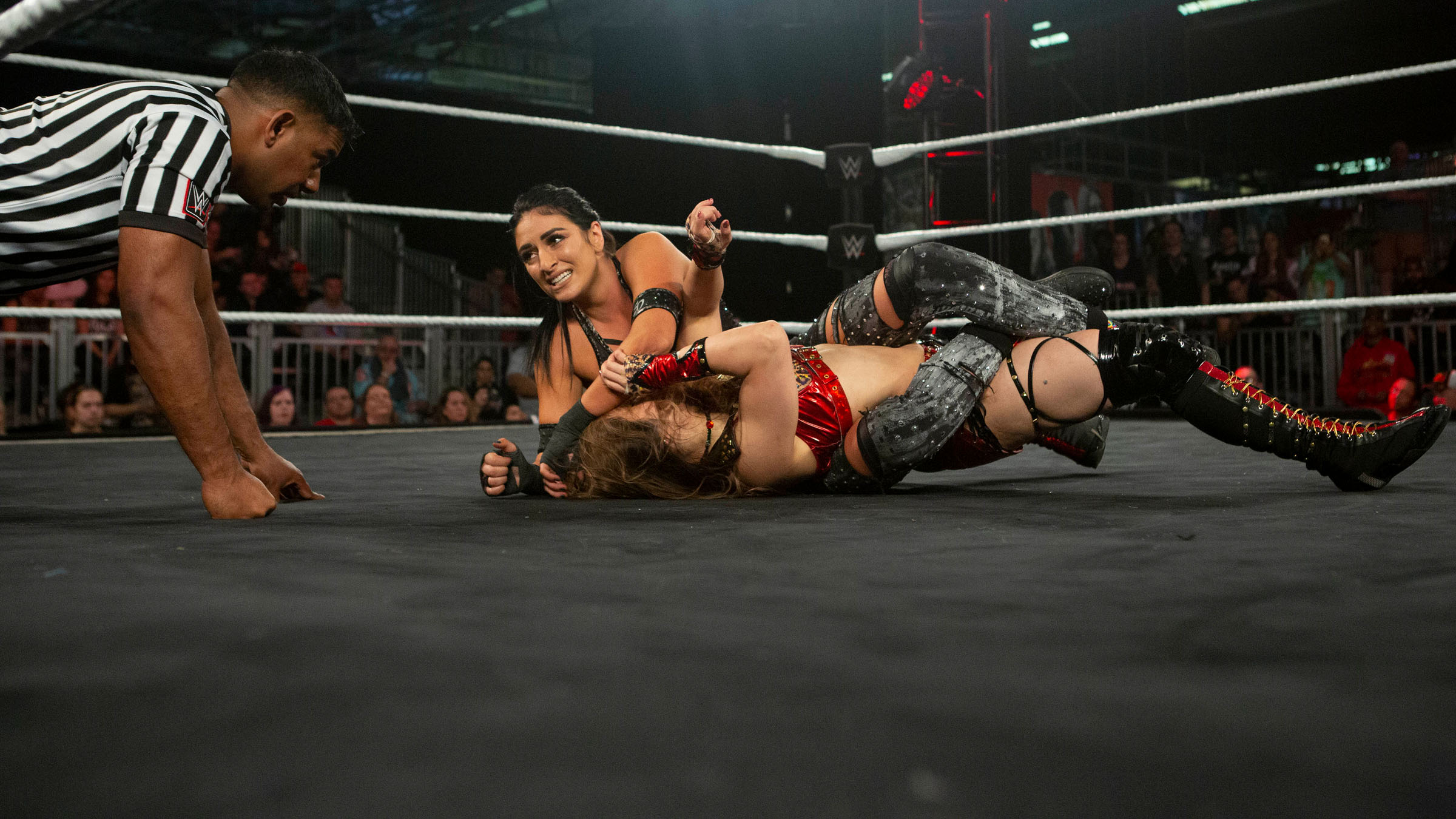 At just 26, athlete Daria Berenato is already known for breaking barriers. Taking the ring as Sonya Deville for wrestling juggernaut WWE, she became the first openly gay woman to perform for the company, first coming out on their Tough Enough reality contest in 2015 before becoming a regular fixture on flagship show Smackdown Live. As well as appearing before tens of thousands at events like Wrestlemania and Evolution (the first all-female WWE event), Berenato has also appeared on E! Reality show Total Divas and is part of a new show centred around female empowerment.
We sat down with the wrestling superstar to talk about new opportunities, LGBTQ representation and what's next in her rising career.
AMEX ESSENTIALS: You are part of the new Quibi show Fight Like a Girl. How did you come to be involved?
Daria Berenato: I was asked to do it when (the show) first started doing the casting, and they told me it was this cool, empowering, inspirational project where female WWE superstars were going to get paired with these strong young women who wanted to make positive changes in their lives. We were going to mentor them through the process, and help them achieve whatever goals they wanted to accomplish. Right away, I was like 'I love the concept, I love the idea,' and the young woman I got paired with ended up being a girl who wasn't openly gay to half of her family. They didn't know about her sexuality, so she just wanted help in gaining that confidence and the liberty to feel like she could share who she was with her loved ones.
Some reality shows have been accused of being staged for dramatic effect, yet this show deals with very real issues… 
This is a very 'real' reality show! I know what you're saying – a lot of times it's scripted, but this was very raw and authentic. We met and we talked, she told me her story and I tried to give her the best advice that I could. I won't give away too much, but at the end of the show, to see her total mind and body transformation was so impressive. I was so proud of her.
Your WWE persona, Sonya Deville, has become a symbol of LGBTQ representation within both WWE and TV in general, representing the community at huge events like Wrestlemania. Was it your idea to include your identity as part of your on-screen character? How did WWE react? 
That's something that I came up with. Obviously it had to get approved by the 'higher-ups,' and everyone was so on board and so supportive. Stephanie McMahon (WWE Chief Brand Officer and Fight Like a Girl Host) has been a huge part of this journey in becoming more inclusive with the LGBTQ community as a whole in WWE. She's helped branch partnerships with GLAAD, getting us on a Pride float at New York World Pride, and the GLAAD float last year, the Spirit Day Lounge at Comic Con last year. She's really helped make a lot of that happen.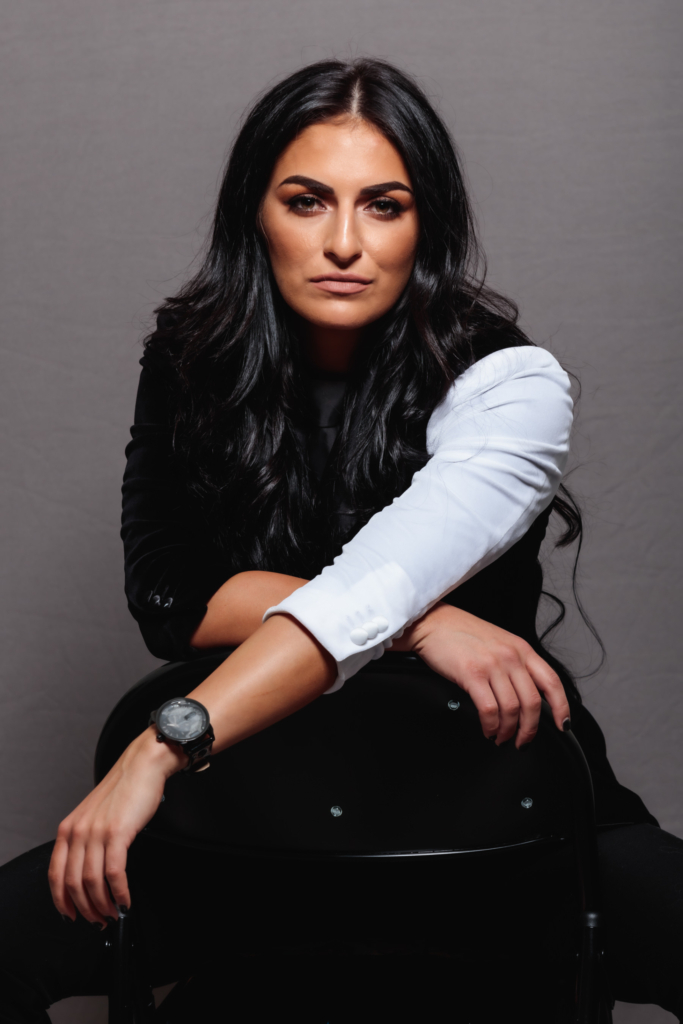 I grew up in a small conservative town in New Jersey, I didn't have a lot of gay representation. I was afraid to be who I was, so it's cool to see the younger generation now, having that camaraderie, coming together and being proud of who they are.
[Photo credit: Ryan Loco]
How about the WWE fans? Under normal circumstances you meet thousands of fans a year performing around the world…
Obviously you have your trolls online, the good comes with some bad, but I like to look at the glass half full, and I just appreciate my fans so much, they're so interactive. And a big majority of them are from the LGBTQ community, because they finally have someone that they can relate to, you know?
I remember turning on the TV when I was a kid and looking for those allies, because I just wanted to relate to who I was watching. Ellen DeGeneres was one of the only ones at the time, and I remember thinking 'wow, she's so real and so open.' I remember her struggles in Hollywood and how far she's come. So, I just want to be that voice for that person who was me back then. I wasn't able to be a part of a community like that when I was younger, because I was closeted and nervous. I grew up in a small conservative town in New Jersey, I didn't have a lot of gay representation. I was afraid to be who I was, so it's cool to see the younger generation now, having that camaraderie, coming together and being proud of who they are.
We have seen some steps toward LGBTQ representation in entertainment, but what can the industry do to push things further? 
Well, art should imitate life, right? So in real life, statistically there is a percentage of us who are part of the LGBTQ community. So, to represent that same statistic on camera – whether through a storyline or just us being who we are – is really powerful and impactful.
I'm a firm believer in being authentic to who you are, and yes of course my sexuality is a part of who I am, but it's also a very small part of who Sonya Deville is, she's so much more than that, she doesn't want to be defined by that. It's important to have representation in a lot of platforms, and I'm looking forward to exploring those in the future.
You perform weekly on WWE's Smackdown Live show, which WWE has been producing for the first time in its history without any fans in attendance due to the COVID-19 situation. What's it like performing in such unique circumstances? 
It's forced us all to go back to the drawing board, recreate and reinvent. I love the aspect that we're being able to bring light to people at a time like this, where a lot of us are struggling mentally, physically, financially. For me as a character, I feel like I'm just focused on emoting real, authentic, passionate emotions, so that you can feel it through your TV screen, and you don't need cheering or booing to know what you feel. That's what I've been focusing on, and it seems to be going well.
You also performed at the first Wrestlemania with no fans. It's seen as the pinnacle of a WWE Superstar's career, partly because of the atmosphere of the vast crowd. What was it like to be part of an event where there were no spectators? 
The atmosphere in the WWE locker room has always been extremely competitive, and we're always trying to put on our best show, for the fans and for ourselves. Everyone just wanted to come out, show up and show out. We wanted to show the world – just as much as we wanted to show ourselves – that we could do anything. Throw us the ball, and we're going to come up with the game. It's kind of what we've all been doing, and I think it's been so cool and unique that we were part of a Wrestlemania with no audience – that is once-in-a-lifetime, that probably won't happen again in my lifetime. To say I was part of a Wrestlemania that had no audience, that took on this vibe and feel of its own, it's an accomplishment itself in the way it turned out.
How long do you see yourself in WWE? Do you have ambitions outside of your current role?
I don't plan on leaving WWE any time soon, I'm just getting started. I'm 26 so I'm blessed, I'm young. I think I have at least 10 more years left in me.
I also want to act, I want to get into Hollywood. I don't think that's a case of 'either/or' – I can do both. I'm already pursuing both. I would love to follow in the footsteps of The Rock and John Cena, and get into film and television.
View this post on Instagram
View this post on Instagram
Would you follow their path into action movies?
Yes, I would love action, femme fatale roles, badass chick roles. But also comedy. I love rom-coms, and I love comedies in general. I think John Cena's been in a few, the Amy Schumer one (Trainwreck) I remember was super funny. That's something I'd love to do.
What's coming up for you in the near future? 
My new clothing line, called Rainbow Love. It's under a bigger clothing line called Heavy Heart, and the back of the shirts say 'You Are Not Alone' and have the US National Suicide Hotline number on it. I just got off the phone with my business partner, and we're working on the proceeds going toward LGBTQ and suicide prevention charities.
Finally, you're also a YouTube creator with your food channel Damandyz Donutz. However, you're currently feuding with your co-host, fellow superstar Mandy Rose, on Smackdown Live. Does this mean the end of the channel??
Damandyz is still in full force. We're still going as a company, we have our assistant to go back and forth between us to do the communication, so we never have to speak again! But at the end of the day, we're both businesswomen and we both put the company first.
Fight Like a Girl is available on Quibi now. 
[Photo at top courtesy of WWE]