';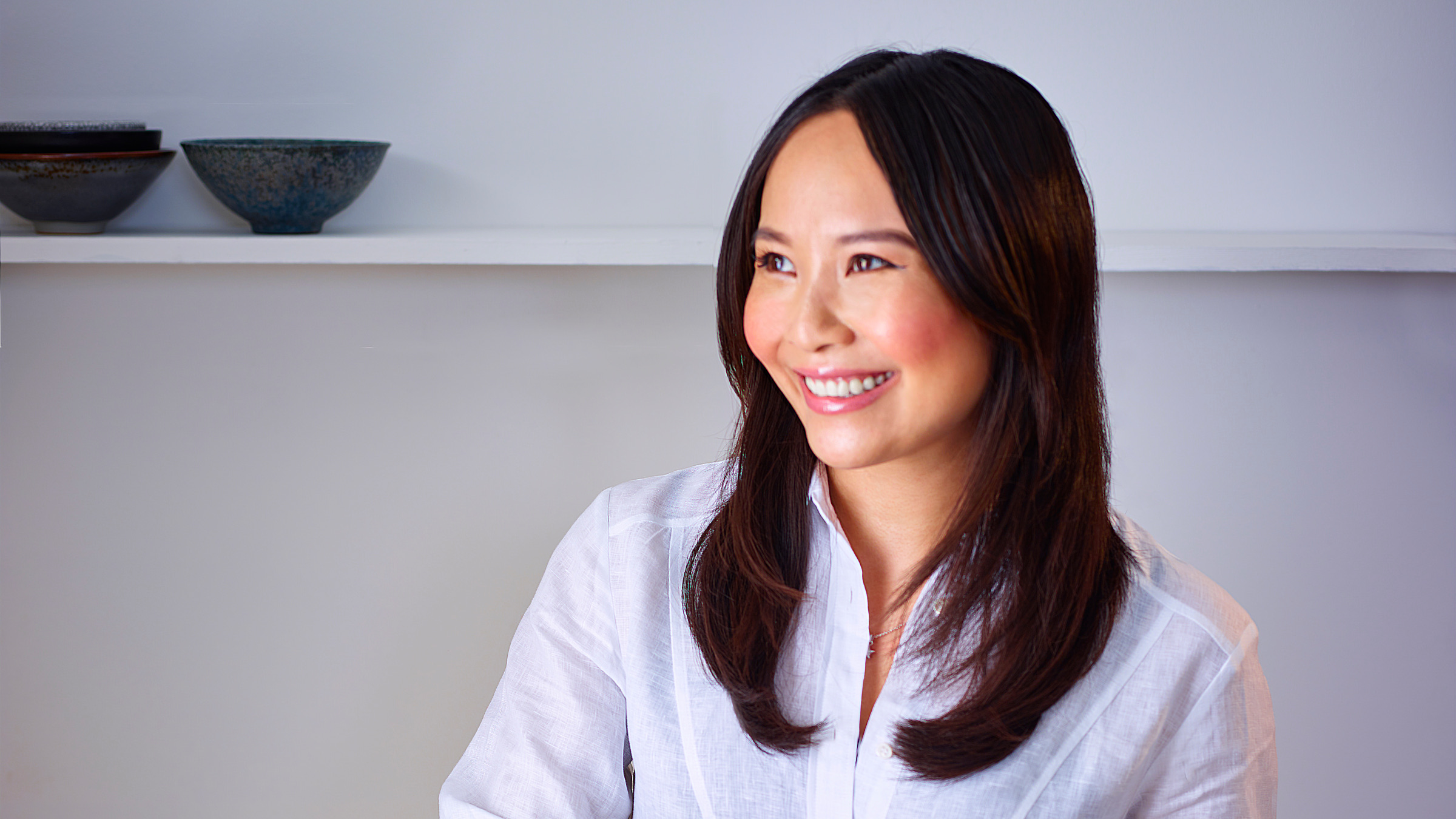 ;
Last year, Ching-He Huang spent the Chinese New Year making dumplings with the Duchess of Cornwall. The UK-based Chinese chef is quick to admit that it was one of her more memorable cooking sessions, stating "that's a hard one to top…!" After all, it's not every day you get to celebrate the most important day of the lunar calendar with royalty.
Demonstrating the art of dumpling-making on the occasion of the royal visit to London's Chinatown was an auspicious start (the so-called jiaozi represent luck and fortune) to what has been a good year. It is also typical of Huang's life and career, bridging East and West, enjoying Chinese food, embracing traditions and sharing her knowledge with European (and American) audiences.
The Globetrotting Gourmet
This year Ching, as the successful culinary ambassador is known to her fans, will be having a slightly less celebrity-studded Chinese New Year, putting in a television appearance before hosting a family dinner. "I'm cooking hot pot in the evening for my family who are visiting from overseas," she explains.
She herself has only recently returned from a visit to Taiwan, where she was born, again racking up the air miles that are such a large part of her globetrotting life. Ching spent part of her childhood in South Africa before relocating to London; however, her career has seen her return to China on culinary expeditions time and again, most recently for Ching's Amazing Asia, which premieres on the Food Network this month. It comes as no surprise, then, that home to her is not necessarily a place, but – in her own words – "home is where you are at peace."
Chef With a Sweet Tooth
Ching took an early interest in cooking, as evidenced by one of her favourite desserts. "I remember looking at a book of recipes from World Famous Chefs at Golders Green Library when I was growing up," she says. "I noted down Anton Mosimann's Apple Crumble Recipe and it was divine – I make it now when entertaining, and have adapted it to make my own."
She may still be cooking that crumble (she sums up her culinary guilty pleasure as "anything sweet"), but these days, it's others who are taking notes from her. The most popular recipe she's ever shared? "My Chilli Chicken Chow Mein Noodles helped me win some competitions, which is always handy! I've been told it consistently comes in No. 1 in rankings on the Cooking Channel website."
The Ching-He Huang Food Philosophy
Authentic and relatable, with one foot firmly planted on each continent, Ching has found the sweet spot between knowledgeable Chinese chef and bright-eyed European eager to discover the secrets of the country's cuisine.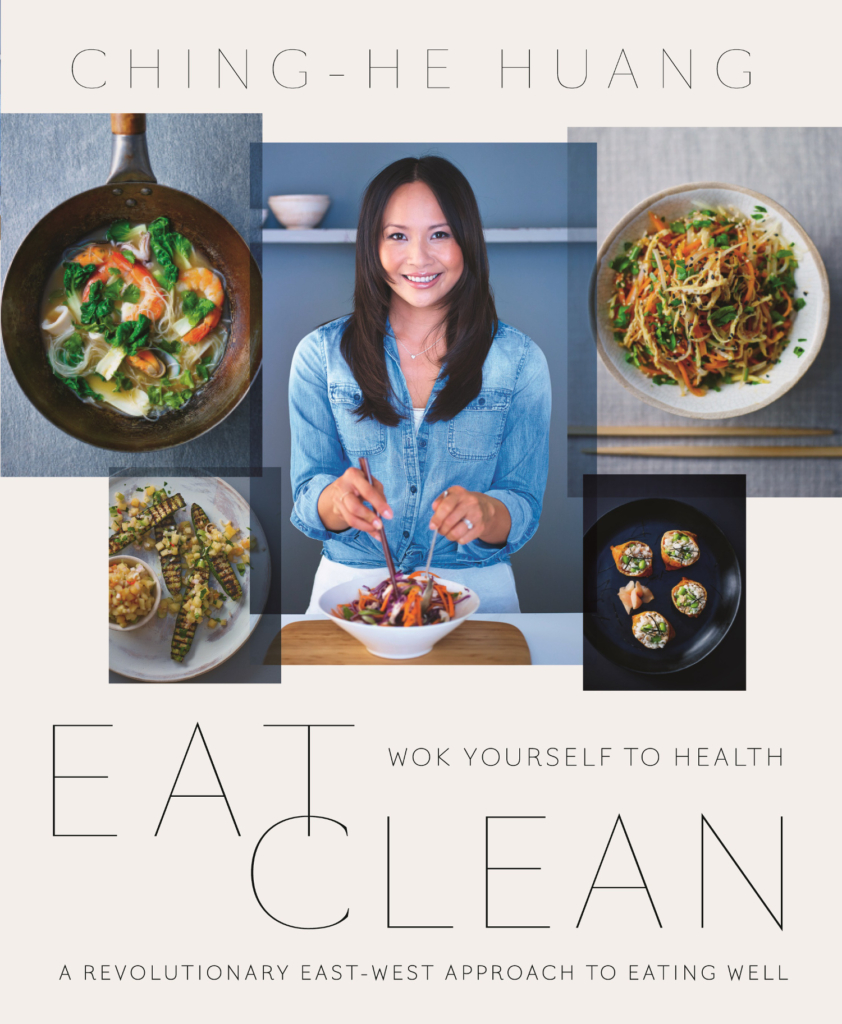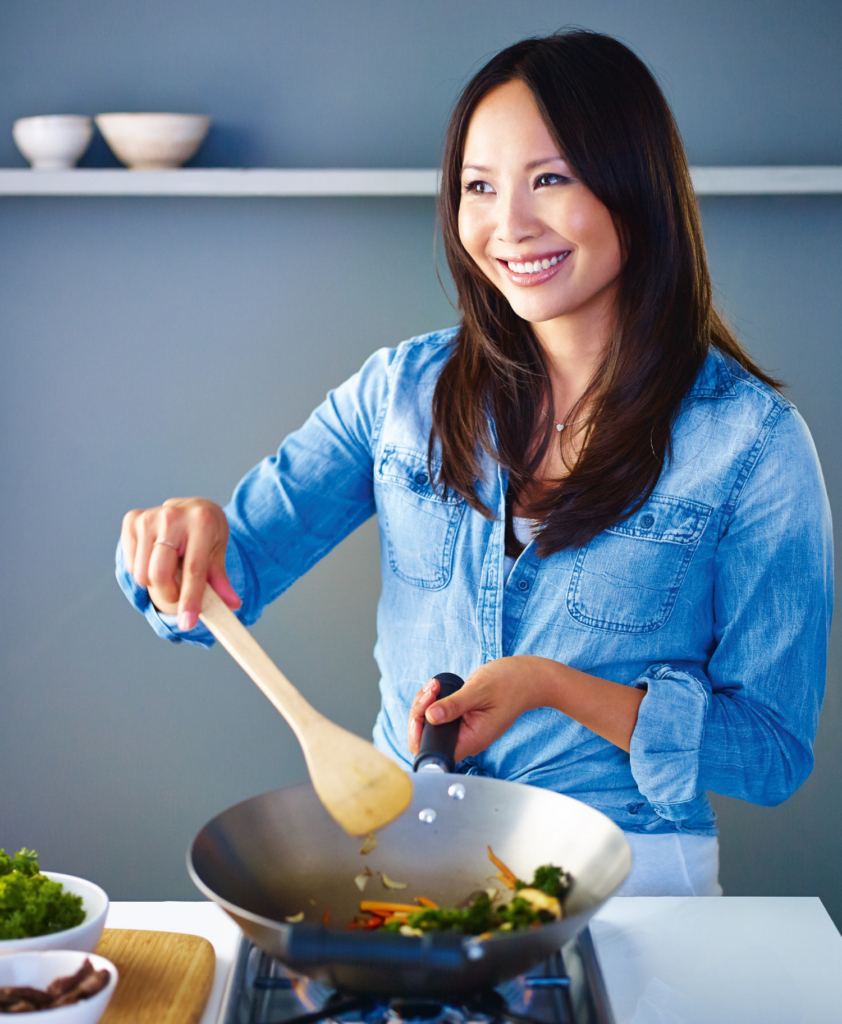 Although Ching credits her family's home cooking with stoking her interest in Chinese food, she taught herself most of what she knows. To make Chinese cooking accessible, she has come up with books like Chinese Food in Minutes, TV shows like Chinese Food Made Easy and even a web series called Click & Cook. They all cater to the same demographic: busy foodies with a keen interest in cooking and eating well, but little time to devote to overly complicated recipes. Ching's Basket – a basic shopping guide – even makes food shopping a breeze, as its author explains: "I wanted to share basic Chinese store-cupboard essentials and break it down so it wasn't scary for people to source, so they know what to look for and how to use them."
The chef, whose recipes often put a healthy twist on favourite takeaway dishes, knows what it takes to make people want to cook their own fresh food. "It used to be flavour, speed and cost – but now health is on everyone's mind too," she says.
Chinese New Year, Ching's Way
In keeping with that philosophy, she has a fittingly tasty, quick, affordable and healthy suggestion for the upcoming Chinese New Year. When asked for a celebratory dish to welcome the year of the monkey, Ching proposes the following: "Paying homage to the animal itself. Monkeys are herbivores, they love fun and laughter and are the life and soul of any party. Make a veggie noodle dish that's fun to eat, like a ginger pumpkin spinach vermicelli rice noodle stir fry! A noodle dish at Chinese New Year is a must, as it symbolises one of the important 'greats': longevity."
Article by Fiona Brutscher
Ching-He Huang reveals a passion for chicken chow mein noodles and apple crumble. Where do your loyalties lie?