';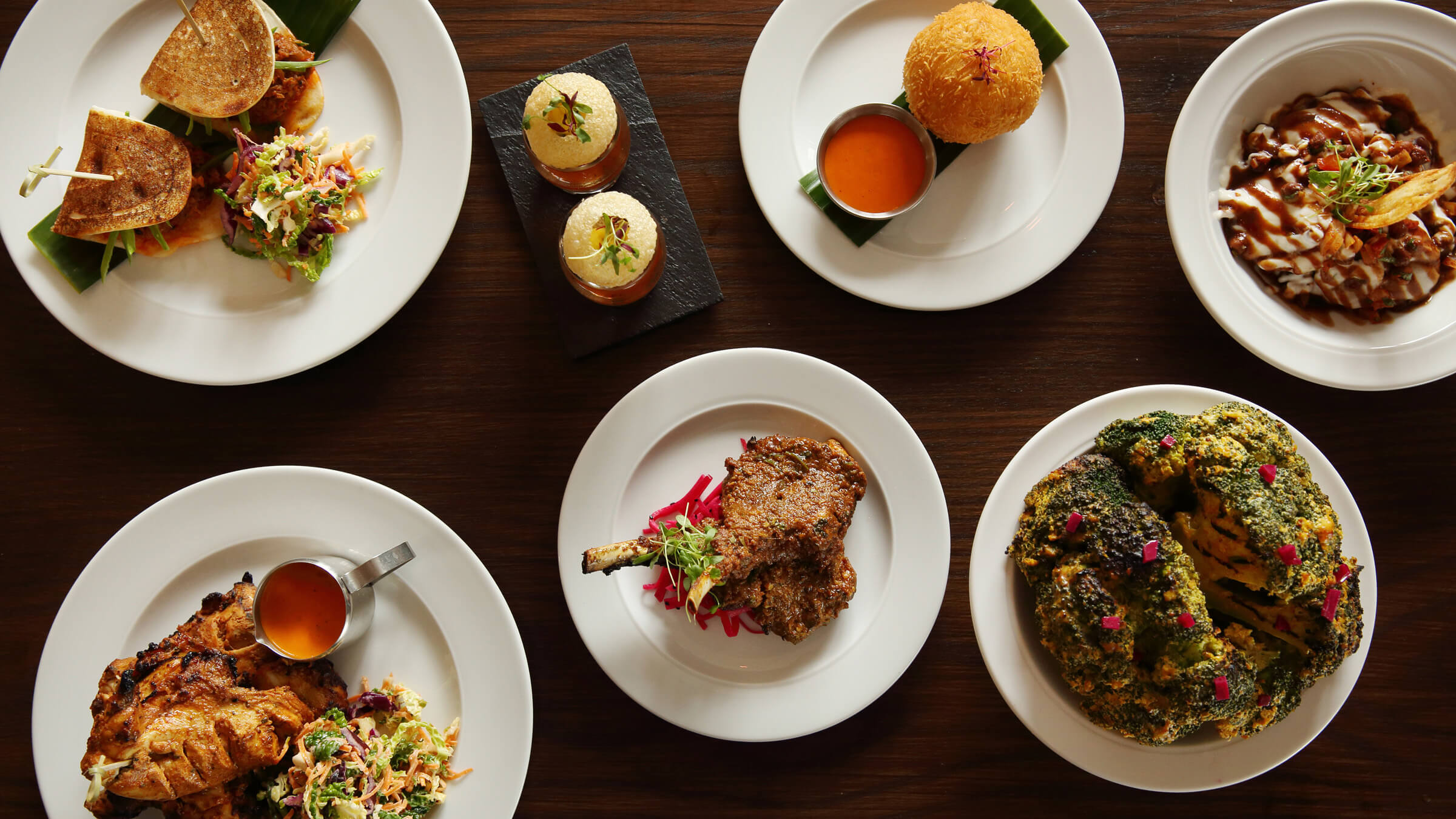 While the Indian curry might have long-since usurped the humble fish & chips as Britain's preferred take-away food, it hasn't been an easy time of late for Indian restaurants in the UK. Sure, you'll still find a proliferation of Indian restaurants right across the country, but just like the traditional pub, curry houses have been hit by changing trends in how (and where) the British eat and drink.
Just why that might be is open to interpretation – as is the question of just how deep and long-lasting the trend might be. One factor is certainly a greater tendency to eat, drink and entertain at home and with ready-made Indian food a staple of British supermarkets, it has never been easier to do just that. The taste might not be quite as good, but in times of austerity it's a convenient and cost-saving option. Another more unsettling factor for any Indian restaurant owner could simply be over-familiarity. With Indian cuisine so ubiquitous, today's fearless foodies are heading off in search of less familiar flavours.
The answer, as always, is that difficult times are a catalyst for differentiation and quality. Put simply, the fittest and the best will always survive. This is the case right now and while the numbers of Indian restaurants in the UK might be contracting, many would say that the quality and diversity of restaurants is growing. Rather than just operating as a generic 'curry house', many restaurants are specialising in a particular regional cuisine, others are becoming more experimental and offering more experimental menus, while others are looking back to home and more authentic Indian flavours.
We spoke to two key innovators active in promoting a fresh and more original take on Indian cuisine: Harneet Baweja is the owner of the acclaimed Gunpowder restaurant in London's Spitalfields, while Hari Ghotra is an increasingly visible figure through her website and food range, while also working at the respected Tamarind restaurant in Mayfair.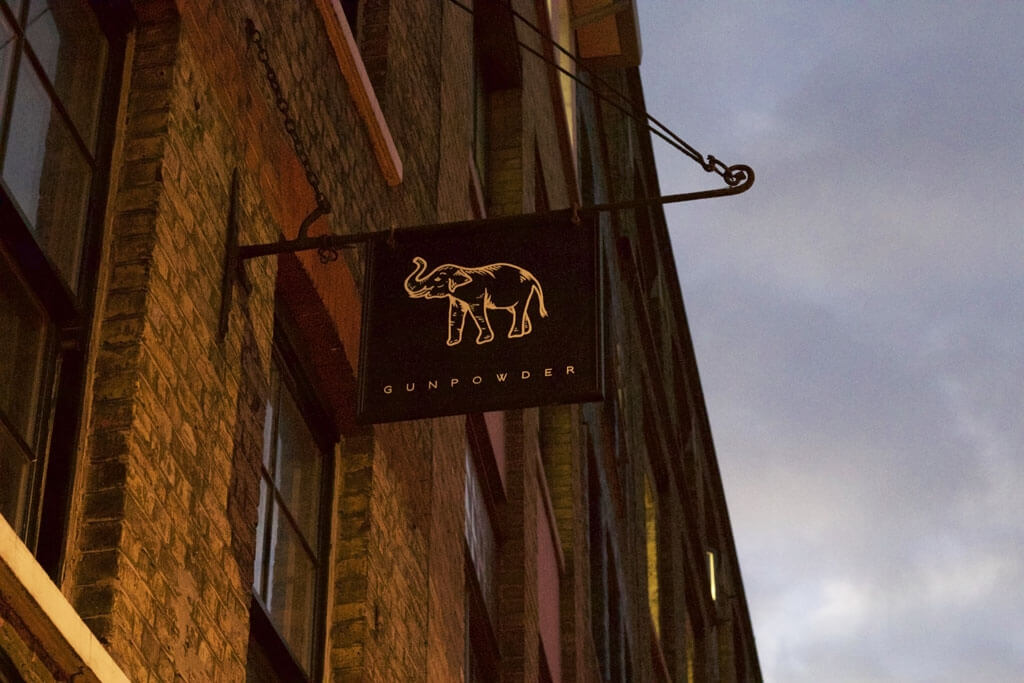 HARNEET BAWEJA
Gunpowder's concept of modern interpretations of classic Indian dishes in a casual setting has proven to be very popular. What inspired you to start this restaurant?
It was our desire to go back to the flavours we grew up with. Growing up we were exposed to diverse cooking from the kitchens of our mothers and grandmothers. We wanted to preserve these flavours and bring them into today's setting – making these traditions relevant for today's audiences.
You're using family recipes for inspiration. In what ways is Indian home cooking different from the Indian restaurant food that most non-Indians in the UK would be familiar with?
Indian mothers and grandmothers are master chefs! They not only manage to provide food, cooked fresh every day, but they also manage to keep the interest of naughty children (like myself as a child) using the same ingredients differently. Restaurants have the advantage of using a variety of ingredients to make different dishes but mothers have achieved the same results (and depth of flavour) with fewer ingredients using different cooking techniques.
Can you share the stories behind one or two of your signature dishes, such as Maa's Kashmiri Lamb Chops or Aunty Sulu's Wild Rabbit Pulao?
Maa's Kashmiri Lamb Chops is one of my favourite dishes that my mother-in-law made for me when Devina and I had just got married. She loved feeding us and we loved eating her cooking!
Aunty Sulu's Wild Rabbit Pulao was a gift from our Head Chef Nirmal Save's mother to me. She recently had a grandchild and as per tradition, asked me what I would want as I gift when I went for a meal to her house. She made this very dish. I had to really turn on my charm for this recipe as it has been in her farming family for generations.
Are there any distinct British influences in the food at Gunpowerder in terms of ingredients or adaptations?
[In terms of ingredients] we try and work with local farmers and butchers. We are a London restaurant and plan to be local and sustainable.
It was our desire to go back to the flavours we grew up with. Growing up we were exposed to diverse cooking from the kitchens of our mothers and grandmothers. We wanted to preserve these flavours and bring them into today's setting – making these traditions relevant for today's audiences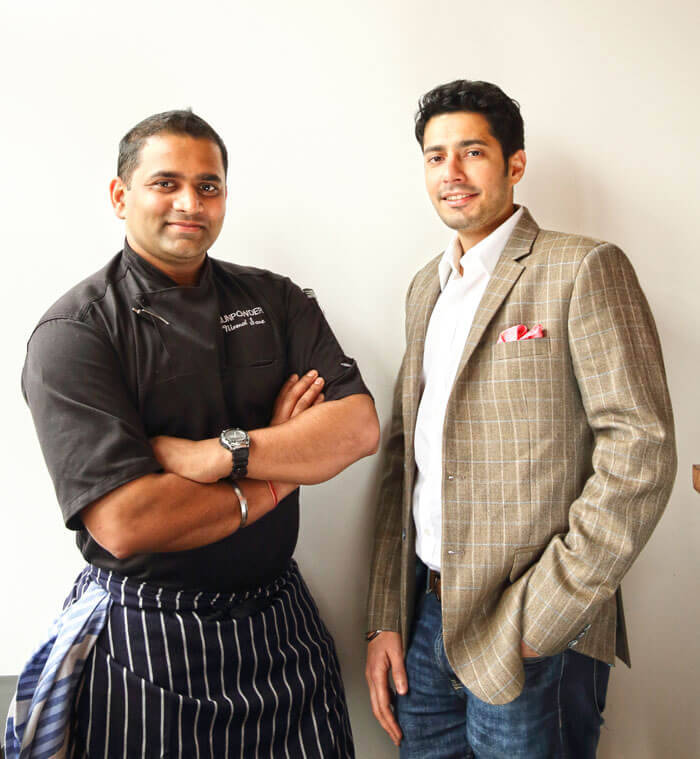 Your Head Chef Nirmal Save has a fine dining background, in what ways is developing and executing more informal dishes for Gunpowder different? 
I think Nirmal's fine dining experience is a big advantage. His attention to detail and passion for excellence reflects our cooking.
What advice do you have for people who want to cook Indian dishes at home, but might not have the experience – maybe in terms of dishes to try, techniques or ingredients?
One-pot cooking [is a good place to start]. It keeps things simple and allows you to use seasonal ingredients. The key is to spice correctly. You must [also] use fresh herbs instead of packaged alternatives. We are a farm-to-table country and this is key in preserving our heritage.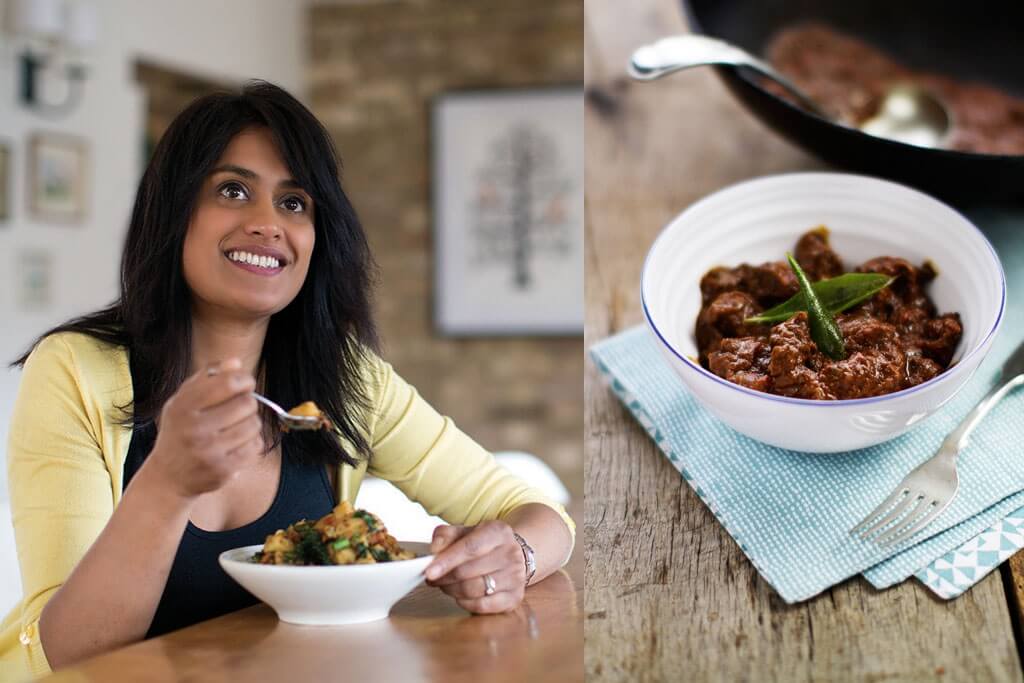 HARI GHOTRA
How do you describe your background in Indian cooking? You've worked in restaurant kitchens and still do, but where did everything begin?
I'm still at Tamarind of Mayfair, training with Head Chef Peter Joseph, but I'm mainly a self-taught cook. Cooking was something we did at home with my mum, it was just one of those life skills that was essential to learn.
Your website is getting a lot of attention, how is it helping you reach out to a global audience to share recipes and teach Indian cooking?
When I started to teach others to cook in their homes, I realised very quickly that there was a real appetite to learn about Indian food. There was a gap in the market to explain how you cook proper Indian food from scratch. There were no good Indian food websites that were functional, helpful and that had great photography and video content.
Presumably this ties in the with trend for looking for recipes online rather than in traditional cookbooks?
There are hundreds of beautiful Indian cookbooks, I love them and I have a huge collection, but people don't really cook using books any more – it's too time consuming finding that one recipe, plus cook books can only go so far in showing you techniques, or how brown your onions should be.
I wanted to bridge the gap between a book and being in your kitchen cooking with you. The website fills this gap with beautiful food photography, simple how-to videos, clear easy-to-follow recipes, useful information on ingredients, topical food content through the blog and much much more. The Hari Ghotra website is all about making Indian food more accessible to people who want to learn how to cook Indian food from scratch.
Some people still have misconceptions about Indian cooking, maybe could you demystify some of the most obvious (and ridiculous) ones?
Indian cooking is too complicated…
As with any type of cooking there are complex dishes, but there are also many easy to cook dishes Indian dishes too from a simple lentil dhal to a basic tandoori marinade. There are many dishes on my website that are quick and easy to cook.
Indian cooking is too time-consuming…
Some dishes can be time-consuming – cooking a biryani from scratch is more of a weekend dish but a Keralan fish curry takes no time at all and tastes fantastic.
Indian dishes aren't healthy…
I totally disagree, proper home-cooked Indian food is fresh and healthy. The Indian meal itself is all about balance – balance in flavour and balance in its content too. The Indian meal includes dishes from each of the food groups, meat is always lean and the use of oil should be limited and not heavy.
Indian cooking is only about creating spicy food…
Indian food is about creating a dish that suits your palate, which has many layers of flavour so each mouthful leaves you yearning for more. It's about using spices effectively through the cooking process to get the best flavours. I have talked about how this should be done in my latest blogpost.
Indian dishes are always the same…
India is a huge country and the food varies so significantly from one region to another region because of climate, local produce, spices, location and history, so how can the cuisines all be the same? North India is known for agriculture, with wheat being the main staple. Due to farming and cattle its rich use of milk and milk products is amazing. The hot summers and cool winters mean that vegetables from aubergines to bitter gourds grow rampantly and with a high population of Hindus and Sikhs many regions have high numbers of vegetarians. The cooking style is all about creating thick base masala using onions, ginger, garlic, tomatoes.
South India is coastal and fish forms a huge part of the diet in these areas. Rice is the main staple and is consumed with each and every meal in one form or another. Local produce such as coconuts and tamarind give rise to lots of coconut-based dishes made with spice pastes rather then the masala-based dishes of the north. The spices and ingredients used differs too, ginger, star anise, curry leaves are abundant in South Indian dishes. East and West cuisine is different again.
Proper home-cooked Indian food is fresh and healthy. The Indian meal itself is all about balance – balance in flavour and balance in its content too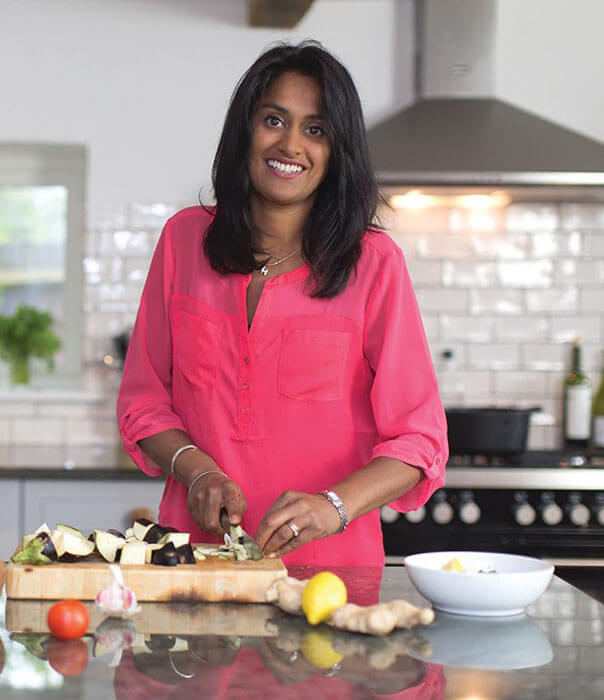 Now we've dispelled those old myths, what are the key dos and don'ts that you would stress to anyone looking to cook more Indian food?
DO:
Be organised and read the recipe you are following through to the end so you know how long it will take;
Know your spices;
Whole spices need to be tempered in hot oil until they are fragrant to give a base flavour;
Taste and colour spices usually come in a powder/ground form and are added halfway through the cooking process;
Flavour spices are added towards the end of cooking to enhance specific flavours;
Make your own garam masala;
Be brave and enjoy it!
DON'T:
Burn your spices, if you do start again;
Be heavy handed with spices, less is more;
Be afraid of chillies;
Throw in all the same spices into every dish.
Do you have any advice for readers who can't find certain ingredients where they live?
Go and explore some of the little Indian shops [in your local community], they are bound to have the ingredients you are looking for many of the main retailer are now expanding and bringing in some key Indian ranges. If not have a look online, I have also just launched my range of spices and curry kits which are all about helping you cook great Indian food from scratch.
Finally, is there one cooking technique that home cooks need to master to create delicious Indian food, and if so, do you have any tips for mastering it?
It's all about the onions. The way you treat your onions will define the flavour of the dish. In general, to cook a basic masala for a meat dish with a dark rich grey you need to gently brown your onions until they are dark and caramelised. I usually cook them for about 30 minutes on their own. 
For a veggie or dhal dish the onions are fried until golden brown as the dish is lighter and fresher.