';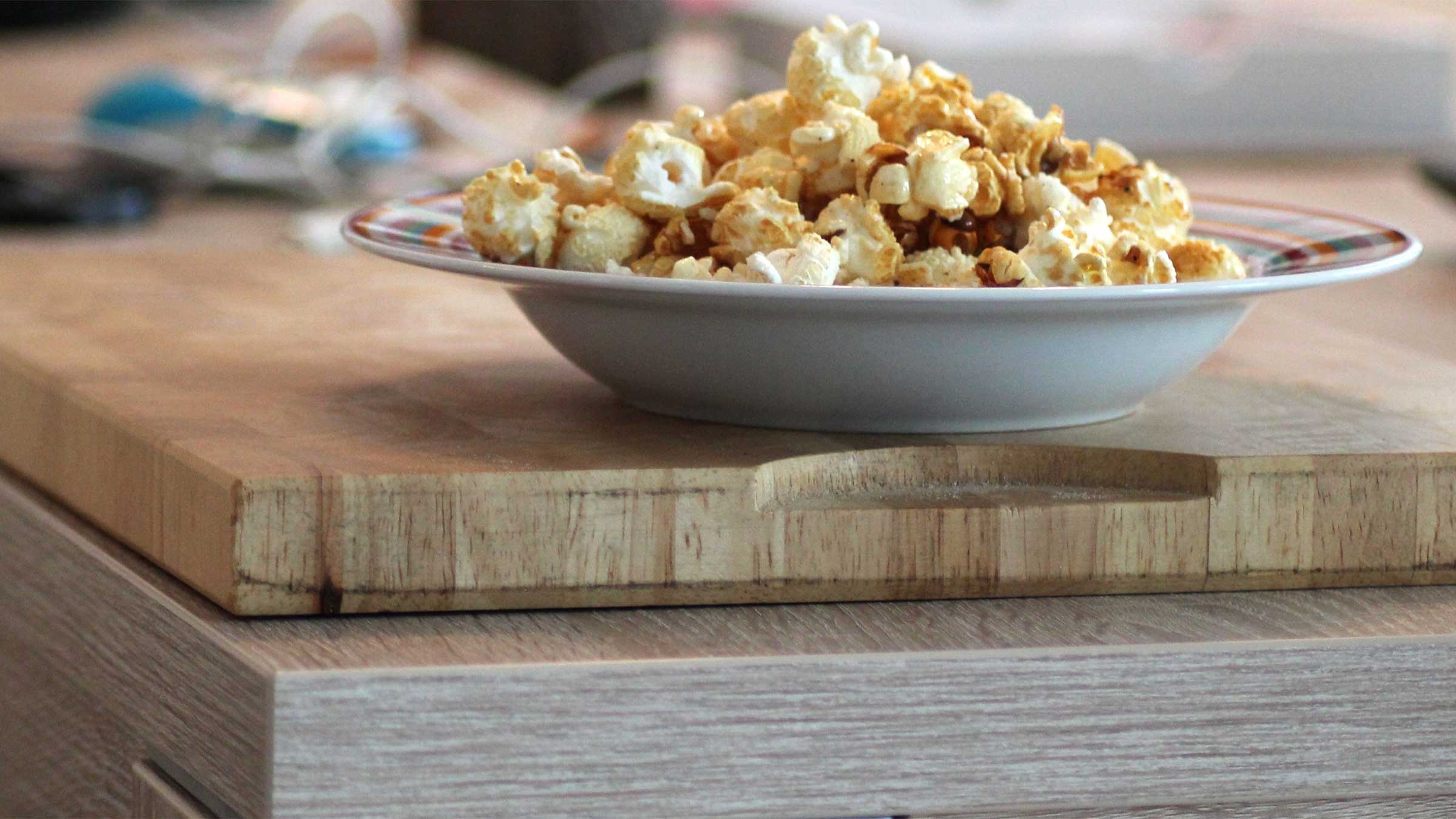 ;
If you've not seen it (yet), you've surely heard of it: It's light, it's puffy and, in many cases, it's a delicious low-calorie snack. These days, gourmet popcorn is a worldwide trend, stretching from the heart of New York City to Dubai, London and even Tokyo's stylish Harajuku district. It's been spotted in specialty stores and big chains, but also delis and online retailers, making it clear that popcorn producers are revolutionising a staple of cinemas and street food vendors.
The concept of flavoured popcorn isn't new. In fact, recipes for homemade variations on the snack have been around for a while – especially in the US – proffering everything from simple additions, such as chili powder or cinnamon sugar, to more complex recipes like pink popcorn. However, the appeal of the gourmet component in particular is behind this humble snack's renewed discovery: new and unusual flavour combinations, dreamed up by professional chefs and foodie experts, make gourmet popcorn simply irresistible. Some examples? 'Blue Cheese with Walnut and Celery' or 'Gin & Tonic' from British producer Joe and Seph's, 'White Chocolate and Pretzels' from Italian manufacturer FOL, and 'Pecan CaramelCrisp©' from US producer Garrett Popcorn.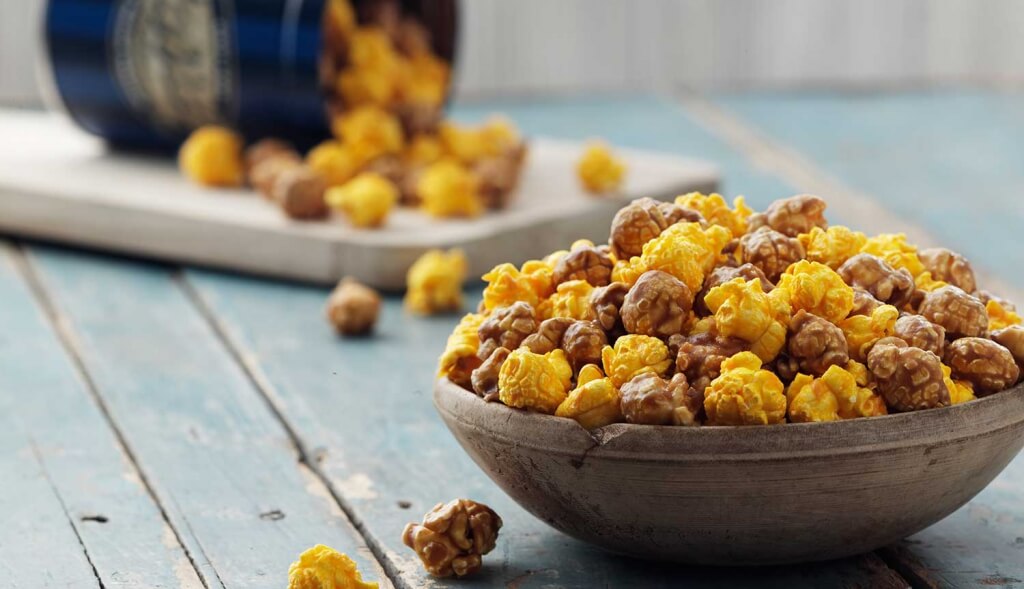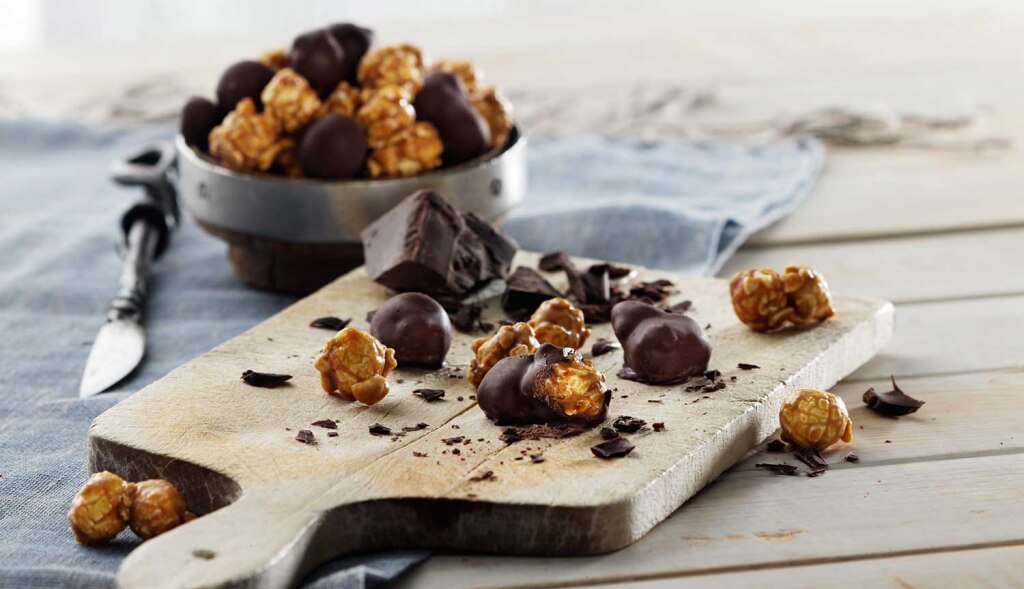 The gourmet trend is also changing popcorn's public image. Once the natural choice for a movie evening, be it at home or the cinema, now popcorn is an established 'must' for events – even at upscale baby showers and weddings – in both ready-made and homemade versions (a search on Etsy for 'popcorn bags' returns over 3,000 results). It has even made its way into the kitchens of Michelin-starred chefs, as in the case of chef David Chang at Momofuku Ko in New York, whose tender beef tartare with cream of oyster and crushed popcorn is unexpected bliss.
Surfing the web for cool and creative popcorn variations is fun, but for a fresher alternative, why not do a little DIY? To create your own, pop the popcorn in the traditional way on the stove (not the microwave), and try adding your favourite spices and seasonings to the oil before adding the kernels, stirring well to be sure they're evenly coated.
Alternatively, have a look at the recipes below for our selection of mouth-watering combinations to suit different palates…
Maple Bacon Bourbon Popcorn
This snack is sweet and salty, with just a hint of bourbon and a fail-proof pairing of maple and bacon. The maple syrup, butter and bourbon form the perfect mixture for coating your popcorn and sticking to the bits of bacon.
Get the recipe at bakeyourday.net
Smoky Popcorn
If you like Japanese cuisine, then flavouring popcorn with furikake is a great idea: this seasoning mix is normally used for plain rice in Japan and comes in a variety of different types. The rice crackers add yet another crunchy layer, while the smoked paprika is a unifying and pervasive undertone.
Get the recipe at  myrecipes.com
Nut Buttery Popcorn
The great advantage of this recipe is that it leaves space for the imagination: you can choose the nut butter of your preference, which will make all the difference. Also, try using a different nut type for the chopped nuts step, for instance pecan if you used almond butter, or almonds if you used peanut butter.
Get the recipe at wholenewmom.com
Sesame Popcorn
A very simple recipe requiring just corn kernels, sesame seeds and sesame oil – just toss 4 cups of previously popped popcorn with about ½ teaspoon each of sesame seeds and sesame oil (use toasted sesame oil for added flavour complexity). If you've never tried cooking with sesame oil, be forewarned: it can be addictive. To create a stylish variation for an evening with friends, try using black sesame seeds – they taste like regular sesame, but will stand out better against the white of the popcorn for a visual treat.
Salted Chocolate Caramel Popcorn
Prefer sweet popcorn? This recipe combines chocolate and caramel with a hint of vanilla for a simple yet delicious glaze. The added pinch of salt exalts the sweet flavours.
Get the recipe at diethood.com
Sriracha-Lime Popcorn
Fresh and spicy, this is a combination for connoisseurs. Sriracha contains garlic as well as sugar and vinegar, so it's more complex than your regular spicy fix, while lime zest and lime juice provide that just-right contrast and add an extra touch of tanginess.
Get the recipe at allrecipes.com
Article by Livia Formisani
Popcorn, whether salted, sugared, caramelised or today's gourmet varieties, is still very much an acquired taste inspiring both love and hate. Where do you stand?