';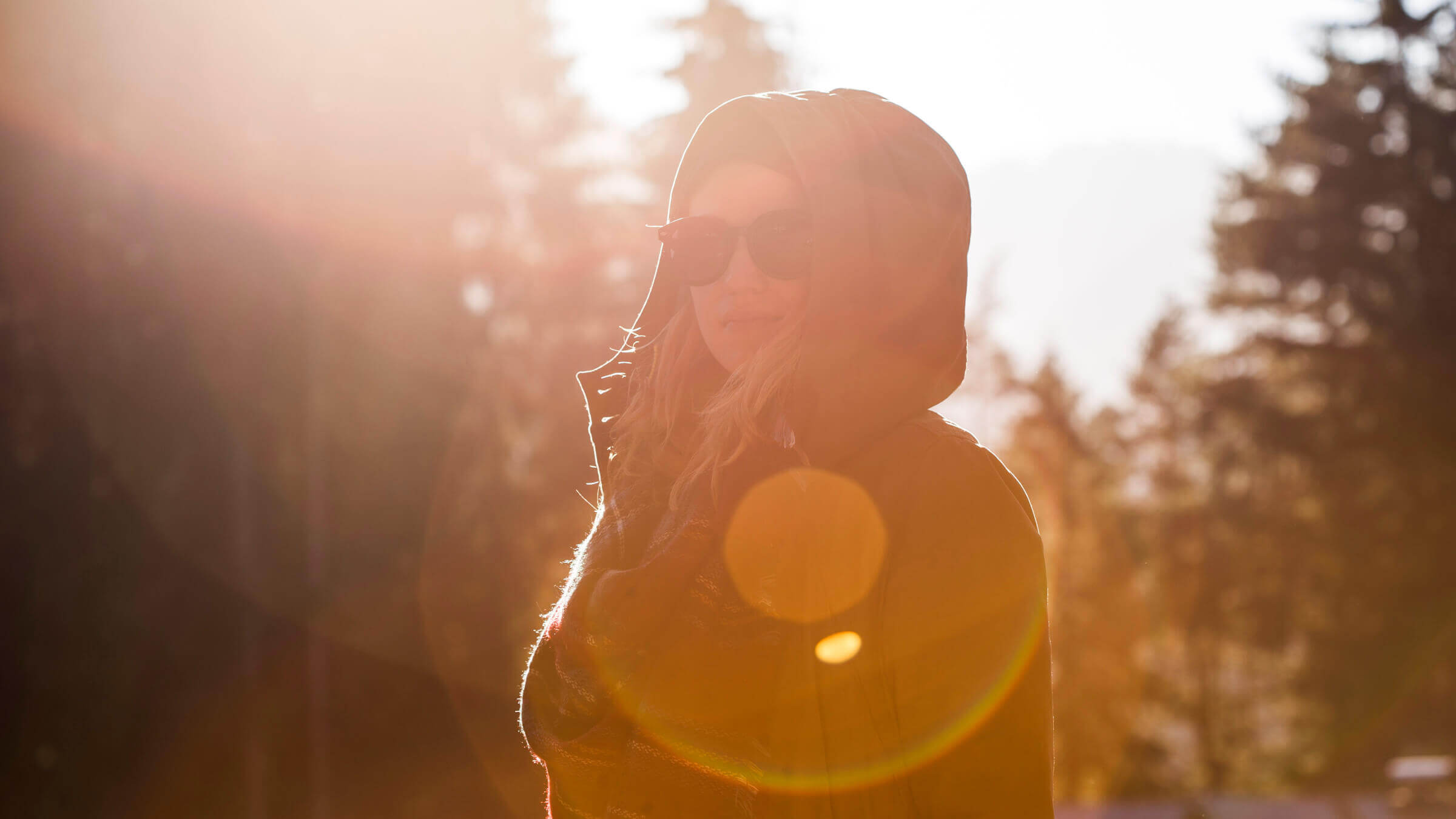 ;
As we enter a new fashion season, we're chanting Vivienne Westwood's mantra, "Buy less. Choose well. Make it last." – because sustainable shopping is the trend to end all fads. Best of all, the minimalist approach can help you maximise your budget without sacrificing style. If you only buy 3 items this season, make it these on-trend pieces that are as timeless as they are versatile.
The Turtleneck
Whether you call it a turtleneck, poloneck or roll neck, the ubiquitous trend is a budget fashionista's dream come true. Not only is it practical, versatile and highly wearable, it can save you money in more ways than one.
First of all, worn under a dress, crop top or your favourite denim dungarees, a poloneck extends the wardrobe life of your favourite lightweight summer outfit, improving the cost-per-wear ratio of last season's purchases. With polonecks already popping up on spring catwalks, a well-chosen piece will easily carry you through a full three seasons.
Secondly, the poloneck has been around before (more than once), hence it works with several current retro trends. Pair it with a monochrome A-line skirt, opaque tights and pointy flats or kitten heels for a '60s vibe, go full-on '70s boho with flared jeans and an embroidered vest, embrace your inner '80s chick with a skin-tight poloneck under a flared mini skirt with chunky lace-up boots, or wear with a suit for ultimate office power dressing.
Finally, a poloneck doubles up as a free hair styling accessory this season. The look, dubbed "turtleneck hair", began quite innocently with stylists tucking models' hair into garments, which quickly caught on with the style crowd. Copycat looks began popping up in street style images… and a (supremely achievable) trend was born.
The Turtleneck Trend For Men
The cosy look is big in menswear, too. Guys can keep it simpler, but the same basics apply: layer it up (under suits, sharp jackets and slouchy cardigans), nail the look of an era (particularly '70s boho style), and if you're sporting long dude hair, by all means, tuck it in and watch fashionistas argue over whether the man hair tuck is the new man bun.
[Photographed, from left to right: Anthropologie Roll-Neck Jumper, Benetton Beige Men's Jumper, Tommy Hilfiger White Jumper, Urban Outfitters Grey Rib Poloneck]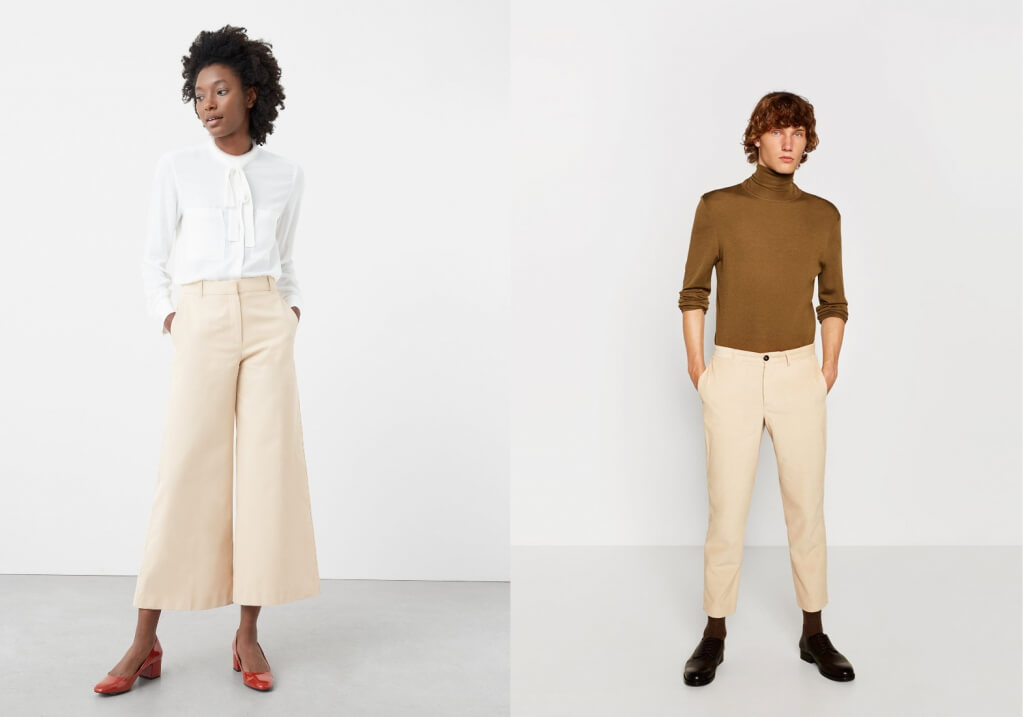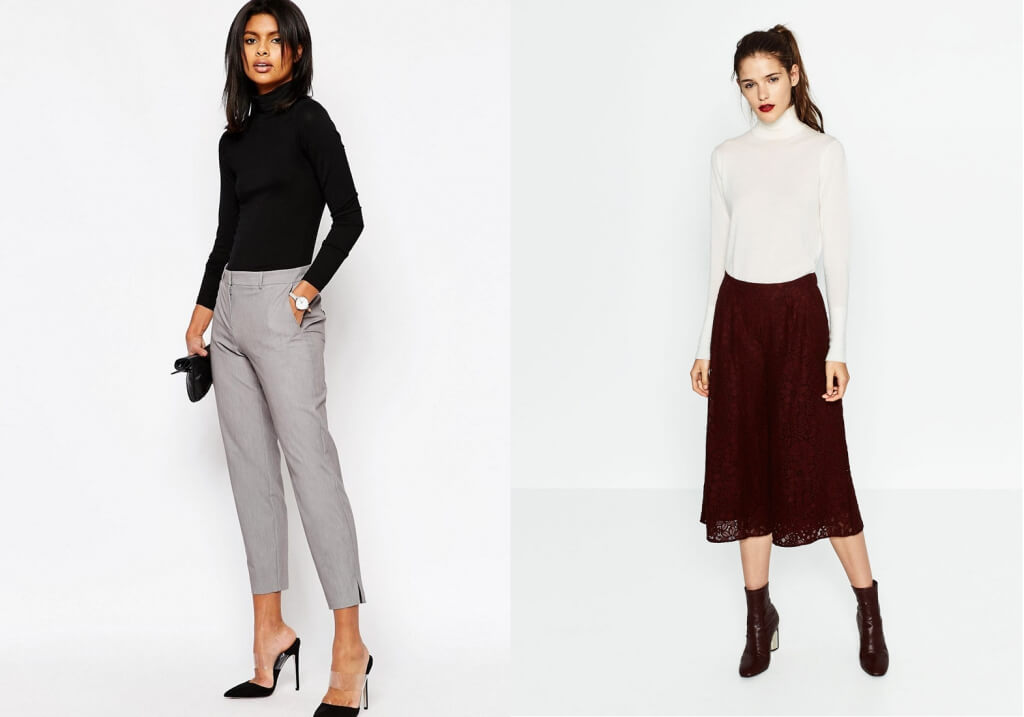 Cropped Pants
Bye-bye skinny jeans, all the cool chicks are wearing cropped pants now. Summer culottes were the most wearable fashion trend this summer, so it's time bring the look into the cooler season. Since they first started cropping (ha!) up on catwalks, we've seen several iterations of the basic concept: Culottes (wide-legged, usually high-waisted, cropped below the knee and elegantly swirling around as we stride about purposefully), flares (denim or part of a suit, cropped just above the ankle, often with a distressed hem – challenging to style, best paired with sleek ankle boots or dainty flats sans socks), straight-legged/slim (cropped above the ankle, patterned or part of a suit, perfect for autumn when paired with loafers or a platform sole, but tricky in really cold weather), pleat-front (aka Elaine from Seinfeld's style staple, hitting just above the ankle and best styled with heeled pumps for minimum stump-ification)… and all kinds of in-between shapes.
The good news is: all of them are wearable in autumn and winter. If you chose wisely and bought spring/summer trousers that aren't too light, you'll be wearing them right through winter. Simply add tights, boots,  a turtleneck (see above) and a chunky knit or fitted jacket, and you're good to go. The seriously summery styles require more consideration, but can also work if styled correctly, for example by juxtaposing their lightness with more seasonal colours and textures.
The Cropped Pants Trend For Men
Men may feel daunted by the prospect of wearing cropped trousers in autumn or winter. Whilst the beachy, ankle-baring look of rolled-up jeans paired with sneakers is now popular with well-dressed gents everywhere, the prospect of styling the odd length for cooler weather may be somewhat challenging. Luckily, guys actually have many years of style inspiration to encourage them, thanks to red carpet favourite Thom Browne, who has unerringly promoted the extremely wearable cropped pant since the early noughties. Paired with a manly boot or oxfords revealing a slightly jaunty sock, any man can rock the crop without freezing his ankles off.
[Photographed, from left to right: Mango Cropped Palazzo Trousers, Zara Men's Studio Trousers, Asos Slim Leg Crop Trousers, Zara Lace Culottes]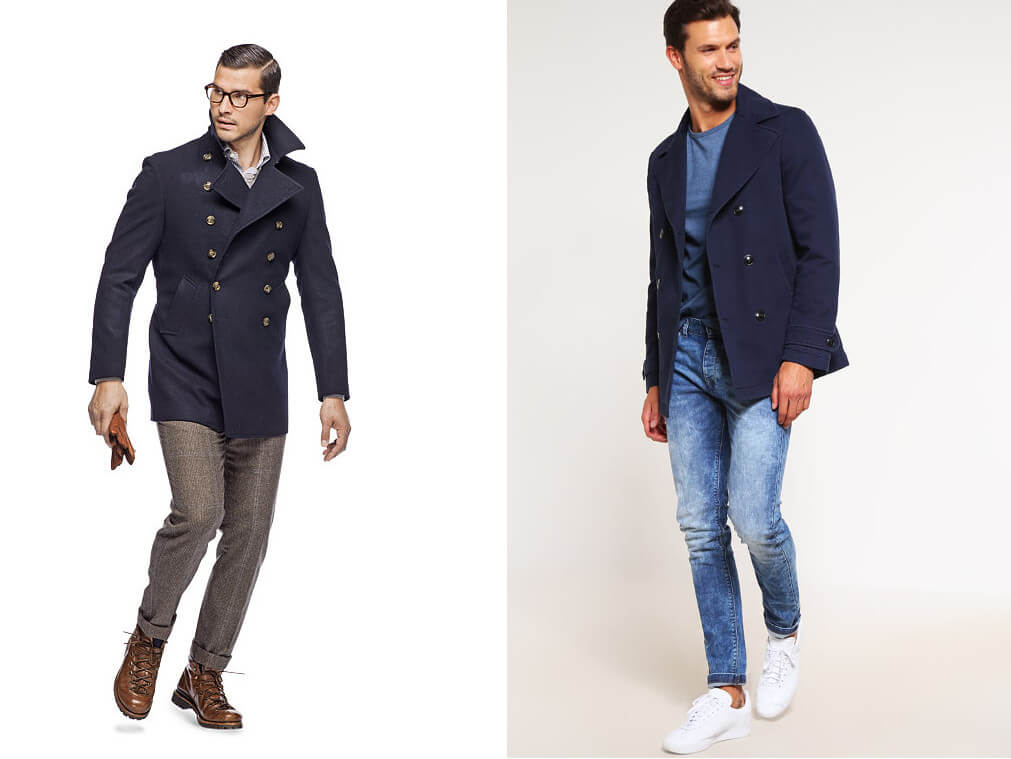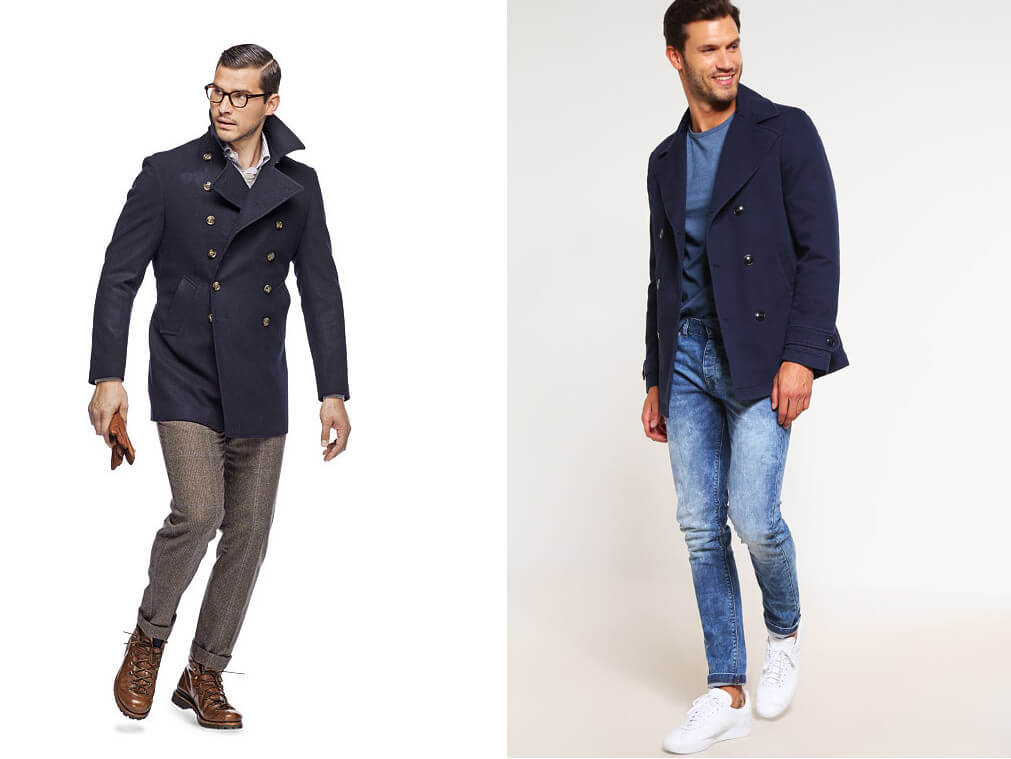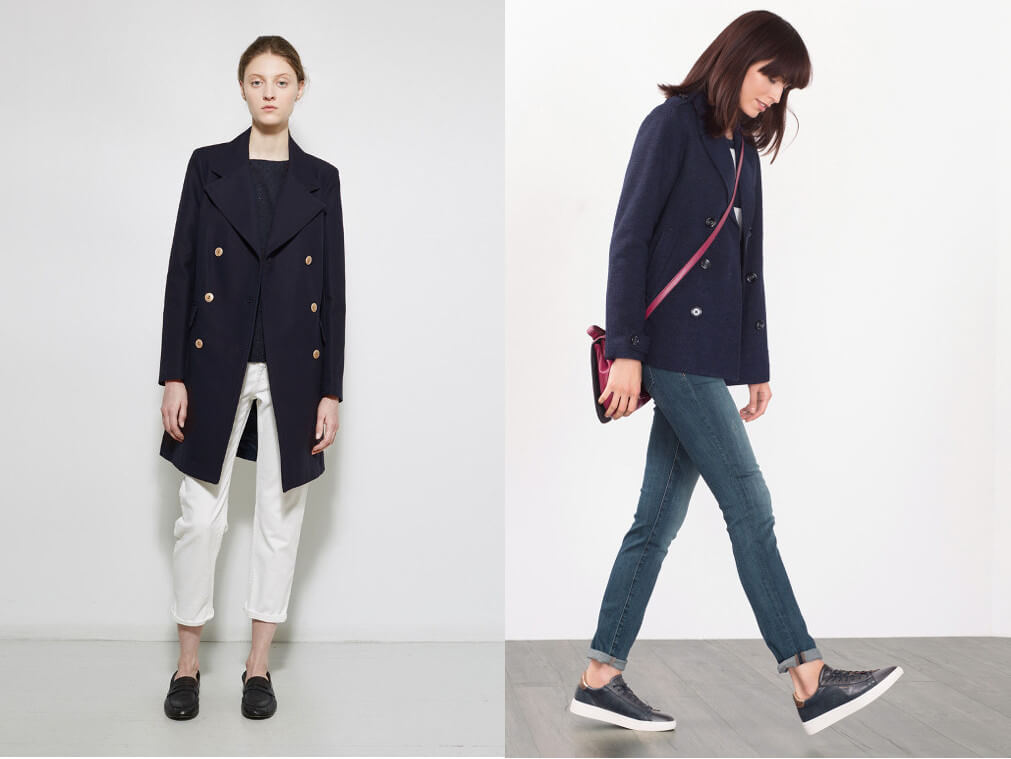 The Navy Overcoat
Endless reinventions of the military trend have come and gone in past seasons, but whilst we're almost ready to see the end of khaki and army-green trousers, jackets and dresses, we're excited about the return to catwalks of a true fashion classic that never really went away. The navy overcoat is a perennial favourite that simply won't go out of style, even if it disappears from the designer collections.
Now that fashion houses have once again embraced the navy coat, we're spoilt for choice. Even the non-fashion original comes in many shapes and sizes; the classic pea coat, which was originally worn by sailors, is hip length, more roomy around the hips, and double breasted with a wide collar and navy buttons. British and US Navy coats can be adorned with snazzy gold (brass) buttons and other embellishments indicating military rank.
A longer version, the full-length greatcoat, is usually referred to as a bridge coat. However, unless you're planning on joining the Navy, all you need to know is that these coats are an excellent fashion investment. This season, at Burberry and Tibi, the navy coat has bursts of colourful piping, at Tommy Hilfiger it's literal as you please (complete with service stripes and gold buttons) and at Prada, it even comes with a dinky little sailor's hat.
The Navy Overcoat Trend For Men
Everyone loves a man in uniform, so if you've been wearing your trusty army surplus pea coat for years, carry right on. If you're looking to invest in a new transitional coat – or even one that will do you for winter – look no further. A navy-style overcoat will remain a wardrobe staple long after the trend has passed.
[Photographed, from left to right: Navy Wool Pea Coat from Fancy.com, Benetton Short Coat from Zalando, La Garçonne Abyss Coat, Esprit Wool Blend Pea Coat]
Article by Fiona Brutscher
Are you convinced by the concept of focusing on just three key items in your seasonal wardrobe?