';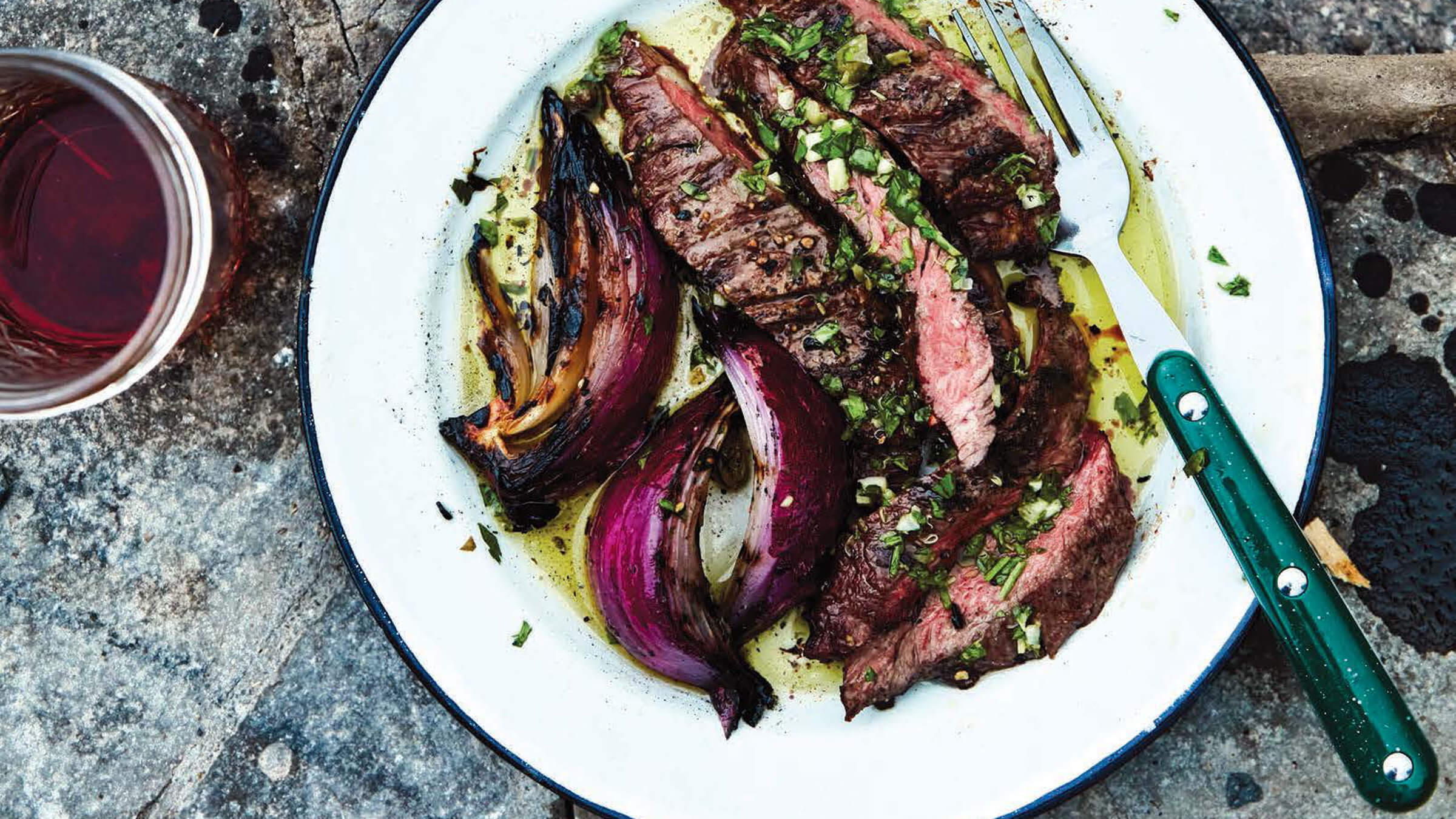 ;
"In January 1985, when my mother was consulting for several Italian wineries from our home in Denver, she was featured as Bon Appétit magazine's 'great cook of the month'. The food editor was a good friend, and upon sharing with my mother that it was difficult to find accomplished home cooks for this section, Mamma volunteered with enthusiasm; she was already known for her dinner parties. The resulting seven-page spread featured eight original Italian recipes that showcased her roots, noting that, 'Almost everything is made ahead of time because she wants to enjoy her own party.' Not to mention she had twin daughters not yet a year old at that point, and was also working full-time.
"When I'm camping, I also want to relax at dinner, which is why I love this easy, bright sauce with high-voltage flavour (it's been passed down for generations in our family). It's the perfect complement to nearly any entrée or side dish, especially skirt steak. The affordable cut cooks fast on the grill, yielding a crispy crust and juicy interior. Leftover steak can be used for sandwich, taco and quesadilla fillings." – Emma Frisch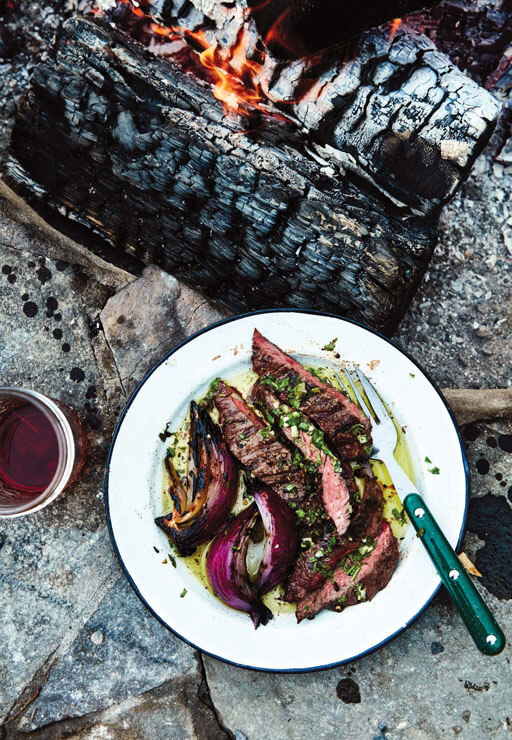 Fire-Licked Skirt Steak With Mamma's Salsa Verde
Prep Time: 10 minutes
Cook Time: 10 to 12 minutes
Yields: 4 to 6 servings 
Ingredients:
2 pounds skirt steak (see Note)
1 large or 2 small garlic cloves, peeled
One 2-ounce can anchovy fillets, rinsed and patted dry
2 tablespoons capers
1 teaspoon red wine vinegar or sherry vinegar
1⁄2 teaspoon Dijon mustard
1⁄2 cup coarsely chopped fresh parsley
1⁄3 cup olive oil, plus 1 tablespoon
2 teaspoons kosher salt
20 turns of the pepper mill
Note: Some recipes suggest trimming the steak's fat to prevent flare-ups when the fat drips onto the coals. Skirt steak isn't very fatty, but still, leave any fat on for flavour and just be prepared for flare-ups.
Method:
1. To prepare the salsa verde: In a food processor, combine the garlic, anchovies and capers, and pulse until finely chopped. Scrape down the sides of the processor bowl, then add the vinegar, mustard and parsley. Whiz while slowly drizzling in the 1⁄3 cup olive oil until smooth and bright green. Transfer the mixture to a lidded 8-ounce jar. Add the remaining 1 tablespoon olive oil over the top to create a film that will preserve the lovely bright green. Seal the jar tightly and chill for up to 1 week.
2. Dry-brine the steaks by rubbing the salt evenly over the surface. (You can also do this 1 to 2 hours before cooking at camp.) Transfer to a ziplock bag and then chill for up to 24 hours.
3. Remove the salsa verde from the cooler and let stand at ambient temperature for up to 2 hours before serving.
4. Fire the grill to high heat and position the grill grate as close as possible to the coals, or pile the coals high under the grate to maximise the steak's proximity to the fire. Remove the steaks from the cooler and pat dry with a paper towel to eliminate moisture on the surface and ensure a crispy crust. Sprinkle both sides with the pepper.
5. Place the steaks over the hottest part of the fire. Using long tongs, flip the steak every minute or so for even cooking; the cooking time will vary depending on thickness.
6. Look for an evenly caramelised and browned outer crust to check doneness. Slight char is okay, but don't let the crust burn! Use a thermometer to check that the internal temperature of the thickest part of the steak is between 125° and 130°F (52-55°C) for medium-rare to medium. You can cook longer for medium-well or well-done, though it will make the steak chewier.
7. Transfer the steak to a cutting board and let rest for 10 minutes so the juices can redistribute. Slice the steak against the grain into 1⁄2-inch slices.
8. Serve directly from the cutting board. Stir the top layer of oil into the salsa verde just before serving, and let campers add it to their steak directly from the jar. Store leftovers in an airtight container, chilled, for up to 3 days.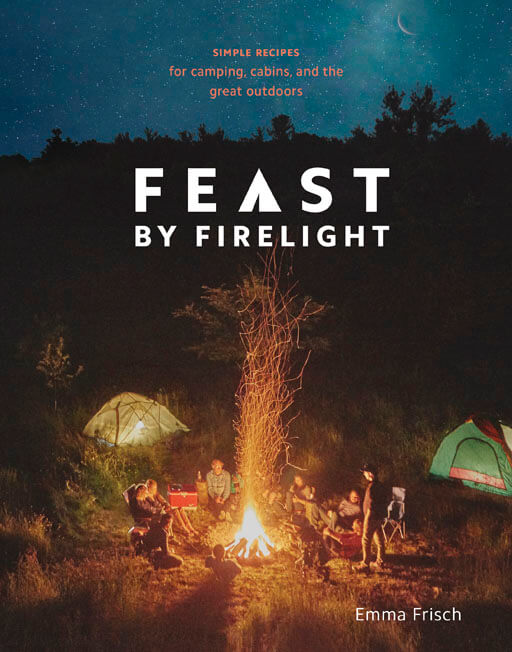 Reprinted with permission from Feast by Firelight, text and illustrations copyright © 2018 by Emma Frisch. Published by Ten Speed Press, an imprint of Penguin Random House LLC. Photographs copyright © 2018 by Christina Holmes.