';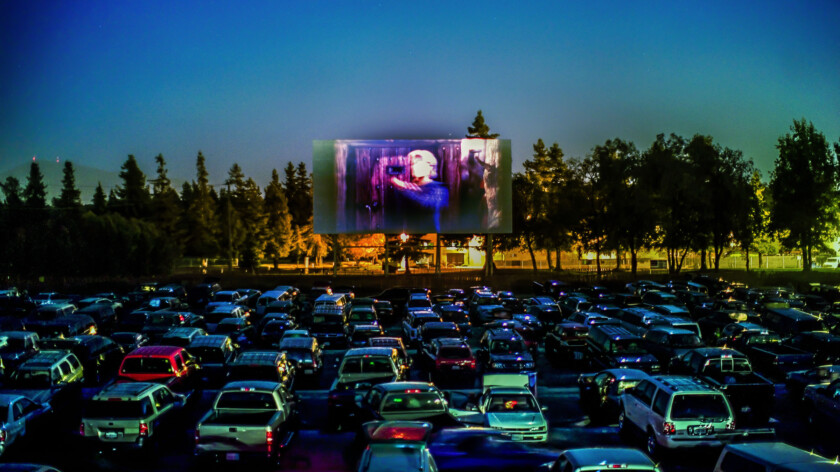 ;
As countless concerts, festivals, fairs and get-togethers are cancelled in the name of social distancing, a new trend emerges: the drive-in event. From al fresco cinemas to parking lot concerts, carpool comedy and even the occasional drive-in disco, auto-based events are popping up all over the place – especially in Europe and North America, where strict lockdown measures have been lifted, but conventional events are still a no-go. Of course nothing can truly replace real-life in-person gatherings, but for the time being, these innovative vehicular events are keeping the spirit alive – and audiences safe.
Note: Local restrictions and guidelines may change and result in cancellations after the time of writing.
@The Drive-In. Various UK Cities 
Making the rounds of major cities across the UK, this series of pop-up drive-ins promises a host of entertainment, from family-friendly afternoons to late-night sessions, each offering a range of diversions including film screenings, stand-up comedy, games and silent car discos, along with the option to have refreshments delivered to your car. Currently six shows are scheduled per city through to the end of October. Don't see your city on the list? You can request it!
West End Musical Drive-In. London, UK 
Musical theatre fans, start your engines. Or, actually, turn them off, sit back and enjoy the show as the biggest West End stars bring you performances of hit songs from your favourite musicals. Audiences will tune in to a special FM frequency to hear greats like Kerry Ellis, Alice Fearn and Jon Robyns singing live on stage, and can order a range of drinks and hot food from popular London burger joint Nanny Bill's, to be delivered right to their car window. Feel free to sing along, too – unlike in the theatre, there's no one to shush you (aside from your car mates, of course).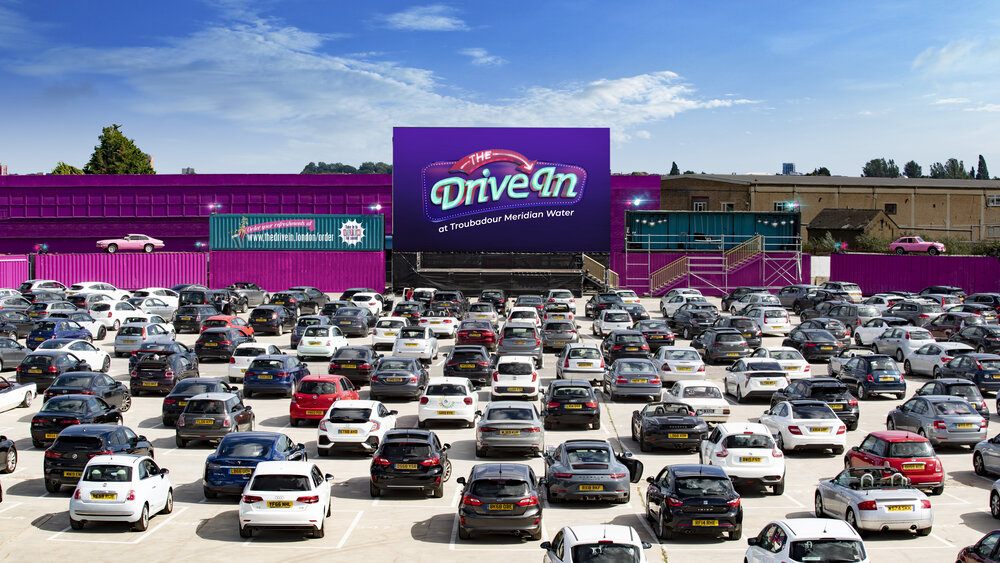 The Drive-In Experience. Various UK Cities 
Touring several cities in eastern England, just north of London, the Drive-In Experience intends to live up to its name. Expect a variety of shows and entertainment across its four days in each city, from live performances of comedy, dance and tribute bands, to cinema nights featuring comedies, musicals and action films. There will even be well-known guest artists and DJs, including Scott Mills, S Club Party and Dave Pearce, along with lasers, smoke and other special effects to recreate that arena atmosphere. To sweeten the deal, you'll be allowed to bring chairs and sit in an allocated area outside of your car.
Drive-In Comedy Night. London, UK 
Need a good laugh during these tough times? Steer yourself over to Drive-In Comedy Night to chuckle, giggle, roar and howl from the privacy of your own four wheels. The show will feature top comedians Dana Baptiste, Jordan Brookes, Richard Gadd, Helen Duff and Micky Overman. For even more belly-aching laughs, catch Mark Watson's Carpool Comedy Club touring the UK.
Nightflix. Colchester and Newark, UK 
This is not your average drive-in movie: Nightflix combines film screenings with live musical acts for a full evening of entertainment. Catch Wayne's World and a live Foo Fighters tribute, Shaun of the Dead with a The Killers cover band, or King Creole with an Elvis Presley impersonator. Each evening begins with a live DJ set, followed by a two-hour musical performance and then the film viewing. For fans of music and movies, this is your big night out of the summer.
Drive-In Rave. Bristol, UK 
The Germans (who else?) were the pioneers of the lockdown drive-in rave, but the Brits know a good idea when they see one. Bristol is getting its own version in early August, inviting electro fans to partake in several nights of music and car-dancing. The event series will feature DJs spinning drum & bass, house, techno and disco tunes, enlivened by the usual trimmings: an LED video wall, light and laser shows, pyro cannons, fireworks and other special effects. If all goes well, the organisers plan to export the concept to other UK cities, including London, Birmingham, Cardiff, Edinburgh and Glasgow.
Edinburgh International Film Festival Drive-In Movies. Edinburgh, UK 
Even if your summer travel plans are grounded, you can still head to the Edinburgh Airport for some escapist fun. The Edinburgh International Film Festival and Unique Events have teamed up to host a series of outdoor cinema events at the airport, with a line-up of kid-friendly films in the late morning, family favourites in the afternoon, a big-name blockbuster in the evening, and a late-night cult classic film showing for the grown-up crowd. Rounding out the entertainment is a schedule of pre-film activities like car discos, movie quizzes, competitions and give-aways.
Live at the Drive-In. Various Cities in Ireland 
Music lovers everywhere have been mourning the loss of concert tours and the music festival season, but perhaps there's hope in the form of drive-ins. Live At The Drive-In sets an example, touring Ireland's major cities and staging two live concerts a day. Fans can catch performances of rock band Aslan and singer-songwriter Gavin James in early August. Further line-ups to be announced.
The Parking Lot Social. Various Cities in the UK, US and Australia 
Aiming to offer something for everyone – in every car – The Parking Lot Social rolls into cities across the UK, US and Australia with a wide range of activities and entertainment for the whole family. There are live bands, DJ battles, silent discos, car-a-oke sessions, bingo games, themed trivia contests, comedy acts, food trucks and, of course, movie screenings. Schedules vary from city to city, with activities and shows bundled to appeal to various age groups and interests, from Friday band and disco nights, to Saturday afternoon kid-friendly programming and family-friendly entertainment on Sunday evenings.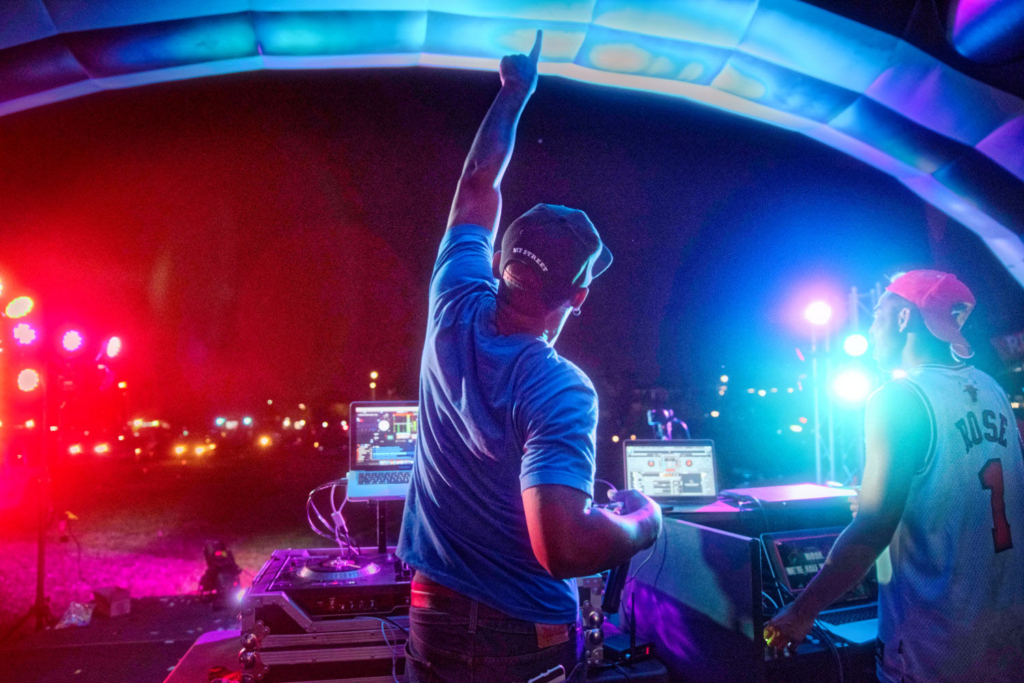 A Night at the Drive-In. Various US Cities 
Though they're generally hosted at permanent drive-in movie theatres across the US, what makes this series of pop-up film nights special is that they've been curated by actor Michael B. Jordan (with sponsorship by Amazon). Each double feature has been carefully selected under a specific theme, from the screening of Do The Right Thing and Get Out under the banner of "Movies To Make You Open Your Eyes", to showings of Coming To America and Girls Trip as "Movies To Make You Laugh".
Kukui Music Festival, Drive-In Edition. Cleveland, Ohio, US 
Cleveland's annual EDM festival wasn't going to get roadblocked by a pandemic. Instead, they've pivoted to a drive-in format, inviting festival-goers to attend performances by top DJs via their vehicles. Headliners include DINGO, Apollo Xo, MIMO, Blazin B, E-V, Siena Bella and Maestro.
Uptown Drive-In. New York City, US 
Drive-in movie meets live concert meets car-side dinner party: that's the promise of Uptown Drive-In, a "festival-like" party in your car which will reportedly take over Yankee Stadium this summer. The event series is still in the works and has not yet launched, but you can sign up here to be notified by email once further information becomes available.
Avett Brothers Drive-In Concert. Charlotte, North Carolina, US 
American folk rock stars the Avett Brothers are taking their tunes on the road, literally: they'll be putting on a one-off drive-in concert at the Charlotte Motor Speedway on 29 August. Scott, Seth, Bob and Joe will be singing their hearts out for fans, with the performance broadcast on the Speedway's 1480-square-metre TV screen – one of the biggest such screens in the world.
Pavement Rave. Scranton, Pennsylvania, US 
Party people can put it in park at this twin show EDM concert outside of Scranton, headlined by bass music artist Subtronics and followed by Brainrack, Forreign, Jeanie, Shizz Lo and more. Get tickets for the first night here, and the second night here.
The Royalmount Drive-In Event Theatre. Montréal, Canada 
Having just opened this June, the new Royalmount Drive-In arrived just in time to save Montrealers from a bland summer. The drive-in boasts a full schedule of film screenings, comedy nights, live musical concerts and even a "Drive-In to Work Out" morning fitness session. Certain movie showings and events are held in support of non-profit organisations and philanthropic causes, like the 18 August cabaret and drag show night supporting local BIPOC and LQBTQ youth.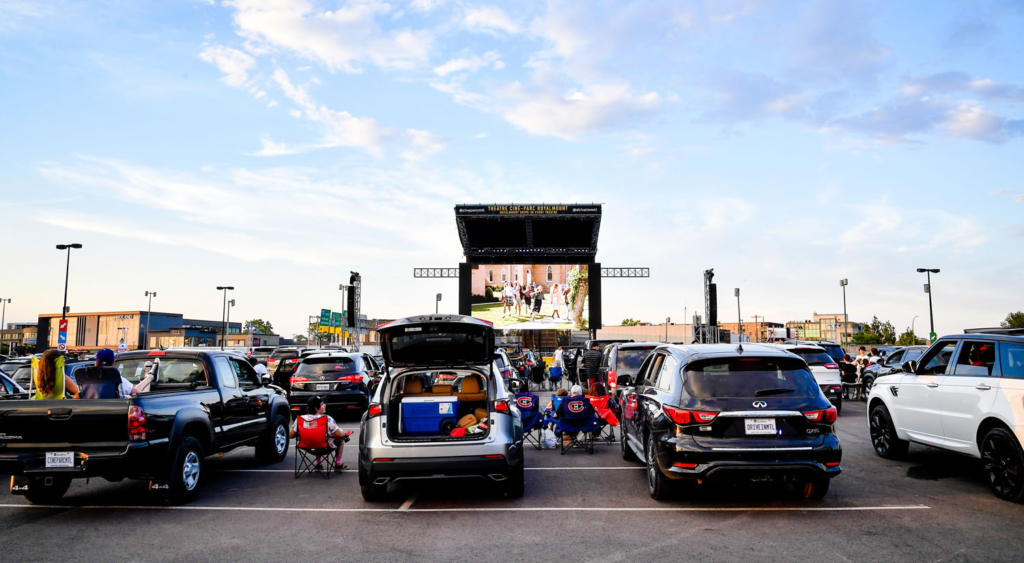 Motor Nights. Calgary, Canada 
Over in Alberta, the Motor Nights drive-in movie series is filling summer nights with big blockbusters and nostalgic favourites. The pop-up is currently screening kid-friendly flicks like Gnomeo & Juliet and Shaun the Sheep alongside more recent hits such as Long Shot and Late Night. More August line-ups to be announced.
Toronto Shines. Toronto, Ontario, Canada 
Located on the waterfront of Ontario Place, this pop-up drive-in cinema has been showing blockbusters, indie films and classic flicks – peppered with live music and comedy acts – all throughout the summer. The series will continue through October, and though August dates have been announced, the specific events have not. While you wait for the line-up, hop in the car and take an educational spin at the Toronto Zoo's temporary Scenic Safari, utilising pathways usually reserved for zoo staff to allow visitors to catch a glimpse of the animals.
[Photo at top: Thomas Hawk via Flickr]
#staysafe #stayathome #selfisolation #selfisolationactivities #quarantine #lockdown #homesanctuary