';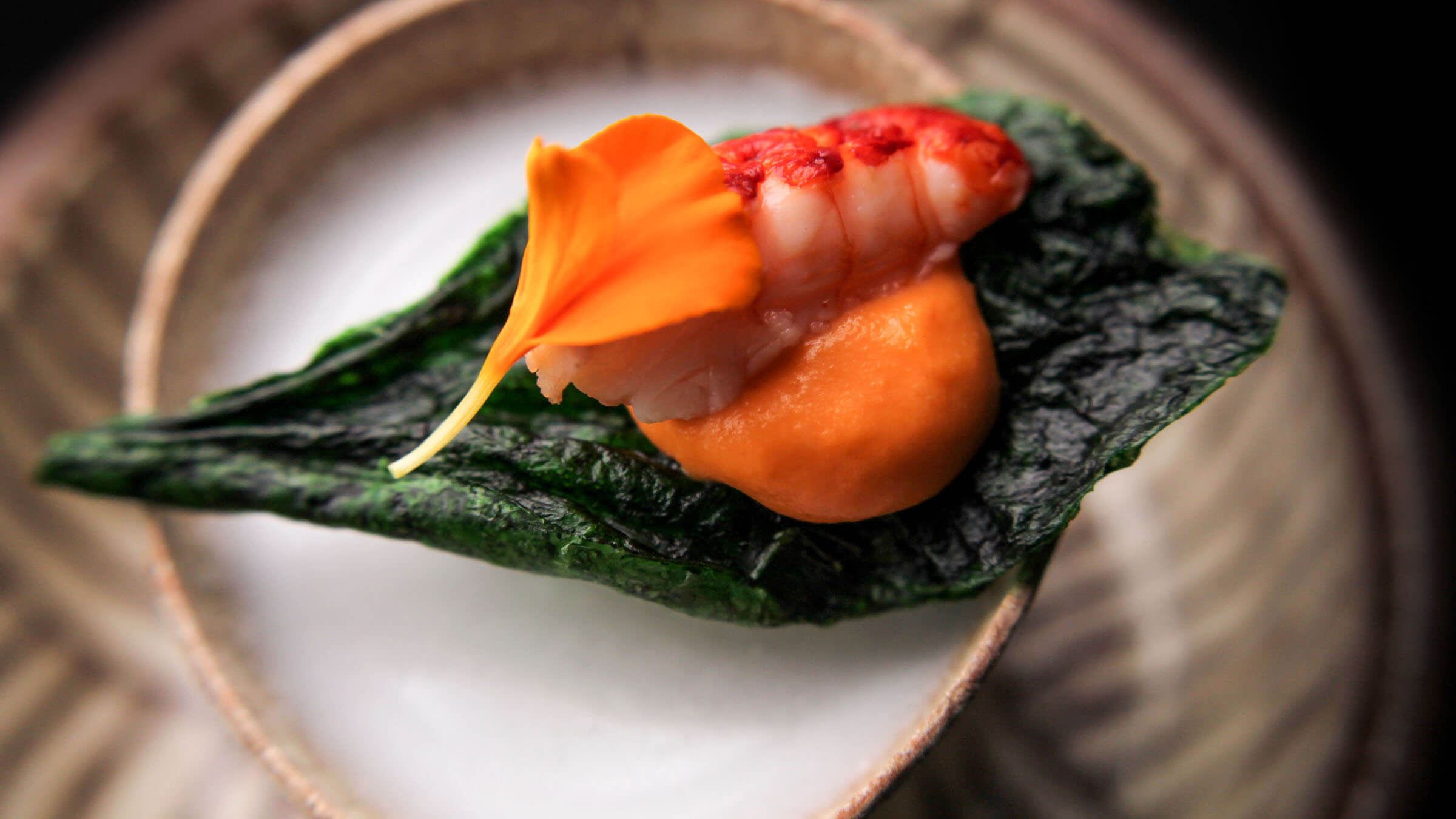 Colombian gastronomy is not merely a product of its vibrant mix of cultures, it is equally a product of the land itself – its extraordinary variety of terrains, climate and biodiversity. And it is this particular quality that distinguishes the country as one of the great culinary cultures of Latin America.
Thanks to Colombia's rivers, jungles, coastlines, mountains, deserts, plains, snowy peaks and even its badlands, hundreds of ingredients that were once part of the nation's culinary past – and remain a legacy of its indigenous cultures – are now being rediscovered, and today are reaching the tables of many of the most respected restaurants in the country.
"The world should know that our cuisine is so abundant and varied that we can offer more than 100 varieties of potatoes, more than 80 varieties of beans, an incredible fruit selection and diverse culinary traditions: Andean, Caribbean, indigenous… If we cross Colombia, many 'countries' can be savoured at once," says Jaime Rodríguez, chef of the Restaurante Celele in Cartagena, whose culinary mission is to explore the food culture and biodiversity of the Colombian Caribbean.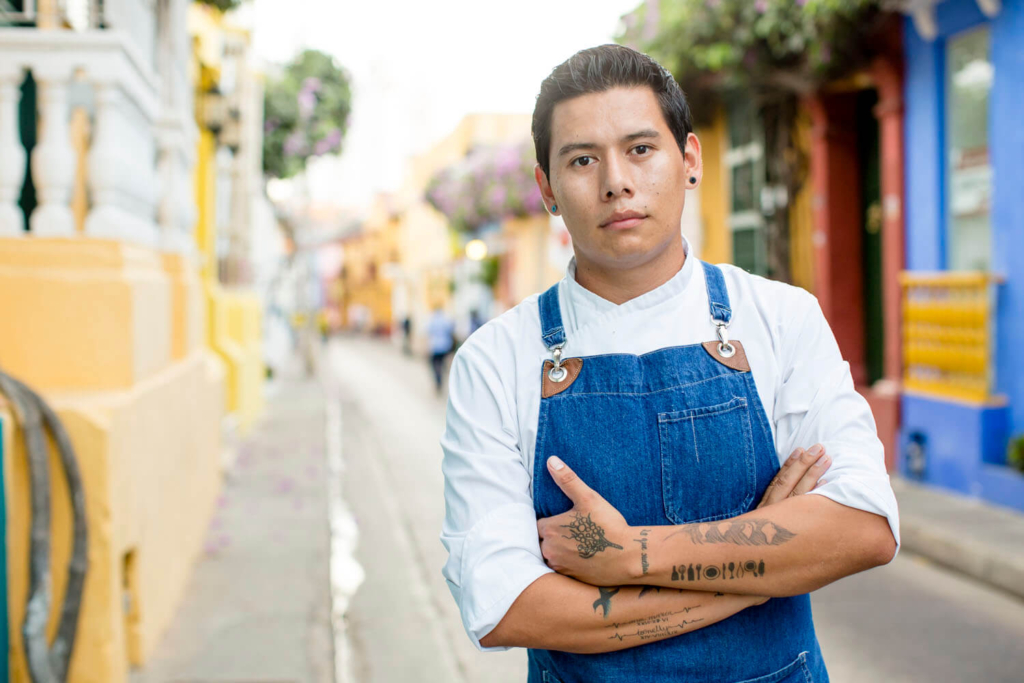 Before his current venture, Rodríguez created Proyecto Caribe, an idea forged to bring Colombian Caribbean cuisine to the forefront. He and his partner, Sebastián Pinzón, undertook a trip through the north of the country, exploring dozens of territories to discover different culinary techniques and flavours. This newfound knowledge would be used to devise tasting menus for a series of pop-up eateries in locations around Cartagena.
"[Focusing on] the Caribbean was the opportunity to create something unknown and, above all, to learn: a new nickname for cheese, a caimito, a loquat, a sapodilla, a corozo!" says Rodríguez. "We could explore the indigenous Wayúu cuisine, the food of the Montes de María [a small mountain range near Colombia's northernmost Caribbean coast], that of the Caribbean Savannah, and so on. Everything was new and exciting. For me, gastronomy is about a diversity of cultures, territories and ingredients. We have food, cultural events, music and crafts all related to our ancestral flavours."

In his concept, Colombian cuisine is like a salpicón de frutas – a refreshing drink made with small pieces of banana, watermelon and papaya- : it can be sweet, acidic, aromatic, a mixture of tastes and sensations that can only be experienced when taking in its full variety. In reality, this is best achieved by touring the country's key cities and markets – and, if you're lucky, you may even have the chance to discover the country's culinary roots through the food of the finest chefs, who understand and integrate ancient techniques.
A Culinary Community
The charm of traditional cuisine and techniques of the past have led many Colombian chefs to venture out of the sanctuary of their restaurant kitchens to discover the full diversity of Colombia's regional food traditions. One such chef is Leonor Espinosa, best known for her Restaurante LEO, named among the 50 best in the world according to The World's 50 Best Restaurants 2019.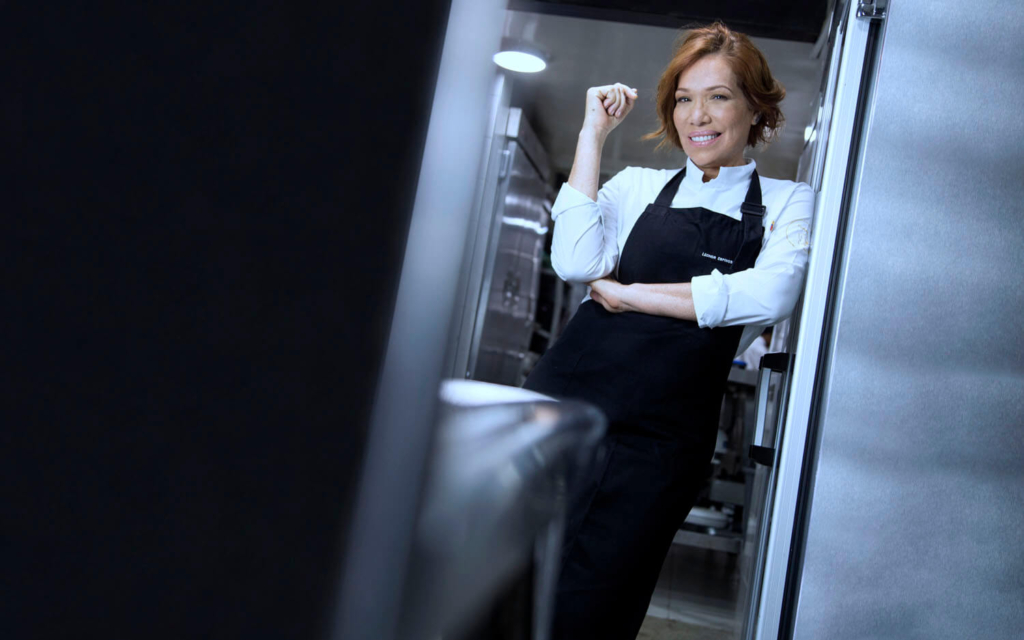 "Colombian cuisine is about tradition and biological diversity. We are a country with a great culinary heritage and with a biodiversity of promising species and varieties, of different environments and ecosystems that can be used in gastronomy," says Espinosa.
During the 14 years she's spent developing LEO, many unusual ingredients have become part of Espinosa's culinary manifesto. The chef highlights quiche del agua and local ingredients such as conopio, macambo, güesgüin and santa maría de anís, among other gastronomic gems that wouldn't even be recognised by most Colombians. For Espinosa, Colombia is much more than taste on the palate, it's taste in the ear! For her, the country tastes like porro, merecumbé, and bagpipes.
Espinosa not only pays homage to gastronomic traditions through her restaurant, but also through her foundation FUNLEO, which she established together with her daughter Laura Hernández and whose mission it is to identify, promote and enhance the knowledge of Colombian communities in the Caribbean as well as the Pacific coast and the Amazon.

"All actors in the chain must look to enhance the exchange of knowledge around the gastronomic use [of ingredients], both of seeds, local species and other elements of local cuisine," she says.
Cooking For Peace
Juan Manuel Barrientos, chef of the renowned Restaurante El Cielo, supports Espinosa's approach. Putting his culinary creativity to the test for 15 years, he also considers the role of gastronomy as a vehicle of peace and inclusion, a way of strengthening the country's social fabric.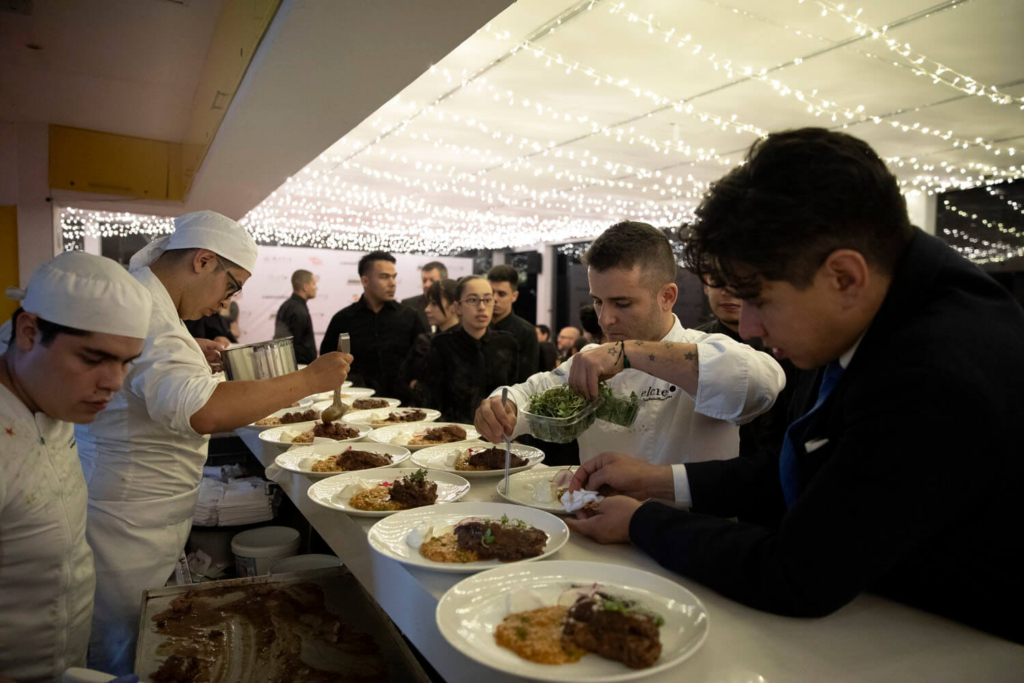 Barrientos has shared his knowledge and know-how with victims of the Colombian armed conflict in Bogotá, Antioquia, Huila, Cauca and the Urabá Antioqueño, specifically reaching out to people with hearing disabilities, as well as indigenous people, former soldiers, former paramilitaries and former guerrillas. Today he has an extended 'family' of more than 1,000 people who make up his gastronomic project, Fundación El Cielo, which is actively 'cooking for peace'.
His restaurant concept now has five branches spread across Colombia and the United States. Barrientos says that his cuisine is love, a feeling that, in his case, stems from creativity. "The kitchen of El Cielo is a family kitchen: modern, Colombian. It inspires me to be surprised and then to share what we have created," says the chef, who in addition to bringing Colombian cuisine to his menus, has transformed it with his use of cutting-edge techniques – an interest that derives from his time at the iconic restaurant Arzak in San Sebastián, Spain.

In his work, he reinterprets and creates dishes based on Colombian and ancestral cuisine, as well as the diversity of a multicultural country with 18 gastronomic subregions that deserve to be shown to the world. "We are going around the country looking for distinctive chefs and ingredients," he explains. "For us, all ingredients have the same value, regardless of their price or origin. We put everything in the bag of creativity and let each ingredient express itself." For Juan Manuel, Colombia tastes like fruit, a sweet mango that "melts" on the palate.
Local Ingredients In Focus
With 10 years of European training under his belt, Álvaro Clavijo has become the revelation of Colombian haute cuisine in recent years, with his Restaurante El Chato offering a rediscovery of the country's flavours – and claiming a spot among the 50 best restaurants in Latin America, in place 21.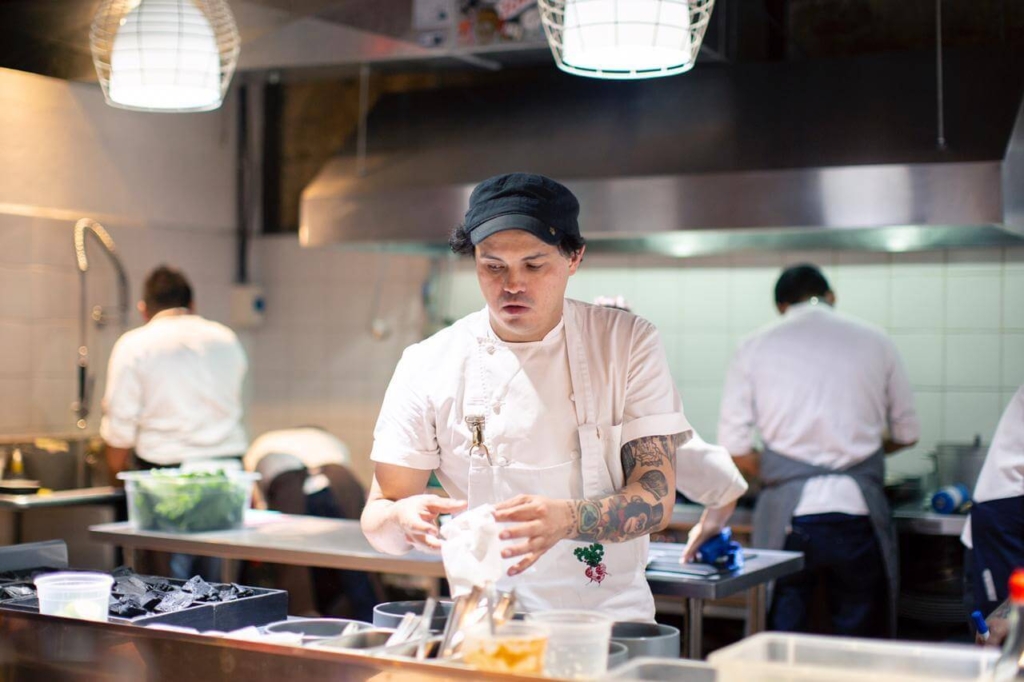 While Rodríguez, Espinosa and Álvaro discovered their love of cuisine close to home, Clavijo's passion for cooking was born by chance in Paris, at the age of 16. It was there that he learned the basics, before going on to study in Barcelona ​​and spend more than six years working in the kitchens of some of the most successful restaurants in France, Spain, Norway and the US.
His search for inspiration from  Colombian ingredients, however, is more recent, dating back to when he returned to Colombia in 2013 and decided to challenge himself by creating gastronomic concepts based on local produce.
"My training is very French, but then I try to detach myself from that comfort zone to look for local ingredients and turn them around," he says. "I try to get inspired by whatever I find. Our goal is to highlight Colombian ingredients so that they can shine more and more."
But it's not about reinventing traditional cuisine: Clavijo argues that can be confusing for the diner, because it doesn't generate a distinct identity. Instead, his work is built around recognising the complexity of Colombian cuisine, identifying those existing flavours and respecting new ingredients with new techniques or preparation methods.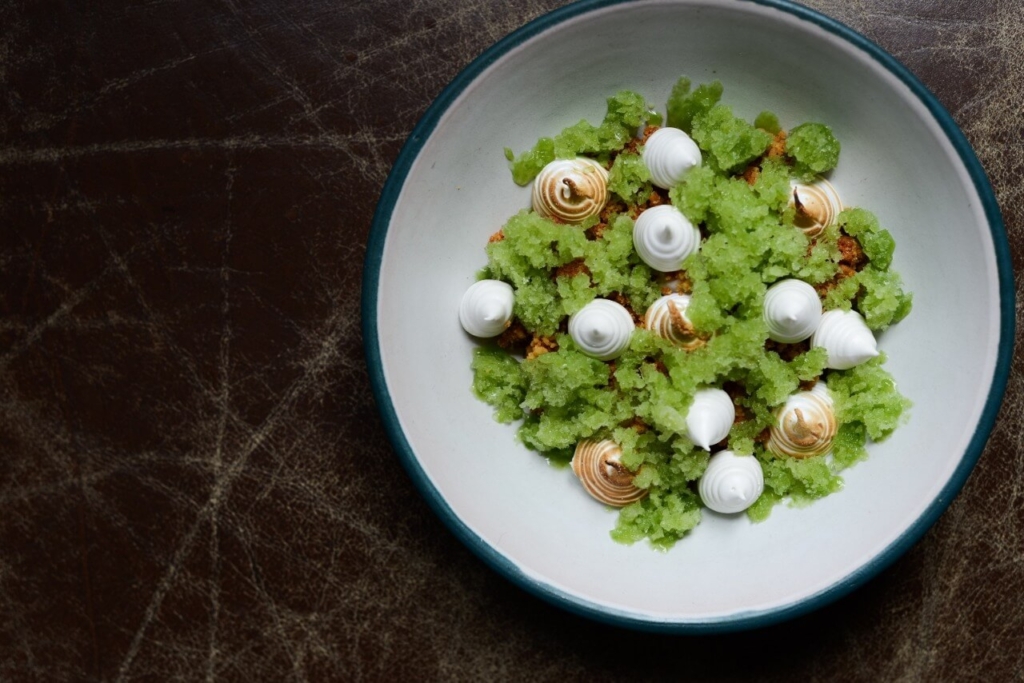 "My approach is to promote local ingredients in a way that I feel comfortable working with, and combining them with European techniques. We've tried to standardise suppliers and to motivate them in many ways, so that they don't always farm the same way. This country has a multitude of products that we have to encourage from the restaurant. Colombia is a very fertile land," says Clavijo.
His favorite ingredient is arracacha, a tuber whose versatility he loves, since it allows him to have fun cooking and continually creating new possibilities. "That is your job," says Clavijo. "Colombia tastes sweet, and at the same time, feels aromatic."
Colombia is such a fertile land with so much to give to the world – it could not go unnoticed. That's why curious foodies visiting the country should not only take in the beauty of its landscapes and the warmth of its people, but also savour flavours that have helped forge the many cultures that find their home within its borders. From a culinary perspective, it offers a complex but thrilling diversity that is rightly beginning to position the country as the next great Latin American gastronomic destination.