';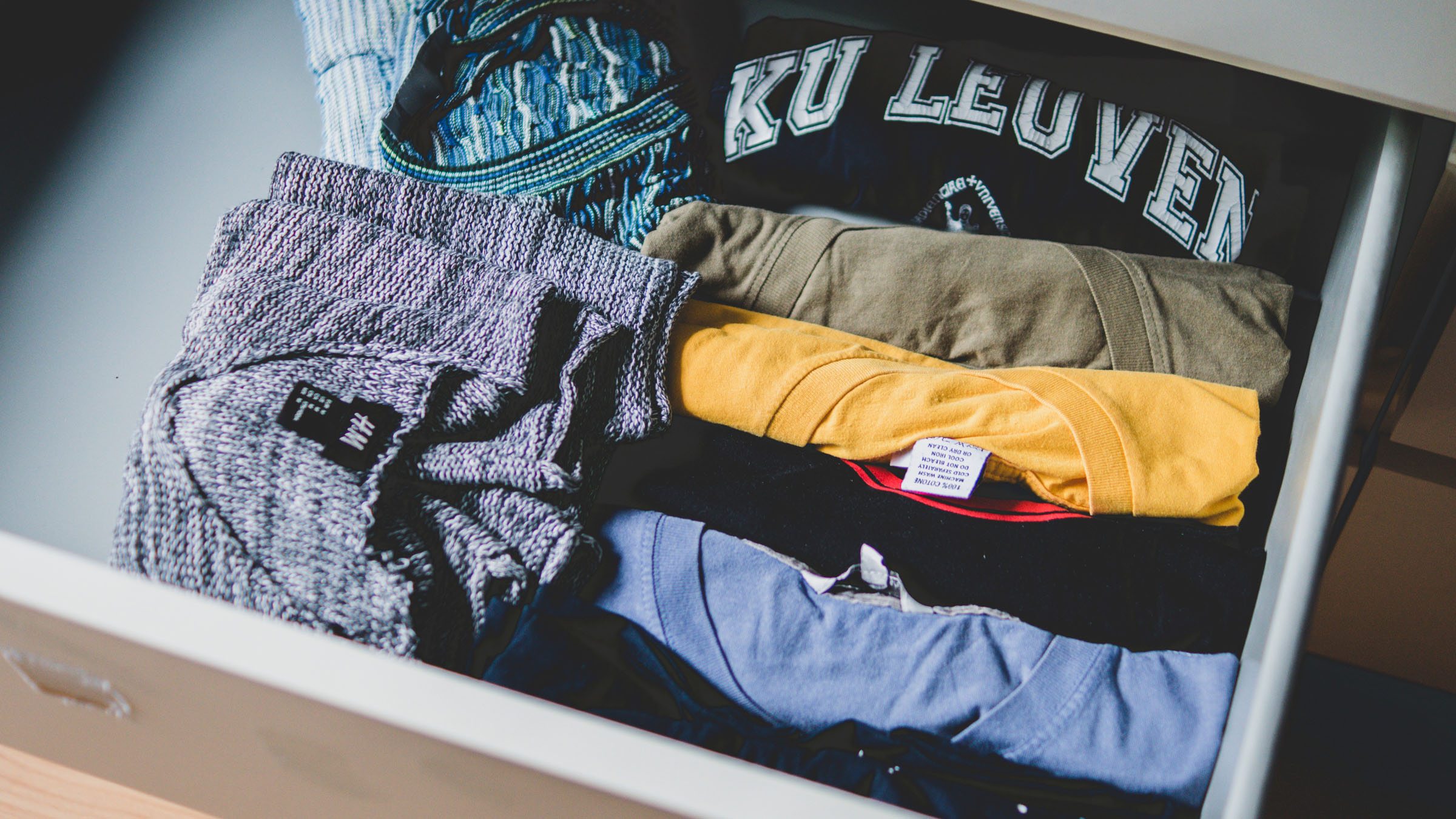 ;
Spring is almost here, which means it's time to reorganise your closet!
Feeling overwhelmed just thinking of the mountains of stuff lying inside, poised to come crashing down, every time you try to pull something out? Wishing you could just wave a magic wand and quickly arrange it all – so you can see everything at a glance, save time getting dressed in the morning and, more importantly, give Instagram's 'cleanfluencers' serious envy?
You've come to the right place! From quick folds to clever rolls, we've got all the reformatting techniques you need to bring order to your wardrobe.  And they won't take any longer than traditional folding, we promise. Au contraire, they'll activate those happy chemicals in your brain, and you'll want to do it over and over again. No kidding!
T-shirts
Where has this quick and clever t-shirt folding technique been all our lives? And it works just as well for half-sleeved shirts and collared tees. Though it may take a few tries to master, there'll be no looking back once you get the hang of it. Plus, the rewards you'll reap in terms of efficiency and organisation will far outweigh any initial learning-curve-related frustrations. If you're ham-handed, don't despair: make a garment folding board and watch it take over the bulk of your work. For space efficiency, use a military fold (aka the 'ranger roll') – it'll stay snug, won't come undone and will result in fewer wrinkles.
Formal Shirts
Looking for a crease-free way (remember, folds ≠ creases) to store your formal shirts? Just ask the shirt professionals at T.M. Lewin. For a neat result, ensure you don't skip the following: 1. The assist board – a little larger than A4 size, assuming an adult-sized shirt. 2. Buttoning the shirt, not just at the top and bottom but also in the middle, or alternately along the placket (if not, you'll end up with more work than you started with). 3. The last tug down at the tail end of the shirt, so no creases creep up unexpectedly on the reverse. Then, store all folded shirts one above the other in a stack organiser to prevent them from becoming a mess after a few days.
Hoodies And Suit Jackets 
Instead of stuffing your hoodie into any available closet space and have it tumble out later on, use this nifty technique, pulling the drawstrings of the hood together, as a last step, to keep it all together. When it comes to blazers or suit jackets: if your hanger rod is already densely packed with more items than it's designed for, don't fret. Try these genius tips before you consider tossing Dad's vintage hand-me-down jacket, or even investing in a free-standing coat rack. They're easy, functional and perfect for travel, too!
Jeans, Trousers And Shorts
Yes, we know – you've been folding your jeans a certain way all your life, but who says rules can't be broken! Switch your game, and save a ton of space. If you own several pairs, fold and put them into boxes, baskets or a sliding shelf, to reach the depths of your closet. For dress pants or trousers, fold to hang. Here's our favourite trick: as you can tell, it's not rocket science, and there'll be no slipping and sliding when clumsiness strikes. For shorts, there's no better way to do it than what's indicated here: start by laying the shorts flat, then roll the sides in and fold from the hem, all the way to the top, tucking everything into the waist edge. Practical and perfect!
Socks
Before embarking on the art of folding socks, it's a good idea to thoroughly check all pairs to identify the cast-offs: think orphaned, tired, misshapen, moth-eaten and holed socks. Repurpose (if possible) or throw them out, then organise the remainder into correct pairs. Now comes the fun part: As you'll see, there's more than one way to get the task done. Some experts opine that rolling up or balling socks can cause them to lose their elasticity over time, but a technique that always works is to put them together, fold into thirds and tuck the toe ends into the cuffs– neat, simple and stackable. If you own long and short pairs, see here for details.
Intimates
For anyone who is short on dresser space, these underwear folding methods can be a lifesaver, allowing you to fit more pairs within a drawer and make everything easy to retrieve –  more so when you're in a tearing hurry. Try drawer dividers to keep similar varieties (e.g. thongs, boy shorts, bikinis OR briefs, boxers, etc.) neatly sorted and to help keep tall stacks intact without tipping over. Explore more underwear folding hacks for men and women.
Irregular Clothing Items
Even an irregularly shaped item of clothing can be folded compactly (no origami skills required!) to make it visually appealing and keep it tidy. We're talking flared and fitted dresses, skirts, bodysuits, spaghetti tops, leggings, bulky sweaters (featured above) and so on. If you prefer to go back to the ever-popular KonMarie method, we recommend using store-bought storage solutions (such as small boxes, baskets and trays) in tandem to increase the shelf life of your painstaking work.
Linens 'N' Things
As you're tidying your clothes closet, don't overlook the linen closet – it'll likely need some attention, too. For bath towels, fold in half, then into thirds and then again into half, and they'll be perfect to store as well as to hang on the towel rod without any further modifications. The folds for face towels and washcloths are length-dependent, but generally follow the thirds and thirds again or half rule. Alternatively, if you intend to store them in baskets or containers, roll them as shown in option 3 here. And as far as bed linens go, bundle everything into a set (see video below for details) i.e. pillow cover, flat sheet and fitted sheet, or store sheets in the appropriate pillow case – they'll be easy to grab and go. #staysafe #stayathome #selfisolation