';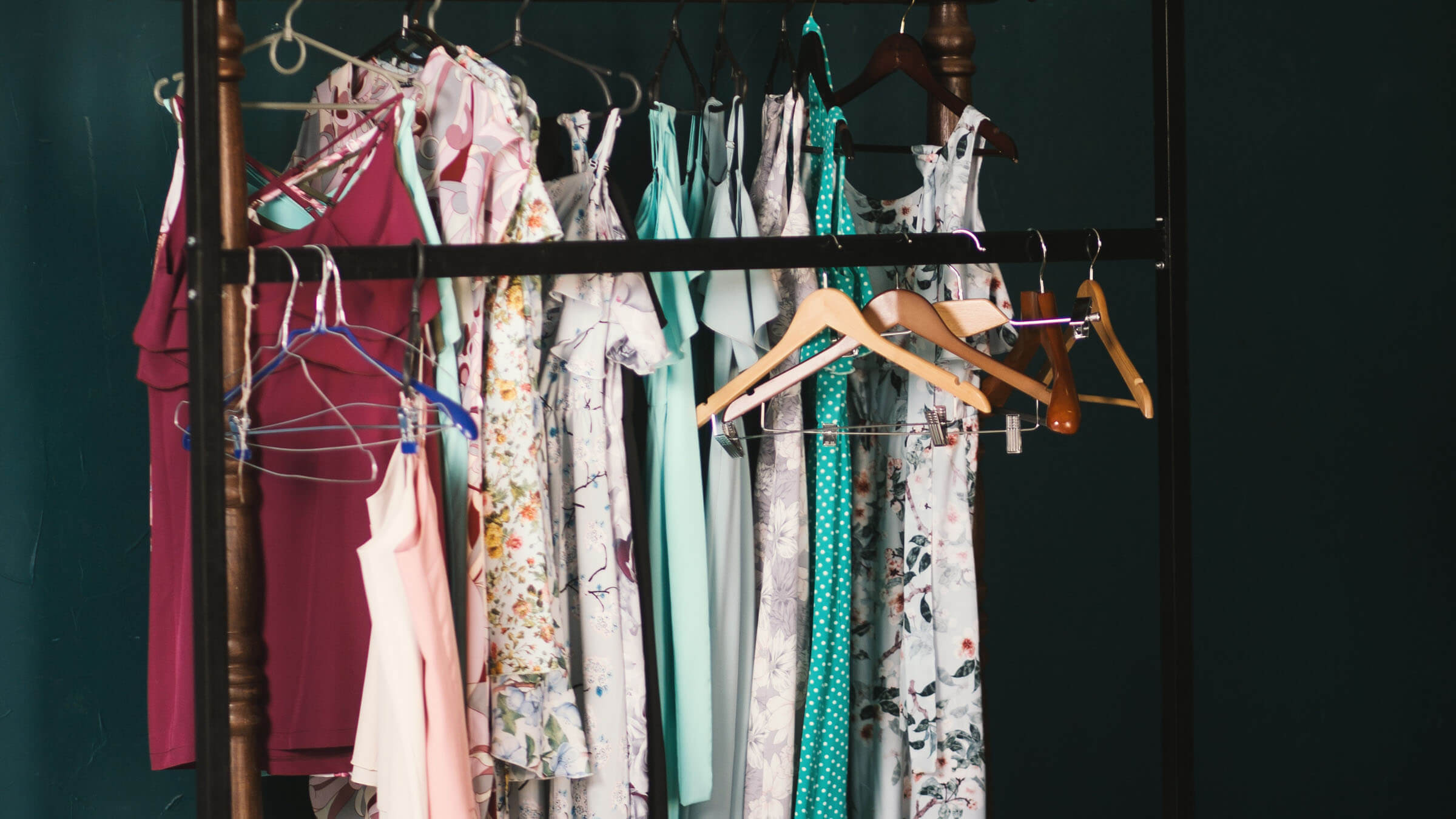 According to the principles of feng shui, getting rid of things you no longer want or need is tantamount to an emotional cleansing, allowing you to open up and welcome new opportunities. In other words: Get rid of the past, and you can see the present more clearly. (Plus it makes space for cute stuff you actually want!)
So stop standing in front of your full closet saying "I have nothing to wear" and pulling out the same outfits day after day. It's time to purge your wardrobe, and toss out the tired, the outdated and the just plain ugly. Not sure what's a keeper and what belongs in the bin? We can help.
Organisation Is Key
The first step is to go through your closet, garment by garment, and ask yourself if you've worn each item in the last 12 months. If yes, put it back – if not, put it on. Trying on your clothes allows you to check what condition they're in and how well they still fit. If an item is faded or torn beyond repair, it's an obvious toss. If it's a piece you love that can be fixed by a tailor, keep it. If it's in good condition but you doubt you'll wear it again, put it in a pile destined for donation.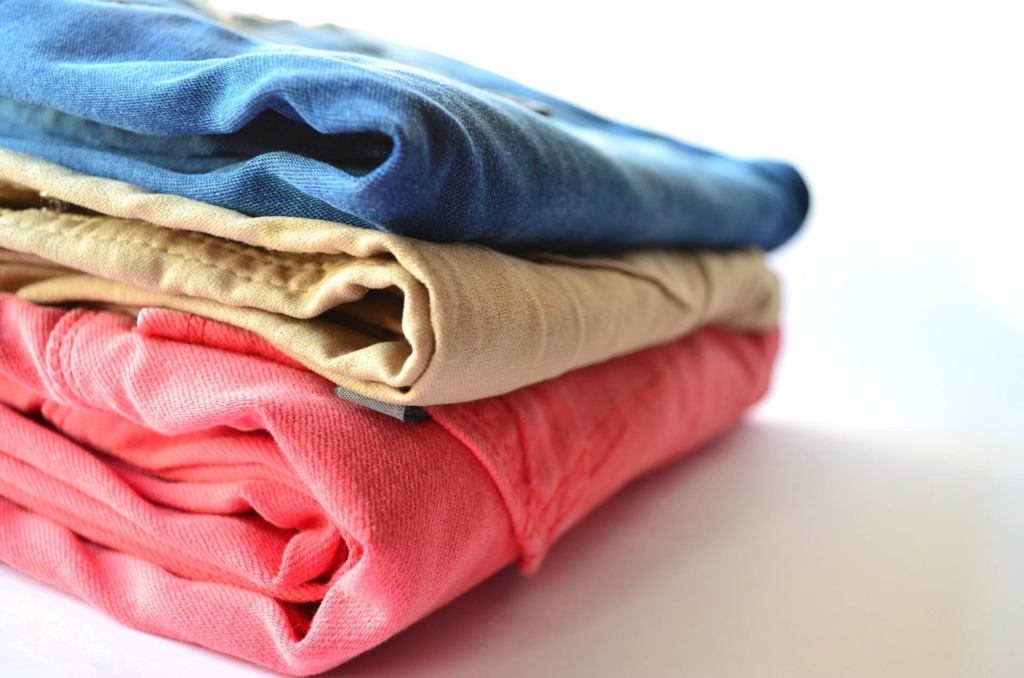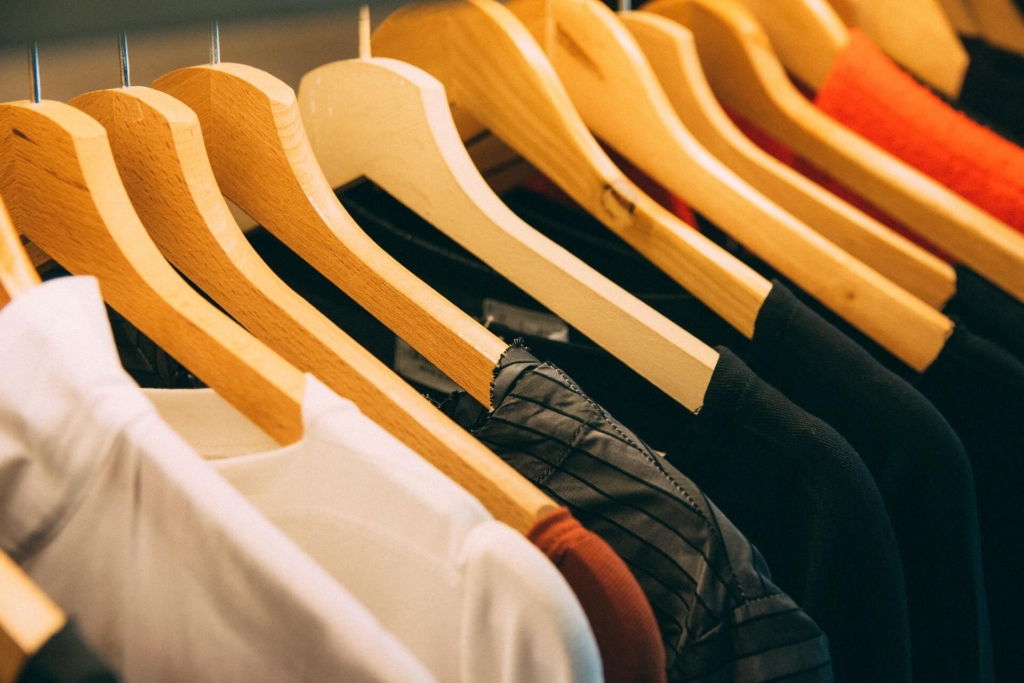 If a garment is too small but you still want to keep it (and you plan to lose a few pounds this year), start a "just in case" pile – but only allow yourself to keep 5 items from the pile at the end of the process. Keep more than that, and you're just adding dust-catchers back into your closet, wasting space and preventing yourself from moving forward.
IN & OUT For Early 2019: What To Keep And What To Ditch
Now that you've weeded out the obvious no-gos, it's time to consider the current styles and trends for early 2019. Here are 5 items to keep at the front of your closet in the coming season, and 5 pieces that deserve a bit of a vacation for the time being.
OUT: Ballet Flats
Yes, we know they're ultra comfortable, but we think it's time to get those old, worn down flats out of your closet. Footwear trends are tending towards edgier or more "risky" options, like white booties, cowboy boots and mules. If it's comfort you're looking for, there are more sophisticated options than ballet flats, such as moccasin-style loafers and slingbacks.
IN: Cowboy Boots
Western-chic style has returned to fashion in the form of footwear, especially with boots and cowboy booties having a moment right now. We saw them on catwalks like those of Fendi, Armani and Dolce & Gabbana, and of course, on the feet of the social media influencers du jour. The charm of the style lies in its comfort, as well as the rebellious and wild touch it brings to any look. You can find them in multiple styles and prints; they're very versatile and go with just about any outfit. [Photos: Zara, Mango, Zalando, Bershka]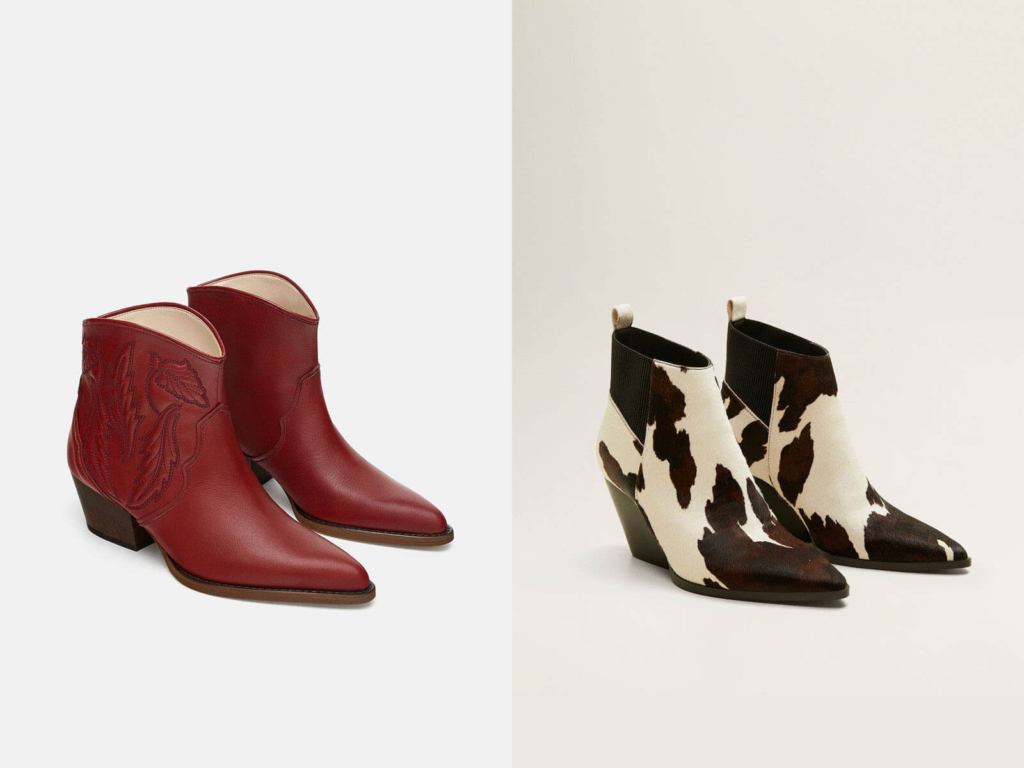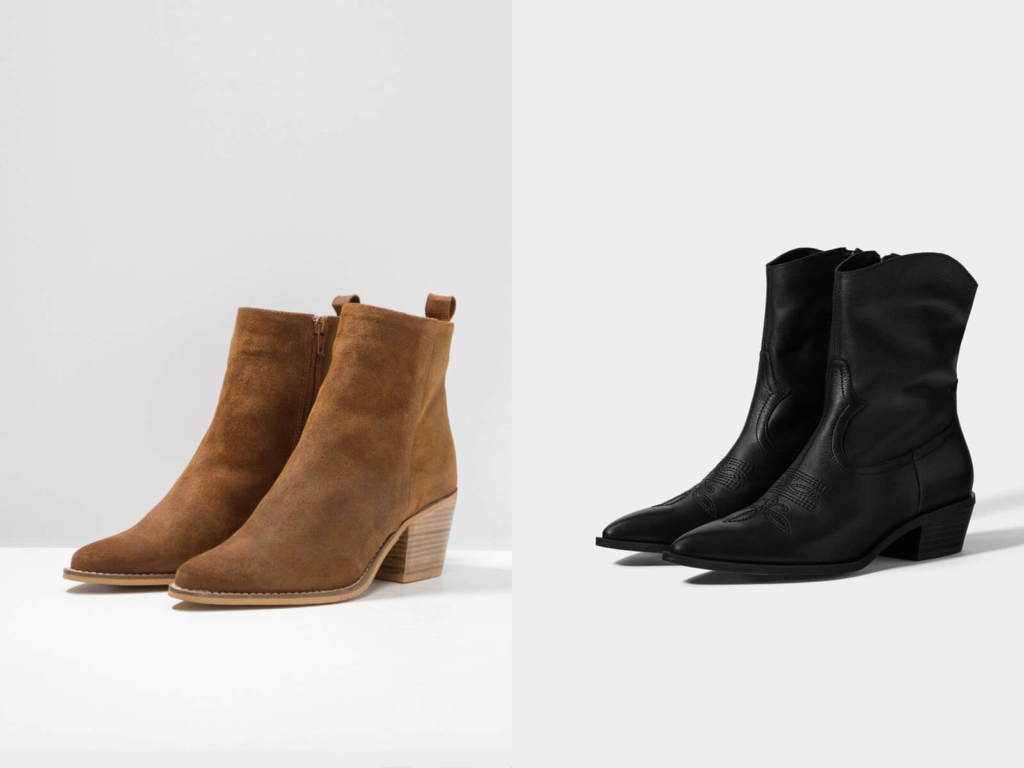 OUT: Kimonos
Fun, elegant, comfortable: there's no doubt that kimonos knew how to win the love of fashionistas in previous seasons. But don't you think it's time they get a vacation? Instead, opt for blazers, check jackets and maxi wool sweaters.
IN: Jumbo Jewellery
Maximalism returns in full force this season. Gone are the days of ultra-delicate jewellery that can barely be seen; instead, invite a touch of baroque into your style with extra-large bracelets, earrings, rings and necklaces. In particular, XXL earrings will be your allies when it comes to achieving a remarkable look – and best of all, they're very versatile. This season, remember: more is more. [Photos: Zara, Stradivarius, Asos, Bershka]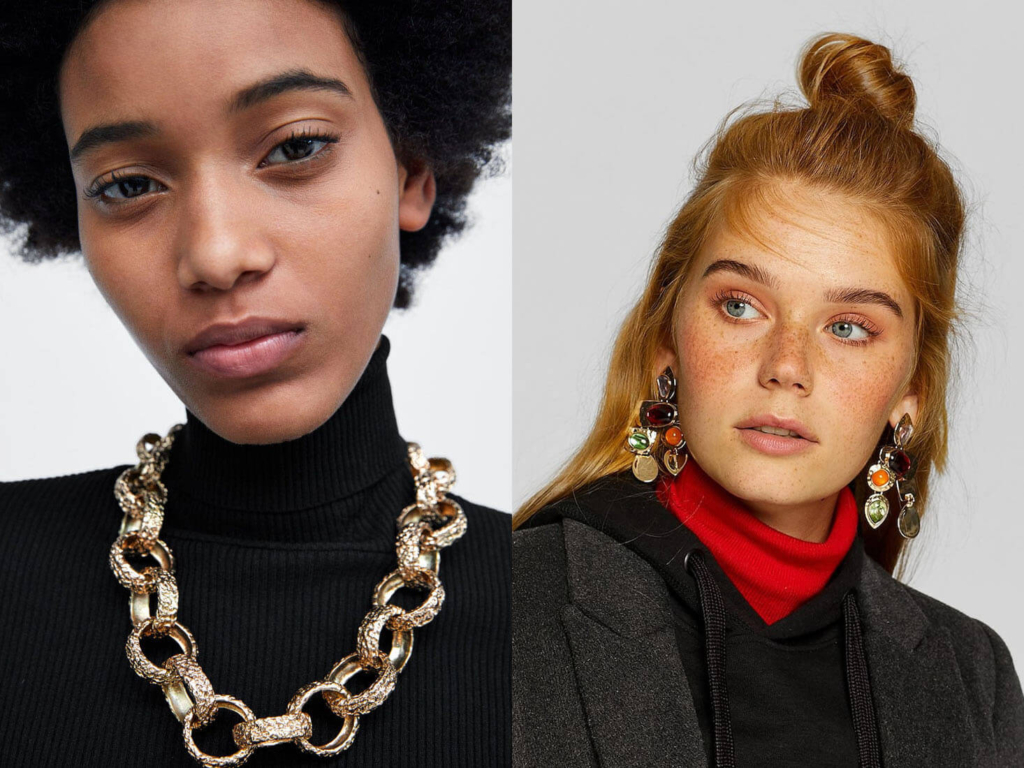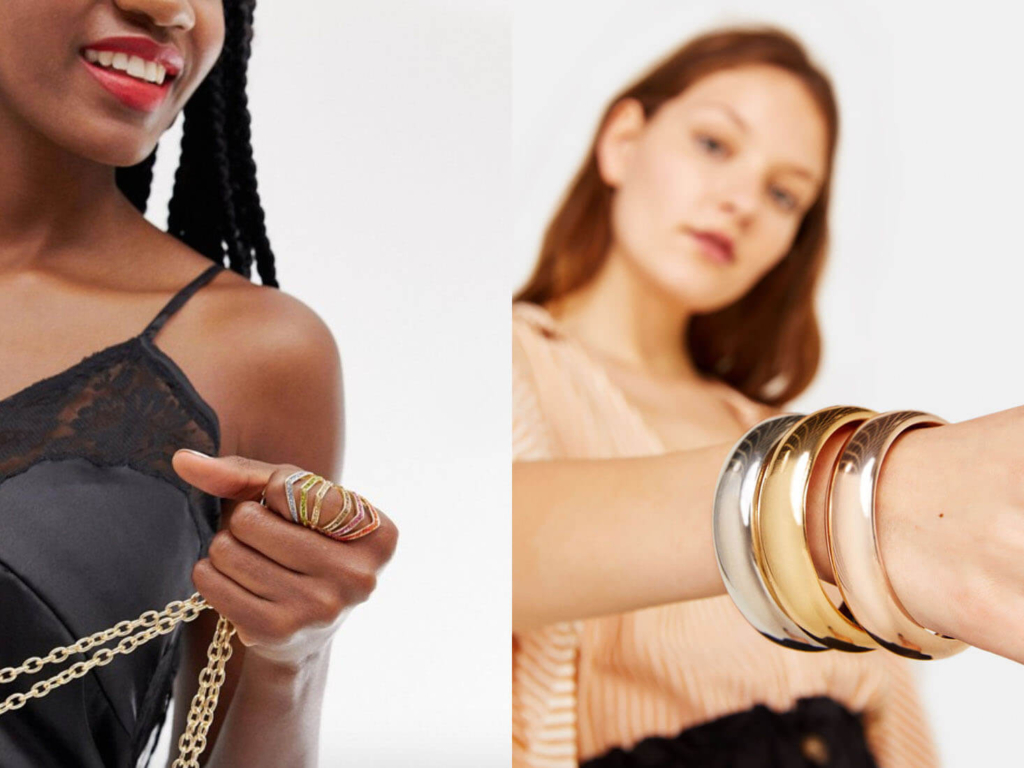 OUT: Denim
Yes, jeans are the classic garment par excellence, and totally timeless. As a material, however, denim is moving into the background when it comes to other garments, giving prominence to fabrics such as wool, corduroy, tweed or velvet. So those denim blouses, skirts, dresses and head-to-toe jean ensembles: leave them for later.
IN: Blazers And Check Jackets
Unless you've been living under a rock, you should know that plaid prints are the raging trend of the moment – they're everywhere! Prince of Wales, Tartan, Houndstooth… no matter the pattern, checks are the absolute kings of fashion right now, and are showing no sign of relinquishing the throne. Although you can find check prints on practically in any garment, we recommend investing in a good plaid jacket, coat or blazer. You'll be fashionable all season! [Photos: Mango, Zara, Zalando, Topshop]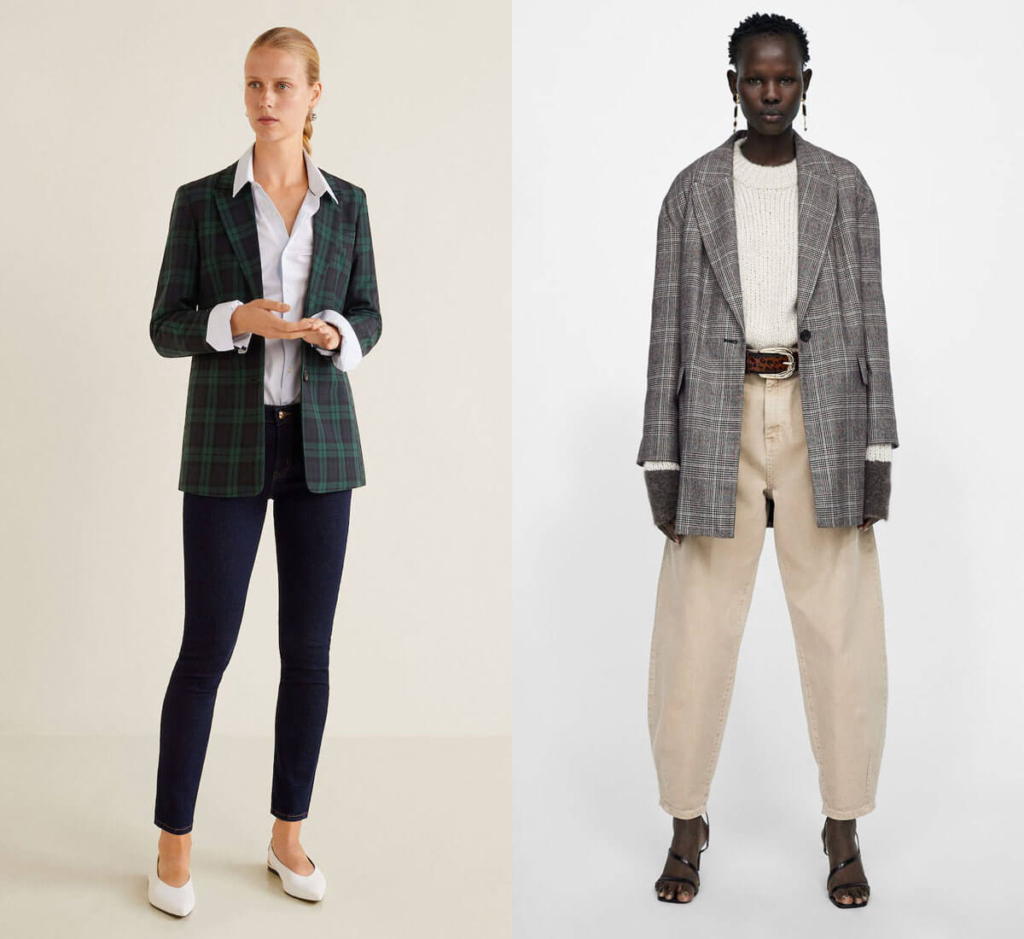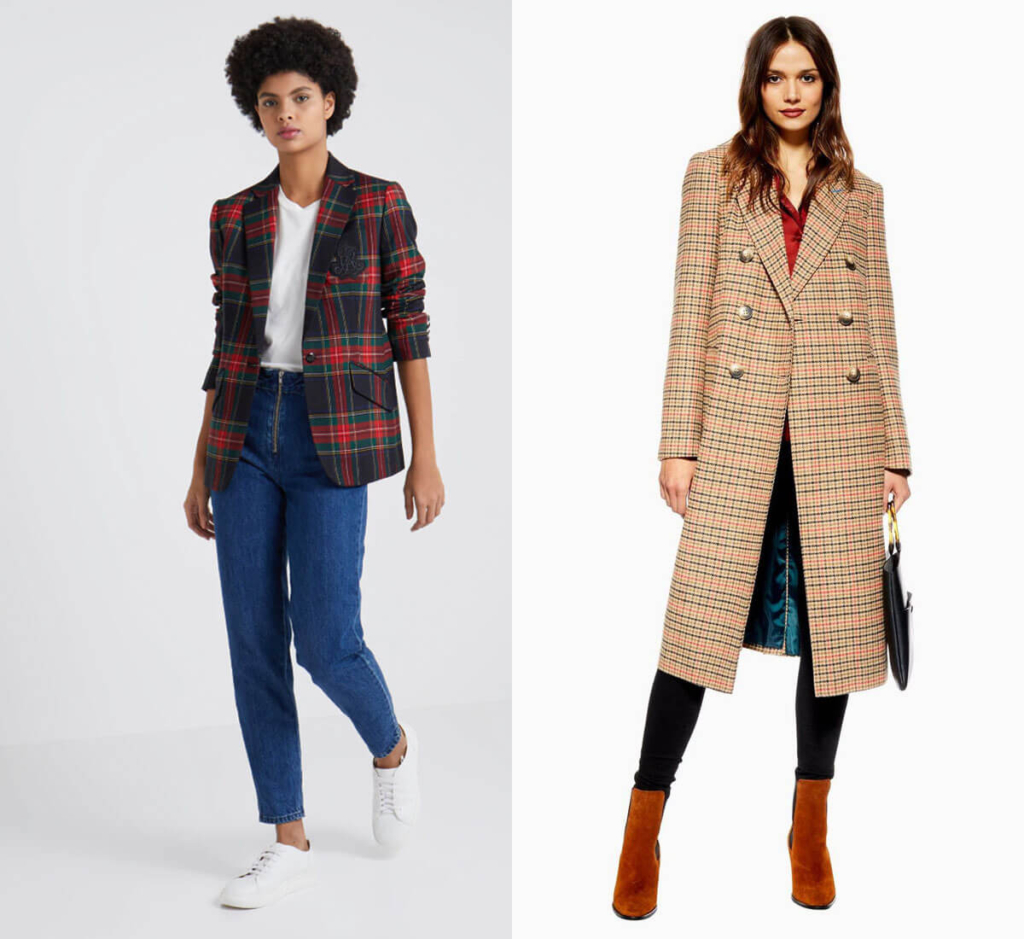 OUT: Skinny Trousers
There's a such thing as a tired trend – and we've seen far too much of the skinny jean lately. It's time for something new. Although they stylise the figure and show off your curves, the trend right now is to opt for comfortable trousers that offer more freedom of movement. Go for fluid garments that give rise to fresher, more relaxed looks for both day and night. We know you love your "cigarettes", but it's time to say goodbye (for now).
IN: Wide-Leg Trousers
A simple, comfortable and flattering cut – wide, high-rise trousers are here to stay. Leave behind the uncomfortable tight versions, and say hello to versatile wide trousers that transform silhouettes, lines and materials without having to worry about your waistline. Wear them in neutral tones like beige, camel or white, or in psychedelic prints and with vertical stripes. Extra points for trying out a wide-leg version of the paper bag trouser trend! [Photos: Mango, Zara, Stradivarius, Asos]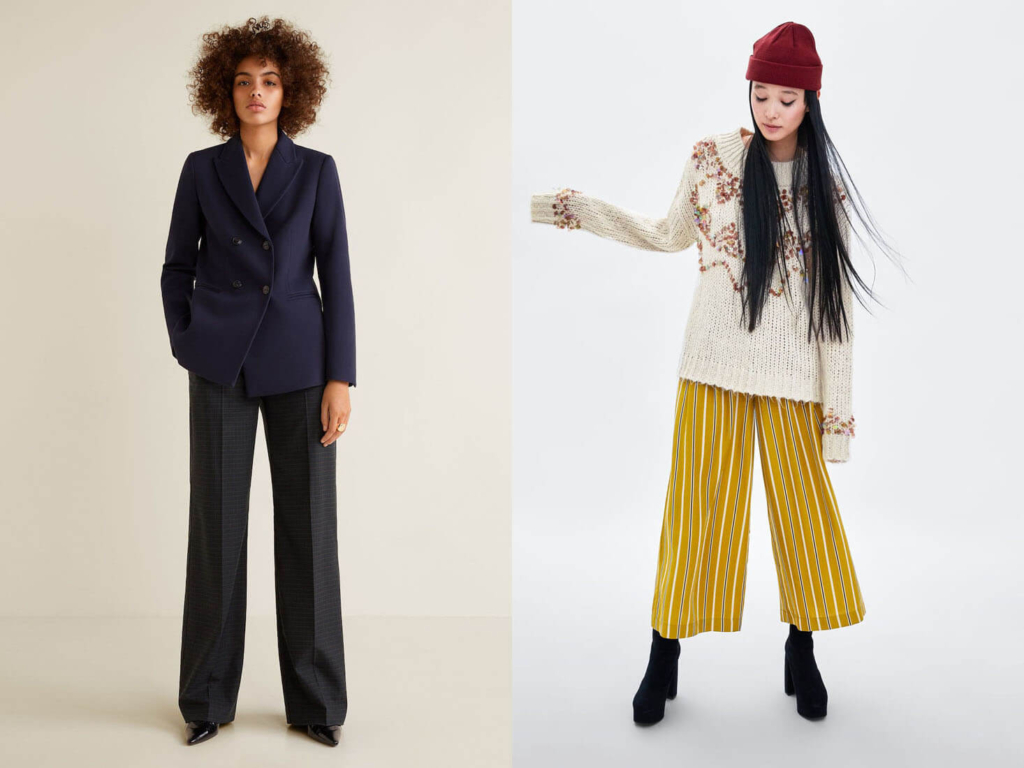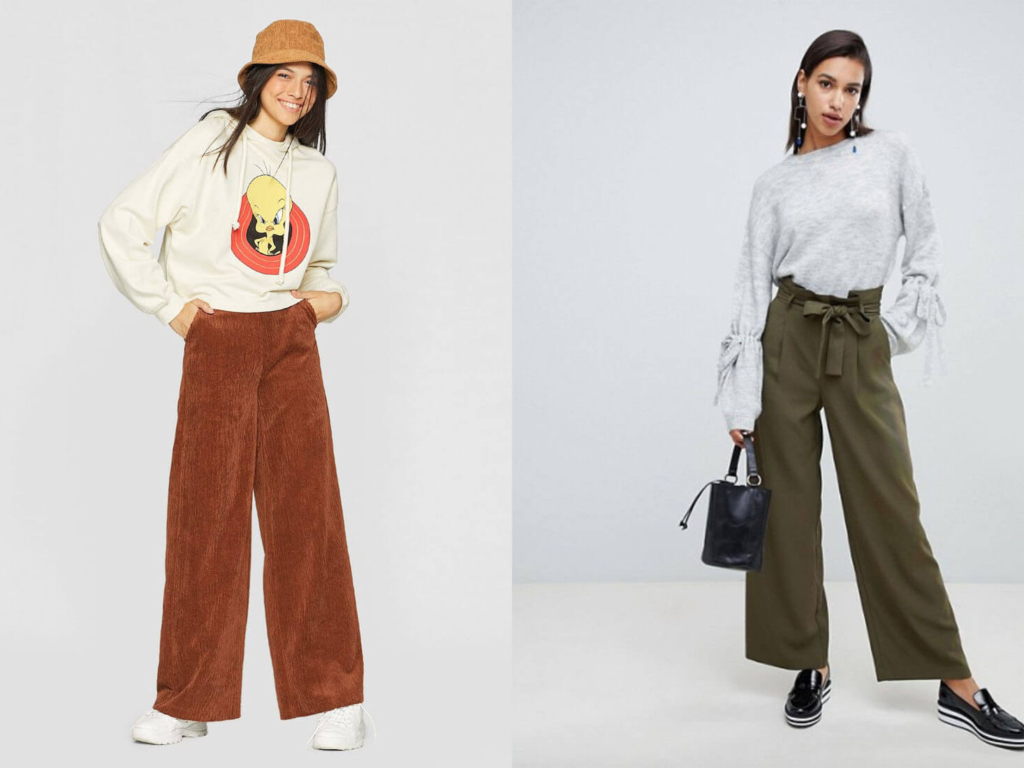 OUT: Head-To-Toe Neutrals
Yes, black, white and beige are versatile and timeless tones, but if you've been reading carefully, you'll have noticed that minimalism is out of fashion this season – so make room in your wardrobe for garments in bolder colours. This year we'll see a rise in full-on, head-to-toe looks in striking hues such as yellow (the colour of the season), orange, red and neon tones. Infuse your closet with lots of colour!
IN: Snake "Skin"
This year, designers are betting on risky looks with a lot of personality, offering colourful prints that ensure you don't go unnoticed. As such, animal prints have come back stronger than ever – and if you still don't have any looks from this trend in your closet, we recommend that you run to the closest store. Although leopard print has always been the favourite, 2019 will see snake prints attempt a coup, appearing on dresses, skirts and shirts. Take a walk on the wild side! [Photos: Bershka, Stradivarius, Mango, Bershka]