';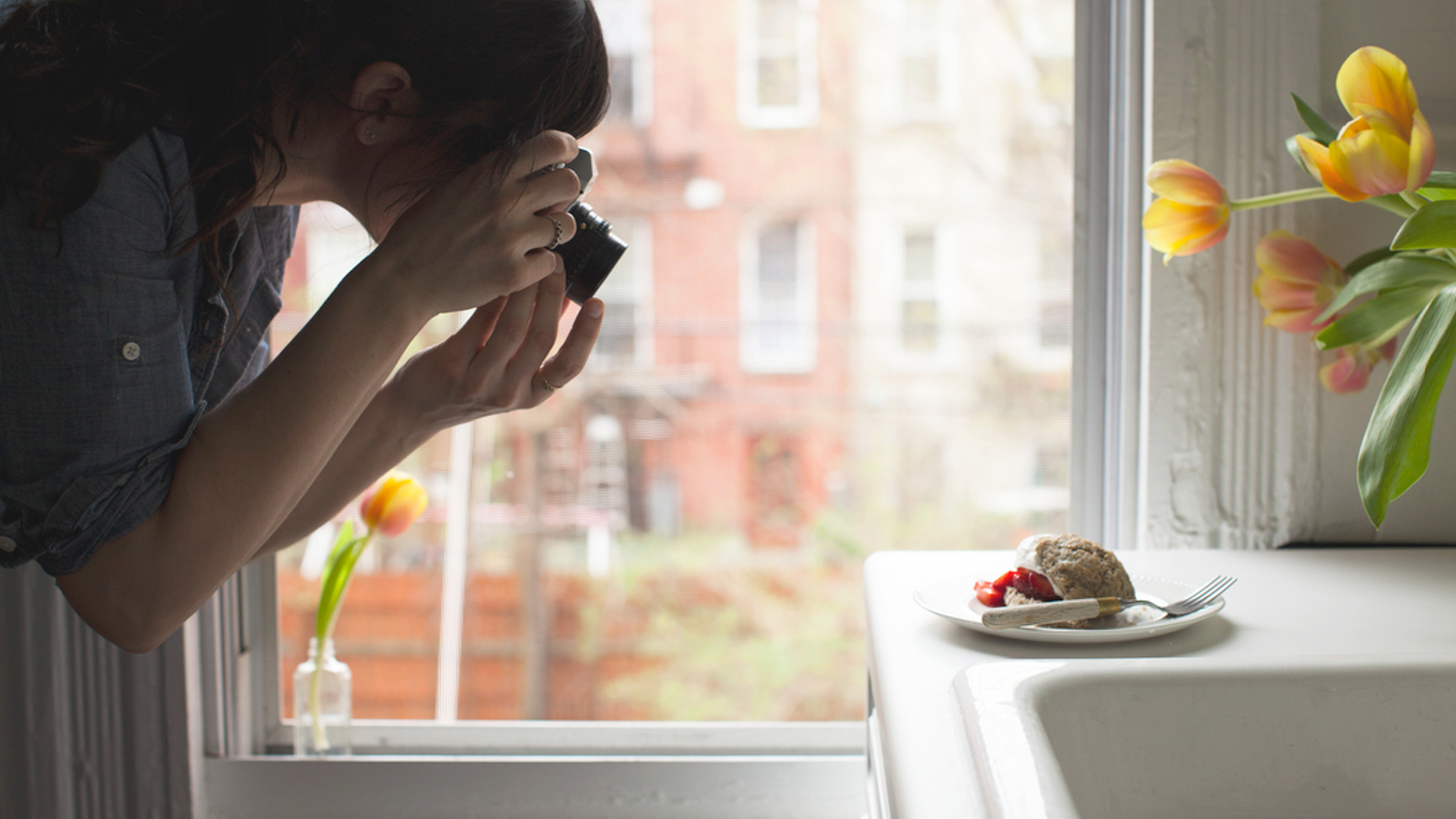 ;
Who can resist getting lost in food blogs, drooling over stunning cakes and desserts, and just simply admiring the mastery of patissiers and home bakers? Often we just leave it at that, getting our sweet fix without consuming any calories, but sometimes you just have to break out the mixing bowls…
We've asked some of the world's most original dessert writers to share their takes on classic cakes, as well as a bit of insight into their lives as baking bloggers.
Smoky Salted Caramel Chocolate Cake
Recipe by Sarah Coates of The Sugar Hit!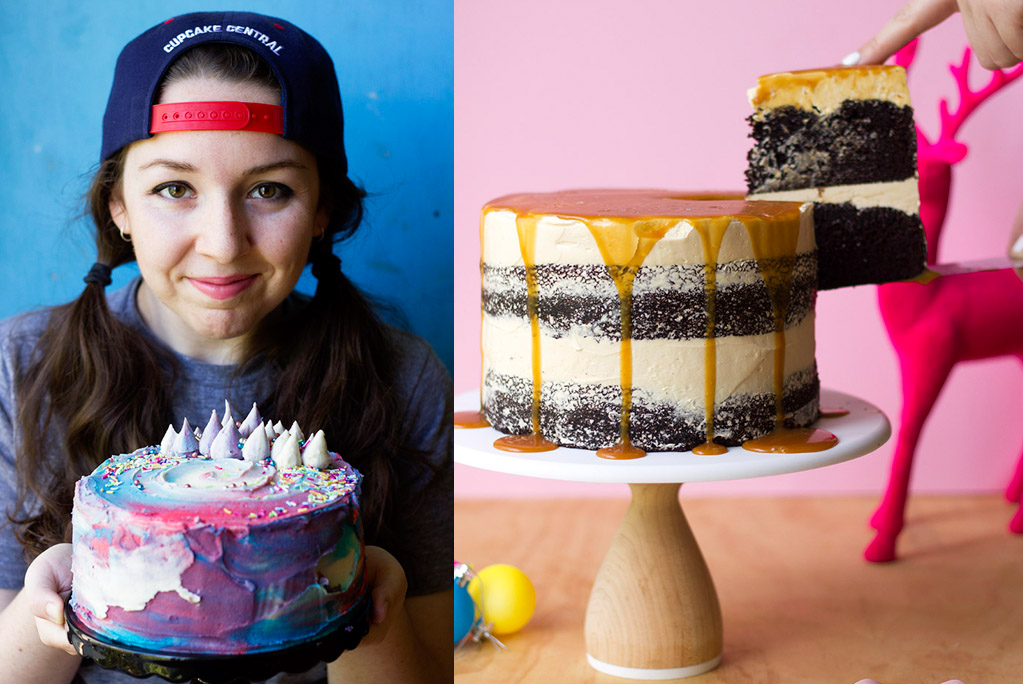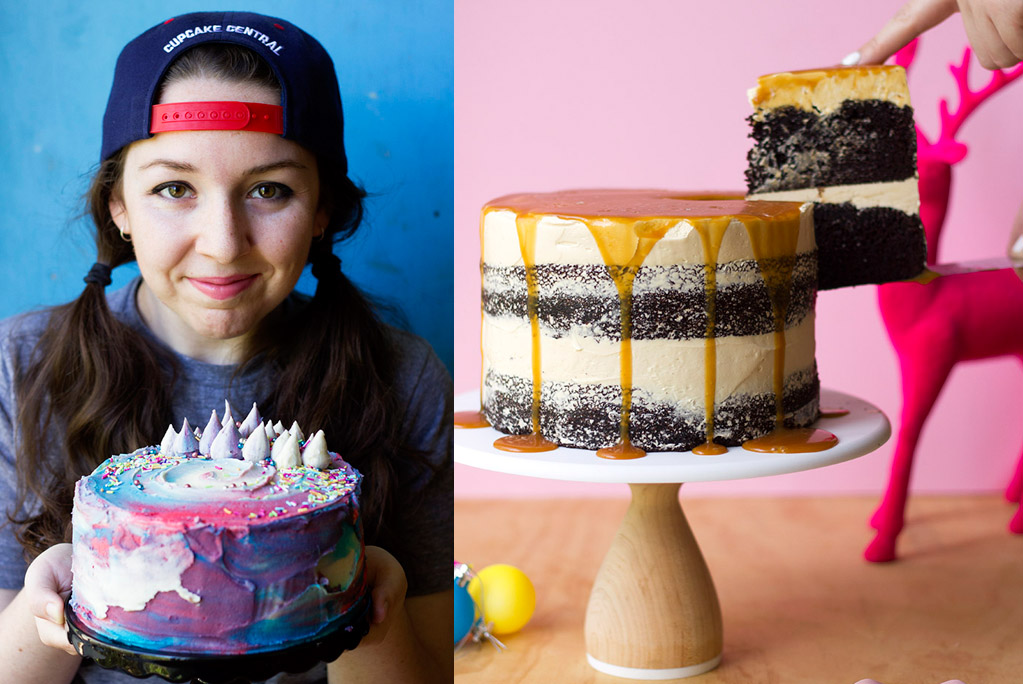 Following a strict "no calorie wastage" policy, Brisbane-based Sarah Coates dishes out creations such as the PB+J Wagon Wheel, Crispy Spiced Sweet Potato Fritters and Unicorn Popcorn Rocky Road – all well worth the extra time at the gym. This blog's joyful take on baking and all things delicious is addictive.
Can you tell us why you started your blog?
"I've been obsessed with food since I was in a high chair, and I just wanted to tell people what to eat!"
Why should we make your recipe at home?
"Chocolate layer cake is good. Salted caramel is good. You want to take both of those things to the next level? Add a hint of smoke. Not only does it play with the already smoky notes in the burnt sugar (aka caramel), but it really brings out the depths and nuance in the cocoa cake layers. This cake hits all the notes that I want to hear in my dessert rap song: it's sweet, salty, bitter, creamy and lush. This is the kind of thing I love to eat. It's super fun, it's got a little something extra (dat smoked sea salt) and yet it's super friendly, and it's not going to freak your grandma out if you serve it at a mixed-ages function. So, to sum up: delicious, complex, easygoing, something for everyone!"
See the recipe


Ada Boni's Eggless, Butterless Chocolate Cake
Recipe by Emiko Davies of emikodavies.com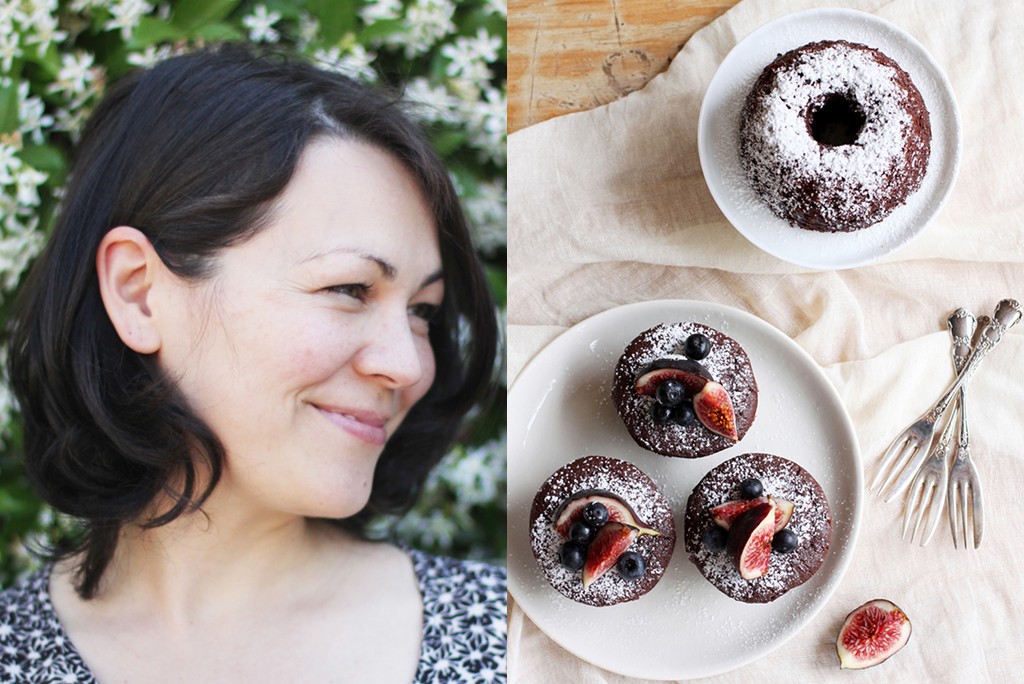 Half-Japanese, half-Australian, Emiko Davies has moved between 4 different continents but now calls Italy home. From Tuscany, where she lives with her husband and 3-year old daughter, Emiko shares detailed narratives and pictures that capture the rich variety of regional Italian foods. She has a thing for historical and traditional recipes, often re-creating them with a personal twist. One example is this eggless, butterless chocolate "Bilbolbul" cake from Ada Boni, one of Italy's most famous food authors, which Emiko has transformed into a completely dairy-free treat.
Do you have tips for parents who want to bake together with their kids?
"Now that my day revolves around the kitchen, my daughter and I bake all the time together. Ever since she was stable enough to stand at the kitchen counter with me, she's been there by my side, rolling dough, mixing, or cutting out shapes with her cookie cutters. Making pizza is a favourite too, just handling the dough alone is a wonderfully tactile experience."
"I've never been afraid of making a little mess in the kitchen, and I think that's where some parents might have trouble letting them go for it. Having an outdoor space can help; I set up her table and chair outside and give her little bowls of ingredients and icing for decorating a batch of cupcakes or cookies and let her do her thing, then hose everything down later! The idea that making good food from scratch is something fun and rewarding is, I think, the start of a good relationship with food, and something I am hoping will rub off on my daughter, too."
Apple Yogurt Cake
Recipe by Yossy Arefi of Apt. 2B Baking Co.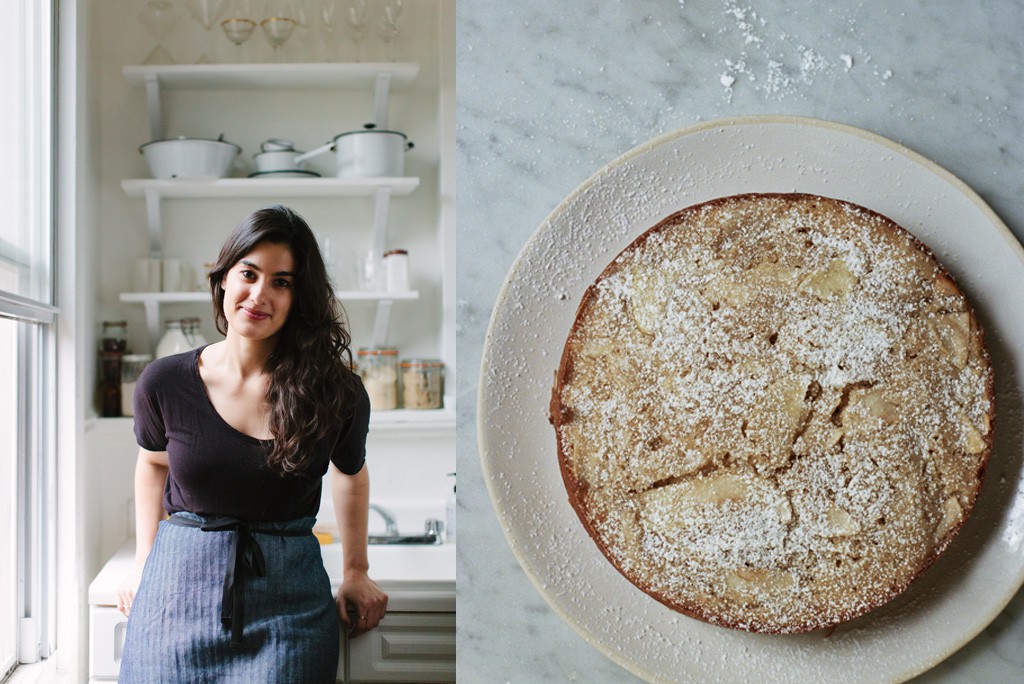 Through the lens of her vintage camera, Yossy Arefi offers a glimpse into her cosy Brooklyn kitchen, aka Apt. 2B Baking Co. Seasonal fruits play a starring role, which Yossy then turns into great comfort dishes. The blog is a celebration of the imperfect beauty found in the kitchen, at the market and in the fields.
Did you grow up baking?
"Yes! Both of my parents are wonderful cooks and we all (I have an older brother) spent a lot of time in the kitchen growing up. My mom grew up in the Pacific Northwest, but I think she really learned to love food and cooking when she moved to Iran with my dad in the late '70s. I grew up eating a combination of traditional "American" food and Iranian food, and love both."
What do you love so much about this Apple Yogurt Cake?
"It is simply flavoured, without any of the warm spices most people are used to being paired with apples. It is dense and packed with fruit, which makes it a perfect breakfast or snack cake, in my book."
 [Portrait picture header: Glen Alsopp, portrait: Christine Han]
Chocolate Sabayon Tart With Griottes And Liquorice Compote
Recipe by Gregoire Michaud of gregoiremichaud.com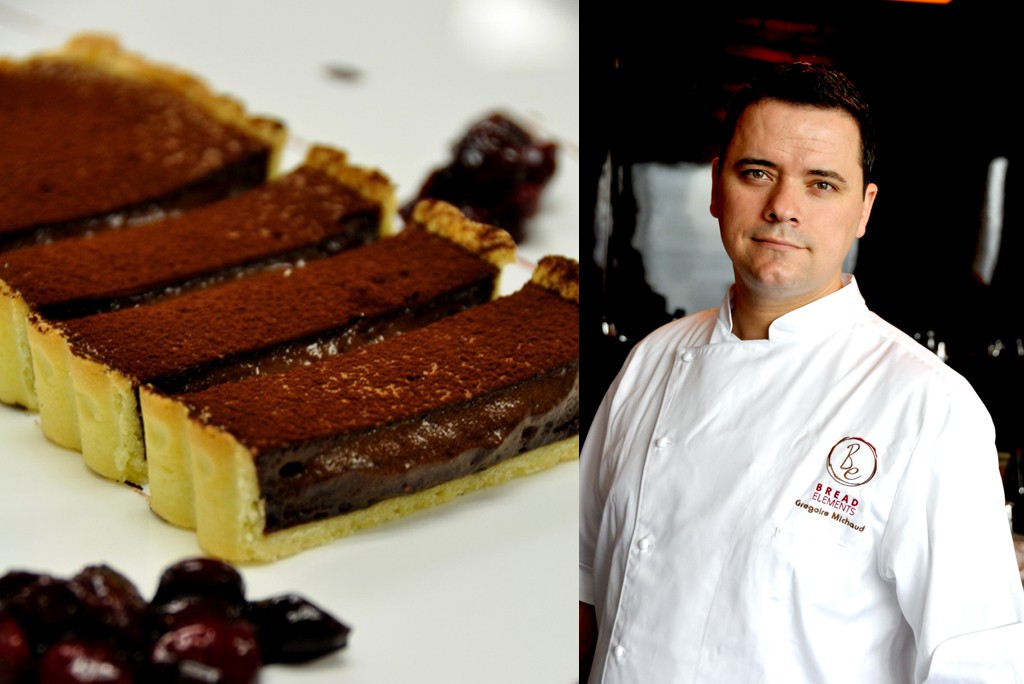 Born and raised in the Valais region of Switzerland, Gregoire Michaud spent most of his childhood in vineyards, orchards, and in the kitchen. He was 15 years old when he did his first pastry apprenticeship and, a couple of years later, embarked on a journey that led him to Michelin-starred restaurant kitchens all over the world. He is now based in Hong Kong, a city he dearly loves.
Are you mainly focusing on the pastry classics or do you add a touch of Asia as well?
"I would say that I am very ingredient-centric, with a strong gourmand side. Whenever I can I use local ingredients, so it naturally adds an Asian touch. For instance, I have created a Galette des Rois with mango and yuzu for one of my guest chef events in Japan."
Do you have vivid childhood memories related to baking something?
"I grew up baking with my parents and grandparents, and I remember the kneading and baking of rye bread at the communal oven in my hometown of Verbier. I was 7 years old and we were about 12 people kneading a sticky rye bread dough in a huge, ancient wooden crate. The baking in the massive wood fire oven was just incredible, when you are so young and witness this. I'll never forget that first bite into the freshly baked bread."
You work a lot with kids – why do you find it important that kids grow up with some experience of baking?
"I think every human being should know how to cook, or at least to know how to feed him or herself without depending on processed food or restaurants. I love passing my knowledge on to the next generation to hopefully do my part in inducing a change in food habits, to come back to more wholesome food and less processed food."

Cakespy's Favourite Buttercream Frosting
Recipe by Jessie Oleson Moore of Cakespy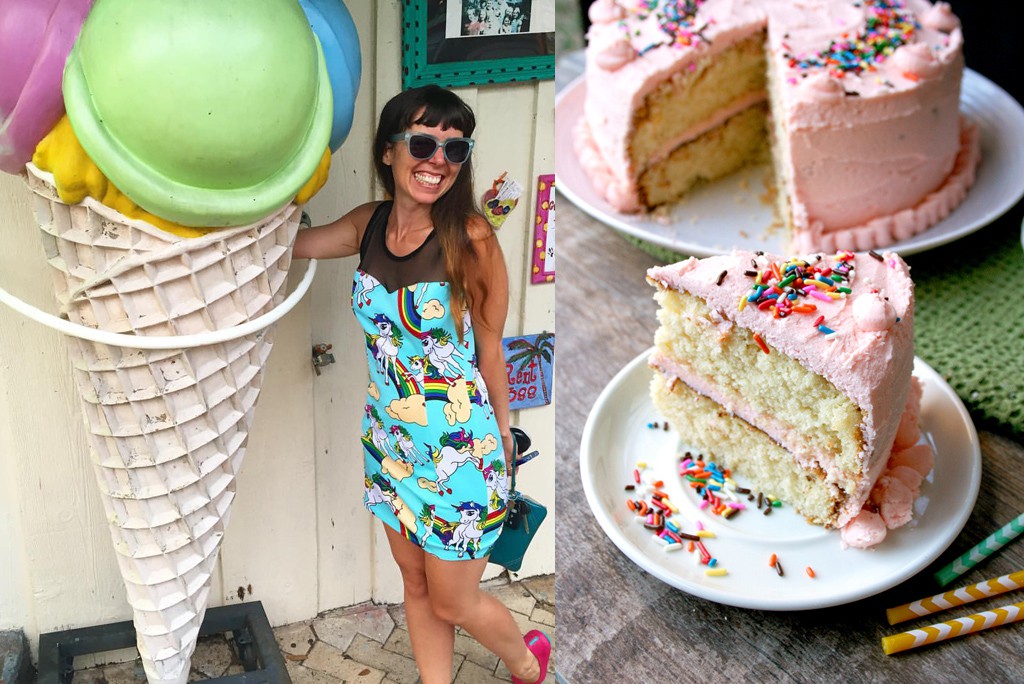 Artist and baker Jessie Oleson Moore is all about seeking a little sweetness in everyday life, and on her blog Cakespy, she encourages readers to bake (and live) with abandon. After graduating art school, Jessie worked as an art director for a refrigerator magnet company in Seattle, but quit the job to create her own business and ended up founding Cakespy as a way to figure out how she could make a living combining writing, illustrating and baked goods. The blog eventually became that business. Besides cakes, Jessie also loves unicorns. Who doesn't?
Were you already into baking as a child?
"I grew up as my mom's sous chef. I didn't actually get my hands in the batter or dough a whole lot, but I would become mesmerized by the process and was always first in line to lick the beater or spatula. I always found baking cakes kind of magical: a mixture that looks like goo goes into the oven and comes out as cake! Awesome!"
"Actually, the little cupcake character you see on my site is inspired by childhood baking memories. My mom would always bake us really elaborate birthday cakes; to keep the family at bay while she created her masterpiece, she'd reserve a little bit of batter and make cupcakes. It's these cupcakes that inspired my little Cuppie character, the mascot of my site."
[Photo credit: Julie Deily The Little Kitchen]
Masala Chai Carrot Cake
Recipe by Nik Sharma of A Brown Table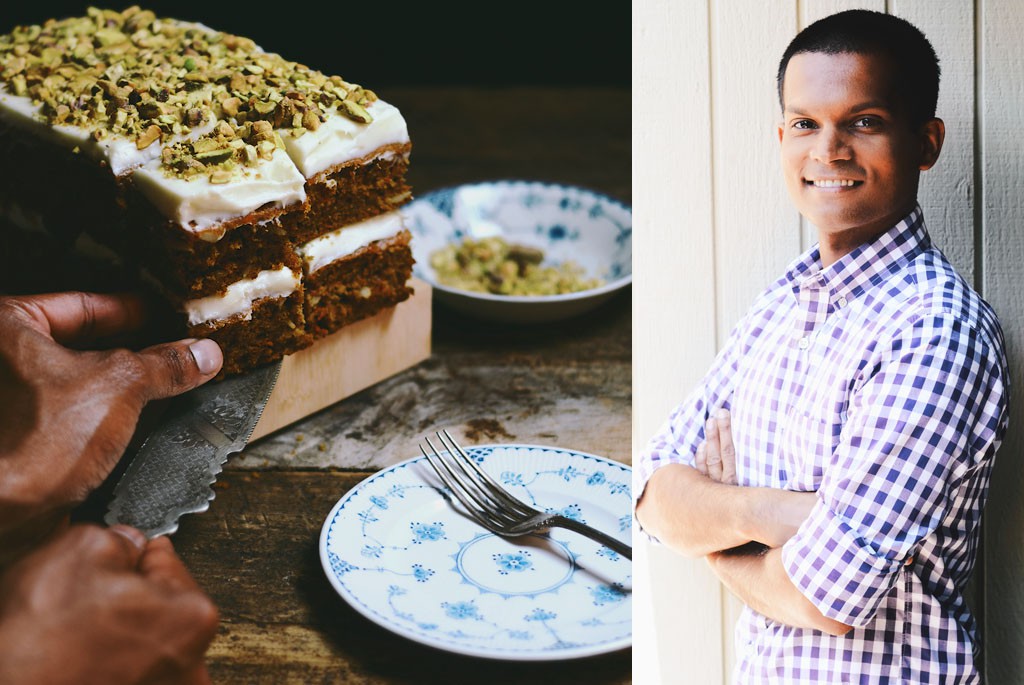 Born into a food-loving family, Nik Sharma grew up with the North-Indian influences of his father and the Portuguese-inspired cuisine of Goa. Having given up his job in the pharmaceutical industry to follow his dream of becoming a pastry chef, he now works as a full-time food photographer. His recipes are a reflection of his experiences growing up in India and the United States, captured by beautiful, chiaroscuro-esque photography.
In your opinion, what makes your blog unique?
"It's food from an immigrant's perspective. I didn't start a food blog only to share recipes, but to talk about the food I love to create, the food that no one was talking about, the food I cooked and ate influenced by growing up in 2 different countries."
Why do you love to bake?
"It's what makes me happiest in the kitchen. There's chemistry and physics, it always reminds me of tinkering in the lab, playing around with ingredients and their ratios, swirling thick batters, aerating egg whites at high speed to build volume and texture – it's an experiment every single time with a potentially delicious, edible payoff!"
German Poppyseed Strudel With Cinnamon Crumbles
Recipe by Meike Peters of Eat In My Kitchen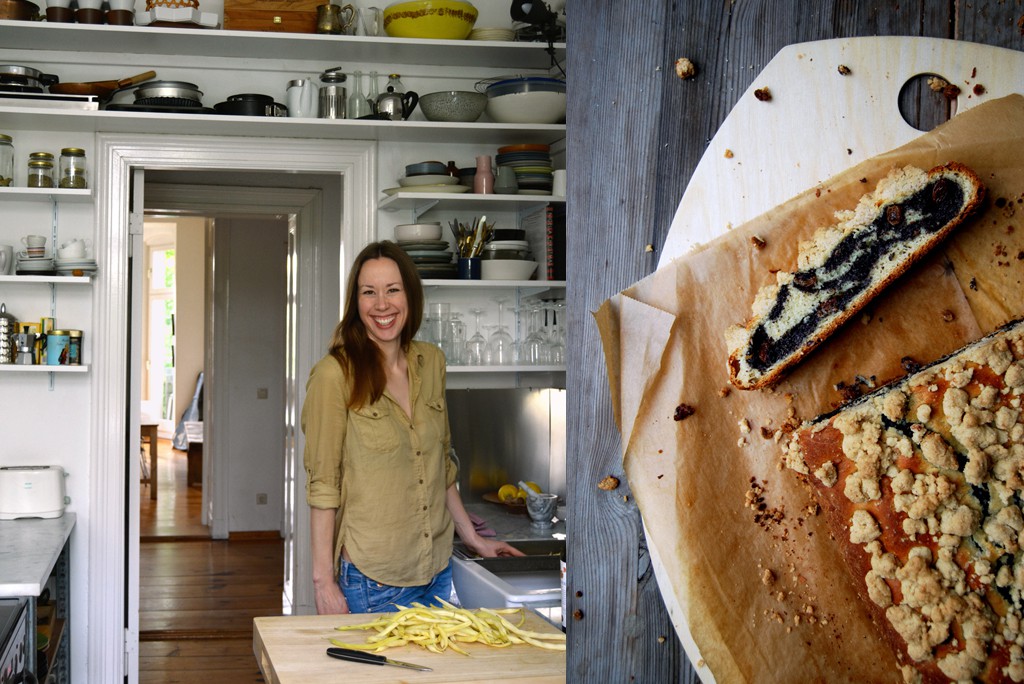 From her Berlin kitchen, Meike Peters posts a dish twice a week, and often that dish is a gorgeous cake or pie. Some are based on her family's traditional recipes, while others are inspired by the cuisine of Malta, where Meike and her Maltese-American boyfriend spend their summers. Her writing and photos give you the feeling that you're there with her in the kitchen, peeking over her shoulder and getting hungrier by the minute.
What do you like most about blogging?
"It makes the world seem smaller and closer in a nice way. The feedback was great from the start, and I soon had followers from all over the world to share my kitchen adventures with. It's great, I get to talk about food with readers from all over. Some even became friends."
What got you into baking?
"My family is obsessed with food, that's where I got it from. My mother is a fantastic cook and host, and she taught me all I needed to know in the kitchen. All my aunts, uncles and cousins get together quite often, and these gatherings are always accompanied by lots of food and wine – in Germany and in Malta. As a child I could eat 7 pieces of cake at once. The women in my family– and some of the men – love to bake, so everybody baked their signature cake when we came together. Whenever there was a large table covered in cakes, little Meike was so impressed that I had to try at least one piece of each of them. Luckily, I was always quite tall."
Ginger Jaggery Whole Wheat Teacakes
Recipe by Deeba Rajpal of Passionate About Baking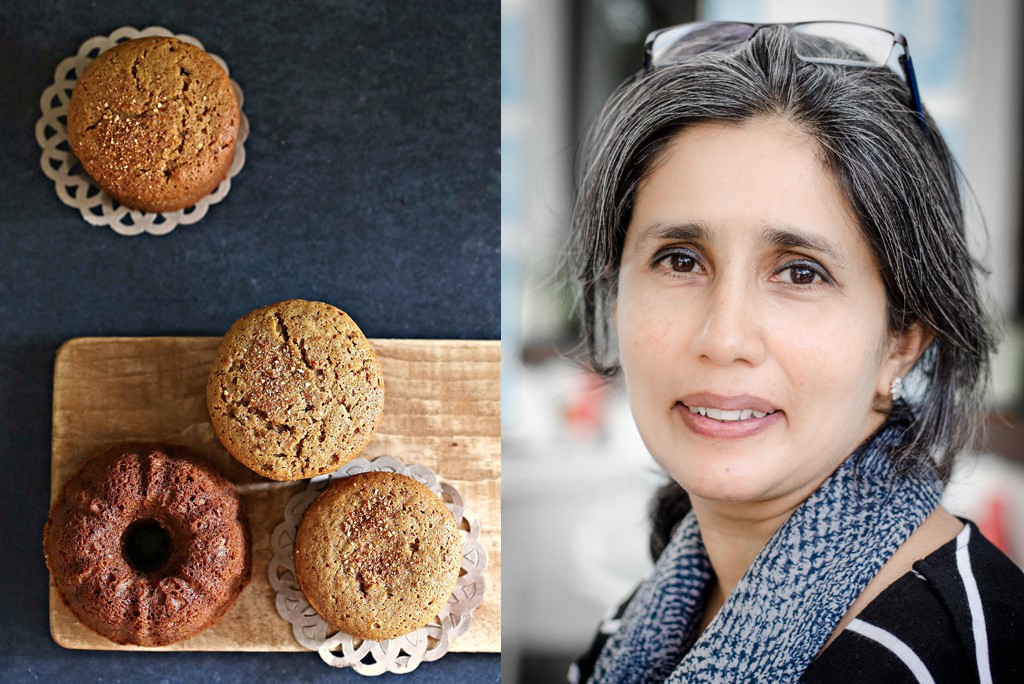 Typical ingredients for classic cake recipes aren't always easy to come by in the North Indian city of Gurgaon. That doesn't stop self-proclaimed "rabid baker" Deeba Rajpal from finding alternatives for her creations. 'Healthy' and 'delicious' are her perpetual mantras, but she strives for her creations to be visually pleasing as well.
Was there one defining moment that made you start your blog?
"I had already started writing my blog, but I changed its course radically after one day I was struck by something odd. Sitting at the bus stop, I began to observe eating habits of locals and daily wagers as they walked up to a tea stall nearby. It slowly dawned on me that we were a world increasingly fed on refined flours and bad fats, and very little nutrition. I was guilty, too, of not giving it much thought. From that day, food – especially baking – was a new challenge, an inspiration. I started stripping every single recipe down to the bare minimum, questioning whether it was good, questioning how I could make it better, experimenting. Practically every ingredient was made to count for itself, else out it went."
Are these teacakes an example of this style?
"I was recently a speaker at TEDx here in Delhi, and the idea I talked about was to 'rethink our plates', to try and include whole foods in our everyday cooking instead of ingredients with empty calories. It was also about rediscovering local native ingredients, and doing things from scratch in an attempt to reduce our carbon footprint. The recipe for these Ginger Jaggery Whole Wheat Teacakes is very popular here, and I merely rethought and made it healthier, more local."

Clementine Cake
Recipe by Flora Shedden of florashedden.com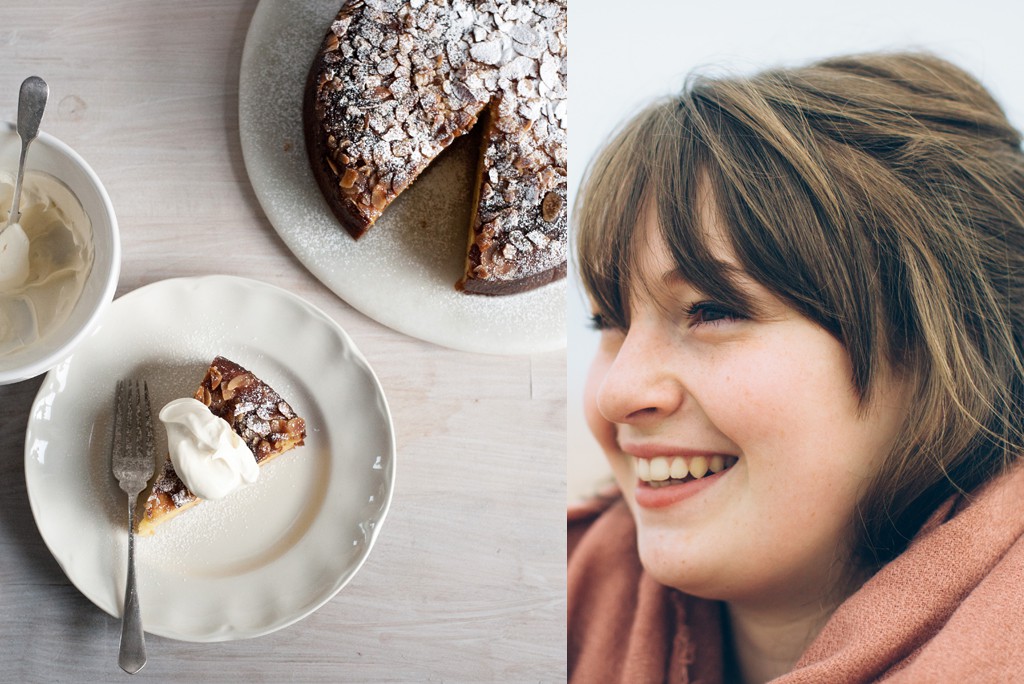 20-year-old Flora Shedden from Scotland has been in the kitchen for as long as she can remember, and started blogging as a way to document her culinary endeavours. It was a way to keep busy, until her appearance in The Great British Bake Off suddenly thrust her into the limelight. Thousands of fans and followers later, she now spends her days writing, creating and photographing recipes, occasionally for her food blog, but mostly for her first recipe book that will be released in early 2017.
Can you tell us a bit about your style?
"I guess it is traditional British, but always with a twist. We have such great pastries and cakes: lots of fruit-based sponges, crumbles and scones. I let the seasons dictate what I use, but I generally try to play with recipes, adding spices like cardamom or nuts and seeds. I'm a big fan of poppyseeds."
What will be the theme of your book?
"The title will be Gatherings, and it's all about encouraging my generation to get back into entertaining. I noticed that people my age just pick up a pizza when they have people over. We have more great ingredients available than ever before, but somehow it is a daunting prospect to invite people for a homemade meal."
[Portrait picture: Ciara Menzies]
Article by Irene de Vette
Of all the many wonders in the history of civilisation, what do you consider to be humanity's crowning achievement?