';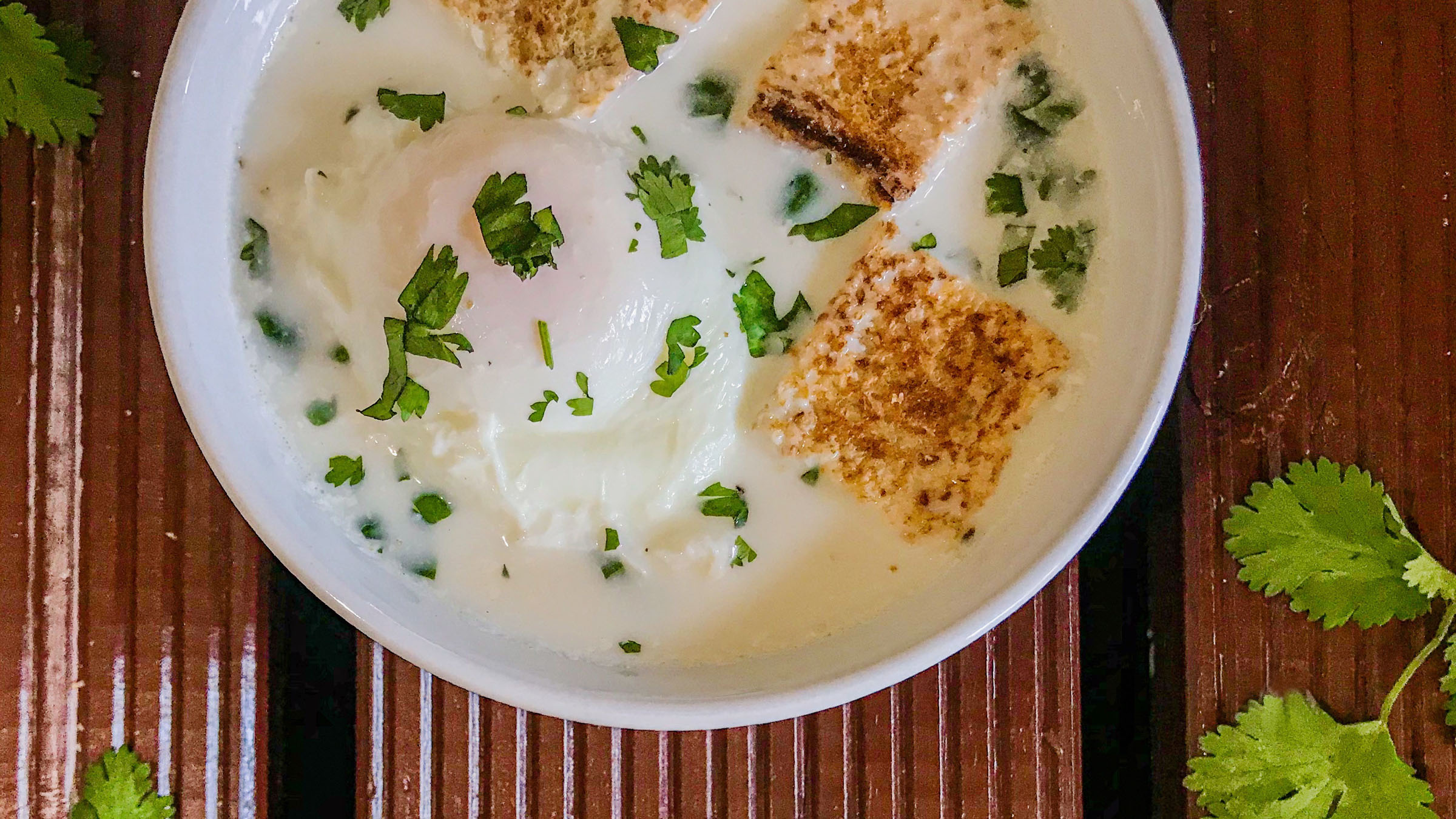 ;
"For Colombians, every soup is special. Soup represents the union of a family getting together. But changua evokes especially strong feelings, because it's the first dish to be prepared in the day." – Daza Baquero
It's not very common to have hot soup first thing in the morning – or is it?
If you're in Colombia, specifically in the Santander or Boyacá-Bogotá regions, it would in fact be the most obvious choice. Here, changua – a broth made of milk, coriander and egg – is the true breakfast of champions. With relatively low temperatures in the mornings no matter the season, it makes sense to warm up the body first thing with a comforting dish that's as traditional as it is accessible and easy to prepare.
A Significant Soup
Changua – which comes from the Muisca dialect 'Xie' (river) and 'Nygua' (salt) – has held cultural significance for decades. It's much more than just a typical breakfast: it's a bonafide culinary icon.
View this post on Instagram
View this post on Instagram
"The origin of changua is quite uncertain," says Daniella Daza Baquero, gastronome and restaurant manager in Bogotá. "However, according to a popular theory, it's based on a soup brought by the colonisers, but with water exchanged for milk. It's part of the traditional morning menu – a recipe said to 'bring people back from the dead'. It's everyone's grandmother's favourite breakfast, and a Cundi-Boyacense tradition."
With many other Andean areas having adopted the dish, changua has evolved over time. There's no "right" recipe or single definition; you can visit different restaurants and try a different version everywhere, with varying milk fermentation techniques, broth textures and accompaniments. In the words of food writer Juliana Duque: "As a basic soup, it has no regional borders."
A Beloved Breakfast
Of course, any dish can mean different things to different people, and if you ask several Colombians what changua means to them, you'll most certainly get different answers – especially taking into account all the various generations that have enjoyed it for breakfast.
Duque, for example, defines changua as "comfort, energy, the expression of affection and care through a simple dish with produce from local gardens. It is a restorative broth, so it's usually eaten to warm up the body in the early morning or at the beginning of the day, especially in colder or mountainous areas, or to recover after a busy day or a hangover. It is without a doubt one of the most-loved dishes by locals, and the most popular and accessible for its simplicity."
For many, changua transports them directly to their childhood, perhaps in the countryside, where the ingredients are fresher and a more authentic flavour and aroma can be achieved. For others, especially younger generations, the dish tends to have less cultural value and greater nutritional sense; it is simply a full breakfast, ideal for kick-starting the day. The combination of ingredients provides a healthy balance of proteins, carbs and fats – a particular blend that an "authentic" Colombian, by nature, is very likely to enjoy. Either way, changua brings families together and evokes feelings in the Colombian home that any other breakfast – say, eggs and toast – would not offer.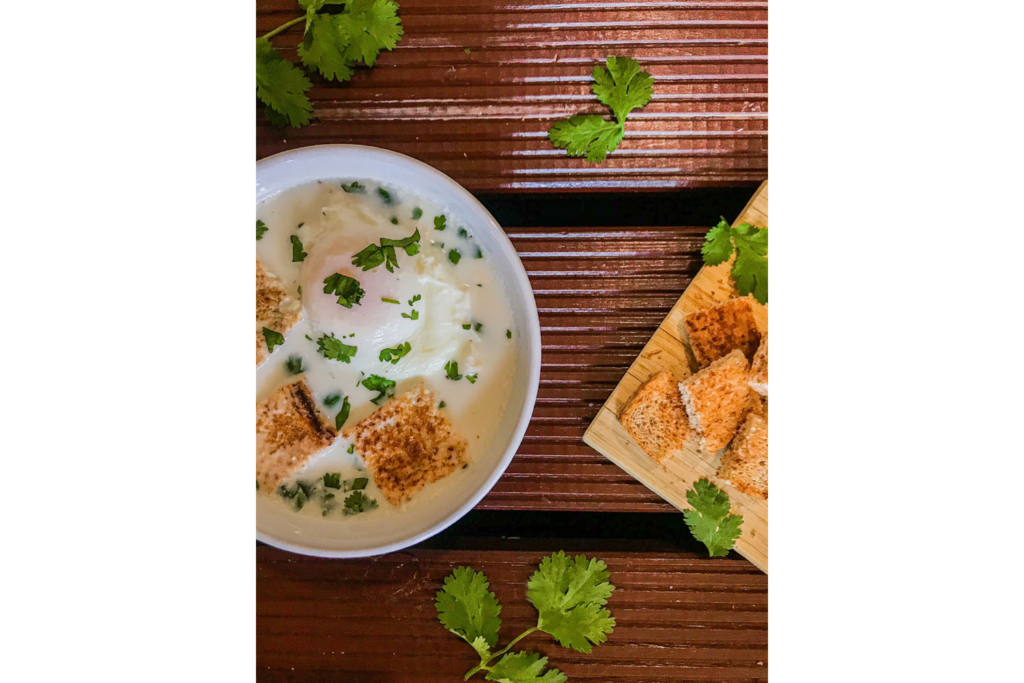 [Photo: Valeria Palacios]
A Versatile Meal
Each Colombian home will have its own peculiarities when preparing changua, but as a base, the ingredients are clear: milk, egg, salt, coriander. Other additions will depend on the region and personal tastes. In the north, for example, potatoes and garlic are usually added, while in the south it's accompanied with some variety of cheese.
Of course, a soup without sides wouldn't be complete. The default option is 'calado', a round, toasted bread that provides the soup with thickness and a fuller flavour. However, again, it's optional and can be replaced by another type of bread, an arepa, almojábana (sweet cornbread with cheese) or any other starchy food. Hot chocolate is usually also part of the menu, to further warm the body during the cold mornings common to the region.
An Authentic Taste
Preparing changua at home is anything but complicated. Quite the opposite, it may very well be the simplest recipe in Colombian cuisine. But for those who don't have the option of cooking at home – and who happen to be visiting Colombia – there are thousands of options for enjoying this iconic breakfast out and about.
In the La Candelaria neighbourhood of Bogotá, La Puerta de la Catedral is a must: this family-style restaurant offers dozens of options for traditional Colombian dishes as well as more global cuisine, but here, ordering the changua is a guaranteed win. For visitors to the colonial city of Villa de Leyva, Casa Blanca Restaurant is a safe bet where they'll find a traditional 100% Colombian menu. And in Santander, where some say changua was born, Desayunos Tony in the capital city of Bucaramanga makes the best in terms of regional cuisine; another must for those who want to sample the most authentic flavours of the area.
An Easy Changua Recipe
Not planning on visiting Colombia anytime soon? Make your own changua at home with this quick three-step recipe.
Ingredients:
2 cups (480 ml) water
2 cups (480 ml) whole milk
2 green onions
2 tablespoons of coriander
Salt, to taste
2 large eggs
Toasted bread (colada, toast, almojábanas, etc.)
Method:
1. Heat the water in a pot over medium heat and add the milk, green onions, cilantro and salt. Bring to a boil.
2. Reduce heat and add the eggs, one at a time without breaking the yolk, and cook for 3 minutes or until the yolk is cooked through.
3. Serve immediately with the toasted bread, and garnish with the chopped onion and coriander.
Optional: Add potato or cheese to make it thicker.