';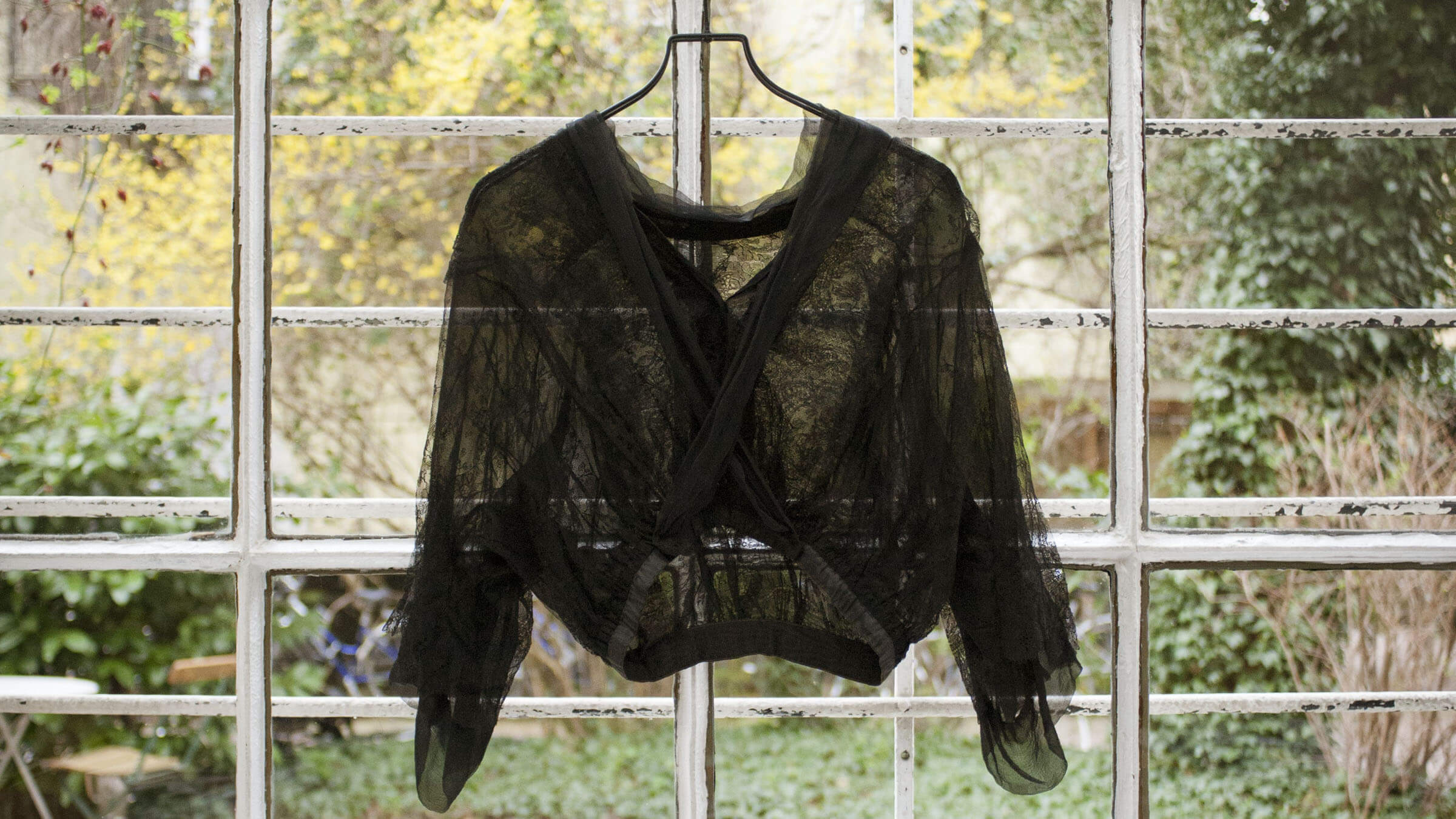 ;
Jeremy McAlpine really wants to tell the story of how he came to launch his brand Blackyoto, but first he needs to show us another brand he started previously, which is on display just over here, on the other side of the room. He settles down again, to talk about the day he first discovered a garment dyed in the deepest, darkest black he had ever seen, but interrupts himself to wander off in search of a shirt that illustrates a point he was making.
Throughout our interview, the fashion distributor-turned-label-founder darts around his loft-like showroom, selecting individual pieces, highlighting the features and details that make each garment special, stroking the fabric and displaying the lining. It becomes abundantly clear that Jeremy McAlpine is not only proud of this project, but personally invested in each and every item of clothing that results from it.
If you go to any fashion week, just about everyone is wearing black. Like anything, it comes and goes, but from a commercial point of view, black sells. Black is the new black. Black is eternal." – Jeremy McAlpine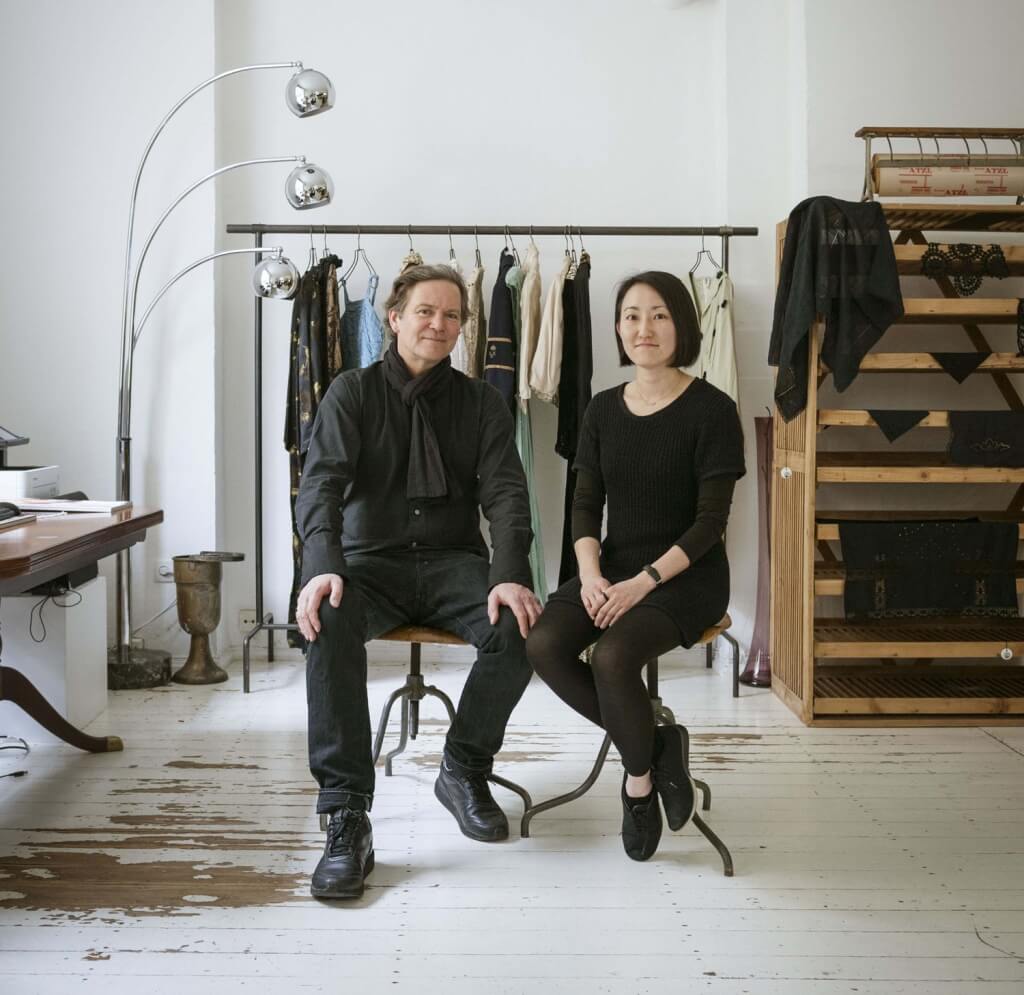 If that seems overly precious, consider this: each Blackyoto piece is unique. The core collection consists of hand-selected vintage garments, sourced from fashion archives, flea markets and estate sales in Europe and Japan, lovingly restored in this Munich studio, then shipped to one of two manufactories in Kyoto who specialise in the unique dyeing techniques that give Blackyoto clothes their black colour – and the brand its name.
McAlpine recalls the first time he saw the shade. "I discovered it when I was in Japan in 2014 on a business trip. It was an indigo blue jean by a Japanese denim brand, dip-dyed black in cooperation with one of the traditional dyeing houses. It was the principle dyeing house we now work with, called Kyoto Montsuki. We set up a meeting and went to visit them. The first thing I asked was, 'Has any Western company been here?' In fact, we were the second non-Japanese company to approach them, but we became the first to use their black kimono dyeing technique as a concept to build a whole collection on."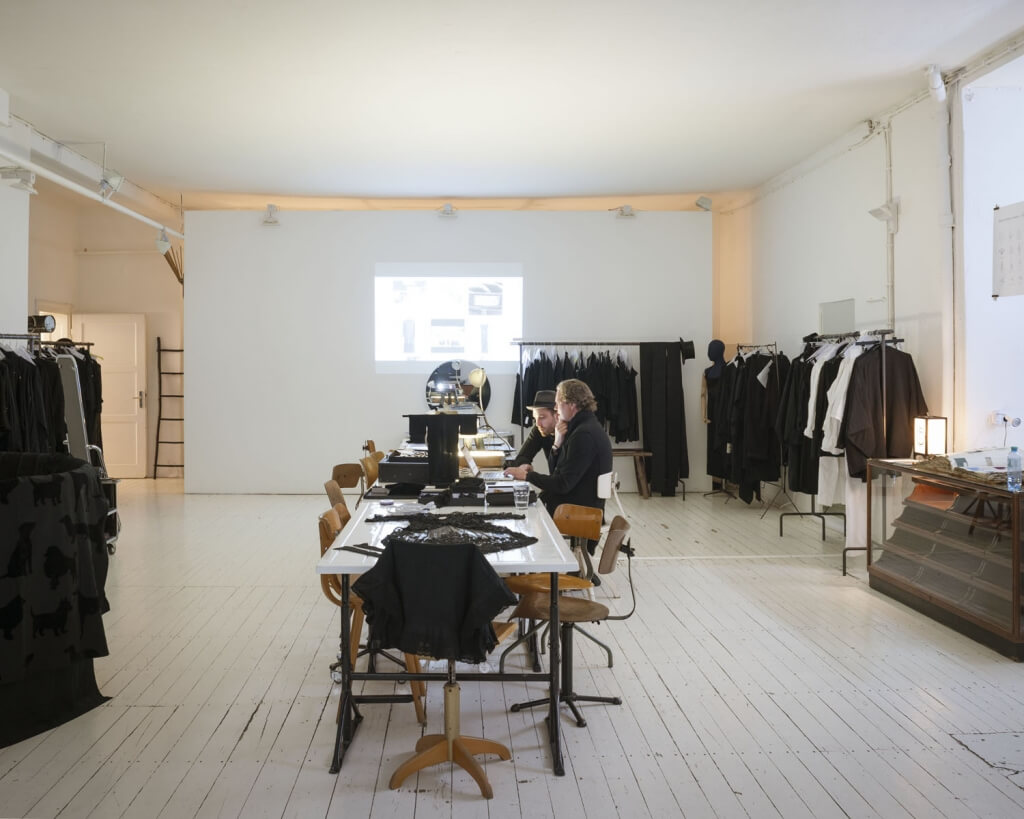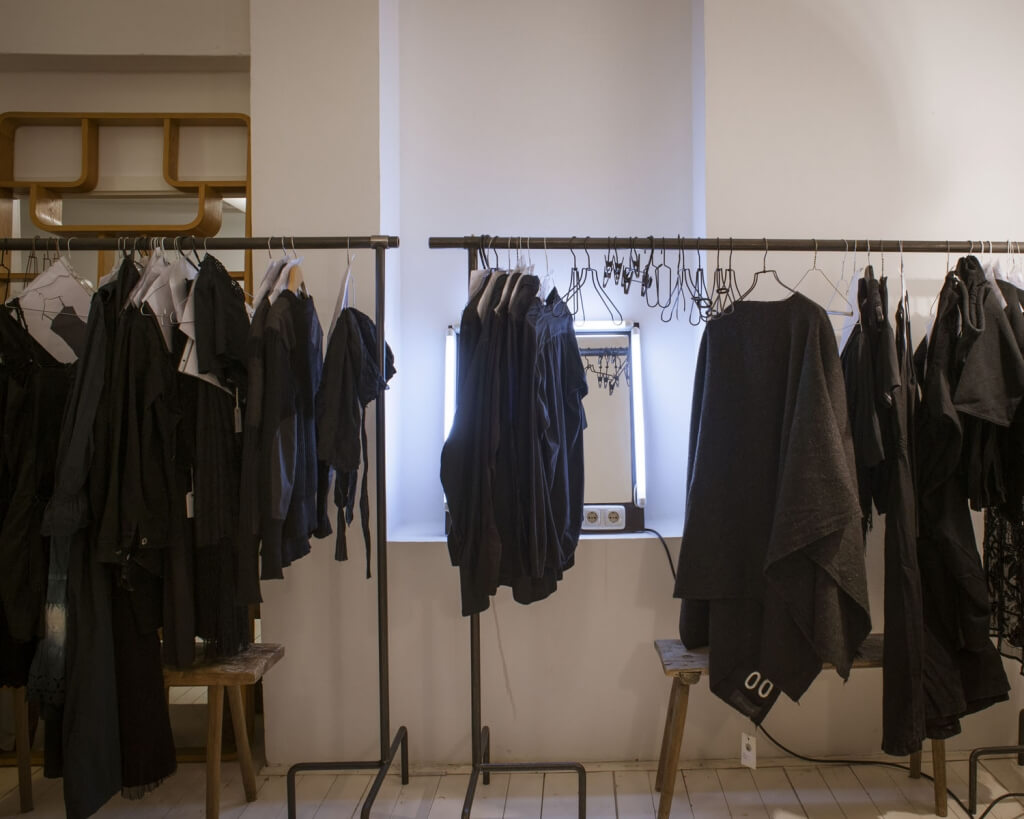 Black Isn't Back – It Never Left
What captured McAlpine's imagination on that first visit? "It was the black colour and specifically the Kyoto silk kimono dyeing tradition. Montsuki perfected a dyeing method that achieves the most wonderful, deep black. The first dyeing process is very high-temperature. The garments are almost boiled at 95 degrees for the natural dye to go deep into the fibres. The second step, at a lower temperature, is a process called 'shinkuro', which really deepens the black, partly by reducing the reflection of light, giving it a matte finish, which also softens the fabric. That's the real skill, and it's quite a secret recipe."
A relentless preoccupation with the colour black, sparked by that initial discovery in Japan, has inspired a new fondness for the shade in McAlpine. "Navy blue was always my favourite colour, but I've learned to really appreciate all the different shades of black. That was something I had never considered before. If you go to any fashion week, just about everyone is wearing black. Like anything, it comes and goes, but from a commercial point of view, black sells. Black is the new black. Black is eternal."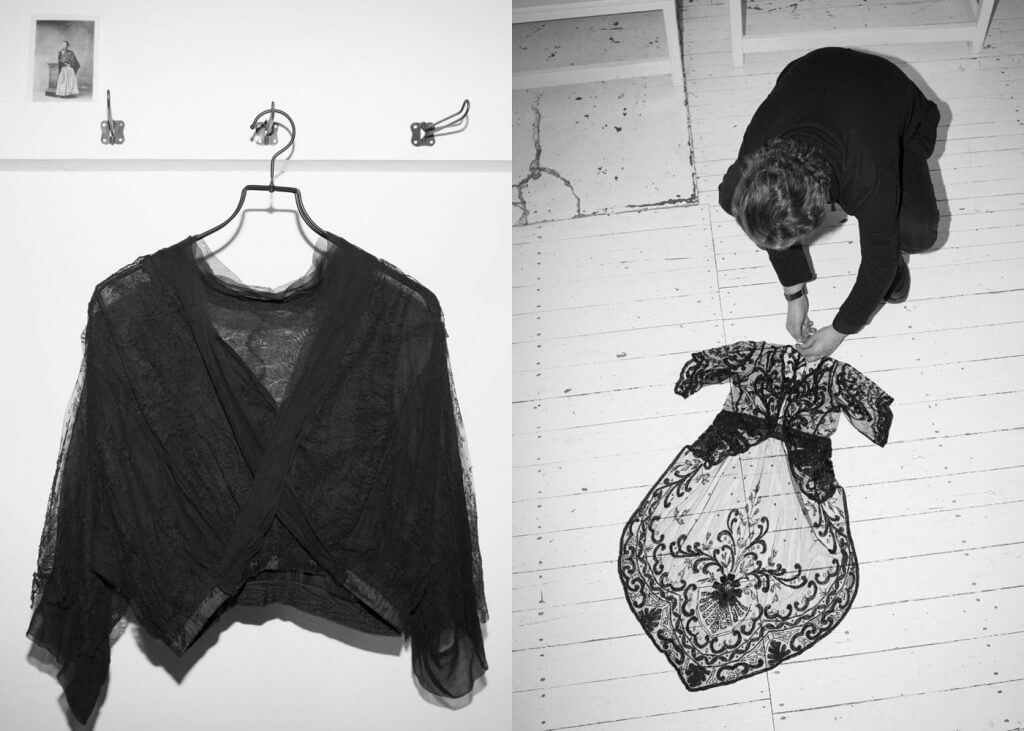 Once the idea of an all-black fashion line was born, its creator had to decide which shape his inky garments should take. "In the first phase," McAlpine explains, "we did lots of research and development. We sent several hundred garments to Kyoto to be dyed: denim, vintage polo shirts, 100-year-old underwear, contemporary garments, everything you could possibly imagine. When they were returned to us, it was fascinating to unpack and to see how they had been transformed. Occasionally something just wouldn't work at all, but mostly it was absolutely wonderful. After a few shipments, testing different items, we knew what would work best and what we should be developing and offering."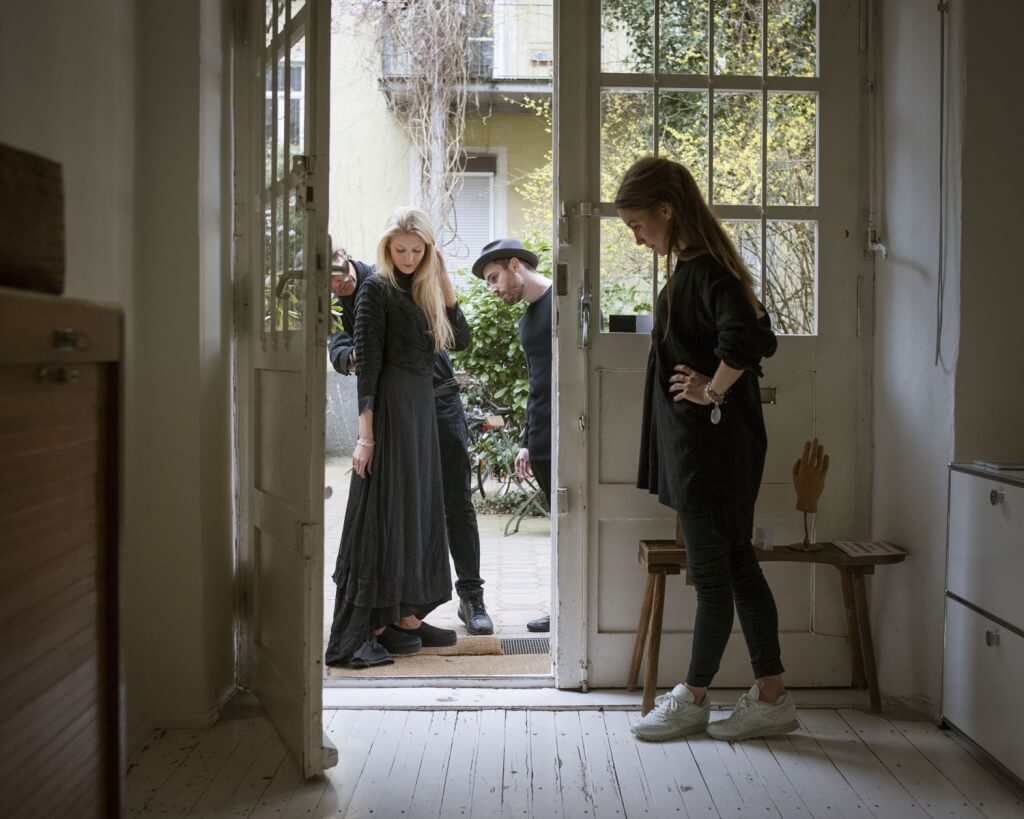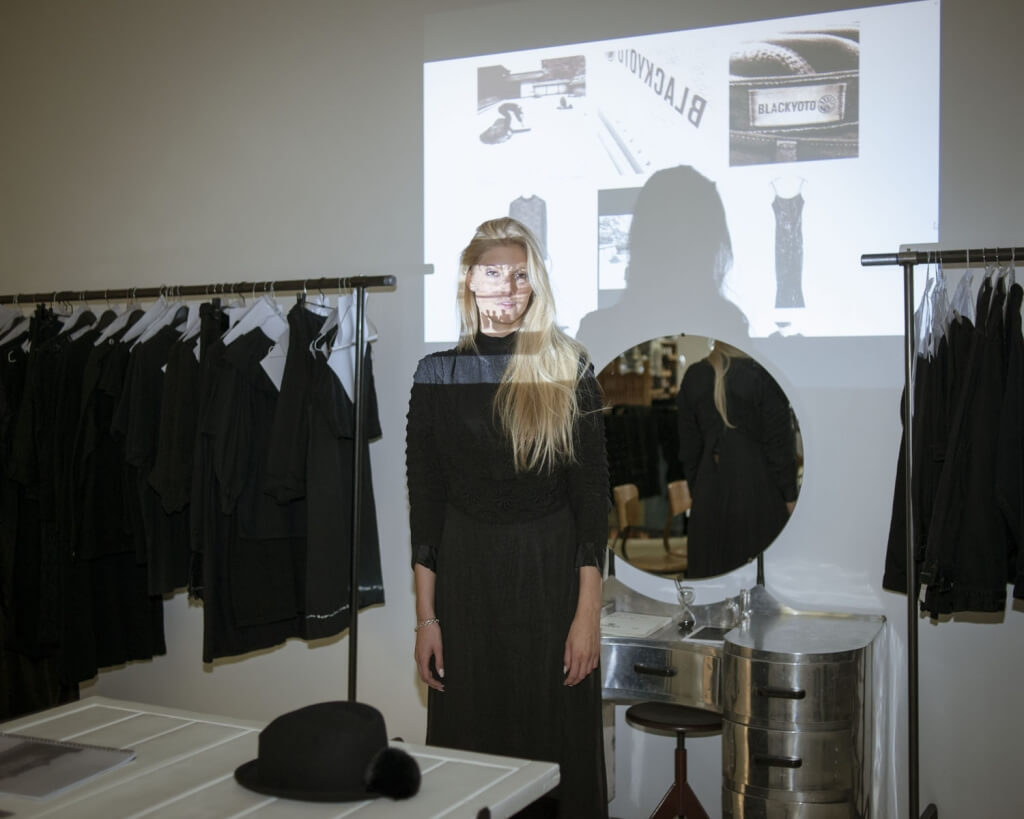 From Past To Present
In the three years that have passed since those first experiments, Blackyoto has settled into somewhat of a routine of inviting "the best fashion buyers on the planet" to showrooms and delivering a carefully curated selection of European and Japanese vintage garments to revered fashion retailers like Dover Street Market, Opening Ceremony, Louis Antwerp and SVMOSCOW. However, that doesn't mean the experiments have stopped. An incomplete list of items McAlpine produces from different racks lining the Blackyoto showroom includes:
– Vintage jeans, dyed black and hand-painted
–  An Italian cashmere sweatshirt, dyed black, with an application of vintage kimono silk
–  A judo coat, dyed black, with a hand-embroidered skull based on an 1860s samurai motif from a museum in Kyoto
– Tie-dyed military garments with an application of silk at the back
– Several other military garments, including a German snow cape, a Swiss jacket with 16 pockets, and a mesh shirt – each dyed black, some with embellishments
– An Italian military linen tablecloth from the officers' mess, knotted into a beach bag in a Japanese furoshiki style
– A black clutch made from a vintage obi belt
– Japanese workwear, dyed black
– A vintage embroidered kimono, dyed black, with only the gold threads left untouched by the colour
For smaller orders, McAlpine has been "working a great deal with a wonderful lady called Mrs Bamba. We don't ask her to do this, but every garment she dyes in her atelier is returned with wonderful sketches| [see image]. We cut them out and attach them to the garments' swing tags, so the buyer gets a very immediate sense of the journey the item has undertaken and the craft involved in creating it."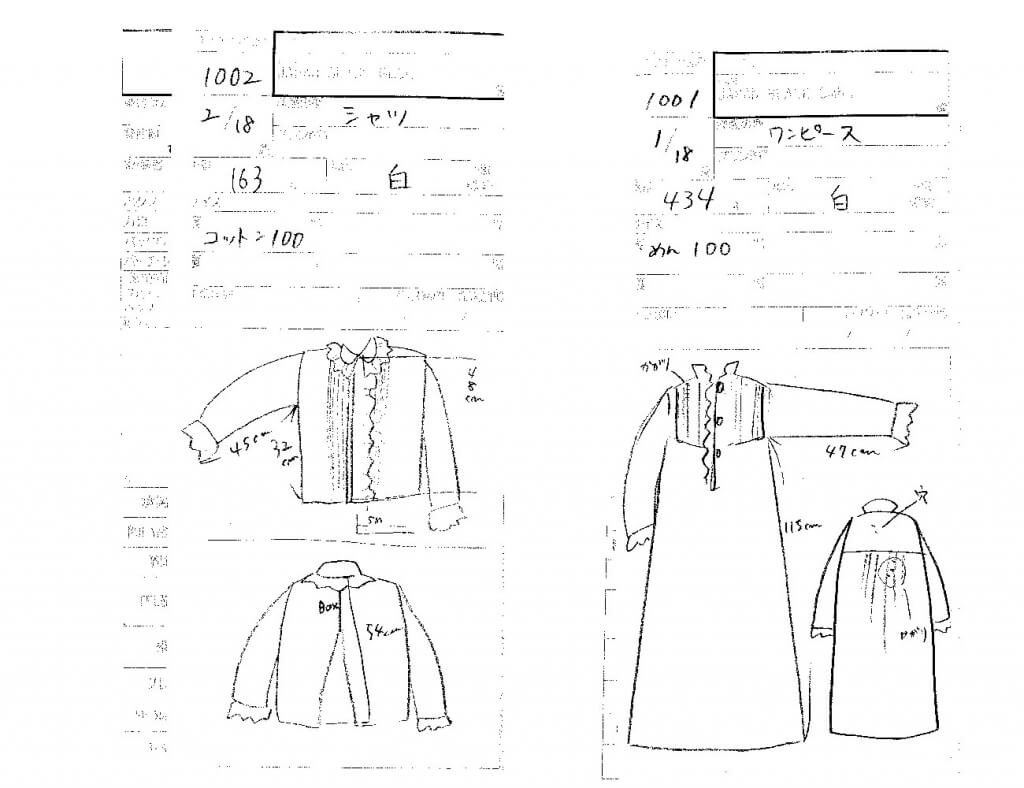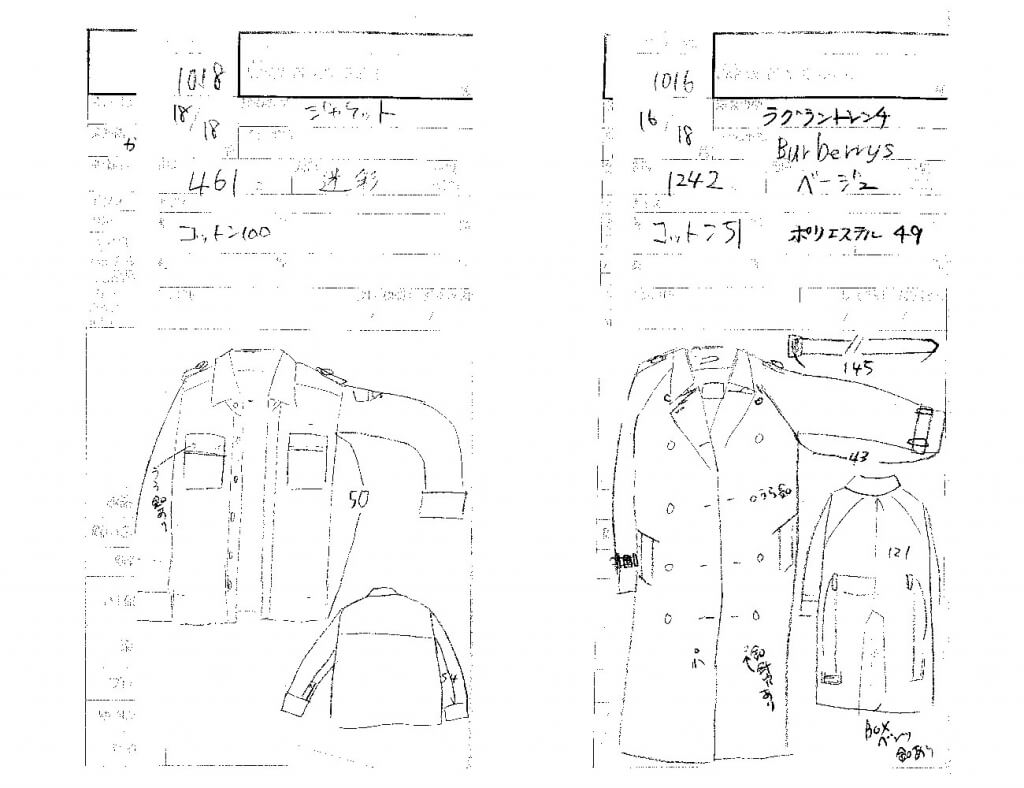 McAlpine explains the common thread connecting all these experiments. "It starts with the dye and from there, we try to keep it as authentic as we can. We give a new lease on life to something that has an inherent value. These kimono fabrics, the silk is just incredible. The detail of these Victorian petticoats, the fabric and the detailed embroidery – it all has a wonderful value, and we simply transform it with dye.
"It would be incredibly difficult to produce something like that new, but why would you when it's already out there and just needs to be put in a new context? That's fashion: nothing's really new, it's all been done before. It's all about context, emotions and what an item means to you."
Visit Blackyoto on Instagram.