';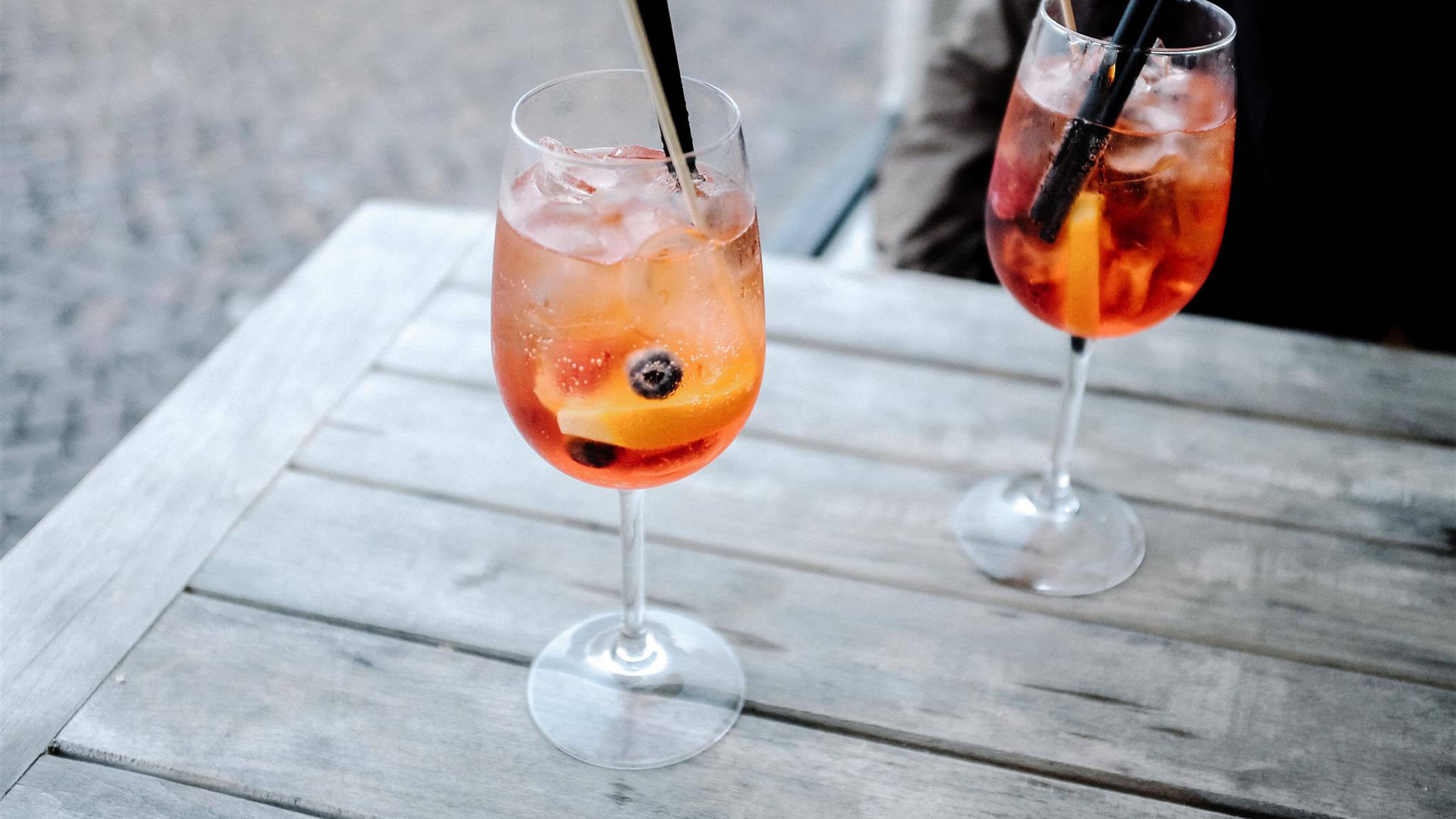 ;
Crave a cocktail, but not the boozy impact? In many Southern European countries, aperitifs based on vermouth, sherry or port are common – and the taste for wine-based tipples is catching on in other parts of the world, too. These beverages are lighter, more refreshing and carry more expressive fruity and floral notes. And to top it off, they won't have you under the table by the time dinner comes around.
Here's what top mixologists, baristas and bar owners suggest you serve up this summer.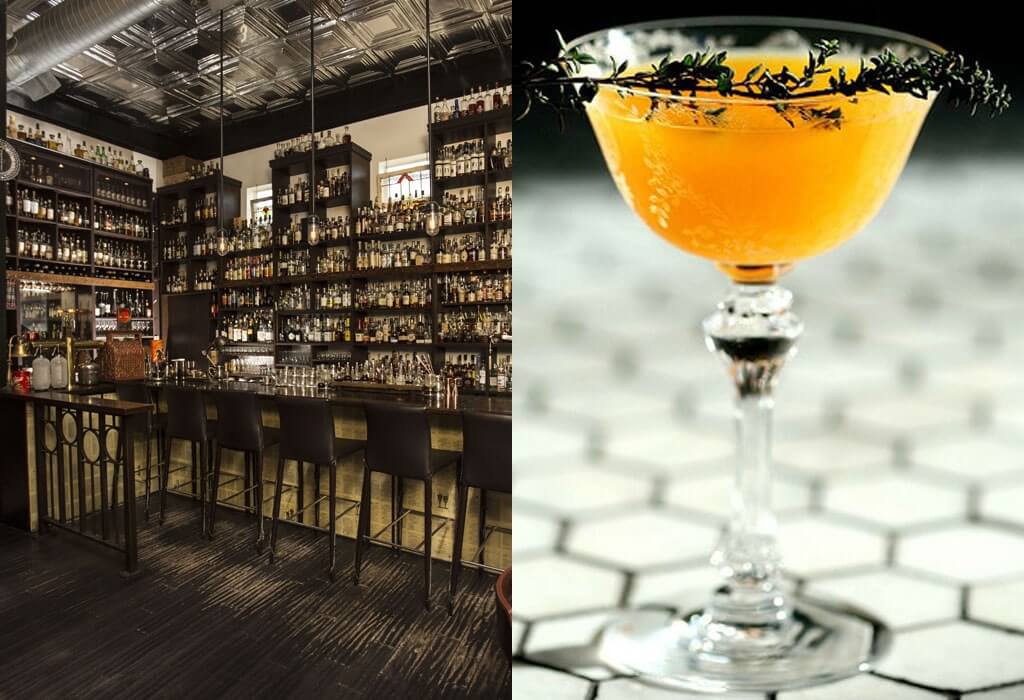 Aude Man Thyme
Canon, Seattle
"Most people think of wine as a product that should be consumed straight, and often forget that some of the best cocktails in the world have wine as an ingredient, in the form of vermouth, port or sherry. Wine-based 'cocktails' make excellent aperitifs, and help to keep your alcohol consumption down over the course of an evening. This 'Aude Man Thyme' is a wonderfully light beverage that almost demands to be consumed on a warm patio. The peach and Chardonnay hold hands, while the thyme gives the whole play date some interest." – Jamie Boudreau, Owner
Aude Man Thyme
60 ml (2 ounces) Chardonnay
30 ml (1 ounce) gin
2 sprigs thyme
30 ml (1 ounce) peach puree
Shake all ingredients with ice. Fine strain into a chilled cocktail glass, and garnish with a sprig of thyme. (If in season, muddle ¼ of a peach with 7 ml (¼ oz) simple syrup – instead of puree – in a shaker, and then follow other directions.)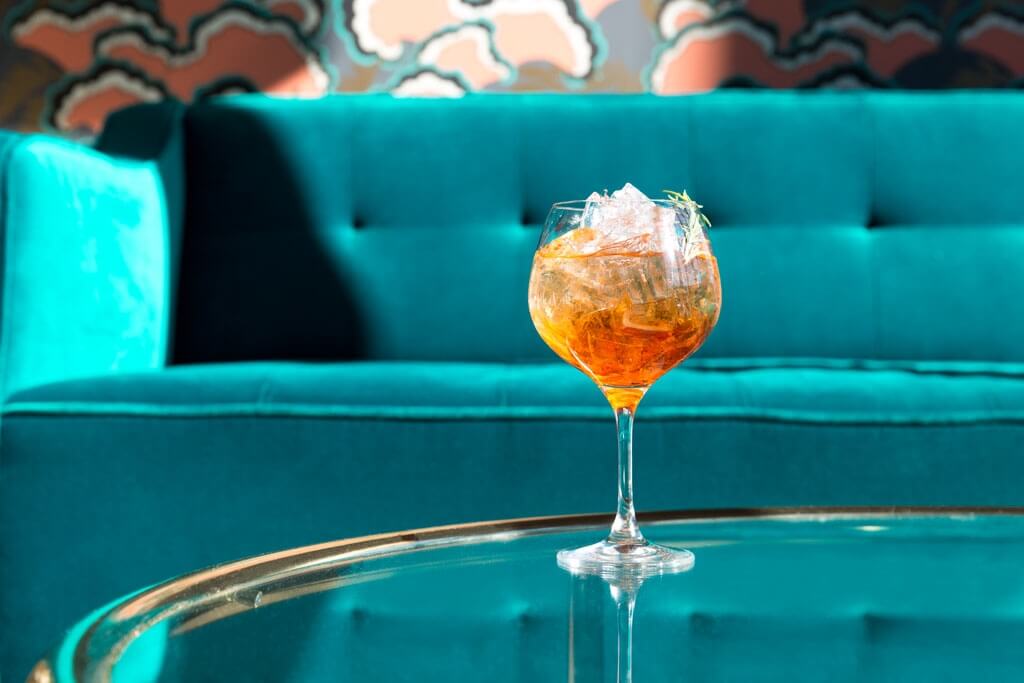 The Paramour
Red Herring, Los Angeles
"When it comes to great summer wine cocktails, there's nothing better than the classic spritz – they're light, bubbly and insanely refreshing. At Red Herring we use Aperitivo Cappelletti, an aperitif wine from the Trentino-Alto Adige region in Italy, that has a similar taste to Campari, but don't be afraid to experiment with any of your favourite amari or vermouths!" – Patrick Thomas, Bar Manager/General Manager
The Paramour
60 ml (2 ounces) Aperitivo Cappelletti
60 ml (2 ounces) dry sparkling wine (we use cava)
60 ml (2 ounces) sparkling water
Fill a wine glass with ice and measure in the ingredients, stir together then top up with ice and garnish with an orange slice.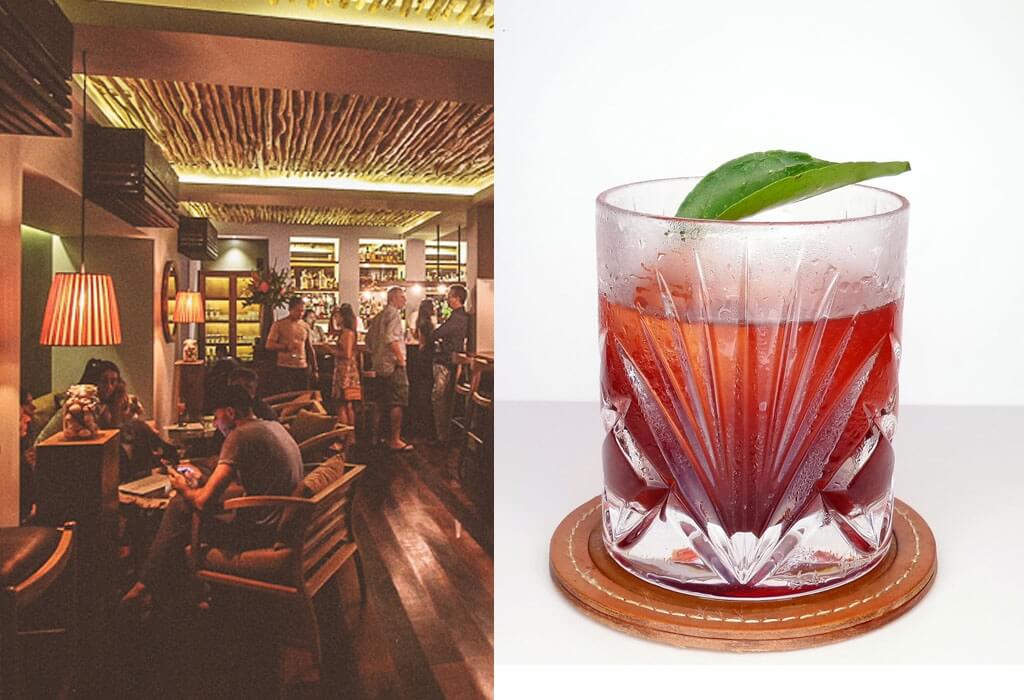 "I created this cocktail because I don't enjoy the classic Negroni that much, especially the Campari in it (hence the name: our chef is Dutch, and "Nee" means "No" in Dutch). When I started looking for alternatives, I found videos of people making their own sweet vermouth, infused with all kinds of interesting spices. We started experimenting with leftover wine from our restaurant, Locavore, infusing the wine with wild herbs and spices and sweetening it with palm sugar. The taste of our homemade vermouth is really nice and complex; sweet, very pungent and with a note of fresh wormwood that one of our farmer friends is growing especially for us." – Raka Ambarawan, Resident Mixologist
Nee-groni
45 ml of Tanqueray gin
30 ml of (homemade) sweet vermouth
Mix the gin with the vermouth. To give it a Balinese twist, we drop in a fresh kaffir lime leaf.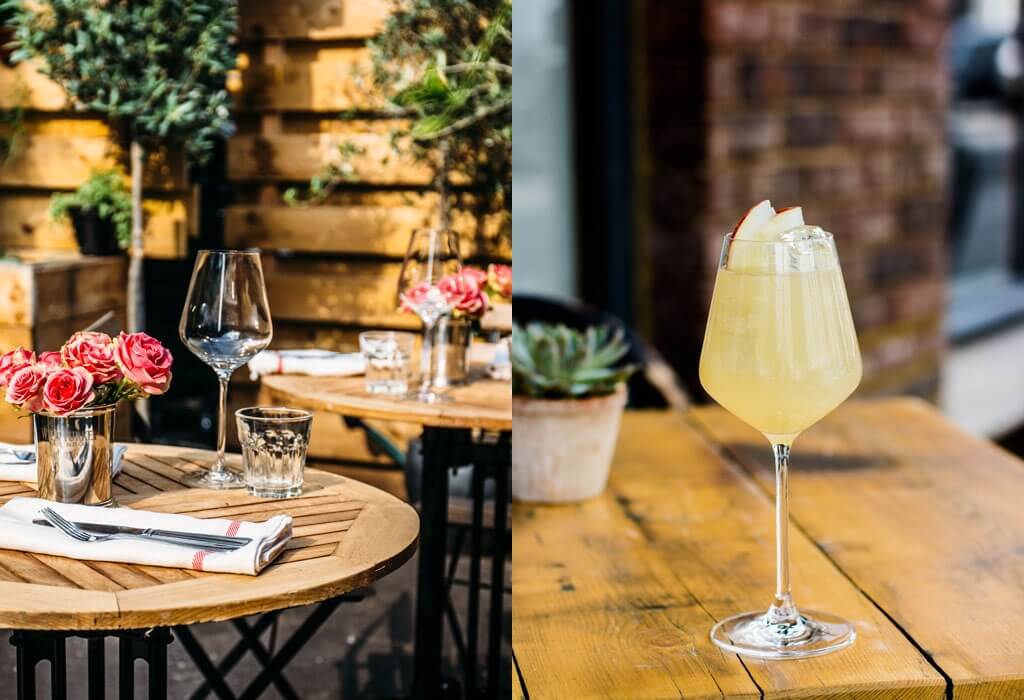 The Cherry Orchard
Carousel, London
"One cocktail I'm doing at the moment is with a beautiful English sparkling wine from East Sussex. For me it's the perfect summer drink and encapsulates everything that summer in England is. It contains a mixture of foraged and local (to the southeast) produce, and is designed to refresh, sitting in Carousel's beautiful hidden garden." – Matt Varona, Bar Manager
The Cherry Orchard
First make a cherry blossom cordial by steeping blossoms in a light sugar syrup overnight, and then bottle. When this is ready, cold press (juice) a mixture of apples (we use Kentish apples from Chegworth Farm). To this add a good glug of Kentish Apple Verjuice (sour apple juice) and finally top up with sparkling wine (we use Davenport Limney Estate Sparkling wine). Serve this in a wine glass with plenty of ice and a slice of apple. It's simple but (golden) delicious.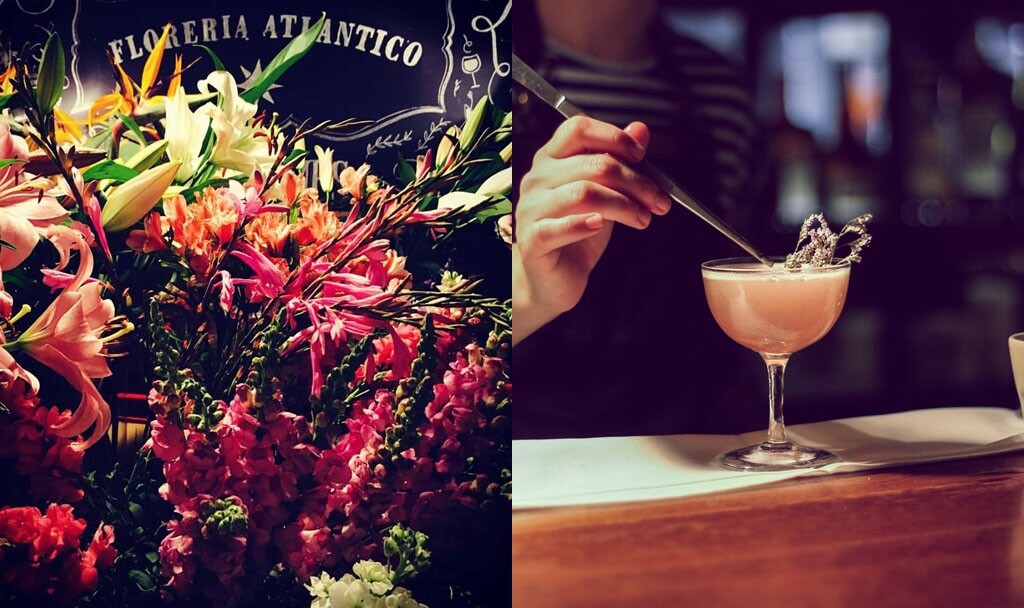 "One of our hits at the moment is the Sainte Marthe, based on Vuelá Rosé wine, with lemon juice and a syrup of lavender and Ricard. It's a fresh and light cocktail, with the right balance between sweetness and acidity. We choose rosé pinot gris wine because it is quite fresh, with floral notes, and with strong enough acidity and persistency to combine it with a lavender and Ricard (anise liqueur) syrup. The intention is to still be able to enjoy the wine in combination with the rest of the ingredients for a totally refreshing result. Enjoy!" – Victoria Etchaide, Bar Chef
Saint Marthe
60 ml of rosé
35 ml fresh lemon juice
35 ml syrup of lavender and Ricard
Lavender or lemon flower for garnish
Mix ingredients together in a shaker. Serve and decorate with a lavender or lemon flower as a final touch.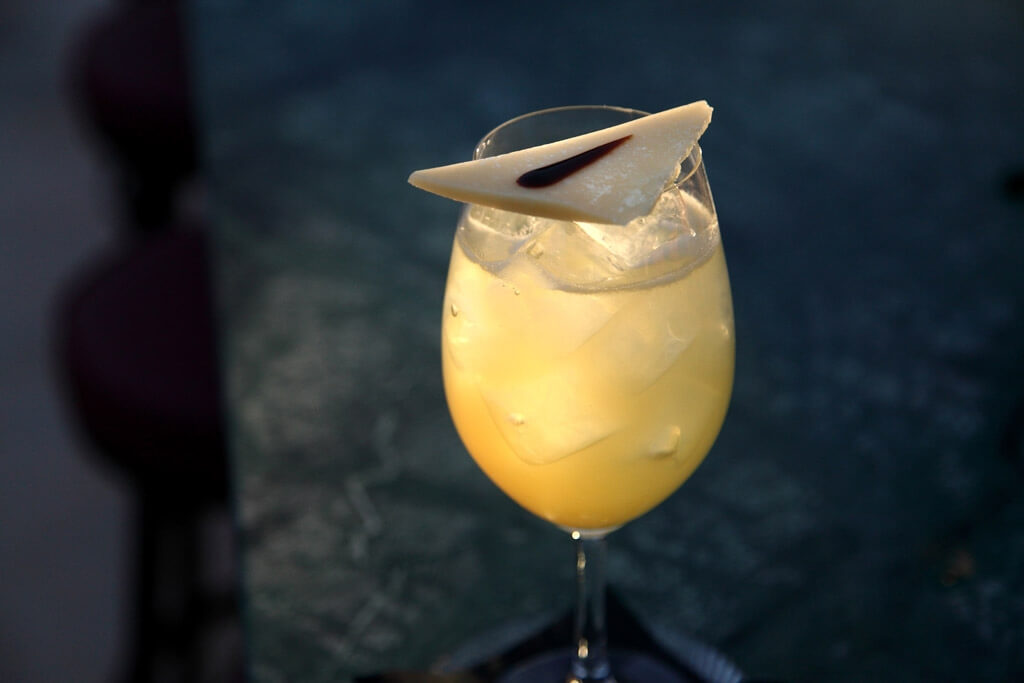 Lazy On A Sunny Afternoon
Baba Au Rhum, Athens
"Best enjoyed with friends during summer, this drink takes advantage of the complex character of pisco, combined with the spring notes of elderflower and the fresh and sour notes of green apples to complement the sparkling wine. This drink was created by Phaedon Papakonstantinou, our bartender, for an Italian Cocktail Competition and was the winning cocktail. Have a slice of Parmigiano cheese after you're finished with the drink, it's great." – Thanos Prunarus, Owner
Lazy On A Sunny Afternoon
20 ml pisco
35 ml green apple cordial
5 ml elderflower liqueur
7 ml fresh lime juice
70 ml sparkling wine
Add all ingredients except the sparkling wine in a shaker. Shake and fine strain into a wine glass over cubed ice. Top up with sparkling wine. Garnish with a slice of Parmigiano cheese dressed with a few drops of fig-flavoured balsamic cream.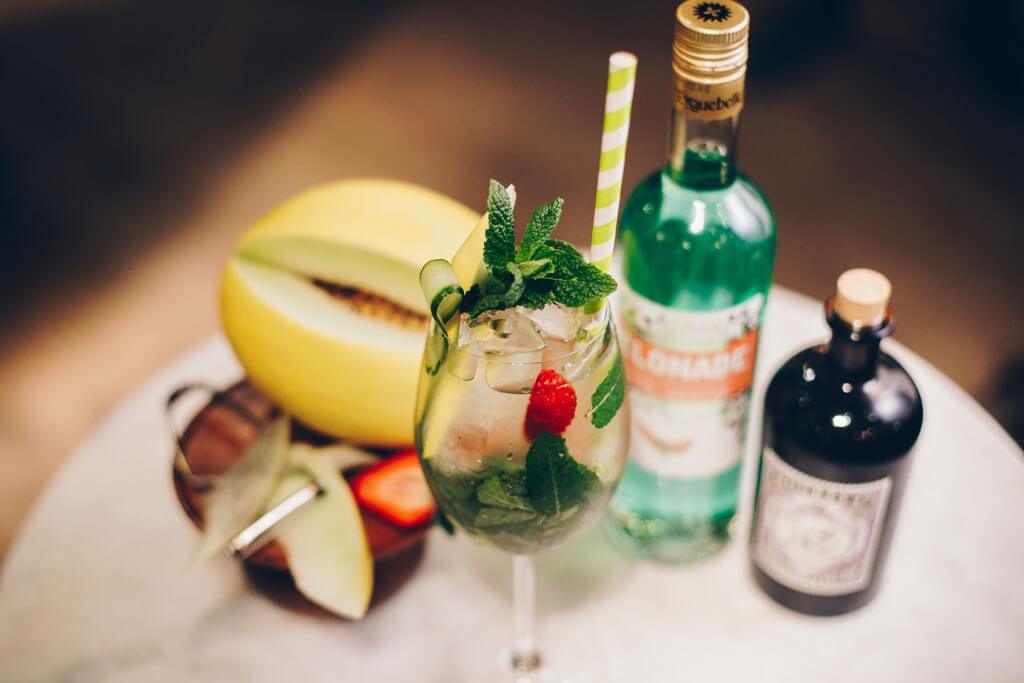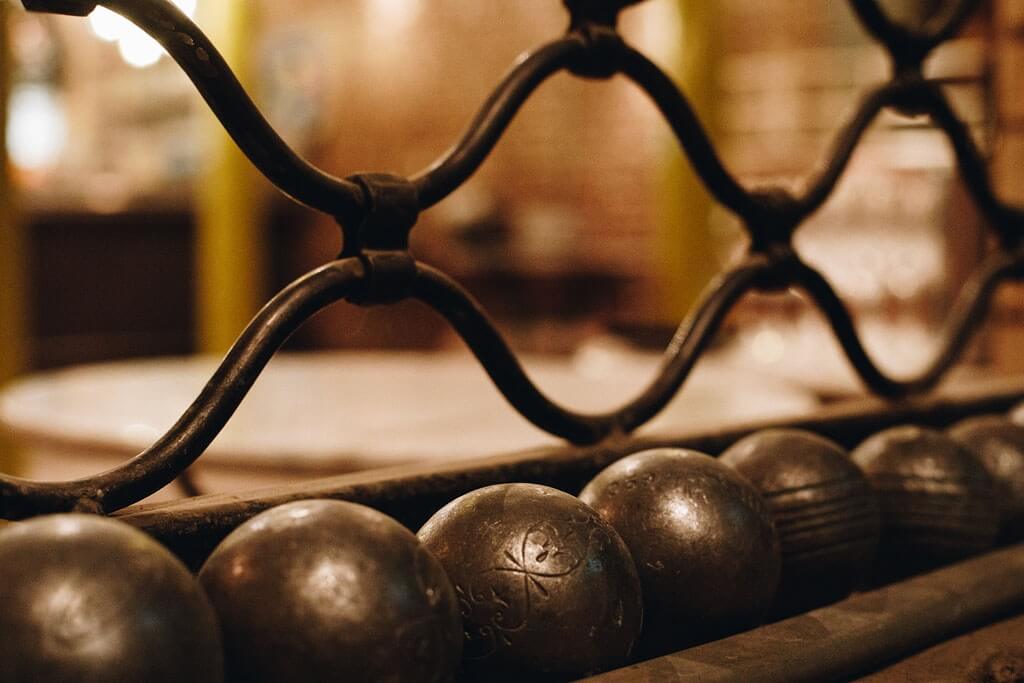 St Raphael Spritzer
Baranis, London
"This cocktail is lovely, fruity, refreshing and has 'French Riviera' written all over it. I used a basic spritzer you'd find on holiday in Provence, and modernised it with gin, elderflower and fruits to suit a London audience. It's great all year-round, but specifically in summer. Wonderful to try over a game of pétanque in our pétanque court." – Enkeled Pllumbaj, Manager
St Raphael Spritzer
25 ml Monkey 47 gin
100 ml of Provençal rosé wine
15 ml of homemade elderflower cordial
15 ml fresh lemon
Tonic water
Mix all liquids together and top up with tonic. Garnish with mint, cucumber, strawberry and melon.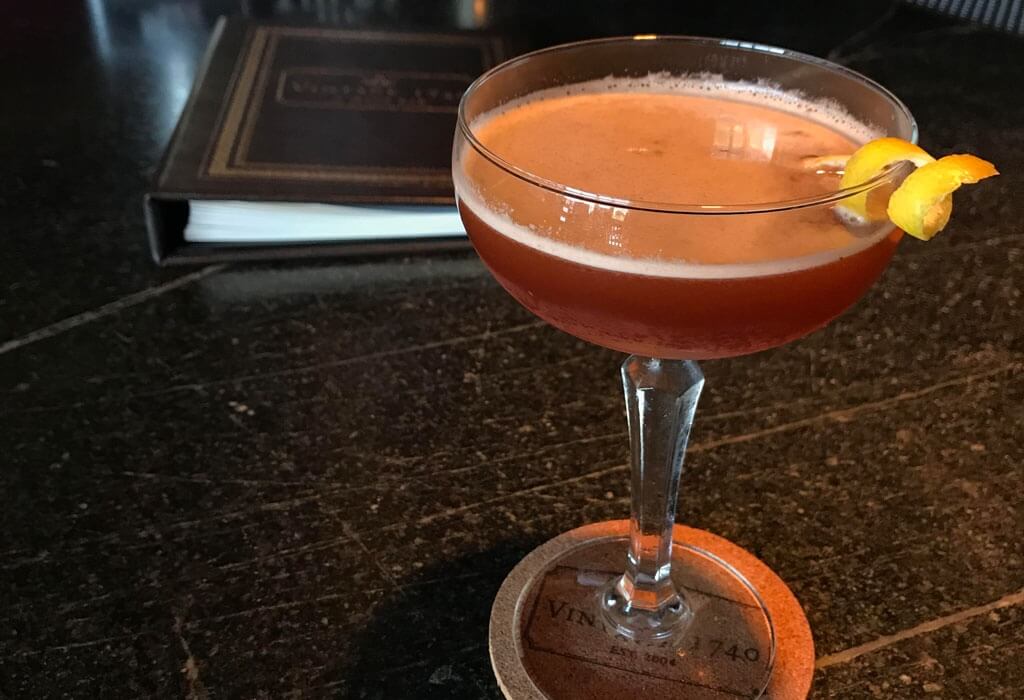 Same, But Different
Vintage 1740, Tulsa
"Vintage opened in 2004 and set its sights on pursuing all things great in the world of wine. We also followed the ongoing cocktail trend, so it was a no-brainer to start creating wine-based cocktails, or 'shims'. One of our regulars loves what we do with wine-based cocktails, but wanted a little more booze at the end of his day. So I came up with a cocktail that was loosely based on a Sherry Cobbler cocktail. I called it 'Same, But Different'." – Matt Sanders, Owner
Same, But Different
45 ml (1.5 ounces) of Lustua East India Sherry
30 ml (1 ounce) of Elijah Craig bourbon
15 ml (0.5 ounce) lemon juice
15 ml (0.5 ounce) strawberry syrup*
Put all of the ingredients in a mixing glass, add ice and shake vigorously until properly infused and cold. Double strain into a coupe. Garnish with a lemon twist.
*Strawberry Syrup
240 ml (1 cup) each of granulated sugar, water and strawberries
Combine all ingredients in a small saucepan over medium-high heat. Stir until sugar dissolves. Remove from the heat and let cool to room temperature. Strain into a glass bottle and refrigerate up to 2 weeks.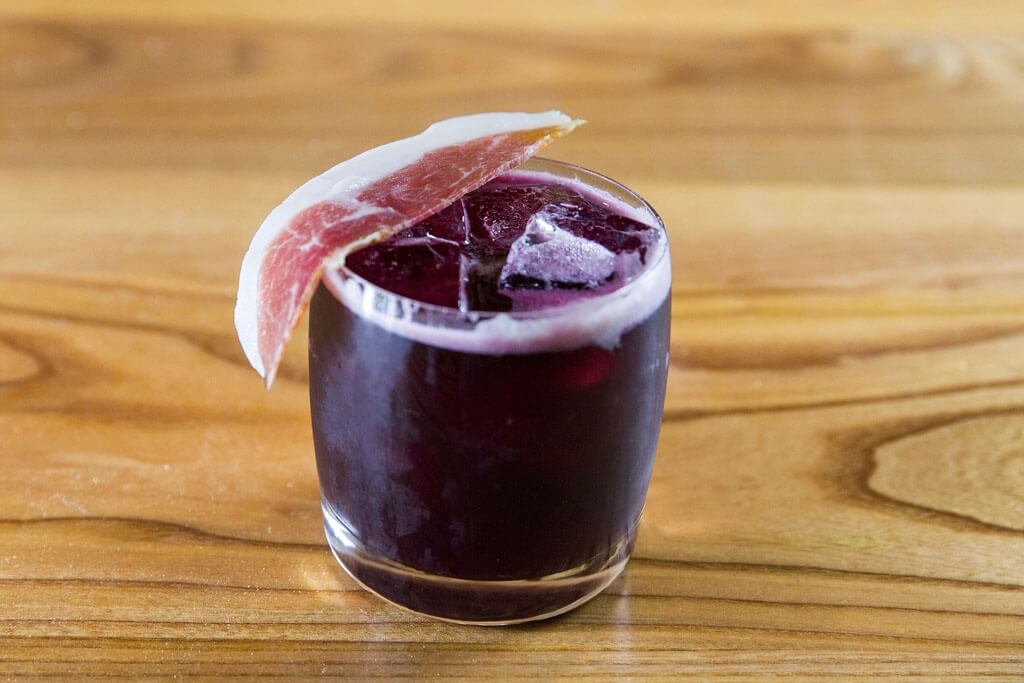 "At Heartwood Provisions, we are all about food and cocktail pairings – it's our specialty! When creating cocktails for Heartwood's menu, I will often look towards classic food and beverage pairings for inspiration. For this drink, the Emilia-Romagna classic of pairing Lambrusco with cured meat was the vision. I get especially excited about thoughtful and interactive garnishes, and garnishing a cocktail with meat seemed like such a fun idea. The black pepper scotch gives a bold, smoky and spicy flavour that is a perfect match for the meat. The sherry gives it a savoury richness. Adding a pinch of salt and a little fresh lime balances all the earthy, savoury flavours." – Amanda Reed, Beverage Director
5 O'Clock Shadow
30 ml (1 ounce) Black Pepper-Infused Scotch*
60 ml (2 ounces) Moscatel Sherry (PX or Oloroso may be substituted)
7.5 ml (1/4 ounce) Fresh lime juice
A Pinch of Salt
60 ml (2 ounces) Lambrusco
Garnish: Serrano ham (or cured meat of your choice)
Build all ingredients into a highball. Add ice and give a quick stir and garnish.
Black Pepper-Infused Scotch
6 tbsp of whole black pepper
1 bottle of Scotch (I like to use an Islay for the smoky flavour, but any Scotch will do)
Combine the scotch and peppercorns. Let it steep for 1-2 days, stirring occasionally. Strain out the peppercorns prior to use.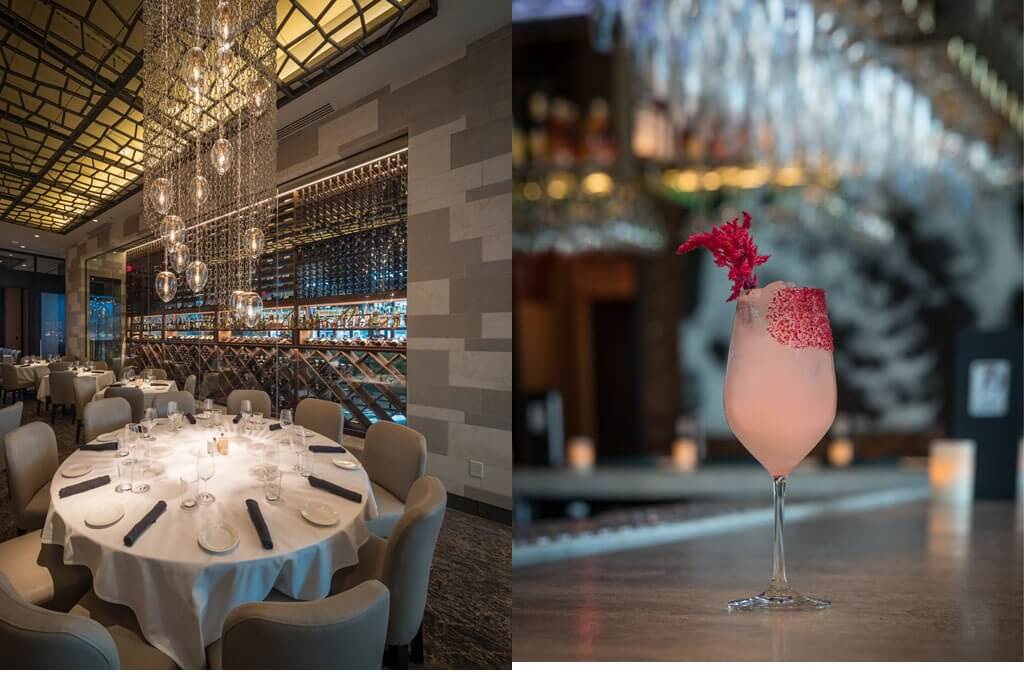 "Rita Rosé Olé is a wine-based cocktail made with Casa Madero rosé wine from Mexico and Código 1530 Rosa Tequila. The rosé starts slightly sweet and smooth with a crisp, fruity, garden-fresh intensity. Made with 100% Cabernet Sauvignon, it has notes of candied orange, fresh red berries and apricot, giving it a refreshing taste. The Código 1530 Rosa Tequila has rested just long enough in Cabernet barrels to enrich the natural agave juice, without overpowering its delicate floral notes. This cocktail is a twist on the traditional margarita, while still giving a nod to the history of Mexican wines and spirits." – Susi Zivanovic, Corporate Sommelier and Beverage Director
Rita Rosé Olé
30 ml (1 ounce) Codigo Rosa Tequila
30 ml (1 ounce) simple syrup
15 ml (0.5 ounce) fresh lemon juice
45 ml (1.5 ounce) rosé wine
Mix ingredients together in a shaker and pour over ice in a chilled glass.