';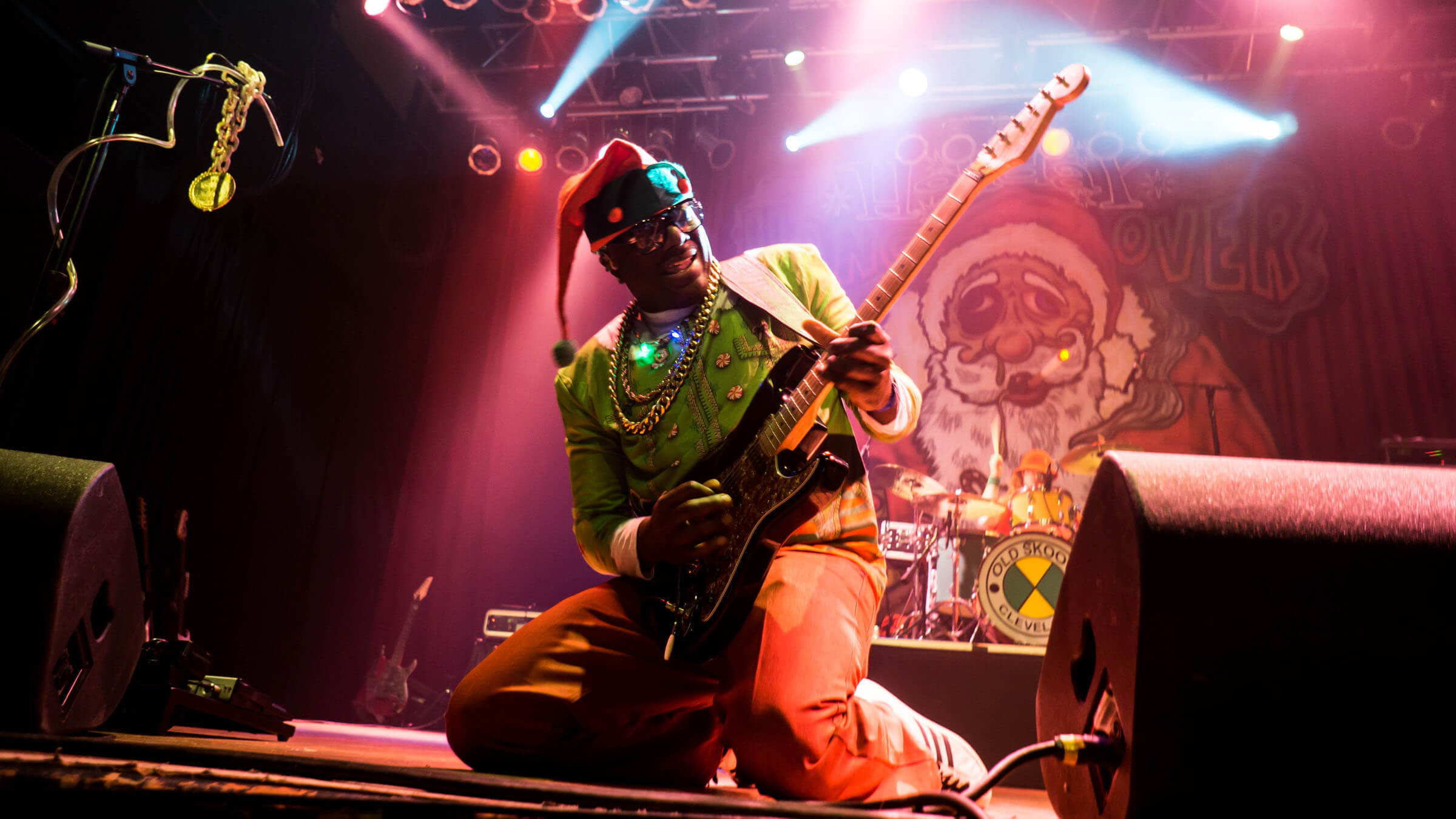 ;
It's that time of year again, folks, and there's nothing like a little heart-warming cheesiness to get you into the holiday spirit. So here is our gift to you: All the classic carols you expect, a few modern songs you might not, and a weird ditty here and there to keep you on your toes. Happy holidays and merry Christmas!
"Jingle Bell Rock" – Bobby Helms
Let's be honest: There's no other way to start off a cheesy holiday playlist. Though it was first recorded by Bobby Helms in 1957, "Jingle Bell Rock" still gets airtime around this time of year, every single holiday season. For those of us who can quote the entire Mean Girls movie, the song might bring on some grins of appreciation.
"Fairytale of New York" – The Pogues
Shane MacGowan of The Pogues described the hit song in an interview like so: "…it's about these old Irish-American Broadway stars who are sitting round at Christmas talking about whether things are going okay". It's been dubbed "the best Christmas song of all time" by many in the UK. Since it's the country's most-played seasonal song of the 21st century, that title might have some merit.
"Santa Claus Is Coming to Town" – The Jackson 5
Sometimes a classic Christmas carol is taken up by a modern band and turned on its head – with really cool results. Such is the case with the Jackson 5's rendition of "Santa Claus Is Coming to Town". You might have heard the original at some point, but we all know this is the groovier version.
"Father Christmas" – The Kinks
This is probably the best rock and roll Christmas song out there. The Kinks cleverly mixed class issues into the Christmas theme by writing lyrics from the perspective of poor boys who are basically mugging Father Christmas. "Father Christmas, give us some money, don't mess around with those silly toys!"
"Grandma Got Run Over By A Reindeer" – Elmo & Patsy
This might be one of the weirdest Christmas songs out there. Singing couple Elmo and Patsy Trigg Shropshire started selling 45s of the song from the stage in 1979, and it slowly gained attention from country radio stations in the '80s. As far as the story of the song – well that's pretty obvious… Maybe don't play this one around your mother-in-law.
"You're a Mean One, Mr. Grinch" – Boris Karloff
It all started out with the story How the Grinch Stole Christmas, written in 1957 by the one and only Dr. Seuss. The popularity of the children's book resulted in a movie and this hit song – with lyrics written by the author himself.
"Santa Baby" – Eartha Kitt
Legendary singer Eartha Kitt has said that "Santa Baby" was one of her favourite songs to record – and we can see why. The playful jazz number became an immediate hit after it's 1953 release and has been covered numerous times by women from Kylie Minogue to Madonna – but nothing beats Kitt's original version.
"Christmas In Hollis" – RUN DMC
Christmas music doesn't always have to consist of sappy songs from the '50s. RUN DMC proved that in 1987 with this single, which refers to the neighbourhood they hail from in Queens. Rock around the Christmas tree with style!
"Last Christmas" – Wham!
Nothing says perfectly-crafted '80s pop quite like Wham!! (We admit it, that sentence was mostly an excuse to write two exclamation points). The timeless George Michael song can be heard everywhere from Japan to the US during the holiday season. The London band donated all royalties from the single to victims of the Ethiopian famine at the time.
"White Christmas" – Bing Crosby and Martha Mears
Want to know what the best-selling single is of all time? This is it. Bing Crosby's 1952 version of the classic song has sold over 150 million copies. The song made history in more ways than one, though; written by Jewish-American songwriter Irving Berlin, it proved that secular Christmas songs could be commercially successful and was a favourite among soldiers during WWII.
"Baby, It's Cold Outside" – She & Him
Okay, so it's another over-played oldie, but this modern version by She & Him (a band consisting of Zooey Deschanel and M. Ward) keeps the song fresh. Deschanel sings the part traditionally sung by men, while Ward sings the traditionally female part for a slightly faster, more playful rendition of the original ditty. She & Him have put out several Christmas albums over the past few years – highly recommended for those sick of Bing Crosby and Frank Sinatra.
"Happy Xmas (War is Over)" – John Lennon, Yoko Ono with the Harlem Community Choir
I'm not crying, you're crying! This tear-jerker from John Lennon was meant to be part feel-good holiday hit, part political protest against the Vietnam War. Fun fact: In the beginning of the recording, Lennon and Yoko Ono each whisper greetings that are meant for their children (from previous relationships): "Merry Christmas, Kyoko. Merry Christmas, Julian".
"All I Want For Christmas Is You" – Mariah Carey
As this list can attest, there aren't many modern Christmas songs that can compete with the golden oldies – but, as The New Yorker exclaimed, this is "one of the few worthy additions to the holiday canon". Mariah Carey's "All I Want For Christmas Is You" was first released in 1993 and has been a foot-stomping hit ever since.
"Frosty the Snowman" – Fiona Apple
Some people simply CANNOT stand Christmas music – we're guessing they work at a store that plays the same ten holiday songs all season. For them, we offer this beautifully fresh rendition of "Frosty" from Fiona Apple. Even they can't hate this one!
"The Christmas Song (Chestnuts Roasting On An Open Fire)" – Nat King Cole
Nat King Cole. Need we say more? The jazz legend arguably sings this classic better than anyone else, past or present. Bow down to the man with the velvet voice.
"Dominick the Donkey" – Lou Monte
This might take the (Italian) cake for the kitschiest of the holiday kitsch. The weird little ditty tells the story of an Italian donkey that helps Santa get around Italy with his sleigh – because the reindeer can't handle all the hills. Enjoy.
"R2 D2, We Wish You A Merry Christmas" – Jon Bongiovi
This. Is. Amazing. Ever wonder where Bon Jovi got his start? Here you go: A Christmas song from 1980 featuring the beep boops of R2 D2 and the new voice of a guy called Jon Bongiovi. It's a forgotten little gem. You're welcome.
"Christmas Rappin" – Kurtis Blow
Here's another artist who got his start with a Christmas song: Kurtis Blow recorded "Christmas Rappin" with Mercury Records as his first single, which also happened to be the first rap song to be released by a major label. Have yourself an old-school Christmas.
"Must Be Santa" – Bob Dylan
We're noticing a trend. It seems like pretty much every well-respected musical artist has produced an interesting (read: awful) holiday single at some point in their career. In Bob Dylan's case, we have this. It's catchy, has ridiculous lyrics and sounds like an explosion of Christmas confetti. Awesome.
"Little Drummer Boy" – The Dandy Warhols
We probably could have included the original version of this one, but we like The Dandy Warhols' rocky synthed-up version better.
"The Twelve Days of Christmas" – John Denver & The Muppets
The Chipmunks' rendition of this classic is no doubt a popular one, but we decided to save your ears from squeaky voices and chose this goodie with the Muppets instead. Highlights: Miss Piggy singing "Five goooooold rings" and Beaker's "meeps". This one is for the kiddies – and by that we mean all the grown-ups who grew up singing this song at the top of their lungs.
"Feliz Navidad" – José Feliciano
We all know this had to be on the list – no holiday season is complete without it. Puerto Rican singer/songwriter José Feliciano released this song in 1970, and it's been blasting on holiday radio stations in South and North America ever since.
"It's Beginning to Look a Lot Like Christmas" – Michael Bublé
In case you didn't already know, Michael Bublé's rich voice sounds like it was forged in the '50s and then brought to modern times as a shiny, bowtie-wearing gift.
"Carol of the Bells" – George Winston
Ukrainian Composer Mykola Leontovych is credited with creating this beautiful piece in 1914. By 1921, "Carol of the Bells" had been performed before a sold-out audience at Carnegie Hall. Though the lyrics are also captivating, this instrumental version by brilliant pianist George Winston is our favourite because it gives us goosebumps.
"Stille Nacht" – Thomanerchor
There is a beautiful story behind the tear-inducing classic "Silent Night". The Austrian carol was composed by Franz Xaver Gruber with lyrics from Joseph Mohr in the small town of Oberndorf bei Salzburg, Austria back in 1818. Soldiers fighting in the cold winter of World War I started to sing the song together in English and German during the incredible Christmas truce of 1914. If that isn't Christmas spirit, we don't know what is.
We hope to help you get into the holiday groove with our playlist – check out the full YouTube version at the top of the page, or the Spotify version below. And with that, we wish you happy holidays, a merry Christmas and a happy New Year!
There can only be one… What is your ultimate Christmas pop anthem?