';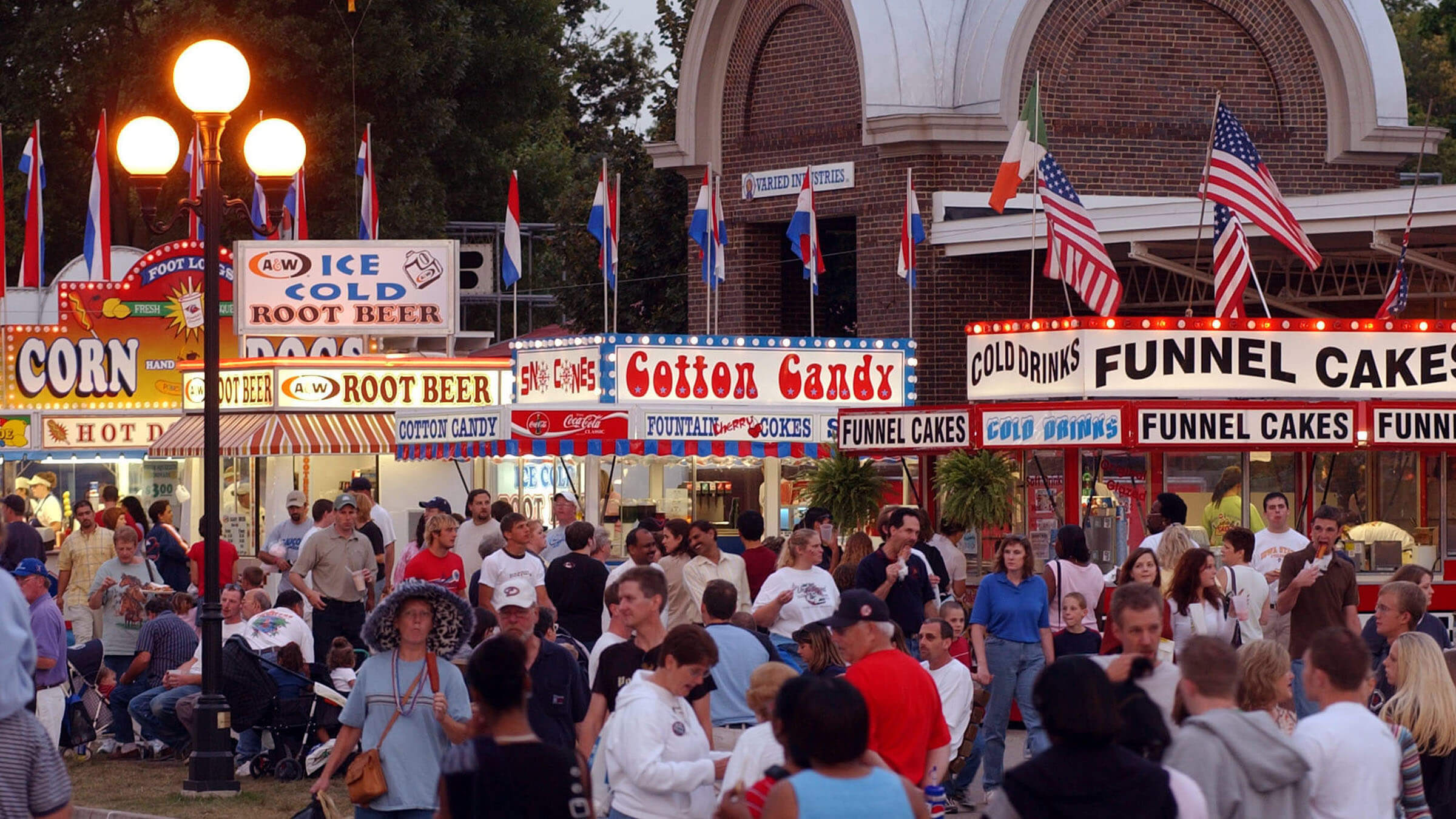 ;
When tourists come to the United States, the usual pit stops are big cities like New York and Los Angeles. However, if you're looking to see another side of American culture, we invite you to step into the spectacular world of rural state fairs. There is – or has been – a state fair in pretty much all 50 states, but some are better (or stranger) than others. Here are our picks of the ones you should definitely give a go, whether you're a European tourist or an American city slicker escaping the concrete jungle.
Iowa State Fair
When: 10-20 August, 2017
Must See: The Butter Cow
Must Eat: Deep-fried nacho balls or 'corn in a cup'
The Iowa State Fair is widely regarded as the best of the best. Having started out in 1854 as a way to celebrate Iowa's proud agricultural culture and industrial achievements, today the fair becomes the beating heart of the American Midwest each summer, attracting a huge crowd of well over one million visitors across the 10-day event. Hundreds of Iowans take part in traditional contests to see which farmer has reared the largest boar and which cowboy or cowgirl is the sharpest shooter on horseback. Not quirky enough for you? The fair hosts a range of oddball competitions, from Husband Calling to Rubber Chicken Throwing and the Marvelous Hat Contest – just to name a few. Strange traditions aside, the Iowa State Fair is probably best known for its amazing food stands, with more deep-fried choices on offer than you can shake a stick at – and lots of it actually comes on a stick. You can't leave without Apple Pie On-A-Stick, the Ultimate Bacon Brisket Bomb or, new this year, the Pancake Taco. Before you leave with an extra-full stomach, you need to see the famous Butter Cow, too …which is exactly what you think it is.
Alaska State Fair
When: 24 August – 4 September, 2017
Must See: Giant Cabbage Weigh-Off
Must Eat: Veggie Tray or Donut Burger
Alaska began organising state fairs long before it actually became the 49th state. Like Iowa, the Alaska State Fair is known for its many unique contests, but there's one competition in particular that sets this fair apart: the Giant Cabbage Weigh-Off. Alaskan farmers are known to grow some enormous produce, so having a look at the winners of each category is an experience in itself. The Giant Cabbage contest's biggest winner was farmer Scott Robb's 138.25 lb (62.7 kg) colossal veggie, the world's heaviest cabbage ever recorded. Alaska's fair is also known for its beautiful exhibition of flowers and some delicious veggie trays (a great healthy alternative to all the fried food).
Minnesota State Fair
When: 24 August – 4 September, 2017
Must See: The Minnesota State Fair Amateur Talent Contest
Must Eat: Sweet Martha's Cookies
The Minnesota State Fair was started way back in 1859, and has since become one of the most family-friendly fairs in the country. During the day you can learn all about farming at the interactive exhibitions, one of the best being the Miracle of Birth Center. Here, visitors watch as over 200 baby animals are born and take their first steps right before their eyes, from tiny pink piglets to fluffy little chicks. In the evening, hundreds gather at the Bandshell for the amatuer talent contest, where Minnesotans strut their stuff in front of a panel of judges. It goes without saying that you have to try out some of the food specialties, but even better is the All-You-Can-Drink Milk Booth: as much fresh milk as you want for a buck.
State Fair of Texas
When: 29 September – 22 October, 2017
Must See: Big Tex, Texas Star Ferris Wheel
Must Eat: All things deep fried
They say everything's bigger in Texas, and the State Fair of Texas is no exception to the rule. Though an official count isn't taken, this state fair attracts the largest crowd in the country and offers tons and tons to see. Not only is it the sole fair in the U.S. with a full auto show, but it also hosts the Texas State Fair Football Showdown at its stadium and offers more than 70 rides on its famous Midway. At 212 ft (65m), Texas Star Ferris Wheel was the largest ever built when it was introduced in 1985, while the newer Top o' Texas lifts visitors 500 ft (152m) in the air for sweeping views of Dallas. We would suggest trying out the deep-fried Oreos and chicken fried bacon before all that, though. When you leave, make sure to wave goodbye to Big Tex, the 55 ft (16m) tall cowboy that has been the official fair mascot for more than 60 years.
Traditional fairs are usually an effervescent mix of fun, folk tradition and kitsch in equal measure, what is your fair strategy?