';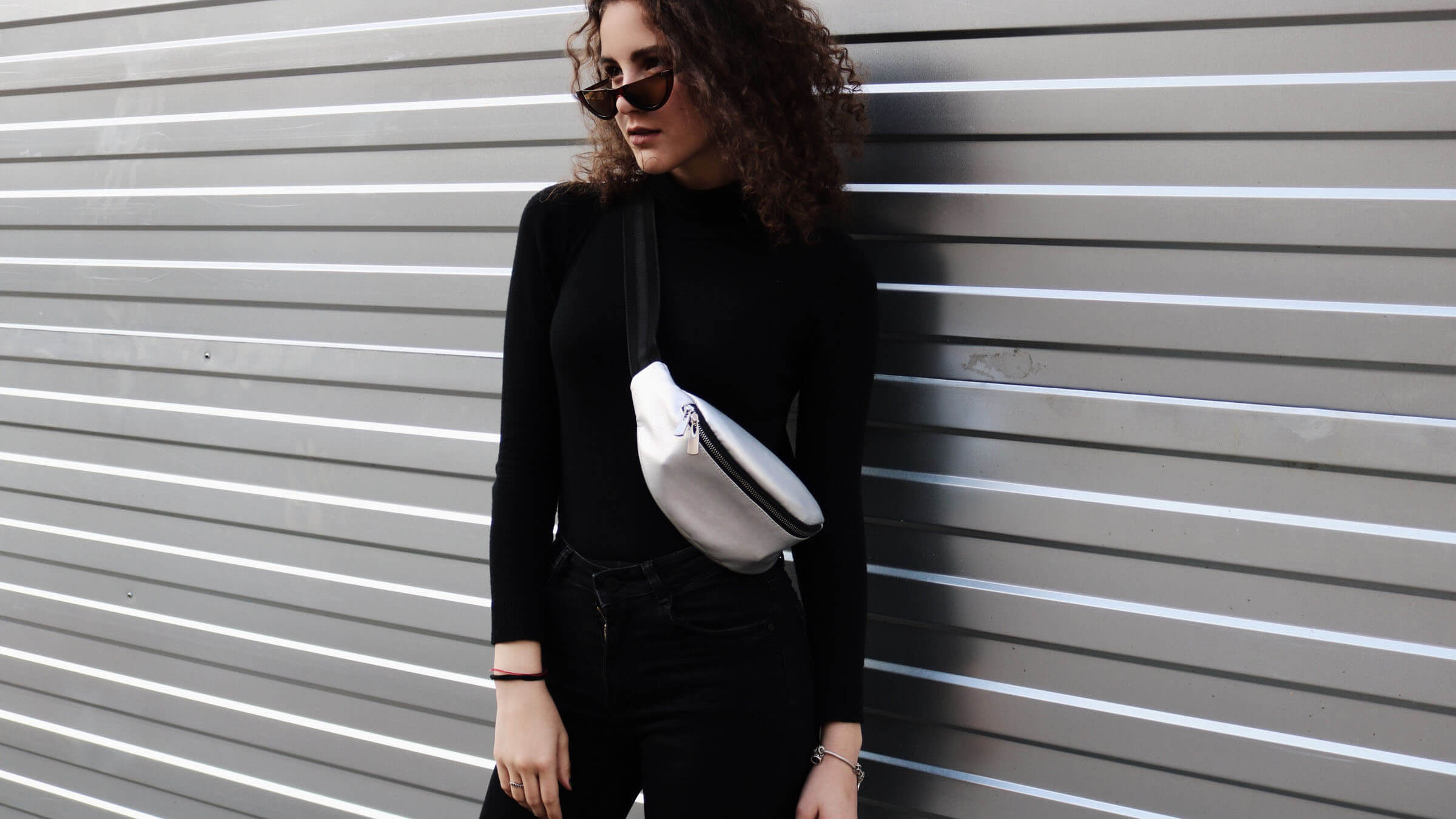 ;
The '90s have returned – at least when it comes to fashion. From dungarees to flannel, chokers and combat boots, trends that we waved goodbye to in the noughties are re-emerging on catwalks and shop windows everywhere. But perhaps none have taken us by surprise quite like the belt bag.
That's right. Love it or hate it, the bum bag is back.
Luckily, the 2019 version of this functional yet controversial accessory has little in common with the bright plastic monstrosities flaunted by flocks of tourists in the '90s. Instead, such legends of fashion as Chanel, Gucci and Louis Vuitton have taken it upon themselves to put the belt bag back on the style radar and make it shine.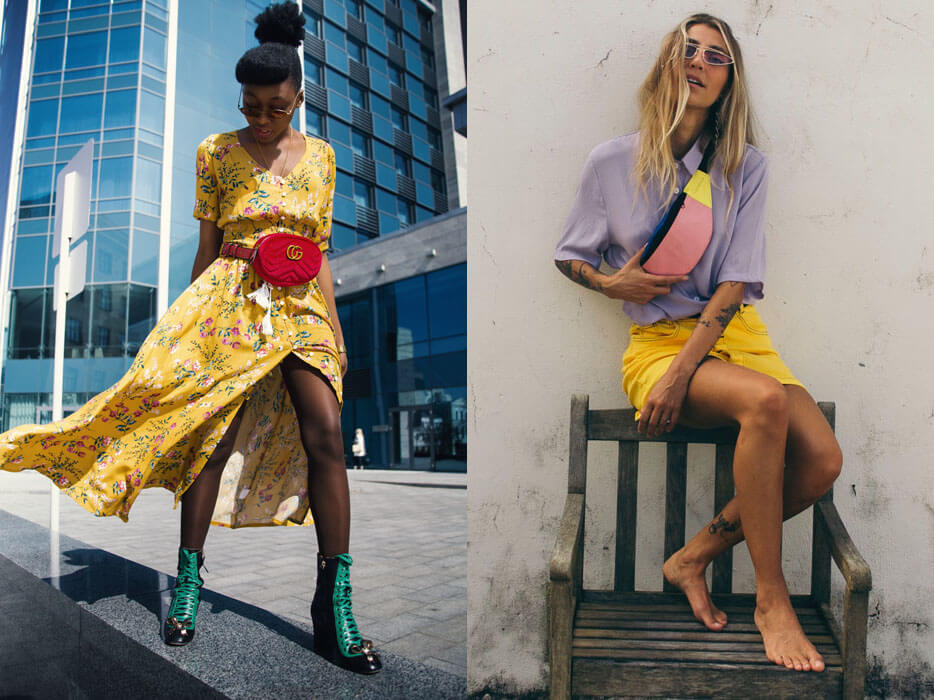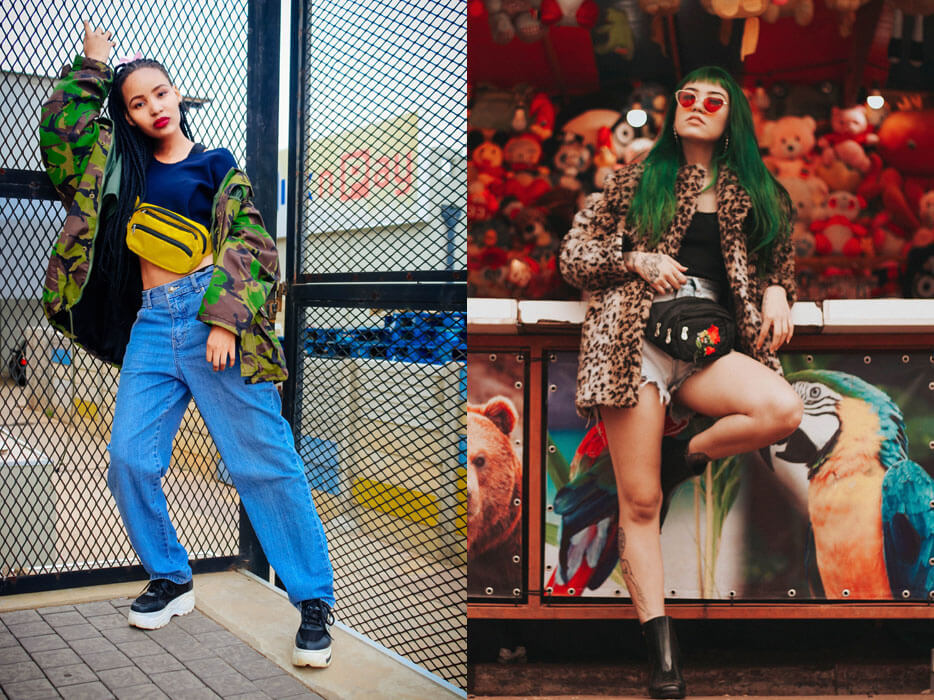 If you've been eyeing the look in magazines and on fashion mavens this season, but aren't quite sure if you can pull it off, we show you how to make it look good – nay, glam.
Practical, Functional, Historical
You already know that a well-chosen accessory has the power to transform any everyday outfit into something fabulous. This, too, goes for the belt bag, which has been modernised to satisfy the taste of even the most demanding fashionista. On top of their recent high-fashion makeover, there's the fact that belt bags are undeniably useful: it's a hands-free way to carry all your essentials without lugging around a backpack or fumbling with a purse. Plus, they're comfortable to wear and often gender-neutral. That's right, guys: this trend's for you, too.
Belt bags are so functional, in fact, that humans have been carrying them since time immemorial – from Ötzi the Iceman's calfskin belt pouch, to Ancient Roman coin purses, Native American buffalo-hide bags and the Scottish sporran.
Eventually the widespread practice of sewing pockets into clothing saw such bags fall out of fashion for a few centuries, until they began emerging on ski slopes in the 1950 and '60s. By the '80s and '90s, a fashion craze for everything "athleisure" had made the belt bag an essential on both the sidewalk and catwalk, with designers like Chanel and Diane Von Furstenberg giving their own takes on the popular accessory.
A Modern Accessory
Though the original heyday of the belt bag was characterised by cheap plastic buckle-on atrocities in bright crayon colours, today's styles can actually be worn as a stylish accessory that lends sophistication to an outfit.
Yes, we said sophistication. Today, the belt bag sheds its sporty reputation to don a more elegant aesthetic in the form of chic bags hooked to leather or chain belts, with quilted textures and in diminutive sizes. Are you ready to bid your regular handbag farewell?
How To Wear It
For Beginners: Stay Neutral
If you're wary of whether or not you can pull off this bold new trend, then it's best to opt for a belt bag in a neutral tone such as black, white or beige, or go for a timeless material like leather in brown. This way, you won't have trouble harmonising with the rest of your outfit – it will go with just about anything. [Photos from left: Bershka, Asos, Nordstrom, Net-A-Porter]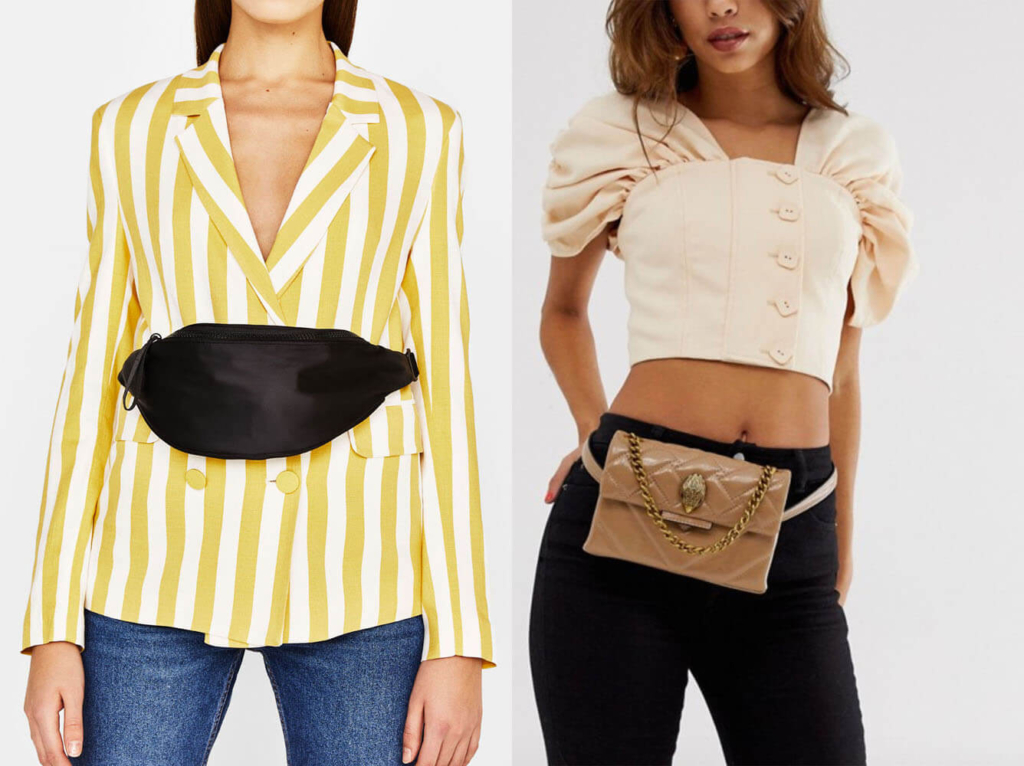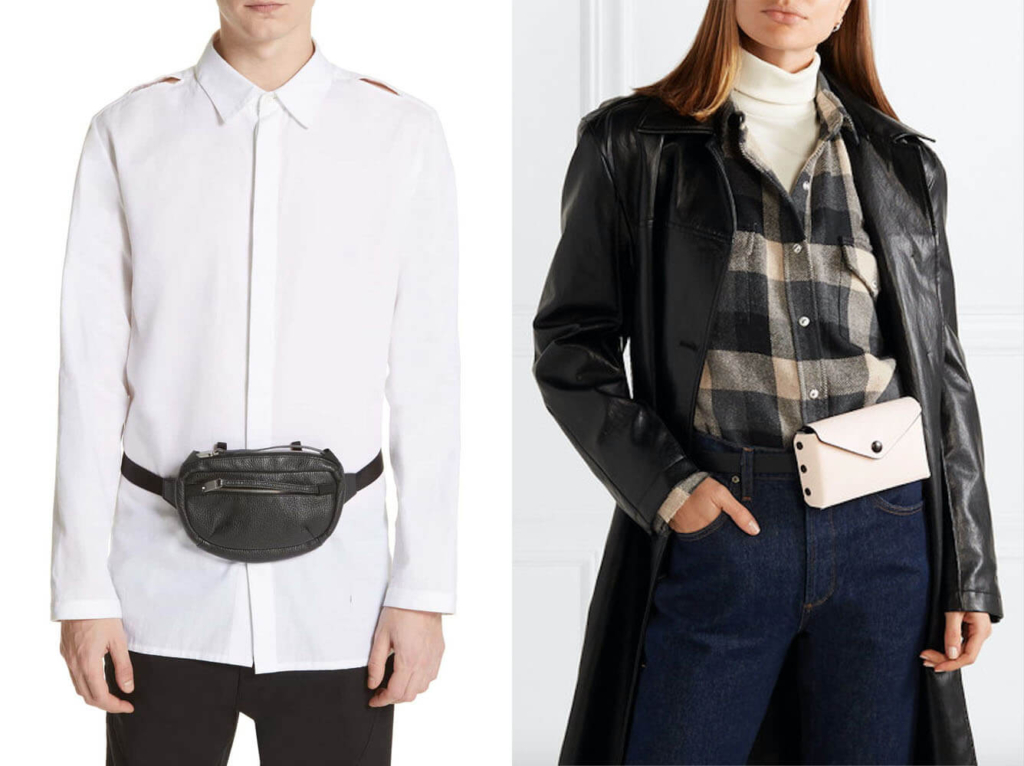 Where To Wear?
Sling it around your hips for a devil-may-care vibe, or accentuate your slimmest point by securing it around your waist. As for the bag itself, you can centre it in the middle of your body or push it slightly to one side for a more chic touch. If you're feeling particularly rebellious, wear it like a late '90s skater: sideways across your chest, over the top of your sweater or jacket. [Photos from left: Nordstrom, Asos, Mango, Net-A-Porter]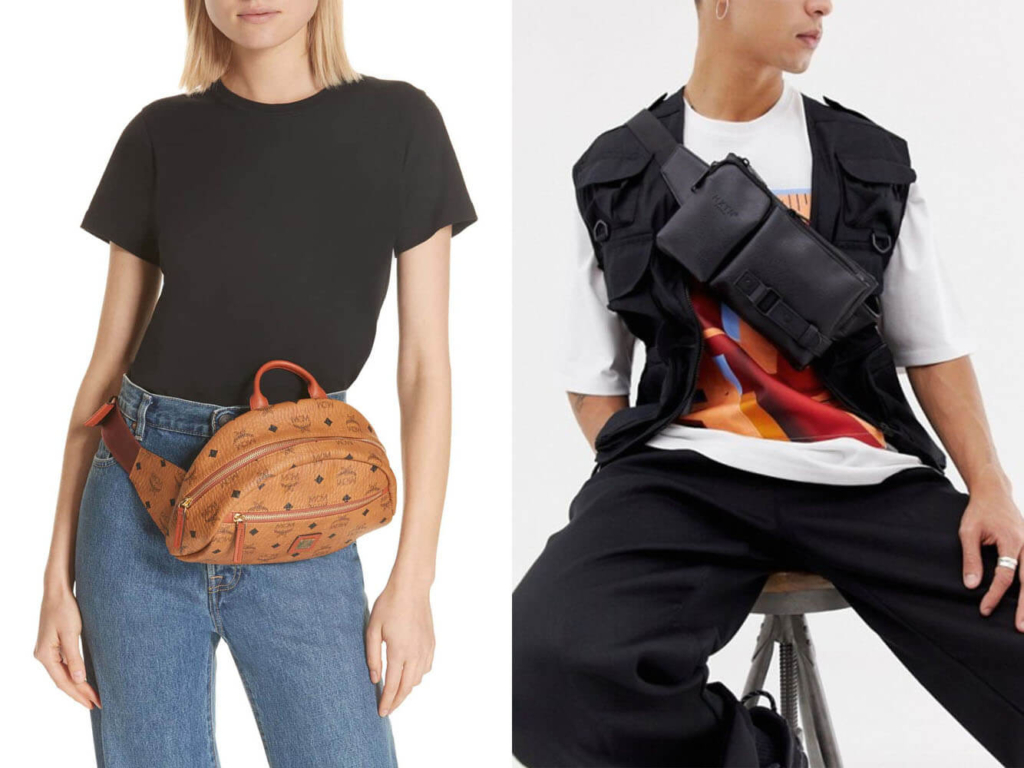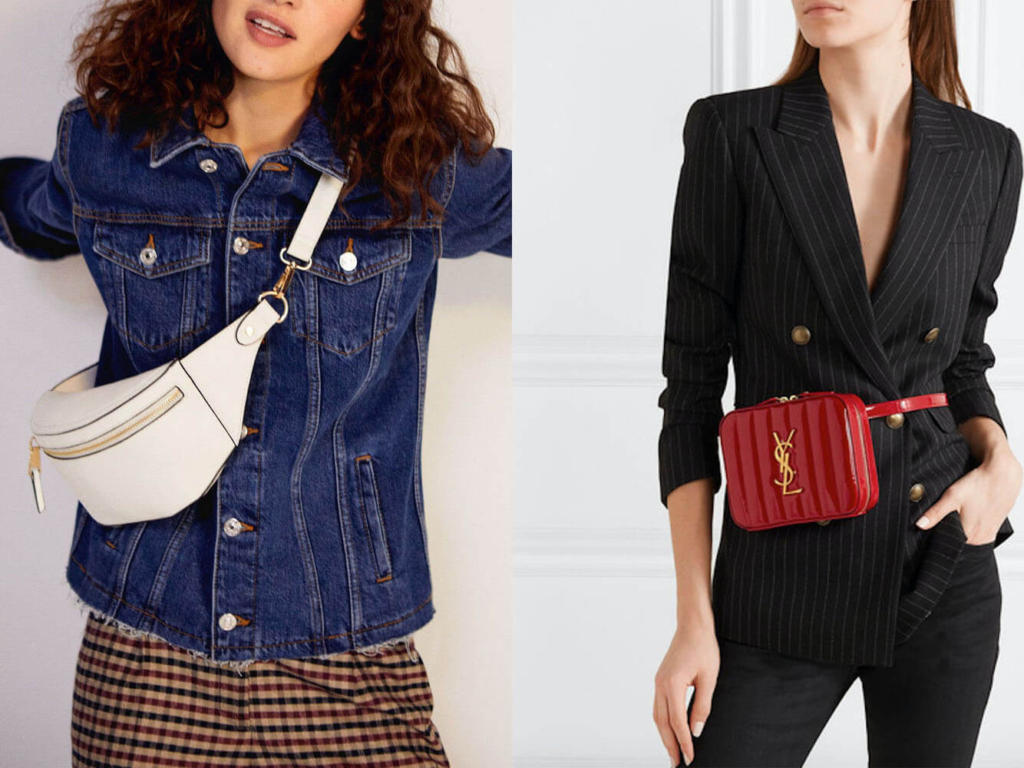 Pair With Jeans 
There's no doubt that a good pair of jeans is the ideal complement for just about any type of accessory. In the case of belt bags, you can wear them around your hips or waist, using the belt loops of your jeans the same way you would a real belt. Simple and practical. [Photos from left: Nordstrom, Asos, Stradivarius, Topshop]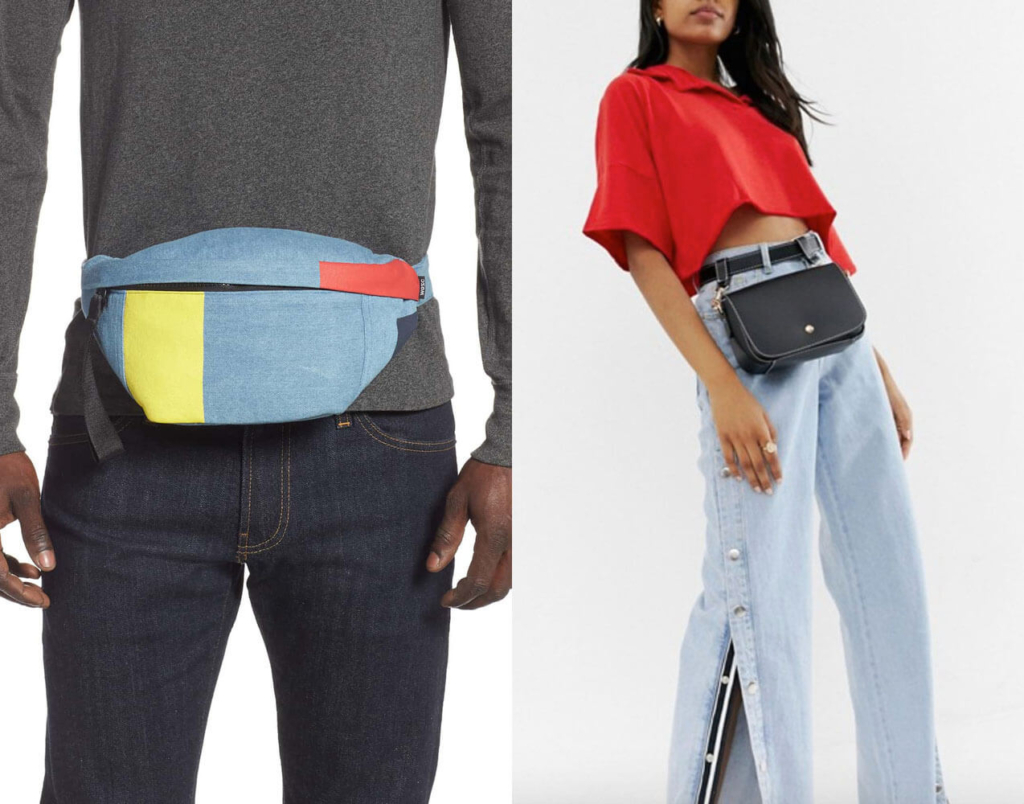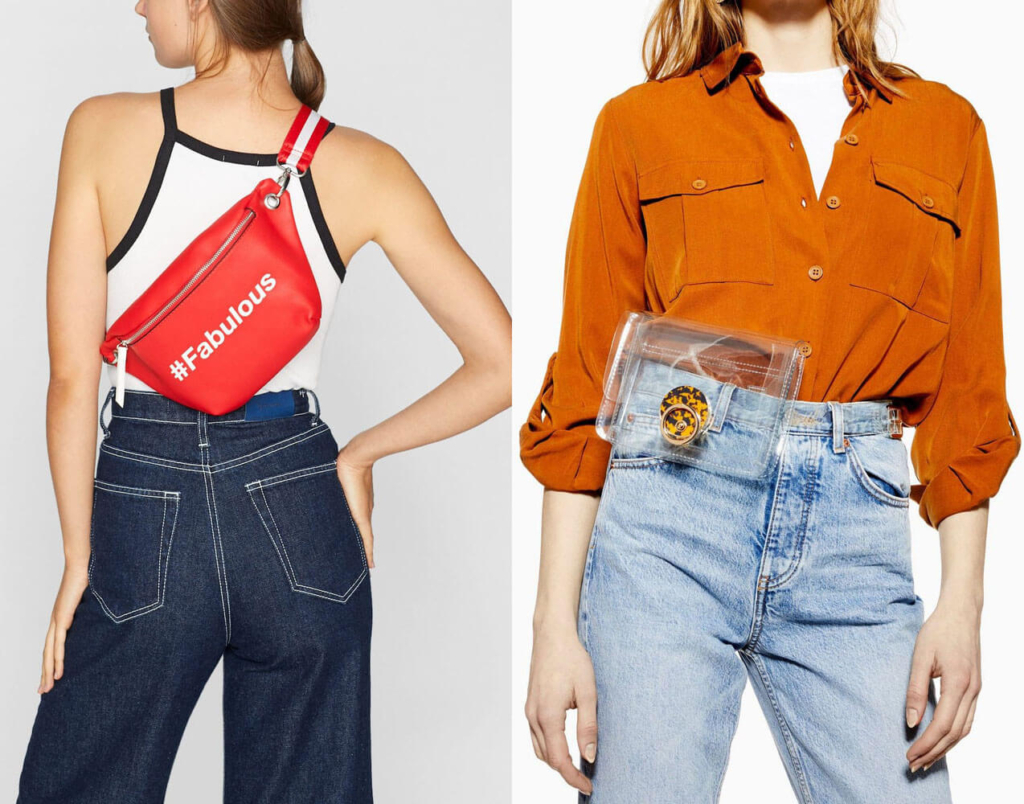 Go Femme
If you thought belt bags could only be combined with trousers or jeans, we've got good news: they look fabulous with dresses and skirts. Take a spin on Pinterest or Instagram to see how the influencers du jour are pairing belt bags with beautifully light dresses and midi skirts, especially with cute patterns like florals or animal prints. [Photos from left: Zalando, Net-A-Porter, Net-A-Porter, Asos]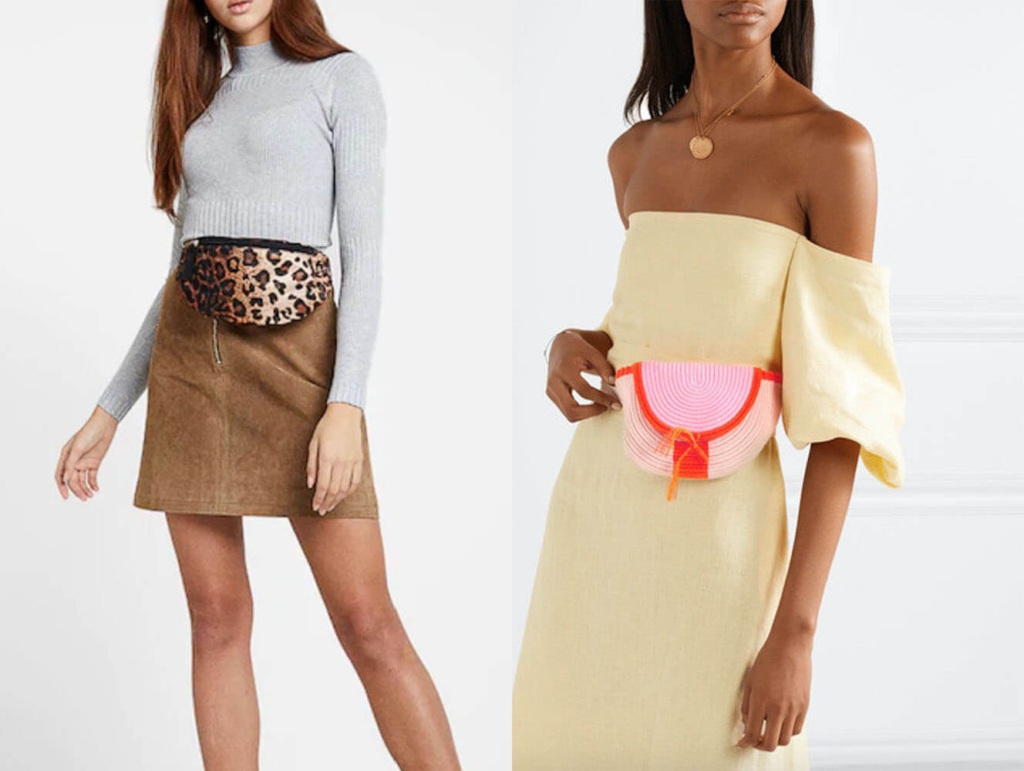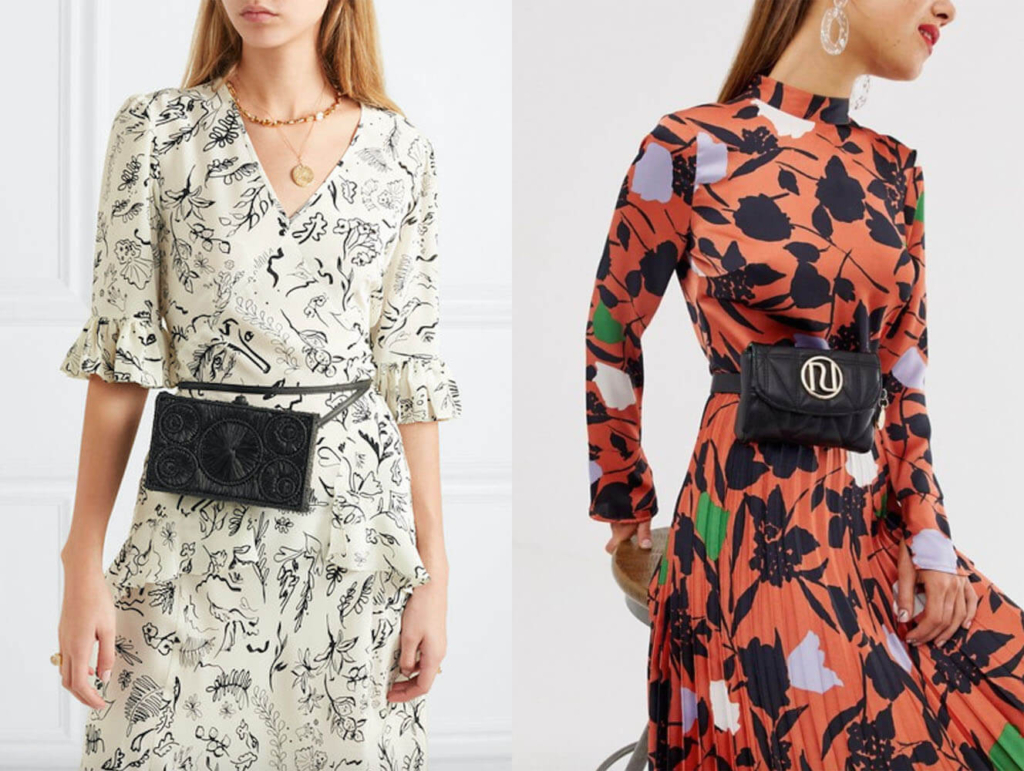 Speaking Of Prints…
If you love playing with fashion and creating new outfits, then a statement belt bag in a lively pattern is just what you need. Opt for the prints of the moment, from watercolour, to animal print, florals and checks. This will of course be a stand-out accessory, so we recommend you combine it with garments in more neutral colours in order to let the bag take centre stage. [Photos from left: Net-A-Porter, Topshop, Stradivarius, Zara]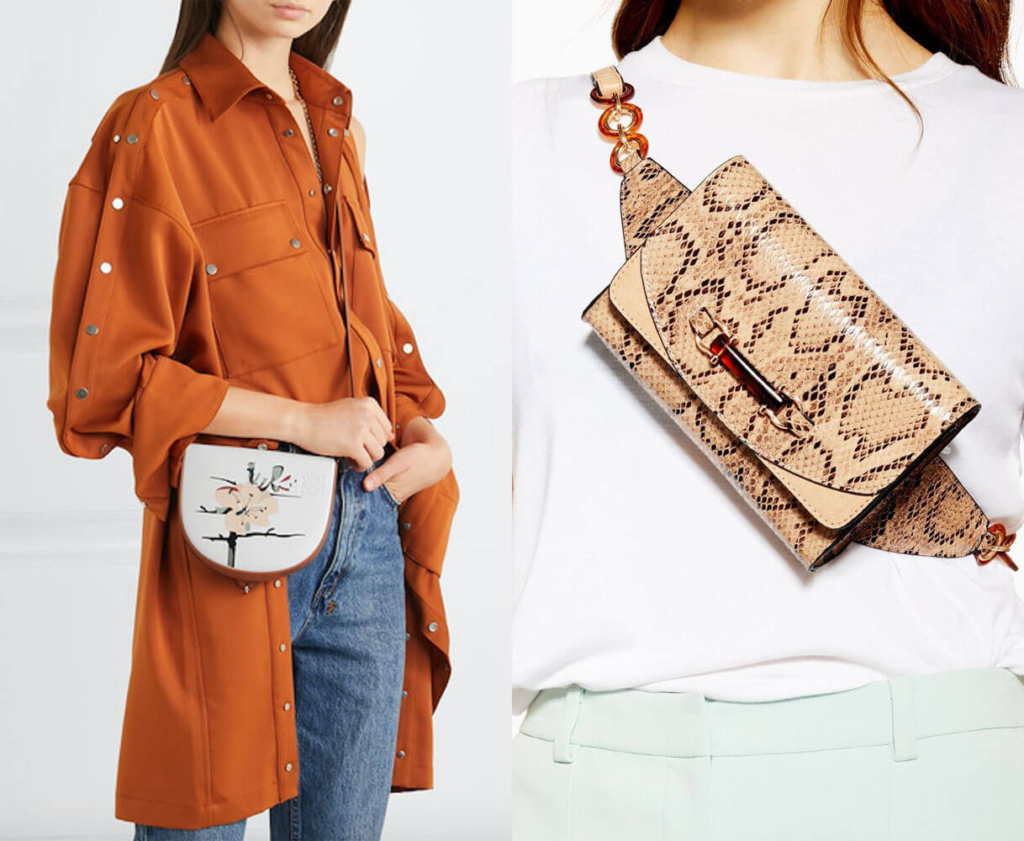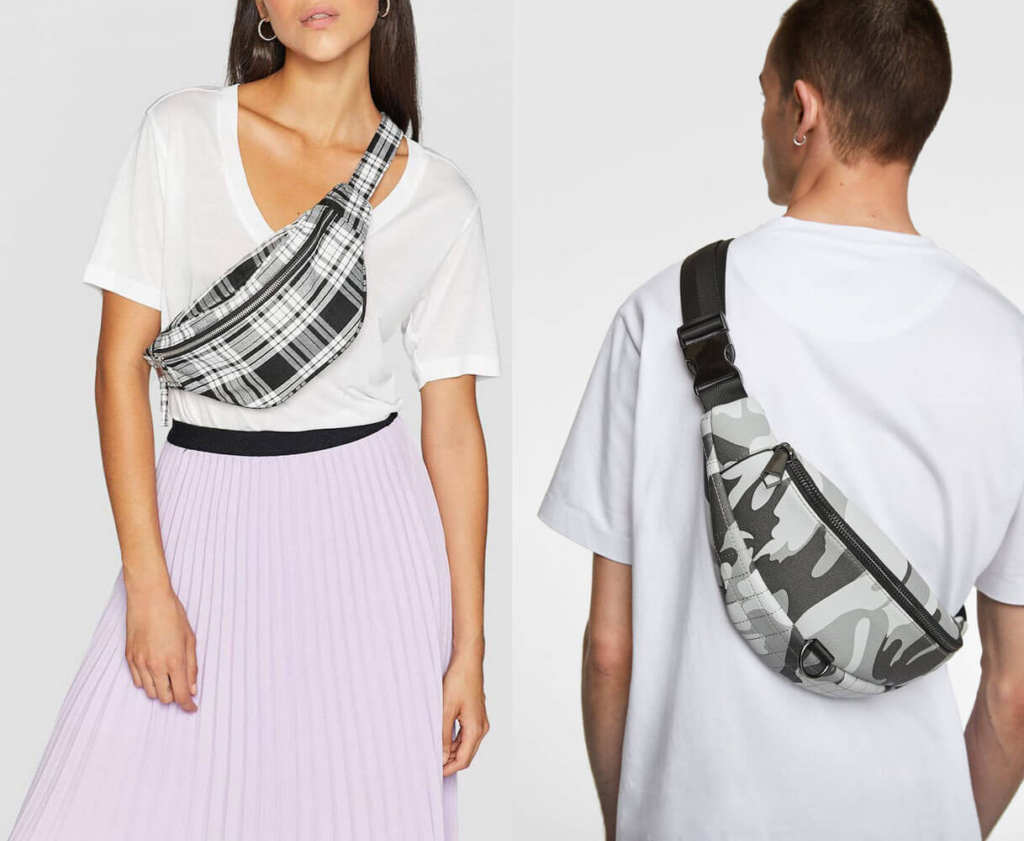 Shine Bright 
Not into prints, but don't want to go for classic black? Choose a belt bag in a bold colour like pink, red, green, turquoise, blue or yellow. This will lend a cheerful touch to any casual look. [Photos from left: Bershka, Nordstrom, Nordstrom, Stradivarius]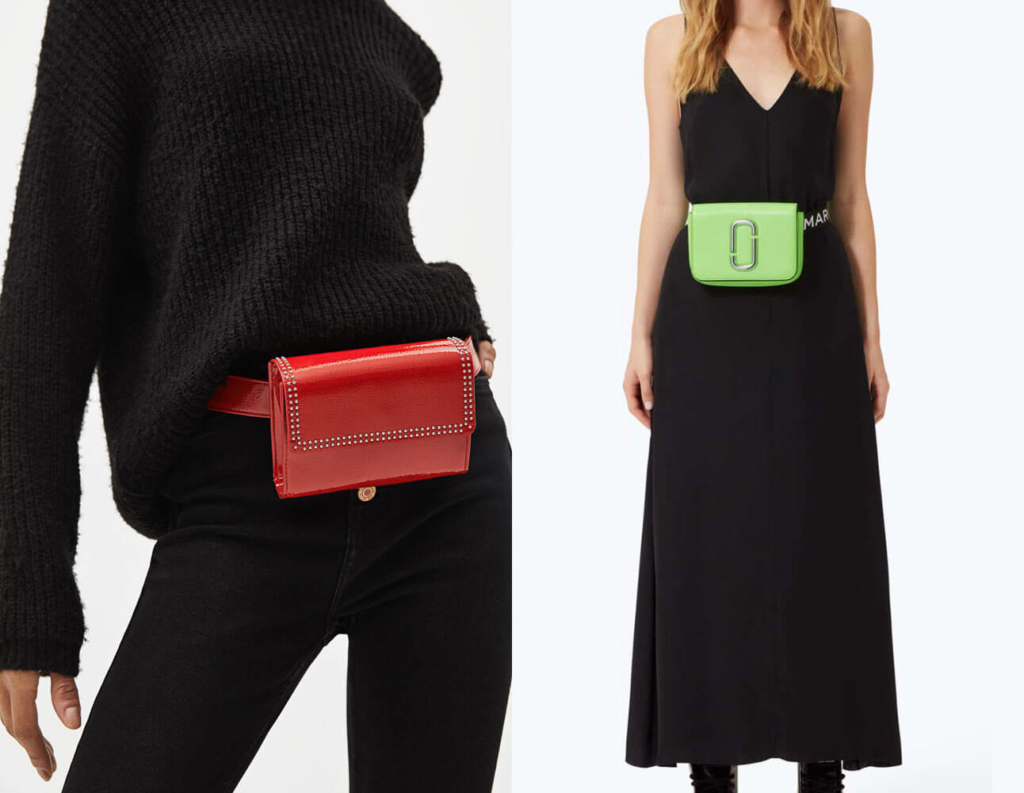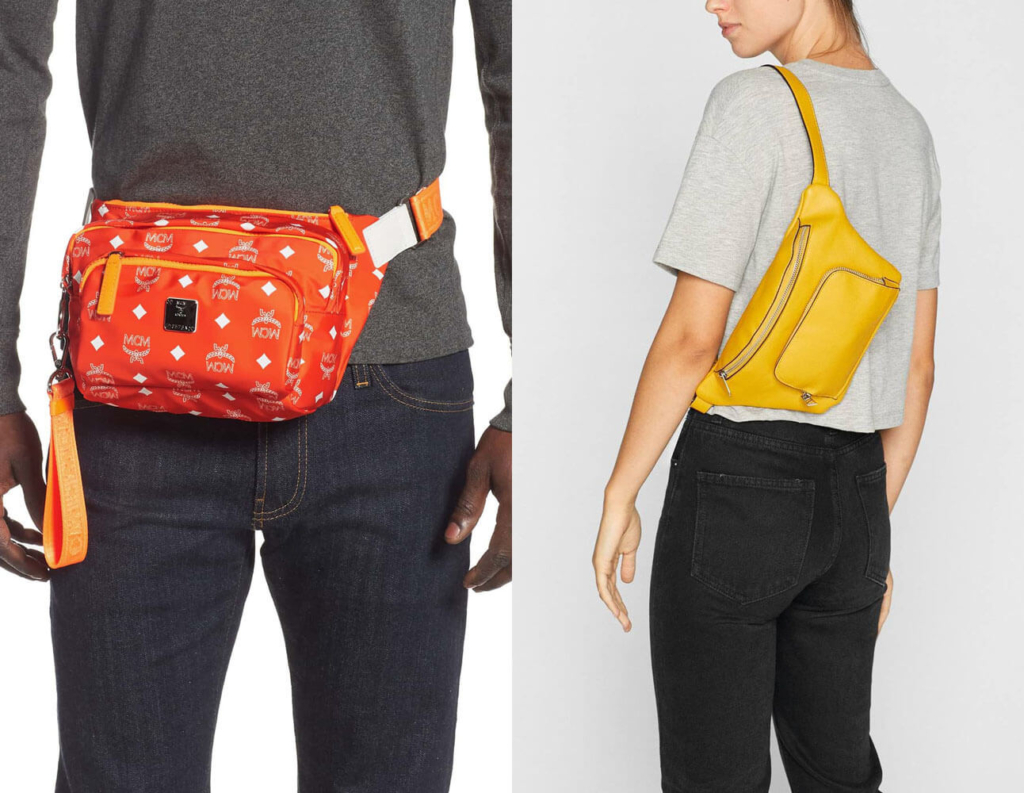 Professional Polish
Belt bags at the office? Sure, why not! This is a versatile accessory, and if you go for a belt bag with a sophisticated aesthetic, there's no reason to banish it from your work wardrobe. Keep it relatively small, opt for demure colours and wear it tight around your waist. Pair with a sharp blazer and get ready to lean in.