';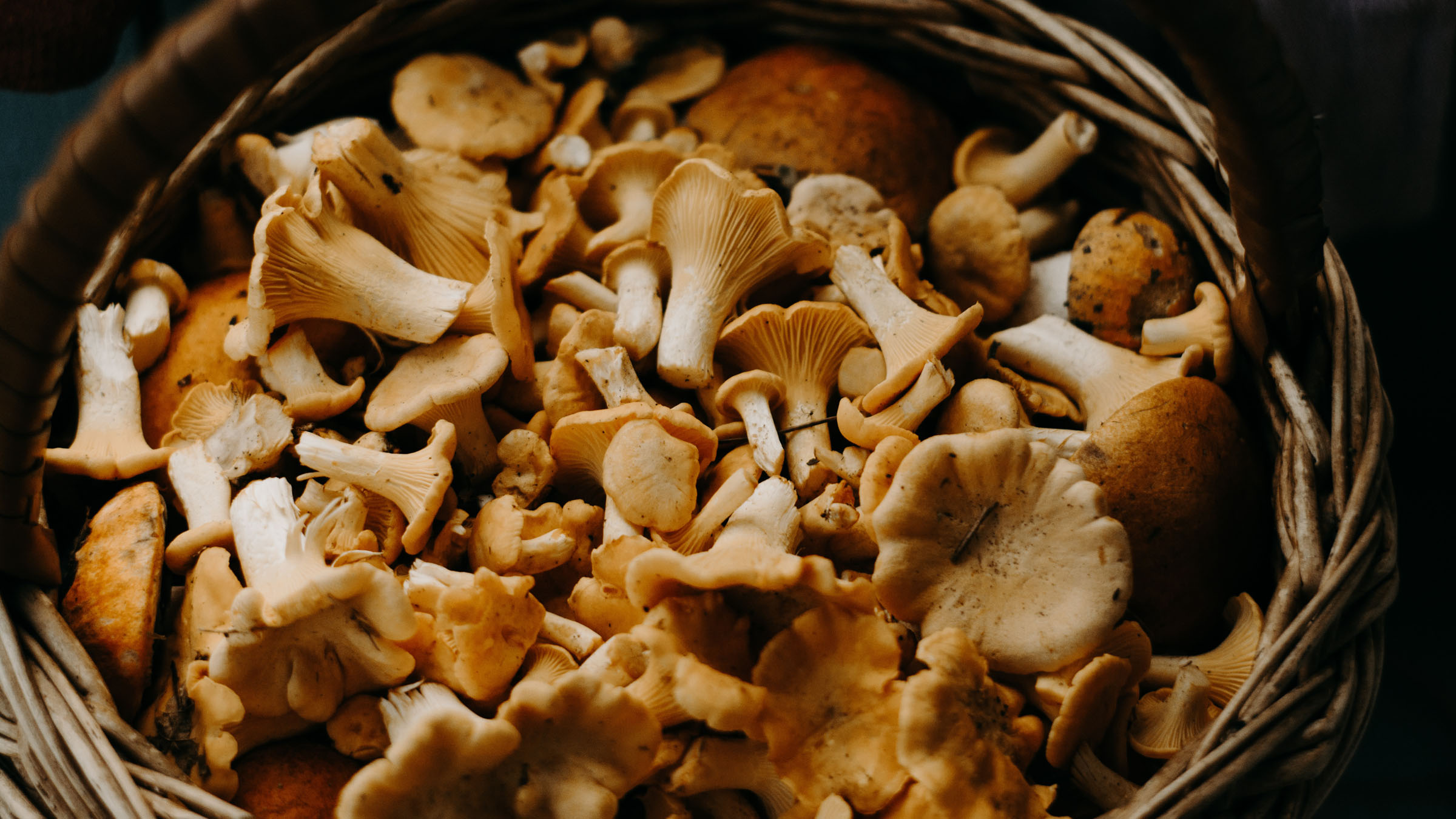 There's nothing like the umami flavour of a good mushroom – even better if it's freshly foraged from your own backyard. Never considered sourcing your own fungi? You should. Ask any mycophile, aka mushroom aficionado, and they'll tell you that once you get into it, you'll be hooked for life.
We asked a few experts to tell us what made them start rummaging around on the forest floor, as well as how beginner foragers can get their start, how to be cautious, and what to prepare in the kitchen with a fresh mushroom haul.

Meet Our Experts
Trent and Kristen Blizzard are self-proclaimed "mushroom geeks" and creators of the blog The Modern Forager. The couple have built a lifestyle around foraging: they're both certified wild mushroom identification experts in Colorado (their home state), North Carolina, South Carolina and Georgia. Their book, Wild Mushrooms, is a combination of practical foraging guide and cookbook, and it comes out this month.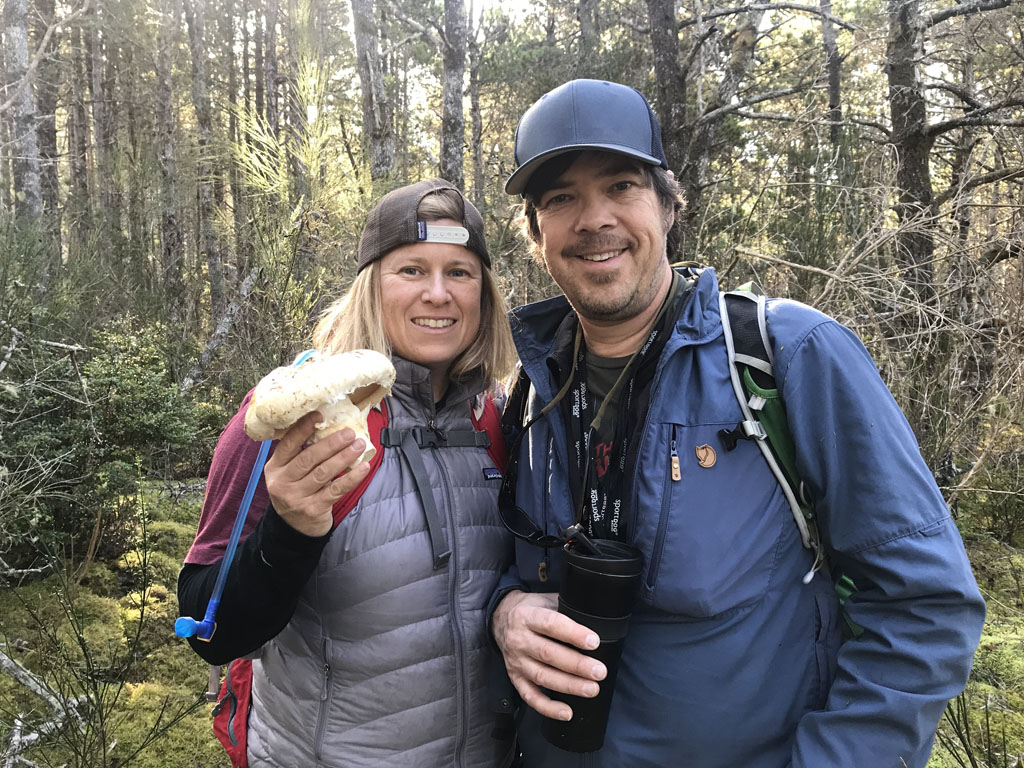 Scott Stimpson is the rockhound, forager and chef behind the blog Woodland Cravings. He studied sustainable agriculture (permaculture), ecology and horticulture at Florida Gulf Coast University before moving to Oregon to immerse himself in the mecca of mushrooms, the Pacific Northwest. Now he shares his knowledge of permaculture techniques and ethical foraging, and brings it all back to the kitchen. This time of year he can be found foraging King Boletes (AKA Porcini), Chanterelles, Bear's Head Tooth (Similar to Lion's Mane) and Lobster Mushrooms.
Rebecca Beyer lives in the mountains of Western North Carolina where she manages a homestead and teaches people how to forage wild plants and mushrooms with No Taste Like Home. She is also the woman behind the Blood and Spicebush School of Old Craft and one of the women behind the Sassafras School of Appalachian Plantcraft. In early autumn she can be found in the woods of the Appalachians, hunting for mushrooms.
Ari Rockland-Miller is a writer, instructor and lecturer on wild and cultivated mushrooms and edible plants. Together with Jenna Antonino DiMare, he is behind The Mushroom Forager and the ForageCast – a targeted list of edible species in season at any given time, with tips on where to look for them. This time of year, the ForageCast names maitake (hen of the woods), lion's mane, yellowfoot chanterelles and porcini as the headlining fungi. Ari and Jenna reside in Vermont.
Dit bericht bekijken op Instagram
Dit bericht bekijken op Instagram
The Aha! Moment
Trent Blizzard says that "every forager has an aha! moment when things just clicked for them." His happened when a friend took him out and he found a whole basket of porcinis and chanterelles. He phoned Kristen, and that same day they went back together out to the same spot to hunt some more. Kristen adds: "Our book is peppered with interviews with fellow foragers. The people who share our passion are all so interesting. I was especially interested in hearing when they rooted this obsession."
Scott Stimpson has had a fascination with fungi from the moment he saw the 1940s Disney film Fantasia. "I recall rewinding the scene with the dancing mushrooms over and over and over again, so much that it probably damaged the video tape. As I grew a little older, helping Grandma and Mom in the kitchen, I loved cleaning mushrooms before we would stuff them. From there on I was finding mushrooms, doodling them, and always being drawn to them."
Rebecca Beyer started mushroom foraging in earnest in 2016, when she got a job with Asheville, NC company No Taste Like Home, training under the owner, Alan Muskat. "Until that point I had largely been focused on plants, but I had the benefit of Alan's 20+ years of mushroom foraging and teaching. It was a life-changing and amazing experience."
Dit bericht bekijken op Instagram
Dit bericht bekijken op Instagram
On Learning And Sharing
The first time you go out hunting for edible mushrooms, you should do so in the company of a seasoned forager or guide, for instance through an organised class or forest foray.
"While field guides are important, mushroom hunting is not a pursuit one can learn from books alone," says Ari. "The fledgling forager needs to find a mentor who can serve as a guide and can provide instruction in the field and forest. Safety is essential – not just for the obvious reasons, but also for the sake of culinary enjoyment. Even if your identification is ultimately correct, you will not enjoy the meal if you have the slightest grain of doubt in the back of your mind while eating. Developing confidence takes patience, but is very rewarding, and even experts are always learning more about the mysterious world of mushrooms."
"I always recommend joining a mycological club," says Kristen. "It's the best way to shorten your learning curve. The people in those groups are amazing – they have local forays you can go on, and they have identification sessions where they help you learn to identify the mushrooms. We also recommend going to mushroom festivals, although they're not happening right now because of COVID. There's a huge culture surrounding foraging mushrooms, which comes along with all the great people."
Among foragers, it's common practice to share knowledge and recipes, and take others hunting. But the best foraging spots aren't necessarily divulged: "Some people will guard their spots, but Trent and I believe in sharing as much as we can," Kristen says. "We've shared a lot of information on burn morels, which can be found in wildfire scars. We believe there shouldn't be anything secretive about them, because they're coming and going each year. However, we have our own spots here in Colorado where we hunt for wild mushrooms that we won't disclose, because good friends have shared them with us. That's kind of our rule: When friends have shared that location as a gift, we will not give that information away."
Dit bericht bekijken op Instagram
Dit bericht bekijken op Instagram
Safety Is Paramount
"I grew up with the understanding to not eat any wild mushrooms," Scott relates, "because they are 'dangerous'. Which I know is not the case for all species of fungi, but 'mycophobia' is ingrained in our culture."
However, safety is paramount. "There is a vital distinction between being 99% and 100% confident of ID. While mushroom hunting can be extremely safe, fun and rewarding, just one seemingly small mistake could result in death or profound discomfort," says Ari.
Kristen says: "People ask me all the time, 'aren't you afraid of dying?' No, I'm not! Mushroom foraging can be safe and easy, but you need to focus on educating yourself."
"Just like fishermen know the difference between different types of fish, we know the differences between mushrooms," Trent adds. "You know that with experience, it's simple science."
Dit bericht bekijken op Instagram
Dit bericht bekijken op Instagram
Once you're sure that you're 100% accurate with the identification and edibility of a given mushroom, also take into account any food allergies you may have. Scott advises to sample only a small portion of the mushrooms. "If all goes well after 24 hours, then it is probably safe for you to have a regular portion, or make a meal from them."
"I think the fear around the immense power mushrooms hold to harm us is healthy," says Rebecca. "Just like a fear of the ocean, but hopefully it doesn't mean you won't go swimming. People also often fear they are hurting the mushrooms by harvesting them, and that people are inherently harmful to our planet. I hate that. As a person who practices Earthskills like hide tanning, basket making and wood carving, I believe that – by taking the time to know our earth and remember we are not separate from the animals around us, but also natural beings ourselves – we can see that many (but not all) mushroom species respond to harvesting by making MORE the next year, not diminishing or being damaged. It is a relationship like any other."
Dit bericht bekijken op Instagram
Dit bericht bekijken op Instagram
What To Bring
The basic foraging equipment is simple, says Ari: "A knife, paper bag or basket, and a good pair of hiking shoes. A field guide is helpful [essential for beginners] and can cultivate a sense of wonder at mycological diversity and taxonomy. However, I do not typically bring a field guide when I am hunting for the table, since I want to save space for the mushroom harvest!
"I focus on making my hunt targeted toward specific gourmet species that are in season, distinctive and delicious. Once you have truly mastered the identification of a new species, and have seen it in a variety of landscapes and seasons, it becomes like a friend. You learn to recognise that friend with complete certainty, based intuitively on its overall impression or essence, without going through a checklist or having to confirm each individual feature listed in a guide. Before you are ready to enjoy a new species for the table, you want to get to that point of absolute confidence where seeing a chanterelle is like seeing an old friend, and you can tell it it as clearly apart from a [toxic look-alike] jack-o'-lantern mushroom as you can distinguish a nectarine from an orange."
Dit bericht bekijken op Instagram
Dit bericht bekijken op Instagram
Expect To Get Hooked
Mushroom hunting is a hobby – or a passion – that never gets boring, according to Kristen. "It grows with you over time, you're always learning and finding new mushrooms. In the beginning it's always about the child-like appreciation of a treasure, and it quickly grows into a deeper appreciation for the natural environment. You start seeing how things in nature are connected."
Ari is fascinated by the way gourmet wild mushrooms are unpredictable, ephemeral and elusive: "Every foray is a treasure hunt in which there is always the potential for surprise or delight. I am particularly drawn to the mycorrhizal mushrooms, like porcini and chanterelles, which resist attempts at cultivation and remain thoroughly wild. The flavour of these mushrooms is imbued with terroir and nuance."
Scott says: "Foraging for wild foods is an excellent way for us to reconnect to the earth, understand our relationship with it, and respect the people of the First Nations who came before us, who protected the lands and tended these wild foods. The role of a forager should always be the promotion of conservation and stewardship of our lands and sea. For me, there is a process to becoming a forager, where one must first grow their own food at home, either by having a garden or creating a food forest in their landscape. After developing this relationship with the plants that you grow at home, you will have the beginning stages of understanding ecology, because your garden also harbours life and food for other critters, like bugs, birds and squirrels. After experiencing this, going into the forest and gathering foods will be done with a greater respect for how nature provides for you, and what your role is as you return home."
Dit bericht bekijken op Instagram
Dit bericht bekijken op Instagram
Mushrooms In The Kitchen
Part of the thrill of mushroom hunting is that you can prepare whatever you have found in the forest. If your hunt was fruitful, you will bring a bucket of one or two types of mushrooms home. Most wild mushroom lovers will enjoy a simple preparation. "Most edibles are best fresh, sweated in a dry pan to remove extra moisture, then finished seven minutes in butter. YUM!" says Rebecca.
Scott agrees that, especially when a mushroom variety is new to you, cooking it butter and salt is the best way to understand its texture and flavour: "By doing this, you will teach your palate how different each mushroom tastes from one to the next, and if you have multiple species of edible mushrooms, side-by side-samplings are a great way to go."
But what to do with the rest? "Processing and cooking are important techniques in order to understand the purpose of the harvest," Scott says. "Some wild foods require processing, such as cooking, drying, freezing, etc., depending on what wild food you are working with. In times of surplus, you have to be ready to clean, process and store foods so that you have no waste and can keep the food for months to years for later consumption.
"Fermenting is a big part of this process for me as well," he continues. "The worst thing you can do is harvest so much that when you get home, you are not willing to go through the hours or days of processing ahead to get your final product. So in this regard, foraging only a small basket-full is a safe and enjoyable way to go, and that way you are not over-harvesting from the forest either."
When it comes to cooking, Scott always strives to make the mushroom itself the highlight of the dish: "Great dishes include homemade mushroom ravioli (or tortellini), mushroom risotto, mushroom galette, and miso soup. If I feel like putting a lot of love into mushroom storage for later use, I like to make oil-cured mushrooms that I can use for later."
Kristen and Trent have spent a lot of time figuring out how to preserve their hauls; they do so by drying and freezing, but also making jams, shrubs and pickling. "Now, we can enjoy our mushrooms year-round," says Trent. "I prefer recipes that provide comfort and that are simple, such as mushroom bread. Kristen really loves this Craterellus Leek Galette recipe from our book." (Get the recipe here.)