';
;
In an industry overloaded with products making big claims – and millions of reviews to wade through to find what really works – Violet Grey is a rare thing: a beauty brand that people seem to actually turn to for trusted advice.
The über-popular beauty authority founded by NYC-marketing-agent-turned-entrepreneur Cassandra Grey first appeared as "The Violet Files" (now the editorial section of violetgrey.com), and in 2014 the brand was expanded to introduce online sales with domestic shipping in the US, as well as a brick-and-mortar store on Los Angeles' Melrose Place.
But what is Violet Grey exactly, and what's all the hype about?
The short version is that it's a beauty brand that sells a selection of products, mostly online, but also at the aforementioned LA store. If you ask hardcore beauty fans, however, they'll tell you it's more than that: it's an authority on the best beauty products out there. (If you're going to splurge on high-end cosmetics, after all, you need to know they're worth it.) Indeed, Violet Grey's team of make-up artists and skincare experts accounts for much of their popularity, in addition to their rigorous proprietary process of testing products before introducing them to audiences.
Of course, to get the full experience – or the only experience, if you live outside the US – you'll need to visit Violet Grey's store. There, you can expect a tight edit of merchandise spanning haircare, skincare, cosmetics, beauty devices and a French drugstore selection, all vetted with the same exacting standards.
"To us, the impact of community and content is really everything," explains Violet Grey beauty director, Maureen Choi. "Cassandra and the team really spent four years or so building out and cultivating these key relationships with make-up artists, celebrities and creative partners who have really contributed to our brand, and our artist committee is really the centre of the business. Everything that we sell on the site and in-store goes through this process, 'The Violet Code'. It's a point of discovery, a point of testing the products through our artist committee, and the final piece of it is really the approval process… we really want an industry consensus of whether a product actually delivers."
A Jewel Box Of A Store 
It's possible to spend hours in the store, and it's generally recommended. Choi describes Violet Grey Melrose Place as a "jewel box of a store" – an apt description for the John Elgin Woolf-designed space (formerly the architect's office) featuring high-glam interiors by Wiliam Sofield. True to their Hollywood beauty roots, references to the industry may be found in every corner. Look out for an original Marilyn Monroe beauty recipe protected in glass (hint: say no to olives and chocolate), Dean Martin's leather director's chair, and a bevy of original sketches by legendary costume designer Edith Head (Funny Face, Rear Window, To Catch a Thief).
Inspired by Coco Chanel's atelier, it's no wonder the shop aims to provide an old-world approach to service. "You almost feel like everything fades away, and you're really the only one that's being catered to, and you're allowed to be able to take your time, explore on your own… the store associates are professional make-up artists, so they're there to help you navigate as well as educate you on tips and tricks and application," says Choi.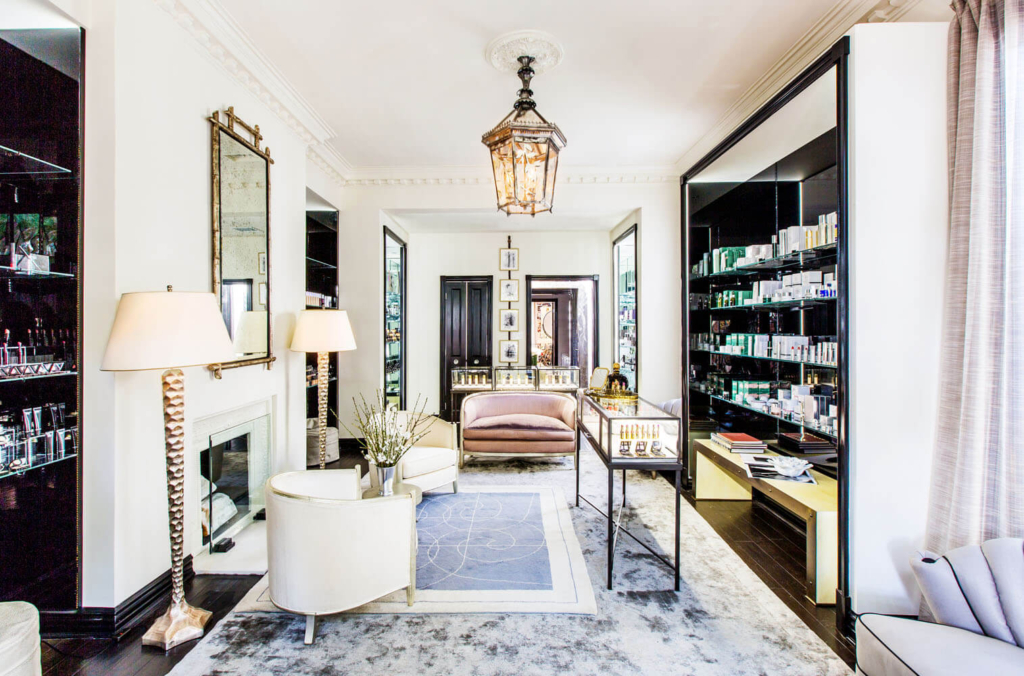 "These artists use these products on the daily on themselves. They're using it on their celebrity clients. They're asked questions all of the time, and so they're super knowledgeable. They have a chance to really play around with stuff, whether it's colour or skincare or haircare products."
While the ambience in the shop is undeniably luxurious, it's always approachable and there are products available at a variety of price points, from Charlotte Tilbury make-up products to the Dr. Dennis Gross SpectraLite™ FaceWare Pro. You can explore Violet Grey exclusives, shop for specific products or arrive ready to battle a beauty challenge. They also offer same-day shipping from their LA warehouse, so international shoppers can secure additional, off-site Violet Grey products before leaving the USA.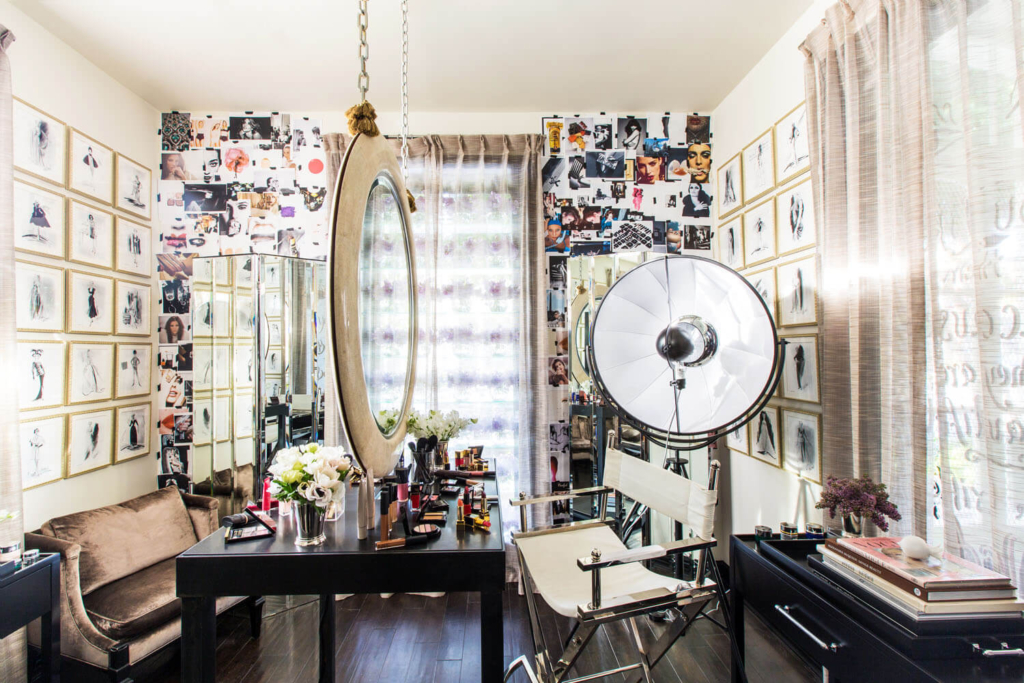 How To Spend A Day At Violet Grey 
Maureen Choi recommends booking an appointment with a make-up artist for the full Violet Grey experience. A make-up session guarantees special, one-on-one time with a beauty expert – not only for make-up application, but for personalised tips and suggestions for the future. Make-up sessions may be booked for special events, everyday applications or even beauty bag edits. Spend the rest of your time perusing products, mingling with other shoppers and sipping coffee or champagne on the zen-like patio. In other words, definitely make a day of it.
Also check to see if any events are planned: the shop has been known to host the occasional in-store panel, featuring the dermatologists behind their founder-focused skincare brands (including inspiring entrepreneurs featured in their Woman Made series), as well as celebrity make-up artists.