';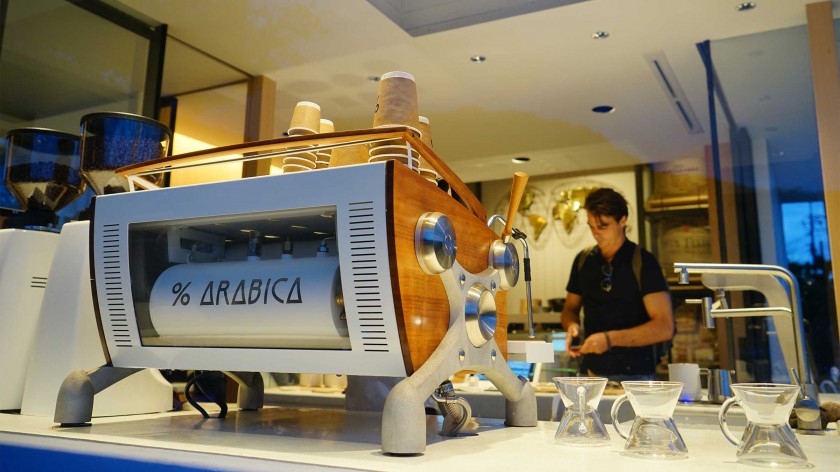 ;
Head Barista and Co-Founder at % Arabica, Photographer, Coffee Fest Latte Art World Champion 2014, Instagram sensation – Kyotoite Junichi Yamaguchi wears many hats.
He started his career persistently pursuing latte art on his own: it took him four years, and another two in a Tokyo café, but his passion and commitment eventually led him to win the 2014 Coffee Fest Latte Art World Championship, one of the most prestigious latte art competitions in the world. He won with a signature pattern that made history in the industry: the 'Ballerina'.
Yamaguchi is Head Barista and, together with architect Masaki Kato, a Co-Founder at % Arabica in his hometown of Kyoto.  The company, an idea of entrepreneur Kenneth Shoji, has big ambitions. In the space of two years, Shoji and partners inaugurated five % Arabica branches: three in Kyoto, one in Hong Kong and one in Kuwait City, with another three scheduled to open this year in Abu Dhabi, Dubai and Berlin. Under the motto 'See the world through coffee', they also offer 7-day internships to aspiring baristas worldwide.
Their secret? Precision, which translates to overlooking the whole production process from the coffee plant to the cup – literally. The company owns a coffee farm in Hawaii, sources their beans raw and roasts them with Tornado King, a Japanese roasting machine of which it is the sole exporter.
It also represents built-to-order espresso machines Slayer Espresso in Japan, sells their custom-roasted beans to individuals and businesses and even deals in to-go cups. No wonder their main Kyoto branch is in the Top 10 Best Restaurants of the city on Trip Advisor – even though they make no food at all.
% Arabica is not just a remarkable example of 'Third Wave coffee', the movement advocating for a change in perspective about the drink, considering it as an artisanal product, focusing on absolute quality and not quantity. They go beyond that definition by curating all aspects of production in a market that is simply not niche anymore.
We had the chance to ask Yamaguchi a few questions about his job, coffee, Japan and latte art.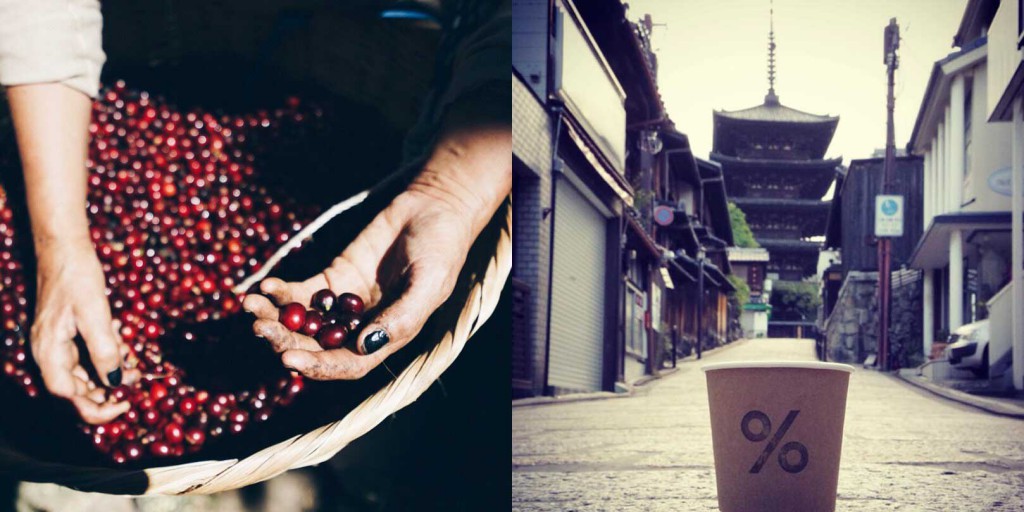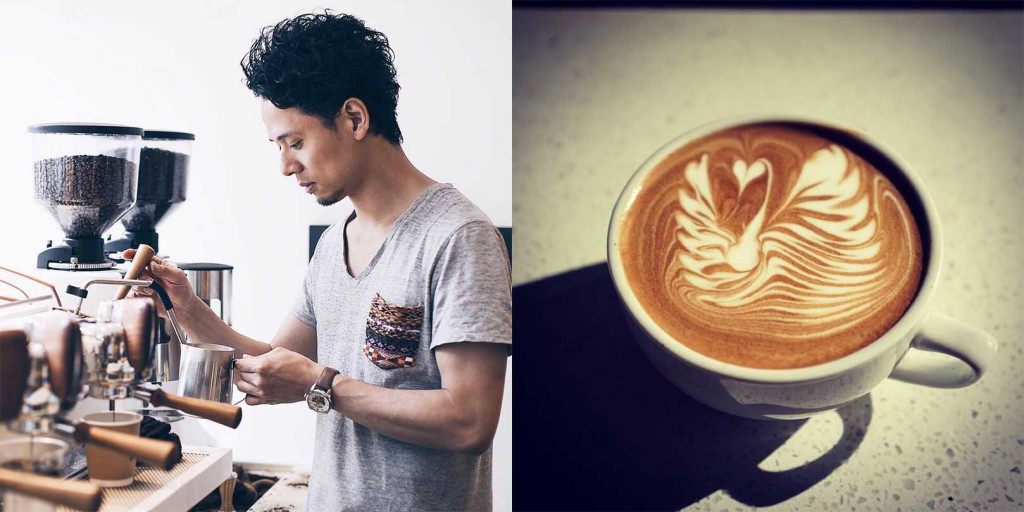 Do you do a lot of 'origin travel'?
"I have been to Guatemala, El Salvador and Costa Rica this year. I picked coffee berries, saw the washing stations and met many farmers. It was a precious experience."
How do you personally like to drink your coffee?
"Actually, I can't drink too much coffee every day, so I usually go for Macchiato. With it, I can enjoy the taste of both the coffee bean and the milk at the same time."
Could you give our readers a tip to prepare a good coffee at home?
"I recommend using a cafetière (French press) at home because it is easy to make consistent quality coffee with it. It also cleans easily."
What do you like most about being a barista?
"The fact that I can make customers happy with my coffee."
What do you think is the most important trend, currently, in the coffee world?
"Third Wave coffee is popular now. There are a lot of coffee shops, but I think most of them are chasing only Third Wave coffee, so they are serving coffee tasting almost the same. I mean a lot of them are the same, but there are a few characteristic small coffee shops coming now which are really cool. They each have their own style and serve their own unique coffee."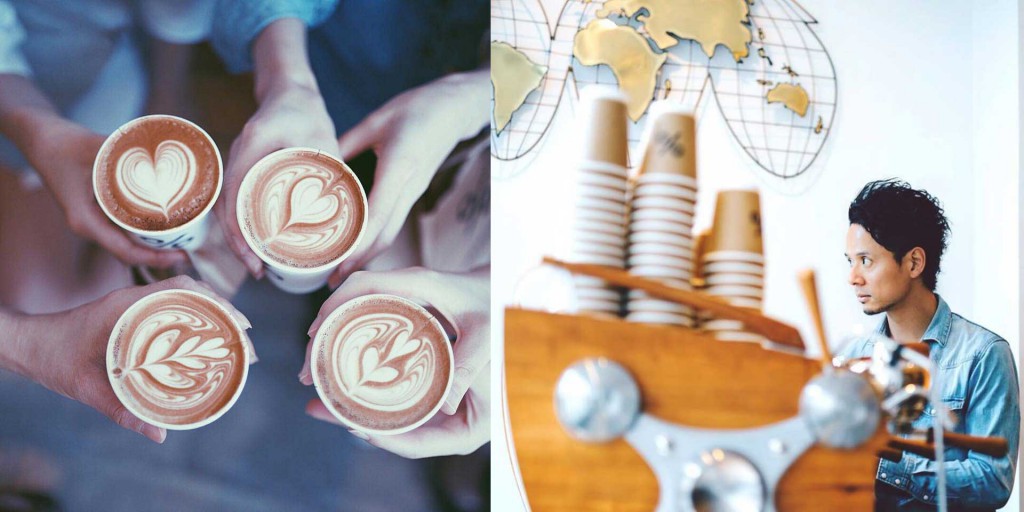 What would you recommend to somebody wanting to learn latte art?
"The most important thing to improve your latte art is to enjoy it all the time, even if you can't make well. Keep practicing and enjoying and you will improve easily and quickly."
Do different milks make it easier or harder to make latte art?
"They are just different. It's a little bit harder at first to use different milks from other countries, but I can get used to it quickly."
Your country is very famous for its tea traditions. Just how popular is coffee in Japan? Has there been a change in the past 10 years?
"We drink tea as water usually, but Japanese people have enjoyed and loved coffee for many years. They mostly prefer a really deep-roasted bean, used to make traditional Japanese-style hand drip.
A lot of Japanese people didn't use to care about the taste. They enjoyed going to cafés to gather and talk with friends there. Coffee was just a way to get together, I think. There are a lot of good quality beans coming to Japan at the moment and there are a lot of micro roasters as well, so we can enjoy a variety of coffee tastes here now."
How important is latte art in Japan?
"Japanese sensibility is rich and we enjoying watching before eating. So latte art is one of the entertainments and a first step to drink coffee for Japanese people. It is so useful to it."
Article by Livia Formisani

Just between us, how far do your coffee-making skills extend?