';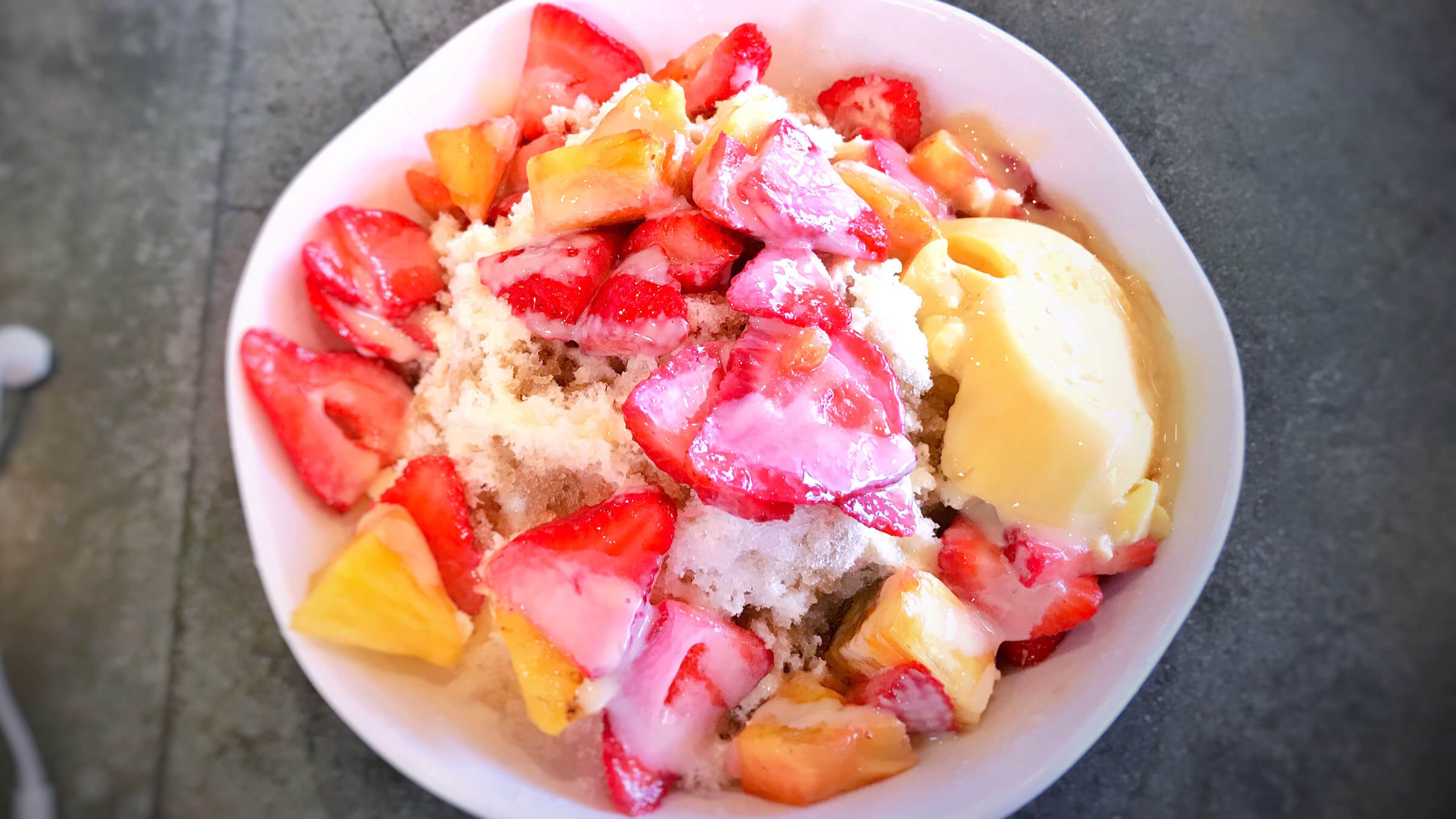 Imagine waking up in the morning and seeing that the mercury will hit 37°C later on in the day. What would you be thinking? Stay inside and sit in the air conditioning? Put your feet in the freezer, fan on full force and a cold towel round your neck?
Not if you're in habitually hot Taiwan: if you live here, you have to go about your usual day, and if you're visiting, you'll surely want to see the sights! So, what do you do? You go out and explore, but you'll almost certainly find yourself in dire need of cooling off. And when water won't cut it, shaved ice comes to the rescue!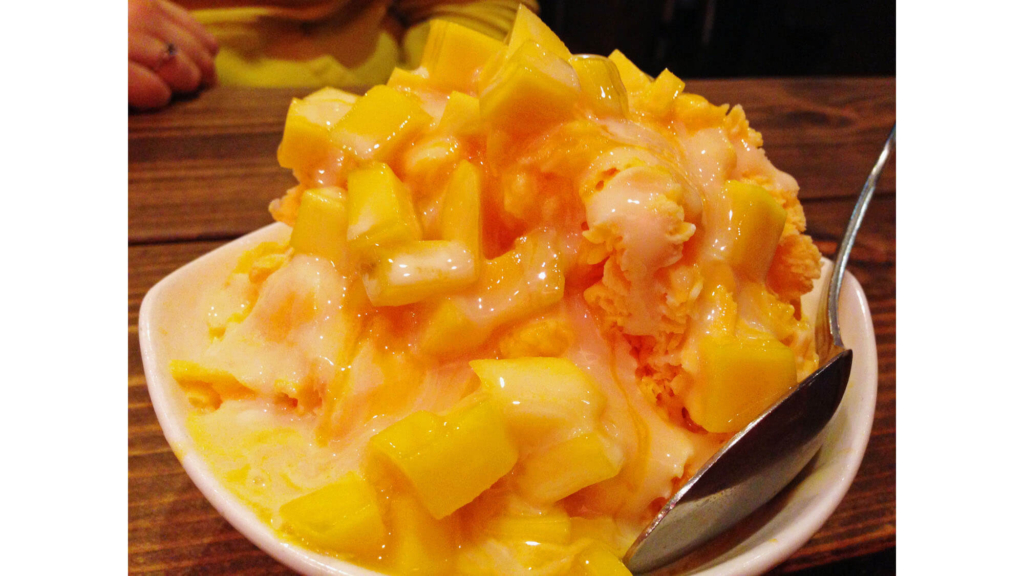 [Photo: Phil Denton/Flickr]
It sounds pretty simple in essence: take some water, freeze it, shave it, then eat it. But that also sounds pretty bland, doesn't it?
Try this instead: get some water and mango juice, mix and freeze them together into a big block, put said block of ice into a machine which will shave thin pieces into a bowl, scoop over thick chunks of the sweetest mango you have ever tasted, followed by lashings of sweetened condensed milk. We must have your attention by now, surely?
Where Does It Come From?
'Ba boo, ba boo' – if you've been in Taiwan anytime between May and September, you're likely to have heard an old bicycle horn being ceremoniously tooted, with a vat of 'ice cream' hanging off the back of the bike. Believed to be the birth of ice cream in Taiwan, these vats of ice are mainly just shaved ice with some syrup and some flavouring thrown in. They were transported in whatever could be insulated for the longest possible time, and when the horn honked, people would come running – much akin to ice cream trucks in the West, but these are usually peddled and pushed by an elderly pensioner instead.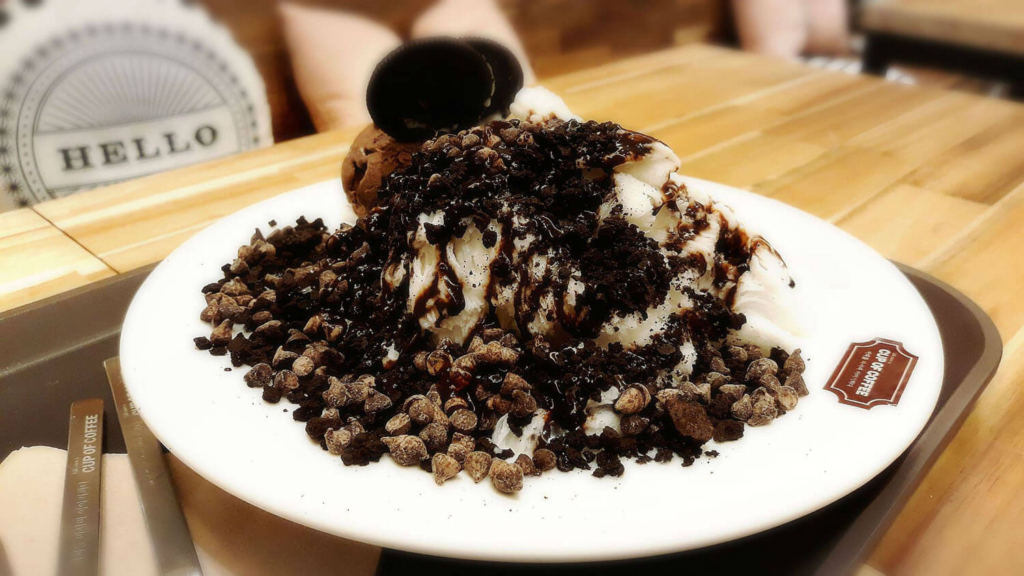 Popsicles and ice sticks were also very popular when the heat of the summer sun burned mercilessly down on the workers around Taiwan. These were simple to make, often involving the mashing of fruit together with water, then frozen with a stick inside. Simple, effective, delicious and relatively healthy compared to the artificially flavoured ones you see nowadays splattered all over convenience store shop windows luring you in out of the heat.
Having been occupied by Japan for a half century until 1945, Taiwan has been heavily influenced by Japanese culture over the years. The Taiwanese really fell for Japan's preparation of shaved ice, where water was mixed with banana oil, frozen, then shaved with a hand-peddled machine spitting thin flakes of ice into a bowl. The shaved ice was either eaten like that straight from a bowl, or topped with sugar or fruit.
How To Eat It Today?
Of course, it was only a matter of time before this kind of ice became somewhat outdated by the times we find ourselves living in. People want more. People want variety – and Taiwan has delivered on all fronts, with a multitude of different types of shaved ice (sometimes called baobing) available at any given moment. Some popular ones include:
Updated Traditional Style
In this version, shaved ice sits at the bottom of the bowl, topped with stewed lotus seeds, 'white wood ear' mushroom, candied taro (a starchy edible root) and a chilled soup sweetened with rock sugar. Textures are aplenty in this bowl, with sweet and bitter flavours throughout. The style is much more traditional, that much is evident, but this is enjoyed all over the island of Taiwan in some form or another.
[Photo: Ash Boden]
8 Treasure Ice
Directly translated from Mandarin Chinese, '8 Treasure Ice' traditionally involves a mound of shaved ice over which 8 different ingredients are spooned. These ingredients may include tapioca balls, red beans, pineapple, peanuts, mung beans, taro, taro paste, sweet dumplings… the list is endless, really, as long as it isn't too sweet.
[Photo: Ash Boden]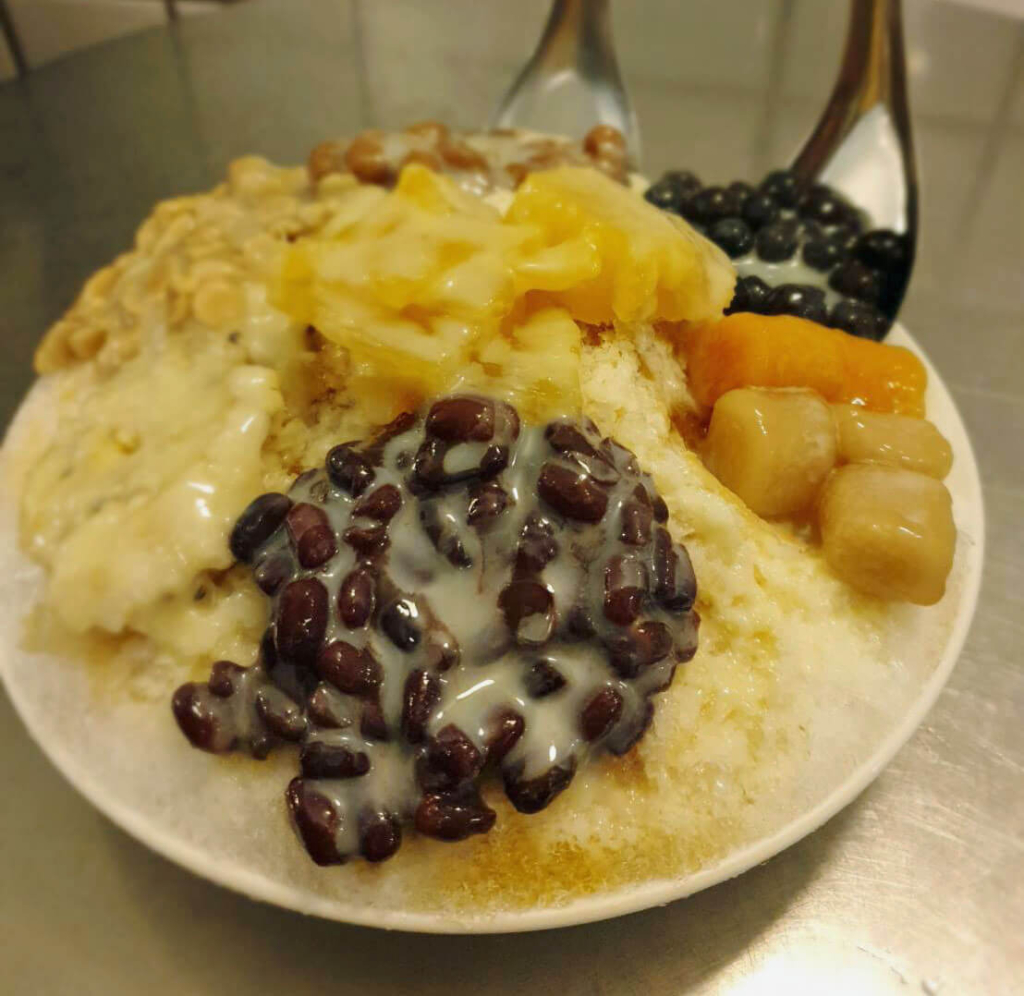 Fashionable Flavours
Food, much like fashion, is shaped by seasons and fads. One of the hottest trends in the capital city of Taipei right now is taro. Starchy like potatoes, taro has been used for decades as a way to thicken soups and add further texture to dishes. But stand back: taro is about to take centre stage. Due to its special texture and stickiness when cooked, taro almost immediately lends itself to being spooned over something like shaved ice or ice cream. With chunks of taro within, sweetened taro paste is generously adorning shaved ice all over the city. Here you can see it paired with 'snowflake' ice and peanut mochi.
[Photo: Ash Boden]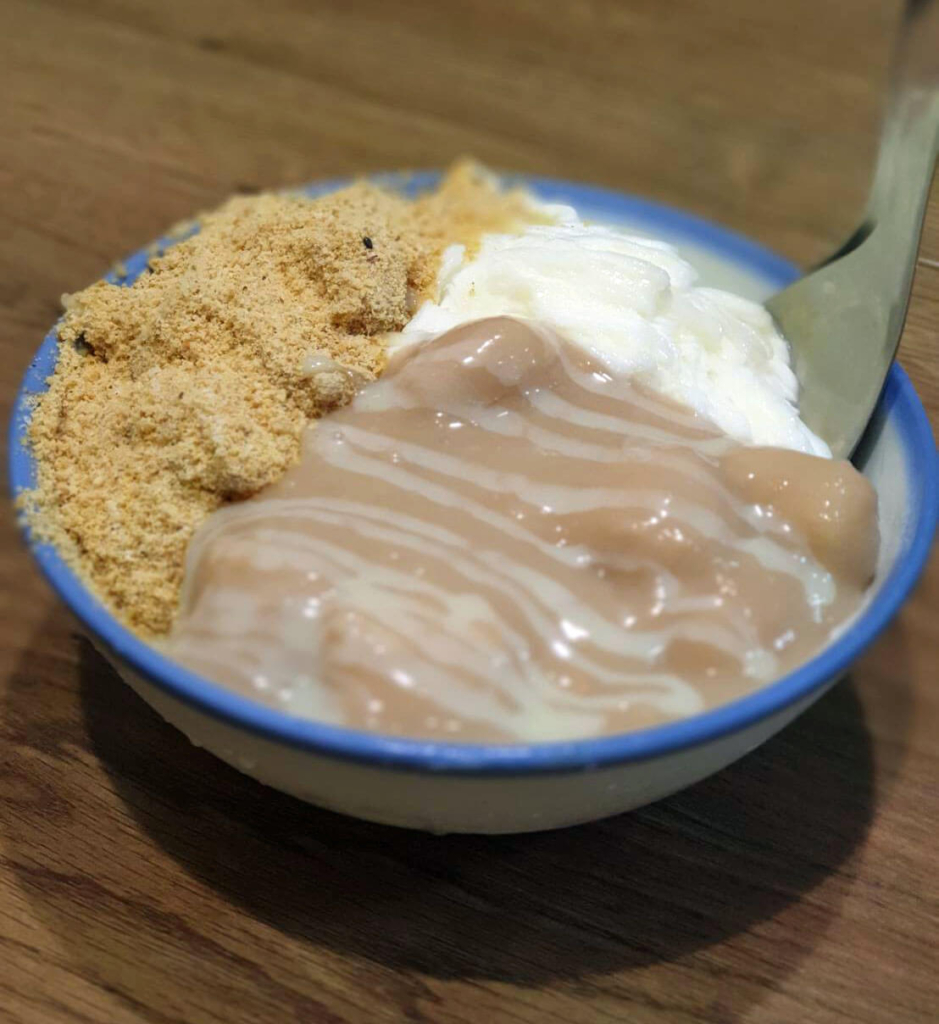 About Ash Boden
Ash is an Englishman living and teaching in Taipei, Taiwan. Initially surprised by the lack of English menus and English-speaking restaurants in the city, Ash has since learned Chinese and created his blog, Eating in Taipei, to encourage people to walk into restaurants with the confidence of knowing what to eat.