';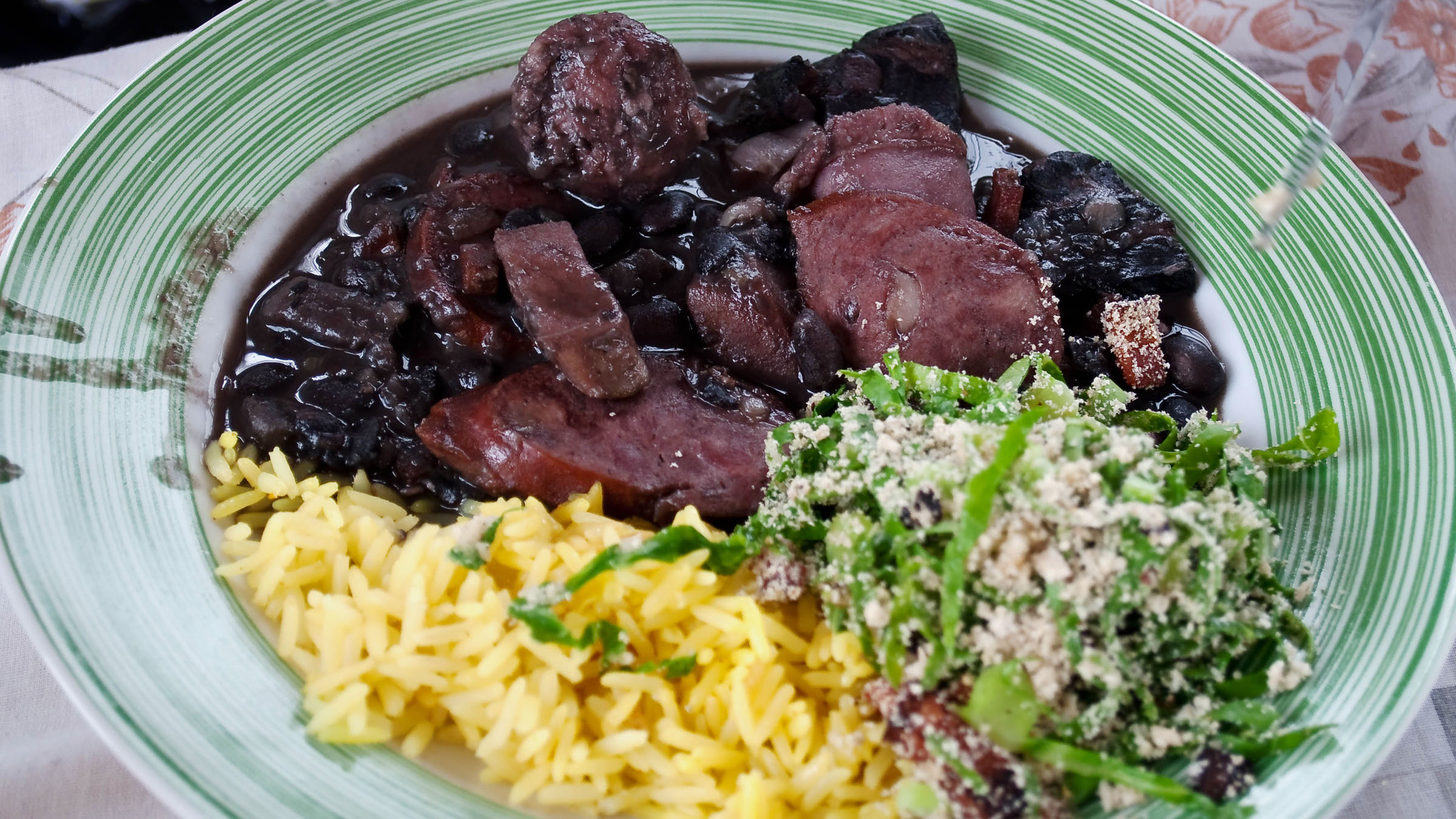 ;
At this time of year, Brazil is one big party: marching bands and dance troupes take to the streets and the sambadrome of Rio de Janeiro, putting on one of the most famous Carnival celebrations in the world for the more than 2 million annual visitors. Of course, all those dancers, musicians and onlookers need sustenance, which means that Brazilian cuisine also plays a starring role in the festivities – and when it comes to typically Brazilian food, nothing is more beloved than feijoada.
A hearty black bean stew made with beef and pork, feijoada is an intense explosion of flavours, and when mixed with other dishes, it can satisfy even the most demanding palate – not to mention provide Carnival-goers enough energy to enjoy the marathon days and nights of revelry. In Rio, feijoada is traditionally made on Wednesdays and Saturdays, both in restaurants and in homes, and is the perfect dish to share on special occasions like birthdays and gatherings among family and friends. It's usually served around a fire, accompanied by good wine, sangria, beer or maybe the Brazilian national drink: a caipirinha.
Origins Of A Staple
According to local lore, it was the Portuguese who introduced pork to this part of South America when they conquered the region. In his book História da Alimentação no Brasil (The History of Food in Brazil), historian Luís da Cámara Cascudo recounts that rich plantation owners ate pork as their main meat, while black beans were a staple food for the slaves. It is said that the plantation owners let the slaves have the cuts of pork that they themselves didn't want, and the slaves began to cook these offcuts with black beans, rice and farofa (toasted cassava flour) to create a delicious stew. Gradually, feijoada went from being a dish for slaves to being cooked by feudal landowners – using better cuts of pork.
What's In It?
Now you know the origins of feijoada, but what's in it and how is it made? We talked to Rodolfo Chocontá Herrera, chef and culinary adviser at Brasa Brasil in Bogotá, and he revealed the secrets to cooking it to perfection.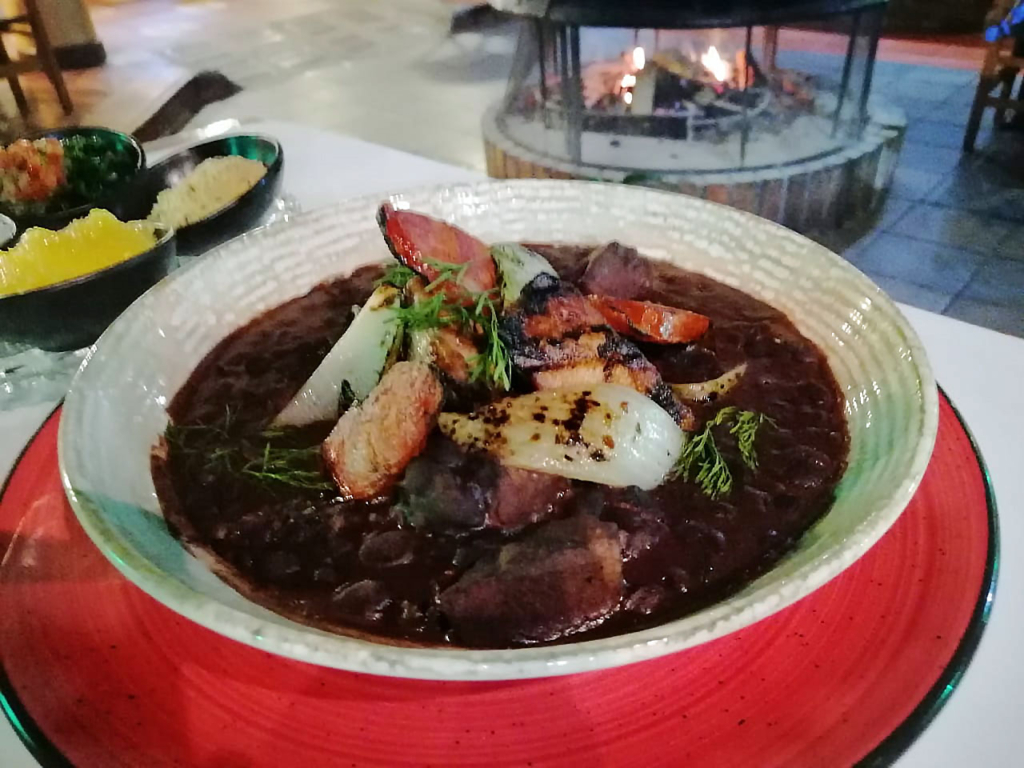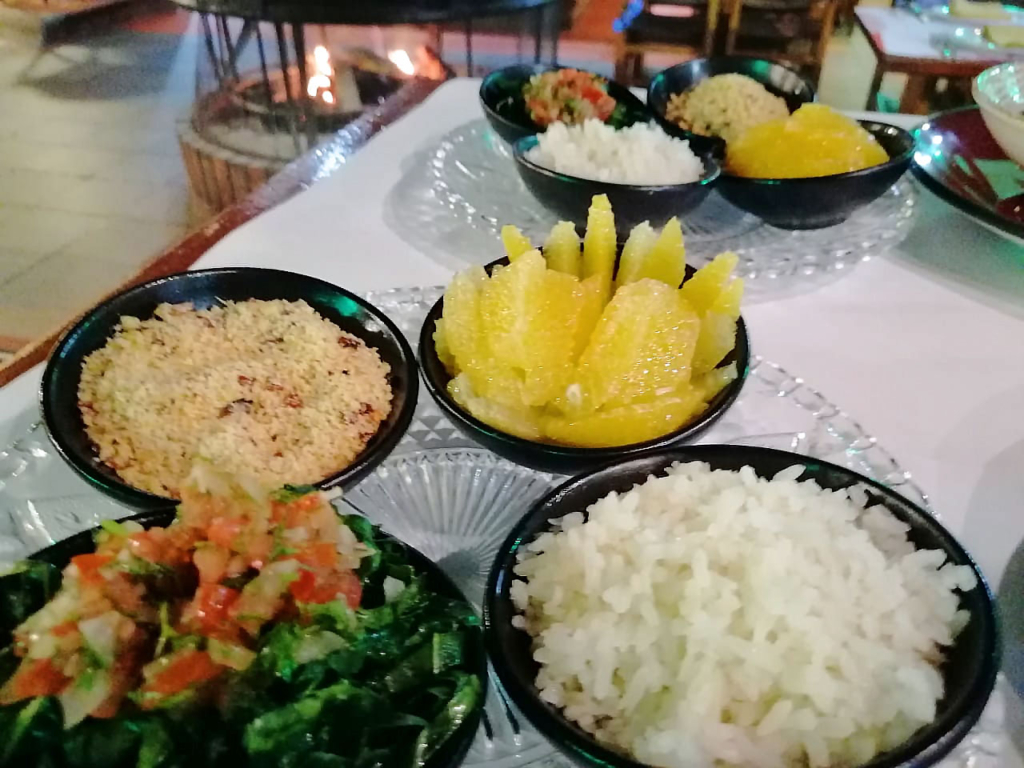 [Photos courtesy Brasa Brasil]
According to Herrera, black beans are the main ingredient of this dish – though you can also use white or red beans (the latter is more common in Portugal). The second main ingredient is white rice, which acts as a base for the many other flavours. The specific type of meat used varies depending on the recipe or the chef, with common options being smoked ribs, smoked bacon, dried meat, or longaniza sausage and pork ribs, which combine perfectly.
It's also usually served with farofa (toasted cassava flour) and a few orange slices which, locals say, aid digestion.
Where To Get It In Rio
If you happen to be in Rio de Janeiro for Carnival (lucky you!) or any other time of the year, don't miss the opportunity to try feijoada in its homeland. We recommend the aptly named Casa da Feijoada, located just a few metres from Ipanema beach. Famous for its traditional Brazilian dishes, this restaurant has been serving feijoada for lunch and dinner every day of the week for almost 30 years.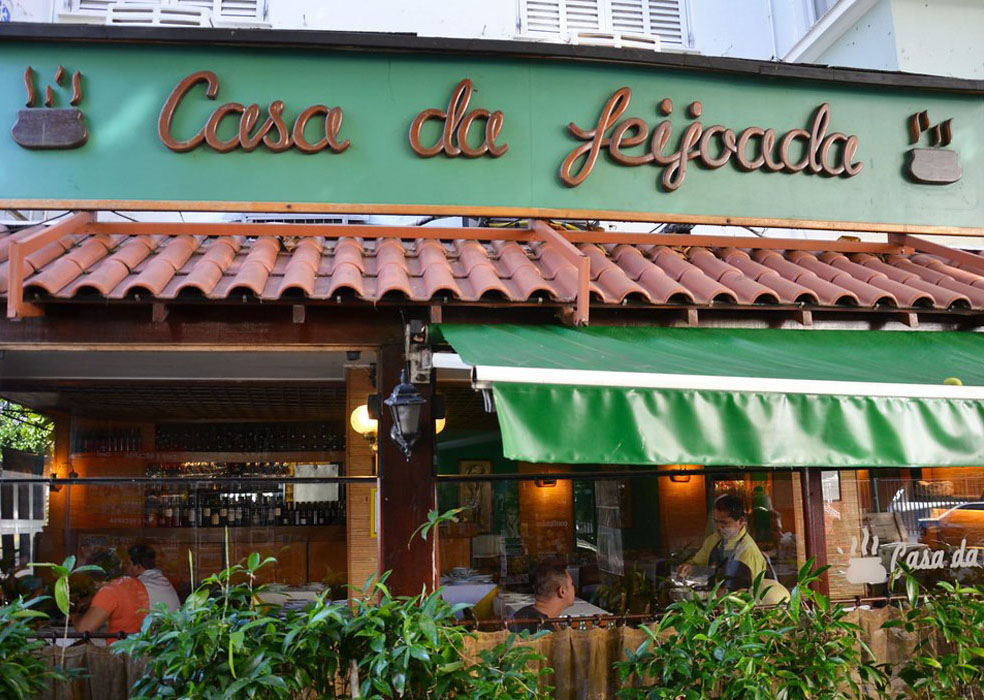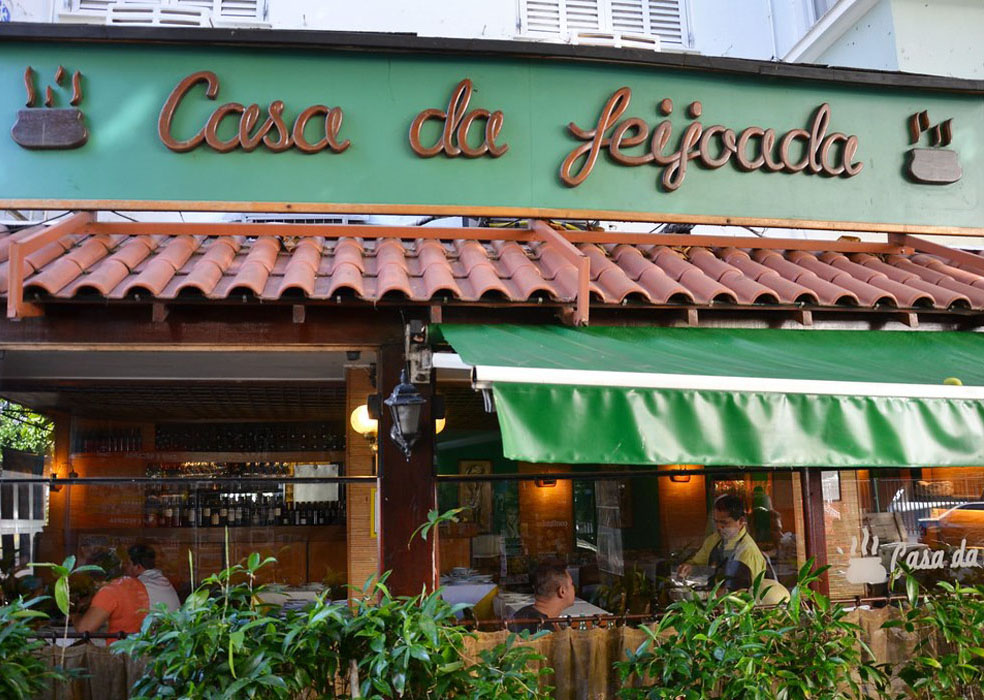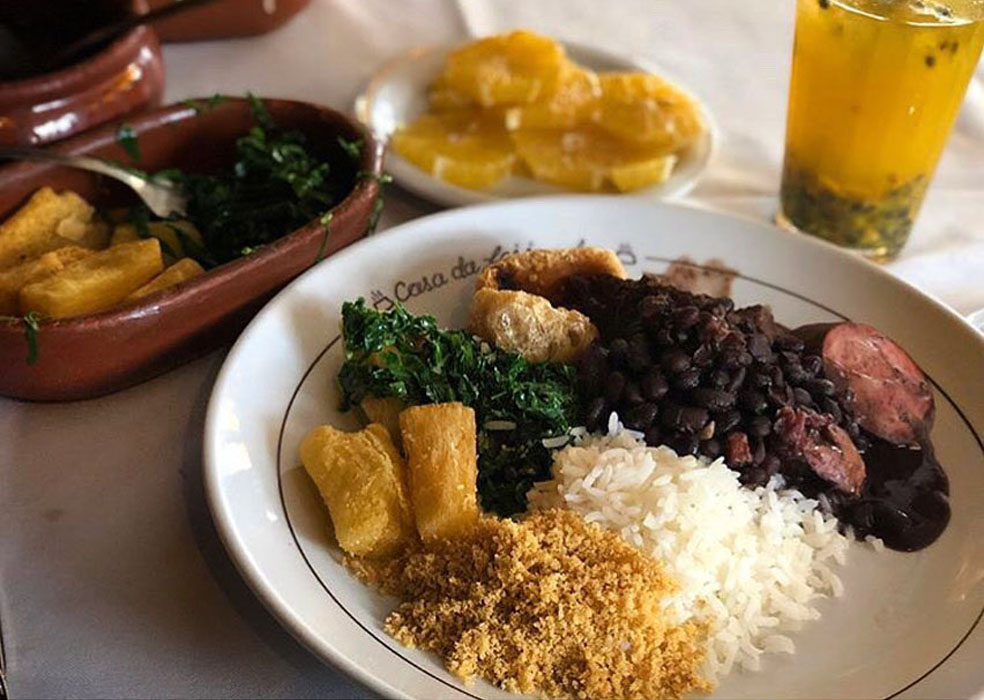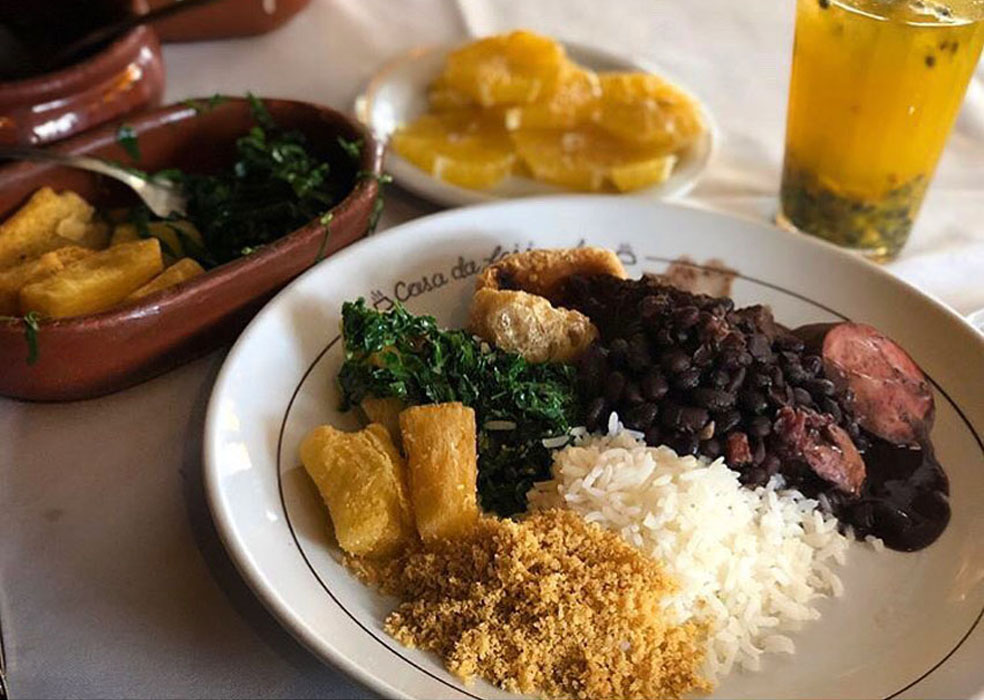 On the other hand, if you want to enjoy feijoada with a side of the best Brazilian music, head to Restaurante Vinicius e Bossa Nova Bar. Having debuted in June 1989 with a stunning show by Carlos Lyra, to this day it hosts a daily programme of exciting performances by the biggest names in Brazilian music.
Make Feijoada At Home
Not travelling to Rio anytime soon? Bring the flavours of Brazil into your kitchen – try this feijoada recipe by Chef Herrera.
Ingredients:
1 kilo black beans
½ kilo beef tenderloin
¼ kilo chorizo
¼ kilo bacon
1 chopped pork leg
1 lb beef brisket
1 lb top round of beef
700g pork ribs
1 lb pork tail
2 spoons of Dendê oil (can substitute peanut oil)
5 peeled tangelo oranges
4 tomatoes
2 large white onions
1 bell pepper
300g kale
2 garlic cloves
Freshly ground salt and pepper to taste
Farofa: 300g cassava flour fried with 100g of bacon and 100g of chorizo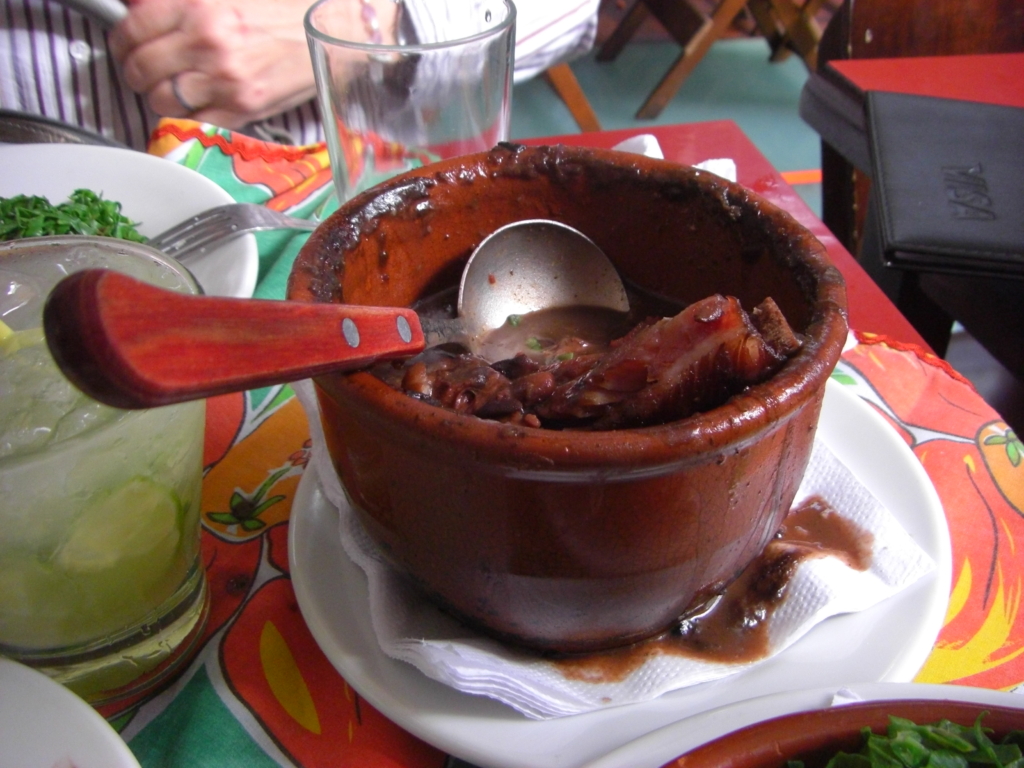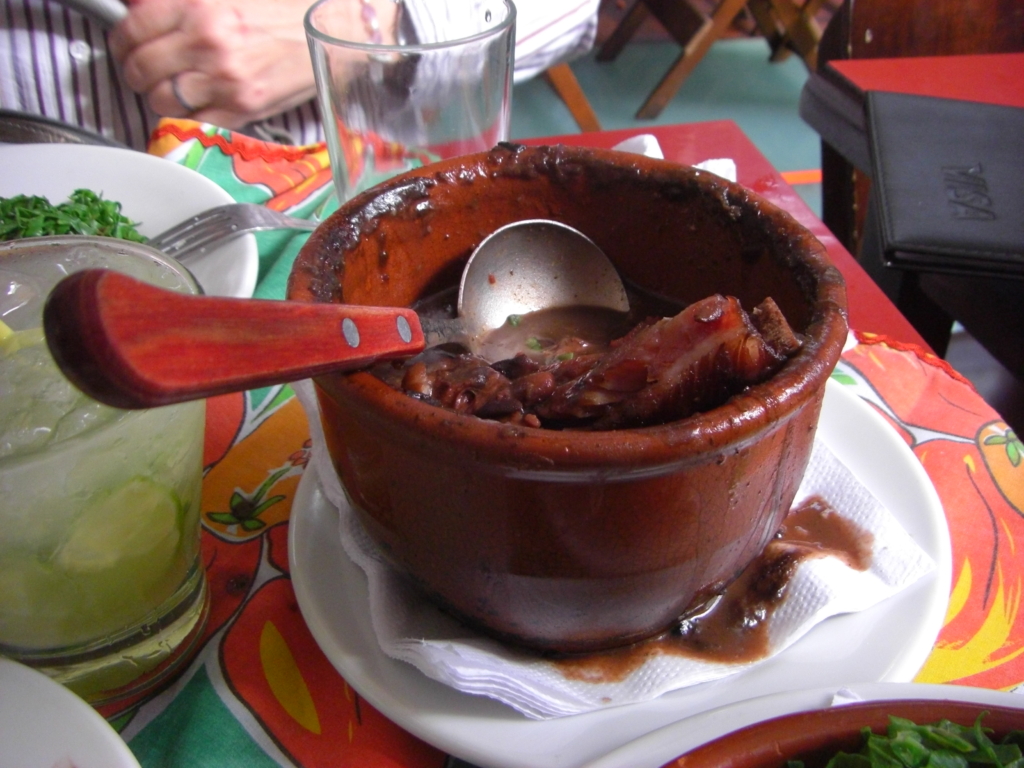 Preparation:
1. The night before, soak the black beans, tongue, ribs and bacon in separate bowls. The next day, cook the black beans in a large pot over low heat for approximately 45 minutes.
2. Start cooking the meat separately two hours earlier in stock with onion, coriander, paprika, parsley and salt (each cut of meat should be cooked separately and on low heat).
3. Once cooked, chop up the meats and then add them all to the pot with the black beans, being careful to ensure the mixture doesn't dry out. Add water if necessary.
4. Chop the onion, garlic, tomato and bell pepper, and fry together in a frying pan in the oil. Add salt and pepper to taste.
5. Once the meat and the beans are tender, add the chorizo with some of the stock from the meat and beans and cook for about 30 minutes.
6. Finely slice the kale and put in a serving bowl.
7. For the farofa, sauté the flour with the bacon and the chorizo until it becomes golden and crunchy. Put in a serving bowl.
8. Serve the feijoada in individual bowls, along with the peeled oranges. Serve the side dishes separately, allowing each diner to mix them with some feijoada and sprinkle the farofa over the meat to balance its flavour.
[Recipe photo: Jay Cross/Flickr]