';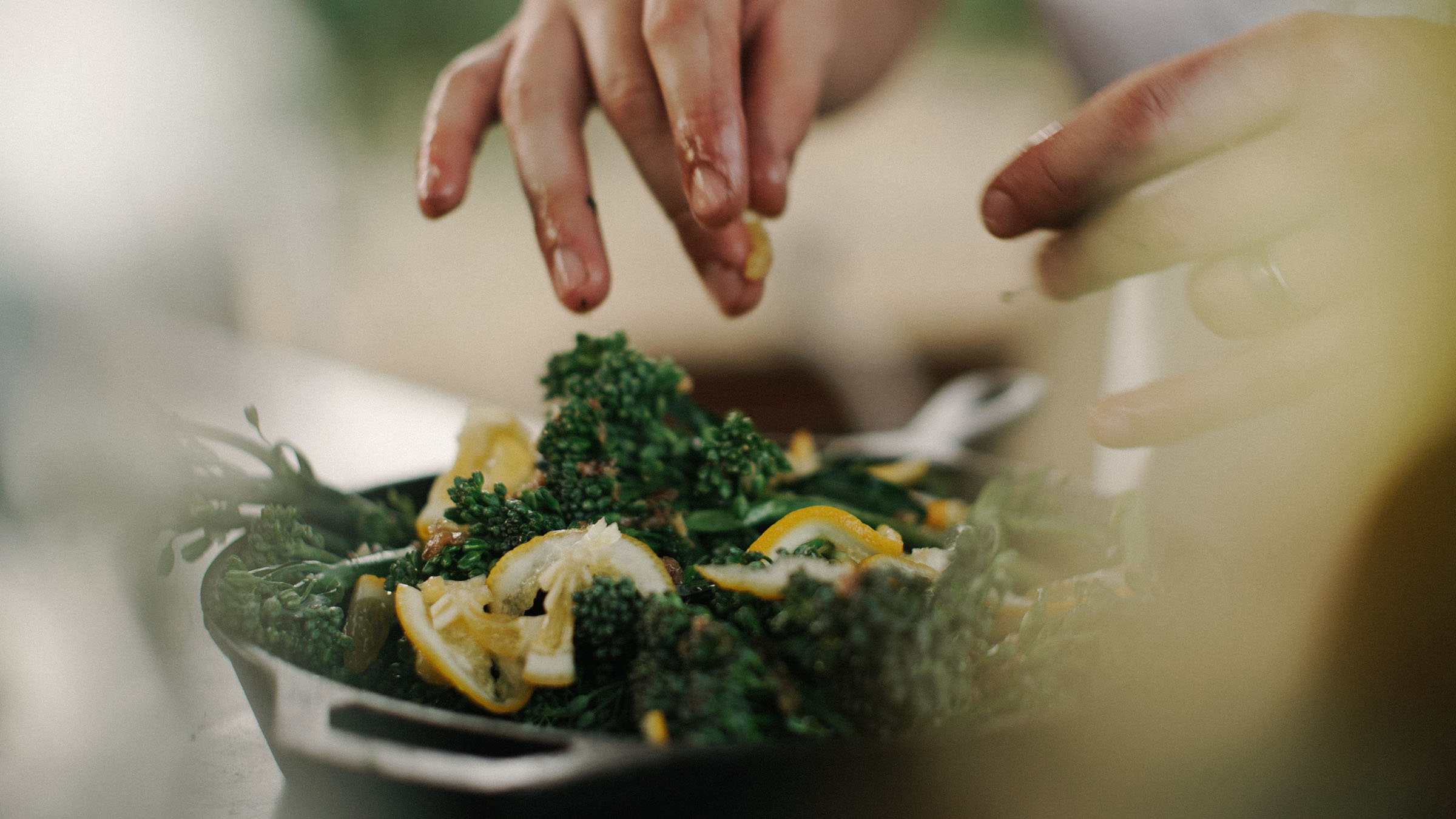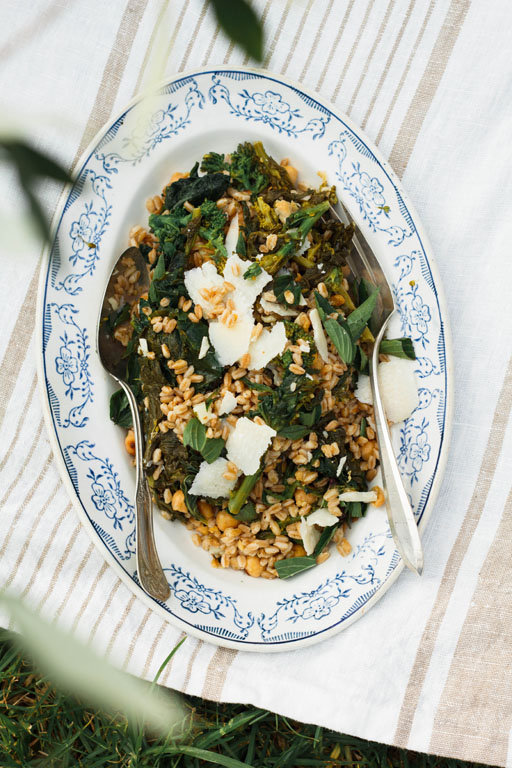 "This toasty and nutty salad is an ode to my love of broccoli rabe – a friend has made me a fellow champion of this slightly bitter cruciferous vegetable. Partnered with the ancient grain farro, which once was the staple of Roman gladiators, believe it or not, it's utterly delicious with roasted chickpeas and a zing of lemon. This salad can hold its own, filling enough to serve alone, too. With a healthy amount of parmesan shavings, I think a gladiator would approve." – Alanna O'Neil
Farro & Broccoli Rabe Salad
Serves 4-6
Ingredients:
1 cup (around 190 grammes) farro
2 cups broth of water, I prefer chicken broth (around 470 ml)
Extra virgin olive oil
1 15.5oz can (439 grammes) chickpeas, drained
1/4 teaspoon red pepper flakes
1 shallot, minced
1 bunch broccoli rabe, stems trimmed
1/4 cup (60 ml) water
2 cloves garlic, minced
1 lemon
1 tablespoon lemon zest
2 cups (40 grammes) fresh basil, roughly torn
1/2 cup (45 grammes) Parmigiano-Reggiano shavings
1/2 teaspoon kosher salt
Cracked black pepper to taste
Preparation tip: If in a time pinch, cook the farro a day beforehand. Keep it in the fridge, and finish it off the day of your outing.
Method:
1. In a small saucepan with a fitted lid, add the farro and 2 cups of stock and bring to a boil. Once it reaches a boil, cover with the lid and lower to a simmer. Cook until the grains are tender, about 12-15 minutes.
2. Fluff the grains with a fork and chill the farro in the fridge for about 30 minutes. Putting the farro in the fridge helps it firm up.
3. Meanwhile, in a small cast iron skillet over medium heat, add two tablespoons of olive oil. Once the oil is warmed, add the chickpeas. Crisp the chickpeas over medium heat for about 10-12 minutes, stirring occasionally to toast evenly. Season with a pinch of kosher salt and the red pepper flakes. Transfer the chickpeas to a small bowl and set aside for now.
4. Remove the cooled farro from the fridge. In the same pan used to toast the chickpeas, over medium heat, add 2 tablespoons of olive oil. Once warmed, add the farro and toast for about 8-10 minutes until lightly crisp. Set aside.
5. In a large sauté pan with a fitted lid, add 3 tablespoons of olive oil. Once warmed, add the shallots and cook until softened about 5 minutes. Add in the broccoli rabe and a 1/4 cup of water. Cover and cook on low for about 10 minutes until tender, stirring occasionally. Stir in the minced garlic and set aside.
6. In a large serving bowl, add the farro and broccoli rabe combining both together. Season with kosher salt to taste. Squeeze in the juice of one lemon, lemon zest and a drizzle of 2 tablespoons of olive oil.
7. Top off the salad with the crispy chickpeas, fresh basil and Parmigiano-Reggiano shavings. Season with fresh cracked black pepper and additional red pepper flakes if you desire.
This salad is delicious either served hot or cold. It also tastes great made a day beforehand. Pack the salad in a leak-proof container and serve in a wood or enamel bowl at your picnic site.
From The Art of Picnics: Seasonal Outdoor Entertaining, out on 10 August 2021. The book is available for pre-order.