';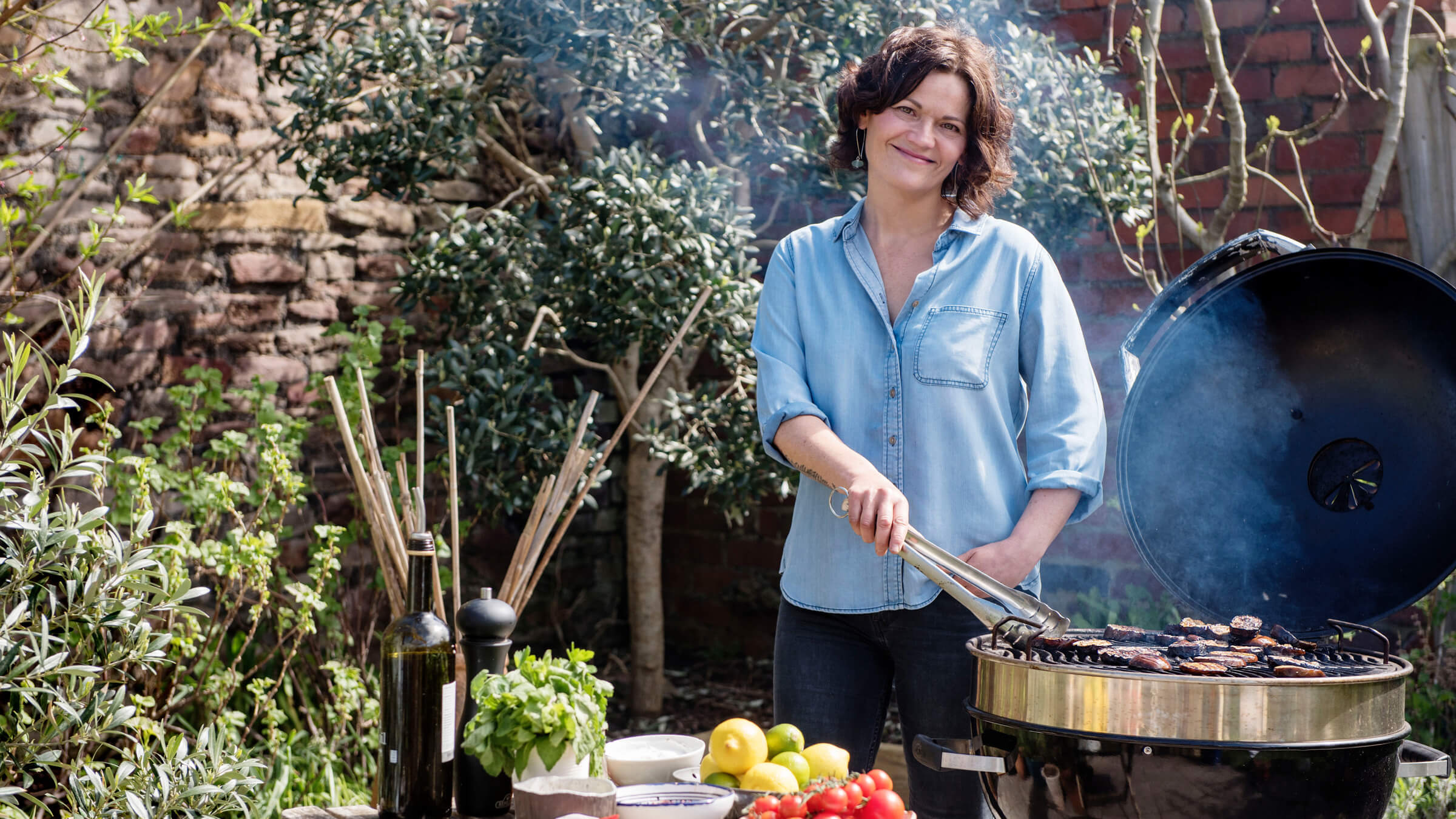 If you follow the cookbook world a little, you've probably noticed a surge in titles on grilling and cooking over fire. Most are dedicated to charred meats and (maybe) fish, with just a few recipes for vegetarians, such as grilled halloumi or corn on the cob. Yet at the same time, more and more people are gaining a real appetite for fresh produce, and are introducing more vegetables into their everyday lives. Thank diet fads, health trends or a push for more environmentally responsible ways of eating, but plants are showing up a lot more on our plates.
So what's a veggie-loving grill master to do?
Food writer and BBQ expert Genevieve Taylor has come to the rescue with Charred, a cookbook full of great vegetarian barbecue recipes designed to get maximum flavour out of a vibrant variety of veg. As a bonus, most dishes can also be cooked in a grill pan or conventional oven, year-round.
Here, we talk to Taylor to find out more about the pleasures of cooking with fire – and with vegetables in particular.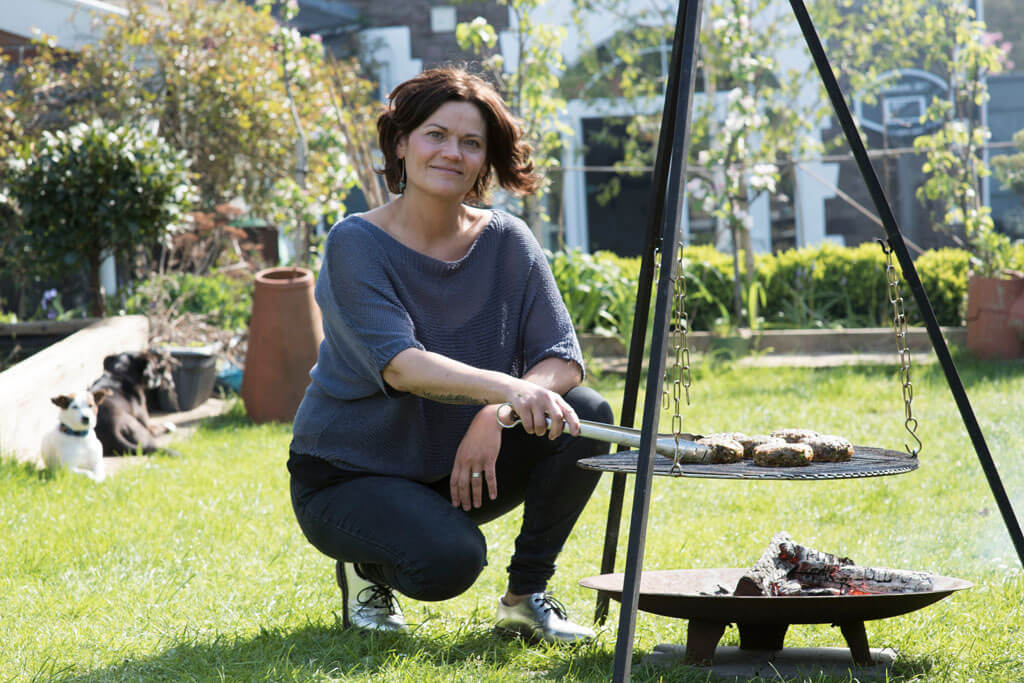 How did you get the idea to write a book about vegetarian grilling?
Genevieve Taylor: About 18 months ago I took on an allotment and started growing lots of different vegetables. Having gluts of this and that provided me with the impetus and inspiration to experiment on the BBQ.
What draws you to cooking outdoors?
I am very much an "outdoors person" – I'm much happier outside than inside, and have been a keen gardener for many years. Cooking outside is just an extension of that, really.
As a busy working mum I find myself having to cook all the time for my family – and even for us food writers that can get very dull! Taking my cooking outside and freeing myself from the shackles of the kitchen is both energising and liberating. I also love it that the cooking becomes very much a social occasion, everyone gathers round the fire and helps.
What – for you, personally – is the greatest pleasure in grilling?
Cooking over fire is primal, everyone is drawn to a fire. I love that you have to work with the fire – each fire is a little different, and you have to become a more instinctive cook. This brings me a lot more pleasure than cooking with modern technology – induction hobs, sous vide machines, lots of kitchen gadgets – that sort of thing holds very little interest for me. They just don't excite me and don't stimulate my creativity. Fire does that.
The big question: gas or charcoal?
I definitely prefer charcoal, as long as it's good charcoal made from sustainable, well-managed woodland. I would rather use gas than bad charcoal that's harvested from dubious tropical sources. I also use a gas BBQ more during the winter when I just want to nip outside to cook something quickly – steak or fish, for example – and come inside to eat it. But I far prefer cooking with charcoal.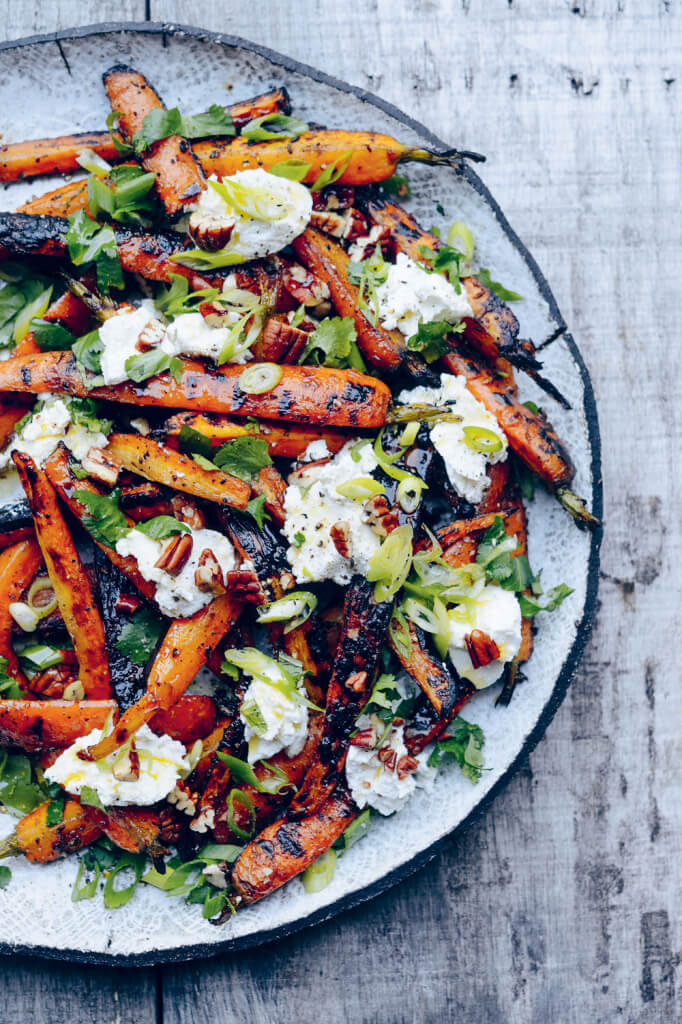 Taking my cooking outside and freeing myself from the shackles of the kitchen is both energising and liberating. I also love it that the cooking becomes very much a social occasion, everyone gathers round the fire and helps.
Some people equate meat-heavy barbecuing with "manliness" – what would you say to someone who balks at the idea of vegetarian grilling?
BBQ has always, and still continues to be to a certain extent, been seen as a "man's job". There has always been this sense that BBQ is a bit of a "man vs meat" competition – how many other meals would you serve friends that might contain burgers, chicken wings, sausages, steak, kebabs – basically all the meat in one place and one time? That feels like a very old-fashioned way of eating to me, like the "mixed grill" you used to get in 1980s restaurants.
I love eating meat, but I also love eating vegetables. It seemed like a very natural thing to try and encourage a more omnivorous approach to barbecuing. Plus, vegetables on the grill are so delicious and colourful, really appetising to smell as they're cooking, beautiful to look at and great to taste.
You've said that much of barbecue cooking is learning "on the job". What's a great dish to start with if you're a barbecue novice?
The more you use your barbecue, the better you will get at it. It's about confidence, about learning how your own grill works, and how to light the fire to achieve different effects – for example, direct cooking (where the food is over the heat) or indirect cooking (where the food is offset, and so cooks much more gently).
Start by direct grilling easy things like peppers, and move on to experimenting with slow cooking larger vegetables, like a whole cauliflower. I hope that all my recipes are pretty simple and achievable. I don't use fancy methods or particularly complicated ingredients; my cooking is about taking simple ingredients and layering up flavour with herbs and spices.
What are your favourite vegetables to put on the grill (and why)?
I adore barbecued carrots, they become so intensely "carrotty" and sweet, and the edges caramelise beautifully. One of my favourite recipes in the book is a simple salad with grilled carrots that have been marinated in crushed cumin seeds and garlic, layered up on a plate with coriander leaf, spring onions, creamy ricotta and toasted pecans. [Get the recipe here.]
Is there anything – veg, meat or otherwise – that you don't recommend cooking on the grill?
Not really, it's worth trying everything and anything! And don't discount fruit on the BBQ, either – wedges of apple grill really brilliantly and are great in a salad with (yes you guessed!) grilled kale, sprinkled with crispy chilli-spiked croutons and creamy blue cheese.
Basting is often advocated when cooking meat on the grill, as a way of keeping meats from drying out. Would you say vegetables also benefit from the technique?
Absolutely, basting is great for that, and also for adding layers of flavours and developing a golden crust – sometimes known in meat BBQ as the "bark". Meat is well-known for undergoing the aroma-enhancing Maillard reaction (a chemical reaction between amino acids and sugars), but vegetables do this, too, at the right temperatures. Carrots, sweet potatoes, onions, sweetcorn, broccoli and mushrooms are just a few that taste better given a bit of heat and fire.
A great part of vegetarian cooking in general is the way spices really complement the produce. What spices would you say work best with grilled dishes? Any spices to avoid?
I'm a massive fan of spices and herbs and use them daily, and generously, in my cooking. I don't like "rules" in my cooking, and am prepared to try anything to see how it works. Very strong spices like cinnamon or mace should be used with caution, as they can be overpowering. Dried, woody herbs are great in marinades – thyme, rosemary, oregano – whereas fresh herbs are better added towards the end or after cooking so their flavours are zingy.
How do you feel about store-bought meat alternatives, such as soy burgers and the like?
To be honest, they are not my sort of thing. I understand that some committed vegetarians and vegans might enjoy them for the chewy bite they might miss in a plant-based diet, but I prefer to let the vegetables shine through on their own. But if you do want to eat them and enjoy them, layer up the flavours from other tasty things – the patty is just the base of a burger, adding cheese (or a vegan alternative) for the melty texture, roast veg for richness, fresh lettuce for bite, chilli sauce or mayo for moisture and intensity… you get the idea.
Do you have an easy recipe for a trusty dipping sauce that works well with a variety of grilled foods?
The Spanish sauce romesco – a heady mix of roasted peppers, olive oil, garlic and smoked paprika, blended with bread to an unctuous, intense-flavoured puree – is my absolute favourite sauce or dip. It goes so well with barbecued food, both meat and vegetables.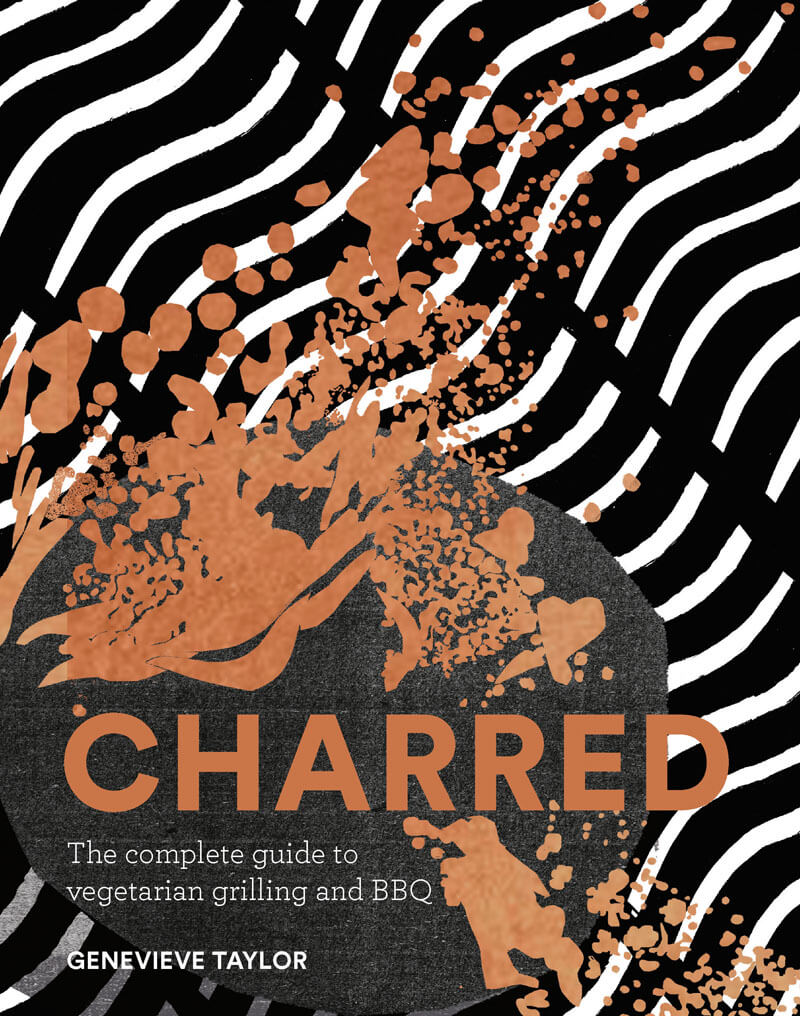 About Charred
If you're bored of beefburgers, or if you're vegetarian and want more than scorched sweetcorn and chewy halloumi, then Charred offers up over 70 original, exciting recipes to cater for all your veggie BBQ needs. With sections on "Stuffed and Wrapped Veg", "Burgers and Fritters", "Kebabs", "Low, Slow and Smoked", and "Sharing Platters", these vegetarian dishes will be the highlight of every meal, with the likes of whole roast cauliflower drenched in spiced garlic butter, griddled radicchio with burrata and figs, or corn on the cob with Cambodian coconut, lime and chilli.
#staysafe #stayathome #selfisolation