';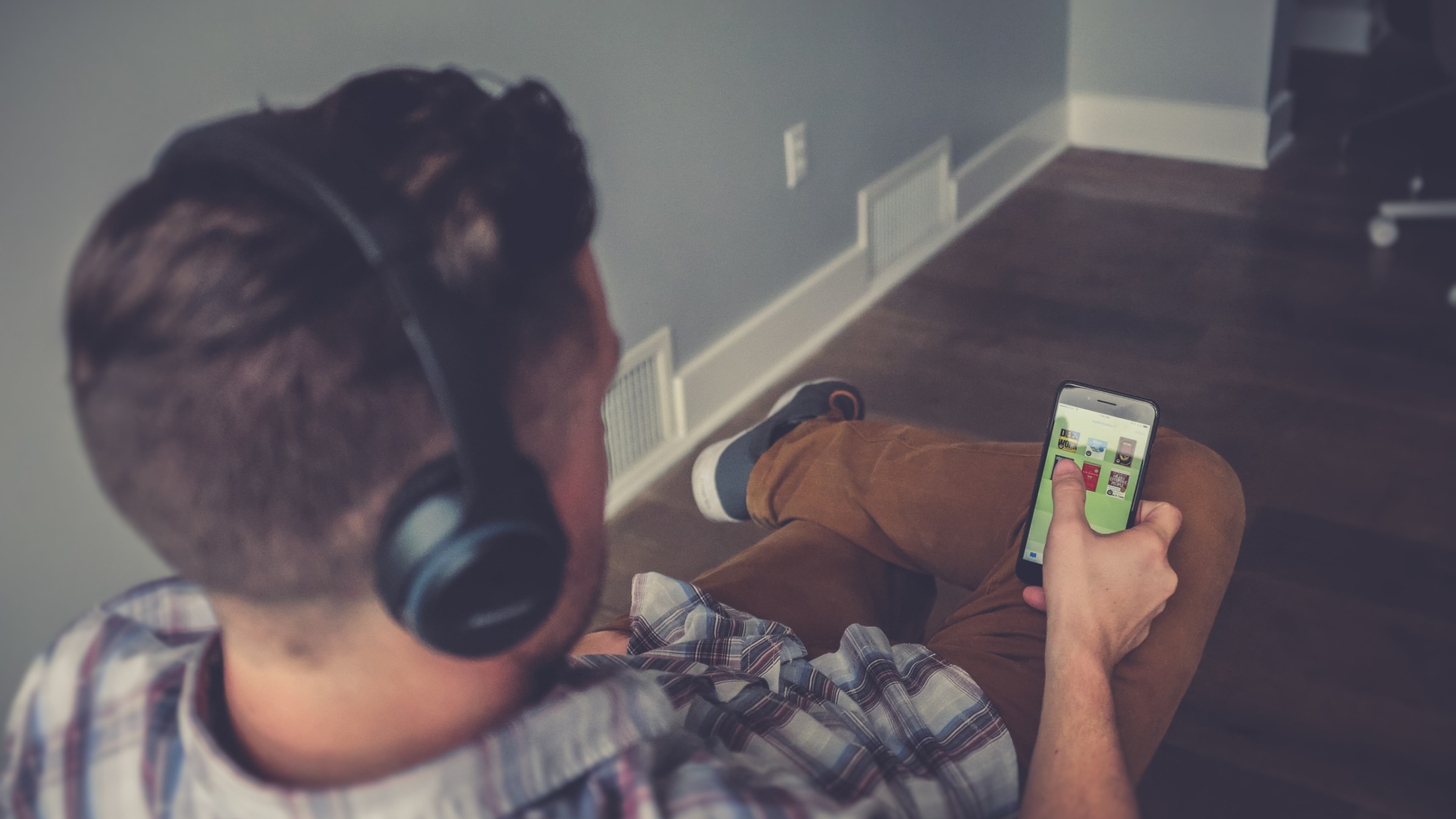 ;
Radio was once the undisputed king in the realm of disembodied voices delivering a mix of entertainment and information, but there's a potential new ruler in town: podcasts. The medium has been around since the early 2000s and has enjoyed steady growth in popularity throughout its short life, but it was only in the past couple of years that podcasts truly became mainstream. Now with more than 700,000 podcasts and over 30 million episodes to choose from, it's harder than ever to decide what to cue up next – so we've taken the liberty of handpicking a short list of podcasts worth checking out.
Pry With Fry
British actor, comedian and writer Stephen Fry turns the alleged holiness of podcastery upside down, as he takes on each one of the supposed seven deadly sins and lays them out "on the surgical table [to] poke, prod, pry and provoke in an attempt to anatomise and understand them" in his podcast, Stephen Fry's 7 Deadly Sins (listen on Spotify and iTunes). Educational, well-researched and thought-provoking, Fry examines the role of vice and virtue throughout history, as well as in our contemporary culture, society and personal lives. He talks of gluttony with a flood of memories of Sugar Puffs cereal eaten straight from the box, and asks if pride "is still such a greater sin if we're low on self-esteem?". It's time to give in to temptation: more sins, more episodes.
A Look Into Herstory
"Any resemblance to a boring old history lesson is purely coincidental," remind hosts Susan Vollenwelder and Beckett Graham before each episode of their podcast, The History Chicks (Spotify and iTunes). Right from the title, their mission is clear: shed light on the bright and courageous women across centuries and millennia who, despite having changed history, have received little more than footnotes in the average school textbook. With a pleasant combination of levity and thoroughness, they boggle our minds revisiting the fascinating lives of historical heroines like Louisa May Alcott, Hypatia of Alexandria and Pocahontas.
For Curious Minds
There are so many great nature- and science-focused podcasts out there, we couldn't pick just one. If you've got questions about the meaning and manifestations of "intelligent life", from eVTOLs (aka real flying cars) to human-robot interactions, then Lex Fridman's Artificial Intelligence (on Spotify and iTunes) is worth tuning in to. If you love pondering the universe, its galaxies and unknowably endless space, then Astronomy Cast (on Spotify and iTunes) is more your thing. Hosted by Fraser Cain and Dr. Pamela L. Gay, this show "brings the questions of an avid astronomy lover direct to an astronomer." Finally, if you're interested in the collective efforts that have produced the greatest inventions and discoveries in history, then Teamistry (on Spotify and iTunes) is for you. Host Gabriela Cowperthwaite is here to "bust the myth of the lone genius once and for all, because the truth is, we're in this together."
Quarantine Diaries
Audible's freshly launched podcast series Locked Together (available on Audible for free) makes a virtue of offering perhaps the best antidote to any daily quarantine grind: the guilty pleasure of eavesdropping on conversations between some of today's top comedians. Orphaned, in showbiz terms, without a stage or screen, close-knit comedian friends like Sarah Millican and Jason Manford, Simon Pegg and Nick Frost, Jimmy Carr and Katherine Ryan, give each other a call and have a chat – completely off the cuff – about their lives in lockdown, much to our entertainment. The fact that Audible donated a fixed fee to various audio industry-related charities for each comedian who agreed to participate certainly comes as a plus.
The Lords Of Bo-ring
No, it's not a compendium of your uncle's speeches at family gatherings. In fact, The Boring Talks podcast (Spotify and iTunes) does anything but what it says on the tin. Get ready to be drawn in by host James Wood and his carefully chosen guest speakers who tackle subjects that are "very familiar, but you've maybe never thought about." As such, the topics tend to be nerdy, obscure, perhaps even outwardly dull, yet still wholly engaging and extraordinarily evocative in their delivery. Listen to veteran gamer Keith Stuart talk about the whirring and clicking sounds of bygone computer games. Get a crash course in the lexicon of modern break-ups by award-winning comedian Rosie Wilby. Join artist and designer Kate McLean on an improbable smell walk around the world. Each episode is a celebration of relativism that finds a home for even the quirkiest of human perspectives.
A Touch Of Drama
It's the Twilight Zone – or Black Mirror, for you young'uns – of the podcast realm: Murmurs (Spotify and iTunes) offers up 10 surreal and "mind-altering" tales that explore "how different realities can bleed into each other", while adding a sort of matryoshka effect that blends one story into the next and brings the auditory experience up to a unique level. Well-acted and with carefully placed sound effects artfully building suspense, this is a storytelling experience in which your eyes can't help you fill in the gaps – but relying solely on your ears and imagination only add to the thrill.
Legends And Lore 
Speaking of fantastical stories, we'd be remiss to leave out the oldest forms of storytelling known to humankind: myths, legends and folklore. In this genre, we recommend three different podcasts: There's the audio-drama approach of Mythology by Parcast (Spotify and iTunes), acting out wonderful folkloric tales from around the world like the Irish legend of the children of Lir, or the Monkey King from Chinese mythology. On the other hand, if you're hoping for a story along with enlightening analysis of the myth's origins, then try Spirits (Spotify and iTunes), a weekly podcast where self-described history geeks Amanda McLoughlin and Julia Schifini pour themselves a drink and then quench your curiosity about urban legends, creepy creatures and mysterious monsters. Aaron Mahnke's award-winning podcast Lore (Spotify and iTunes) is also a great listen; it feels like gathering around a campfire to be regaled with dark tales from history – the true stories behind some of our most chilling folk legends.
Guilty-Pleasure Listening
Dirty laundry is best aired… on a podcast? Gossipmongers (Spotify and iTunes) hosts Poppy Hillstead, Joe Wilkinson and David Earl seem to think so, as they feed on juicy second-hand rumours submitted by listeners, and in turn provide their audience with the kind of genuine laughs and "oh my" moments, that only a boatload of small-town tittle-tattle could ever supply. Some of the fun comes from trying to discern whether the events of the rumours – often involving unnamed individuals – actually happened, but at the end of the day, it doesn't matter. Season 3 has already kicked off, which means the ludicrous buzz is just getting good.
Pitches, Courts And Diamonds
Nothing can replace the thrill of watching your favourite teams and athletes compete in high-stakes competition, but while we wait for sporting events to return to our TVs, we're filling the void. Max Rushden and his pod squad at Football Weekly (Spotify and iTunes) are regaling football fans with glories from the annals of the beautiful game; HBO and The Ringer sport analyst Bill Simmons, along with his rotating crew of athletes and celebrities, is entertaining basketball lovers in the comfort of their homes on his eponymous The Bill Simmons Podcast (on Spotify and iTunes); and baseball devotees can turn to Ben Lindbergh, Sam Miller and Meg Rowley for a dose of their beloved sport on Effectively Wild (Spotify and iTunes).
The Dark Side
Spooky as it may be, we can't resist a good mystery or bewildering true crime story. If you're into intriguing and well-researched podcasts full of real, unsolved mysteries, then don't miss Greg and Sharon Ross's weekly airing out of their Futility Closet (Spotify and iTunes), which contains 300 astonishing stories, plus extra brain-teasers for listeners to solve. For your fill of true crime, there's Parcasts's Unsolved Murders series (Spotify and iTunes), a podcast drama which recounts the details of murders and their investigations in the form of an engrossing audio play. When in need of spooky campfire stories, nothing can beat Ben Cutmore's bi-weekly stranger-than-fiction Dark Histories podcast (Spotify and iTunes), sometimes dotted with touches of the occult and black magic. From poltergeists to shipwrecks, cursed tombs, deadly superstitions and secret radio transmissions from nowhere, this will have you turning on all the lights in the house. Wait, what was that noise…?
#staysafe #stayathome #selfisolation #selfisolationactivities #quarantine #lockdown #homesanctuary