';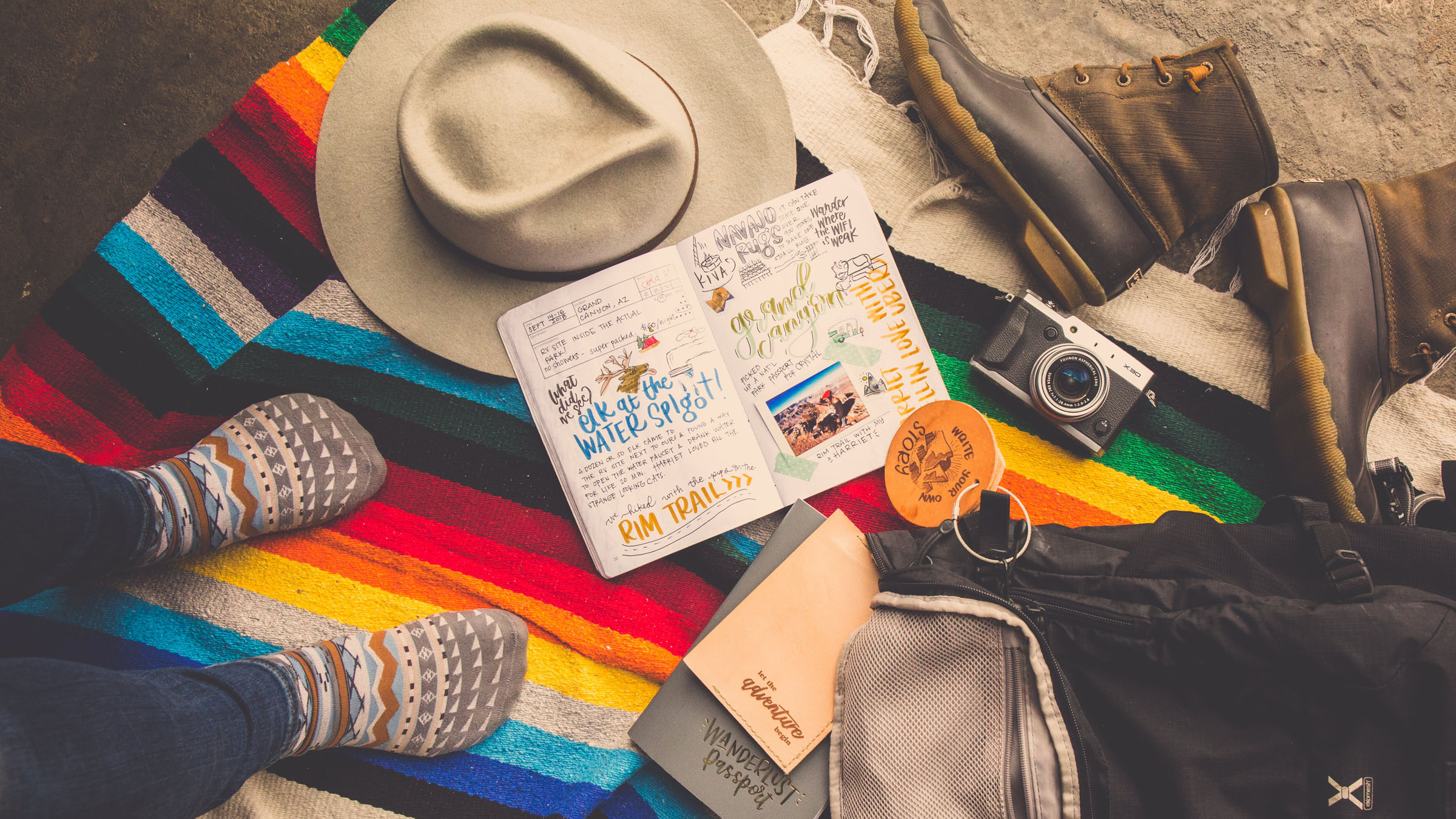 After months of sitting at home – plans scrapped, planes grounded, journeys not taken – saying we have "wanderlust" is an understatement. If you're like us, you've watched all the travel shows and documentaries. Leafed through every travel book you could get your hands on. Whipped up exotic meals from places you dream of visiting. Spent hours online, researching the next far-flung destination you'll jet off to as soon as you can. The further the better.
But have you considered looking backwards? Mining your own memories of holidays past? It's worth a shot. Finally organising your favourite travel photos into beautiful, handmade scrapbooks will not only fill the hours at home, it will fill the travel void in your life as you relive your most unforgettable adventures.
To get started, we asked seven veteran scrapbookers to share their most useful tips for preserving travel memories in creative, eye-catching scrapbooks and journals. They deliver the goods, from the essential supplies to the best photo printing methods, and their secrets for staying organised on the go – as soon as you're ready to hit the road once again.
Steffi Auer
Globetrotter and travel scrapbooker behind Little Steffi Big World
My Origin Story…
In 2015, when I was back home from a year of traveling in Australia and Southeast Asia, I saw a Youtube video of someone who had put tons of travel memorabilia of her Australia trip into a little book, and it looked so amazing. I wanted to do something similar!
My Scrapbooking Aesthetic…
My scrapbooking style is very colourful, as I always use lots of vibrant pattern paper. With every new project, I challenge myself to try something new, like a new format or style, a new kind of embellishment or technique. I use a lot more washi tape and stamps now than 5 years ago, and I use less ribbons, buttons or coloured stones (it makes the books way too thick).
I strongly believe that even the most basic and random supplies can be turned into an awesome travel scrapbook. Scrapbooking offers endless possibilities, and in the end it's just paper – if you don't like the outcome, you can try it again!
My Must-Have Supplies…
The basics should be clear to everyone: a good pair of scissors, adhesives and some pens to write down your story! Everything else is really optional, as long as you have a book and your pictures. I use a guillotine paper cutter, and I need a ruler to measure. I consider pattern paper and washi tape as must-haves for myself.
My Photo Philosophy…
I get my pictures printed in either 9x13cm or in 10x15cm at a local drugstore, as it is pretty cheap and fast. Having standard sizes that I use for most projects makes it easier for me to plan and execute a project, which is probably part of why I can accomplish many travel scrapbook projects in a short timeframe. To be on the safe side, I get a few more pictures printed than I need, and whatever is left over when the project is finished goes into my Project Life scrapbook, so the pictures don't go to waste.
View this post on Instagram
View this post on Instagram
My Tips For Scrapbooking Your Travel Memories…
Collect as much memorabilia from your trip as possible! Think: receipts, tickets and brochures, but also foreign currency and biscuit packaging. You don't need special travel-themed embellishments or supplies to make your scrapbook awesome; any basic supplies and neutral-coloured embellishments will work in a travel scrapbook, as the pictures, your memorabilia and your story are the focal points. You can put as much or as little time and money into a travel scrapbook as you want. In the end you will love having your memories on the shelf for decades to come – and you'll have made it yourself!
Lauren Hinds
Scrapbooker, crafter and expert organiser behind CraftSomeJoy.com
My Origin Story…
My first experience with scrapbooking was when I came home from my semester abroad in college. I sat on the floor with my photos, magazines, scissors and a glue stick, and made what I would call my first scrapbook. Years later, my mom and I went to a home class with Creative Memories, and from the moment I saw the products, I was hooked. I knew this was the way I wanted to share my photos and my stories, and it was a lot of fun getting together with friends and scrapping the night away. Over 25 years later, I'm still scrapbooking (although now via Zoom) and it's still one of my favourite hobbies.
My Scrapbooking Aesthetic…
I love to call my approach "elegant simplicity". My mission has been to teach people that your photos are the star of your pages, and your story is what brings those photos to life. Everything else is fun, really FUN – but secondary. That is what I have learned after 25 years of scrapbooking. In the early days I wanted to try everything and put it all over my pages. I now use a simple strategy to create pages that are easy to look at, and will be timeless for generations.
My Must-Have Supplies… 
My go-to products are from Creative Memories. (1) A beautiful lay-flat flex-hinge album. (2) A 12-inch trimmer that slices paper like butter. (3) A personal trimmer to cut photos (I love my squares and rectangles!). (4) Adhesive that never fails (tape runner from CM). (5) My favourite tool: the CM border maker system (creates amazing borders without fail). (6) Stacks of amazing paper. (7) A black fine-tip pen (gotta add your journaling!). (8) Foam squares (#foamsquaresforthewin). (9) Stickers (especially alphabet stickers). I tried, and it's really hard to scrapbook without stickers! (10) A little space of your own to "create". If your stash is not accessible, even the best intentions will not lead to creating your projects.
My Photo Philosophy… 
I absolutely LOVE to print my photos at home. I switched to on-demand printing with a Canon printer, and have never looked back. The flexibility, quality and time-savings have made this a hands-down winner in my book.
View this post on Instagram
View this post on Instagram
My Tips For Scrapbooking Your Travel Memories… 
Travel albums are my favourite, and a beautiful way to remember the adventures and time we spend together seeing the world. However, memories can be fleeting, so I encourage anyone who wants to create a keepsake album to take a few essential supplies with them on their travels: A small traveller's notebook, a mini printer and a few basic supplies like washi tape, watercolours, stickers and pens that make documenting the trip fun. In the notebook, you can create a calendar with your daily destinations to refer back to, and keep a daily log with photos that will be a great resource for creating a keepsake album of all your photos and memories when you return home.
Angie Chua
Founder and designer behind Bobo Design Studio
My Origin Story…
In my early 30s I made an effort to spend more of my income on new experiences, and less of it on "stuff". Travel became an integral part of how I chose to enrich my life, but I found I was spending thousands of dollars a year on these amazing trips and experiences, only to not remember the things I had done when I got back home. As a result, my journey into journaling and documenting my travels sort of came out of necessity. I wanted to remember the cities I visited, the hotels I stayed in, the meals I enjoyed, the tour groups I used, the excursions I went on, and all the fun conversations and memories made in between. Having a travel journal helped me do that.
My Scrapbooking Aesthetic…
I'm a firm believer that it's not about how it looks, but about what you put in it. I know a lot of people don't want to get into scrapbooking or journaling because it seems like a lot of work. They think they will remember all the details, and they keep their photos on their phone and thus see no reason to document these moments. Yet when people see what I've created, they always say "I wish I had written that stuff down". So my approach is less about getting hung up on how it looks or being the best artist – it's about taking a few minutes to write down the things you'll want to remember 6 months or 5 years from now. And I guarantee you that you won't look back at those pages and think "Man, my penmanship was terrible!" You'll be too preoccupied with re-living those incredible moments.
My Must-Have Supplies…
I always use my Wanderlust Passport, which is a journal I designed (and sell) specifically for documenting travel and new experiences. I always carry a handful of pens, a couple rolls of washi tape, a portable photo printer, and a double-sided tape dispenser for taping receipts, ticket stubs and the like into my journal. I also love collecting vinyl stickers of the destinations I visit. I live in an Airstream full-time, which means I can't be collecting hoodies, shot glasses or other souvenirs, because I just don't have space. A sticker from a destination is a great way to remember the places I've been, and I use that on the outside of my Wanderlust Passport Travel Journal to help remind me at a glance which journal includes which destinations.
My Photo Philosophy…
I always have my iPhone with me, which takes remarkable photos. And for long trips, I bring my DSLR. I love using my portable Instax printer to cherry-pick the best moments from a trip and put that into my journal. I find that I can take thousands of photos on a single trip, and I almost never go back into my camera roll and look at them. But when I do, I'll find I have 100 photos of a tree. No idea why I took that many or what that tree was about, but I have them. Printing the most important moments allows me to really focus on the key moments of a trip and highlight the memories worth remembering.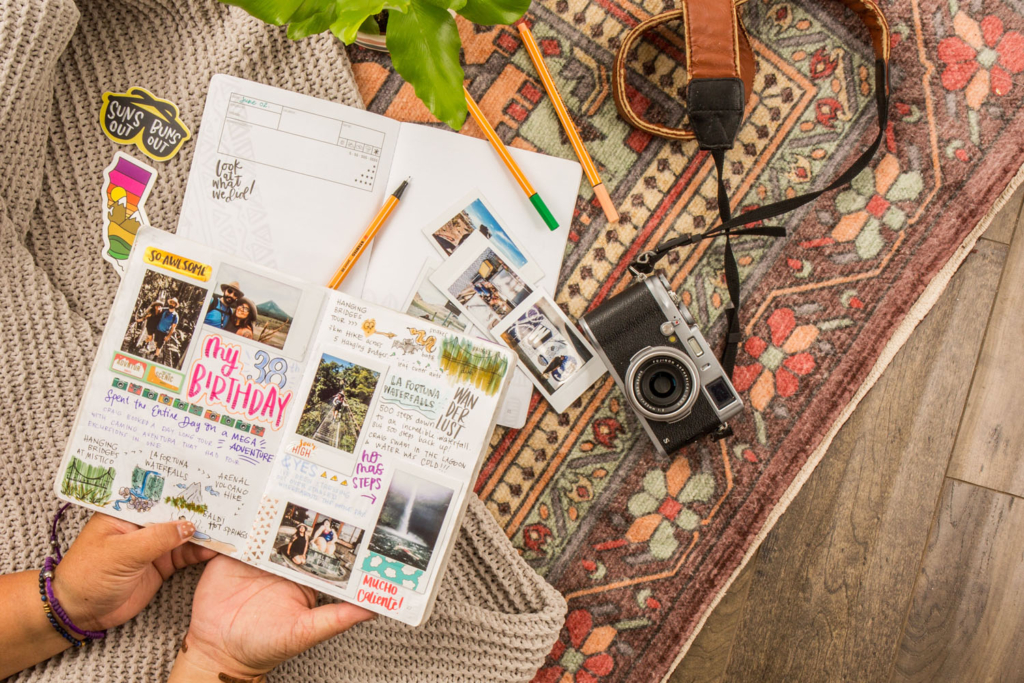 [Photo by Angie Chua]
My Tips For Scrapbooking Your Travel Memories…
I always like to start with some foundational information for each entry: date, location, weather conditions, coordinates and a key place (this can be the hotel where you stayed, a restaurant you ate at, a museum you visited). Have that foundational information there for reference, and then use the rest as a creative free-form. I use this method in my Wanderlust Passport, and it has been so useful in going back and sharing destinations and recommendations with friends travelling to the same places I've already been. Another thing I always do is keep a running note in my phone, and jot down what I did each day on my travels. When I'm ready, I can sit down and chronologically enter my activities into my physical journal and easily recall the details I want to record.
Layle Koncar
Scrapbooking and crafting extraordinaire behind LayleByMail.com
My Origin Story…
I started scrapbooking when I was pregnant with my first son – he's now 23! – and wandering through a local craft store. I stumbled into the scrapbooking aisle and was intrigued. I started then and have never looked back.
My Scrapbooking Aesthetic…
I would describe my approach as pretty graphic with clean lines and a focus on the photos and storytelling. That has changed drastically from my early days, when I would use my scissors to cut around the people in my photos, glue them to a piece of card stock and then put stickers ALL OVER the page!
View this post on Instagram
View this post on Instagram
My Must-Have Supplies… 
A black pen – that's my mainstay; from journaling to outlining everything I do, that's hands down my number one supply. My preferred foundation for scrapbooking is a Traveller's Notebook, basically a refillable notebook consisting of a flexible, book-like cover that holds multiple notebooks/inserts with elastic bands. If I was limited to 2 supplies, it would be those 2 items. Additional supplies include washi tape, stamps, stickers and die cuts.
My Photo Philosophy…
Although I have an expensive Nikon DSLR camera, my preferred mode of photography is almost exclusively using my iPhone. It's amazing the quality photos that I can take with my iPhone 11 Pro. I print most of my photos at home using the Epson PictureMate PM-400. The portable size, quality of print and print size range makes it a versatile printer, especially for the price. I prefer to print at home for the flexibility and to be able to print on demand.
My Tips For Scrapbooking Your Travel Memories… 
There are 2 things I do when I'm on a trip that I plan to document. The first is to take a notebook with me and document as I go. Whether I'm going to use that notebook to ultimately capture and preserve the memories, or I'm just using it to keep notes to refer to when I'm ready to document the trip, it's a sure fire way to make sure I don't forget the details – the dates, times and places. Doing that also serves as an outline when I'm ready to sit down and pair the photos with the details and the stories. The second thing I do is to collect all the things! When I'm on a trip, I gather tickets, brochures, maps, local pamphlets and magazines, stickers, charms, pens, postcards and more. Incorporating memorabilia from my travels not only adds more to the stories I'm telling, but it also serves as triggers for remembering small details about my travels that I might otherwise forget. I filmed a video last year on my YouTube channel that talks about this gathering process and how I approach it:
One of my favourite things to do related to this is to buy a postcard while travelling, fill it out, take it to the local post office and mail it back home to myself. It's a great memento to include in my scrapbooks, and it's especially interesting when it has the foreign stamp and postmark.
Dorothy Guinan
Memento-saving master behind Scrapbooking Quebec
My Origin Story…
I began scrapbooking in 2004, two weeks after my dad died. I returned to Quebec from my hometown of Truro, Nova Scotia with a handful of family photos and a head full of memories. These photos suddenly became very important to me. I felt the need to preserve them, and record my story.
My Scrapbooking Aesthetic…
I have a clean, graphic approach to scrapbooking, and prefer multi-photo layouts where the photos and story take centre stage. My style has evolved, and I create more complex layouts now, but the clean, graphic aesthetic has always been present in my layouts.
View this post on Instagram
View this post on Instagram
My Must-Have Supplies…
1) Creative Memories 12×12 albums
2) Scrapbook Adhesive E-Z Runner Strips Permanent Adhesive
3) Tim Holtz Tonic Studios Trimmers (12″ and 8 1/2″)
4) T-Square Ruler
5) Micron 05 Black Pen
6) Card stock Paper (white, black, beige)
7) Patterned Paper (Vicki Boutin, Crate Paper, Simple Stories)
8) Big Shot Die-Cutting Machine
9) Circle Punches
10) Tag Punch
My Photo Philosophy…
I use a Sony a6000 mirrorless digital camera and an old iPhone 6s. I prefer my Sony photos, but appreciate the convenience of my phone. As for printing, I have a Canon Selphy CP1300, but I prefer printing at my local camera shop. Selphy prints are quite glossy and I like a matte finish.
My Tips For Scrapbooking Your Travel Memories…
While travelling, include yourself in some of the photos. Collect brochures, receipts, tickets, etc, and keep a travel journal. The travel journal doesn't have to be anything fancy. Just take a few notes recording memories at the end of each day. When you create the scrapbook, journal about your memories. Write about what fascinated or frustrated you. Tell the story about a local you met who touched your heart, or how you dropped your phone in the Trevi Fountain. Travel brochures and Google searches record facts. Only you can tell your story.
Christine Herrin
Graphic designer, traveller and creator behind Everydayexplorers.co
My Origin Story…
I've always been the crafty kid, so I was making little books and magazines growing up. It wasn't until high school that I learned that scrapbooking was a thing. I've also always been into writing and graphic design, so scrapbooking seemed like the perfect hobby: getting creative with words, photos and craft supplies, all while capturing moments I wanted to remember.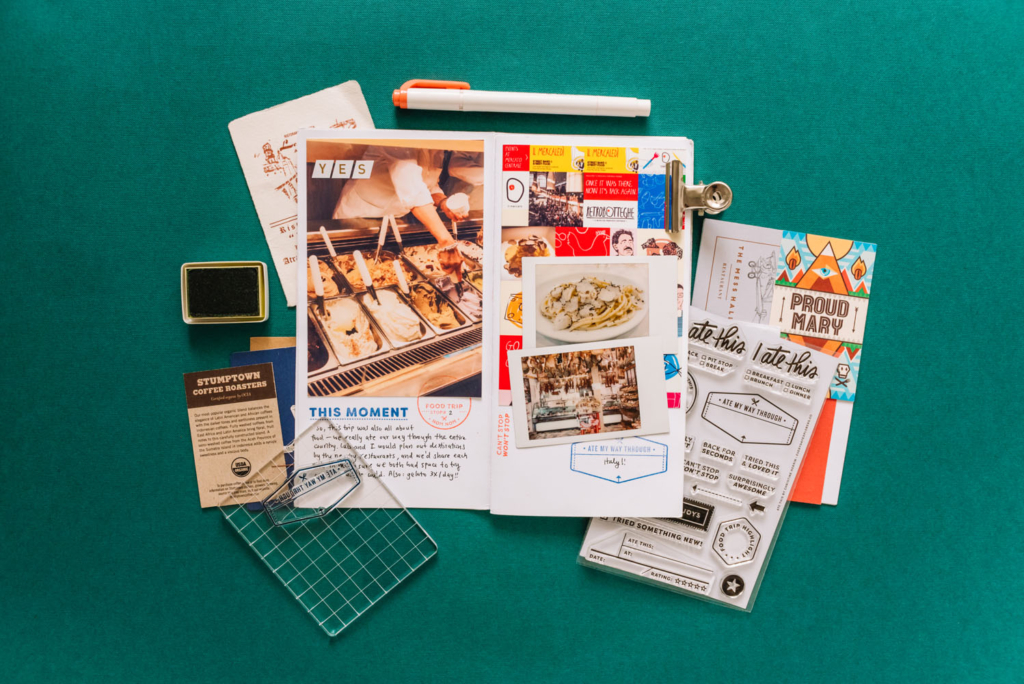 [Photo by Ber Garcia / Styling by Abbey Sy / Projects and products by Christine Herrin / everydayexplorers.co]
My Scrapbooking Aesthetic…
My personal aesthetic is very clean with a handmade touch; I love to incorporate my handwriting or ephemera collected from the real world to tell my stories. I don't really use a lot of other embellishments aside from clear stamps and stickers – my approach centres more on the moment than on the fun side of getting crafty. I buy a lot less craft products now than I used to: as much as I want to craft for fun, I realised that most of my scrapbook pages only had 2-3 products on them.
My Must-Have Supplies…
My list of must-haves, especially for scrapbooking on the go, are: a mini journal to document in, my favourite pen and highlighter to add colour, a Fujifilm Instax printer, a stapler or roll of washi tape so I can stick tickets and other ephemera in quickly, and a mini zip pouch to put everything in!
My Photo Philosophy…
I love using a Fujifilm Instax printer for a lot of my photos. Printing photos is usually the biggest obstacle to starting a scrapbook, and I find that being able to send photos from my phone to my printer gets me scrapbooking in no time.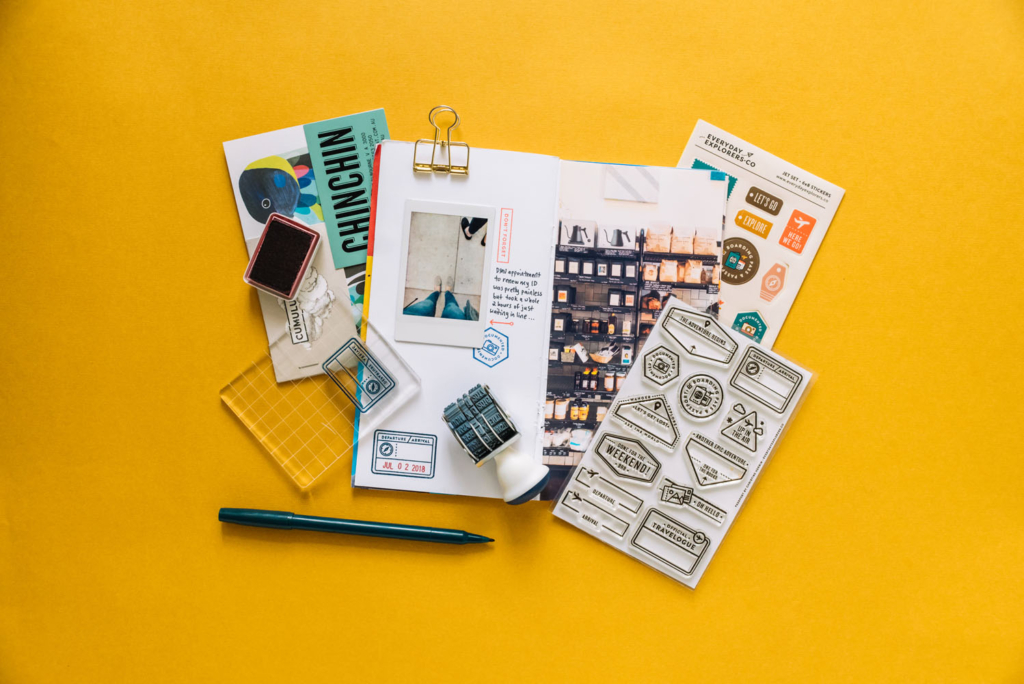 [Photo by Ber Garcia / Styling by Abbey Sy / Projects and products by Christine Herrin / everydayexplorers.co]
My Tips For Scrapbooking Your Travel Memories…
I recommend having an extra mini journal to jot down things on the go – what you did that day, things you ate, anything that stood out. As much as scrapbooking on the go sounds fun, you'll usually be too tired to craft while you're on your trip. Having a place to list down highlights will help jog your memory when you get home and want to relive and document the moment in more detail. Have a dedicated ziplock bag or envelope to save all the bits and pieces along the way: tickets, maps, restaurant cards – they'll be fun additions to your albums.
Melissa Ta
Designer and scrapbooking vlogger behind Melly Maker
My Origin Story…
When I was little and went on summer camping trips with my dad's side of the family, down in Cornwall (UK), I would write in my notebook what I did everyday, and collect tickets and shells and booklets, and glue them into the notebook, to read and show my mum when I returned back home. From there it has grown into a love of documenting my travels.
My Scrapbooking Aesthetic…
My personal scrapbook approach is to use photography, colours, ephemera and stickers to reflect the beautiful sights and adventures of my travels and how it made me feel at the time. For example I can use scrapbooking to show the contrast of a bustling city full of motorbikes in Hanoi Vietnam, to sitting on a boat peacefully drifting on Lake Taupo in New Zealand.
I'd describe my scrapbooking aesthetic as structured, colourful and reflective. My style has definitely evolved since writing and sticking tickets in a lined paper notebook! Since becoming a graphic designer, I think I consider colour a lot more and use layering to create texture. I also create graphic elements to include in my scrapbooks, such as personalised travel tags and boarding passes.
My Must-Have Supplies…
In all my scrapbooks I use double sided tape, washi tape, patterned or coloured paper, stickers and die cuts, from a range of different shops in the UK. I also really enjoy using recycled materials such as old wrapping paper and magazines.
My Photo Philosophy… 
I take digital photos on a mixture of my camera, phone and stills from GoPro footage. I get my photos printed digitally online and sent to me. As I work on a scrapbook project per holiday instead of documenting daily life and events, it's easier and cheaper for me to get them all printed in one go! I like to vary the size of the photos, so that when they're laid out on a page, they're not all the same size. It's a simple way to create visual interest.
View this post on Instagram
View this post on Instagram
My Tips For Scrapbooking Your Travel Memories…
Get into the habit of writing every evening what you did that day, so it's fresh in your mind and you remember all the little details. Keep a plastic wallet in your bag or suitcase to keep all the tickets, brochures, books, napkins, boarding passes, receipts that you have collected over your travels. Take photos of what you would like to remember, if that means taking photos of absolutely everything or just one photo to sum up the whole day, both are absolutely fine!