';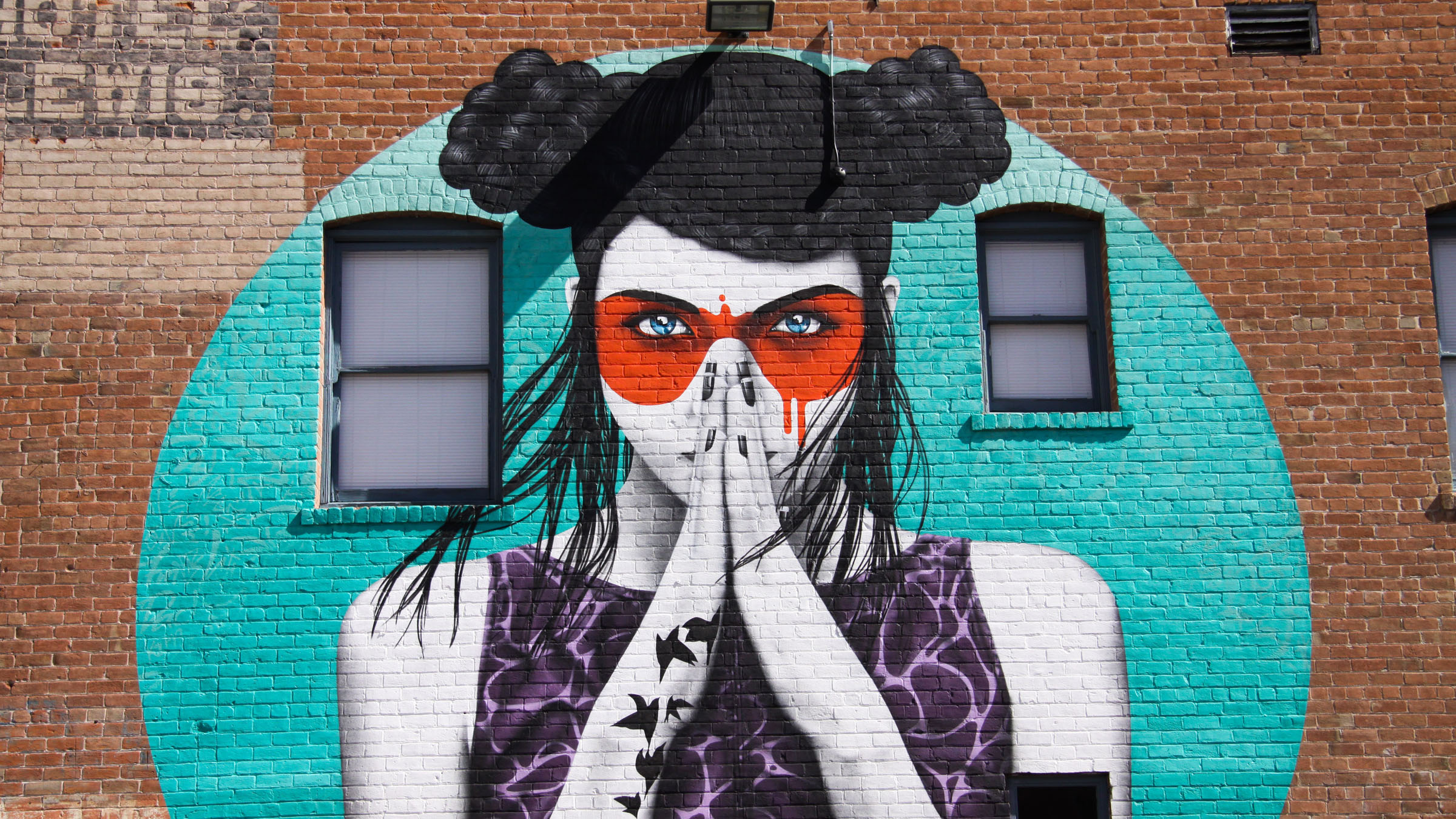 ;
From enormous painted murals to unobtrusive posters, street art has made its colourful mark around the world, with artists using public spaces to express themselves and, in the process, transform urban areas into open-air art museums. Even if it looks like you won't be leaving your house for a while, you can still enjoy browsing street art online – especially the spectacular works coming out of these 12 cities across the globe.
London has long been a European hub for street art, thanks to the likes of D*Face, Stik, Ben Eine, and – of course – Banksy. The East End neighbourhood of Shoreditch is covered in pieces by artists from around the world, who come to London to show off their work. Many visitors sign up for a street art tour to help them navigate the best of the area's art, taking a wander through neighbourhoods like Camden and Brixton, which have their own wealth of murals to take in.
Dit bericht bekijken op Instagram
Dit bericht bekijken op Instagram
Paris not only boasts world-famous museums like the Louvre, but it's also home to renowned street artists like Jef Aérosol and Invader. A stroll around Belleville – in particular Rue Dénoyez – offers a glimpse of how artists have transformed the area, while the Oberkampf quarter features Le MUR, a wall that rotates work by international street artists every few weeks. Street art lovers tend to visit the 13th arrondissement as well, where Galerie Itinerrance has curated huge murals by some of the biggest names in street art.
Dit bericht bekijken op Instagram
Dit bericht bekijken op Instagram
Rome usually attracts millions of visitors a year, who flock to the Eternal City to take in major historical, cultural and religious sites like the Colosseum and Vatican. But over the past 10 years, Rome has also developed a thriving street art scene. Neighbourhoods like Pigneto, Torpignattara and Quadraro are home to large murals and small stencil works by local artists like Alice Pasquini, as well as international street artists like Etam Cru. For visitors looking for a tour, the MURo association takes tourists off the beaten path to explore this contemporary side of the city.
Dit bericht bekijken op Instagram
Dit bericht bekijken op Instagram
Berlin has been synonymous with street art since the East Side Gallery popped up on remnants of the Berlin Wall in 1990; it's still possible to take in these pieces by artists like Thierry Noir and Jim Avignon. On the other hand, a stroll through neighbourhoods like Kreuzberg reveals a host of murals from artists like Roa and Blu, while visitors can also pop into Urban Spree in Friedrichshain to see what's on. This 1700 sqm space hosts rotating exhibitions by local and international street artists, who also paint their exterior wall on a rotating basis.
Dit bericht bekijken op Instagram
Dit bericht bekijken op Instagram
New York's reputation as an artistic hub has never wavered, with the graffiti-painted trains of the 1970s and '80s inspiring generations of creatives and art fans. Today, street art in New York often means massive commissioned murals – like the various artworks found along the High Line, or the rotating murals at the legendary 76 E Houston St Bowery Wall, which has been painted by artists like Keith Haring, Os Gêmeos and Shepard Fairey. If you're ever in Manhattan, don't miss a stroll through Little Italy, where the LISA Project has been curating street art since 2012.
Dit bericht bekijken op Instagram
Dit bericht bekijken op Instagram
Los Angeles has seen an explosion of murals in the past few years, particularly as its Arts District has taken shape. This former industrial area, located in Downtown LA, has been transformed by artists like El Mac, Christina Angelina and JR. Venice Beach is another fantastic place to catch works by local and international artists, who take advantage of the area's history and laid-back vibe. A stroll along Abbot Kinney takes visitors past pieces by many creatives, including Portuguese street artist Vhils – known for his inventive technique using a drill to create portraits.
Dit bericht bekijken op Instagram
Dit bericht bekijken op Instagram
Miami is not only home to Wynwood Walls, a unique open-air site with large-scale murals by FAILE, Swoon, Ron English and The London Police, but the city also boasts an entire museum dedicated to graffiti. The Museum of Graffiti explores the history of the art form from the 1960s to today through photographs and murals, as well as original paintings and drawings. Visitors to Miami shouldn't forget to stop by Little Havana and Little Haiti, both of which are sprinkled with murals that celebrate Cuban and Haitian culture.
Dit bericht bekijken op Instagram
Dit bericht bekijken op Instagram
Buenos Aires is known for its incredible array of street art, ranging from stencils and posters to larger-than-life murals. The neighbourhoods of San Telmo, Palermo and Villa Crespo have high concentrations of art, and are great places to start any journey. Local artists with international reputations, like Jaz, Ever and Milu Correch, fill the streets with their work, and it's not unusual to see artists out painting on the weekends. For a solid street art tour, Buenos Aires Street Art runs visits that move from Colegiales to Palermo Holly three times a week.
Dit bericht bekijken op Instagram
Dit bericht bekijken op Instagram
Bogotá has transformed into one of the world's most street-art-friendly cities over the course of the past several years, with artists now allowed to let their creativity run wild on the urban architecture. Visitors looking to see big murals should head downtown, where the city has been commissioning an abundance of work. La Candelaria and the former industrial area of Distrito Grafiti provide other incredible opportunities to see pieces by local artists such as Bastardilla, Rodez and the Animal Poder Crew collective.
Dit bericht bekijken op Instagram
Dit bericht bekijken op Instagram
São Paulo is known for its legendary street art scene, which means that anywhere you look, there's something beautiful to see. The trendy Vila Madalena area, brimming with lively restaurants and shops, is the perfect place to start a street art journey, paying special attention to "Beco de Batman" ("Batman Alley"); filled with colourful artwork, it's truly an open-air art museum. Elsewhere, the residential neighbourhood of Cambuci gained its reputation as a street art hub thanks to twins Gustavo and Otavio Pandolfo, better known as Os Gêmeos. The world-famous artistic duo grew up in the area, and have transformed many of its streets into displays for their incredible works.
Dit bericht bekijken op Instagram
Dit bericht bekijken op Instagram
Melbourne's Hosier Lane is world famous for its overflowing street art, which covers every square inch of its walls. But this is just one place to view art in Australia's second-largest city, which is known for fostering its thriving street art scene. Collingwood, which also features a historic mural by Keith Haring, is home to murals and stencils by local artists like Adnate, Rone and MEGGS. Further afield, the state of Victoria has followed Melbourne's lead in embracing street art and developed the Silo Art Trail, which stretches 200 kilometres and allows art aficionados to travel to small towns while taking in oversize art along the way.
Dit bericht bekijken op Instagram
Dit bericht bekijken op Instagram
Yogyakarta, also known as Jogja, is one of Indonesia's cultural hotspots. With its reputation as a centre of traditional Javanese arts like batik and wayang puppetry, visitors might be surprised to discover that it offers a vibrant street art scene – which is impossible to miss, as the city is plastered with it. In fact, locals joke that everything but the Sultan's Palace is covered in street art. Since the Indonesian Institute of the Arts is located in Jogja, the city attracts inspired students from around the country, many of whom take their creative expression out into the streets. Seek out work by local artists such as Tuyuloveme, known for his colourful masked character, and Digie Sigit, who blankets the city with his politically charged stencils.
#staysafe #stayathome #selfisolation #selfisolationactivities