';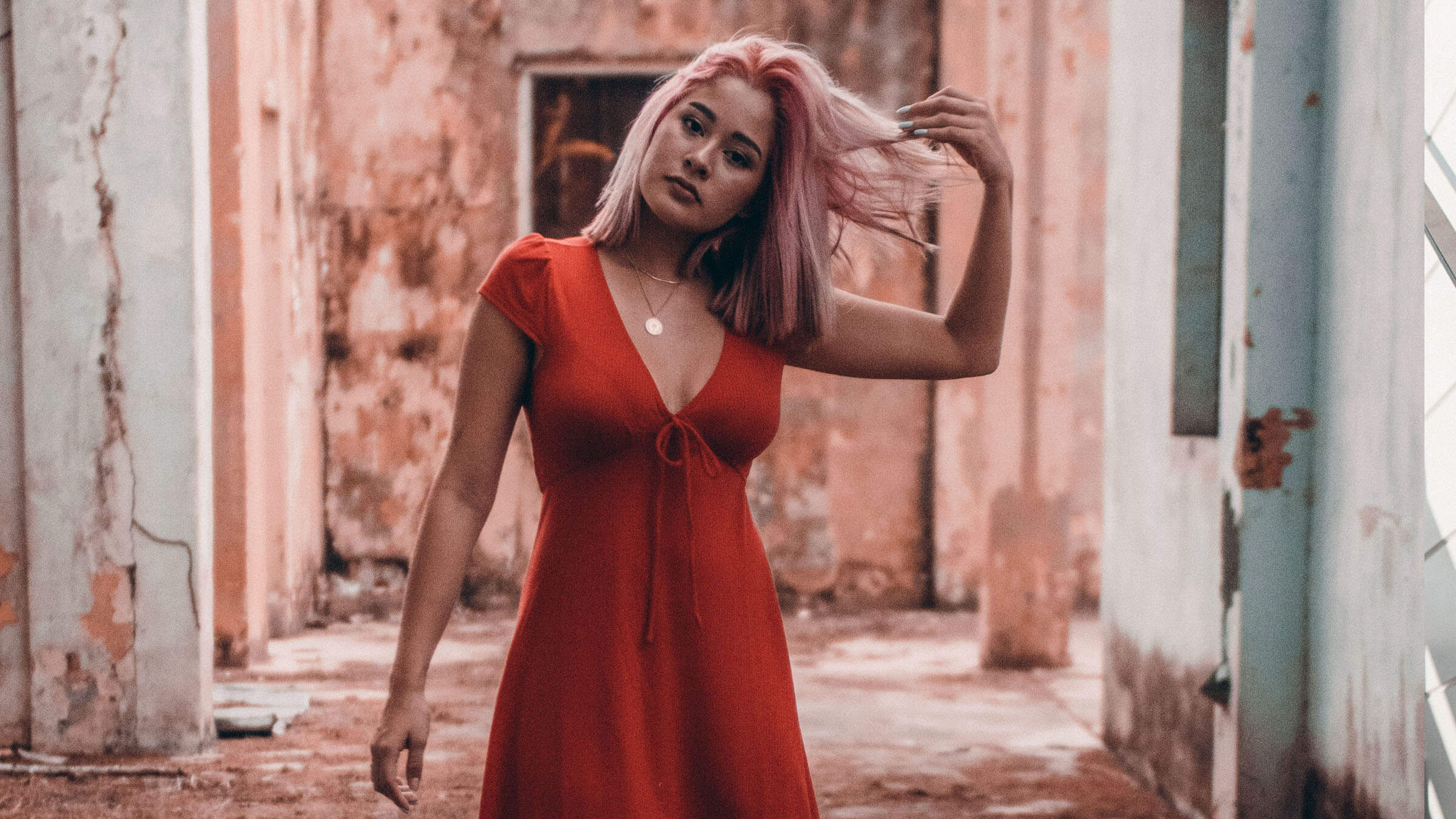 ;
Mini or maxi, fitted or oversized, plain or with prints… dresses are a quintessential item in any woman's wardrobe – not just for making a professional impression at the office or getting gussied up for a night on the town, but also for looking effortlessly chic and casual any time of day.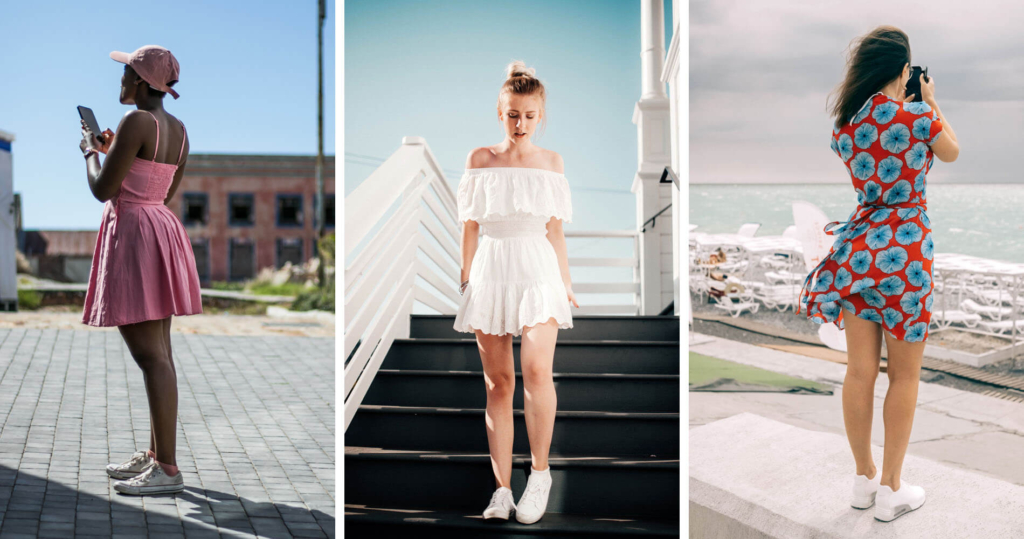 Gone are the times of heavy fabrics, obligatory long hemlines and strict rules governing the way a "proper" woman should dress. Today the style options are endless, with shapes and looks to suit all tastes – and no heels required! Thanks to cute and casual trends à la sporty chic, popular dress styles have become more laid-back, able to be combined with all kinds of footwear and accessories, from sneakers to slip-ons and sandals.
Here, we take a closer look at how to dress down your dresses and achieve a comfortable yet put-together look you can wear every day.
Pick A Style
There's a seemingly unlimited array of different dresses out there, but when it comes to creating a relaxed and casual look, certain dress styles work better than others. Some of the best options are:
Short Dresses
Here we're talking about mini dresses: whether with fitted or semi-fitted silhouettes, and a hemline that reaches the mid-thigh. Playful, flirty and comfy, short dresses are one of the most popular styles on the market, and they often skew casual simply by the nature of the look.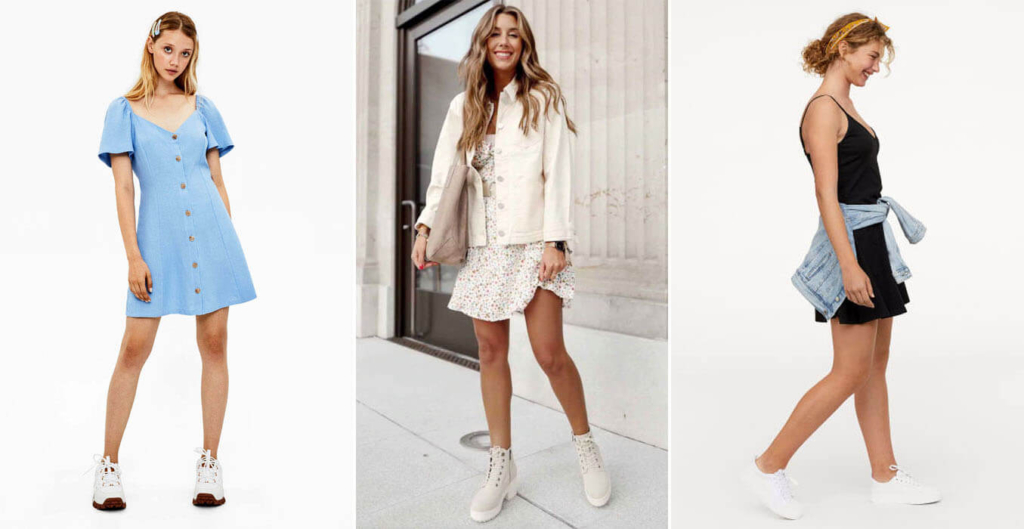 [Left to right: Bershka, Zalando, H&M]
Maxi Dresses
Maxi dresses are long, with hemlines brushing the ground, or at least extending to the ankles. Their length lends drama and elegance to the look, highlighting the feminine shape while remaining comfortable to wear. You can find them in loose, wide silhouettes or more tight-fitting versions. They're most beloved during summertime, but they also wear well in autumn if you know how to accessorise them properly.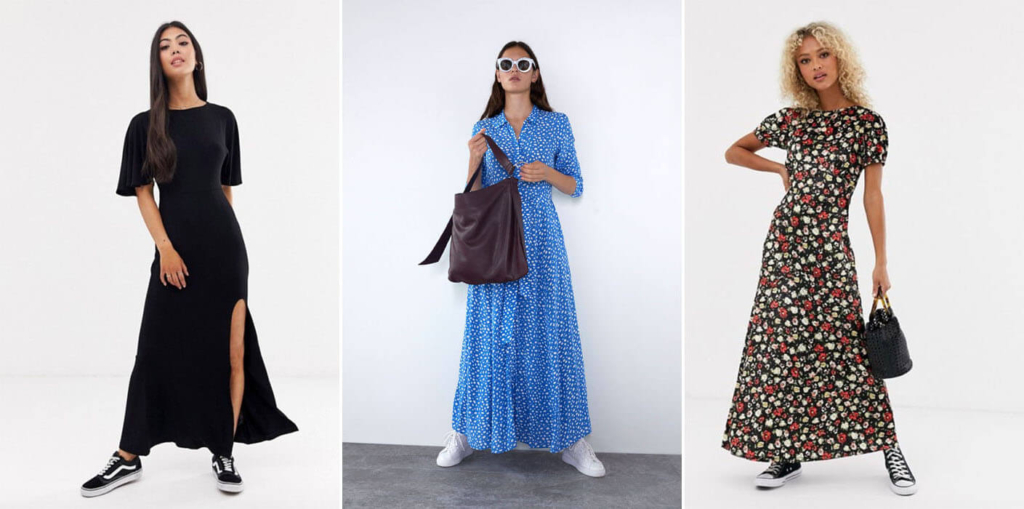 [Left to right: Asos, Zara, Asos]
Dresses With Prints
Fresh and fun, prints are an easy way to infuse your outfit with verve and personality. Printed dresses come in all lengths and shapes – just look for a pattern that's really you, and which will make you shine. Floral prints and polka dots are classics, but this season we recommend animal prints (even better in neon tones), geometric shapes and prints inspired by pop art.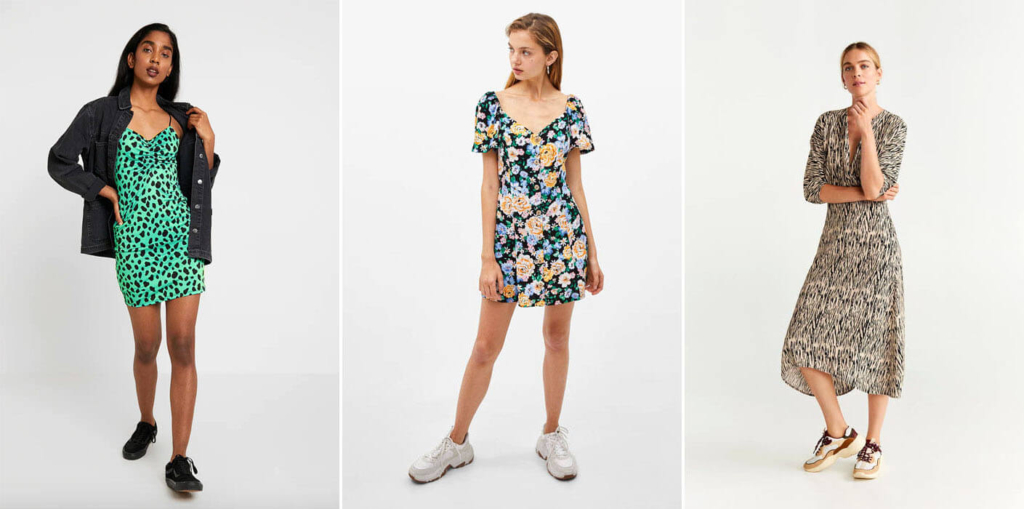 [Left to right: Zalando, Bershka, Mango]
Asymmetrical Dresses
More unusual and daring than your typical style, asymmetrical dresses don't have a uniform or defined structure, but rather break up the lines of the body. The asymmetry could come in the form of a slanted hemline or irregular neckline, a varied sleeve or a high-low skirt. Something as simple as an asymmetrical sleeve that falls and exposes your shoulder can be the key to an unexpected, spectacular look.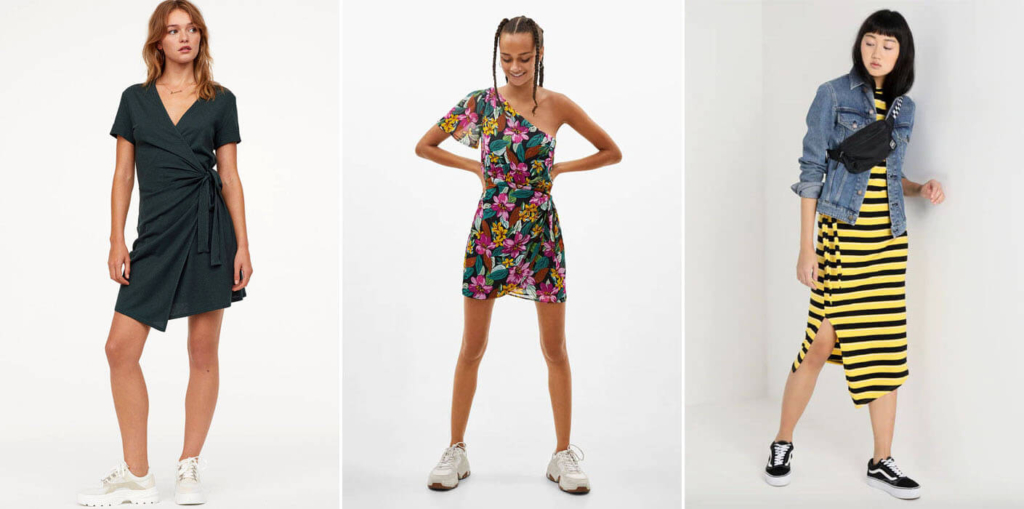 [Left to right: H&M, Bershka, Zalando]
Shirt Dresses
As the name implies, a shirt dress is one that emulates the shape and style of a tailored dress shirt, the kind you would generally wear with a suit at the office. It can be long or short, with varying sleeve lengths, but its telltale features are a collar and a row of buttons down the front. The cut is very simple and not form-fitting, so you may choose to wear a belt around your waist to accent your figure; some shirt dress styles even come with a matching fabric belt to be tied at the waist. In general, shirt dresses are flattering on a wide range of body types.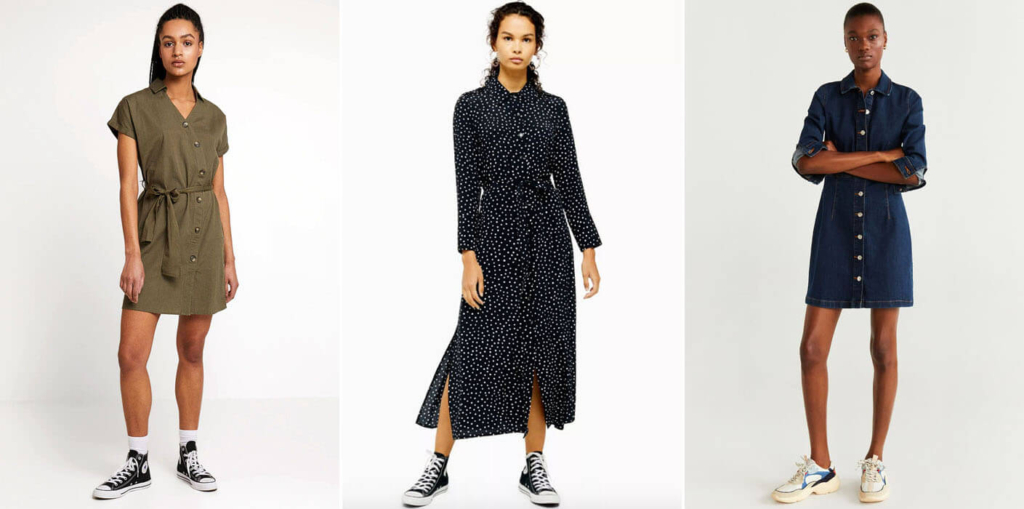 [Left to right: Zalando, Topshop, Mango]
Tunic Dresses
Simple and breezy, tunic dresses have a rectangular form, with straight sides not cut to show the curves of the body. Lengths vary – some stop above the knee, some go down to the ankles – and it's a versatile style, so it works for any body shape.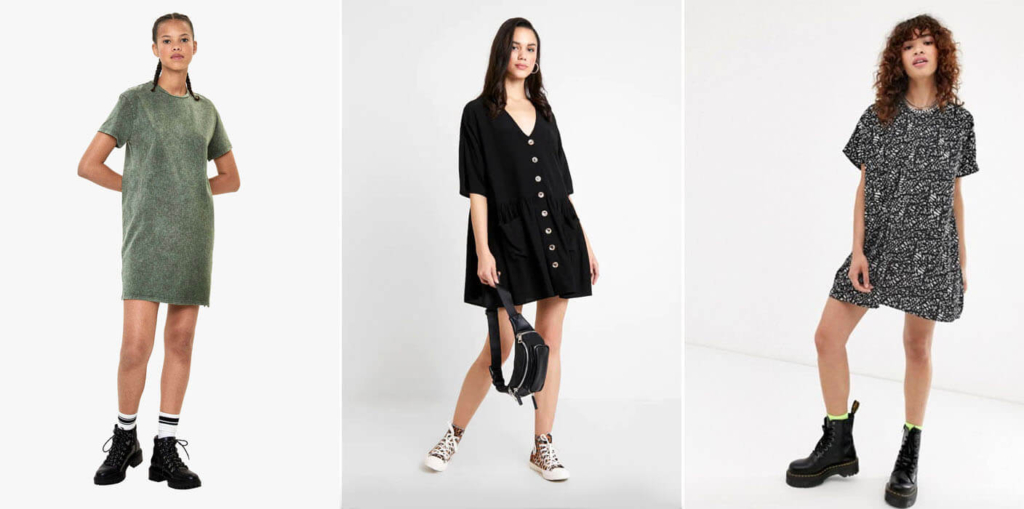 [Left to right: Bershka, Zalando, Asos]
Bodycon Dresses
The opposite of tunic dresses in terms of fit, bodycon dresses (sometimes called tube dresses, in their sleeveless version) conform to the body and highlight the female figure, making them ideal for anyone who wants to show off her curves. This style looks best in single tones; pair with a leather jacket and your favourite sneakers.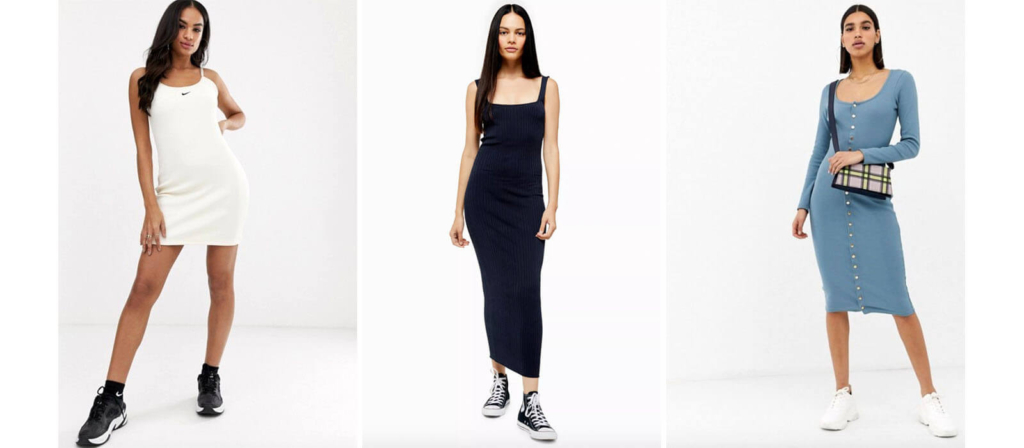 [Left to right: Asos, Topshop, Asos]
A-Line Dresses
This type of dress has a triangular structure in which the silhouette is fitted at the bust and waist, and then widens toward the hem, giving the garment an "A" shape. Depending on the fabric it's made from, this design can be worn both day (as part of an informal look) and night (with a more elegant twist).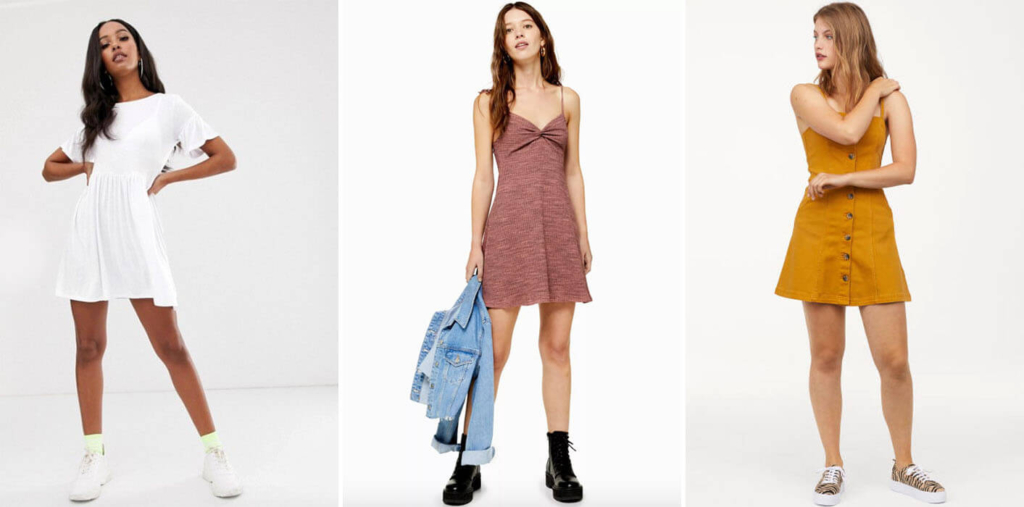 [Left to right: Asos, Topshop, H&M]
Wear It Well
Dresses are an enduring favourite, in part thanks to their ease of styling – no need to worry about pairing up a top and bottom, just put on a dress and go! But wait, not so fast: there are still a few details to consider in order to make the most of your look.
Size It Right
Nothing is more uncomfortable than walking along the street in a super-tight dress that restricts your breathing and makes you feel like it will rip with the next step, or a dress whose hem is constantly in your way – or worse, one that's so short you worry about accidentally showing more than you meant to. An obvious way to avoid this is by trying on garments before you buy them, but if you have dresses already in your closet that don't fit quite right, take them to a tailor to be adjusted accordingly. And if you have a piece that's beyond help, it's time to part ways with it.
Sneakers + Dresses = Perfection
No, it's not crazy to combine dresses with sneakers – on the contrary, it's a very chic look if you do it right. We love this trend: it's comfortable and fresh, and it frees our feet from the discomfort of heels and unsupportive flats. White sneakers go well with practically everything – especially striped dresses in neutral colours – which is why they've become a favourite of fashion bloggers and Instagram influencers. In addition, they're perfect for stylising the legs if you wear a short dress.
Jackets & Blazers: The Perfect Allies
Colder weather is on the horizon, so it's time to start thinking in layers. Here, leather jackets deserve a special mention, since they pair particularly well with dresses: they're versatile, their structured shape helps to stylise your figure, and their more masculine look helps to tone down an overly 'girly' dress. Also, if you choose a dress in neutral colours, the contrast achieved between the gloss of the leather and the matte of the dress will look great. On the other hand, denim jackets are ideal for dressing down a more formal-looking garment, making you appear more casual without losing the classy element you're going for.
Accessories: The Key To A Casual Look
Accessories are essential to any outfit, capable of either adding elegance and formality, or infusing the look with a more laid-back essence. When choosing accessories for your casual dresses, it's important to consider the occasion and the time of year. In winter, for example, you'll want to reach for scarves to add warmth and texture, while summer is the time for necklaces to shine.
Hats and caps are also great for complementing a casual dress: think of a wide-brimmed straw sun hat or panama hat in summer, or a more sturdy derby, bowler or fedora in felt for chilly autumn afternoons; just make sure that the colour and material of the hat and dress combine well.
As for bags, it's all a matter of proportion: while oversized bags look great with short dresses and tight tube dress styles, avoid wearing them with maxi dresses. And if you love combining dresses with stockings and leggings, look for stockings in fun colours and patterns – they're especially ideal if you want to wear a short dress, but aren't quite comfortable showing a lot of leg.
It's All About Balance
Regardless of the length or cut of your dress, the most important thing when creating your look is to achieve a balance between the inherent elegance of a dress and the comfort of a more casual style. The key lies in the mix of accessories: if, for example, the dress is more on the formal side, combine it with simple sneakers, ballet flats or mules and a casual, discreet bag to reduce its formality. On the other hand, if your dress is rather sporty and informal, you can dress it up by adding a blazer, an elegant scarf or a fine bag.
Hair and make-up also contribute to the overall style: with a casual look, you'll want to keep your make-up basic and natural, and go for a simple hairstyle, like a braid or ponytail – or just let your hair flow freely.
And remember: a central maxim of fashion – and especially the casual look – is "keep it simple". Depending on the effect you're going for, make the dress the centre of attention, while aiming for simplicity in the rest of the outfit.