';
;
'90s style is hot right now, sizzling on sidewalks around the world – and yet not really heating up the catwalks of the big designer houses. Returning from a visit to the recent Paris Fashion Week, avid fashion blogger and style photographer Rei Shito makes note of how designers seem less inspired by street looks now than in recent years.
Could this be the end of the street style heyday in high fashion?
Rei says: "I captured this group at Grand Plais, the venue for all the Chanel shows, on the last day of Paris Fashion Week in March. I really feel like this pic memorialises this season in street style – that is, it reveals everything you need to know about this season's mood and trends. That's right: it's all about the '90s!
"Check out the details: flare trousers, platform sneakers, bum bag, T-shirts, even the dreads and braids in the girls' hair.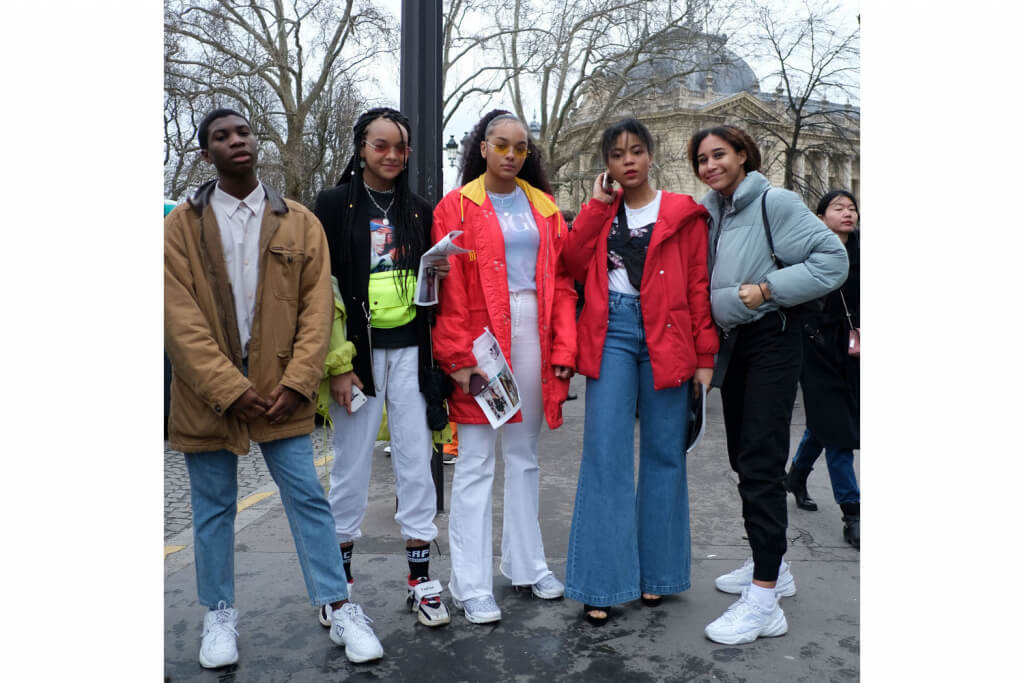 "I think street style and high fashion have had a lot in common in recent years – as in, street style has been one of the biggest trends on the 'high' fashion scene. Many top celebrities and designers right now, like Kanye West and Kim Jones, get a lot of their inspiration from the street, but we've also seen 'old school' fashion insiders getting inspired by fresh, fun street looks.
"However, I think we're starting to see the end of that. Street style is fully embracing the '90s look, while haute fashion is moving to a more classical, chic aesthetic. It could be that fashion designers see the '90s style as too young or too 'close' to them (after all, many of them will have worn it when they were younger), or perhaps they're just ready to move on to something else – for a return to the original 'chic' aesthetic."
About Rei Shito
Each month, Rei Shito identifies one defining look that she's spotted on the street, whether at home in Japan or abroad on her latest trip to the world's fashion hotspots, providing readers with a fresh, thought-provoking perspective on current trends. Rei is acclaimed as one of the planet's most original and influential street style photographers and fashion bloggers, publishing her work on her blog Style from Tokyo, as well as several magazines in Japan and overseas, such as vogue.com.
[Portrait Rei: Jun Tamura]