';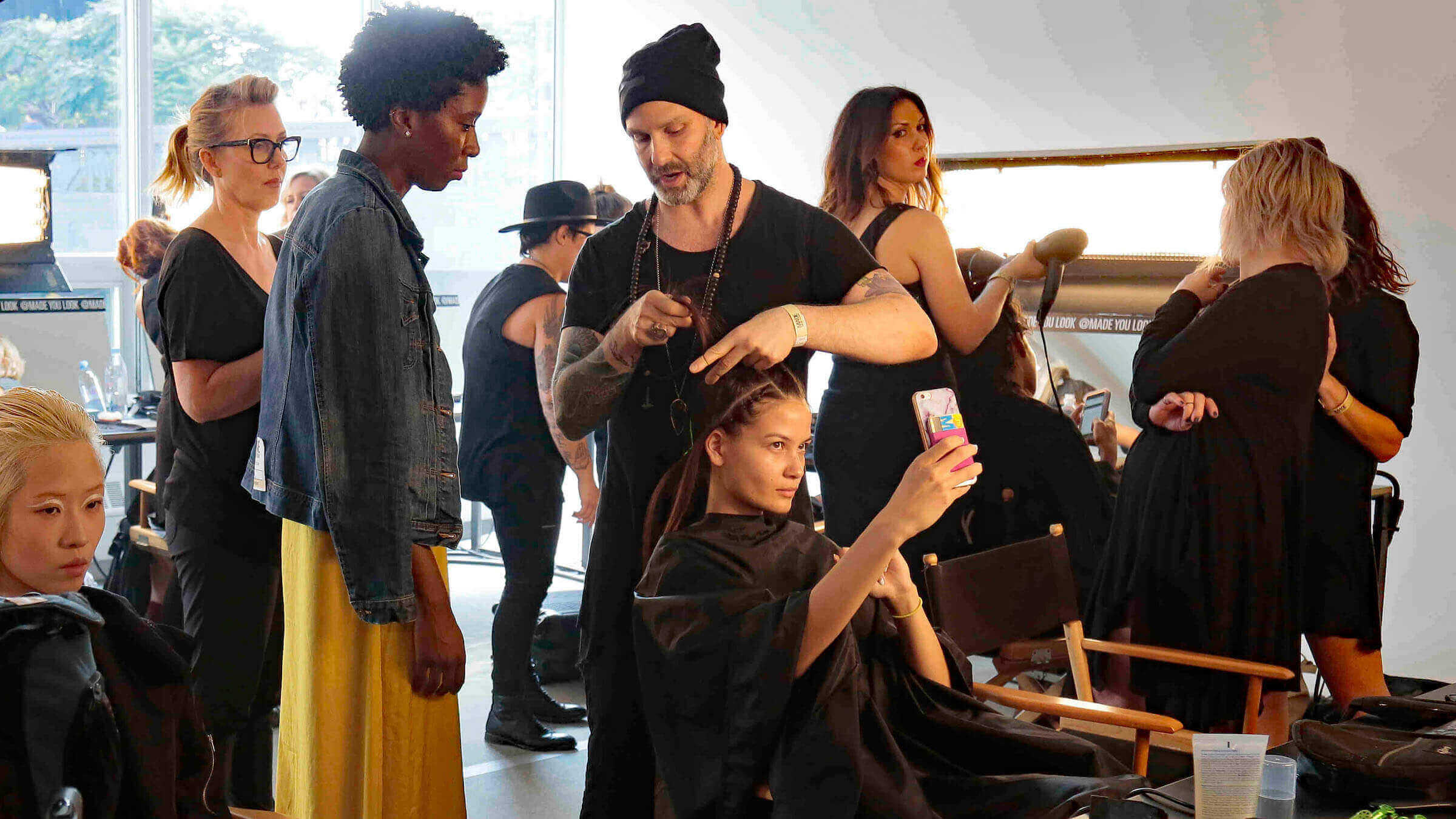 Fashion week comes only twice a year, but New York City is rife with stylish talent year-round. When they aren't busy making world-famous models runway-ready or working on editorial fashion spreads, some of the most sought-after hairstylists in NYC are available to perform a bit of high-fashion magic on us mere mortals. Find out how to book a cut and blow-dry with these A-list stylists.
The Stylist: Jon Reyman, Spoke & Weal
Although Jon Reyman can only be found in the flagship SoHo salon he co-founded in 2015 once a week, Spoke & Weal promise that they can almost always accommodate guests looking for a cut with him (or, as they put it: "We work hard to say yes!"). He also makes regular visits to his salons in LA, San Francisco and Chicago… and that's only the non-fashion side of his work.
The Fashion Week Experience
Reyman leads the Spoke & Weal Fashion Week teams that work behind the scenes at Donna Karan, Oscar de la Renta and Carolina Herrera – to name but a few. However, he insists salon clients get the same first-class treatment as big-name fashion brands: "I treat each model, client and designer the same in that I am here to serve them. I am a service provider. I work hard to listen and create space for a collaborative and safe experience, whether I'm tailoring a specific look for an individual or creating a cohesive look that translates to many."
The Look: Natural And Loud
The CHROMAT Spring/Summer 2017 Hyperwave collection, which was presented by a delightfully diverse cast of models, inspired Reyman with its themes of female strength and athleticism. Here's how his team created the look: "We diffused the hair with light product for dry, fluffy, big, natural hair. We also created a cool rubber-band braided look for women with straight hair that looked futuristic and mirrored the strength of the activewear."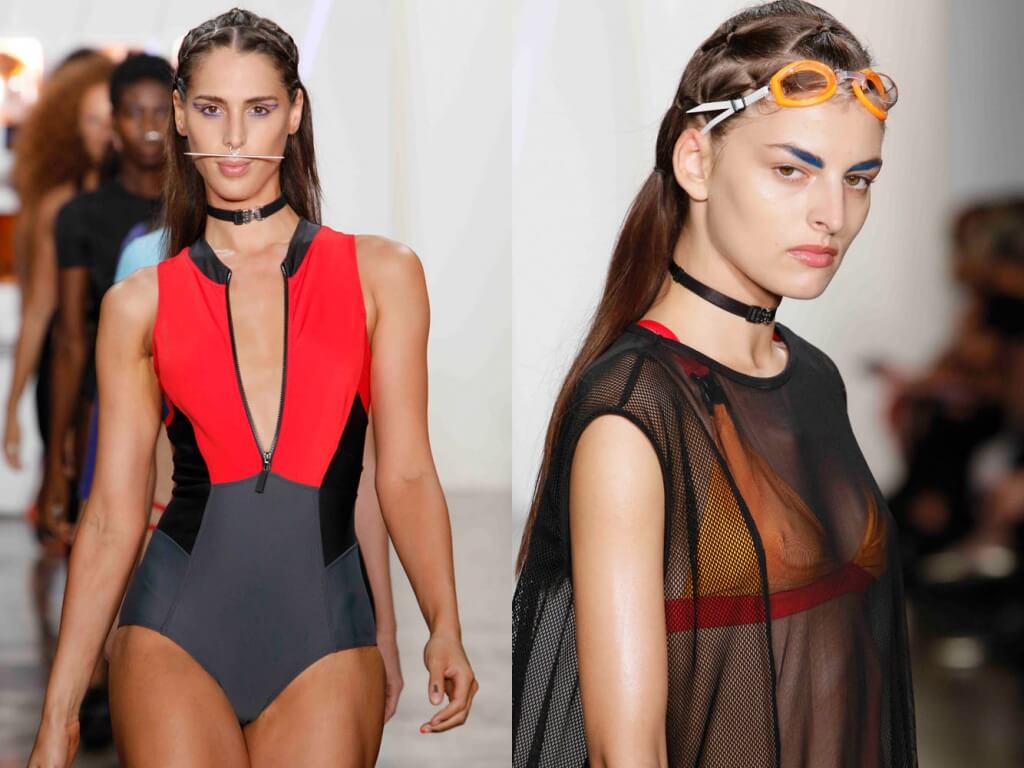 How To Wear It
Go au naturel: Reyman says the natural look transcends the catwalk: "Natural hair is on the forefront of beauty right now. There's a strong trend embracing natural texture and movement. It's empowering; it speaks to personal agency and celebrates diversity. I want my guests to celebrate this and embrace it fully."
Visit spokeandweal.com
[Photo: John Perez]
The Stylist: Teddi Cranford, White Rose Collective
Teddi Cranford got her start in fashion at Bumble and bumble, followed by a position with super-stylist Guido Palau. After a thrilling roller-coaster experience in high fashion, Cranford, uncertain of what direction to take her career, tried something new: "I did a wedding [that was covered by] Vogue and it was totally different, really fun. There aren't that many people who have had the experience I've had that would make themselves available to brides – I decided I could bridge that gap. My whole goal was to shift the way people felt about weddings." To achieve that goal, she founded White Rose Collective, a salon with a difference. It is, as Cranford puts it, "a collective of people who share a vision." With strong backgrounds in fashion and red carpet styling, they collectively specialise in wedding hair and beauty for those who want a fashionable look that goes beyond 'bridal'.
The Look: Sleek Ballet Bun
For a wedding or formal event, Cranford might recommend this elegant look – if it suits the client: "Anna Ewers was attending a charity event at New York City Ballet. She was wearing Chanel, and once I saw the dress I knew it had to be simple, clean and chic. Anna always wears her hair natural and lived-in, so it's really fun to get her ready and almost do the opposite. It's appropriate for the evening, she looks strong and super modern, like the strong women in the ballet."
How To Wear It
"If I had a client who could carry this look for a wedding, I would totally recreate it. However, looks that are great on models don't always look great on everybody. You've got to have the height, the posture and the confidence to carry that off. There are so many little details that can make a difference and adjustments can make a look fit a different woman."
Visit whiterosecollective.com
The Stylist: Davide Marinelli, Muze Salon
Book an appointment at Muze Salon in Chelsea, and chances are, your hair will be cut or coloured by someone with Fashion Week experience. Most of the team have styled editorial shoots and catwalk shows, or worked with celebrity clients (or all of the above). Davide Marinelli, for one, splits his time between New York and wherever in the world his work takes him. Even when he's in the salon regularly, it's best to book at least two weeks in advance to get an appointment.
The Fashion Week Experience
Once you've snagged one of the coveted time slots with Marinelli, you're in the same capable hands that have created looks for designers such as Jason Wu, Theory and Monique Lhuillier at New York Fashion Week, although it's a very different experience, as the stylist explains: "In the salon, you're focusing on that one client and what you can create for them. During fashion week, it's a much quicker pace, and you have about seven minutes – if you are lucky – to get that look."
The Look: Nautically Inspired Textured Braid
For catwalk inspiration, Davide Marinelli recommends re-creating his look for Jasmine Chong Spring/Summer 2017: "I created a sleek low ponytail with multiple boat knots, opened the knots to give it a softer, romantic feel, and used elastic thread and knitting needle to secure the knots."
How To Wear It
To create an equally fashion-forward look for a client in the salon, Marinelli would only make small adjustments: "Ponytails and braids will always be in fashion. You can definitely walk out of the salon with this look, or loosen up the ponytail for a more youthful look." To create the style, he used Oribe Maximista spray and Oribe DRY Texture.
Visit: davidemarinellihair.com, muzesalon.com
The Stylist: Bobby Tochterman, Muze Salon
Bobby (or Michael Robert) Tochterman is new to New York and to the Muze team. It's still relatively easy to get an appointment with him, unless fashion shoots pop up or Fashion Week gets particularly busy.
The Fashion Week Experience
Tochterman's work has been featured in magazines, including Vogue, and he has worked on Fashion Week shows like Lela Rose and Katie Gallagher. To him, those creative challenges offer a perfect counterpoint to his daily routine: "Working in the salon allows us connect with people on a personal level. We figure out what their needs, wants and desires are, and achieve a look our client can recreate on a daily basis. Fashion Week allows us to create art not normally worn on a daily basis, but which complements the designer's vision. Both are extremely rewarding for a stylist."
The Look: Modern Gothic
As the key artist for Katie Gallagher's Spring/Summer 2017 Fashion Week presentation, Tochterman created two looks, one up and one down. As he explains: "The overall inspiration for the look was a modern gothic texture. The up look was created with a hard side parting. Most of the hair was snatched back into a tight twist that stuck out of the head. The remaining hair on top was textured and sewn tight to the head by a large needle and elastic thread for added detail. It is a very 'done but not done' texture which has been very on-trend for the past year."
How To Wear It
"In the salon I would use a curling iron to create a series of waves going in different directions, and then finish it off with a texture product to give it some grit." The products he used include Splat hair colour, Amika Products Texture Gel and Un-done Texture Spray. All products are matte finish.
Visit robertmichaelt.com, muzesalon.com
The Stylist: Ted Gibson
Ted Gibson is not only a prolific celebrity hair stylist; he's also known as the man to go to for one of the most expensive haircuts in the world. Of course, when you're dropping over a thousand dollars on a haircut, what you're really paying for is an amazing experience – and that experience just got a lot more exclusive. Previously working in his 5th Avenue salon alongside a team of stylists, as of January, Gibson and his partner (both in life and business) Jason Backe are seeing private clients in a super-chic, very private location on Madison Avenue. To find out what's next after this temporary location, keep an eye on Ted Gibson's social media accounts.
The Fashion Week Experience
Gibson is perhaps best known for working his magic on celebrities from Lupita Nyong'o and Saoirse Ronan to Anne Hathaway and Angelina Jolie, but he also has a solid track record in fashion. He has created runway looks for international labels like Chanel and Prada, as well as New York Fashion Week styling for the likes of Pamella Roland and Lela Rose.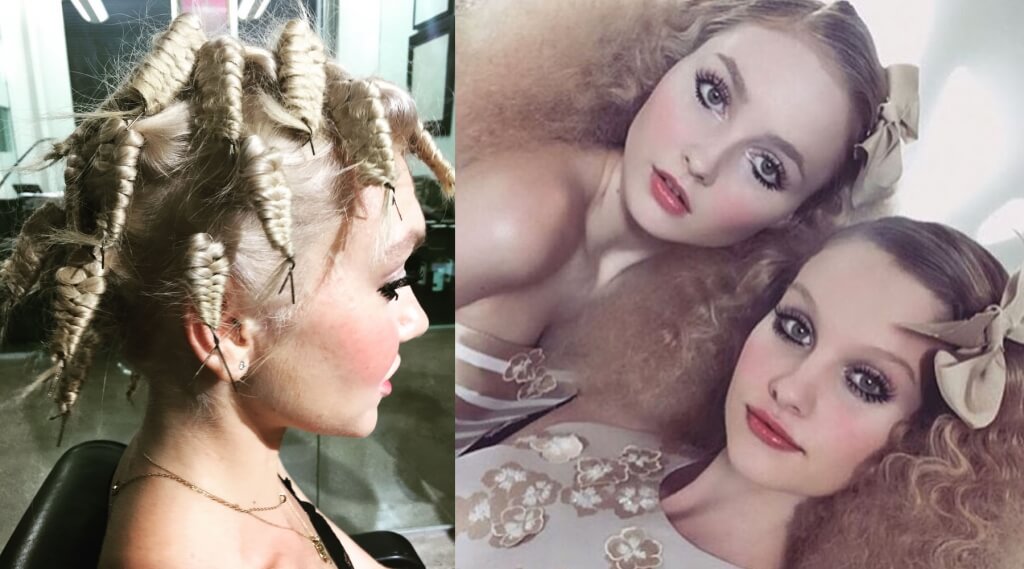 The Look: Textured Innocence
To tie in with the innocent theme of Carmen Marc Valvo's Spring/Summer 2017 collection, Gibson created a look he describes as inspired by Bette Davis in What Ever Happened to Baby Jane: "When Carmen said the inspiration was baby doll, I immediately thought of the movie. In the movie her hair was very textured, and I wanted the same idea for this look." He used Kérastase's Spray à Porter and L'Oreal Professionnel Tecni Art's or Graphic Modelling gel to define the top, then finished with L'Oreal Professionnel's Elnett holding.
Visit tedgibson.com, or book through info@tedgibson.com
Article by Fiona Brutscher