';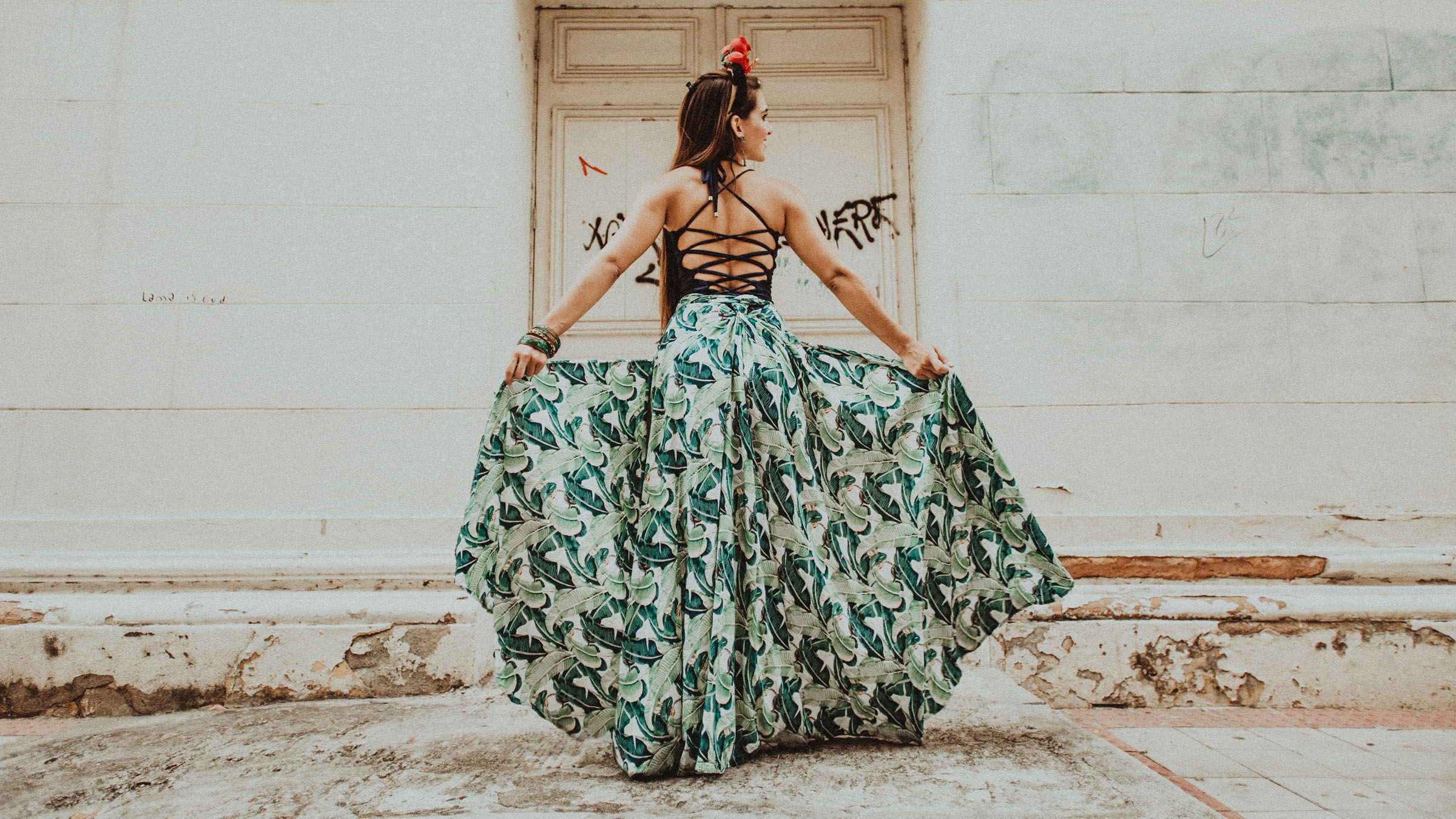 Tired of your predictable wardrobe? Feeling uninspired by current trends? Perhaps it's time to look past the big brands and headlining designers of Europe and North America. Gazing southwards, the Latin American fashion scene – from Mexico to Argentina, Peru to Brazil – is alive and buzzing with creative, innovative designers drawing on the region's diverse cultures and rich natural textures for inspiration. Though it might not be possible to browse the local brands in situ at the moment, you can discover new Latin American fashion brands – and shop their designs – right from home. Here's where to go, and what names to look out for.
LAGO
Based in Mexico City, LAGO is all about Latin American fashion design, showcasing up-and-coming brands from Mexico and across the region, including Peru, Colombia, Ecuador and Argentina. Their selection is dominated by outstanding, often one-of-a-kind pieces that tell a story – and are usually artisan-made, eco-friendly or handcrafted. With four different design projects under their belt, including a flagship store and an emerging design marketplace, LAGO is poised to make an even bigger mark on the Latin American style scene.
Look Out For: Eco-friendly Mexican resort wear and lingerie by Pau Román; handcrafted emerald-based jewellery by Colombian brand Fenomena; Belisa Pulido's ready-to-wear menswear line.
View this post on Instagram
View this post on Instagram
Boho Hunter
Ask anyone: Miami is as Latin as Santo Domingo. It's no wonder, then, that Latin American designers see the city as a key destination for their brands' growth. Located at the centre of Miami's Design District, Boho Hunter is owned by Latin expats whose goal it is to discover and champion South American creators. Their offer? Jewellery, accessories, swimwear and garments from all the corners of the Americas. The best part? Most of it is priced affordably. If a trip to Miami isn't in the cards anytime soon, you can peruse their Instagram for shoppable inspiration, or visit their online store.
Look Out For: High-quality Colombian swimwear label Suki Cohen; vegan hats by Ecuadorian brand Allpa; socially responsible Salvadorean accessories by Alma Weaving Souls.
View this post on Instagram
View this post on Instagram
Stitch Lab Miami
Up-and-coming Latin American fashion brands find their home at Stitch Lab Miami, an incredible talent incubator and marketplace with the mission to offer clients a curated selection from socially and ecologically conscious designers, while celebrating craftsmanship and diversity within Latin American fashion. Sounds just about perfect, right?
Look Out For: Mexican swimwear and accessories brand Alma de Sal; Venezuelan street-art-inspired fashion by Masterpiece; Dominican resort and beachwear label CS Beachwear; Peruvian artisan-collaborative brand Raphia.
View this post on Instagram
View this post on Instagram
Sí Collective + Fashionkind
'Conscious' is the best way to describe the collaboration between online luxury retailer Fashionkind and Sí Collective, a growth incubator for Latin American brands. Here, the traditional online shopping proceedings are shaped into a user-friendly experience that helps shoppers understand the background, social initiatives, environmental impact and craftsmanship behind every single piece offered on the website – it's fashion as an instrument for transformation. Fashionkind + Sí Collective is a truly curated space, where you'll find a selection of products with labels committed to either sustainable practices or social causes, and offering everything from clothing to jewellery and accessories. The navigation bar even allows you to shop by country of origin, item or impact – they have it all.
Look Out For: Unique Colombian handcrafted jewellery brand Casa Chiqui; Designer Rebecca Zeijdel-Paz's Curaçaoan jewellery label Beck Jewels; pre-Columbian-inspired Peruvian jewellery by Monica Sordo; Mexico-based family-run clothing brand Recreo San Miguel.
View this post on Instagram
View this post on Instagram
Not Just A Label
Founded by Stefan Siegel in 2008, Not Just A Label places the focus on promising emerging talent. New designers from all over the world showcase their work on a platform that provides an accessible network for creatives to gain exposure and grow their brands, while offering a unique online shopping experience for customers. With its ever-expanding selection, Not Just A Label remains the go-to place for growing independent brands and innovative makers. If an original, contemporary, pioneering style is what you're after, search no more: this is the place.
Look Out For: Genderless, sustainable Argentinian brand Nous Etudions; unisex Colombian knitwear label Papel de Punto; ethically made Chilean lingerie by Toru & Naoko; sustainable Costa Rican resort wear by Austère; menswear label Pietà, entirely produced by Peruvian prison inmates as a chance to earn money and learn beneficial skills.
View this post on Instagram
View this post on Instagram
85° Paris
Founded in 2017 by Amaya Ducru Clouthier and Ines Olaechea, Parisian concept store 85° Paris is the perfect blend of emerging Latin American design and typical French luxury. The owners pay particular attention to socially responsible and eco-conscious brands, and present themselves not just as a store, but as a gallery. Très chic. Très Latin. Orders from their online shop can be shipped anywhere in the world.
Look Out For:  Medellín-based jewellery-maker Liza Echeverry; sustainable Peruvian garment brand AYNI; Mexico City-based jewellery label AVEC.
View this post on Instagram
View this post on Instagram
Ikal
At Ikal, they pride themselves on their curatorial skill. And with good reason – at first glance, it's obvious that every single brand in their roster has been hand-picked based on the concepts that define the Mexican concept store: authenticity, inclusivity, sustainability and environmental preservation. Fans of detail, avant-garde aesthetics and slow fashion, this is your place.
Look Out For: Distrito Domingo's leather footwear; genderless loungewear brand Ciento Setenta y Siete; men's resort wear label Agnes.
View this post on Instagram
View this post on Instagram
Moda Lab
Jewellery, bags, clothing, shoes and homeware can all be found at Moda Lab, an eclectic Miami-based fashion retailer offering shoppers around the world a carefully curated selection of items, all created by talented Colombian designers and brands. Oh, and as a bonus they offer online customer service in six different languages: Spanish, English, Italian, French, Chinese and Portuguese. What more could you ask for?
Look Out For: Artisan-crafted luxury home and accessory brand VERDI; fun, elegant and socially aware resort wear label Cala de La Cruz; handcrafted hats from Diaz Del Castillo Millinery.
View this post on Instagram
View this post on Instagram
Moda Operandi
Sometimes all you really want is choice and variety. If you're missing those all-day mall outings you used to make during normal times, Moda Operandi can scratch that itch. Since its launch 10 years ago, the retailer has grown into one of the biggest online marketplaces for upscale fashion, accessories and home decor. With an exhaustive roster of names, they offer products from renowned brands and independent designers around the world – including a broad selection of Latin American labels – and ship to over 125 countries. Their pride and joy is runway and trunkshow shopping, but their inventory boasts thousands of high-quality pieces. Clear your schedule, this virtual shopping trip might take a while.
Look Out For: Carioca Betina De Luca's namesake brand; Venezuelan garment label By Efraín Mogollón; Colombian-made affordable luxury handbags by Marargent; Brazilian jewellery by Kika Alvarenga.
View this post on Instagram
View this post on Instagram