';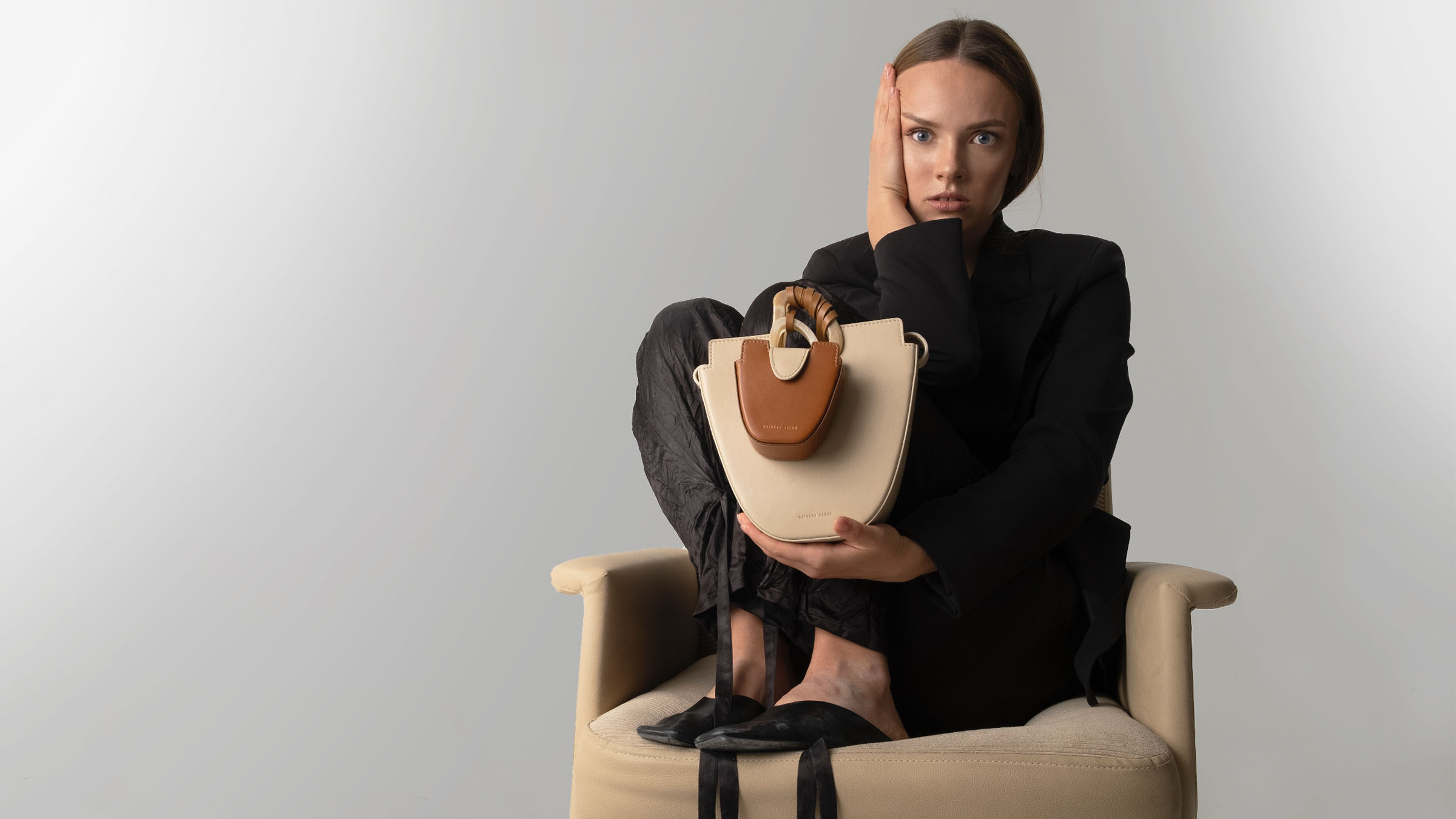 Born in Milan and based in Turkey, the clean, minimalist style of the sculptural bags by Naturae Sacra has already caught the attention of fashion oracles like Vogue, Harper's Bazaar, Marie Claire, the list goes on – a clear testament to the vision and talent of creators Gizem Pirinççiler and Kerem Erhan. Though perhaps an even clearer testament to their vision can be found in the brand's commitment to slow fashion, which is borne out in the artisanal techniques and natural materials used to create each of their designs. One bag takes skilled craftspeople 12 days to make, from start to finish.
We got the chance to speak with Gizem and Kerem about their style, production processes, creative challenges and future plans.
Your designs are heavily influenced by nature and sculpture. How did these become your source of inspiration?
Kerem: Naturae Sacra's name means 'mystery' in Latin. It comes from the inspiration we draw from forms, mysteries that are mostly found or hidden in nature. This is the beginning point of Naturae Sacra's DNA: to create unique pieces. For each season, each of our bags has independent details, just like in nature. Personally, I have always been in love with art. This has helped both of us, Gizem and I, to make unique forms. 
Gizem: I have a Plastic Arts background in my education. I've always been interested in painting, and especially in sculpture. In sculpture, the idea is always about making something that isn't easily distinguishable, physically. It's like nature. I was always very affected by this idea. There are so many mysterious forms we can't explain in nature, and sculpture feels like that. You can't really say why you sculpted a particular form. This mystery is our main inspiration. Also, my name, 'Gizem', in Turkish language means 'mystery', so that was also a big inspiration. (She laughs.)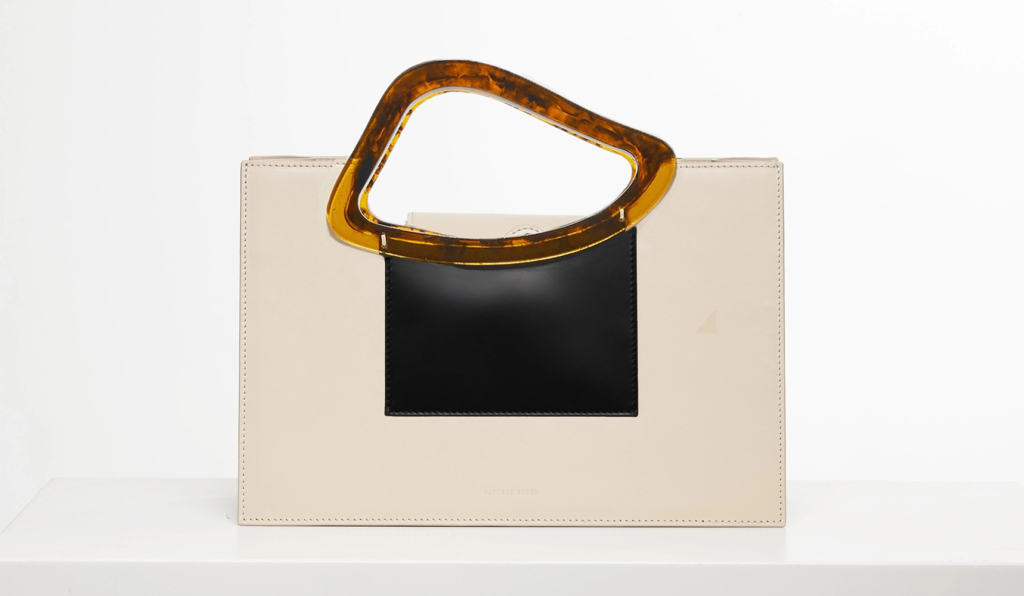 You work as a pair – how did you find a way to work together and to balance your creative aims?
Gizem: We still don't agree on everything! We're both very different…
Kerem: Yes, different perspectives.
Gizem: Yeah. But this is actually what holds us together, it creates a balance. I am always thinking about the creative side. I get very excited, but I'm not the best decision-maker. His perspective is always more certain…
Kerem: She's more the creative side, about feeling and creating her ideas. I'm the rational side. When I agree with a design or idea, I can obey her decisions. She creates and mostly we decide afterwards on the production part. For example, she makes the design, sketches it… I'm usually the one who wants to take it to the computer and see it in 3D to see if it's rational or not, if maybe there's something we missed, etc.   
Gizem: We discuss a lot – about everything. That's just how it works. These discussions create different paths, and we enjoy discovering new things together.       
How does Turkish culture influence your style and image as a brand?
Gizem: Turkey is a country that holds many, many different cultures inside. It's almost like a huge collage of cultures and colors. It's a huge country. It also has this maximalist visual impact on me as a designer, and its style is super eclectic. I was always trying to be a bit ahead of this complex, maximal visual reference. That's why I am trying to make my decisions based on clear forms and minimal shapes. The opposite of Turkish culture. So it hasn't positively influenced us, but it's always reminding me to keep it simple. Also, since childhood, I've always been interested in the northern countries. I was always inspired by their design culture. That's my personal style and Turkey is my home, so it's about keeping a balance.
Kerem: But, of course, we are trying to include different things from Turkish culture in our designs. We use some production details, for example.
Gizem: Yes, the production is always inspiring because Turkish culture has these traditional touches. We use special stitching techniques as details on our bags.
You're an originally Turkish brand that's also based in Milan. How does the Italian capital impact your creativity?
Gizem: I lived in Italy for five years, it's where I got my Masters. Naturae Sacra was a project that started when I was studying sustainable luxury contemporary brands, and was trying to illustrate a future brand. Milan is also very important to me because it's my second home. It's where I discovered myself, both personally and from the point of view of my creative vision. There, you can see the unique and creative ways in which people are creating their style, and also how people respect the idea of a Made in Italy products. This deeply rooted idea is what makes the Italian industry so strong – they're super connected with their brands and the products they purchase. They love their product, they value it. I kept thinking "Why are we not into the Made in Turkey idea?" and "Why don't we have a cult brand that can last for a long time?". That's when I decided to make the project real. 
I told Kerem that I had this idea. He was supportive from the start, and we started to create the brand and the prototypes in Milan. After we launched our first collection, the brand began to grow, and we brought everything to Turkey. We always believed that Turkey could also be good, production-wise. That we could have good Made in Turkey items. I also don't believe in "based in" sentences, because now a brand can be born in Milan, live in Turkey, and have deep roots in France; all of our sales and communication activities are in France. Naturae Sacra is based in the world.   
The pandemic has proven a challenge for the fashion industry. As things start to pick up again, what are you most excited to see happening onwards? 
Gizem: We learned that if we were going to wait for the pandemic to pass, that's not going to happen. It's not passing, it's still going on. It forced us to change our perspective. We added a new line to Naturae Sacra's designs, and we started working more effectively. We created a shoe line, a jewellery line… That last one's launching very soon. I think the most exciting thing is after the pandemic, we will see what all the creative people in the world have done during this time.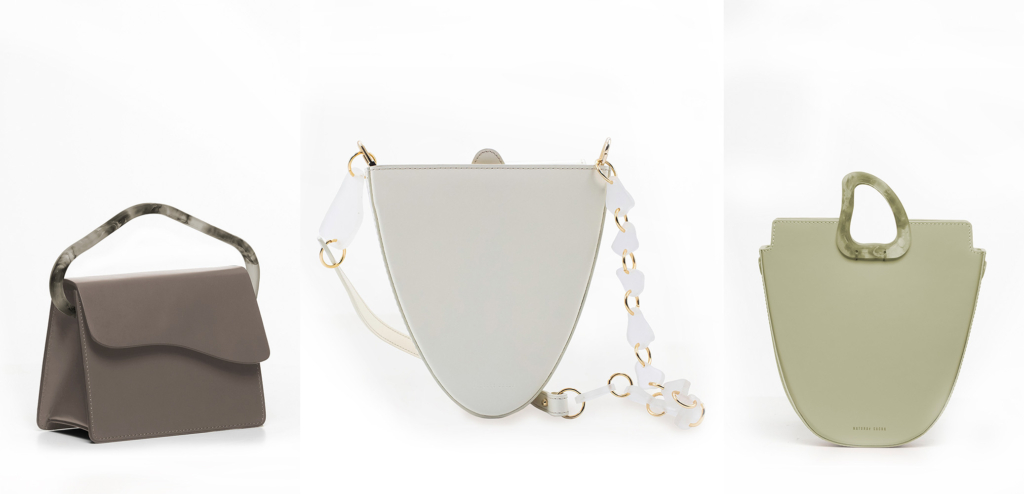 Mini bags have been all the rage for the past few years, and you feature a fair share of them in your collection. That being said, what is next for your brand?
Gizem: We have four main styles our brand has carried from the start, and they all have three different sizes. It's about giving choices to people with different lifestyles. The mini size is of course super famous, but we always try to give all our designs a long life. You'll never see us having four collections in a year, that's fast fashion. Our main idea is to keep the original design and only switch up the sizes, always keeping the design line long-lasting. We don't want to make the designs competitive with each other.     
Where do you see Naturae Sacre five years from now?
Kerem: Bigger and more powerful. We are both industrial designers, we have the power to think as a product brand, not a fashion design brand. In five years, we will be exploring different areas, like shoes and accessories. 
Gizem: If I'd had to answer this question before the pandemic, I'm sure I would have said "oh, you know, opening some shops around the world", and we would love to, sure. Our own retail shops would be amazing, for our customers to be able to touch our brand… But after the pandemic consumption habits have changed. The priorities are different at the moment. I want to see a fashion industry aware and supportive of small sustainable brands, the small businesses.