';
;
Winter may be dark and cold, but that doesn't mean your wardrobe has to follow suit. One way to instantly infuse your look with new life is to try out a new trend, and this season, there's no better trend for looking fresh and chic than the cape.
No, we're not talking about Superman or Little Red Riding Hood: this winter's capes are modern and sophisticated, elevating your hibernal wardrobe while keeping you warm and comfy. So dare to wear this ultra-stylish trend – we'll tell you how.
The Basics
Capes are essentially simple garments, worn throughout millennia by cultures across the globe. Modern capes, however, have been updated by fashion-forward brands and designers, sporting a more stylised look that blends easily with the trends of today. Currently, the most common types of capes you'll find fall into two categories: bohemian-style ponchos, often featuring woven designs; and classic, vintage-inspired sleeveless overcoats. Whichever you choose, you'll want to go for a cape that's not too heavy, and whose colour and cut will blend well with your existing wardrobe and overall style.
One major factor to keep in mind when wearing a cape is to understand that it will add volume to the upper body. As a result, you should aim to balance your shape by pairing it with more form-fitting garments on your legs, like skinny trousers, leggings and pencil-type skirts. You can also reduce the volumising effect by opting for a cape in a lighter fabric, or one that is more structured so as to accentuate your figure. If you're of smaller stature, be careful not to get a cape that is too heavy or oversized.
It's also important to note that capes are striking style elements on their own, so it's best to let it stand out; keep your accessories simple, choosing a small handbag or clutch, for example, rather than a large tote bag. Don't overdo it.
The Particulars
Whether you're nipping out to brunch with friends or heading into the office, capes are generally versatile and easy to integrate into your look – though it's important to take the specific occasion into account. For formal events and professional settings, opt for single-tone capes with a simple but chic style and structure. On the other hand, casual and informal occasions allow for styles with patterns in strong colours and with playful details, such as fringes and woven designs.
Pair With: Jeans And Trousers
As mentioned, the cape itself will generate volume, so it's best to combine with bottoms in more a form-fitting silhouette, such as skinny jeans and fitted trousers. Bonus points for dark-toned trousers or ones in imitation leather. Also be wary of the colour of the trousers: you want them complement rather than clash with the hue of the cape. Otherwise, let your creativity reign.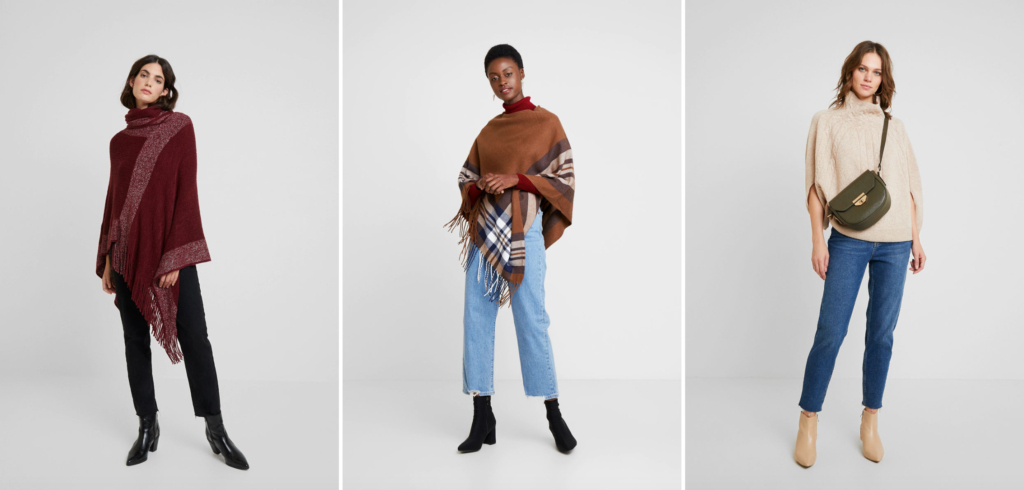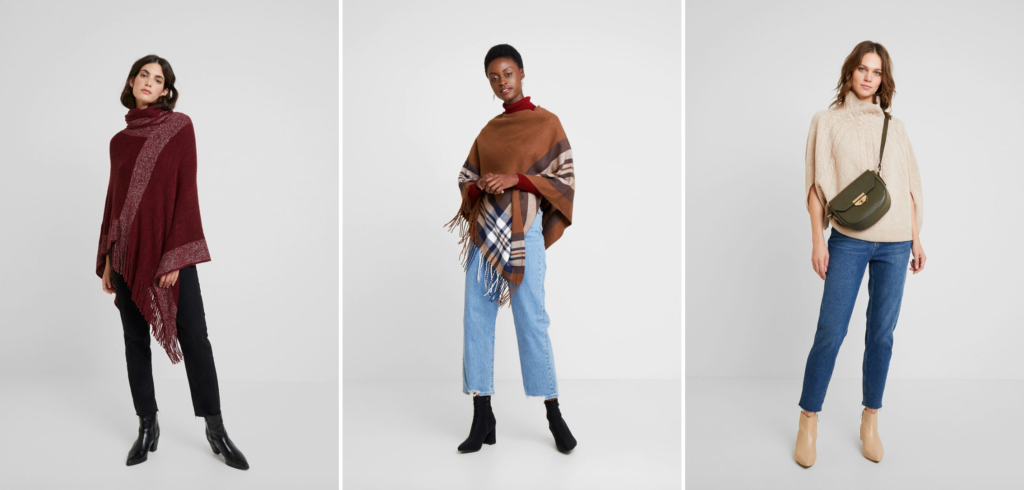 [Images via Zalando: Left, Middle, Right]
Pair With: Miniskirts
In the continued interest of balancing proportions – and if you just love a feminine look – an excellent option is to wear skirts and dresses. It may seem counterintuitive, but in fact all types of capes, from ponchos to blanket scarves, look great with skirts, as long as the skirt is cut relatively short and is fitted to the leg. Depending on the type of fabric your cape is made from, as well as your choice of accessories, adding a cape can lend a touch of sophistication. Just don't forget your stockings and boots if it's chilly out.
Pair With: Boots
Your choice of footwear will of course depend on the current weather situation, but as a rule of thumb, ankle boots and riding boots will pair well with a cape on cold or inclement days, and will always look good with either a skirt or trousers. If it's not too chilly out, you can don your ballet flats (with a classic-chic cape) or sneakers (with a more casual-style cape or poncho).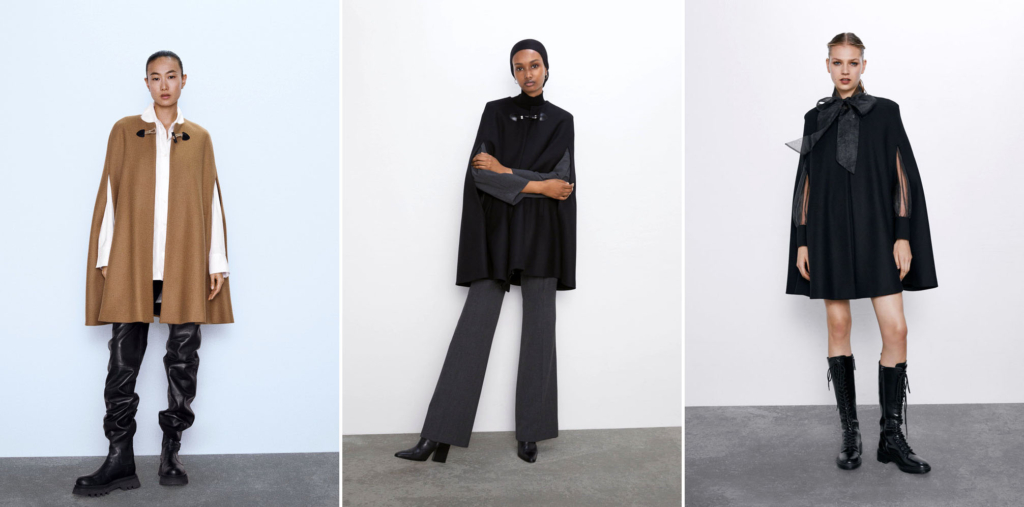 [Images via Zara: Left, Middle, Right]
Pair With: Simple Shirts
If the cape in question has an open front, wear it over a shirt that's simple enough in colour and style to allow the cape to stand out. A classic white blouse, a knitted jumper or a turtleneck are a great bet as garments to wear under your cape. The combo of turtleneck jumper with dark trousers and boots looks spectacular with a sleeveless cape.
Pair With: Simple Accessories
Remember how we talked about the cape attracting attention on its own? You don't want to upstage it – or end up looking like an extra in a Clint Eastwood Western – so choose your accessories wisely. It's best to leave the fedora at home, as well as scarves and pashminas, which are overkill when wearing a cape anyway. As for bags, don't weigh down your shoulders with crossbodies and totes – opt for something lighter, like a clutch, instead.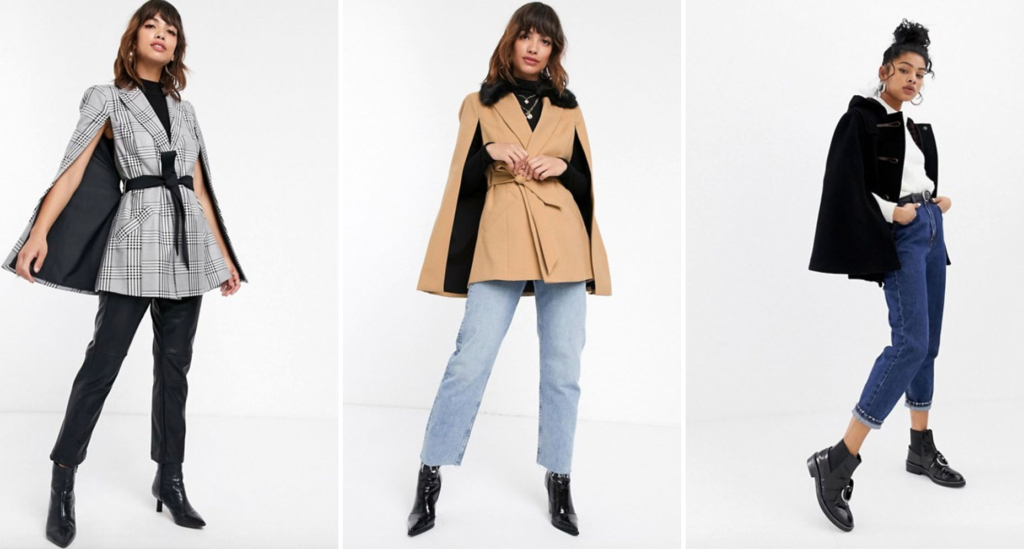 [Images via Asos: Left, Middle, Right]
Pair With: Colours Galore
Not all looks need to be neutral: this season, bright hues like neon are all the rage, so if you're feeling daring, have fun with a vibrant colour palette. Tribal patterns, geometric shapes, checks and picture prints are the order of the day. Completely monochrome looks, especially in all-black, are to be avoided – nobody wants to run around looking like Batman.