';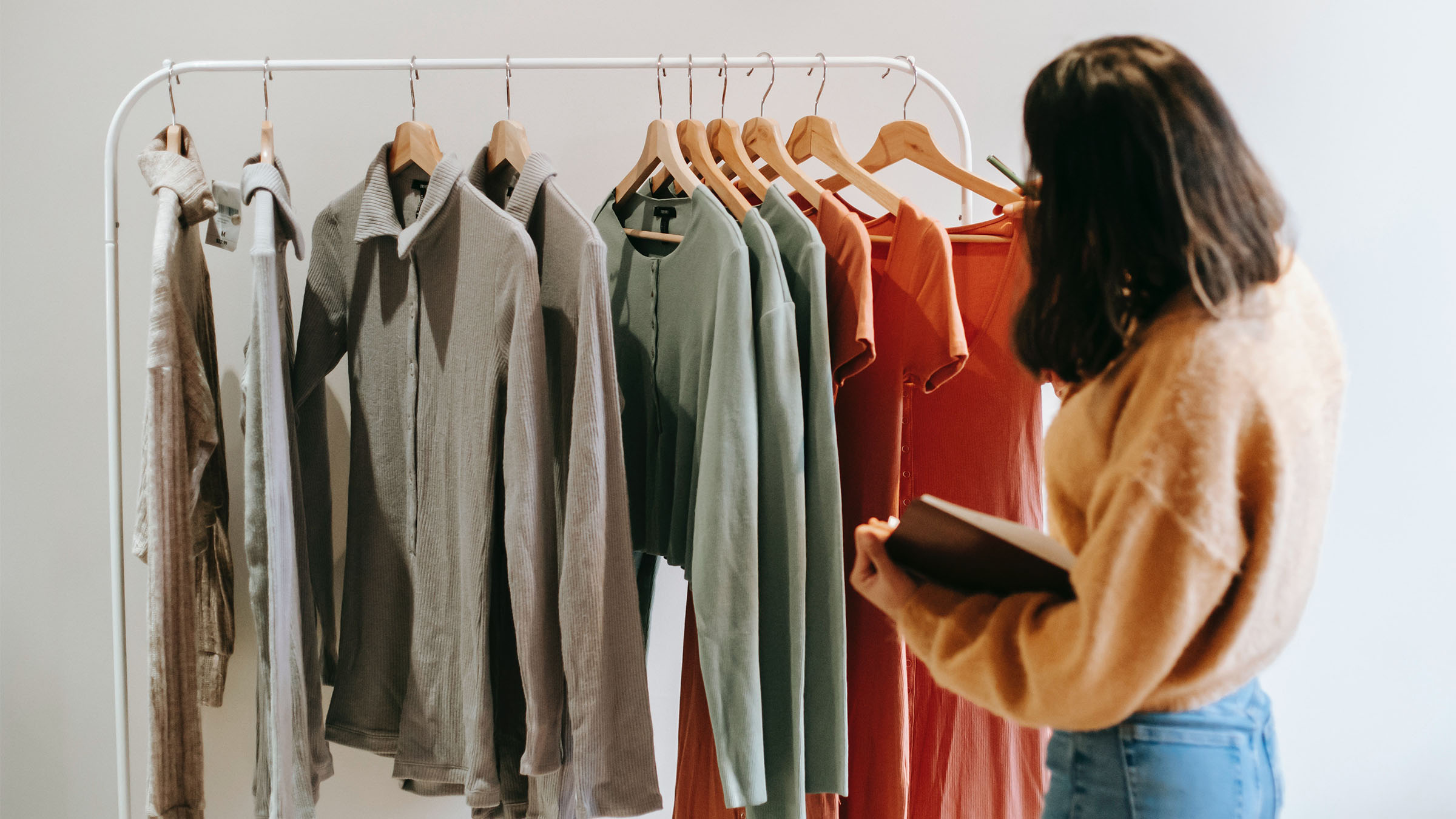 Another season is just around the corner – meaning a spring style reshuffle is in order. But before relentlessly clicking the checkout button and filling your closet with this season's newest trends, consider a smarter, healthier take on spring fashion, one that you can apply at any time of any year to come.
We've all heard the term 'capsule wardrobe' at least once, but this fashion concept based on minimalism and practicality is a lot more than a Pinterest board trend: it's an easy way to build an entire functional, highly wearable wardrobe using core pieces or base ingredients. First introduced in the 1940s, the idea fell out of fashion for a few decades before being rediscovered and championed by London boutique owner Susie Faux in the 1970s. In the '80s, it was further popularised by American designer Donna Karan's concept of 'Seven Easy Pieces'. Now, capsule wardrobes are all the rage again, aligning closely with the push for more responsible consumption and a more thoughtful approach to fashion.
With that said, after a freezing cold winter and loads of layers piling up in our closets, it's the perfect moment to cleanse, organise and restructure our wardrobes, taking a fashion shortcut with four simple steps and plenty of benefits.
Getting Started
Before embarking on this eco journey, you want to make sure you understand the capsule wardrobe concept, as well as the reasons why this is the smartest way to go.
Imagine having only 20 to 30 items in your closet that could make up over 100 different looks for any occasion. Not only will a well-curated capsule wardrobe free some space from all the clutter, it'll also streamline your getting-ready routine and simplify your choice of what to wear. At the same time, you'll curb your spending by investing in lasting pieces and help prevent impulse purchases, while saving a good amount of waste that would end up in landfills – meaning you (and the planet) will be better off.
Here's what to do.
Step 1: Free Some Closet Space
First, you'll need to make space for your capsule wardrobe pieces. Start by completely emptying your closet and organising every single item. You'll want to separate and store all season-specific garments you won't be needing for the next few months.
Next, group everything by category (jeans, dresses, blouses), and go through each group to determine what stays and what goes. When deciding whether to keep or toss an item, think of the 'one year' and 'three pieces' rule: if you didn't wear it during the last year, and/or if the item can't be paired with three different things you already own, consider either selling, donating or upcycling. Leave what you actually wear on a regular basis.
If there's something you're not donning that often, but which you want to keep for another reason (sentimental value, huge investment piece, etc.), try to come up with at least four different looks that make it the centrepiece, thus paving the way for you to get some use out of it.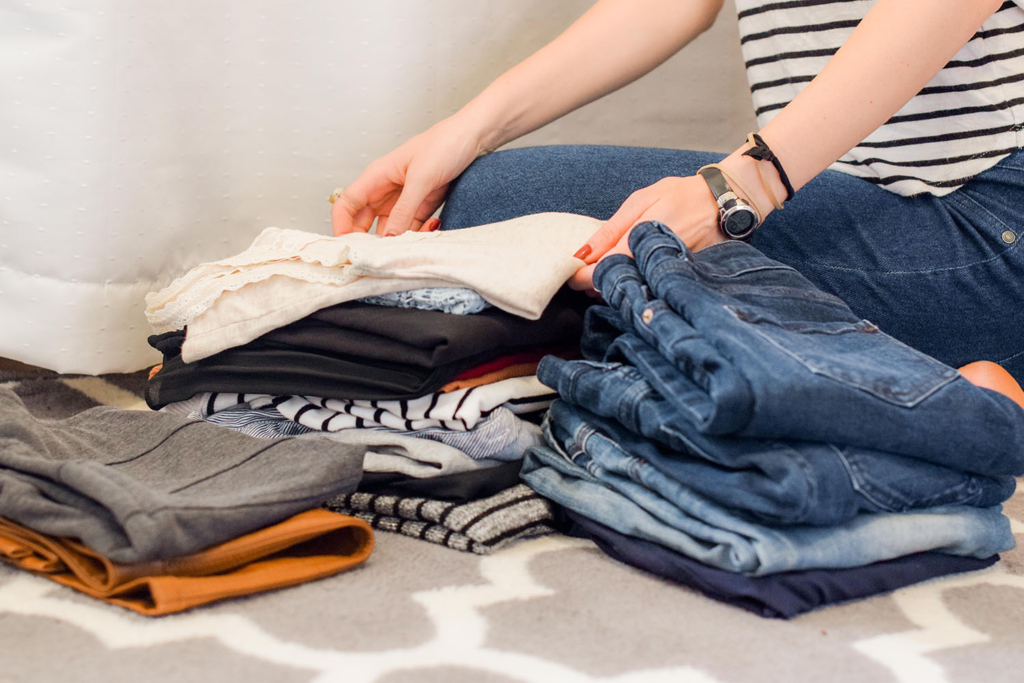 Step 2: Create A Capsule Wardrobe Concept
Once your closet has been decluttered and you're only left with pieces you actually wear, you'll need to create a central concept around which to build your capsule wardrobe. For this, consider three things: style, requirements and colours.
Begin by looking for inspiration and collecting pictures, colour ideas and an overall aesthetic you love and feel comfortable with. You can make Pinterest boards, lookbooks or printed collages of specific styles that speak to you. It can be anything from (or a mix of) streetwear to casual, classic or preppy, as long as it's 100% you.
Once you know how you want to dress, think of what you need to dress for. You won't need a pile of blazers and suit trousers if you're working from home full time, nor should you have that many jumpers if your spring weather is warmer. Aim for a ratio of 70% items that you wear on a daily basis, and the remaining 30% for specific types of events and special occasions. The goal is to pare down your wardrobe to 20-30 spring-appropriate pieces. Once all your items are visible to you, and are actually wearable, you'll find it easier to mentally mix and match, and create outfits.
Before choosing your final items, define your colour palette. It doesn't have to be the classic black, white and camel trio often present in capsule wardrobes – you can pick whichever colour you feel confident in and which flatters you the most. That way, you'll likely to want to wear them more often. A good approach is picking two base colours and two or three accent colours. For the base colours, pick neutrals (navy, blush, grey, brown) that you usually find yourself gravitating towards and that are easier to combine. For the accent colours, have fun and pick happy tones that will make your outfits pop.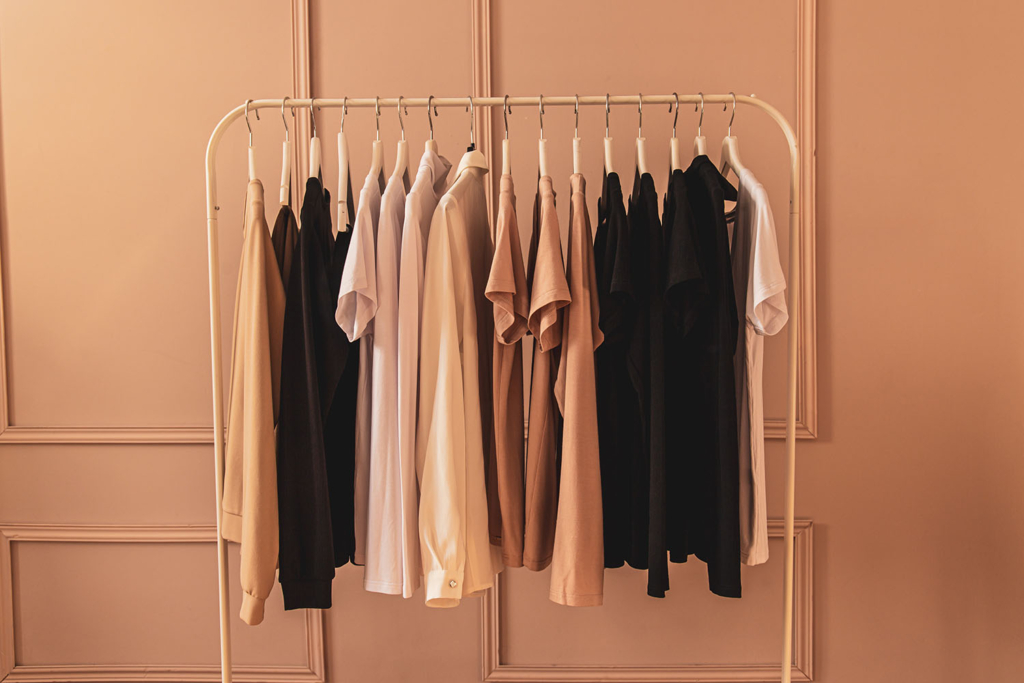 Step 3: Draft your Capsule Formula
Once you know the style, requirements and colours you're building your capsule wardrobe around, you can start drafting your list of 20-30 items. Of course, forming your list around what you already own is ideal, so start there. And while we're drafting a capsule formula for spring, keep in mind that this list will contain the 'base ingredients' for every other season, too – you'll just need to add, remove or change your 'spices' and 'toppings' as the weather changes.
Also, remember, every capsule formula will look different for everyone – as long as it works for you, and you can stick to using those 20-30 pieces over and over again in infinite combinations, you'll have succeeded. However, in general terms, a spring capsule formula should look something like this:
– Tops: plain t-shirt, tank top, button-down, knitwear, sweatshirt, blouse
– Bottoms: jeans, trousers, joggers, A-line skirt
– Outerwear: jacket (biker, denim, puffer), blazer, cardigan, coat (trench, parka)
– Dresses: formal dress, daytime dress, slip dress
– Shoes: sneakers, ballerina flats or loafers, boots, solid-coloured pumps, sandals
– Bags: tote bag, clutch, satchel
Some eco-friendly brand options with high-quality basic staples to fill your spring capsule formula are People Tree, L'Envers, Veja and Whimsy & Row.
Step 4: Make It Sustainable
Now's the time to take your final capsule wardrobe from paper to the closet. Again, make sure you're considering the garments you already own to minimise spending and consumption. However, if you need to buy a few pieces to complete your spring looks, make sure you're making sustainable choices. First, focus on high-quality investments that will intrinsically suit your other pieces. Pay attention to fabrics, composition and the brand's ethos. Organic fabrics are the best in quality, meaning you won't need to replace them as often, and you'll reduce your amount of waste.
However, and maybe even more importantly, make sure that whatever you're buying really connects to what you'll be regularly wearing – you can buy an investment piece made with organic or recycled fabrics, with a low water consumption process and following the strictest fair-trade guidelines, but if you're only wearing it once or twice, your choices won't reflect you sustainable ethos. That's why rationalising exactly what you need and sticking strictly to those garments will ensure that every single item in your closet is a core part of your spring rotation.
As a final step, and now that you have all the ingredients covered for your spring closet, it's time to mix, match and come up with as many combinations as possible. Accessorise, try unexpected colour combos and have fun!