';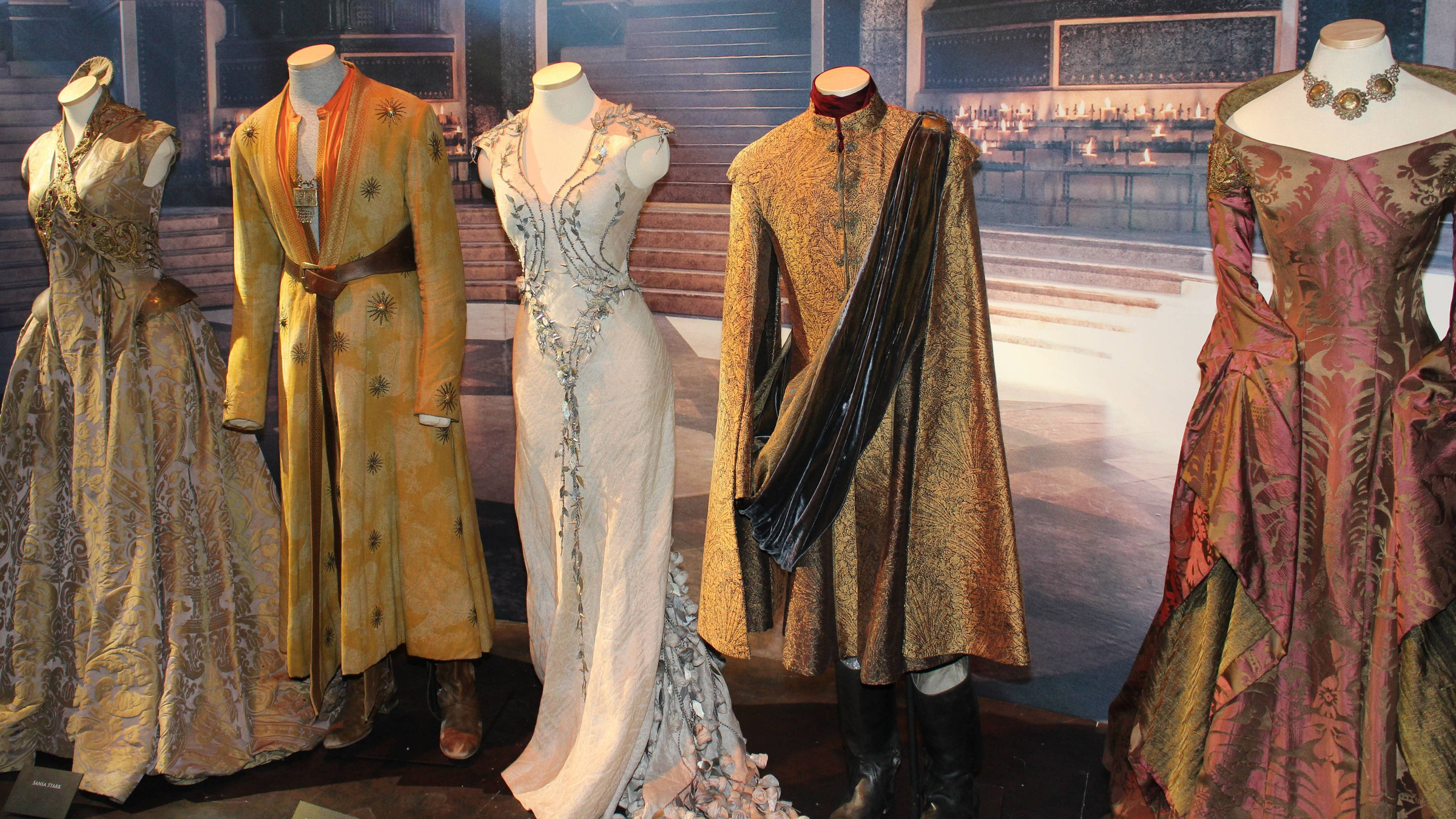 ;
Game of Thrones just kicked off its sixth season with a bang, accompanied by the gasps of millions of fans who certainly didn't see THAT coming…
Everyone has an opinion on who is or isn't really dead, who will die next and which regent will finally ascend the Iron Throne. The spectacular series has succeeded in bringing to life the continents of Westeros and Essos, a vivid, immersive universe that allows the battles, victories and tragedies of George R. R. Martin's Song of Ice and Fire to go from page to screen.
As fans once again become wrapped up in speculation over what lies ahead, we take a look behind the scenes, where talented artisans create the costumes that turn actors into kings, queens, warriors and one mother of dragons.
Dress For Success
Daenerys Targaryen has arguably seen the most spectacular transformation, as she went from ingénue pawn to increasingly powerful queen. Much of her metamorphosis was told through costume, as the barely-there dresses of Season 1 were replaced by Dothraki warrior garb, practical conqueress outfits and finally the regal gowns of a woman proclaiming herself Queen of the Seven Kingdoms.
The overall dramatic arc was determined by Emmy-winning costume designer Michele Clapton (who stepped down from her position at the end of Season 5 and has been succeeded by April Ferry), but one of the elements that really breathes life into some of the most iconic outfits is the embroidery created by Michele Carragher.
The master embroiderer came up with a unique dragonscale texture to symbolise Daenerys'  connection with these powerful creatures. Beginning with the blue tunic worn throughout Season 3, on the Khaleesi's nomadic journey through Essos, the scales have been growing on garments worn by Daenerys, becoming more elaborate and pronounced as her power grew, and diminishing as her hold on the dragons waned. As Carragher explains, the fabric is gathered in a smocking technique, arranging the material into folds that are then flattened to mimic angular, textured scales. Several layers of this dragonscale build up to the final effect of a dress fit for a mother of dragons.
The Threads Of Symbolism
Using traditional hand embroidery techniques, Carragher has also left her stamp on other unforgettable costumes, literally weaving beautiful imagery brimming with meaning through the fabric worn by the actors. At the "purple" wedding between Margaery Tyrell and King Joffrey, the bride's dress featured beautiful, delicate roses – the Tyrell sigil – but with pronounced thorns winding their way across the bodice, while her mother-in-law went big with Lannister lions embroidered on her shoulders.
Even if the audience only gets a glimpse of the lavish embellishments in a scene, they help tell the story, support actors as they get into character and hopefully will be lasting relics of the Game of Thrones universe, long after the last episode has aired. Michele Carragher, asked what should happen to her creations after filming is over, says: "I hope the costumes will appear in the V&A in London one day."
Rulers And Jewellers
Fashion bloggers have long caught on to the fact that Game of Thrones is rife with covetable statement jewellery – and are likely to rejoice at the news that it will soon be available to buy. Jewellery sculptors Yunus & Eliza, together with Michele Clapton, are launching a collection of handmade sterling silver accessories, including a replica of a piece worn by Daenerys Targaryen in the penultimate episode of Season 5.
The neck sculpture has a skeletal feel; in Season 6 it fragments further into a choker without wings, revealing Daenerys's struggle at this stage. – Eliza Higginbottom, Creative Director of Yunus & Eliza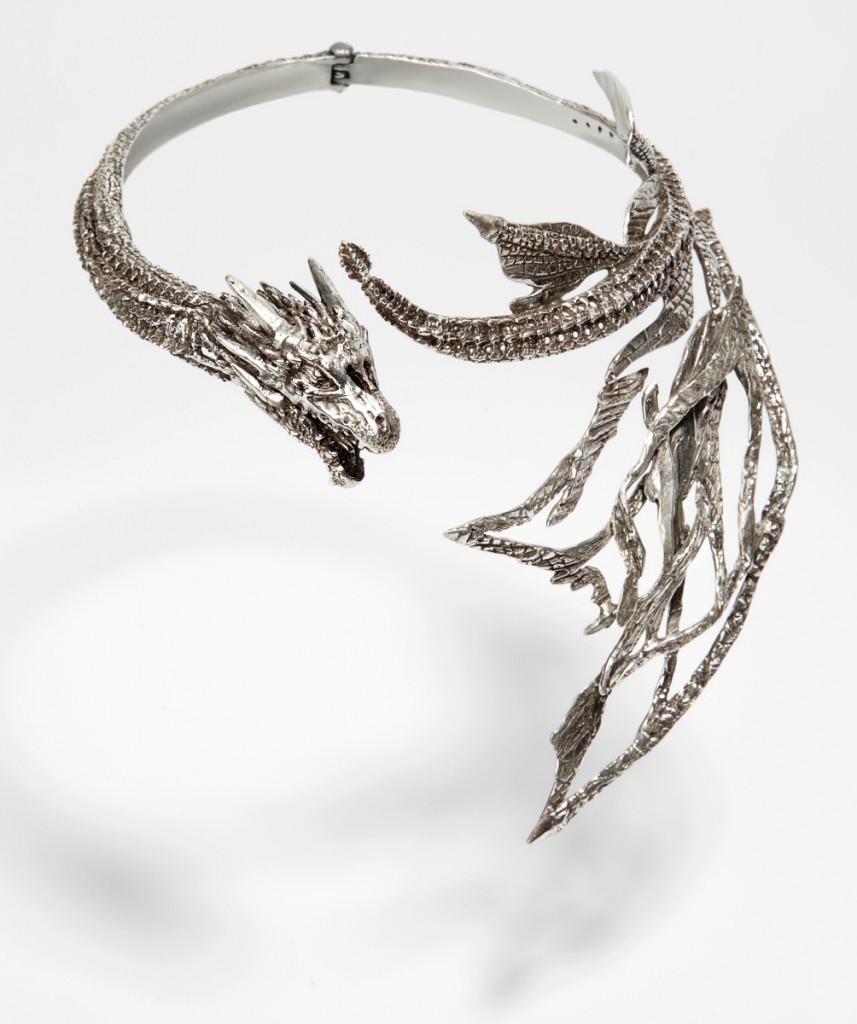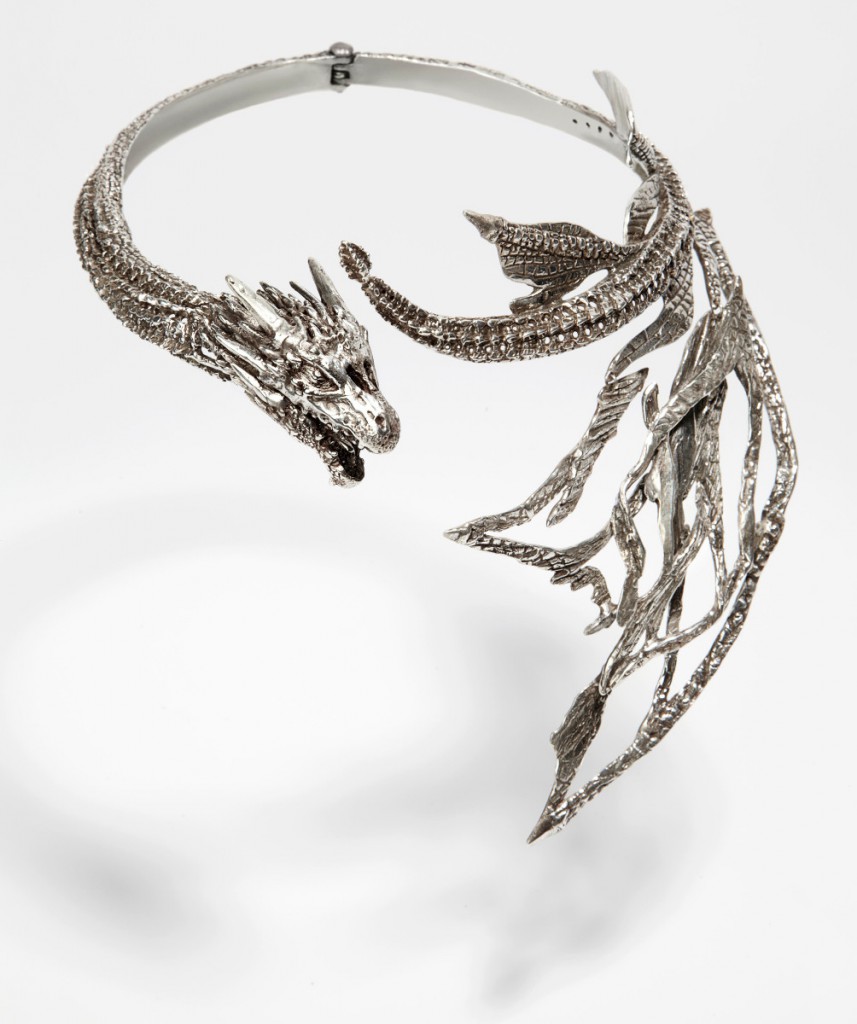 Creative Director Eliza Higginbottom explains how the "strong, sculptural, iconic pieces of jewellery to represent Daenerys's elevated yet fragile status" were created: "We were briefed on the character development and worked closely back and forth with Michele. The neck sculpture had to fit perfectly, so we took a life cast and did several fittings at our studio with Emilia Clarke. We went to Belfast for the final fitting on set. The neck sculpture has a skeletal feel; in Season 6 it fragments further into a choker without wings, revealing her struggle at this stage." Fans wishing to channel their inner Khaleesi can choose their favourite look once the collection launches under the name MEY in June.
The Ace Of Blades
If in Game of Thrones, ostentatious jewellery proclaims a woman's status, a flashy sword does the same for the men. Nothing says "I claim my place on the Iron Throne" like an eye-catching weapon. Bronze Art fine art foundry have worked with armourer Tommy Dunne at HBO's Fire and Blood Productions on sword parts and props in bronze, including Jaime Lannister's Oathkeeper sword (later passed on to Brienne Of Tarth).
Managing Director David O'Brien explains why it is necessary for the props to be made in a long process that can take up to a month from original to finished item: "Ultimately [they] have a more durable finished item which holds up to the wear and tear of filming, and their appearance also looks more realistic for close-ups. In fact they are real swords, and not generic resin copies for the close ups."
He's also unabashedly proud of the role his work plays in adding to the show's world: "The swords are a major part of the charm and the story in my opinion. Each one has a history and there are a lot of details that are incorporated into the handles, such as family sigils and house animals. Really cool-looking swords that would make any real king envious!"
Although Game of Thrones is set in a fictional universe, it feels very real, thanks in part to the attention to detail in every aspect of the production. The fact that the embroidery, the jewellery, the weapons look and feel like the real deal helps us suspend our disbelief and, for one hour every week, lose ourselves in the fantastical world of Westeros and Essos.
For more information, see:
michelecarragherembroidery.com
yunus-eliza.co.uk
bronzeart.ie/film-work/games-of-thrones
Article by Fiona Brutscher
In Westeros, you're never fully dressed without a…